Walt Disney World Magic Kingdom
& Mickey's Not-So-Scary Halloween Party 2005
Orlando, FL
Official Website: http://www.waltdisneyworld.com
Florida 2005 - Halloween Trip!
Halloween Horror Nights Universal Orlando Mickey's Not-So-Scary Halloween Party
Epcot Disney/MGM Studios Busch Gardens Tampa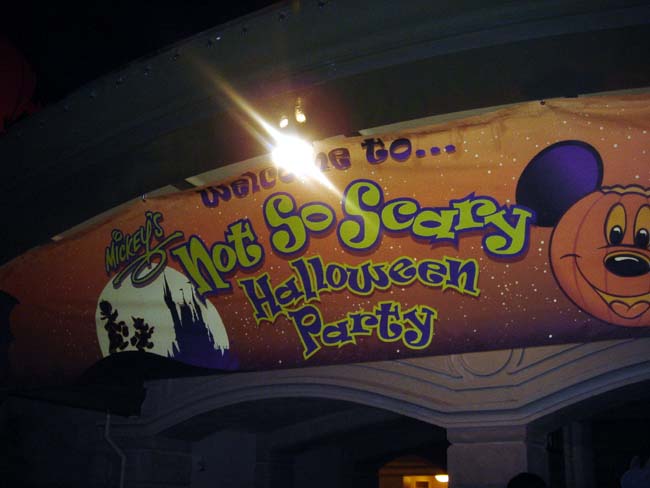 Every year, the Magic Kingdom at Walt Disney World holds a special ticket event called "Mickey's Not-So-Scary
Halloween Party" where it's all about short lines and candy! What could be better?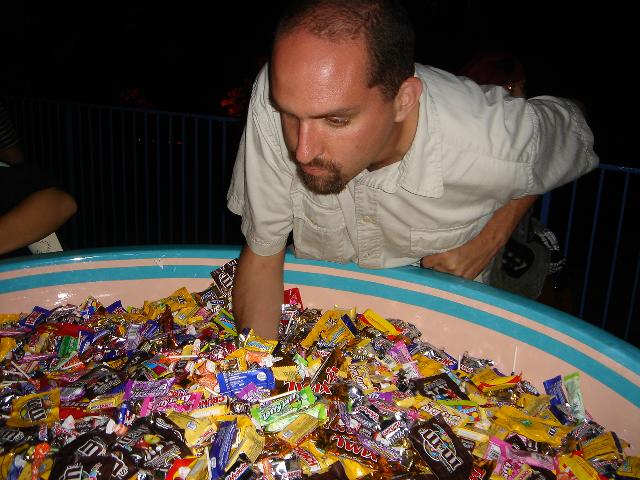 "OMG! My arm! It's being eaten by all the candy!!!"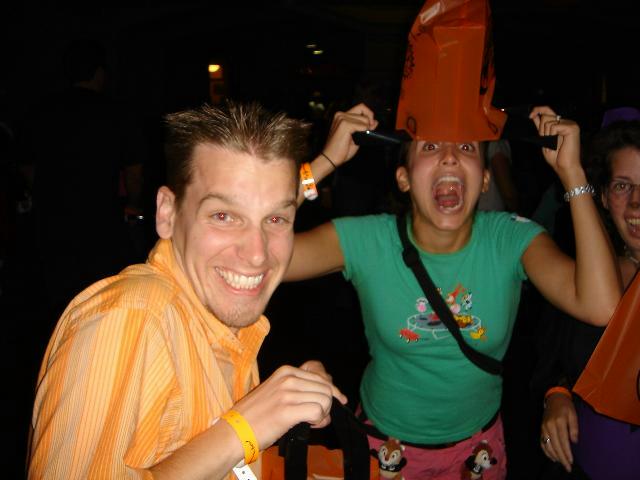 Elissa the bag is for CANDY, not suffocation!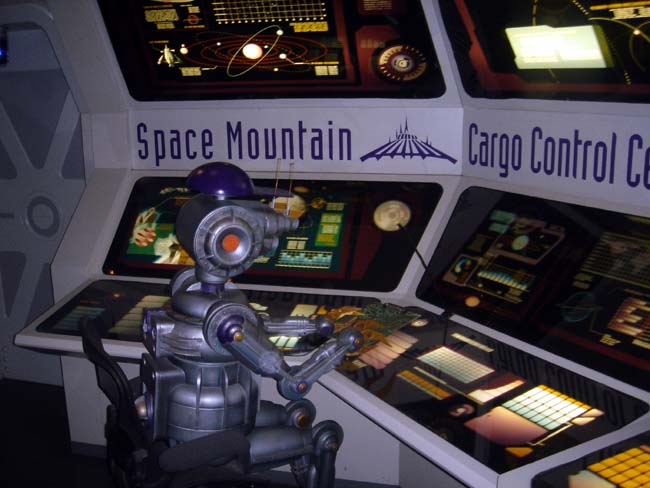 It's about short lines for all the major rides!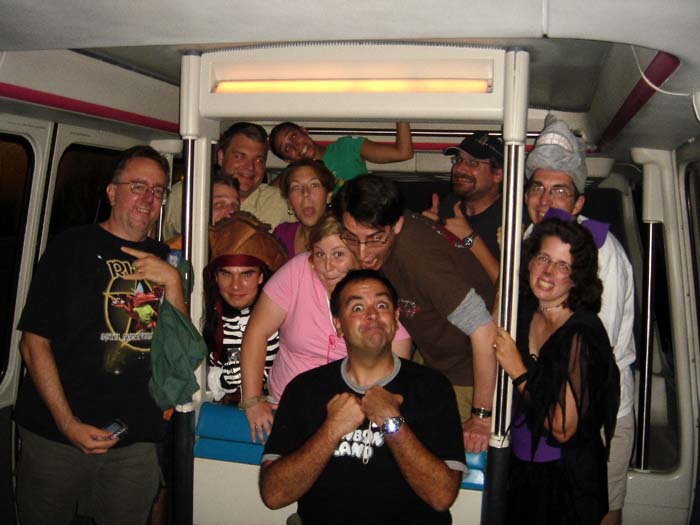 And it's all about a little bit of TPR insanity!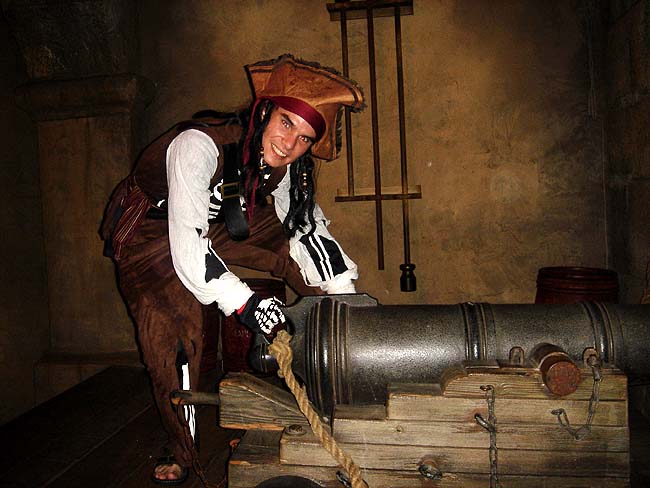 It's the one time of the year that you're allowed to visit the park in costume.
Carlos was the "Arrrrrggg...I'm a Pirate!" guy...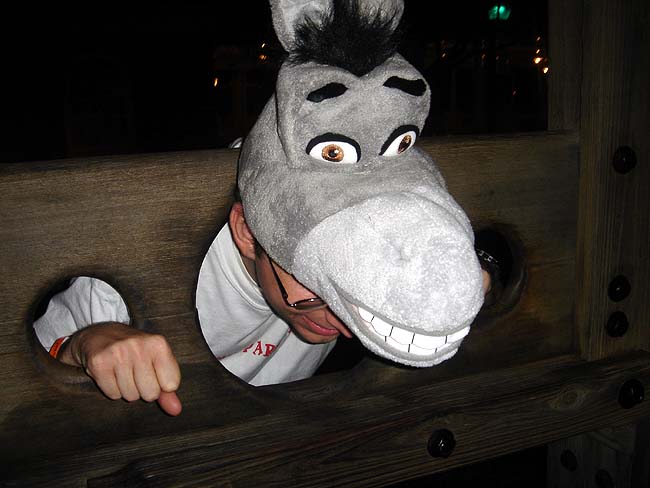 And even Donkey showed up!

But before all this craziness started, let's go back to the beginning of the night and take it from there.....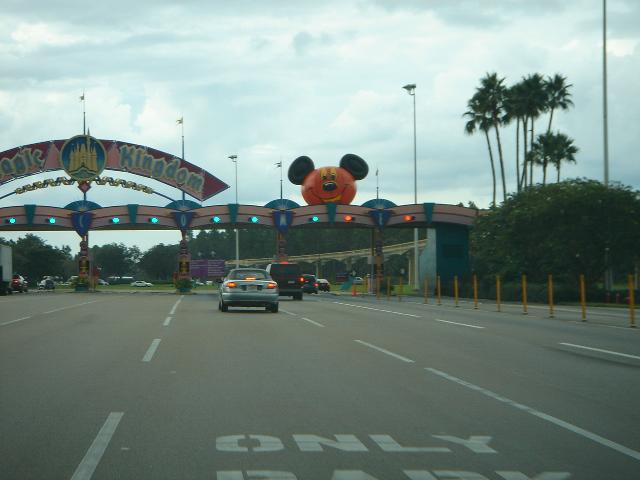 Upon entering the event you are greeting by Mickey "Pumpkinhead" Mouse!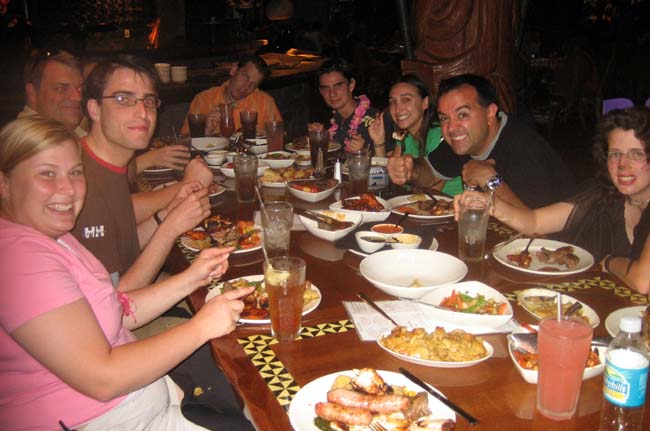 Dinner at Ohana's is always a giant beast-feast of sorts.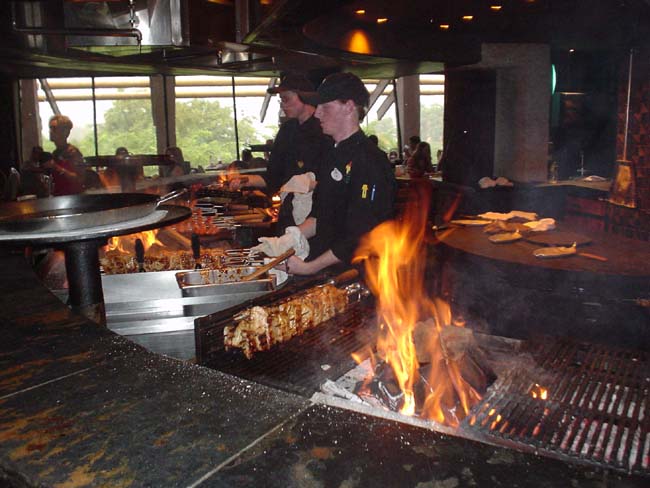 Anyplace with lots of fire and all-you-can-eat MEAT is fine with us!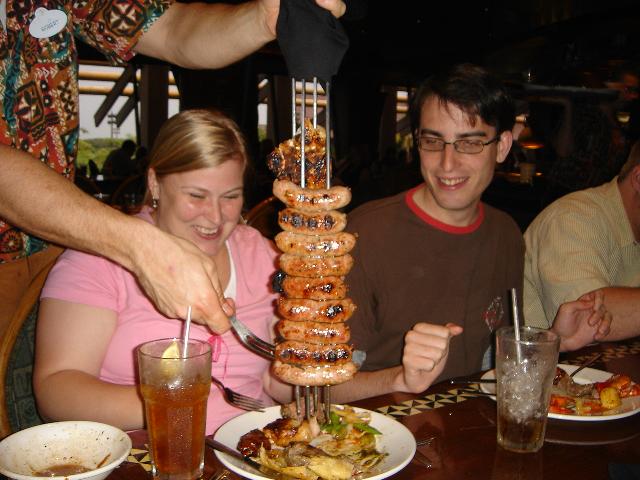 They bring you meat on a stick, and you keep going and going and going....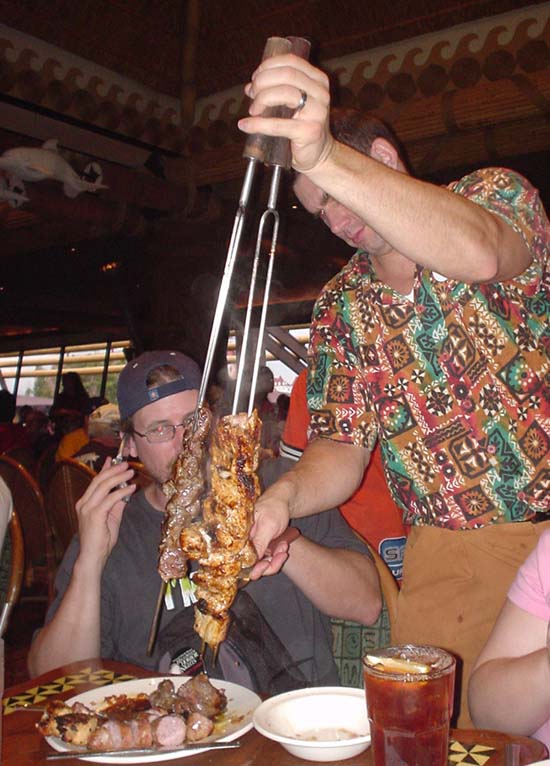 "Hey honey, I gotta go, I'm about to eat a whole turkey and half a cow."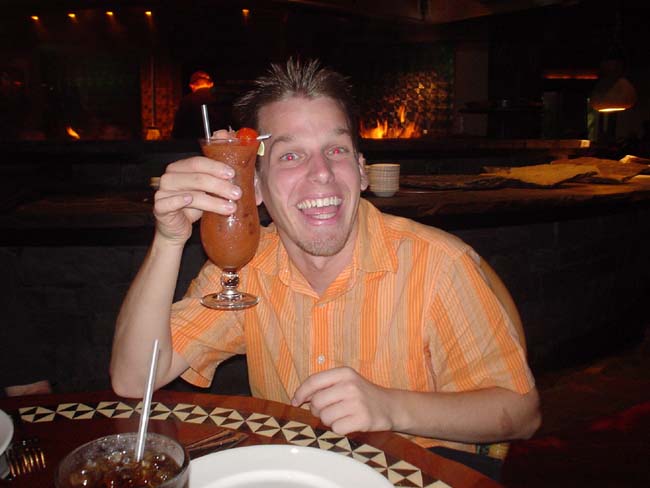 Derek is happy they have foo-foo drinks for him.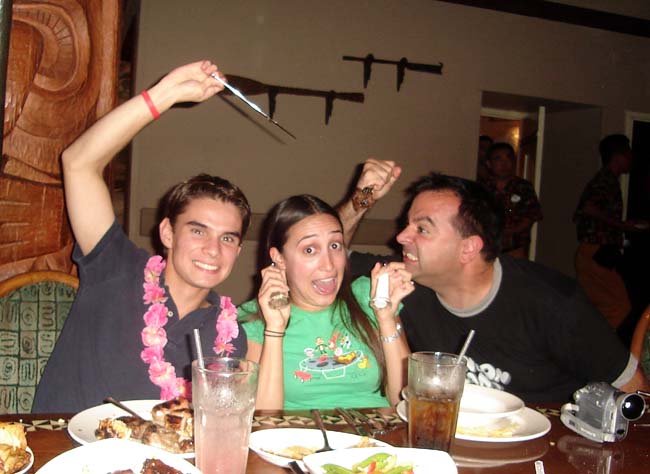 As per usual, we're all ready to kill Elissa....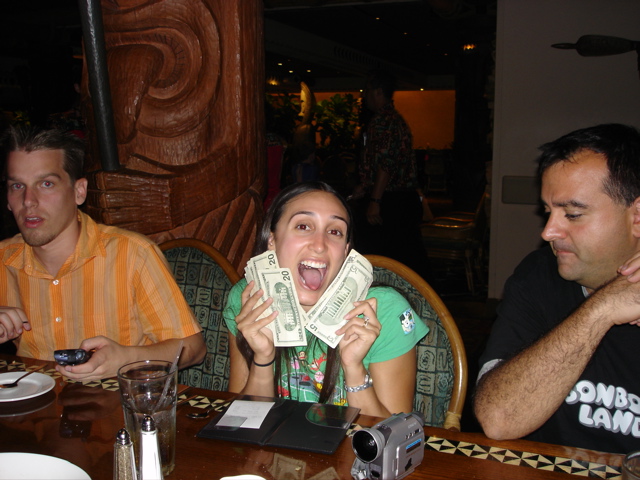 ...but for some reason, she ends up with lots of cash?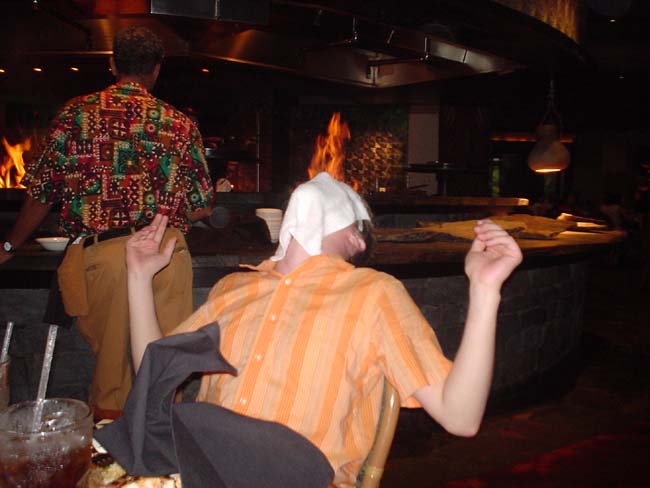 "AAARRRGGHH!!!! Get it off my face!!!! My Face is ON FIRE!!!!! NOOOOOOO!!!!"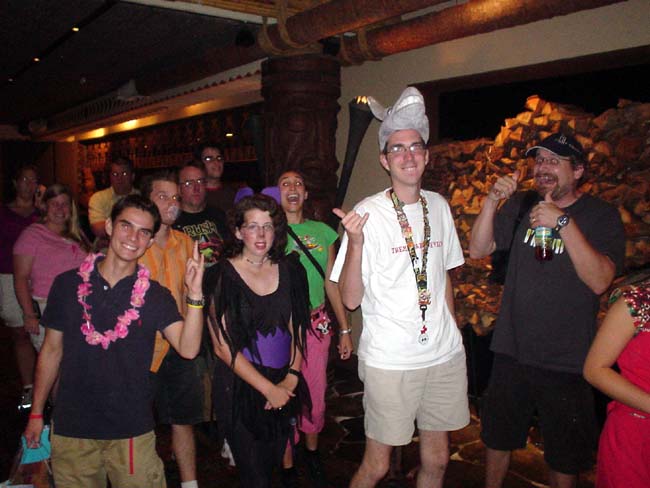 Ohana's is a hit, and we're all about 10 pounds heavier!
(Yes, Guy, we see your signature move...very good.)
Click Here for Page Two of Mickey's Not-So-Scary Halloween Party photos!
Mickey's Not So Scary Halloween Party 2005 Photos Page 1 2 3 4
To discuss this update on our forum, click HERE.
Thanks to Erik, Guy, Aaron, Carlos, and Fred for letting us use your photos!