William's Grove Amusement Park & Speedway
Mechanicsburg, PA
Official Website: http://www.williamsgrovepark.com/
July 4th Weekend, 2004, PA Area Trip!

Wildwood Piers Knoebel's Dorney Park Dutch Wonderland William's Grove Hersheypark
Williams Grove is one of those parks that we think someone actually closed down about 15 years ago,
the only thing is, no one told the people who work there, so they still show up everyday and operate the rides!
It's a very different kind of amusement park. It's not "traditional", it's not "corporate", it's just "William's Grove!"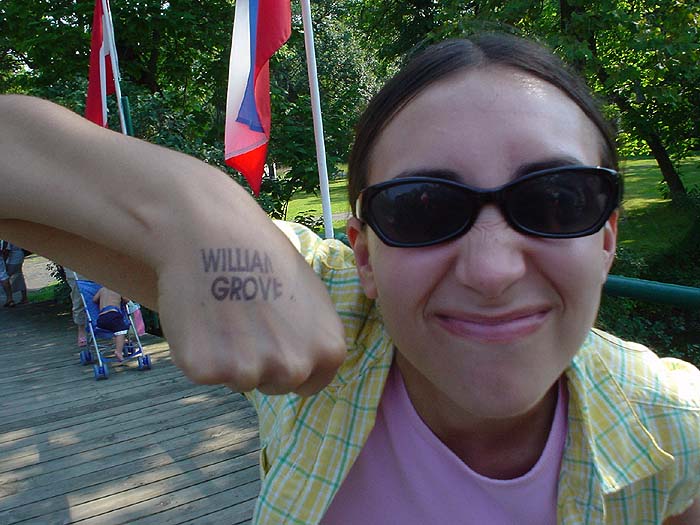 We paid $4 to get into the park, and they stamp your hand with this stuff that doesn't come off for 3 weeks!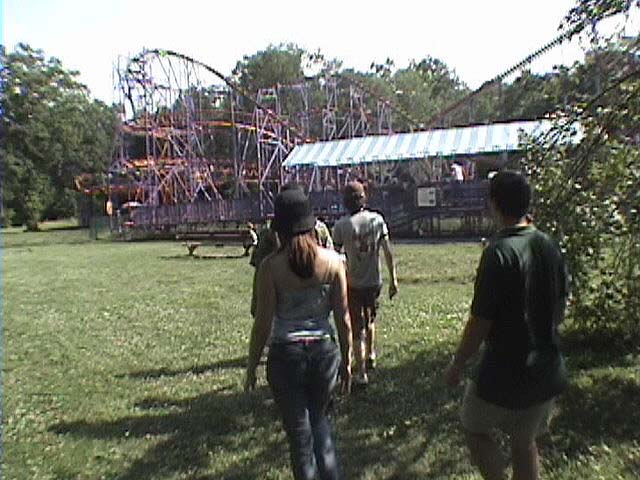 Here we are heading out to many "rides build out in a field". This one happens to be the Wildcat.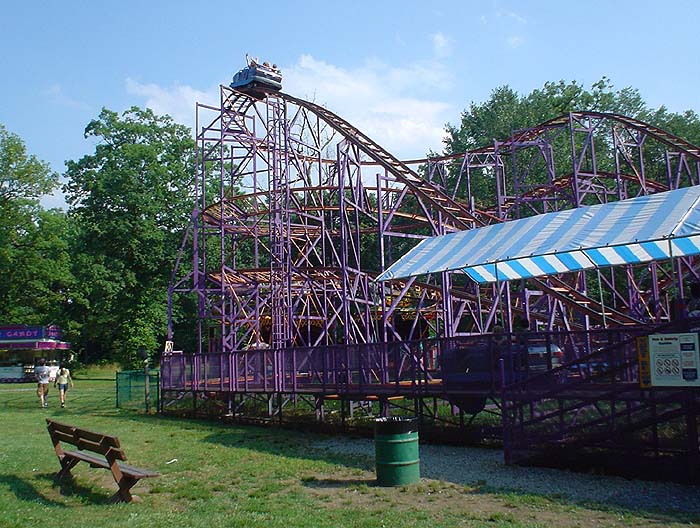 As you can see, sitting out in the field, you find: One park bench, and old barrel drum trash can, and a roller coaster!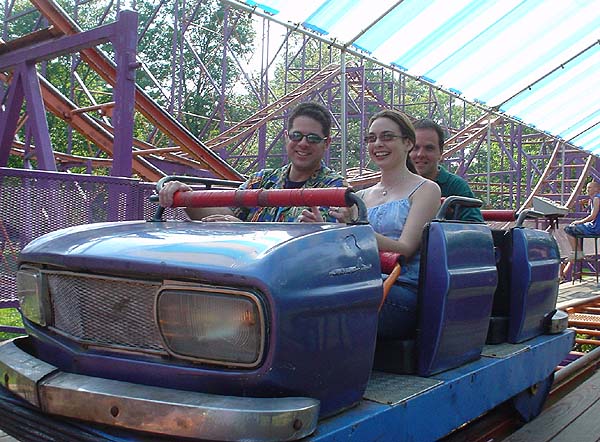 They look happy - but they really are kind of nervous!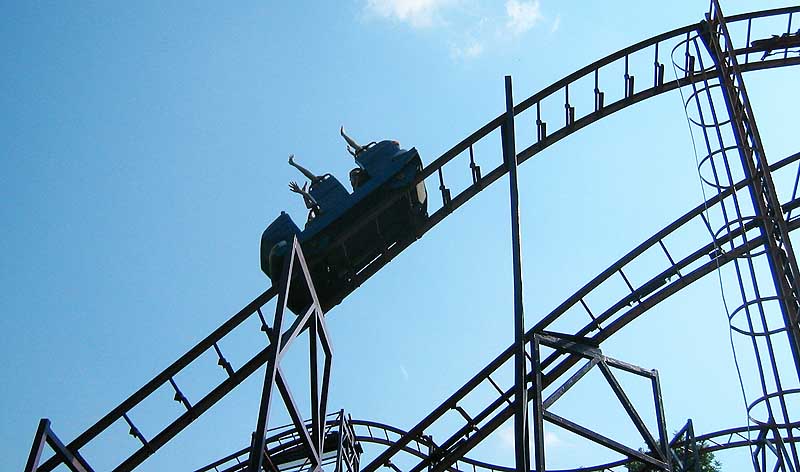 The ride itself was actually pretty decent!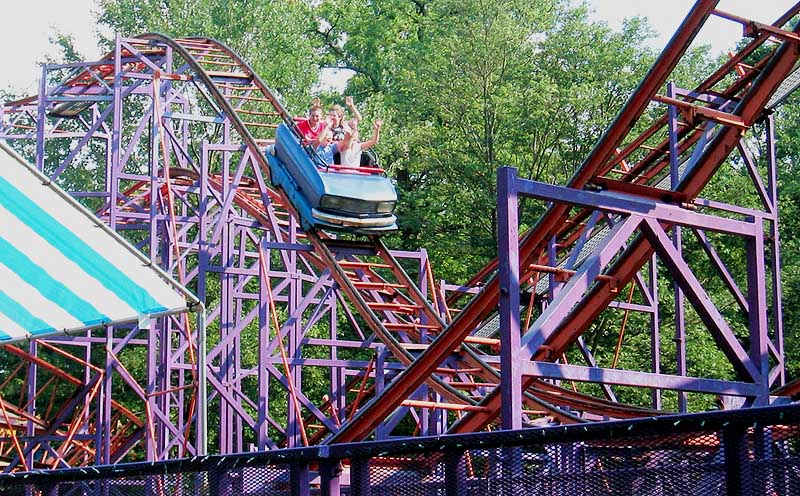 It may look a bit run down, and....well...."built in a damn field!", but it was fun!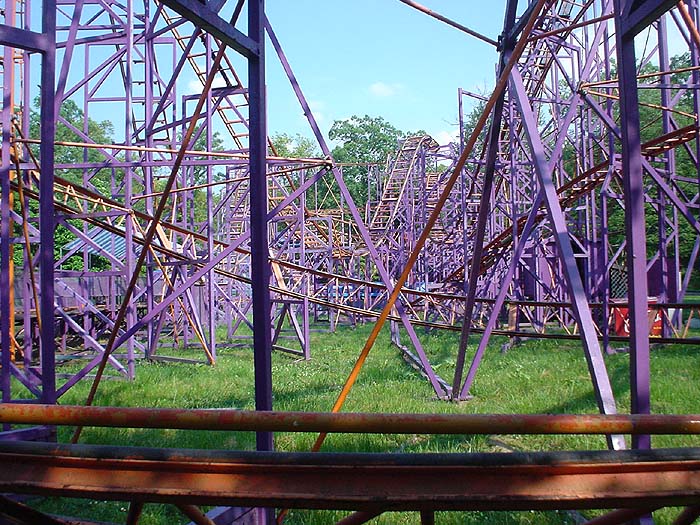 And here you can see the supports go right into the grass!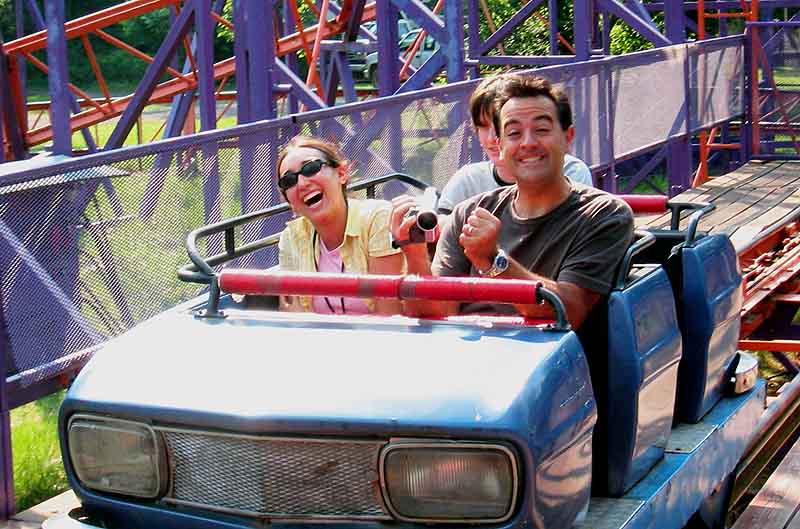 They look happier than normal at the end of a ride, but maybe it's because they are still alive!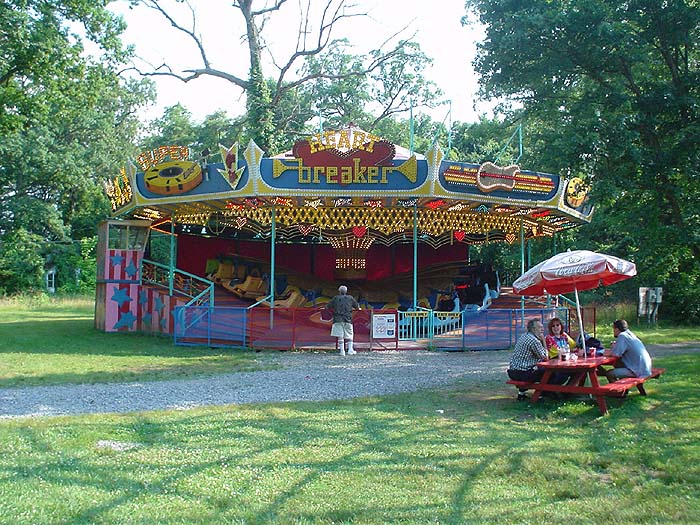 To add to the collection of "Rides built in a field", here we have the Himalaya with the accompanying 'park bench'.....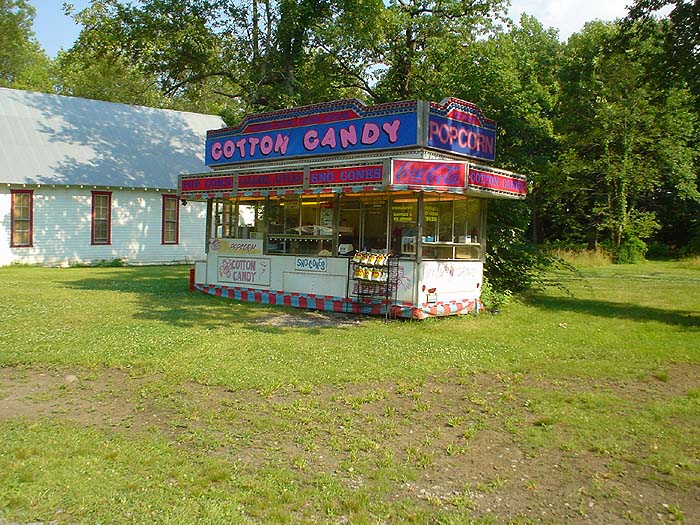 The "Cotton Candy Stand" in the middle of nowhere....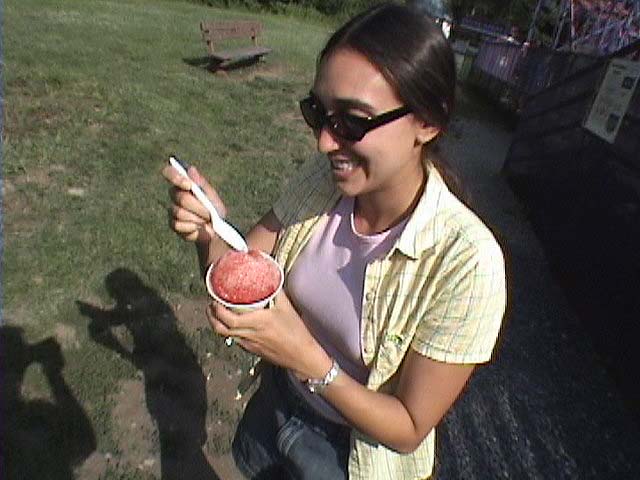 ....which Elissa discovered "Hey, these snowcones are pretty damn good!" =)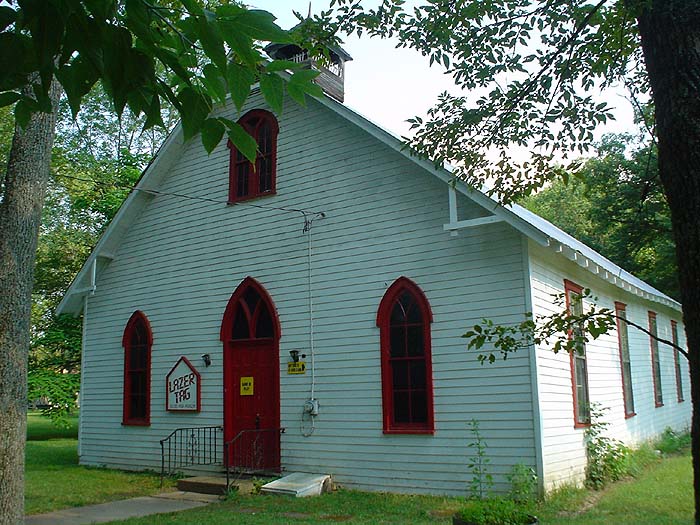 The "Church converted into the Lazer Tag arena!" (this was our personal favorite, but I think Max was a bit offended!) =)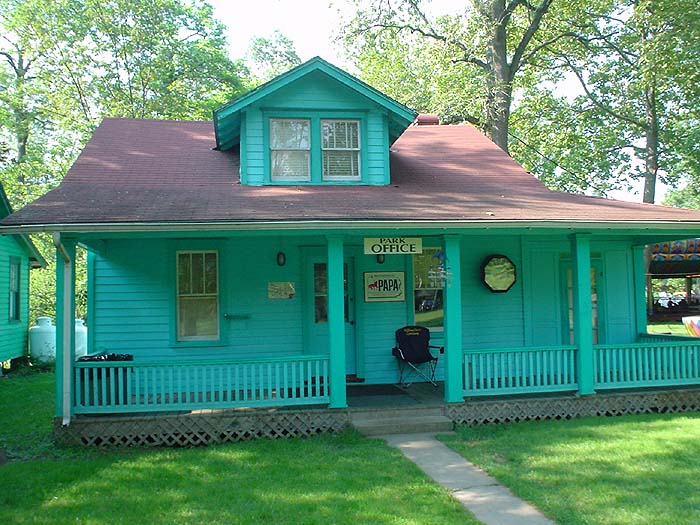 And of course, the "Park Office", which looked very inviting!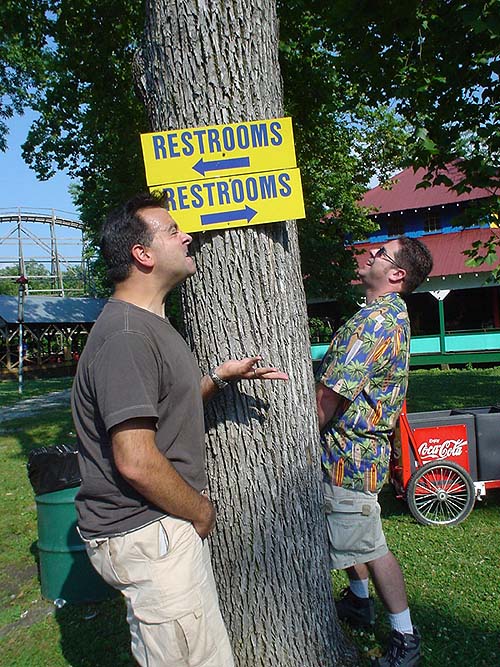 Both Robb and John and to pee very badly. The signage at the park made it easy to figure out where the restrooms were!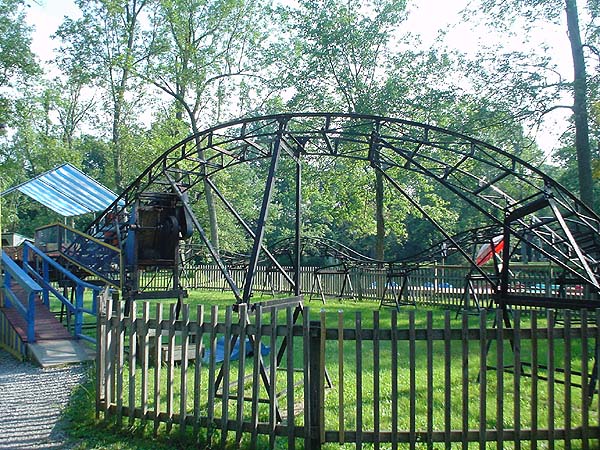 Here's the kiddie coaster that we didn't get to ride. =(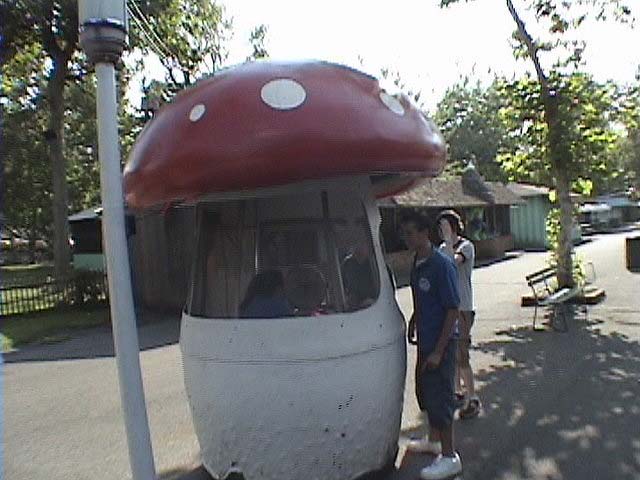 At William's Grove - if you want ride tickets you have to go "talk to the mushroom!"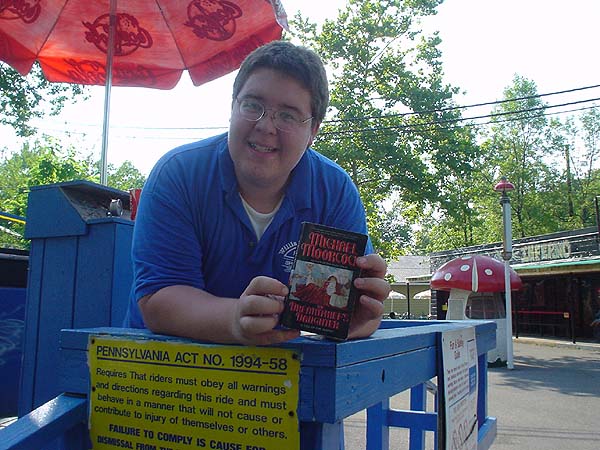 The ride ops were giving their recommendations for what to read while on duty!
Click HERE to see Page Two of "William's Grove Amusement Park Photos"