Theme Park Review's Japan 2004 Update!
Welcome to our largest update ever! The following pages contain a massive amount of information on theme parks in Japan.
The update contains over 1,000 photos, videos, trip reports, and a guide to planning your own coaster trip to Japan!
Enjoy, and if you have any questions, please feel free to post them in our forum!
Click on a park below to see our complete photo update:
Tokyo Disneyland Tokyo DisneySea Sega Joypolis Tobu Zoo Park Fuji-Q Highland Tokyo Summerland Toshimaen Yomiuriland
LaQua Nagashima Spaland Universal Studios Japan Expoland Hirakata Park Festival Gate Nara Dreamland
Parque Espana Sea Paradise Yokohama Cosmoworld Japan Update Home!
Click HERE to see our Tokyo Disney Resort and Parque Espana/Pyrenees Video Segments
Click HERE to read our Trip Reports
Click HERE to read our Japan Trip Planning Guide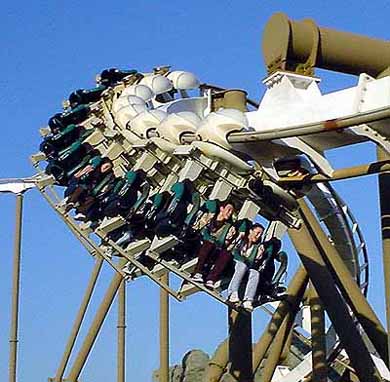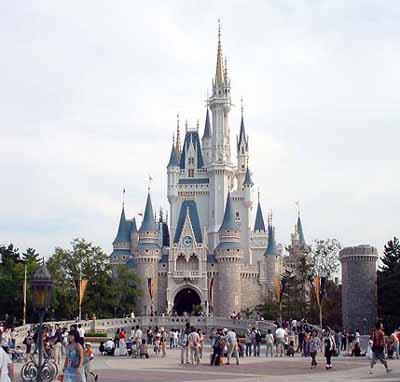 Click on any of the park names below to see our complete photo update for each park:
Tokyo Disneyland
Tons of photos from our favorite of all the "Magic Kingdoms"
Tokyo DisneySea
Check out the photos of this beautiful park and all it's attractions including "Journey to the Center of the Earth"
Sega Joypolis
This funky little indoor park houses some bizarre rides including the coaster "Speed Boarder."
Tobu Zoo Park
We didn't expect much from this park, but it ended up having one of the best woodies of the trip "Regina"
Fuji-Q Highland
We heard a lot of great things about this park, unfortunately, they weren't true. =(
Tokyo Summerland
This park has one of the better Arrow suspended coasters "Hayabusa"

Toshimaen
One of the local Tokyo parks with a bizarre mine-train style ride and a partially enclosed Schwartzkopf Shuttle Loop coaster.
Yomiuriland
Another nice Tokyo park with a looping coaster with both and stand up and a sit down train on the track!
LaQua
Built around the Tokyo Dome, this park has Thunder Dolphin, an Intamin hyper coaster.
Nagashima Spaland
One of the bigger parks in Japan, but not a whole lot to do here.
Universal Studios Japan
It's like a clone of Universal Studios Orlando, but with all the attractions in different places!
Expoland
You can find one of the world's longest coasters here and a B&M inverted.
Hirakata Park
One of the surprises of the trip! A nice little park with a mid-sized Intamin wooden coaster.
Festival Gate
This park is part of a shopping mall with one coaster, which was actually pretty decent!
Nara Dreamland
A bizarre park! It kind of looks like Disneyland, but it's a dump. Although it has one of the best wooden coasters, Aska! Go figure! =)
Parque Espana
One of the best parks on the trip! Themed almost to Disney or Universal quality, and it had the awesome Pyrenees B&M inverted coaster!
Sea Paradise
One of the two Yokohama sea side parks, this one with a massive Intamin Giant Drop!
Yokohama Cosmoworld
A little park with Yokohama as a backdrop. Awesome location and a great little place to visit!

Click HERE to see our Tokyo Disney Resort and Parque Espana/Pyrenees Video Segments
Click HERE to read our Trip Reports
Click HERE to read our Japan Trip Planning Guide