Thorpe Park
Surrey, England
Official Web Site: http://www.thorpepark.co.uk/
Robb & Elissa's Mini UK Trip - March, 2006
Stealth Construction Tour
Download our Stealth Construction Tour Video by clicking HERE!
The next few photos show off some of the ride's theming.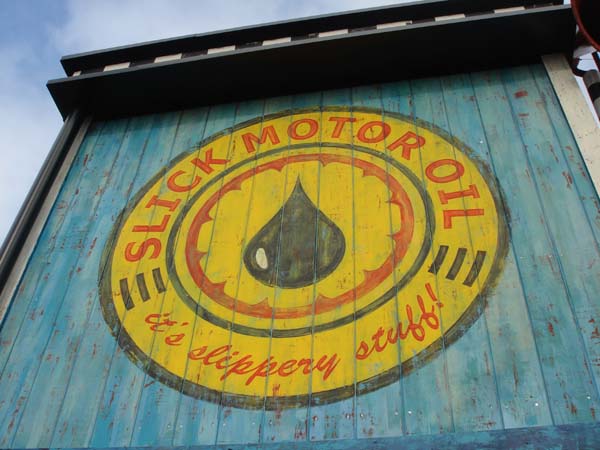 Cool signs all over the place.
"It's slippery stuff!" *wink* *wink*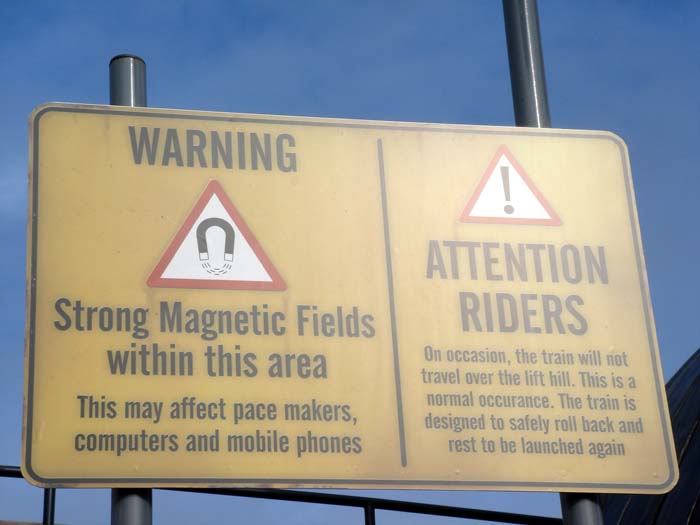 Be sure to turn off your pacemaker before riding. Also, note the sign on the right. We thought that was cool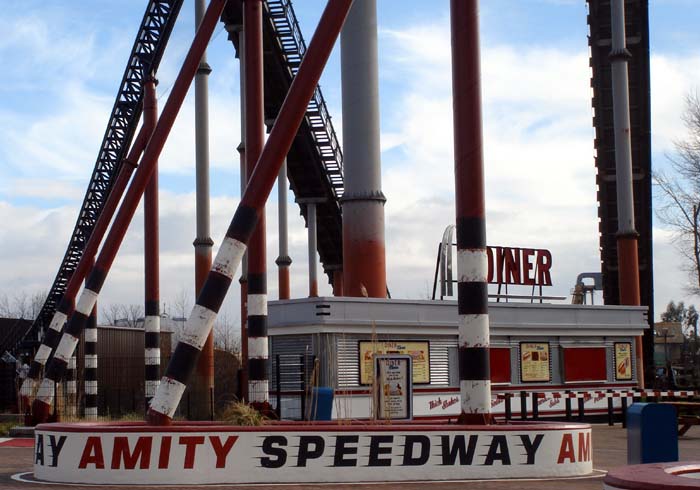 The whole area is themed to a classic "American looking" speedway. They even "aged" the supports to give it an older look!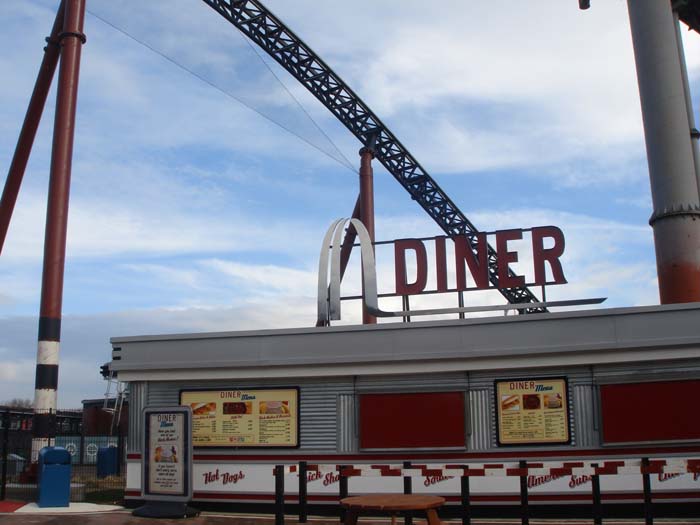 I'm sure this will be a very popular spot among coaster enthusiasts!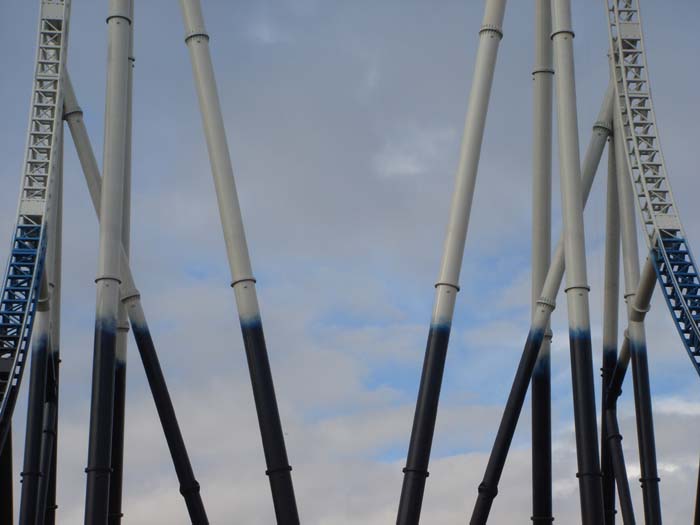 In order to keep in line with the planning permission rules, the top of the ride had to be white. I love the blending between the colors.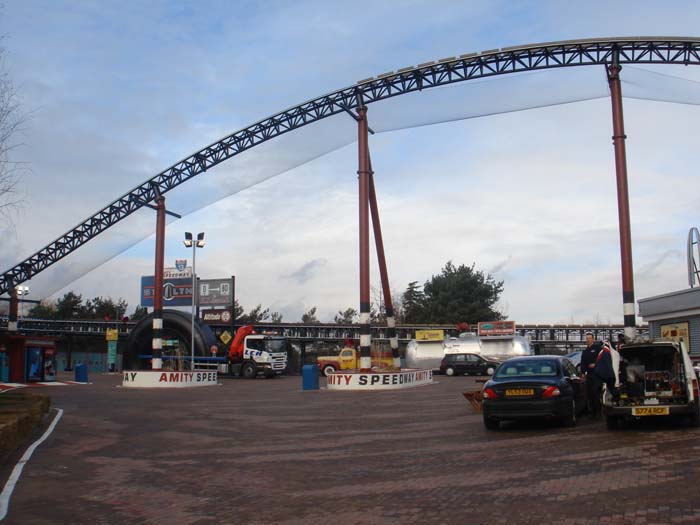 Too bad you won't be able to drive your car in once the ride opens! That would be real "Rock Star Parking."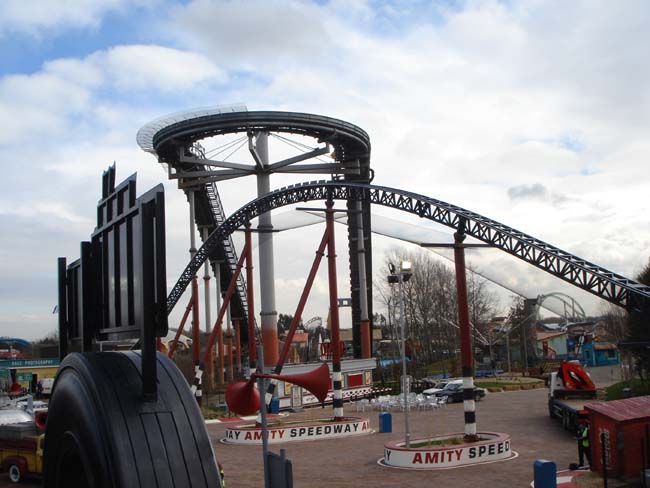 See, you were just thinking "Wow, I really wish I could have another photo of that entrance area, but from a different angle."
We at Theme Park Review excel in reading minds!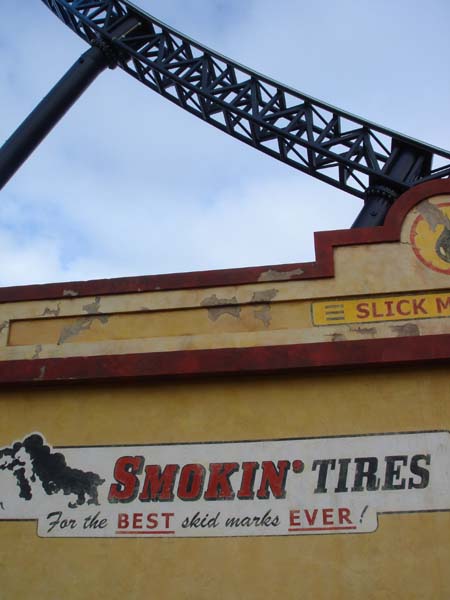 I'm quite sure this ride is going to leave a few "skid marks" =)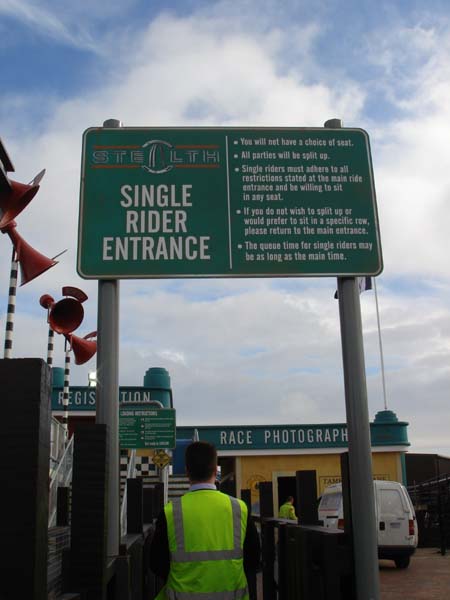 Yay for the single rider entrance! (aka, entrance for people with no friends)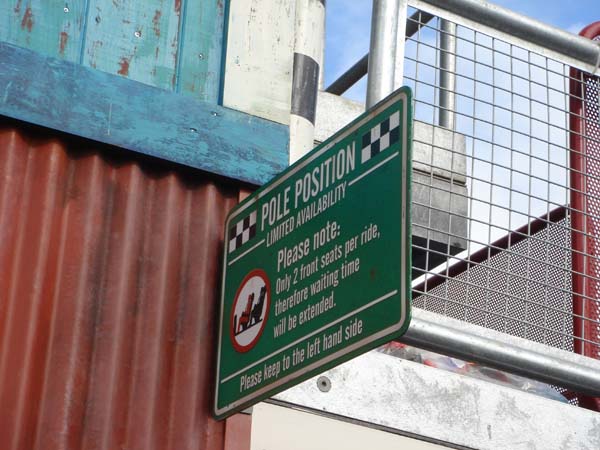 If you want to sit in the front, line up under this sign.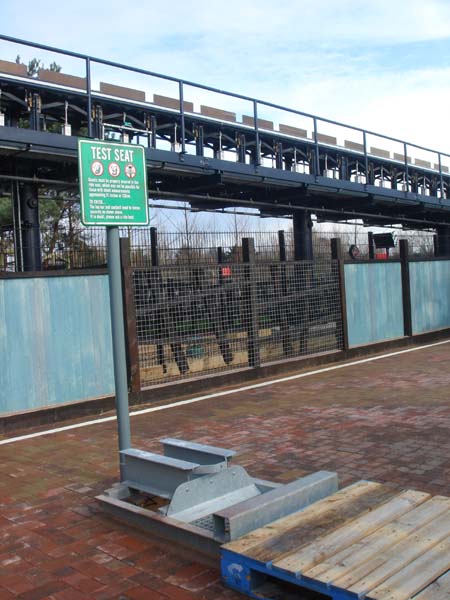 Try to imagine REALLY HARD what the test seat will eventually look like!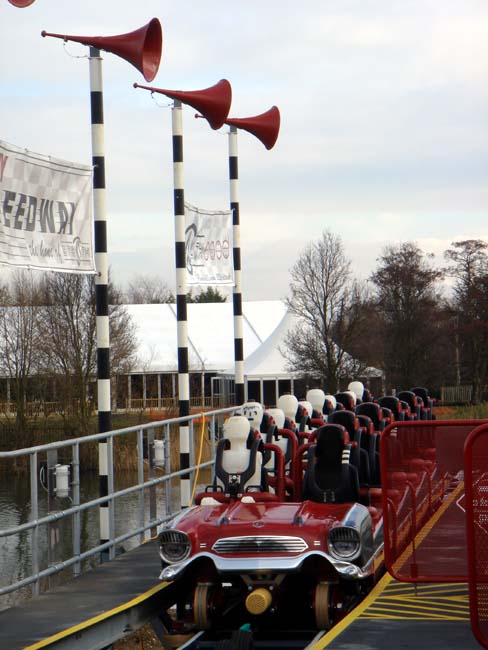 The test dummies were really cool....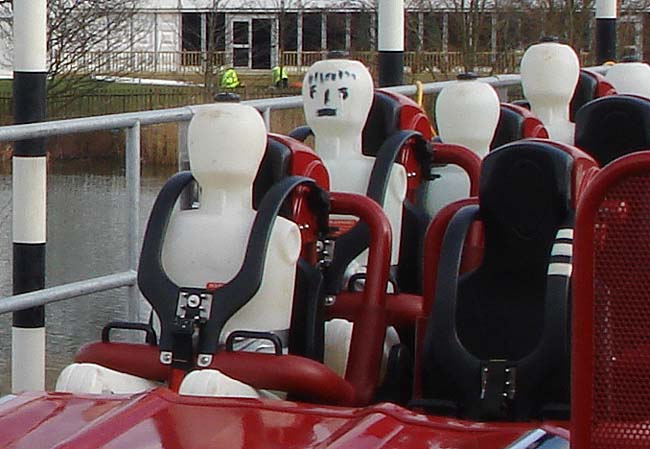 ...especially this guy.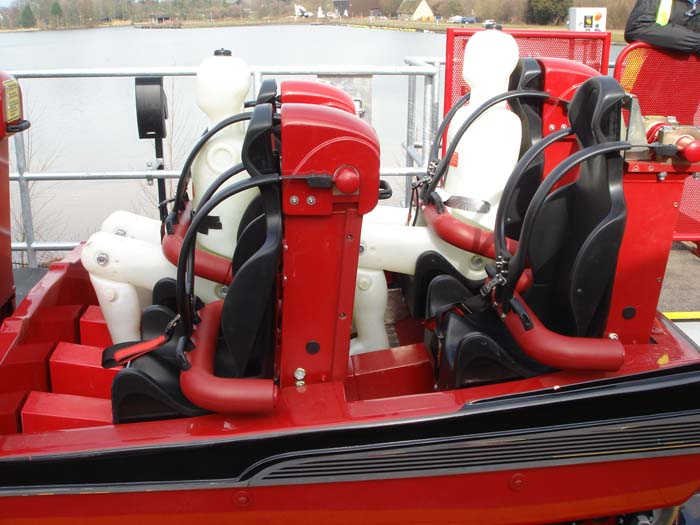 It was cool to see actual test dummies with legs.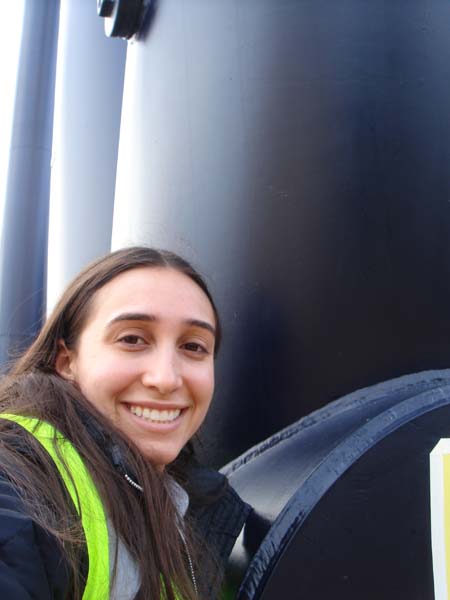 "Can I be a test dummy with legs too?"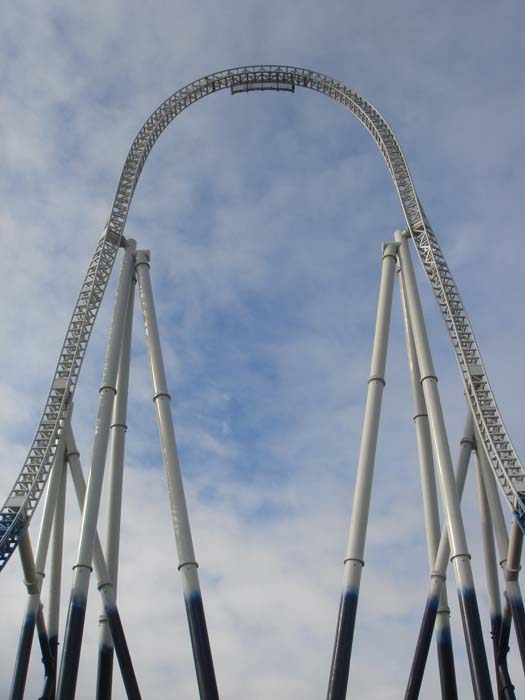 Ok, now for the test! The name of this ride is:
A. Stealth B. Humdinger
(touch the screen to choose your answer*)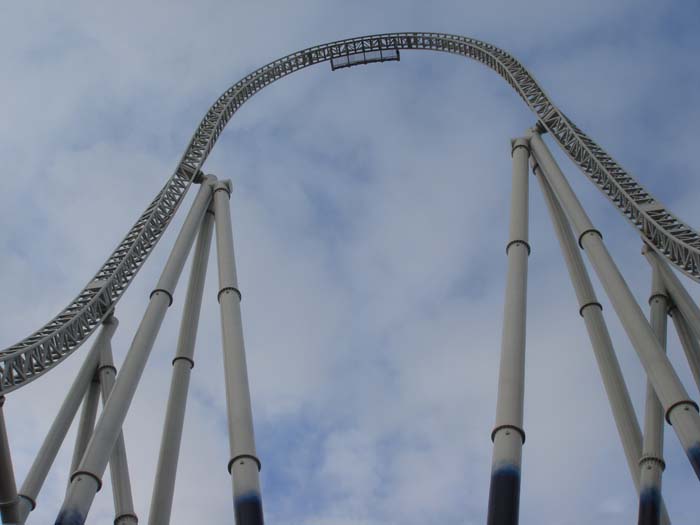 OMG! It's another one of those "Signature shots!!!" Wow, I'll bet no one else on the entire PLANET can ever get this shot!
(/end sarcasm)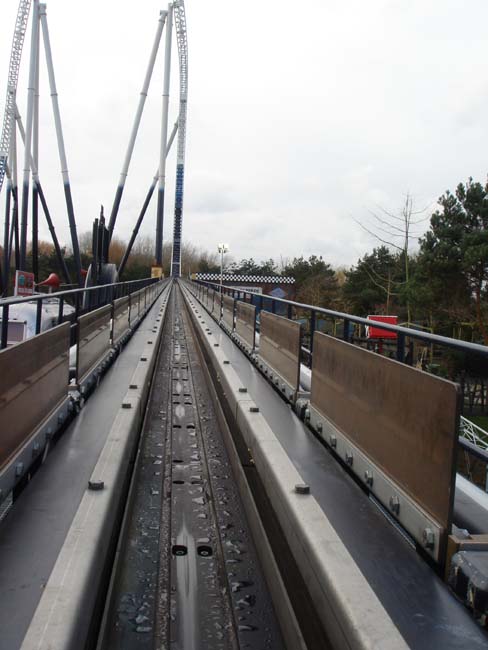 This photo is the answer to that age-old question:
"If I were an Intamin catch car, what would the world look like?"
Well, now you know!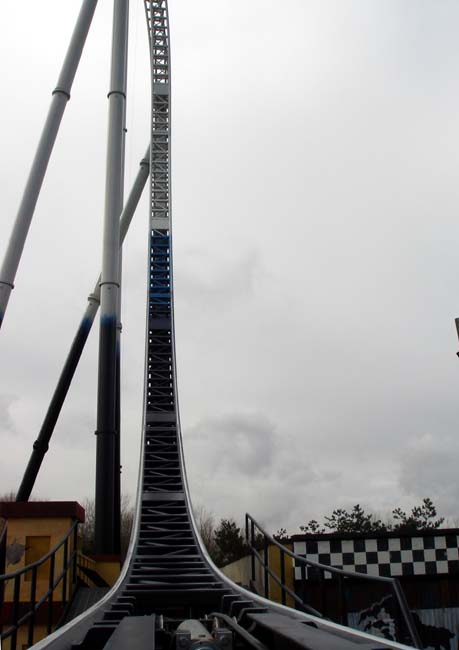 Just pretend you're in that "Pole Position" seat!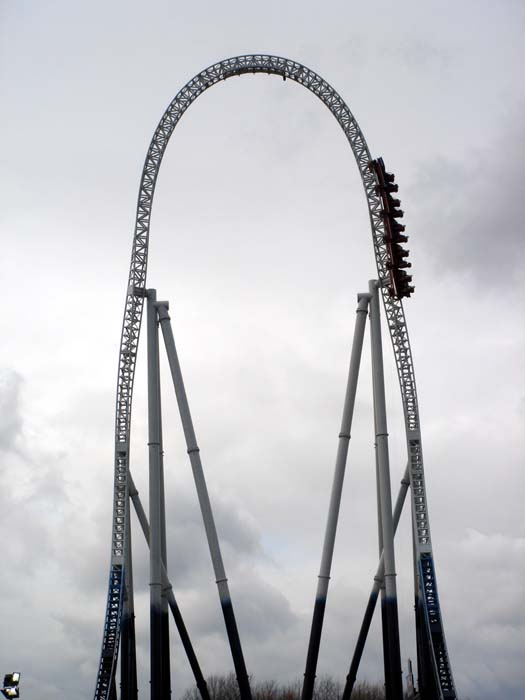 Ok, and just in case you forgot.....train goes up really fast....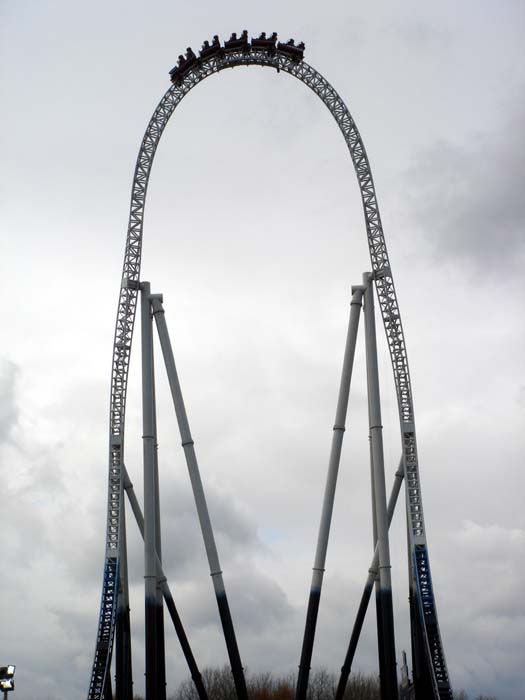 Question #2 - "What do the riders say at this point?"
A. I'll have a Big Mac with fries. B. OMFG!!!!

Click Here For Page Four of Stealth Construction Tour Photos!
Stealth Construction Tour Photos Page 1 2 3 4
*You didn't REALLY touch the screen, did you? =)