Thorpe Park
Surrey, England
Official Web Site: http://www.thorpepark.co.uk/
Robb & Elissa's Mini UK Trip - March, 2006
Stealth Construction Tour
Download our Stealth Construction Tour Video by clicking HERE!
Next we got to visit the control and hydraulic bunker room for Stealth, which we nicknamed the "XTREME Buzzing Room!"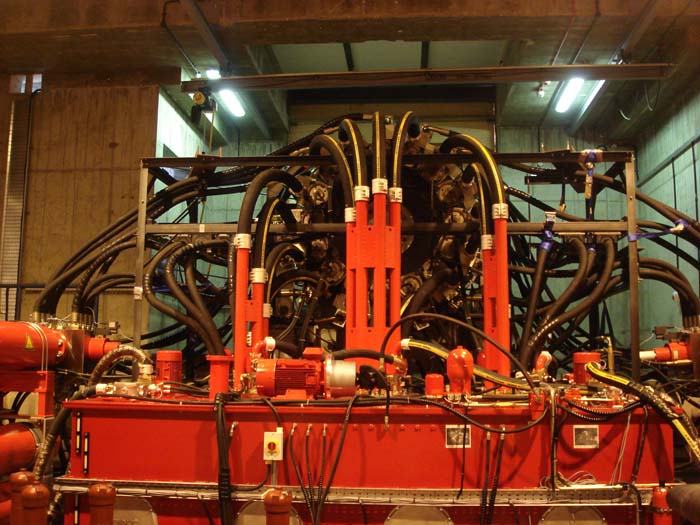 No, it's not some mad scientist experiment gone wrong, this crazy mess of tubes is actually what fires Stealth down the launch track!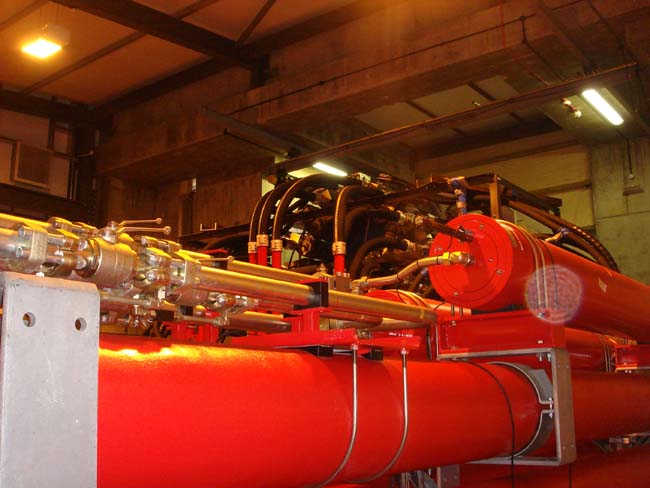 You will be able to feel all of Stealth's 24 motors as soon as that traffic light out on the launch track turns green!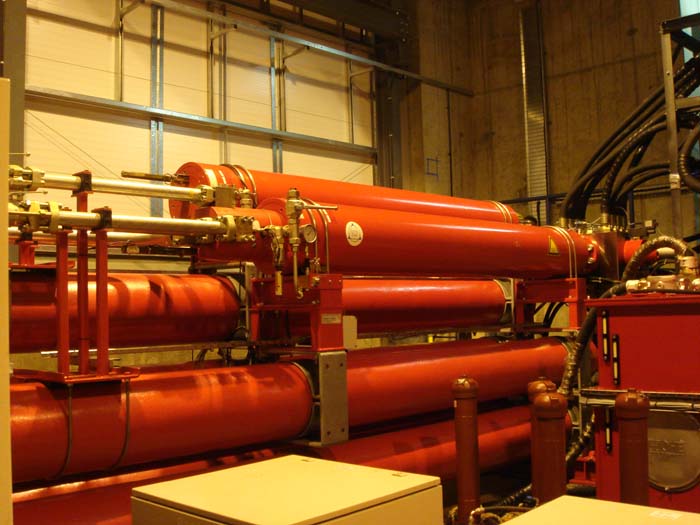 These accumulators store nitrogen and oil. Hmm...so I guess you could say Stealth gets all that power from plants and dinosaurs! =)
And the sound that plants and dinosaurs make is "Buzzzzzzzzzzzzzzzzzzzzzzzzzz"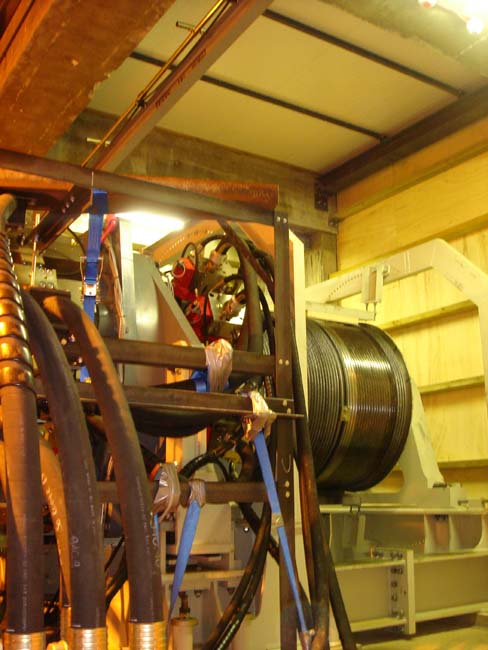 This is what's called the "winch drum."
"The winch drum attaches to the....Ca-Ble...the cable attaches to the....Catch Car....the Catch Car attaches to the Tra-ain
the train goes OMFG fast!!!!"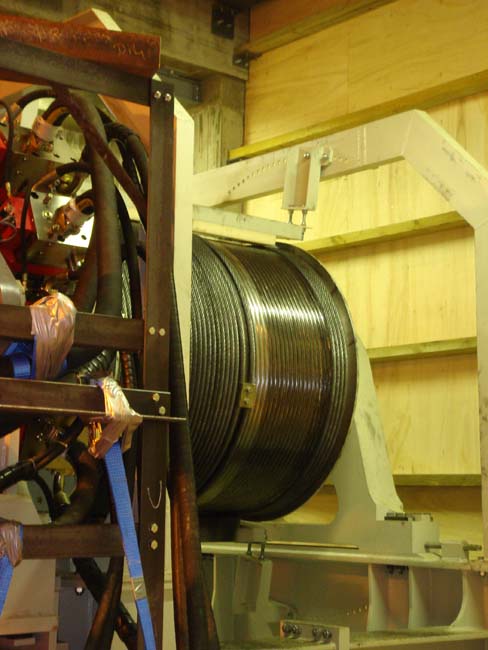 For those of you winch drum enthusiast out there (and we get your fan mail, we know you exist) here's a nice close up for you.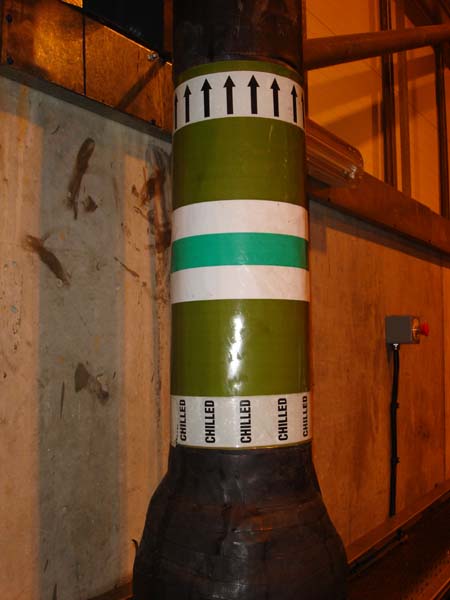 The bunker room is a great place to just "chill out."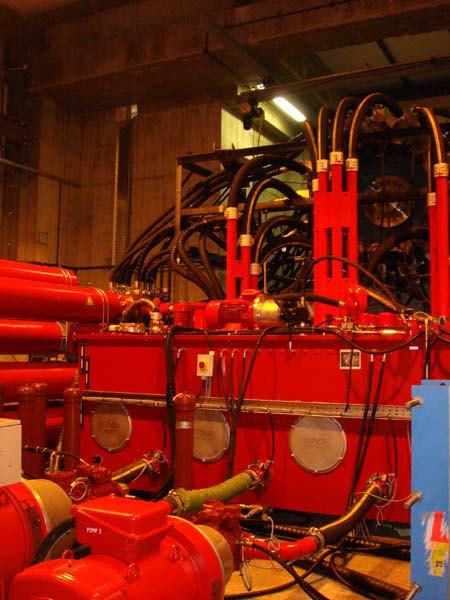 Hydrogen and Oil and Tubes - OH MY!
But the coolest part about this room was the constant "buzzing" sound it made!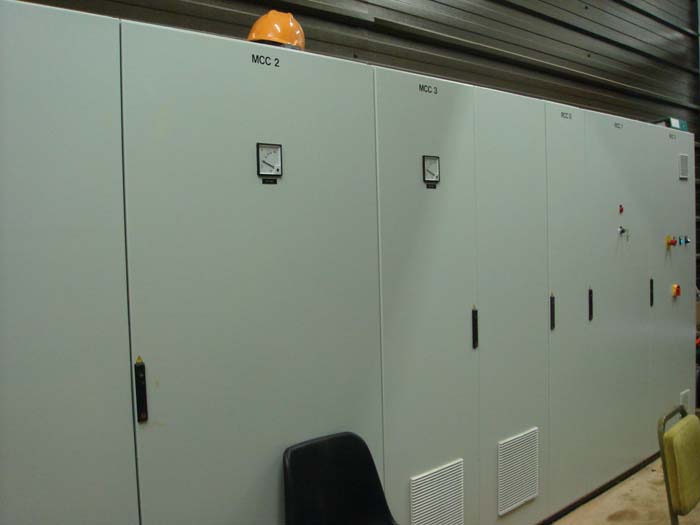 Safety first! Even the computer room wears a hard hat!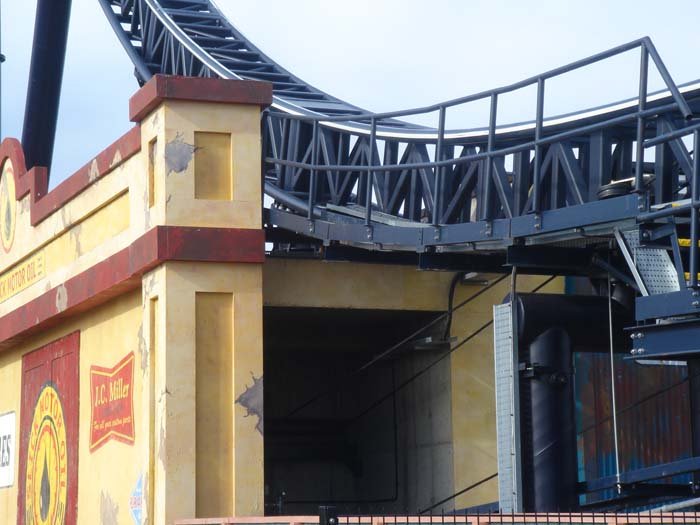 From out of the bunker comes the cable which is attached to the catch car (repeat song from above)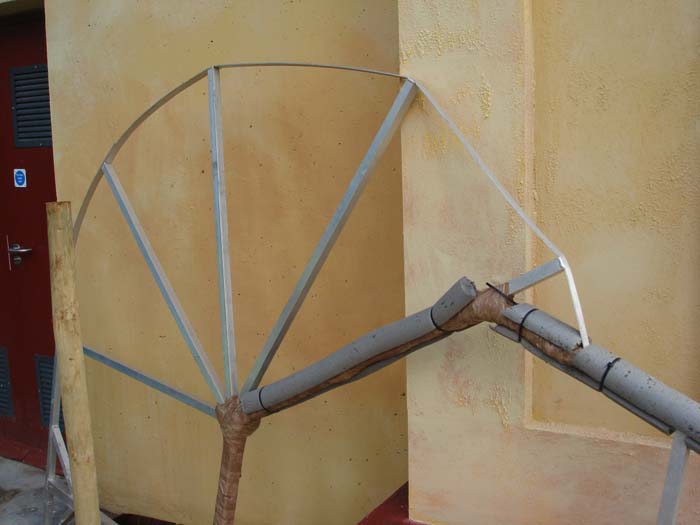 This looks like what was used to do the reach envelope testing.
(and no, that's not some crazy Fear Factor stunt where you have to catch envelopes!!!)
WARNING! EXTREME COASTER GEEK PHOTOS NEXT!!!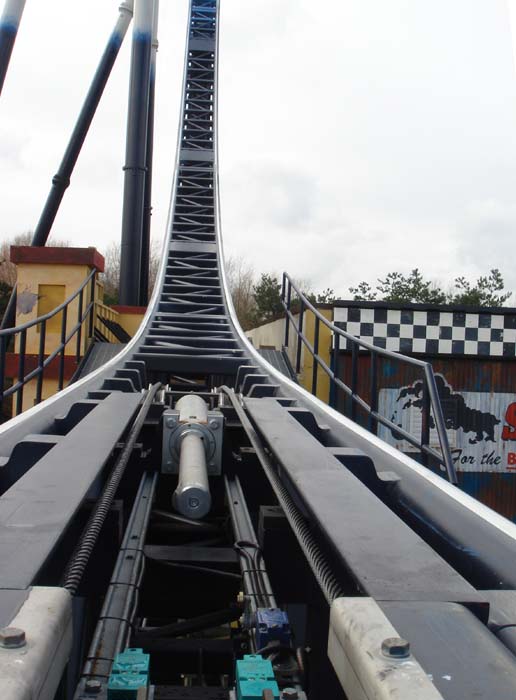 Here is where the catch car should come to a full and complete stop.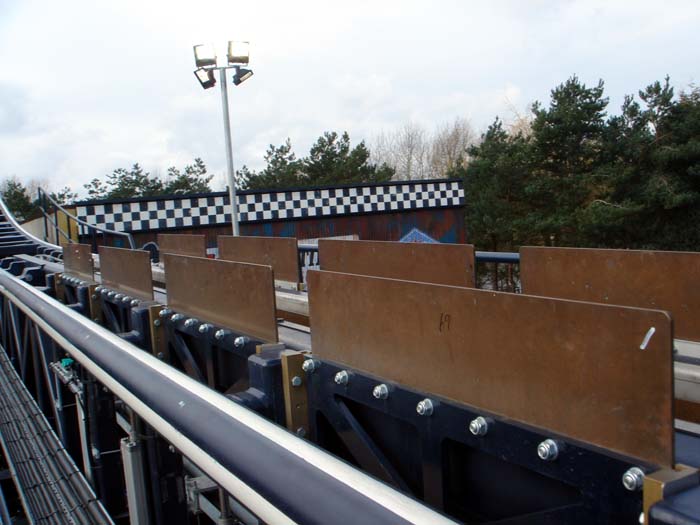 Once the train is past the launch track, the magnetic brakes pop up in case there might be a roll back.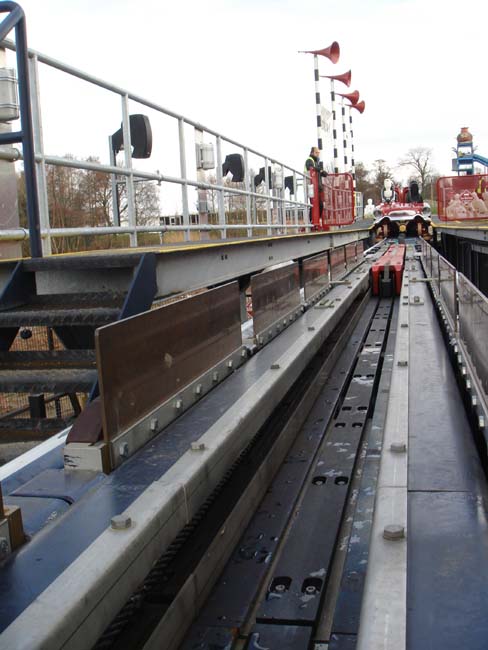 For those of you real coaster geeks, this is a good shot of the catch car, the track the catch car runs through, and the magnetic brakes.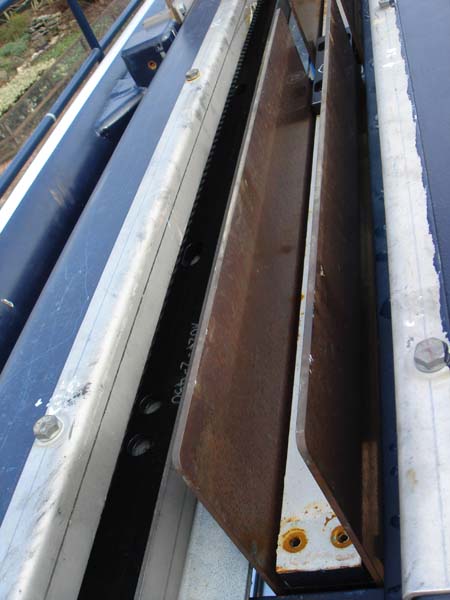 And these are the magnetic brakes that stop the catch car.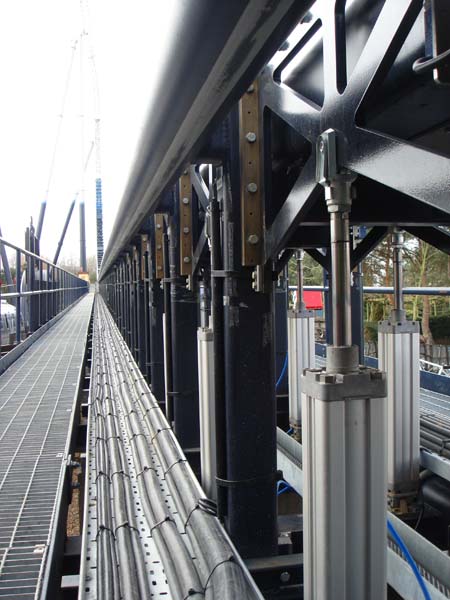 These little guys are the "we make brakes go up and down" gizmos. (again, REALLY technical terms here!)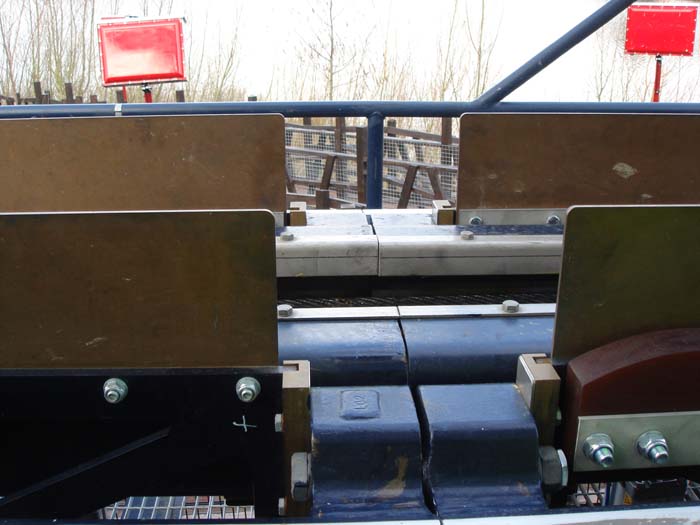 While the brakes play an important role, the cable is the real star in getting the train down the track.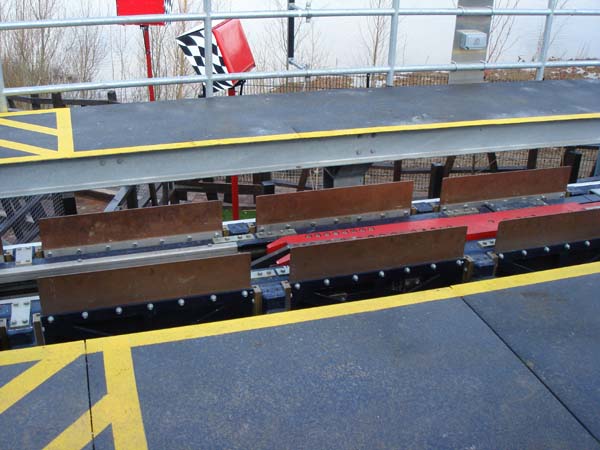 Although Mr. Catch Car might have something to say about that!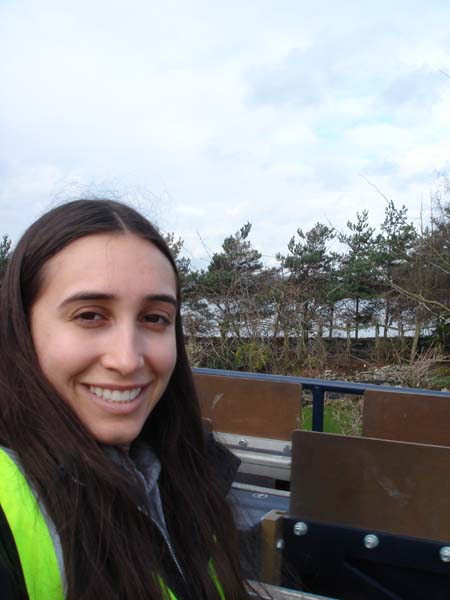 "Here I am, just hanging out with my new friends, Mr. Brake Fins!"
Click Here For Page Three of Stealth Construction Tour Photos!
Stealth Construction Tour Photos Page 1 2 3 4