Uncle Bernie's Theme Park
Ft. Lauderdale, FL
Official Website: http://www.floridaswapshop.com/
"A Day In Miami 2004"
Click on a park below to see our complete photo update:
Dania Beach Hurricane at Boomer's Uncle Bernie's Amusement Park Santa's Enchanted Forest
Some of you might consider us 'credit whores' and while I would normally debate that, today is when I feel we hit an
all-time low when it comes to 'credit whoring.' What does that mean, exactly? Well, the idea is to ride as many different coasters
as humanly possible. Each one is a 'credit' on your list. But when you find yourself wandering around a make-shift "Amusement
Park" which is attached to a Drive-In Theater Flea Market, it doesn't get any more 'whorish' than that! :)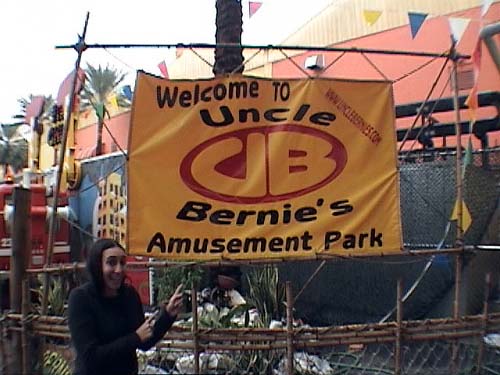 Let me set the stage here...the park, if you can call it a 'park' is located on one side of a building,
in a parking lot of a flea market which is housed inside a drive-in theater!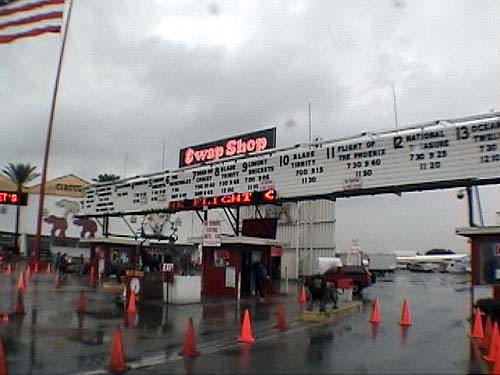 The most impressive thing of the day is that the drive-in is still functional and it is the world's largest with 13 screens!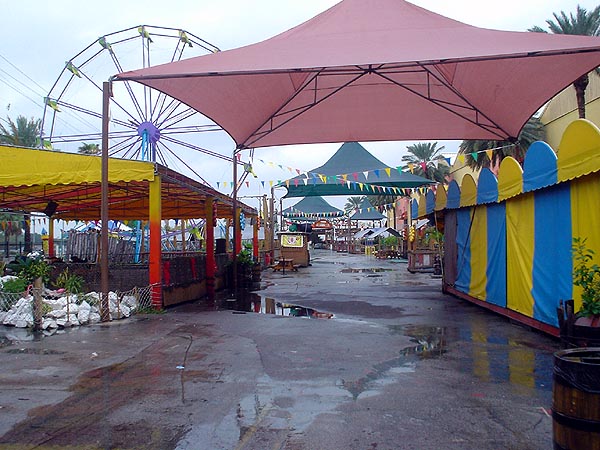 Uncle Bernies boasts a most unique selection of rides, most of which look like they were probably purchased from someone at the
flea market who just happened to be unloading some scrap metal that when you assemble the pieces in just the right way,
it resembles some sort of amusement device! You put enough of these together and *BAM* you have yourself an amusement park!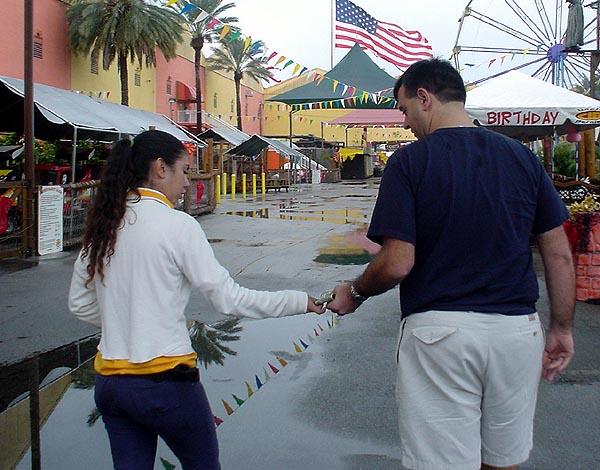 Upon arrival the weather was bad and no one was at the park. I mean NO ONE. All the amusement devices were at least switched on
(the lights were blinking and some of them were making buzzing sounds) but not a SINGLE person to be found. Not a customer, not an
employee...just Robb & Elissa wandering around this collection of dilapidated rides, some of them making noises that were unidentifiable.

Fortunately, Robb finally found some ride op wandering around the place and we slipped her 5 bucks to open the coaster for us!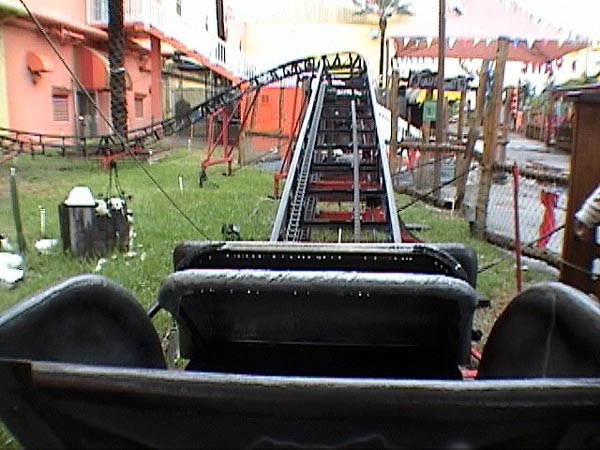 The coaster itself, named the "Abandoned Mine" actually had some 'interesting' theming. It all looked like a collection of stuff they
bought from people's 'garage sales' at the flea market and just tossed it around the ride area.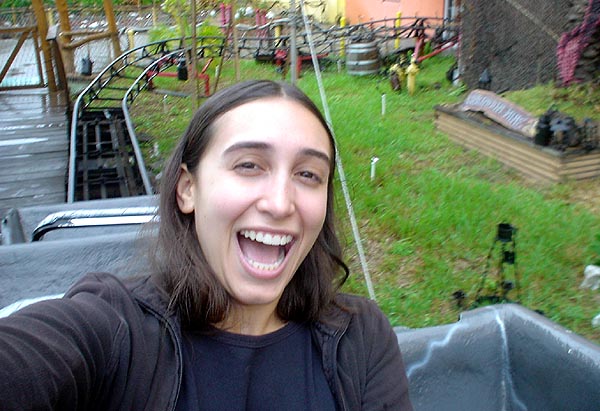 "I am SUCH a credit whore!!!!"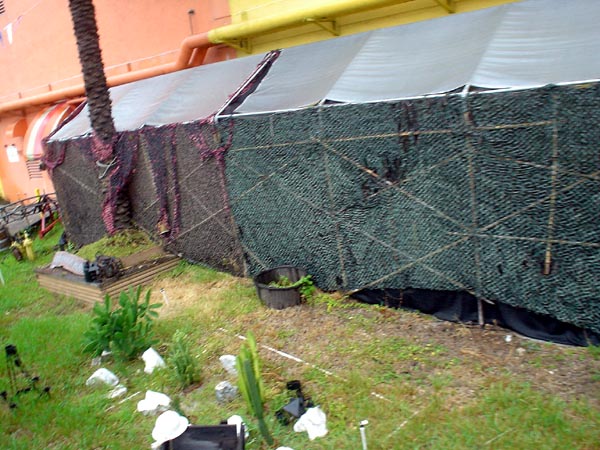 It had a 'tunnel' made out of a tarp and some camo netting. I guess that was supposed to represent the 'mine' part of the ride!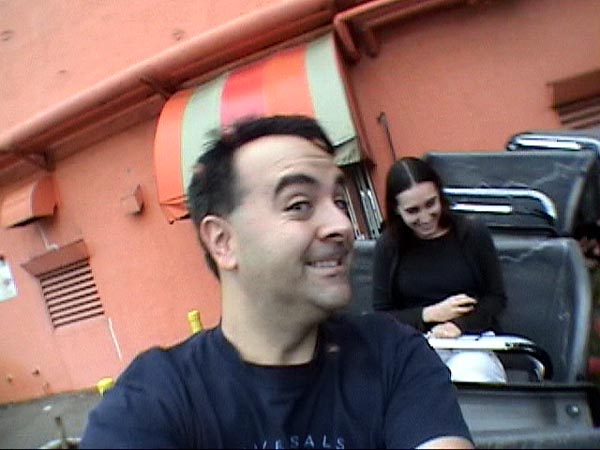 "I feel SOOOO dirty!!!!"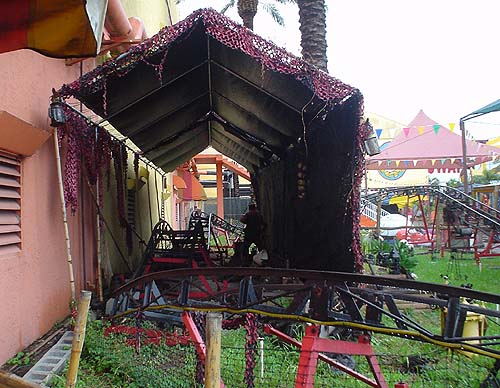 The 'tunnel' really was the best part. It MADE the ride. Such amazing theming.
The Disney Imagineers will be floored when they see it!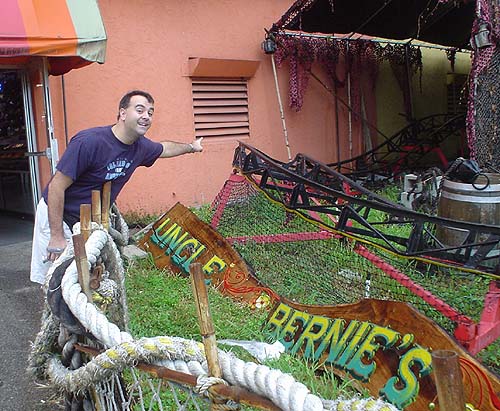 The place reminded me of that scene in Mallrats where Brodie and T.S. find the topless,
tri-nippled fortune teller in the indoor flea market...trust me, I was looking for one of those here too!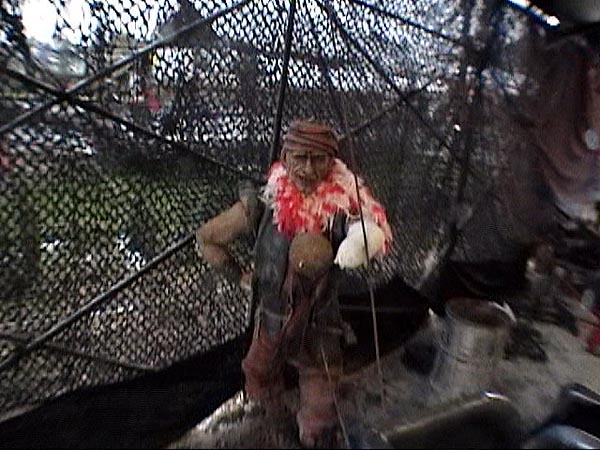 I'm sure this "Hawaiian Lei-Wearing-Old Fisherman Statue" used to sit on someone's front lawn!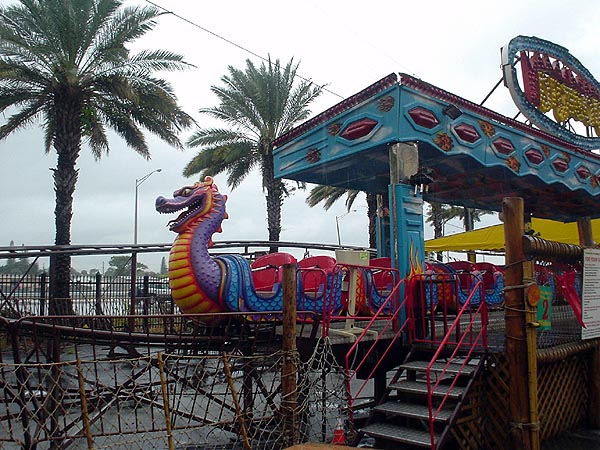 They also had a powered coaster there, but there is where we draw the line. We're are THAT big of credit whores!! =)
Click HERE to see Page Three of "A Day In Miami 2004" photos