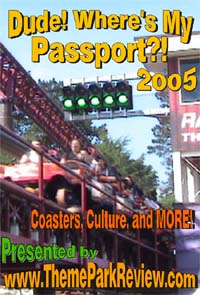 (click photo for larger image)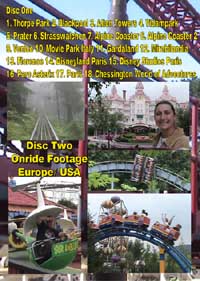 (click photo for larger image)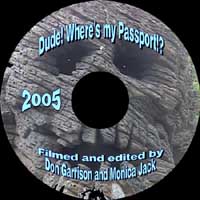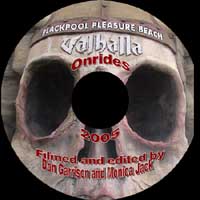 To order this DVD, click HERE

Theme Park Review Presents "Dude! Where's my Passport!?"
Filmed and Edited by Don Garrison and Monica Jack
Total running time: Appox. 2 Hours

A Theme Park Review "Affiliate Label" DVD

"Dude! Where's my Passport!?" - Parks Included:
- Thorpe Park, England
- Blackpool Pleasure Beach, England
- Alton Towers, England
- Vidampark, Hungry
- Wiener Prater, Austria
- Alpine Coasters, Austria
- Venice, Italy
- Movie Park Italy
- Gardaland, Italy
- Mirabilandia, Italy
- Disneyland Paris Resort, France
- Parc Asterix, France
- Chessington World of Adventures, England

"Onrides 2005" - Coasters Included:

European Coasters:
Nemesis Inferno, Steeplechase, Hullamvasut, Super 8, Megablitz, Hochschuabahn,
Wild Train, Alpine Coasters, Sequoia Adventure, Katun, Pakal, Explorer, Sierra Tonante,
Family Adventure, Big Thunder Mountain, Indiana Jones, Tonerre De Zeus, Vampire, And MORE!!!
Rattlesnake, California Screamin
USA Coasters:
California Screamin, Speed: The Ride, Thunderbolt, Jack Rabbit, Racer, Top Gun (PGA), Demon (PGA)
Treetop Racers, Canton Blaster, Wildfire, Kong, Hades, Zeus, Cyclops, Avalanche, Viper (SFGAm),
Ozark Wildcat, Talon, Triple Hurricane, Wildcat (Lake Compounce), Boulder Dash, and MORE!!!
Onride footage and POV of more than 50 coasters!
To download some sample segments from this DVD click the links below:
Wiener Prater, Austria
Blackpool Pleasure Beach, England

About the videographer -
Don Garrison, a resident of Northern California, began making coaster videos
in 2004. His Theme Park Review Video Contest Entry "Universal Studios Florida"
placed in the top 15 and even earned him a "notable."
Don enjoys all parks and coasters but it's really the off beat independent parks he enjoys most.
Aside from coasters he's primarily a trampoline and fruit punch enthusiast and likes to count any
and all rides as coasters, including log flumes, ferris wheels, and most benches (picnic style benches
count as two credits if he rides both sides).
Don's been a coaster 'tool' for a few years now and is happy to share his madcap adventures with others!
Thrillnetwork.net Reviews "Dude! Where's My Passport?!" HERE!
To order this DVD, click HERE
A: Well, it all started with the introduction of the video contest last year.
We found that there lots of talented coaster video makers that were
looking for a way to get their work seen by as many people as possible.
Readers would send us their DVDs and ask us if we would distribute them
and after figuring out a good way to do this, we are now offering a chance
for our readers to have their DVDs distributed by Theme Park Review!
If you have a Coaster DVD that you want Theme Park Review to
and we will send you the details of the affiliate label program.