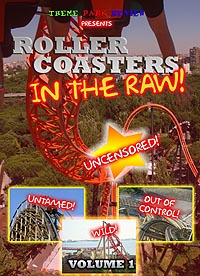 (click photo for larger image)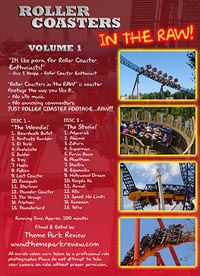 (click photo for larger image)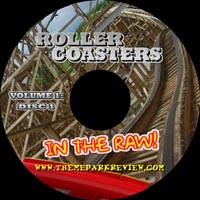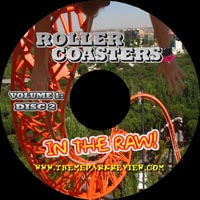 To order this DVD, click HERE

Roller Coasters in the RAW! Volume 1
Running time: Approx. 100 Minutes
*NEW RELEASE* Only $10! Now on Sale!
Roller Coaster footage the way you like it! RAW!!!
"It's like porn for roller coaster enthusiasts!" - Guy T. Koepp, Roller Coaster Enthusiast
If you love coasters then Roller Coasters in the RAW is the MUST HAVE DVD for you!
Each volume contains lots of POV (front seat point of view) footage and off ride shots at just
about every angle! No silly music. No annoying commentary. JUST COASTER FOOTAGE!
Volume 1 Contains:
Disc 1 - Woodies:
Boardwalk Bullet, Kentucky Rumbler, El Toro, Avalanche, Balder, Troy, Hades, Falken,
Lost Coaster of Superstition Mountain, Renegade, Starliner, Thunder Coaster,
The Voyage, Meteor, Thunderbird.
Disc 2 - The Steelies:
Maverick, Abismo, Zaturn, Superman: la Atracción de Acero, Furius Baco, Phaethon,
SheiKra, Eejanaika, Hollywood Dream, Kingda Ka, Kumali, Rita, Speed: No Limits
Kanonen, Tatsu
Download sample segments!
Cedar Point's Maverick - DOWNLOAD
Kemah's Boardwalk Bullet - DOWNLOAD
Cypress Gardens' Starliner - DOWNLOAD
To order this DVD, click HERE
Note: All onride footage on this DVD was taken by a professional ride photographer.
Do not take your camera on roller coasters without permission from the park.