TPR Notes

---

Mt. Olympus is located in the heart of the tourist-trap area known as the "Wisconsin Dells." Mt Olympus strives for a Greek theme, and some elements look nice, but the theming is not immersive. On the positive side the park does offer some excellent water slides, wood coasters, and go-karts (which are included in admission), but note that the park staff could use a few lessons in guest service.

The terrain is quite hilly and shade is lacking if you are in the center of the park, although the indoor rides area and waterpark can provide relief.

Do not miss the back seat of Cyclops: the airtime is so intense they require riders to be 18 to sit there. All in all, this park is worth a visit as it offers a little something for everyone.

Member Reviews

---

Results 1-15 of 15 for Mount Olympus

(Log in to post / edit your review)

Worst Park I've been to
10-10-2016

Montu357

Mt. Craplympus as I've heard it be called by many did not disappoint its name. This place is a massive disappointment. The coaster are horrendous (Hades 360 was determined to break my abdomin) the ops were the worst I've seen (5 minute dispatches), the ride policies are awful, and many employees didn't know English which concerns me from a safety standpoint. On top of that the park was inconvenient and awful at managing crowds as I waited 20 minutes in a line to get a drink and left cause it was so slow and finally the park wasn't well kept. It felt run down and very uninteresting. If your in the area go experience Wisconsin Dells or continue to ValleyFair or Great America cause this place wasn't worth it even on the $15 entry day. :/

---

Written by someone who had the misfortune to work there
04-27-2014

Aredhellhellsong

So you think everything you have experienced there was bad, horrible, unfair, discussing?
That is because you have no idea how the staff is being treated. Where to begin? The idea behind the way Mt. Olympus executes their management responsibilities is completely outdated comparable only to the way Taylorism and Fordism operated, however, without any fairness. There is not job security, though not one really looks for that sort of thing, no descent living conditions and absolutely no respect. The closest thing that comes to mind every time I think of my summer there is: "modern day slavery".
Due to the fact that their business principally consists of customer service, the way in which the staff working there in being recruited, trained and managed is of a crucial importance. However, that is not applied in their business practice. Bearing in mind the nature of the service they are providing, it is very important for them not only to hire the right people, but also make sure their employees are fit for the job and then trained in the appropriate way. Nonetheless, the current situation is completely different than the theoretical concept as they neither uphold nor apply the ideas discussed earlier about HR effectiveness.
Mt. Olympus are participating in the J1 exchange visitor program, which makes them certain that there would always be someone to employ and therefore do not pay attention to the quality of the service the students would be able to provide As the business is situated in an English-speaking country, the need for employees to speak the language well is evident. In spite of this, people with low levels of English or practically non-existent language skills are being hired. The HR department does not check whether or not they are suitable for the company under these criteria, but neither is it conducting any activities aimed at the well-being of the employees. Consequently the recruitment and training and development processes can be deemed/appear to be superficial. Moreover, nothing is done to help people feel integrated in the new environment, secure with their position and therefore certain that they will get rewarded and be appreciated if they are doing their job. What is more, because of the lack of any distinct leadership and support from the organisation as a whole, and the HR department in particular, the workforce is becoming "alienated, deskilled and bored". This results in bad customer service, which reflects upon the image of the corporation and its overall attractiveness both to the customers and employees.
Based on the above, the HRM practices in this particular organisation are ineffective as they are not being productive in terms of revenue (due to the poor customer service) or in inspiring employee loyalty.

Additionally, the staff is made to work sometimes 16 hours per day with no overtime payment and what is more - the living conditions are horrible. You think you are paying a lot? How does it sound to live in a tiny squire room with 3 more people and the bathroom/toilet not even having a sealing? For the extremely good price of only $75 pppw.

The extremely hazardous conditions some of the people reviewing have highlighted here are true. I, as a healthy non-smoking individual, almost developed asthma. And, no, they did not offer to pay for me to go see a doctor, even though it was completely their fault.

Ta ta.

---

Mt. Craplympus
02-19-2014

djboss302

I went to Mt. Olympus this past June, and let me just say, this park sucks. Hades 360 is just an awful coaster, and it's in my bottom 5. Zeus was mediocre but still pretty decent. Cyclops is good, but it has been so rough lately. Pegasus is just plain terrible. The food options were Crap. If I have anything good to say about my day, it's that the water park was decent, but nothing special. If you are ever in the Dells, I suggest you pass this park up and go to either Kalahari, Noah 's Ark, or Timber Falls. Any of those would be better than this place. And of the 7 parks I've been to, this one was the worst.

---

An All Time Least Favorite
01-08-2014

Caleb

Home of a bunch of terrible rough coasters, with some of the worst customer service possible. Cyclops was my favorite coaster their with that pop of crazy airtime. Hades 360 was soooooo bad... But the new section was butter smooth. I do however predict it will be unbearably rough like the rest of the rides in a few years judging how poorly their wooden coasters are maintained. Good news is that their is a much needed bar fairly close to the exit. Then you can ride their fun SkyCoaster.

Their operations are the worst I've ever seen. There is only one train on every coaster. Almost every employee is foreign and will simply not say a word to you. Cones mark off restricted areas to rides. I honestly don't feel safe here. No desire to go back.

---

Mediocre at best...
06-29-2012

chisports18

All the park's staff are foreign and can hardly speak english. I got one hello the entire 3 hours I was there. The gift shop staff was very friendly though. Theming is pretty weak, no loudspeakers or music playing in any of the stations. Some of the staff looked like they didn't want to be there. Lines get long but that will happen when all the coasters can only run one train. Coasters are decent. Cyclops is short but has some of the best airtime I've ever experienced especially in the back 7/10. I almost lost my phone riding it. Zeus is meh, nothing special 5/10. Hades is sweet, definitely a top 30 coaster 8.5/10.

---

Has the potential to be really good.... but isn't
03-07-2012

dippindotsguy8

Mount Olympus is one of those parks that has just gone downhill the last few years. The park features three potentially great wooden coasters, but unfortunately has not maintained them well. Hades is nearly un-rideable, and Zeus feels like it doesn't have upstop wheels. Fortunately, Cyclopse is still an amazing ride with it's signature ejector moment. Things that would greatly improve this park are better maintenance, two train operations, and more professional staff. At least at most parks, the ops try to hide the fact that they're texting. At Mount Olympus, they just dispatch the train and go sit on the exit steps texting or chatting until it comes back....

---

Has great potential
11-23-2011

chadster

Lets be honest, the park has the ability to be a huge player in the region, but they are just not capitalizing on it. They hire mostly foreign exchange students which is not a bad thing, they just don't seem to care. Hades is OMFG rough, but has the potential to be great with a little TLC. The go-carts are well worn with one popping an axel on my visit. The waterpark looks nice and is the obvious draw for summer travelers.

The hotels are not the best and don't appear to have seen an upgrade since they were built. Would I go back, maybe, I still need a credit.

---

Decent Park, Hades used to be great
11-23-2011

Hilltopper39

When I visited mt. Olympus in 2005 I had a very good time. Hades was still smooth and and very exciting, a top 10 coaster at the time i rode it. Zeus was surprisingly good, and Cyclops had one of the most intense pops of airtime I had ever experienced. The go kart tracks were all very unique and being included with admission was a plus. The water park has several good slides, nothing out of the ordinary but still fun. It was an enjoyable park, I might not visit again until they build a major new attraction but based on previous experience i would consider a return visit.

---

I didn't have that bad of an experience.
10-28-2011

Superbigshow19971997

Yes the rollercoaster are not taken care of very well as well as the rides and waterslides but the waterpark is awesome and so is Hades I guess i came here on a good day. although the staff was pretty terrible

---

Not terrible, but frustrating
08-18-2011

deathbydinn

I've never found Mt. O to be too terrible as they have a somewhat outdated, but very big, water park, an insane wave pool, one really kick ass coaster, one of the most insane moments of airtime on any coaster and great go karts. However, the park is lacking in things like entertainment, flat rides, and coaster up keep. The wooden coasters will get some work each year, but not as much as they need, and capacity suffers from the use of only one train for each coaster. Mt. O is worth a stop if you're in the area, but it's not really a full day stop unless you do the water park too. The park still has potential, and lots of room to expand, and I really hope it can improve itself in the up-coming years.

---

HIt or Miss
03-25-2011

sixflagsguy5

Mount Olympus is a hit or miss park. I've been to the park many times since 1997. Some days, the park is extremely busy and riding the roller coasters is unbearable, because of each coaster having one train. The water slides get very long lines also. Be sure to use Club TPR discount and check out "Night at the Park", which is an upcharge ERT offered to anyone for $5. I suggest being the first to ride Hades- the line can exceed 90 minutes when full. At closing they kick everyone out of line

---

Rough coasters and terrible efficiency
03-24-2011

jray21

This park could be so much better if the rides weren't so incredibly rough, and the employees/management were more friendly and efficient. The cyclops drop is one of the scariest I've ever been on, but the rest of the ride is pretty brutal. As for the other coasters, they are way too intense and are incredibly painful. The 10' wave wave pool is really neat, yet it can be very crowded.

---

Awful..
03-04-2011

Cameron

The whole park feels like it was hacked together in someone's garage. Everything seems to be held together with duct-tape, and nothing seems to work well. The rides really aren't that good, and the staff are pretty awful too.

---

Ugh
03-03-2011

cfc

Maybe if I'd checked out the water park, I would've enjoyed Mt. Olympus more. Its four wooden coasters range from just plain dull (Zeus) to "holy-crap-this-thing-is-trying-to kill-me" rough (Hades), and I'm just not into go karts. Oh, well--perhaps I'm not the right audience, but at least I can say I've been to the Dells (for what that's worth).

---

Great Water Park
03-02-2011

jynx242

The water park at Mt. O. is very nice, and the wave pool is frankly psychotic! Hades was, initially, just amazing, but it has gotten pretty brutal in recent years. The airtime on Cyclops on "the drop" is actually scary - I love it. The staff vary from nice to pretty useless. I do recommend trying the go-carts here. They are all very large and quite fun.

---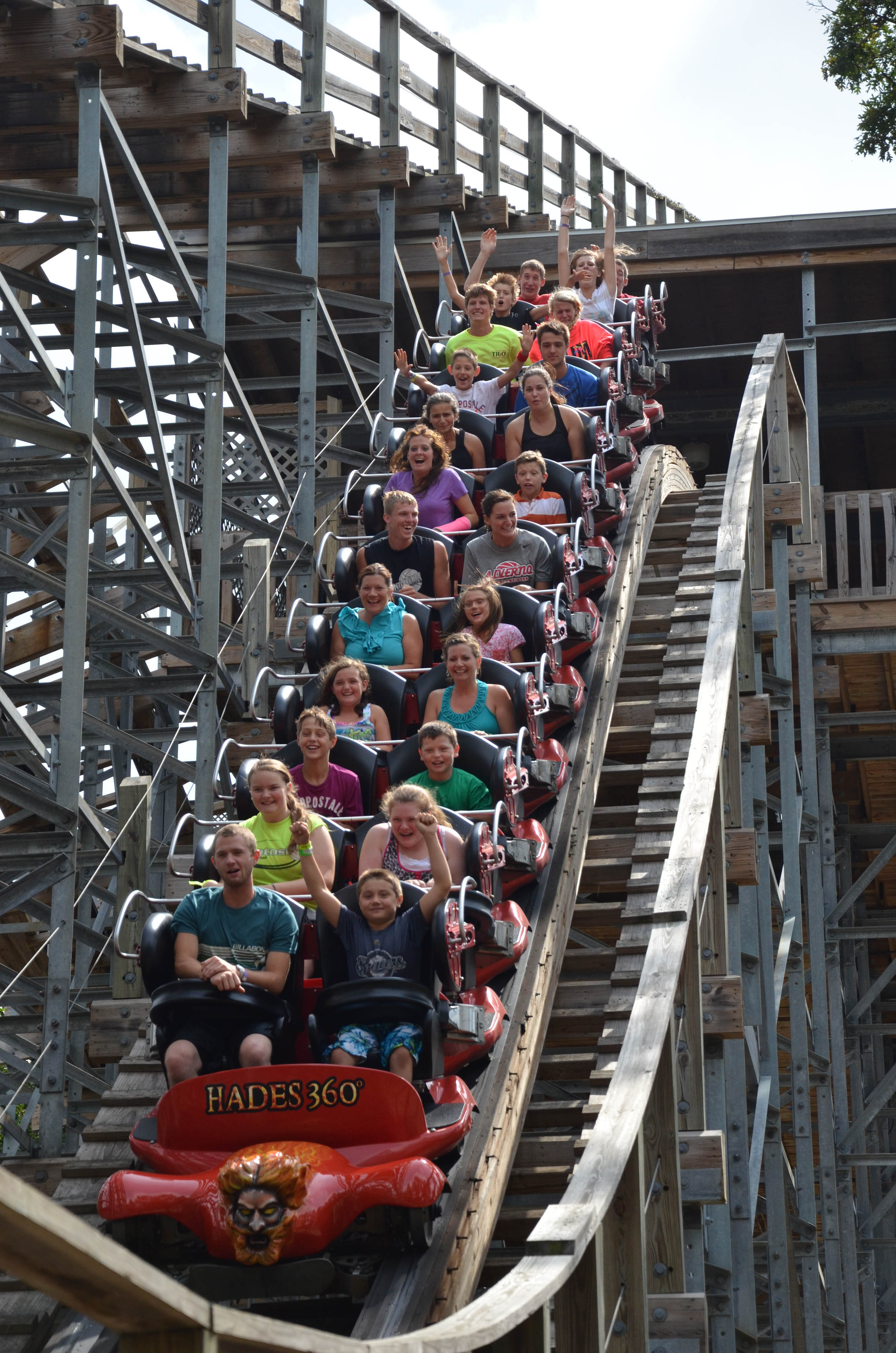 Pros
Cheap admission
Go karts are included
Cons
Disinterested staff
Poor maintenance of coasters
Admission Policy
Pay One Price


Recent TPR Updates
No Infomation.