Knott's Berry Farm & Silver Bullet Photos
Buena Park, CA
Official Website: http://www.knotts.com
February 26, 2005
"90 Minutes at Knott's Berry Farm..."
"...or that's MORE than enough!" =)
So the back story here is that Dave and Mary are in town from Baltimore, and this is the first time Dave has been to
Knott's in about 5 years, and Mary had never been to the park before. They had heard about a lot of the "changes"
the park has gone through, but today they would experience it first hand. We were happy to see the sign up at the front of the park
read "All Attractions Will Be Open Today" since there was still quite a few new things for Dave and Mary to see.
Little did we know, though, we'd have some surprises in store....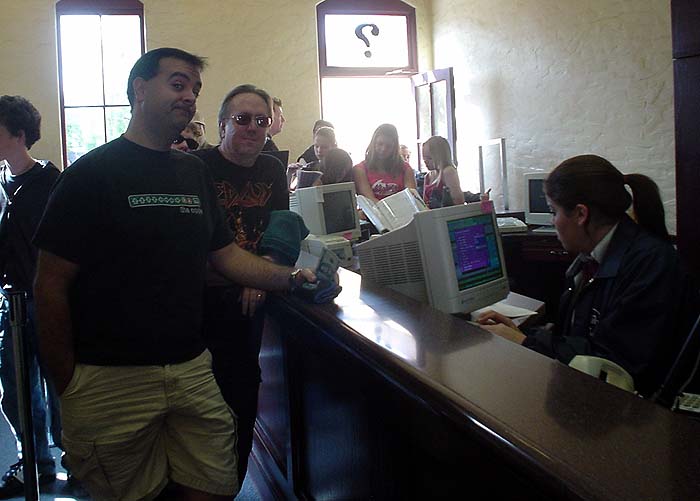 It's a good thing we got to the season pass processing center early to be the first in line, since they ended up
having a line out the door, and only ONE person working. Nice.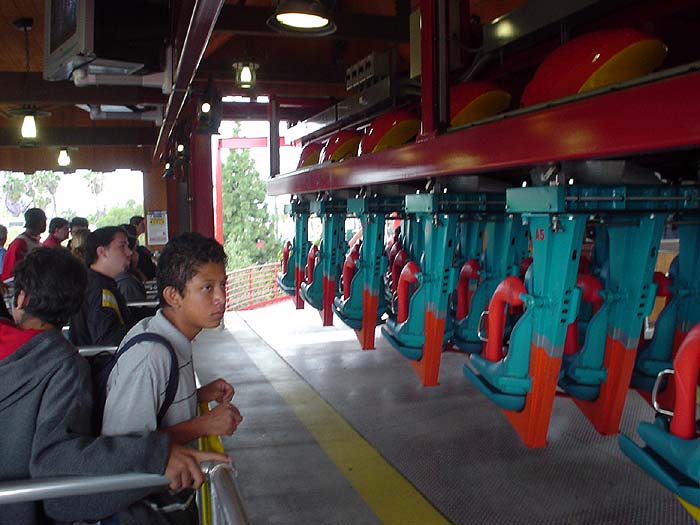 Here we are at Silver Bullet, waiting for them to complete their morning testing as we watch them sending out empty trains.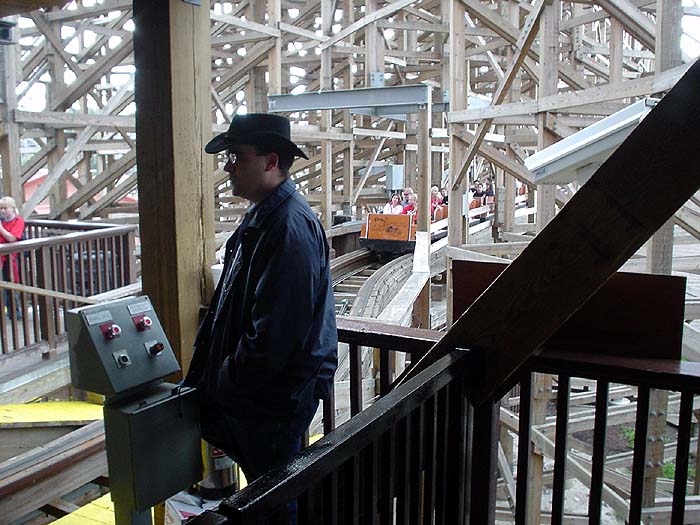 Ahh, Ghostrider....once a great, GREAT woodie, now only a shadow of it's former self.
Here they are still managing to 'stack' the trains on just about every interval.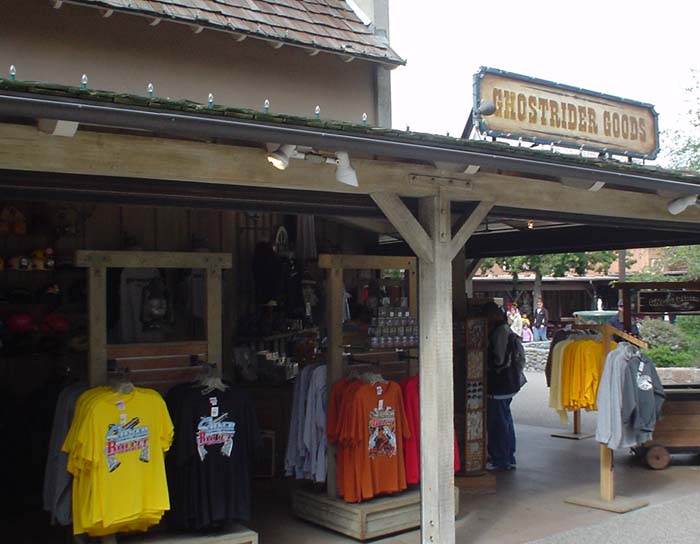 What's wrong with this picture? =)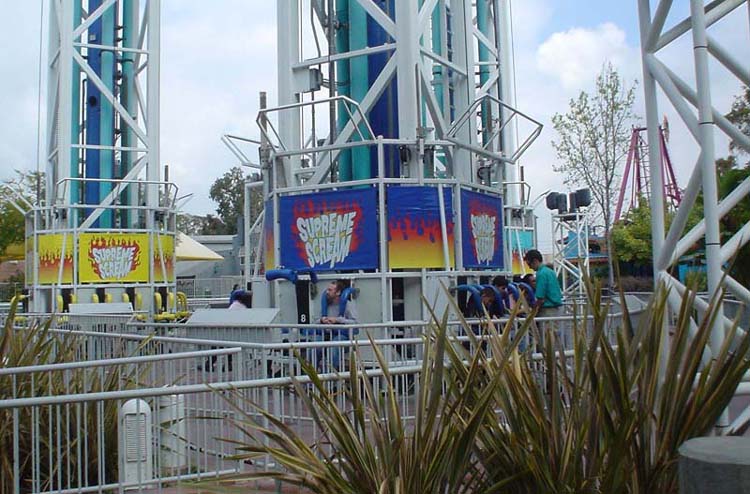 Only one of three towers were operating today. This was fine early on when there was no line, but an hour later when the line was
long, there was still only one tower running. *sigh*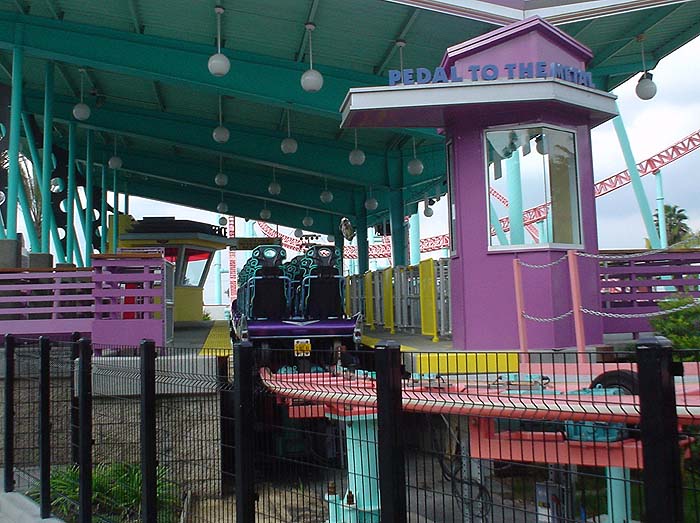 Oh? What's this? No line for XLR8R? EXCELLENT!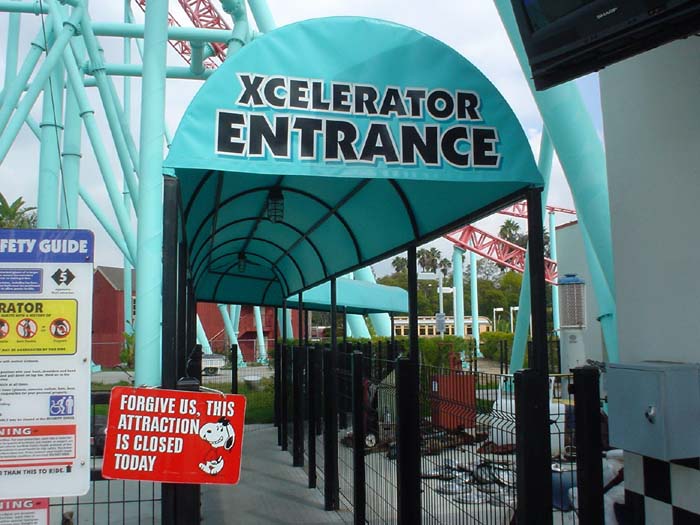 Oh...that's why. WTF? I thought the sign said "All Attractions Will Be Open Today!" GRRRR!!!!!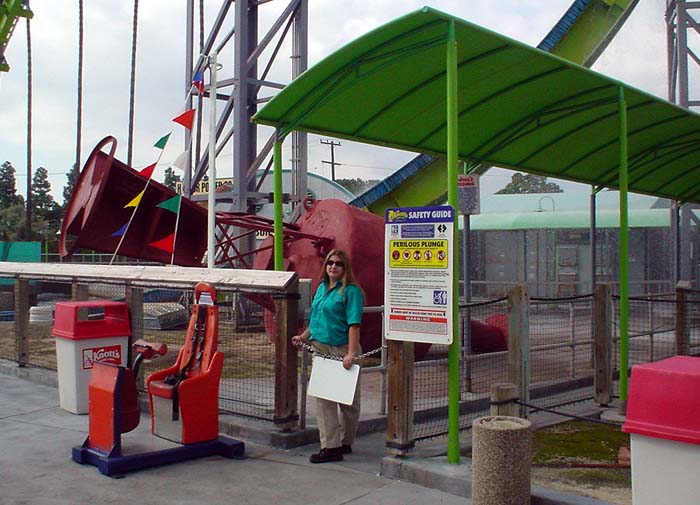 Oh, look. Perilous Plunge was closed too.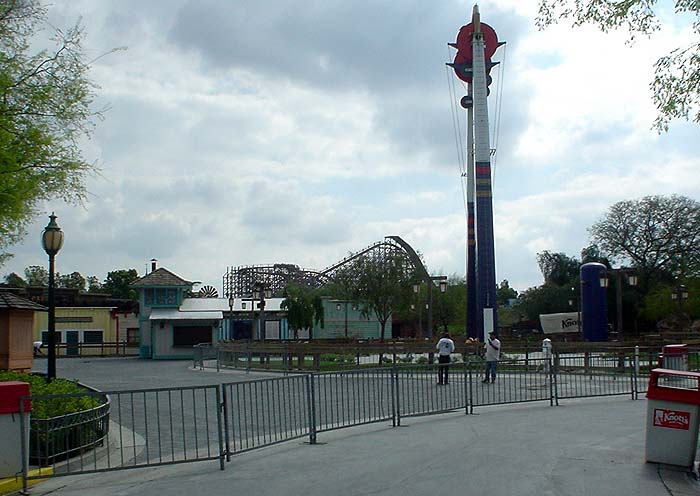 And so was the Screamin' Swing because they were re-paving this area!!!! WTF?!?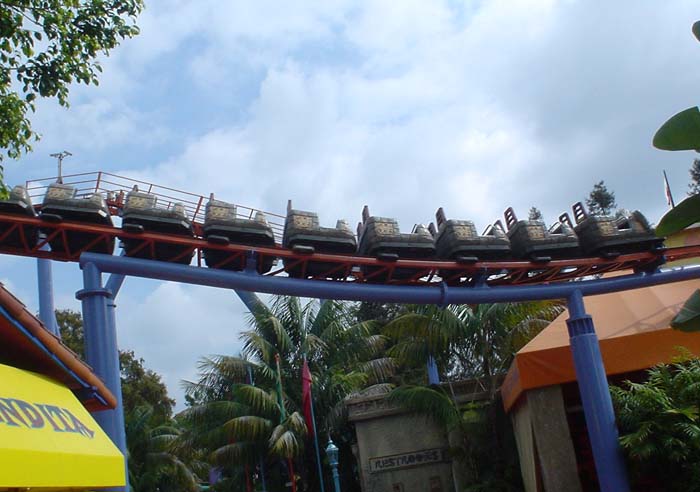 Why are there no riders on Jaguar you ask? Because they running it one train empty, one train full.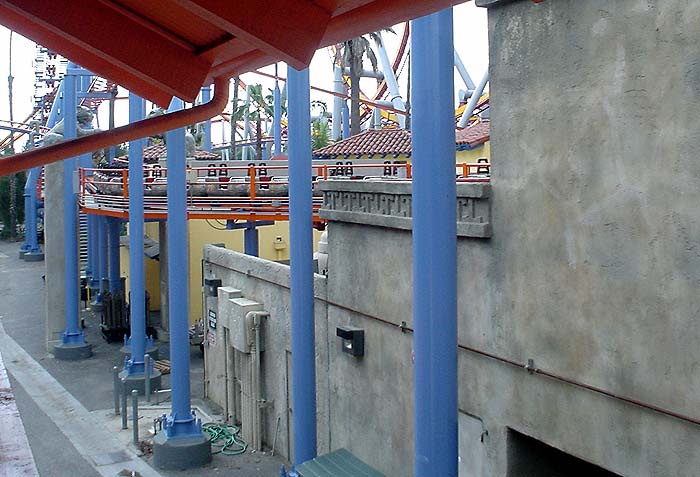 And this takes talent. The Jaguar crew was so AWESOME today that they managed to consistently "stack" the trains, even when
they only had to deal with one train full of people!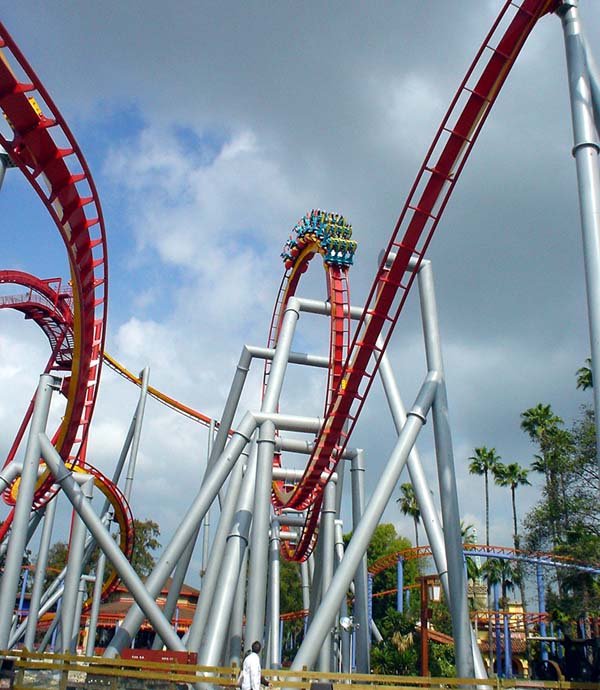 Here are some Silver Bullet photos. Overall, it's not a bad ride, it's not a great ride, it was kind of fun, yet we had no urge to ride it again.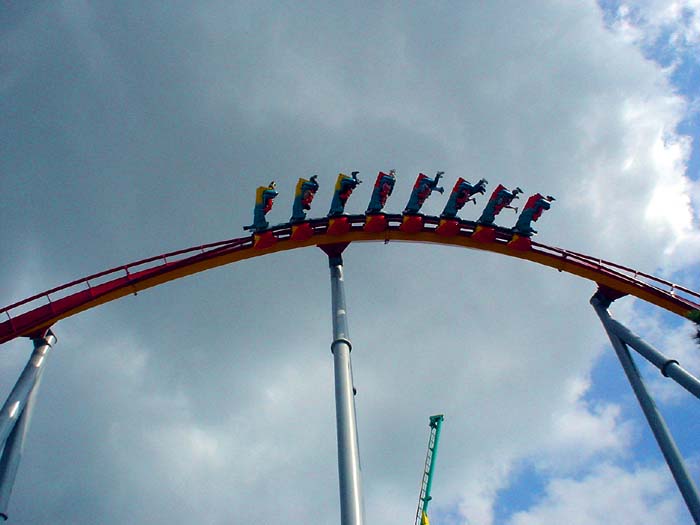 ...this is the only element that is really "cool" on it. IMO, this counts as an "inversion."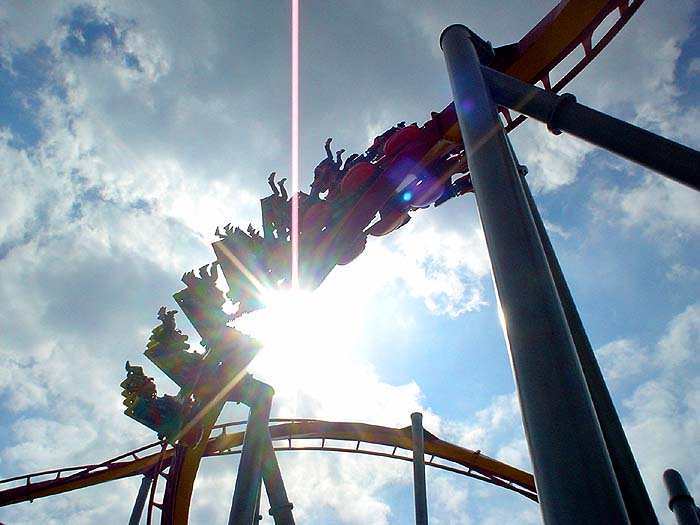 The ride reminds me a lot of "Air" at Alton Towers....it's very floaty, graceful, and doesn't ever feel like you're going more than
about 40MPH throughout the whole thing. Silver Bullet is like the "family mine train" of inverted coasters.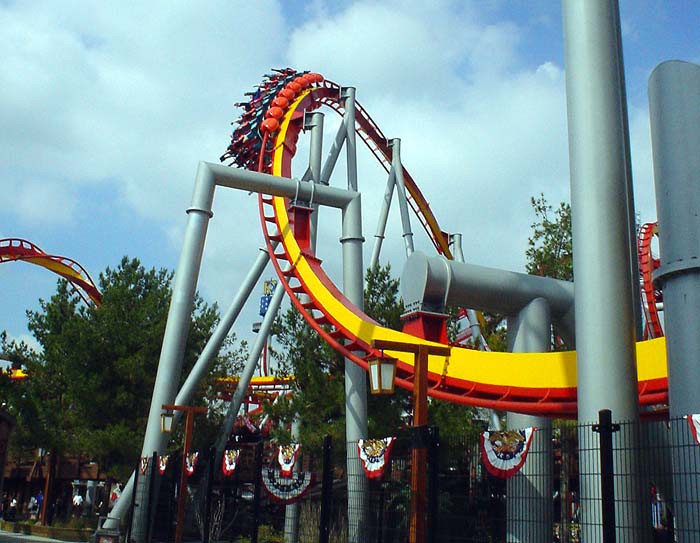 Out of the over banked turn and into the cobra roll. There are several points in this ride where the train travels at such
a gentle speed that it feels like you are going to "roll back."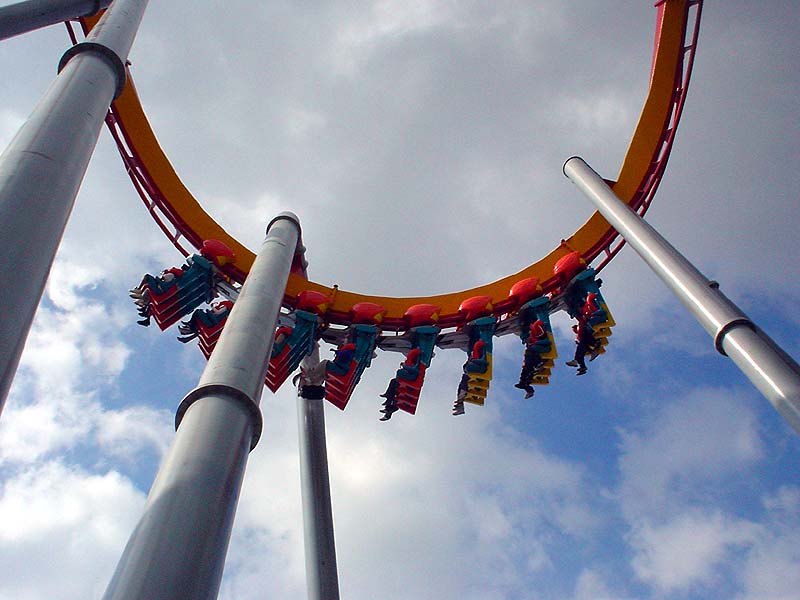 Yay, it's a cobra roll...just like on most other B&M's! =)

Silver Bullet is certainly not the worst B&M out there, but it's FAR from the best. If there was a B&M inverted coaster that
SHOULD have a 48" height restriction so that families can ride together, this one should be it. If you're looking for an
intense, thrilling B&M invert, see Batman at Six Flags Magic Mountain about 60 miles north of Knott's.
If you want a tame, but fun invert, Silver Bullet is for you.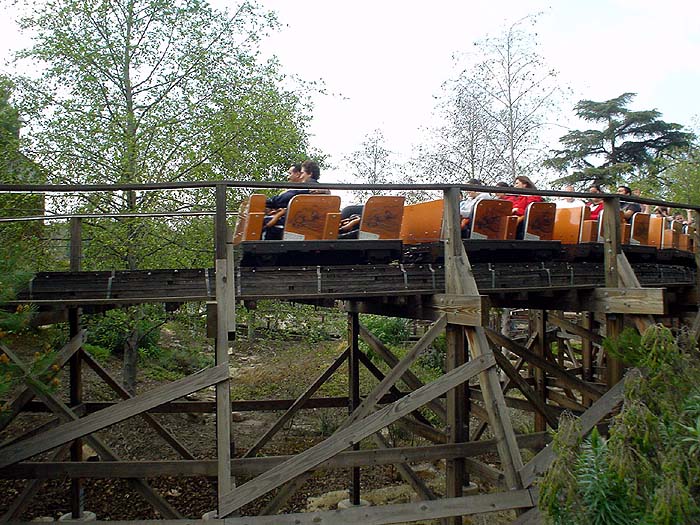 Ghostrider - *NOT* "Silver Bullet Smooth!!!" =)
Click HERE to discuss this update on our Forum.
To read our Silver Bullet Review, click HERE.