Japan 2004 Trip Reports!
The following trip reports were originally posted on Westcoaster.net. We originally wrote these as a 'daily diary' log of our trip.
After many requests, I have put them all in one place! If you have any other questions about Japan parks, please email me!
Sunday - Arrival in Japan and Tokyo Disney Resort Day 1
Click HERE to see our complete Tokyo Disney Resort Photo Update
So we made it to Japan!!!! We've only been up for about 30 hours straight and we're still going strong! We just got back from DisneySeas. Neat park! Not a lot to do there, but it looks great!

Our flight got into Narita about 30 minutes late due to a weird incident at LAX where someone needed 'emergency medial treatment' after we pulled back from the gate, and they had to pull her off..

Anyway, we got in the last two hours of DisneySeas tonight and rode 20,000 leauges...Cool ride...Indy...had no idea it was so much different than the California version...GREAT improvements! And then finally Sinbad....kinda goofy Small-Worldish type ride, but fun. We were going to ride Journey, but the line was 80 minutes and we were all tired!

Our hotel has high speed internet and I should be online fairly regularly each night so I'm going to post a couple of pics and add to this thread as much as possible to give you all updates on our progress! So here's a couple of pics: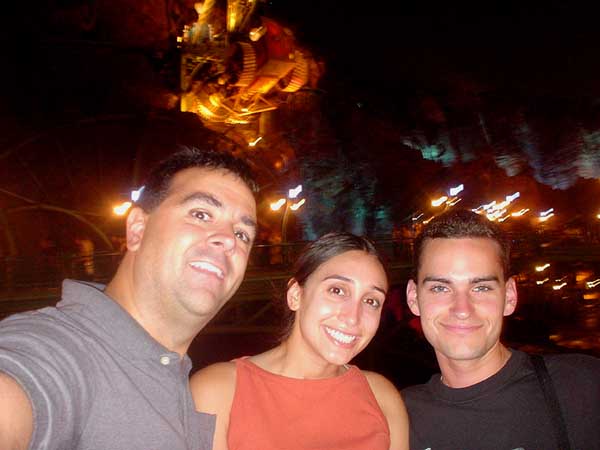 Here we are at DisneySeas in front of Journey To The Center Of The Earth!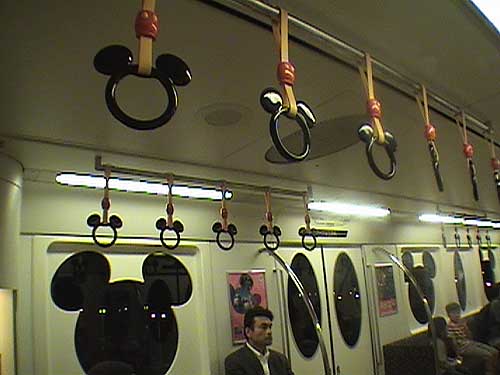 The Tokyo Disneyland Monorails are awesome!!! Check out all the Mickey theming!
The next morning - Monday:
Hey all! We just woke up! Japan is 16 hours ahead of So Cal (think of it as 8 hours behind, but the next day!) So when it's 6pm So Cal time, it's 10am Japan time.

Anyway, we all slept pretty good considering the jet lag.
Here is the view from our hotel and you see we are right on the bay. It looks like Godzilla should pop right out of the water!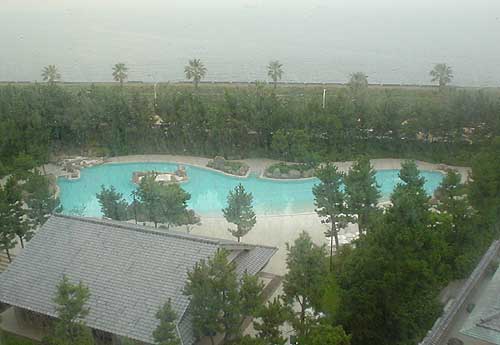 Here is the view from our hotel at Disney and you see we are right on the bay.
It looks like Godzilla should pop right out of the water!
We're staying at the Hilton Tokyo Bay and it's a really awesome hotel! It's everything you'd expect from a deluxe Disney resort. We're right across the street from the Monorail station. This morning we'll off to Tokyo Disneyland to check out their version of Haunted Mansion Holiday, which just opened here for the first time ever last week!

We're at TDL all day today, since their park hopppers work a bit different. If you buy a 3 or 4 day park hopper, you cannot hop the 1st 2 days. You have
to tell them what park you're going to the 1st two days and it's printed right on your ticket: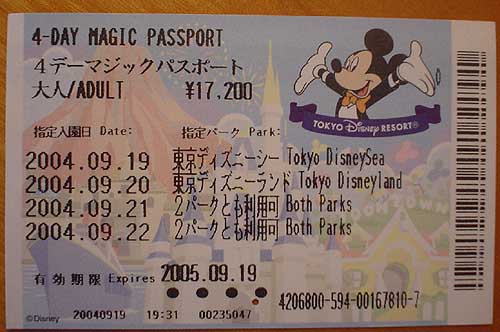 That was another reason we wanted to go to a park last night, even for two hours, so that we'd have the ability to park hop all day Tues and Wed.

As far as how much Japanese we learned, we learned as much as possible. For the most part, we haven't run into any language barriers yet, but it's polite to start speaking in Japanese to at least make it look as though you're trying.

Think about all the Japanese tourists you encounter at Disneyland in CA. They all know how to say at least the basics in English. "Two Cokes, please" etc.

So we made sure we learned as much as we could and even hired a Japanese tutor to help us out a bit, and we bought the "Japanese for Dummies" which honestly, was REALLY helpful!

Monday - Tokyo Disney Resort Day 2 and Sega Joypolis
Click HERE to see our complete Tokyo Disney Resort Photo Update
Click HERE to see our complete Sega Joypolis Photo Update
So we've just gotten back from our first full day at Tokyo Disneyland. And it was a FULL day! We were at the park gates at 7:15am and we just got back now at 10:30pm. We did make a 3 hour side trip out to Sega Joypolis, but I'll get back to that in a moment.

So here are a few comments about Tokyo Disneyland:

1. Amazing....Simply amazing! Now, just to let you all know, I'm honestly not a big fan of the "Magic Kingdoms"....I hardly ever go to Disneyland anymore, and MK is our least favorite of the 'three' WDW parks. I do love Disneyland Paris and that has been my favorite 'Magic Kingdom' since that park opened. However, our last visit there wasn't the best, since Space Mountain was running like crap and Indy running backwards was horrible. So flash forward to Tokyo Disneyland. I didn't know what to expect really going into it. I knew that Tomorrowland and Fantasyland were kind of 'ugly', and they are, but that doesn't matter, everything else in the park FAR makes up for it! Take capacity for example....try to imagine the park where you've seen the best capacity ever...be it Cedar Point, Knoebel's, WDW, etc....this park BLOWS it away!!!!! We were simply in shock all day at the level of efficiency everywhere!

2. The rides....there is just so much at this park, it's like the 'greatest hits' of all the other Magic Kingdoms! Cartoon Spin is here, all the mountains that are found at the majority of the other MK's, Pooh is awesome, Country Bears are still alive, etc. There is just so much to do it's insane!

3. Pooh. What can I say other than this might very well push MiB aside as my favorite dark ride. Now I only say *might* because of the rides subject matter. Anyone who knows Elissa and I know that we both *hate* Pooh. He is my least favorite Disney character and I hate everything that has to do with any of the Pooh characters. We haven't even been on the WDW or DL versions of the ride yet! Also keep in mind that Elissa and I don't really like dark ride that much. But this ride is simply amazing! It does things that I didn't even know a dark ride could do. The way the pods move around is crazy, the bouncing Tigger room had us laughing the whole time. The ride is great, and other than it being Pooh related, it's about the only dark ride other than MiB that I can't wait to go on again.

4. We conquered this park! We had been told by almost everyone we know who has been to TDL before that "you'll see a park packed like no other", "accept the fact that you'll have to wait 2-3 hours in line for most rides", "it will take you days to see everything..." What the hell are people talking about?!?!

Today was a national holiday, and marked as a "peak day" meaning it is one of the 30 or so busiest days of the year. And yes we saw the 2-3 hour lines for stuff, and yes the park was packed like we had never seen before, in fact, we were really worried that we were so screwed, BUT this park was SO EASY to navigate! The entire day we kept saying "we have totally mastered this place in one day!" Just to give you an example, here is what we rode: Splash Mountain, Thunder Mountain, Pooh, Haunted Mansion Holiday Nightmare, Gadets Go Coaster, Pirates, Cartoon Spin, Country Bear Jamboree, Space Mountain (twice!), Peter Pan, Snow White, Pinocchio, and Small World. And we ate at a full service restaurant (Sweetheart Cafe), took time out for shopping AND left the park for 4 hours while we went and did Sega Joypolis! The longest line we waited in all day was 25 min for Cartoon Spin. Next to that, we waited no more than 10 minutes for anything else due to our awesome fast-pass usage and knowing when to hit certain rides at certain times of the day. So to all those people who waited in those 3 hours lines, this is proof that you didn't need to! The only ride we didn't get on today was Buzz, but we're going back first thing tomorrow to ride Buzz and Pooh without waiting in line, then off to DisneySeas all day.

5. Sega Joypolis - What an amazing, weird, totally messed up place! Picture a "DisneyQuest" or "Gameworks" but with bigger rides. Speed Boarder was this bizarre coaster where you sit sideways, and the ride spins around a couple of times during the course. We rode an indoor freefall ride themed to skydiving where you were tiled forward and it bounced around like a large frog-hopper and a movie played below you! We saw all those Japanese "Pachinko" machines, but with Sonic and all the other Sega characters! Wacky! Totally cool, but wacky!

Ok, on to the photos of the day: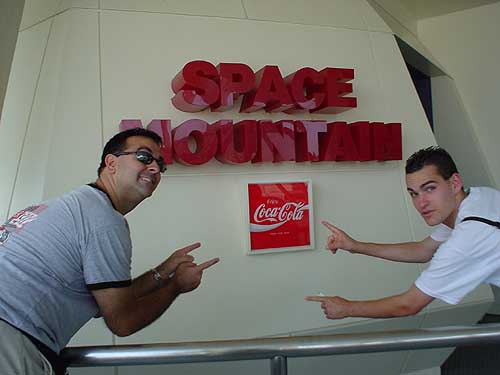 Ha, Ha! Californian's can't do this!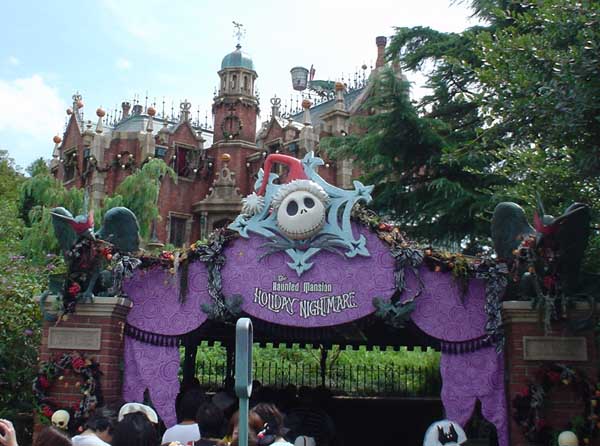 Haunted Mansion Holiday Nightmare was like DL's but with a MUCH higher budget!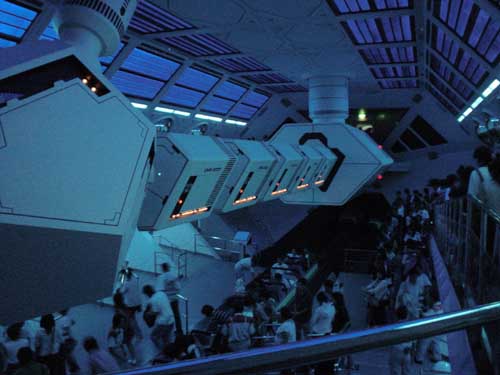 Does this look familiar at all?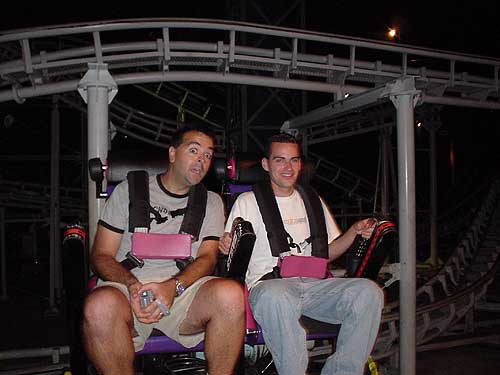 "Speedboarder" at Sega Joypolis - Bizarre!!!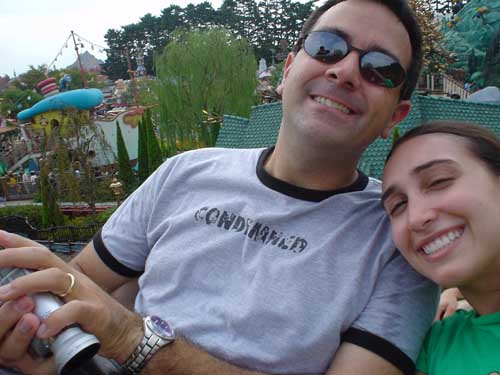 Credit!!! It hard to tell from this pic if we're at TDL or DL!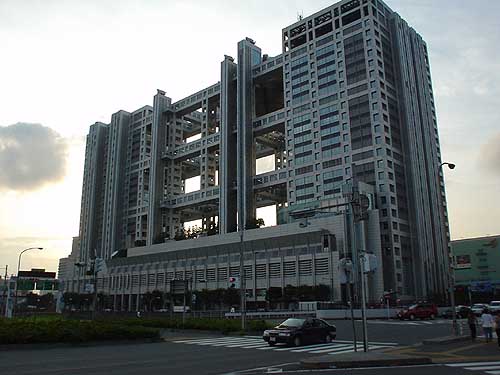 This wacky building is outside of 'Pallet Town'. It looked familiar to us, anyone know what it is or if it was in a movie?
Tuesday - Tokyo Disney Resort Day 3
Click HERE to see our complete Tokyo Disney Resort Photo Update
Today was our first full day at DisneySeas. Wow...what can we say? This park is easily, hands down, the most beautiful park I've been to! The attention to detail is amazing, the efficiency of the staff is unprecedented, Journey and Indy are both great rides, and everywhere you look you are completely immersed...but...

...we were bored after four hours...

I just don't get it. We're walking around this amazing park....hundreds of millions of dollars that have obviously gone into the theming, but there's little to do. By around 3pm today, we had already been on just about everything in the park, some rids multiple times, and we are asking each other "what are we going to do to kill an hour until our Journey Fastpass time???" And we just stare blankly at each other...."umm...I dunno...look in shops I guess?"

We had already made 2 laps around the park, took hundreds of pictures, but IMO there is only so much 'immersion' I can take and I need to RIDE something! TDS needs Tower and that coaster to be open NOW.

But even still, Journey is a *great* ride - not an awesome ride, but a *great* ride. Indy is also great. But other than those two rides, everything else seems like a B or C ride at best. Oddly enough, we really liked Aquatopia! This odd little ride that uses the Pooh system (or I should say Pooh uses the Aquatopia system) where your futuristic little boats glide around and spin in the lake! Bizarre...but very cool! Stormrider was a bit better than I was expecting, but still a simulator. Some nice effects made it slightly better than average.

We ended up spending nearly 10 hours at DisneySeas today, made about 4 complete laps around the place, rode Indy twice, Journey three times, Aquatopia twice, Storm Rider, 20,000 Leagues, Sinbad, had lunch and dinner, looked in all the shops, saw about everything they had to offer, and now I am so done with the park. I never thought in a million years that I'd love their version of the Magic Kingdom so much, and be bored at DisneySeas. Nothing I rode today made me want to immediately get another Fastpass, other than *maybe* Journey, like we did all day at TDL yesterday.

IOA really set the standard on how to 'open up a new park'. Until DisneySeas, that park was the most amazing park I've seen, and they opened with 4 "A" rides - Hulk, Spiderman, Dragons, and Jurassic Park. There was never a time at IOA where I was looking for stuff to do. We always wanted to go get an express pass for something! Meandering around wondering what to do next isn't a problem there. But for Animal Kingdom, DCA, Disney Studios Paris, and now Disneyseas, they all share a similar pattern.

But overall, the park is amazing. I seriously have never seen a place like it. No theme park, resort hotel, nothing matches the level of detail. It really is insane! That part of the park really lived up to the hype. I just want more to do! If you're looking for a 'passive' park, TDS will not disappoint, but if you want a park that keeps you busy, I think you'll be a bit disappointed.
I have to say that the TDL resort even tops WDW in so many ways. The efficiency is just amazing. You'll never see better ride operations anywhere else. The prices aren't that bad, either. Food prices are comparable to WDW or DLR, our 4-day park hopper wasn't much more expensive than a WDW 4 day park hopper (in fact it might have been cheaper), and only souvenirs have been a little pricey, although there's not that much to buy!

As for some of the individual rides, we haven't really been on much that isn't better than the "DL or WDW" versions of almost everything. Thunder is kind of a cross between the Florida version and Paris', with Paris' still being the best one!

Ok, so onto some pics!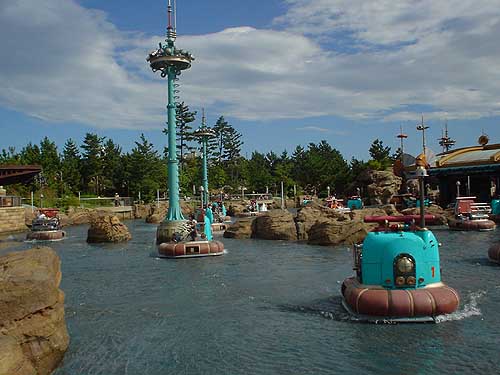 Aquatopia is this funky little ride where the boats glide and spin on the water.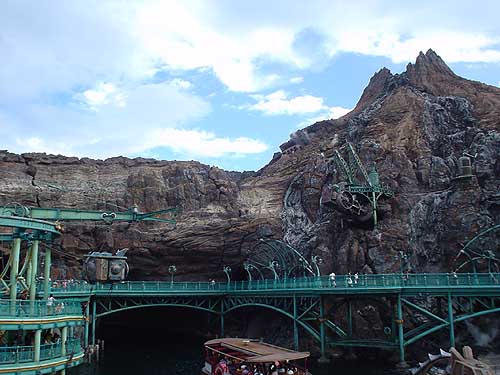 Journey to the Center of the Earth - the best ride at TDS!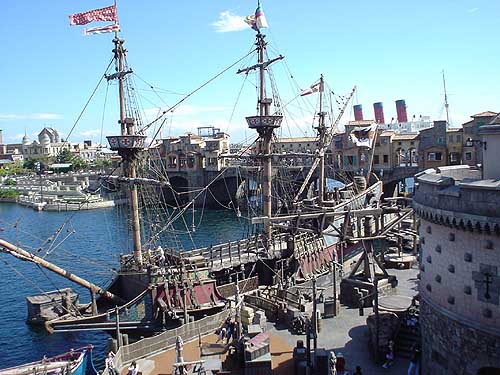 The level of detail at TDS is just awesome.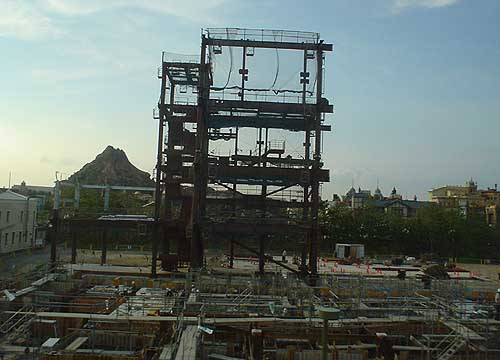 For all you "dirt lovers" here's a ToT construction pic!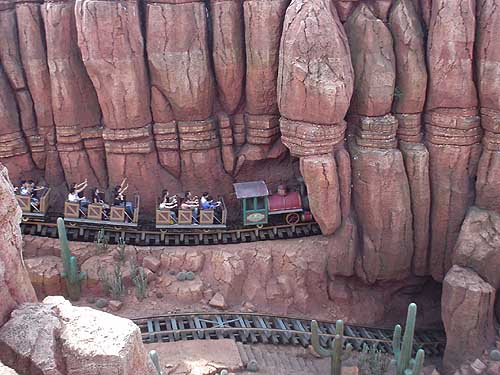 Big Thunder Mountain! Note that this one isn't crashing into each other!
Wednesday - Tokyo Disney Resort Day 4
Click HERE to see our complete Tokyo Disney Resort Photo Update
Today was our last day at Tokyo Disneyland and Tokyo DisneySeas. It was cool to be able to sleep in a bit since we weren't worried about having to get to either park right for opening. We arrived at TDS first and grabbed a FastPass for Journey, then wandered around and took some pictures. We found a Mexican restaurant over by Indy, which, BTW, it's so weird that Indy has this Mexican theming to it. The building looks almost exactly like the Mexican pavilion at EPCOT and the safety spiel is given by "Paco". The ride ops tell you "Adios" when the ride vehicles leave the station and when you exit the ride. It's weird! But the Mexican food was actually pretty good! Yes, we had decent Mexican food in Japan!

One thing we noticed right away when entering TDS is that the Tower of Terror building under construction had tripled in size in just 48 hours!!! We were like WTF??? (See picture below.) The rest of the day we joked "Dude, Tower's going to be done by noon…let's go get a FastPass!"

After Journey we went back over to TDL, grabbed a FastPass for Space Mountain, got to ride Star Tours which just came back up from rehab today. It was awesome hearing it in Japanese! "Light-o Speeeeed!" LOL!

What is it with the Japanese and their flavored popcorn??? We must have seen about 10 different flavors! Some of them were Strawberry flavored popcorn (which kicked serious ass, BTW!), Apple, Cappuccino, Soda, Sea Salt, Honey, Caramel, Coconut, and yes, even normal popcorn! WTF?!?!



We took a ride on the Mark Twain to get some pics around the river, did some shopping, rode Space Mountain then said our final goodbyes to Tokyo Disney Resort and we were off for Shinjuku, which is very much one of the 'hearts' of Tokyo.

Our hotel is cool, small, but to be expected for being in the middle of Tokyo. We're on a dial-up here so updates may not be quite a frequent, but we'll try. It's so cool walking around here. It's just like what you see in movies, etc. Seems larger than life and very surreal.

Around our hotel there must be hundreds of different restaurants. Everything from traditional Japanese, Indian, French, Italian, etc, etc….so of course we chose McDonalds! =) It was a long day so instead of venturing out it was a quick lap around the block, a stop at 7-11 and a couple Big Macs!

Anyway, we're off to Tobu Zoo park tomorrow to ride their Intamin woodie, Intamin drop tower, and best of all….a "Togo Looping Mouse!"

Just think "Windjammer" with a wild mouse layout!

On to today's photos: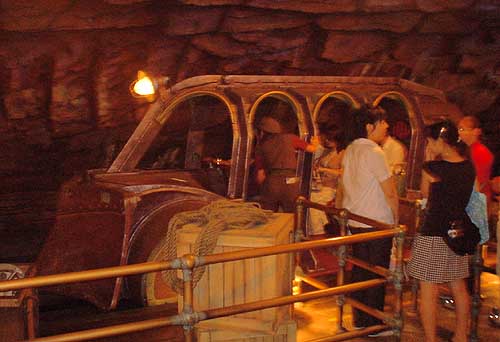 We took one last ride on Journey at Tokyo Disney Seas!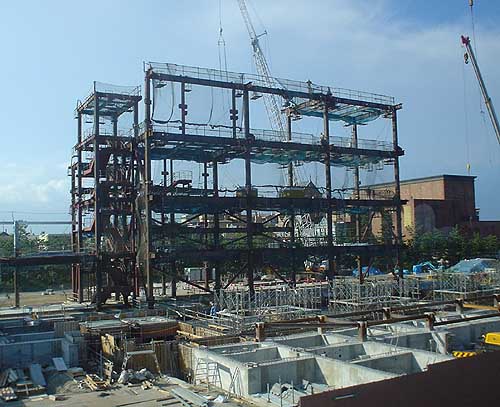 Check out the progress of Tower of Terror in the past two days! Compared to the photo I took two days ago!.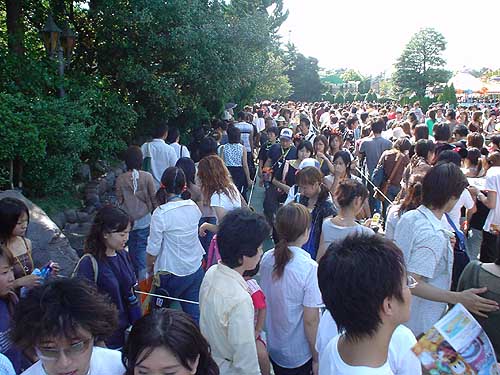 Just to prove that this is the busiest park in the world, this is the line for Haunted Mansion Holiday Nightmare…
just to get a FastPass!!!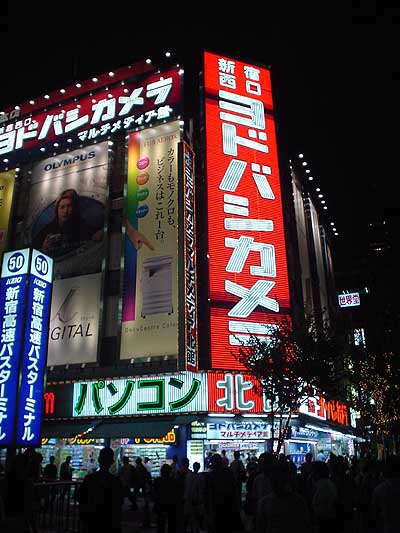 This is just outside our hotel in Shinjuku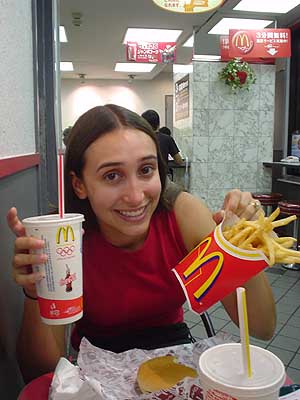 Elissa found someplace she can eat!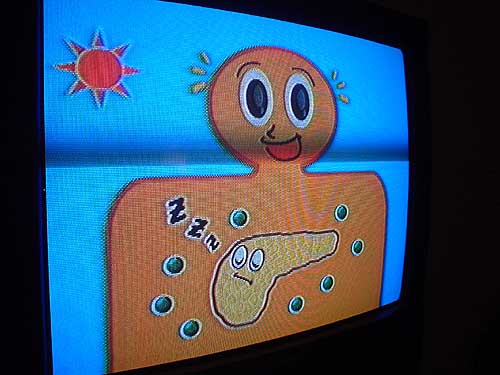 Japanese TV is really messed up. This is what's on our TV right now! WTF?!?!
Click HERE for Page Two of Japan 2004 Trip Reports
Click HERE to see our complete Japan Photo Update
Click HERE to read our "Japan Travel Guide"