TPR's West Coast Trip Updates -
Day Zero - Sightseeing, Hollywood, and Pacific Park! (Scroll Down)
Day One -
Bay Area Bash - Six Flags Discovery Kingdom!
Day Two -
Gilroy Gardens!
Day Three -
Santa Cruz Beach Boardwalk
Day Four -
California's Great America
Day Five -
Six Flags Magic Mountain
Day Six -
Scandia Fun Center & John's Incredible Pizza!
Day Seven -
Universal Studios Hollywood!
Day Eight -
Sea World San Diego!
It's time for another TPR trip! This time around, we're hitting So Cal, baby! That's right! All the Hollywood stars and silicone implants you can handle!
We'll spend the next week and a half checking out just about every park California has to offer from the San Francisco Bay Area all the way down to San Diego. (And a few of us will head out to Las Vegas as a bonus!)
Anyway, on to some photos...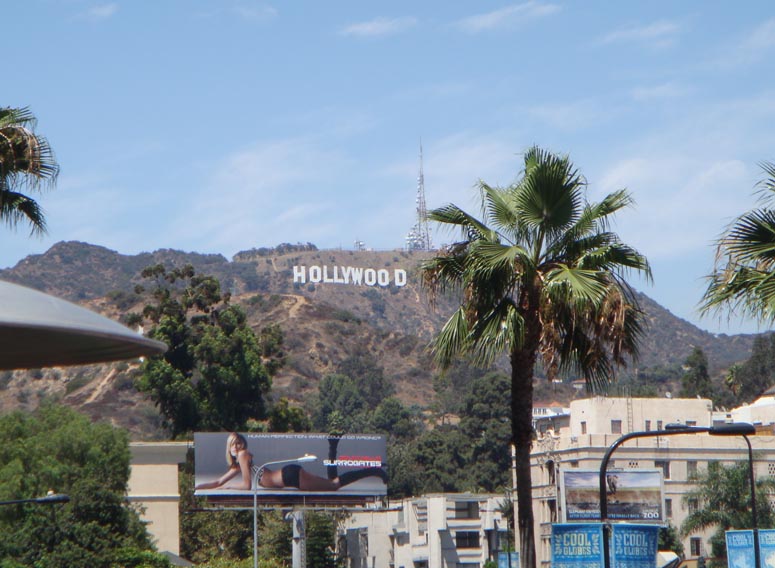 We'll start this trip off with a sightseeing tour of Los Angeles - TPR Style! (Don't worry, there IS a credit involved!)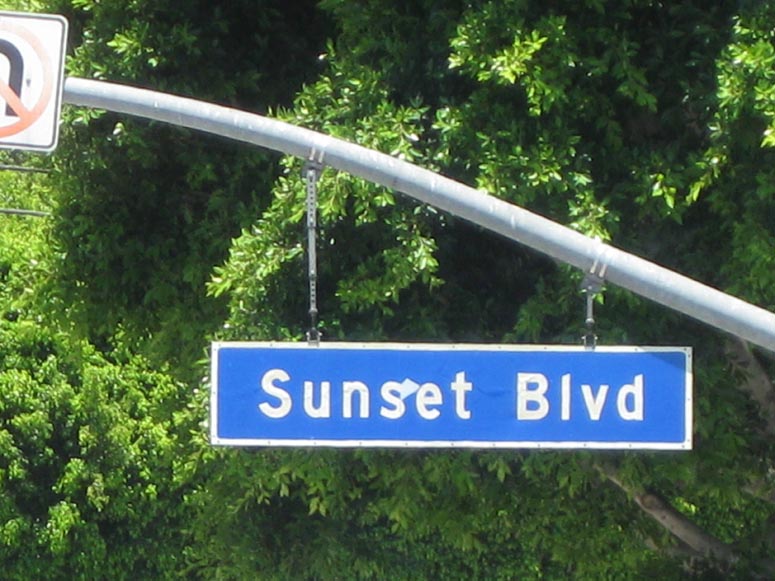 "Sunset Blvd....WE LOVE IT!" ... well, not really.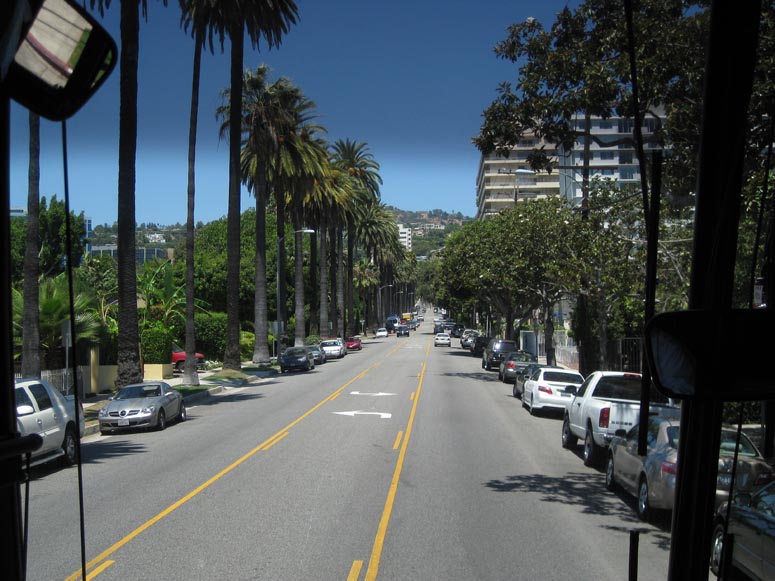 Yup, pretty much palm trees and blue skies. All we need are some models with fake boobs and this photo would be complete.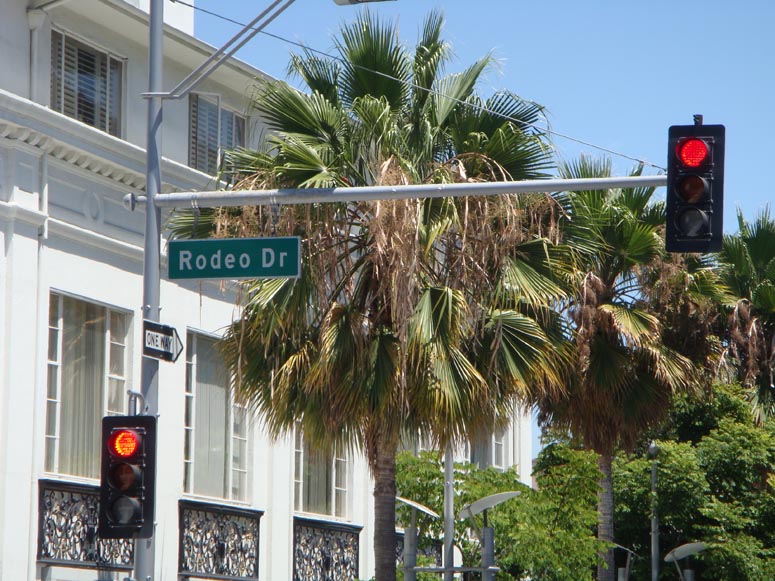 This is where you go if you have a bazillion dollars and want to spend it on expensive dumb things...like a diamond encrusted dog collar. Yup.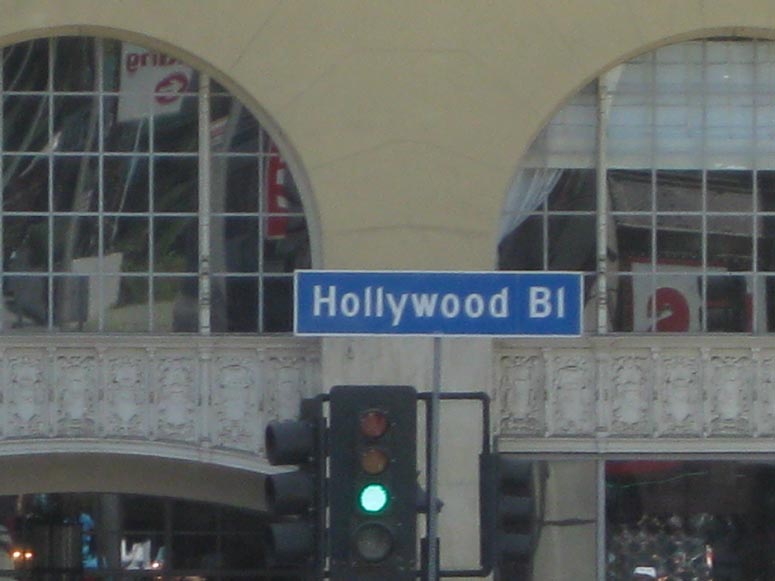 Ahh, now here is where all the action happens! Well, if you're pan handling for used grease that is...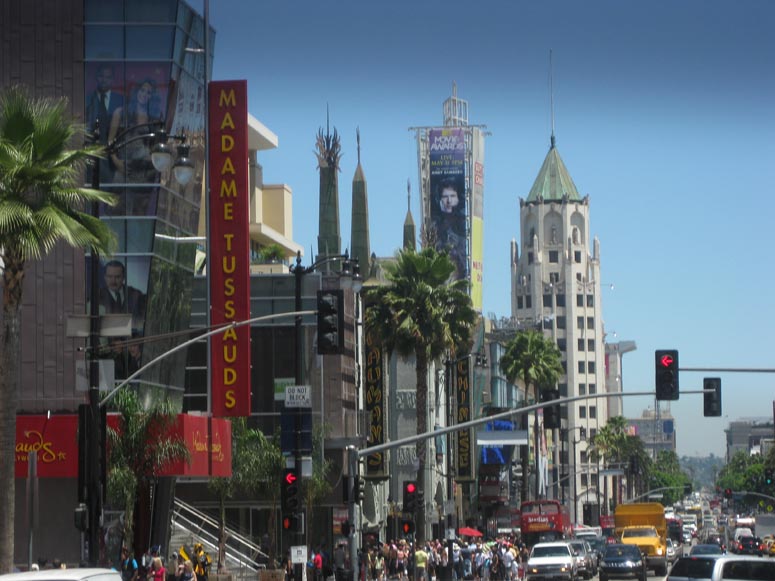 Yup, here we have many buildings of Hollywood. Some new, some old...yeah.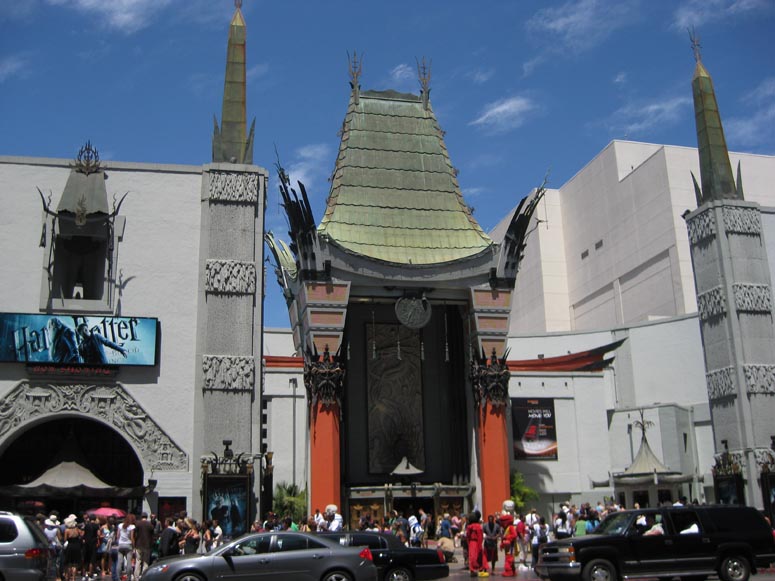 Here is the Chinese theater. Oddly enough you won't see any Chinese people here, nor will you have the ability to eat Chinese food. But you CAN see the latest Harry Potter movie.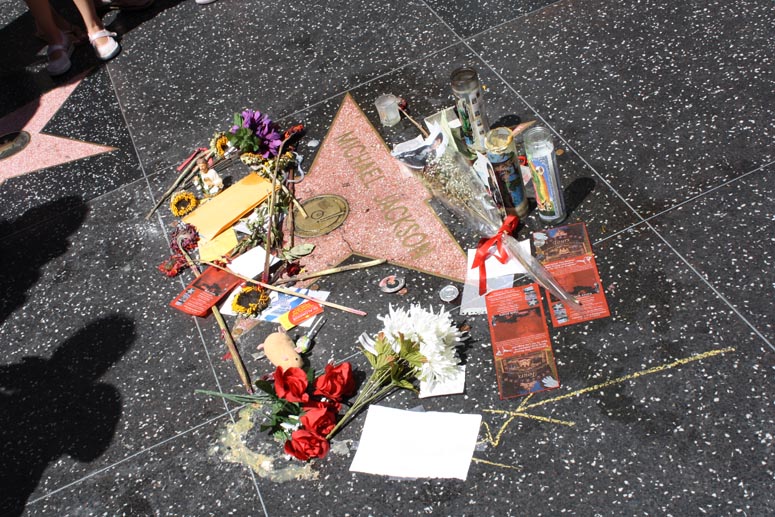 Michael Jackson was apparently into weathered looking flowers and Jesus candles. Who knew!?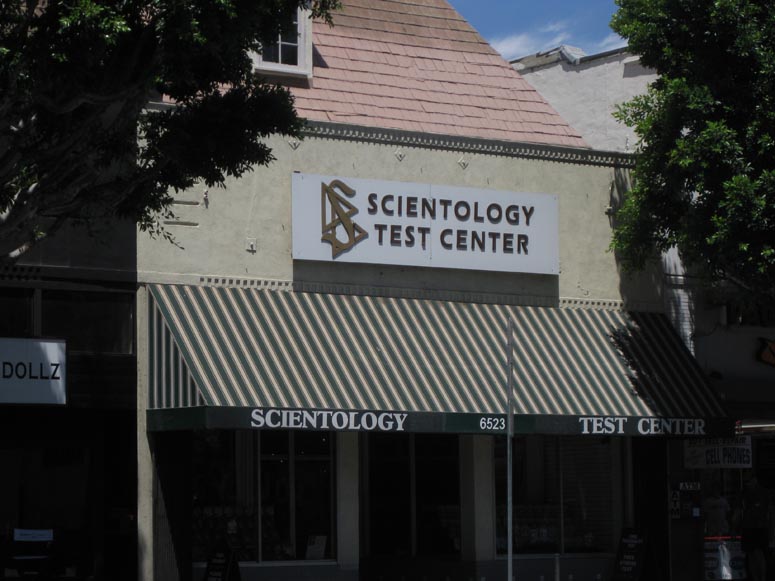 "Has anyone seen Tom Cruise?"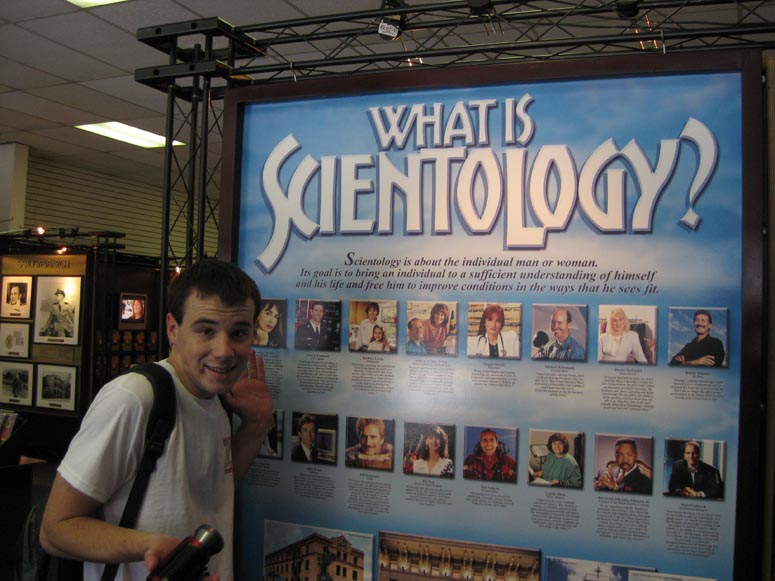 "I went to take the Scientology test and they just told me GET OUT!!! GET OUT RIGHT NOW!!!"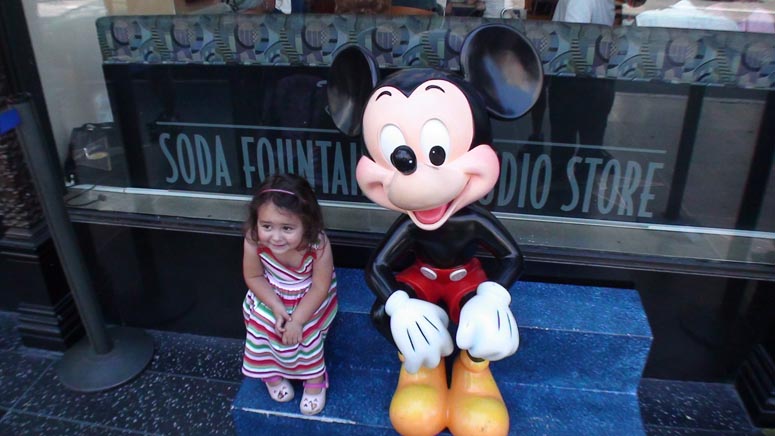 KidTums is shy around her favorite star.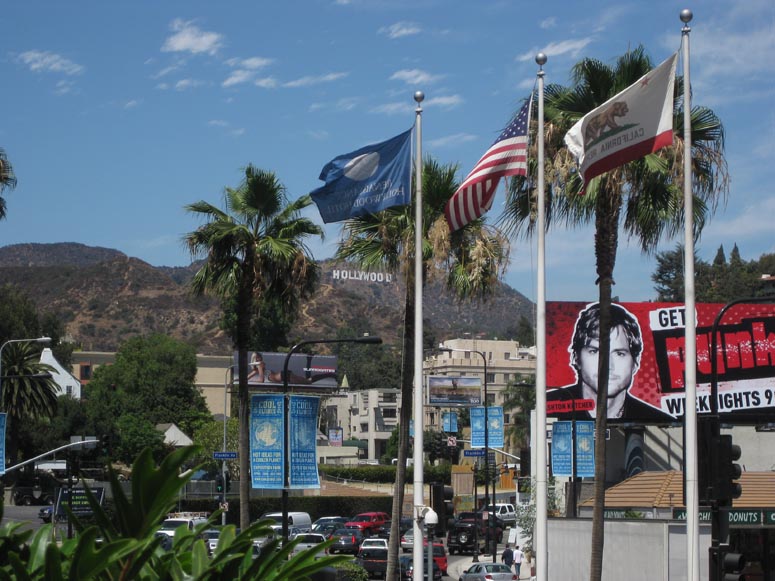 Now it's time to leave Hollywood and head to our next spot...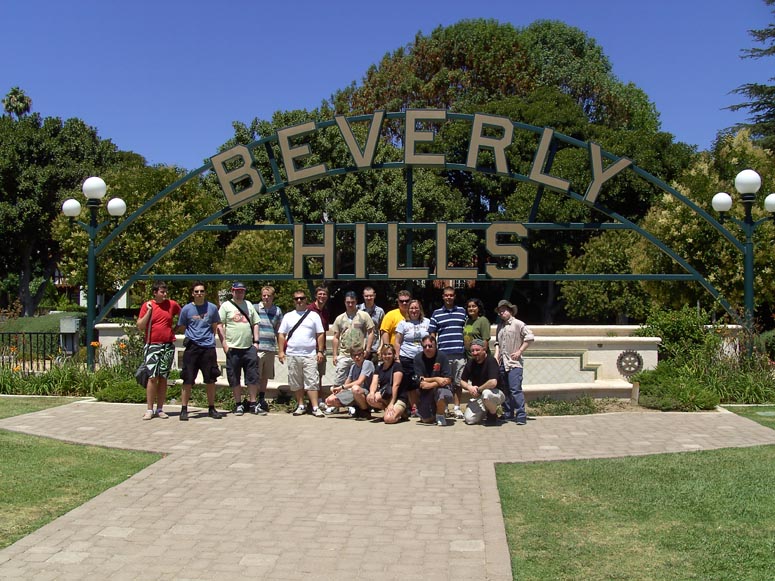 ...that's right! Beverly Hills!!! Hey, um, guys...try not to look too excited, ok?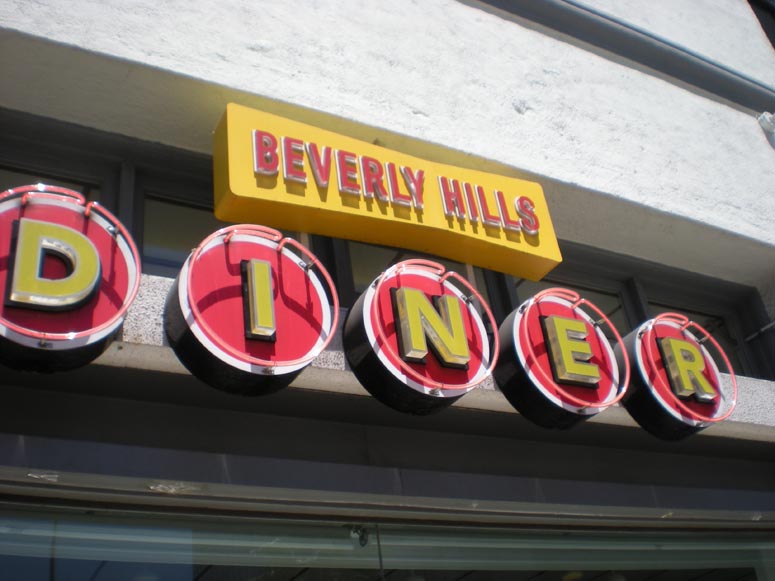 FOOD! EAT!!! YUM!!!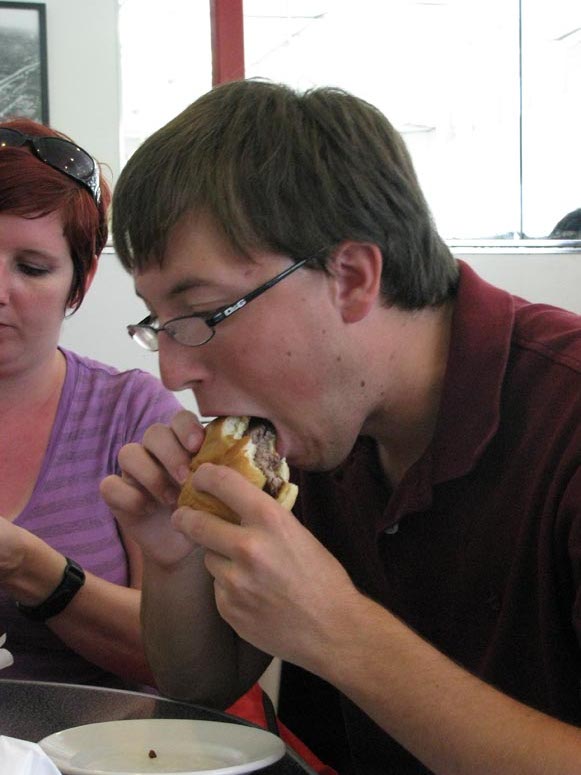 OM NOM NOM!!!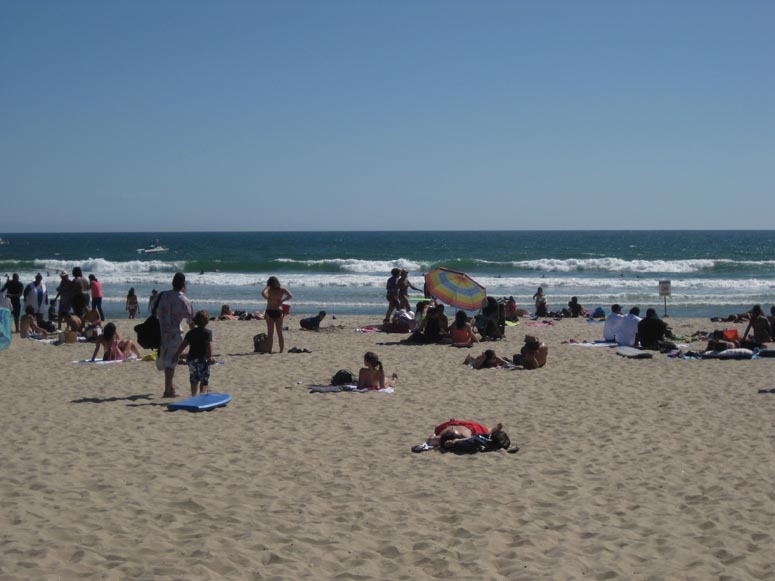 Yay! We made it to the BEECH!!!! Wait, make that beach. Yeah.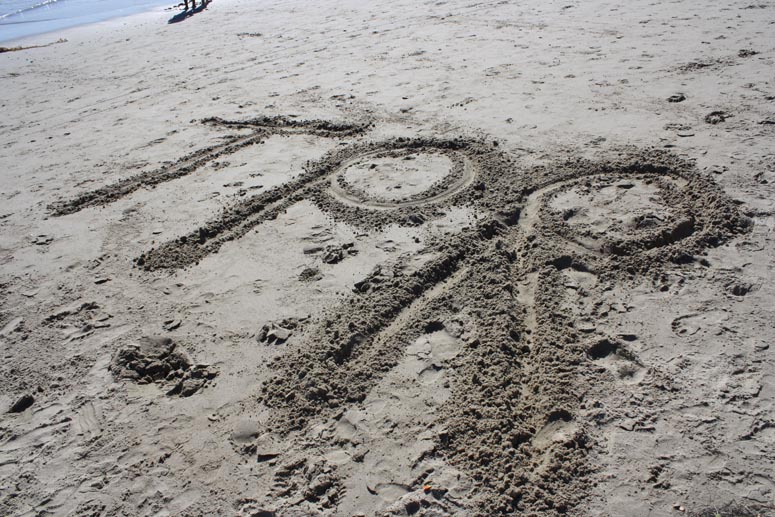 Wow! That is some IMPRESSIVE peeing!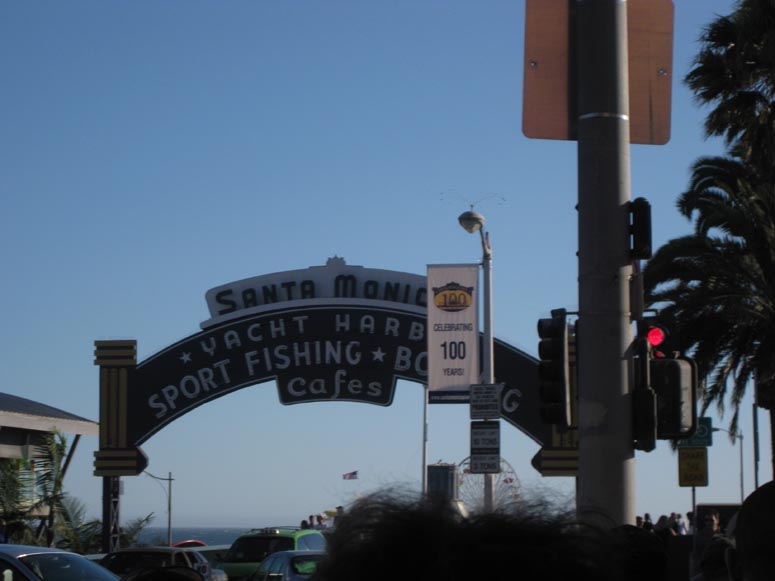 And here we are...Santa Monica...home to the first credit of the trip!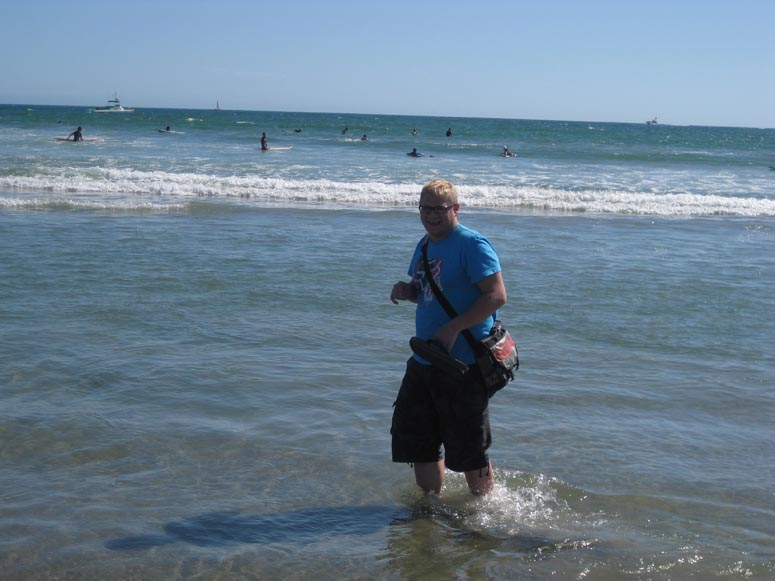 "What did you say about sharks?"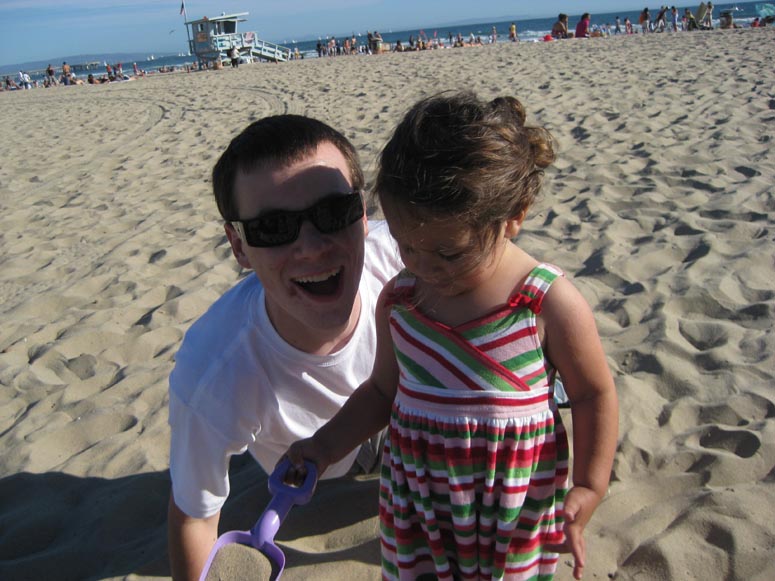 "Can this slightly retarded boy stop bothering me? I'm trying to build a massive sand castle!"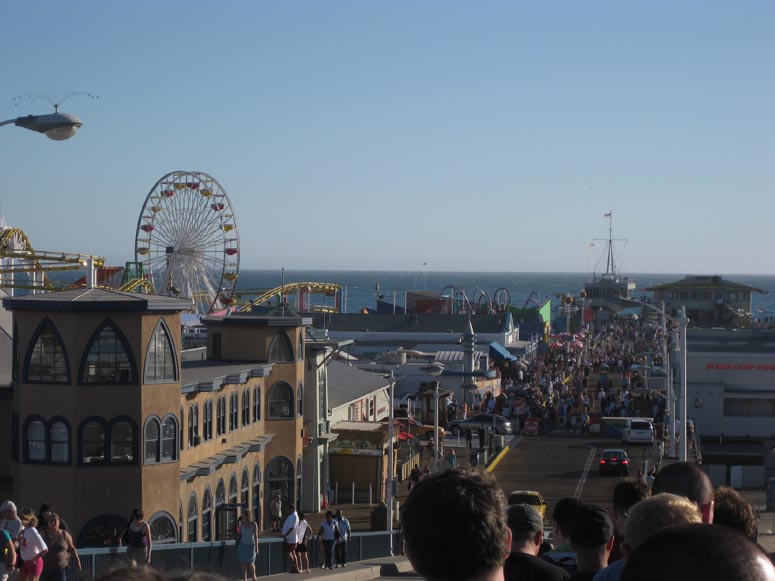 OMG! I see COASTER TRACK!!!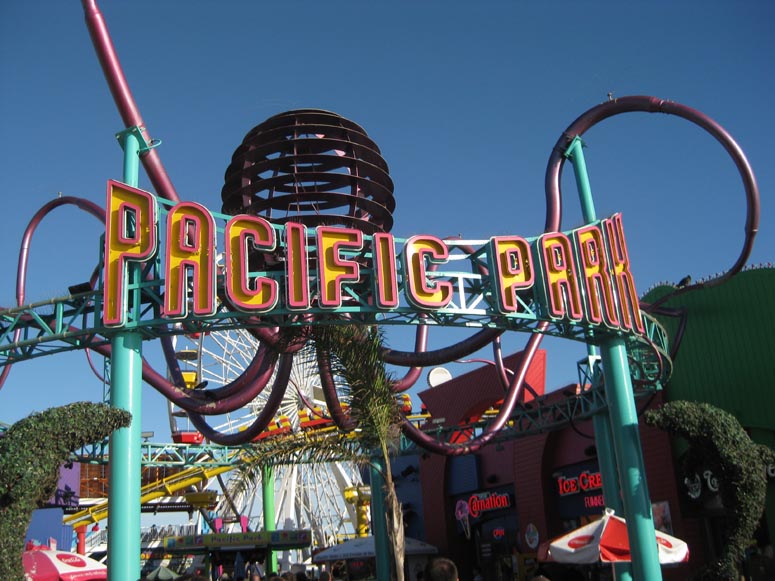 As we pass under this octopus skeleton, we will be closer to the first credit of the trip!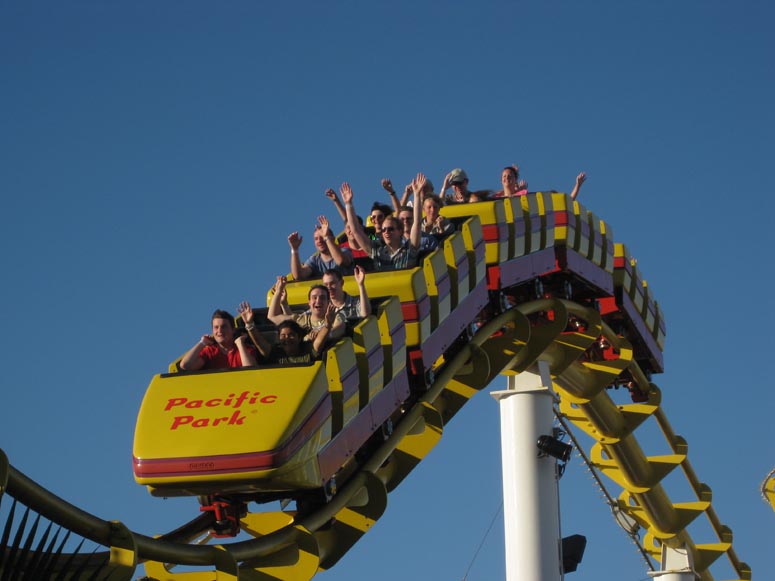 TPR takes over the Pacific Park West Coaster!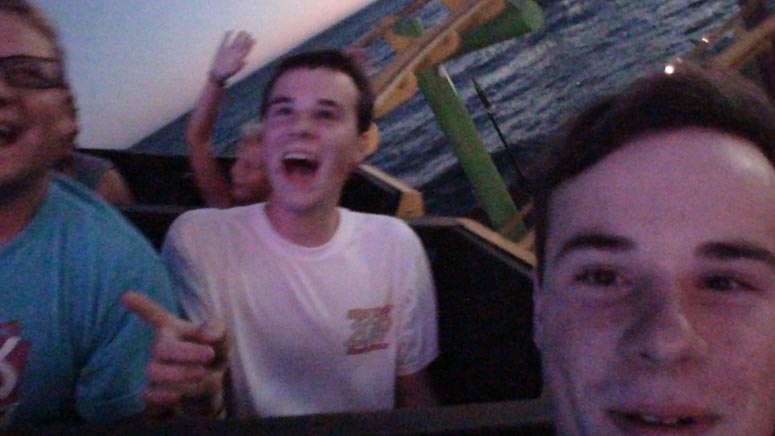 And this is what it looks like when you have a lot of forehead in your shot.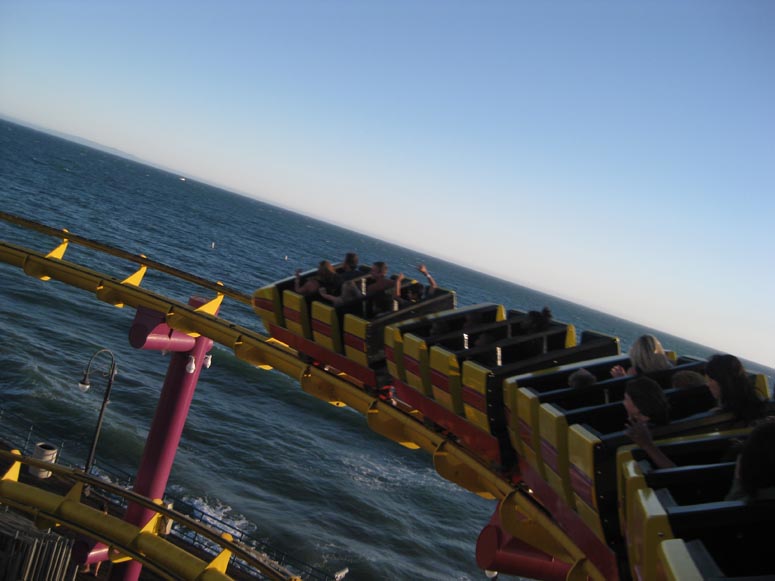 It does go right out near the water!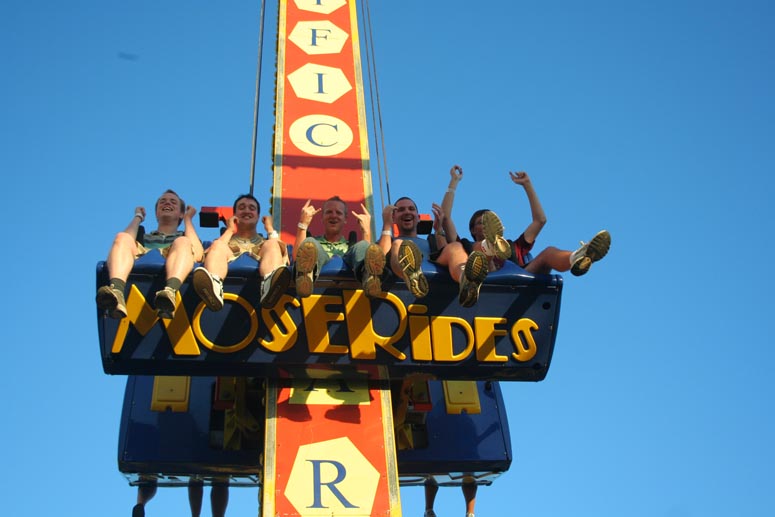 TPR takeover of the kiddie drop tower! Because, well, we're all about the right mental age for this.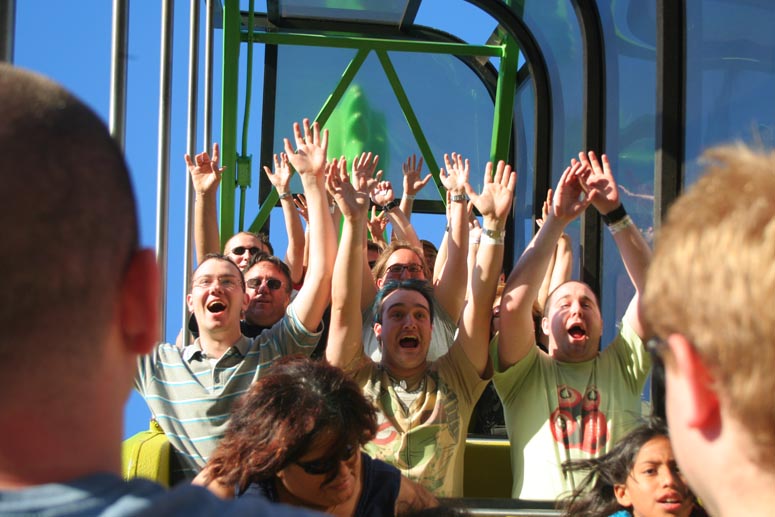 TPR takeover of the pirate ship!!! (Note - is that a man or a woman? I seriously can't tell!!!)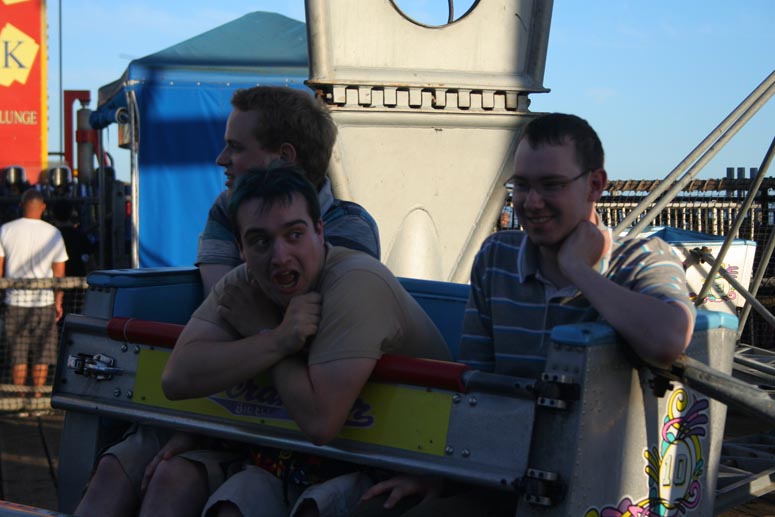 "Don't be scared Chris...you're going to just looooove being the meat of our Scrambler sandwich!" *wink*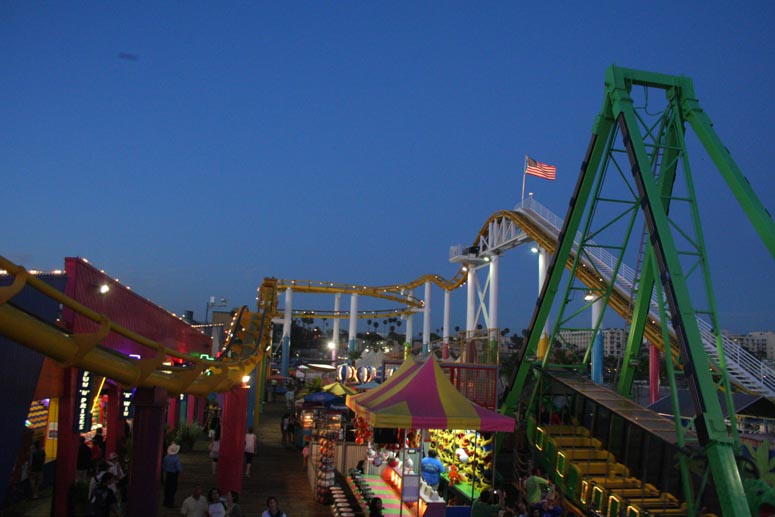 The sun sets on Pacific Park.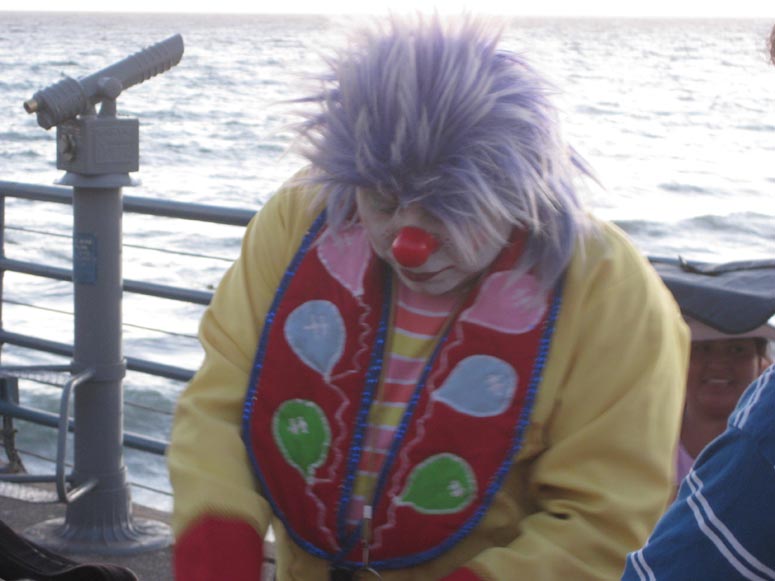 This is where sad clowns come to die.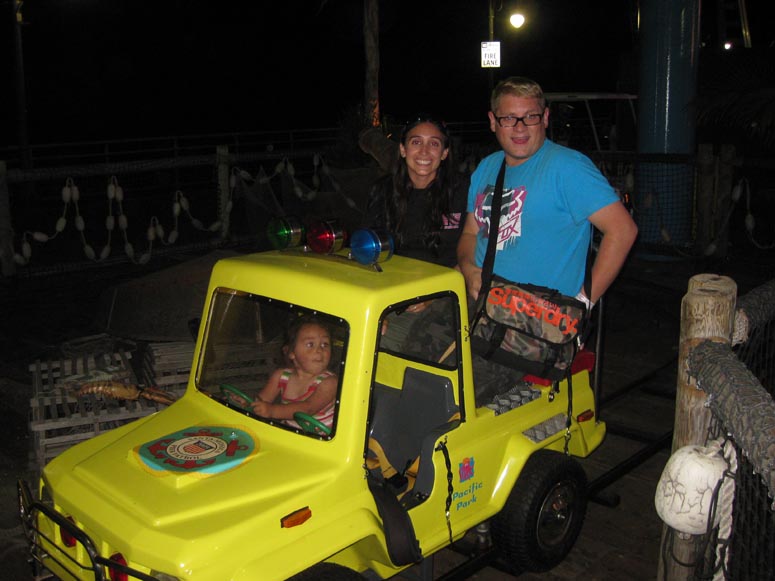 Two of the people in this picture are children. Is it KidTums? Is it Elissa? Is it Piers? If you know the answer...
EMAIL DAN!!!
mrt0ad13@aol.com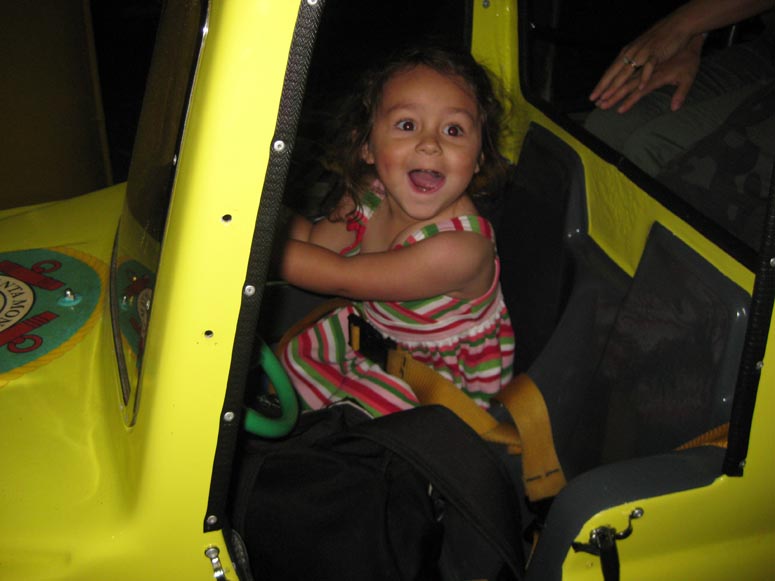 I'm CRAAAAZY baby truck driver! GIMME SOME CANDY!!!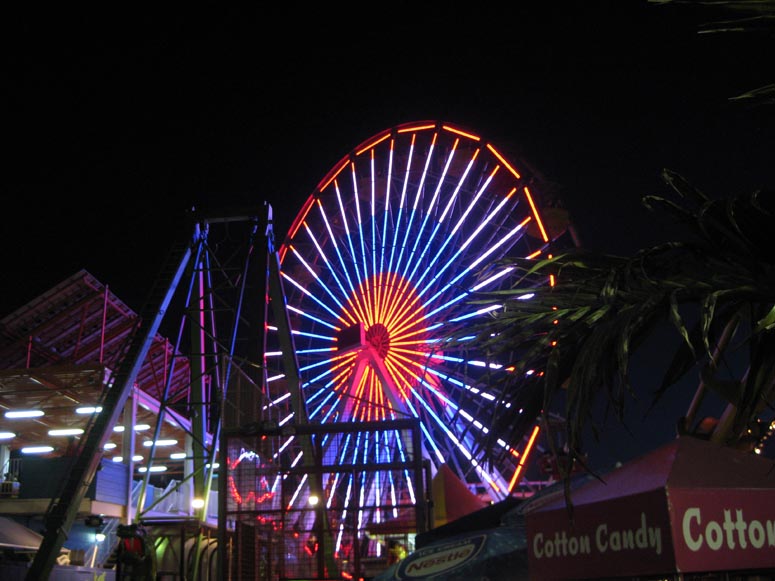 Pretty. No really. It's pretty.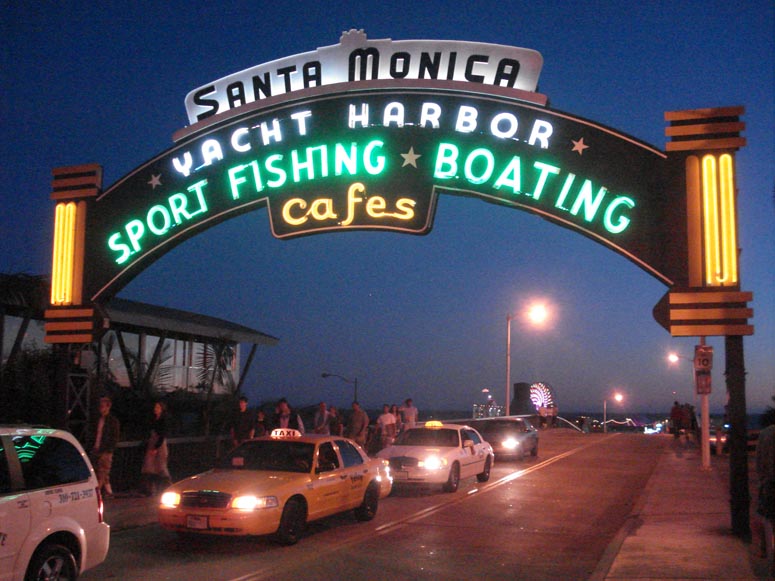 When you are very drunk and you will crash your car and kill random people, take one of these yellow cars with lights on top instead. This has been a public service message from Theme Park Review.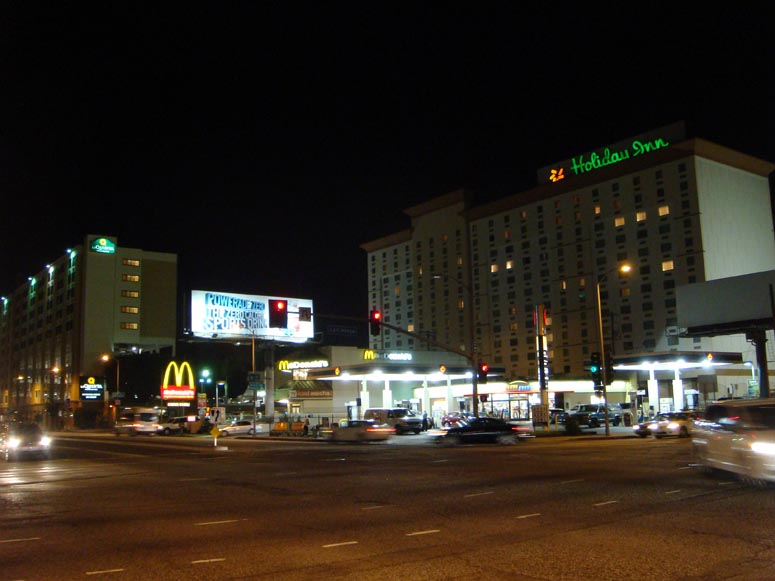 It was time to head back to our hotel for even more random craziness...someone said "Let's go rent a video" and we all thought that was a GREAT idea!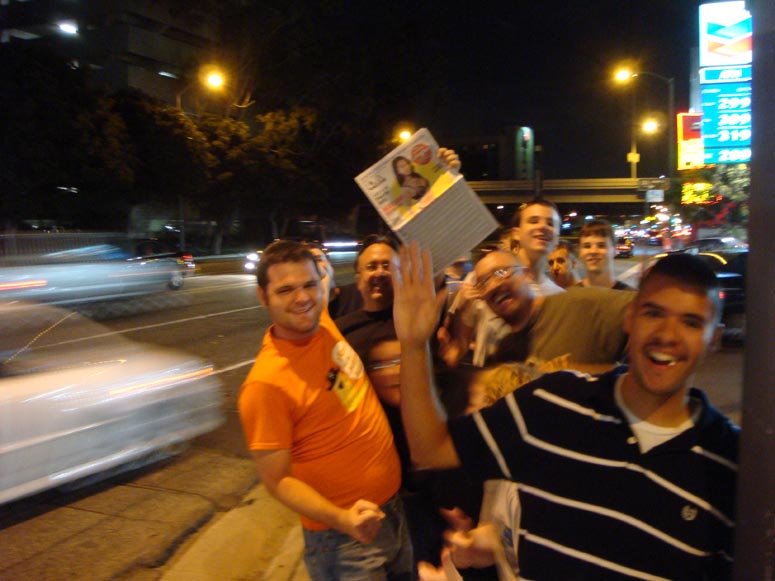 "Here we are! Hitting the streets of Los Angeles! Porn newspapers and everything!"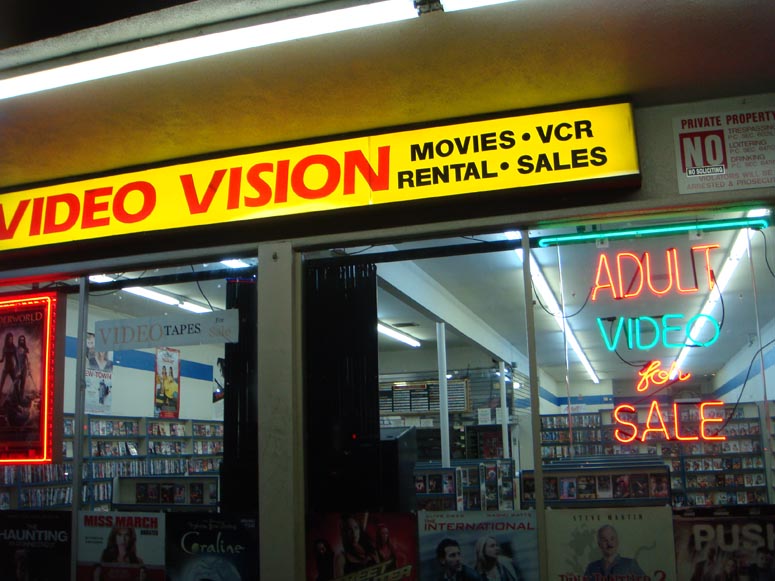 Um, rent a movie? An ADULT MOVIE?!?!?
WARNING!!! THE FOLLOWING SECTION OF THIS UPDATE INCLUDES PHOTOS FROM INSIDE A PORN SHOP! YES, A PORN SHOP. YOU CAN ONLY IMAGINE THE TYPE OF PHOTOS THAT WERE TAKEN WHILE INSIDE OF A PORN SHOP. IF YOU GET OFFENDED BY PHOTOS FROM INSIDE A PORN SHOP YOU SHOULD STOP READING NOW. WHILE ALL THE REALLY HIGHLY OFFENSIVE STUFF HAS BEEN BLURRED OUT...STILL...THESE ARE PHOTOS FROM INSIDE OF A PORN SHOP!
YOU HAVE BEEN WARNED!!!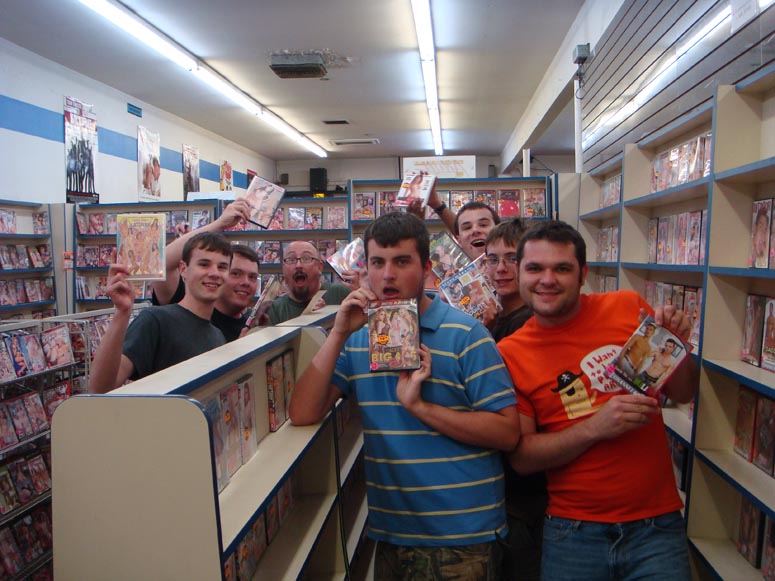 YES!!! A fantastic porn selection! Something for everyone!!!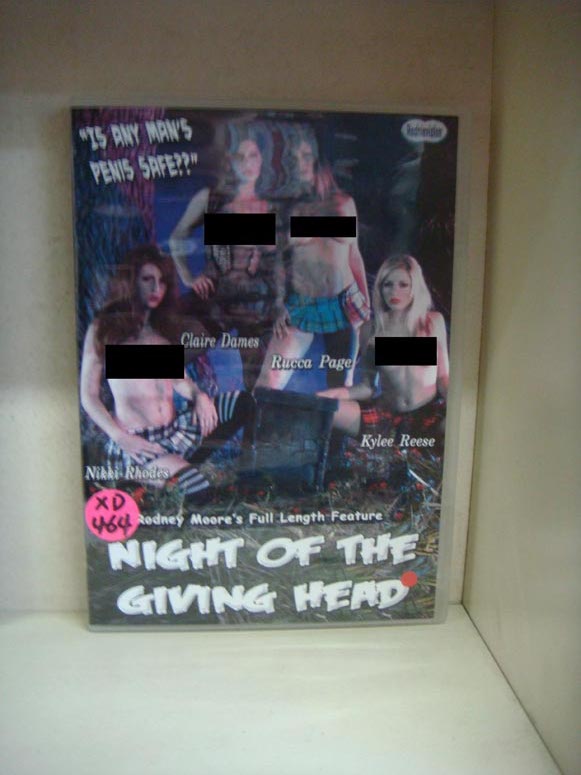 We found blockbusters like "Night of the Giving Head."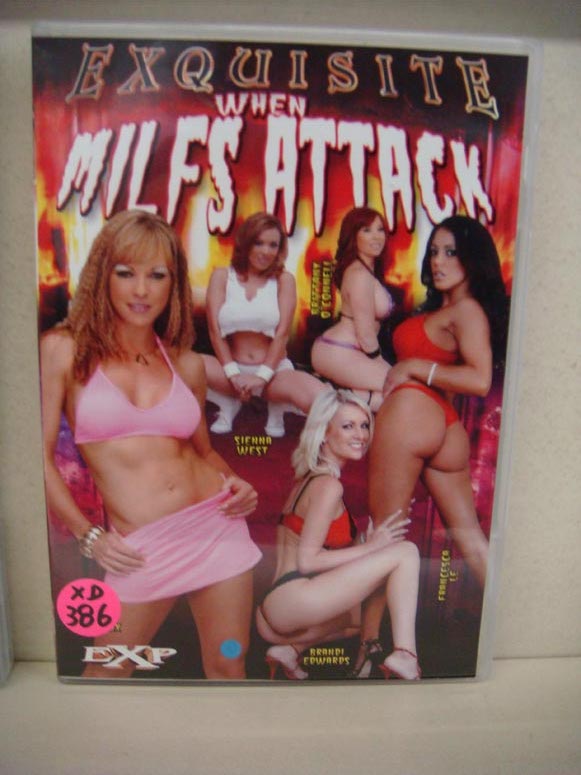 "When MILFs Attack!"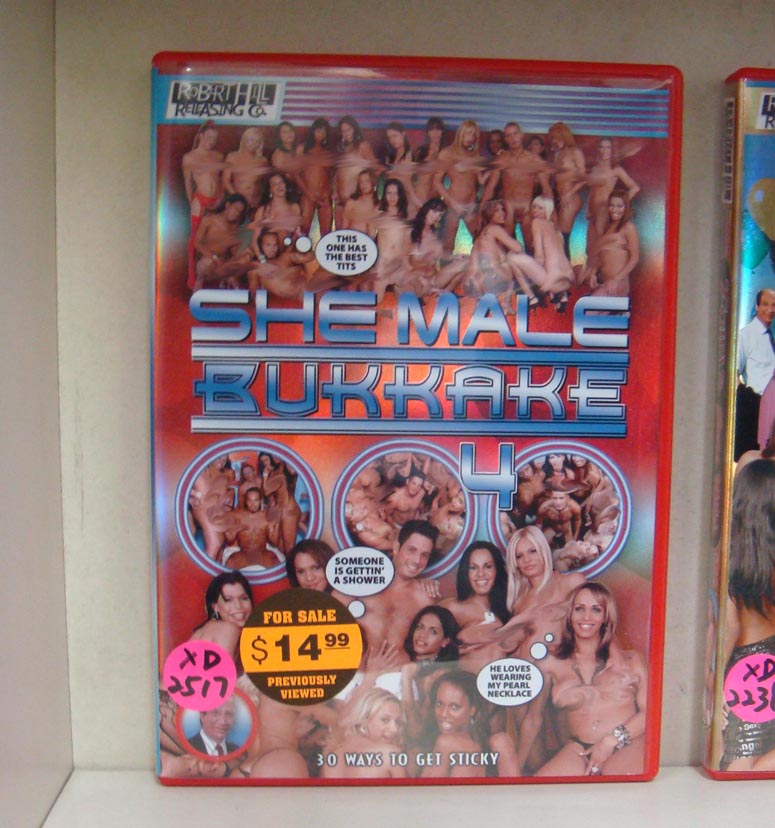 Oh, c'mon, are people REALLY into this???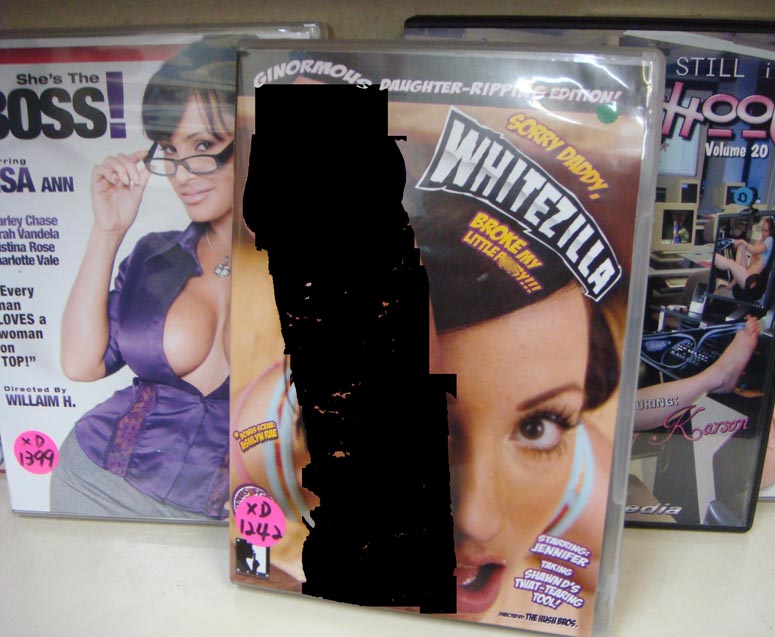 This one was my favorite!!! "WHITEZILLA!!!"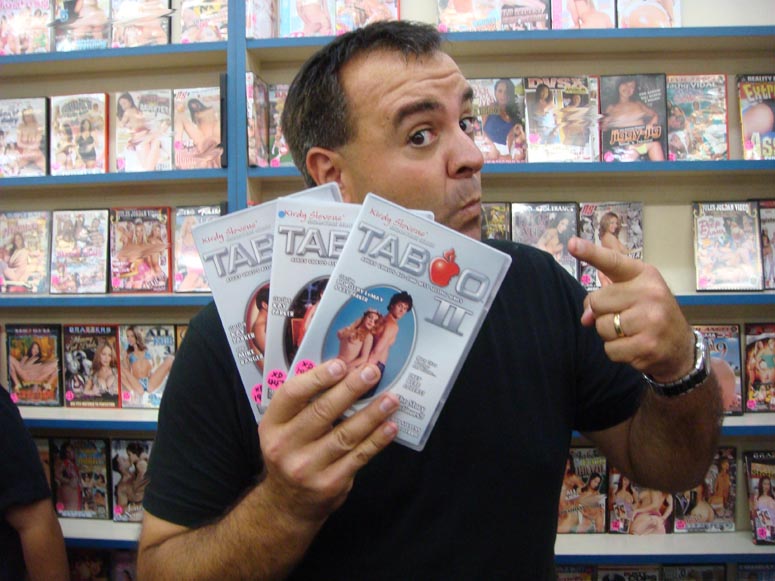 I, of course, am still fond of the classics. Thanks to daddy's porn collection, these are the flicks I grew up with!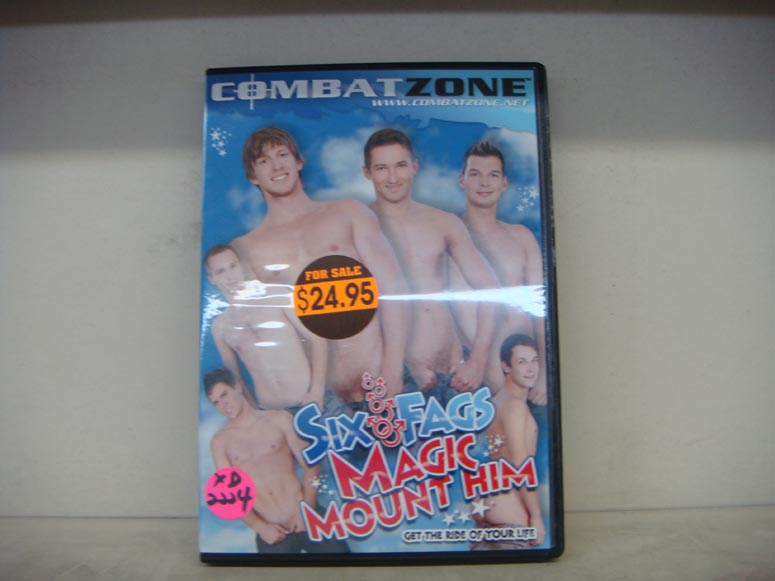 And then we saw it! "SIX FLAGS MAGIC MOUNTAIN!!!" Oh, wait, that's NOT what that says! **SHOCK**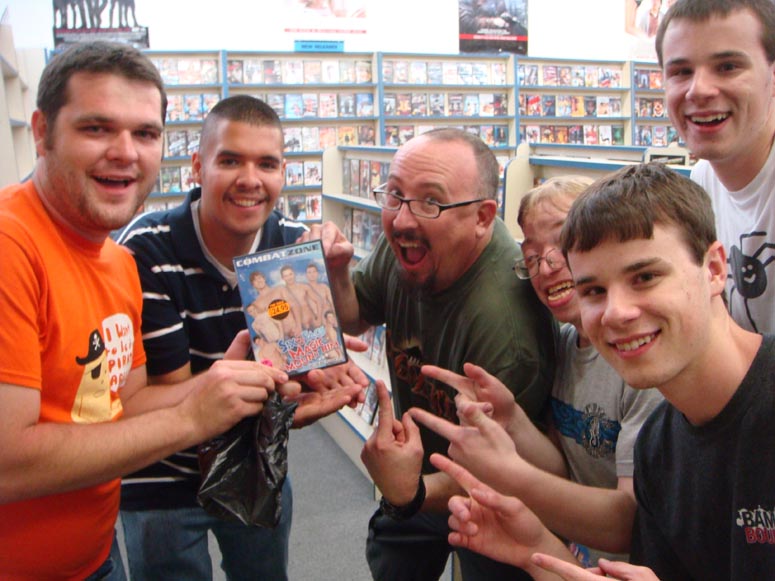 "It's theme park related, so we have to get it!"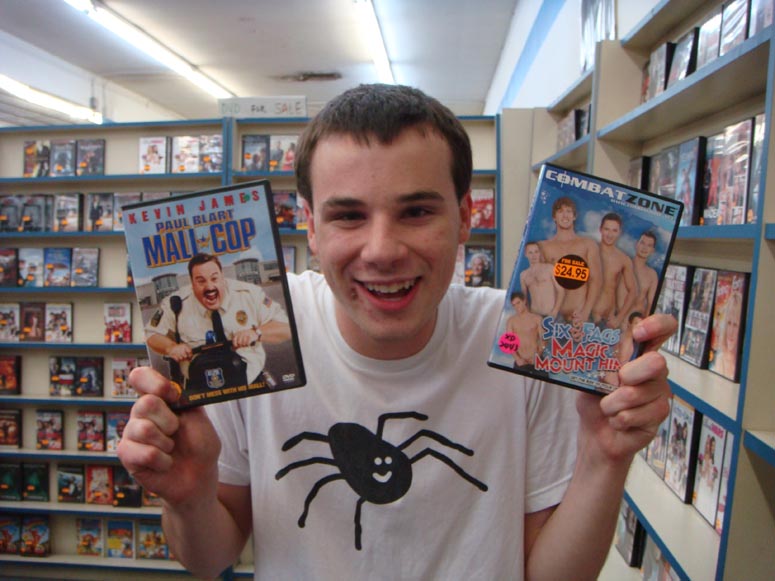 Help Tyler decide...should he purchase "Paul Blart Mall Cop" or "Six Fags Magic Mount Him?"
To tell us which one you think he should buy...EMAIL DAN!!!
mrt0ad13@aol.com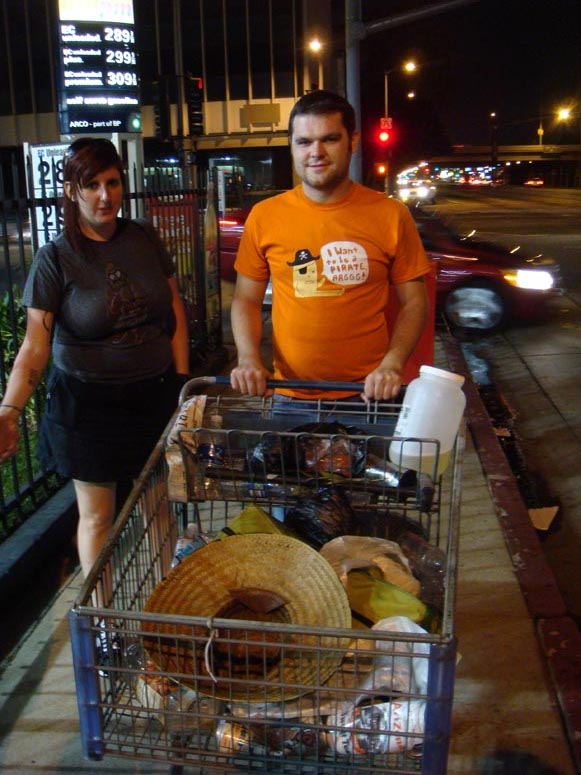 Neil and Jenn? Homeless??? Wow, I had no idea these TPR trips were THAT expensive! (note - yes, that is a jug of his urine in the top of the cart)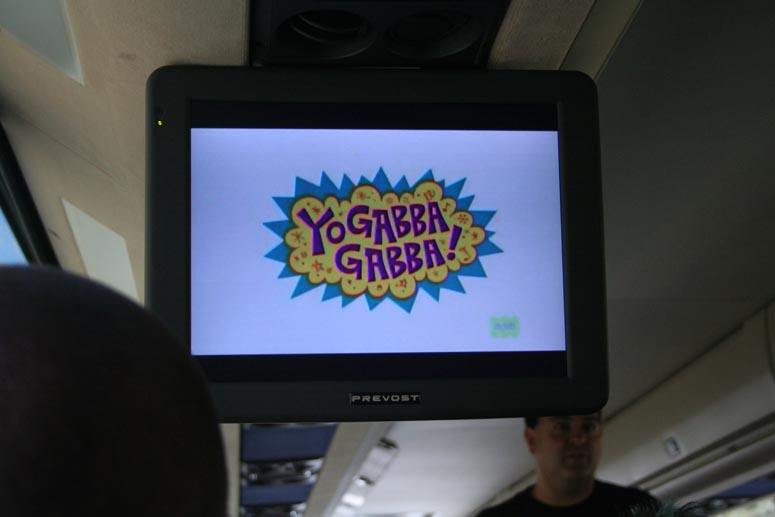 Well, it was time for our drive up to the bay area...and guess what we watched on TV? That's right! Yo Gabba Gabba and the amazing SHARK ATTACK 3!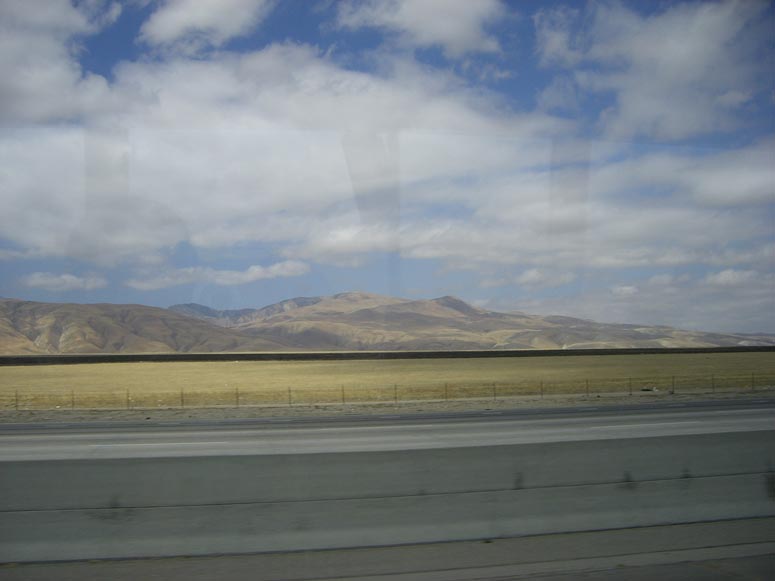 We saw this for about 6 hours. Yawn!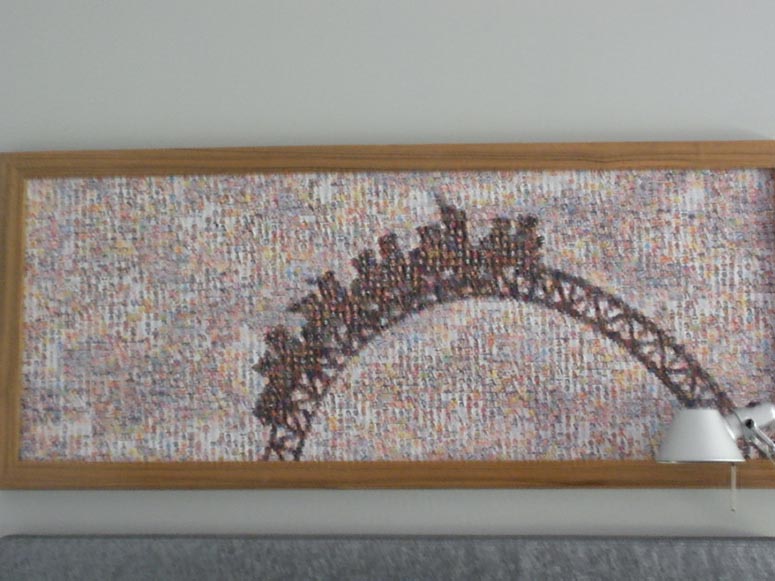 Our hotel in Santa Clara was awesome. It was right next to Great America and everyone had roller coaster murals above their beds! Goodnight Intamin!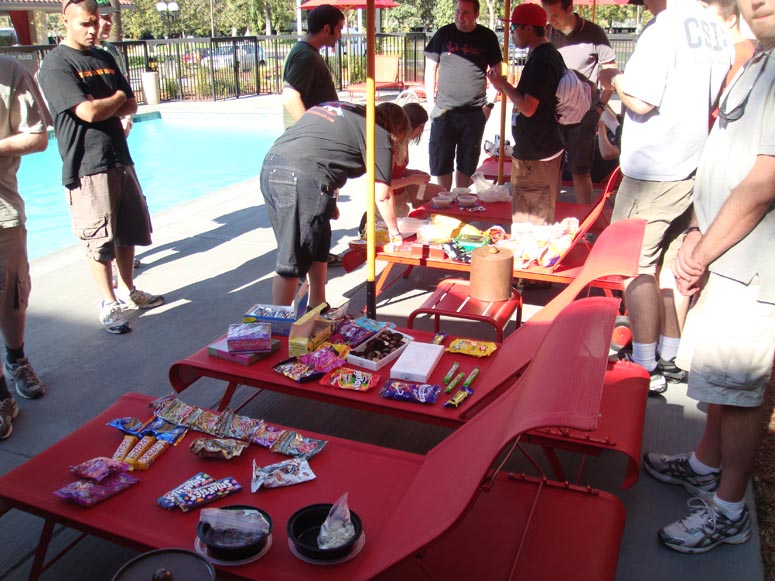 It was time for another "TPR Snack Exchange" where people bring or make snacks from all over the world...and we eat! A LOT!!!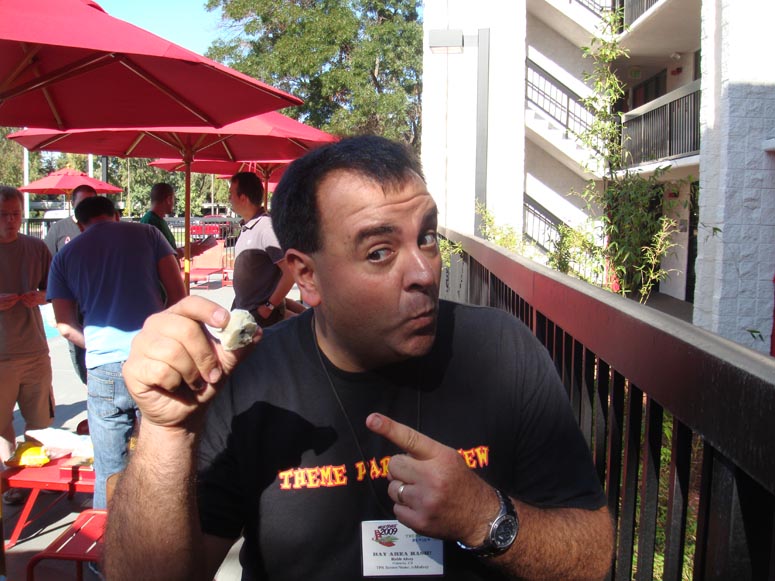 "I was really fond of Natalie's balls."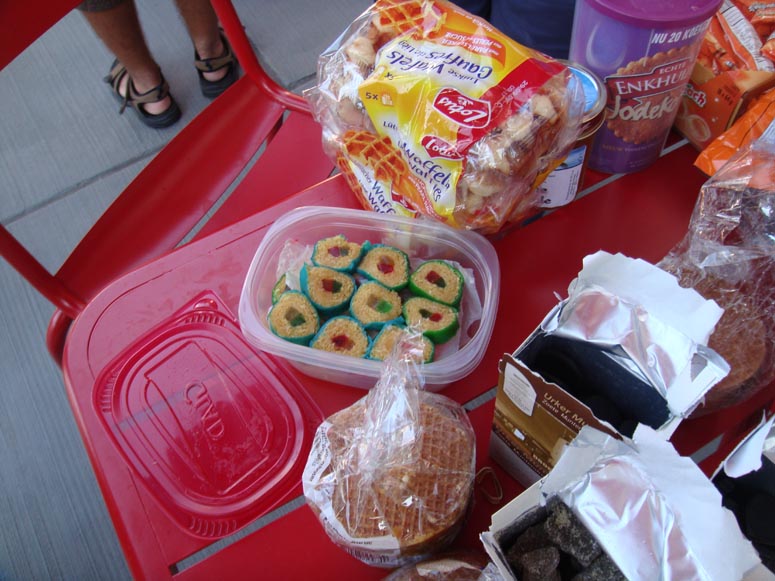 "But Jason's candy sushi was awesome as well!"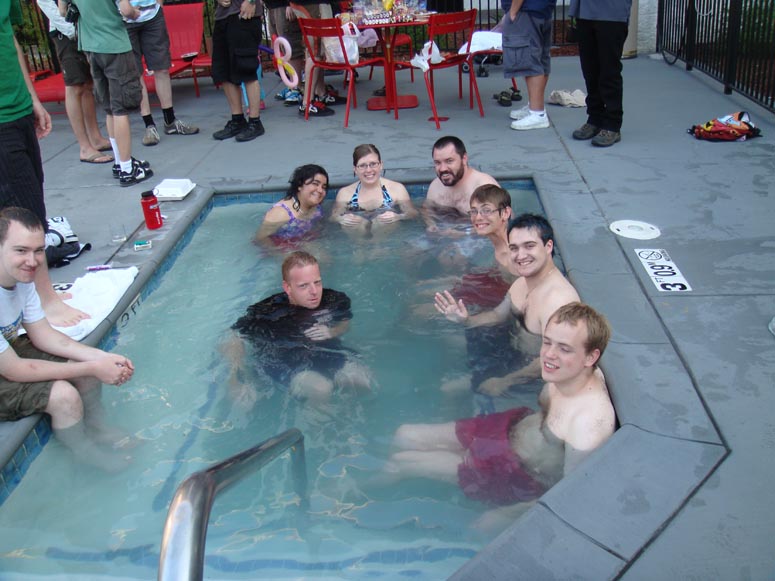 We are all being cleansed.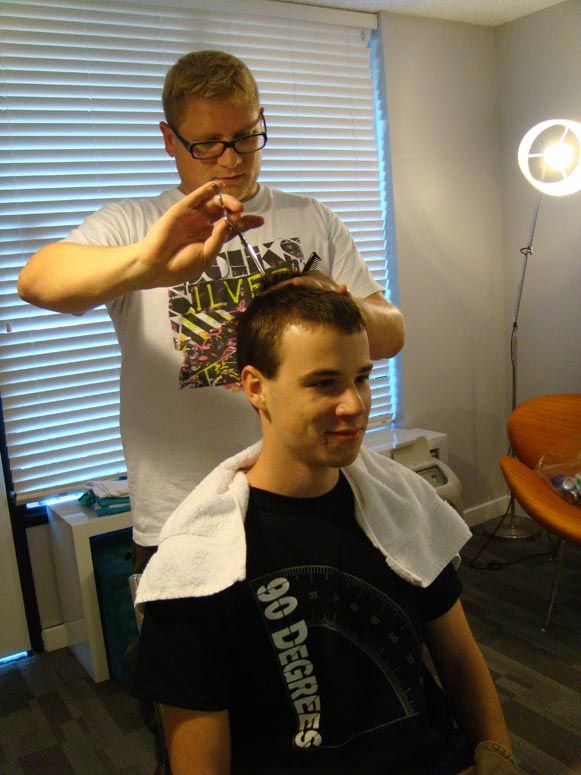 We took this opportunity to rob Piers of some of his trade skills. Tyler's hair took all of about 30 seconds to cut.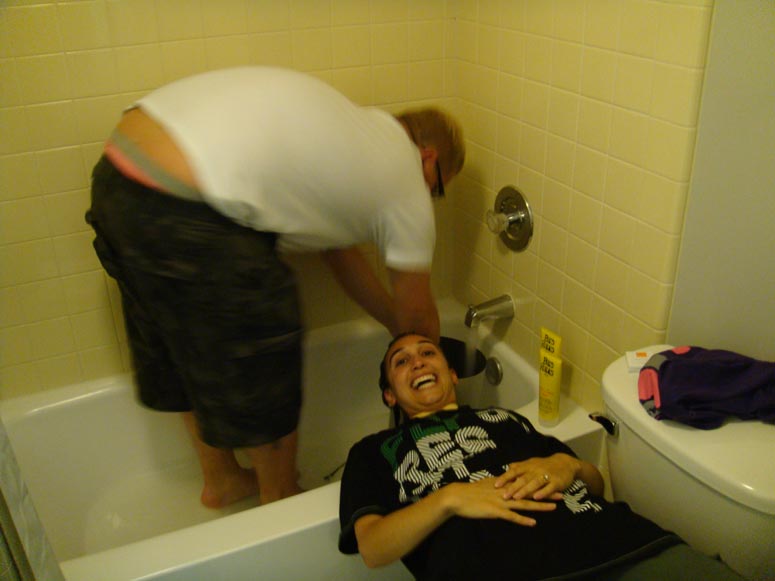 Elissa's on the other hand was a bit more tricky...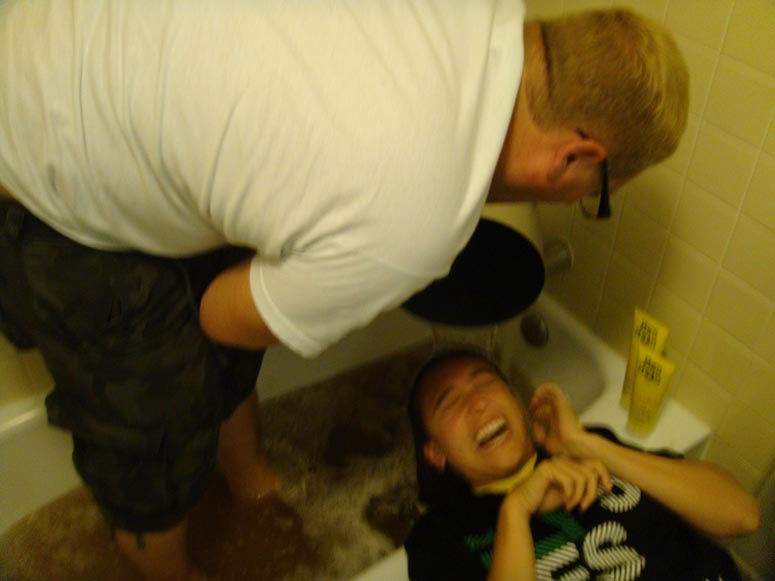 Is this a haircut or date rape?!??!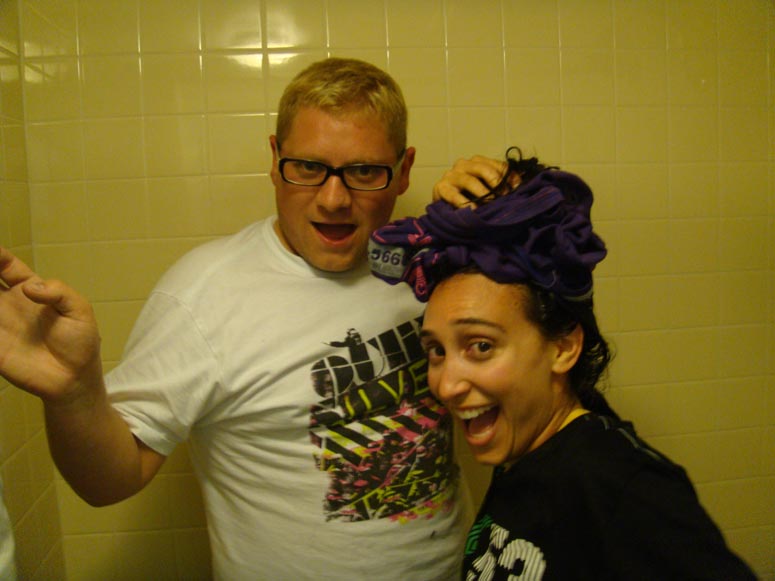 Ta-Da! "You are beautiful honey!" (I'm talking about Piers)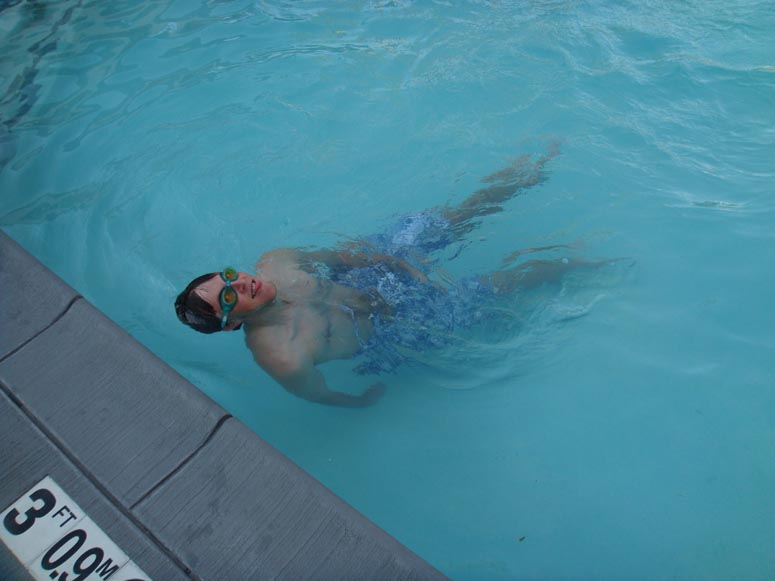 Um, what EXACTLY is Mike Austin doing in the pool?!?!?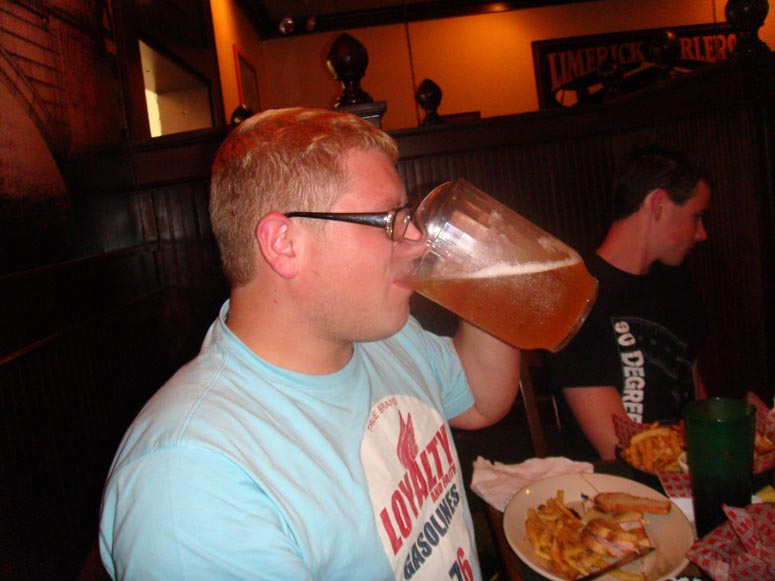 The night was almost over so you know what that means? That's right! Piers drinks...a LOT!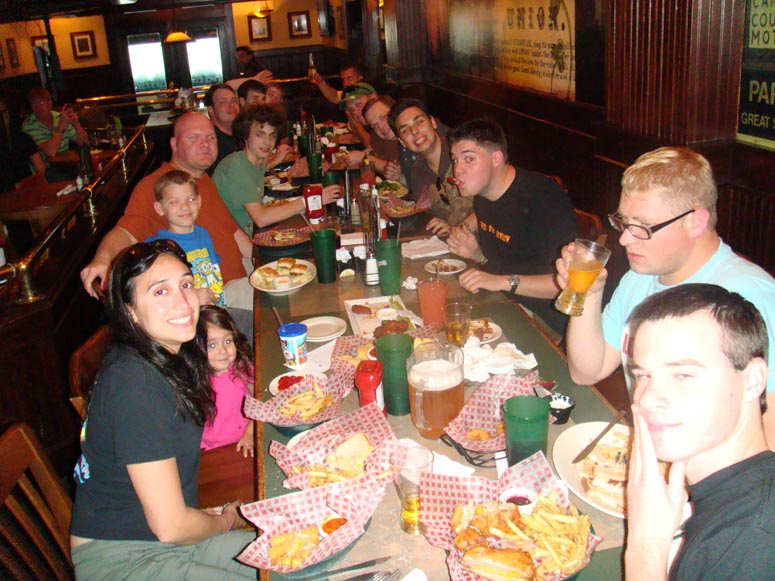 Hey everyone! Get ready for our first park day tomorrow! Six Flags Discovery Kingdom & Bay Area Bash!!! Ok, ok, fine...keep drinking....
And that concludes our first update from the West Coast Trip! Yaaaay! I hope you all enjoyed it and remembered to Email Dan! If you didn't go back and email him RIGHT NOW the answers to the questions.
More to come soon!
--Robb
ps. Thank you to everyone on the trip who contributed photos!