Hey guys!
Ok, so it's actually been a few weeks since these photos were taken, but I simply havn't had the time to make a Photo TR! Unluckily, my week is over and I'm sick and wont go out, so aren't we all in luck? Might as well do the Photo TR! Yay! So sit back, hold on tight, as this one is pretty image-heavy!
The date? November 17, 2007. The first Saturday of the Disneyland Resort's Christmas festivities. Time for fanboy Jahan to pack the car and head for the magic kingdom! On this particular visit I decided to bring my sister with me and we'd end up meeting up and leaving so many different people as the day went on…it was crazy!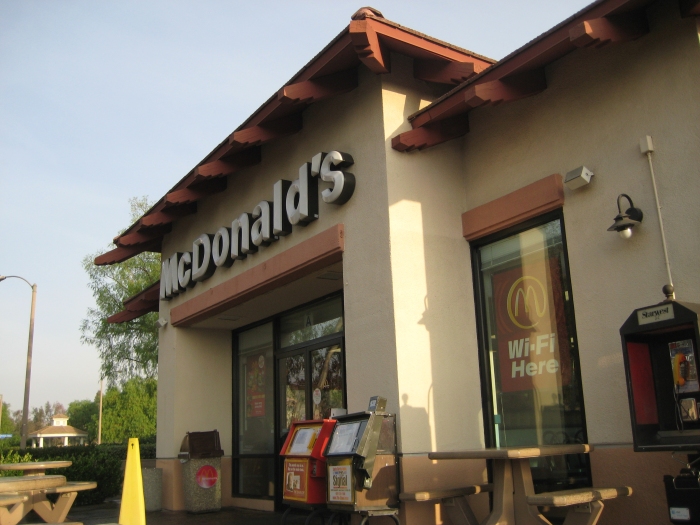 The day begins with the Breakfast of Champions!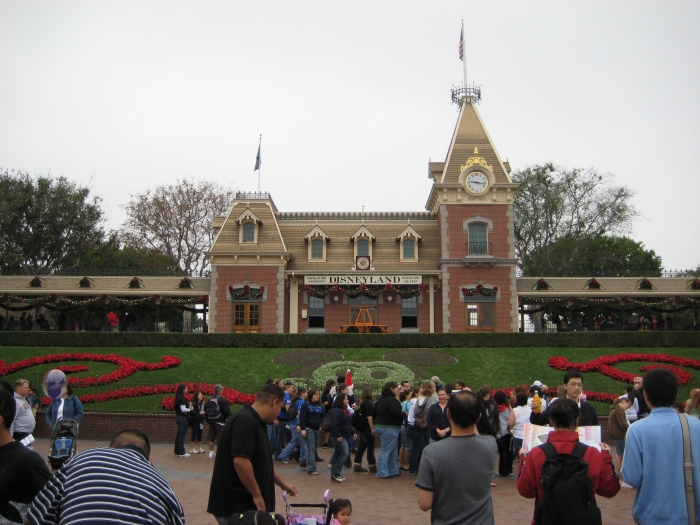 Booya! We're here! I just saved you 90 minutes of crappy LA traffic by reading this Photo TR!
So we get in the park about an hour after opening. Walked onto Main Street U.S.A. to find the town engulfed in Christmas celebration. Now, on a personal note I'm not terribly a fan of the holiday, but I'm obviously a Disney-fanboy, so for whatever reason when Disney celebrates, I get in the mood! Ironic that I was in the mood for Christmas half way through November and now that it's nearly December, I no longer could give a crap!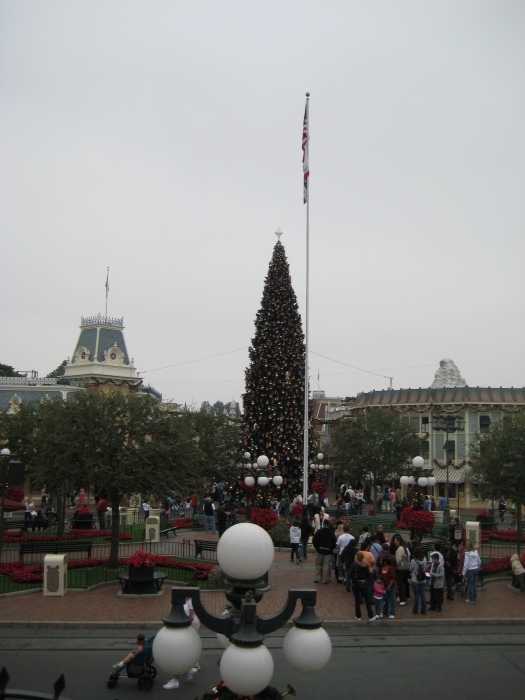 Awwww….with the Christmas tree, you REALLY cant see the castle! I tried SO hard to get a shot of it from the train station, but alas…no.
As we walked down Main Street, the fresh wreathes strewn above the road filled the air with the fresh smell of pine. It was SO perfect, I loved it! Until I saw something in front of the castle?...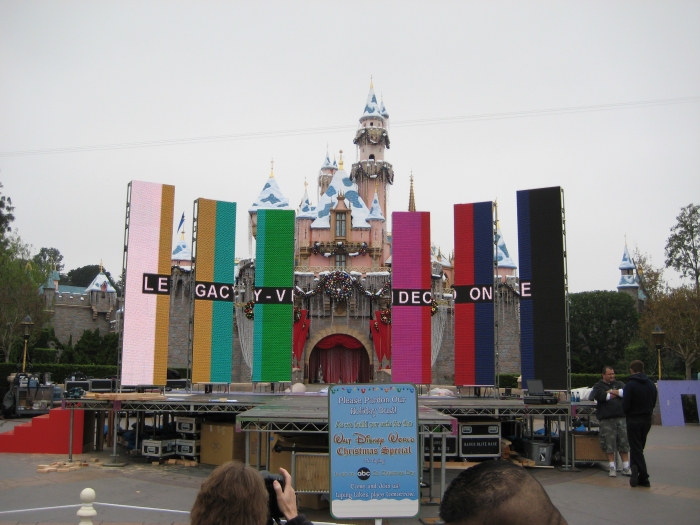 I N T R U S I O N .
So let me get this straight. It's the first weekend of the Disneyland Resort Christmastime celebrations, and I cant even walk through the castle because of that bitch Hannah Montana? WTF?! LOL…I don't even know why I cared so much, I don't normally walk under the castle. But for some reason It grated at me that I wasn't going to get a decent picture of the castle all day!
So anyway after my pouting, we decided to head to New Orleans Square to take some family photos, for a Christmas photograph or something.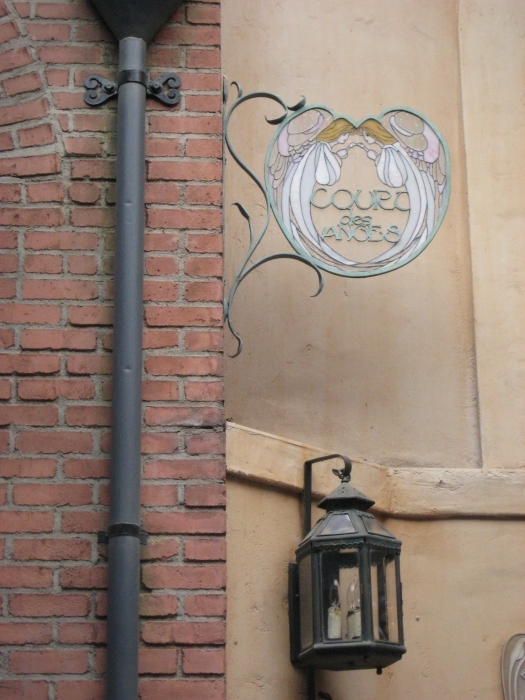 Yeah. I'm learning I'm the cesspool of unoriginality.
For those unfamiliar with the Courtyard of Angels, it's a small, well, courtyard at the end of Angel Street in NOS. I love how they dress it up for Christmas, so I figured we'd shoot some photos in there.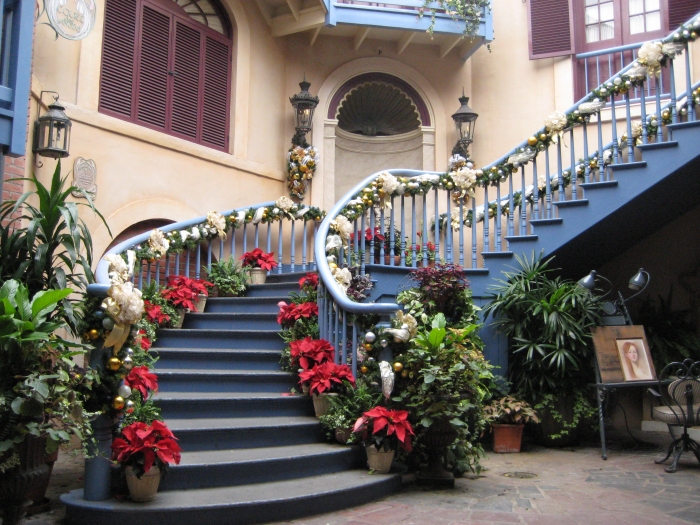 At night this all looks REALLY pretty.
In the end, now that I have all the photos on the computer, the lighting wasn't good enough to take decent pictures. None of them came out!
Regardless, we headed to the nearest attraction, so my sister wouldn't fall asleep of boredom from my stupid chores.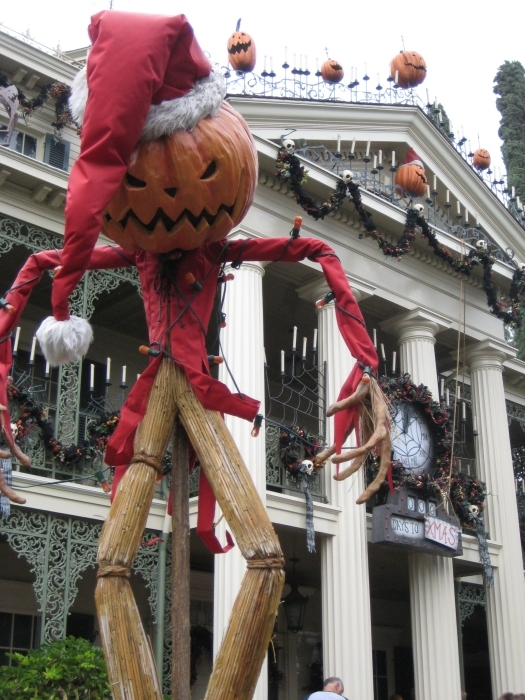 Haunted Mansion Holiday!
I personally LOVE Haunted Mansion Holiday. I can respect the classic, but the staging of this ride is just so great! I've also grown to become a big Nightmare fan, so what can I say.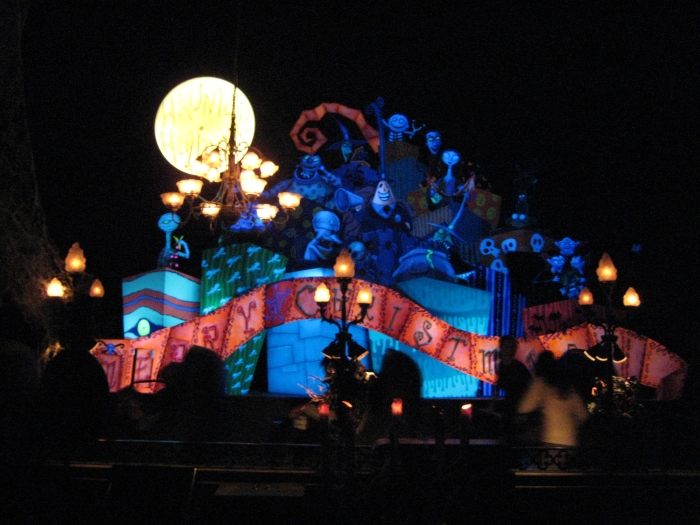 This photo was really unnecessary, but I feel like JAM packing this update with photos. Don't ask me why.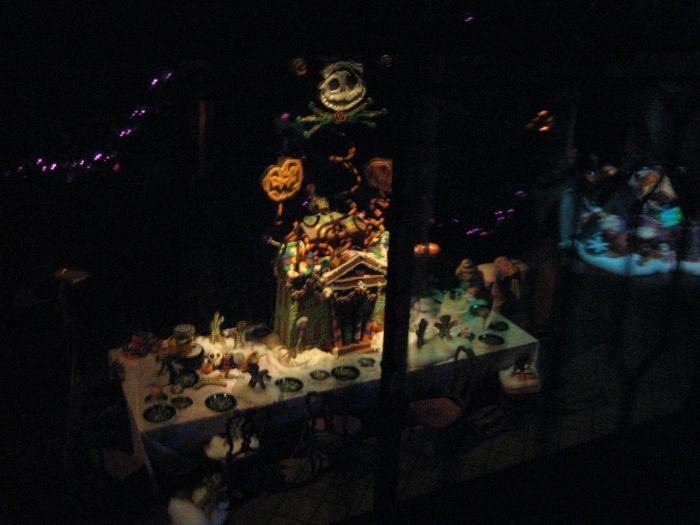 This gingerbread house is awesome! If you look carefully around it, you can see evil little gingerbread tearing apart the table. My favorite "detail" of the ride!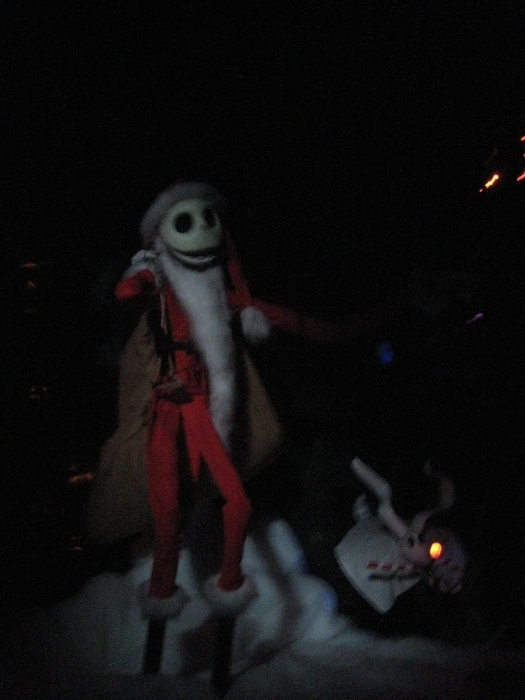 Jack is probably one of my favorite characters ever! When you think about it, he has to be one of the only "Disney" characters to work, aspire, and believe, and NOT have his dream come true.
…Sorry guys. For the record, I'm trying to beat TJ's emo-ness, so bear with me.
Moving right along…when we got off of Haunted Mansion Holiday, my sister happened to mention that she had never been on the Mark Twain before…so being the great brother that I was, I dragged her on!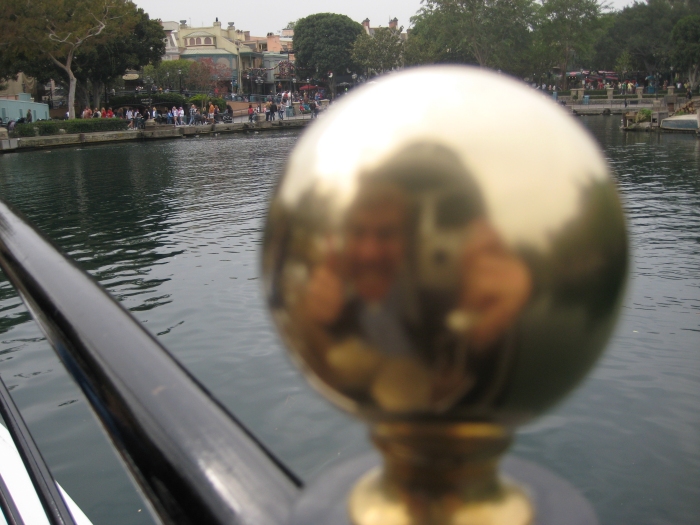 At least

I'm

excited!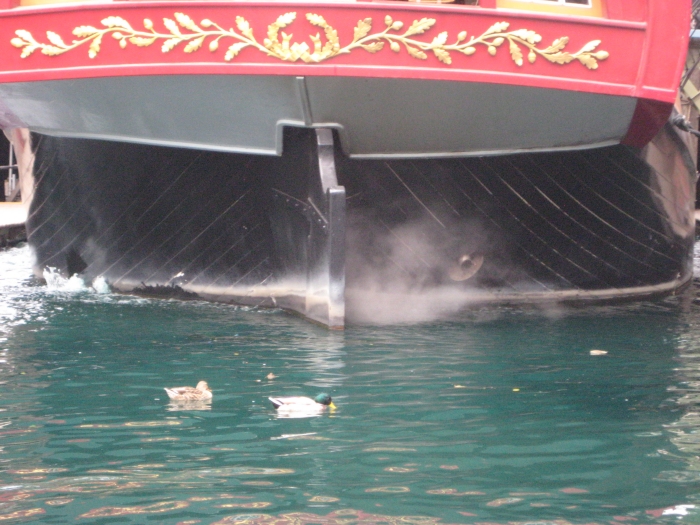 We passed by the Colombia as it was getting started. In a warming world, I wonder if the Columbia is a Low Emissions Vessel.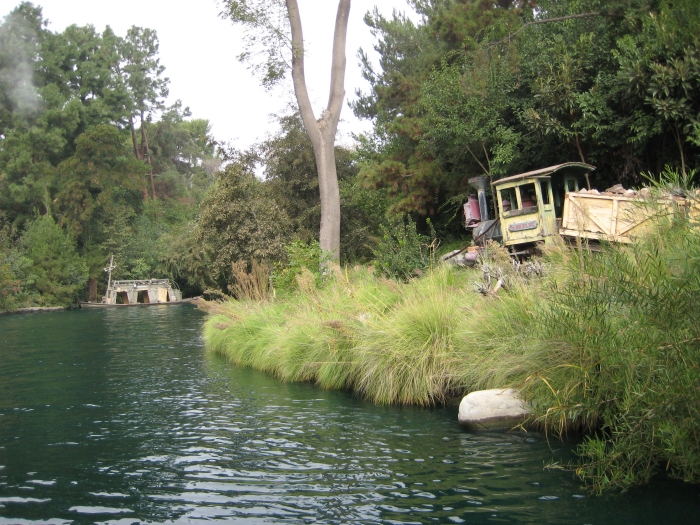 I once took one of those online personality tests, that match your personality with a Disneyland attraction, and I was the Mark Twain….glamorous, I know!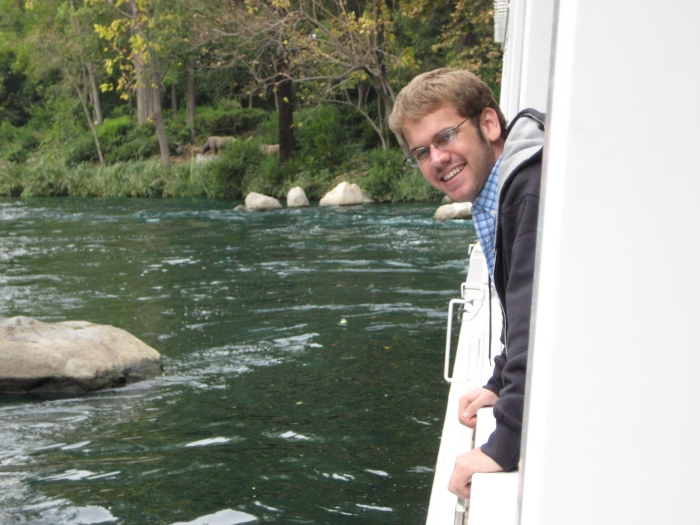 Me and my ship.
Anyway, we got off of the boat and were ready to go meet up with the first friend, which involved heading OUT of Disneyland and into DCA. *sigh* The problem with convenient park hopping, is you end up doing it far more than you want to.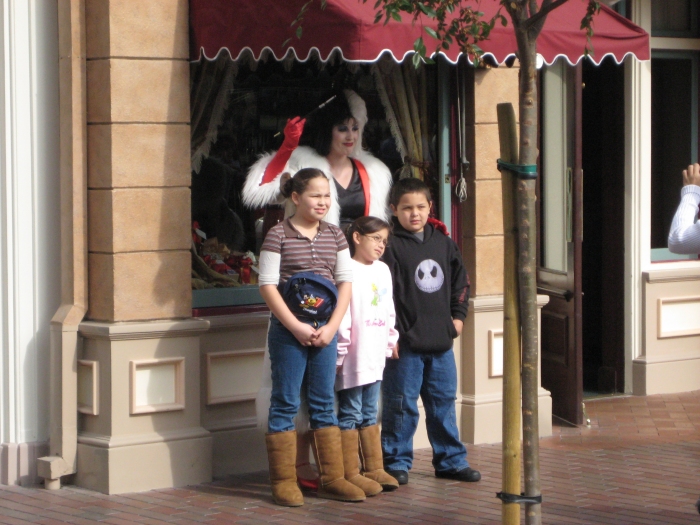 Would somebody tell that woman that this is a smoke-free park?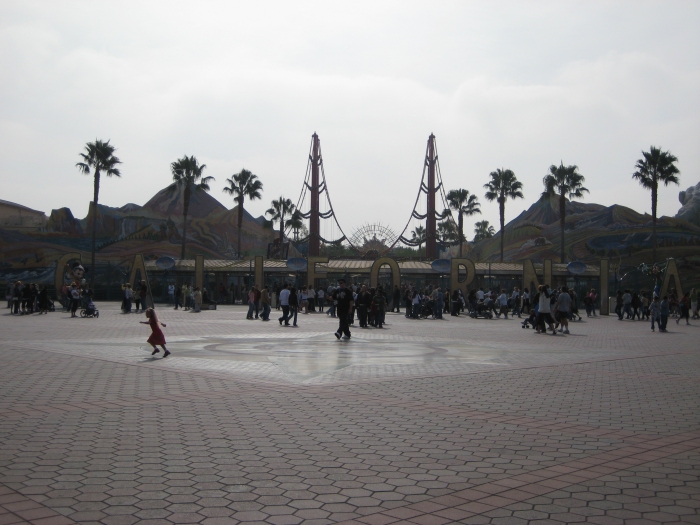 I think one of the fundamental design flaws of DCA, is that the sun is ALWAYS behind it. It's almost hard to get a decent picture!
So we get into DCA and met up with none other than, Fresno's own Mr. Ryan King and his trusty sidekick Kevork at the Taste Pilots Grill. Ryan really thinks he's such a pilot, he's required to eat in pilot-themed restaurants. So now that we all me up, we decided to head for Monsters while we waited for some Soarin' FastPasses to validate.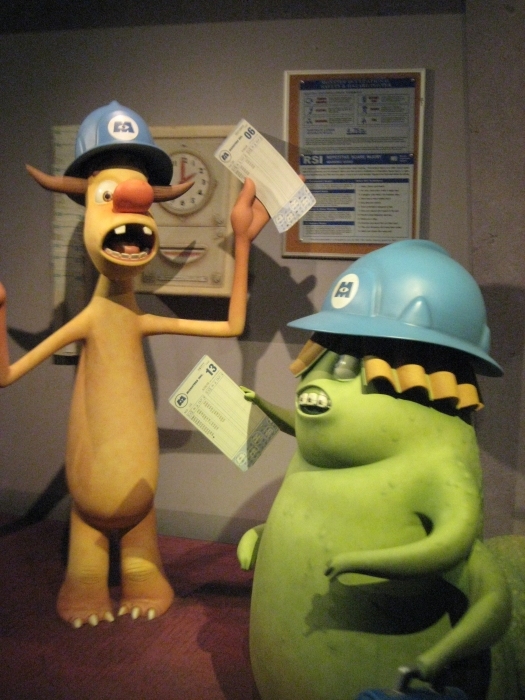 These guys pretty much sum up the ride: "Nothing exciting ever happens here!"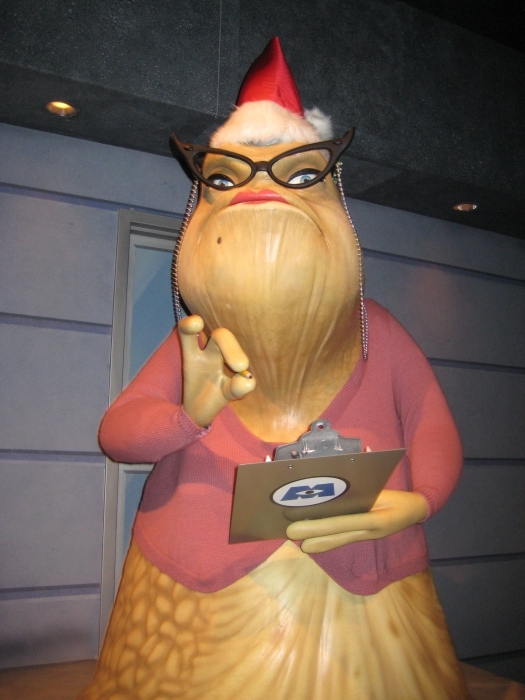 They even decorated Roz up for Christmas!
It was time to go prowl around Soarin' until we could use our FastPasses.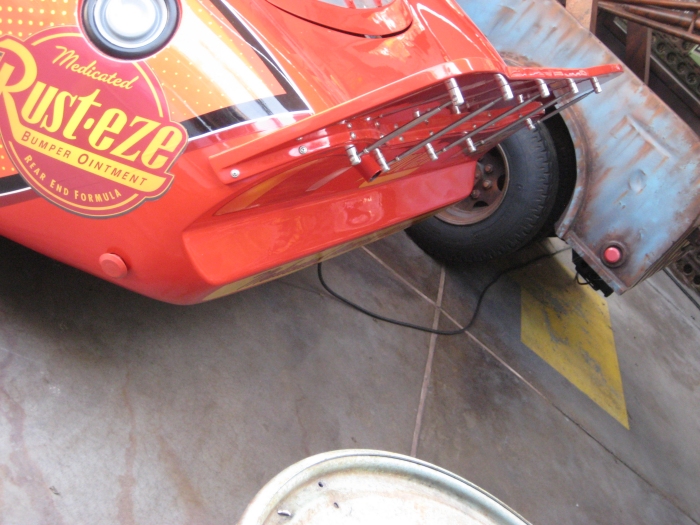 Didn't we once have a TPR member hit a Cars' estop?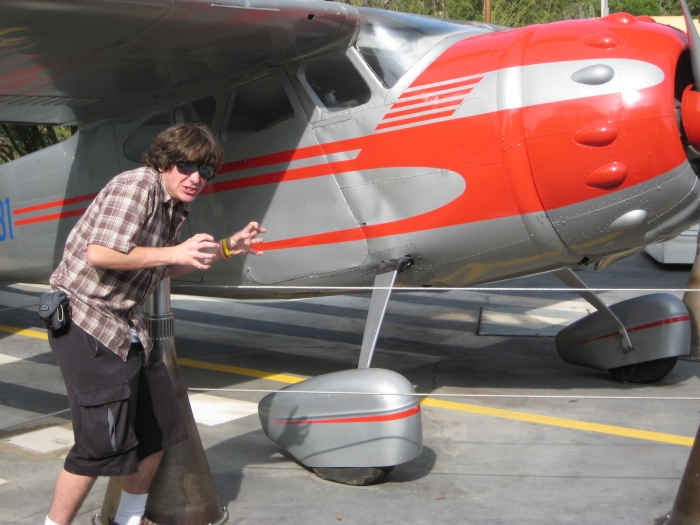 Ryan still contends that he can secretly reconstruct this plane and fly it straight out of DCA. I still contend that Ryan is retarded.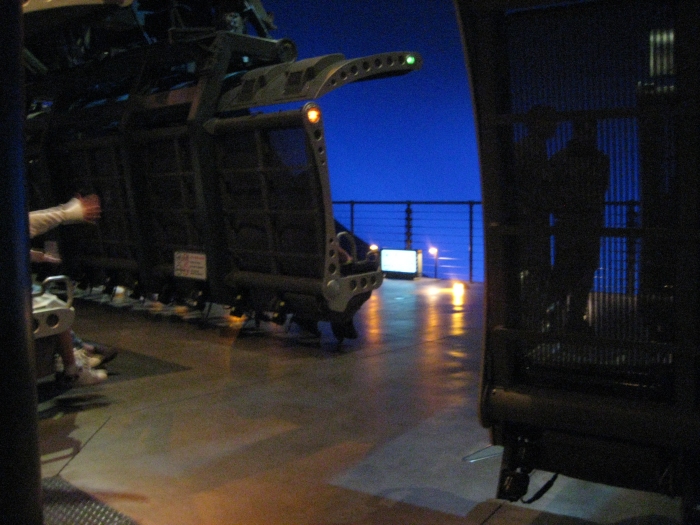 Yay! A 30 second wait with FastPass and it landed us a seat right in the back right!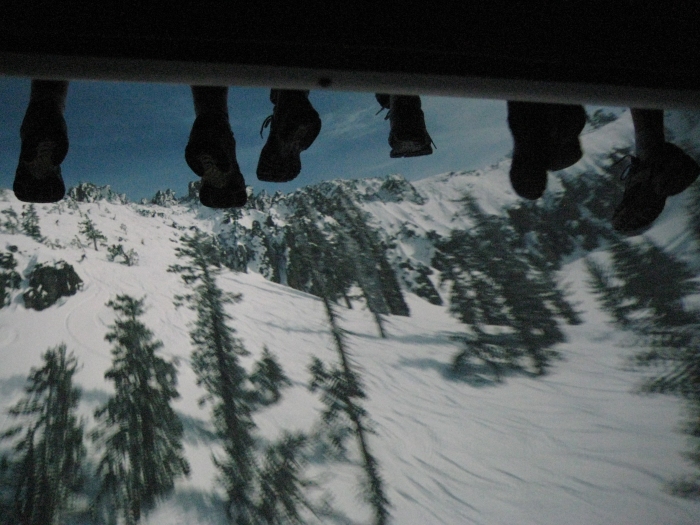 …meaning this was our view for the duration of the ride. I'm not personally a Sketchers fan.
Anyway, after our ride on Soarin', Ryan had about 45 minutes left in the park before he had the depart and head back for Fresno, so we let him choose the next ride. Sure enough, it was my personal therapist, California Screamin'!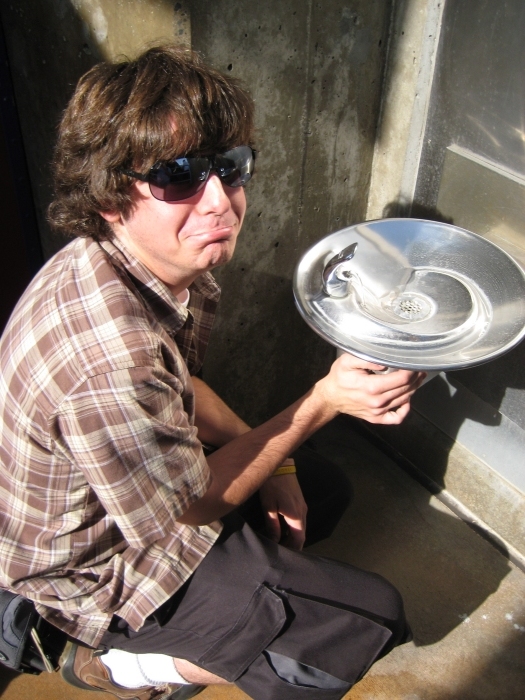 *Insert Ryan's fountain is little joke here.*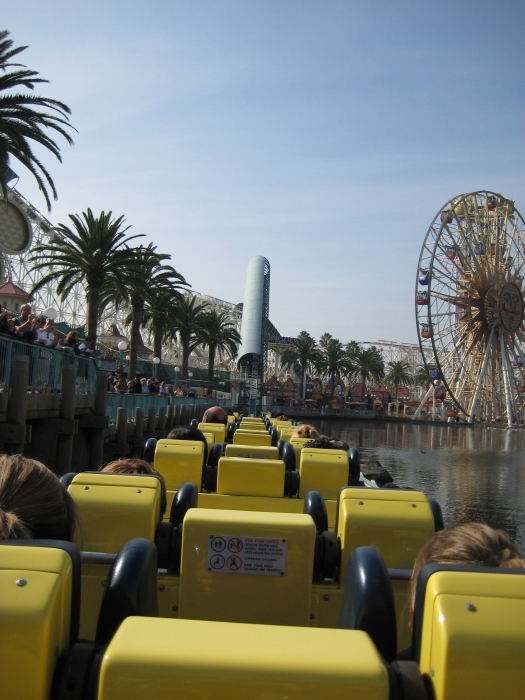 This photo would be very nice, but it's cocked slightly to the side.
…Yes, I just said "cocked".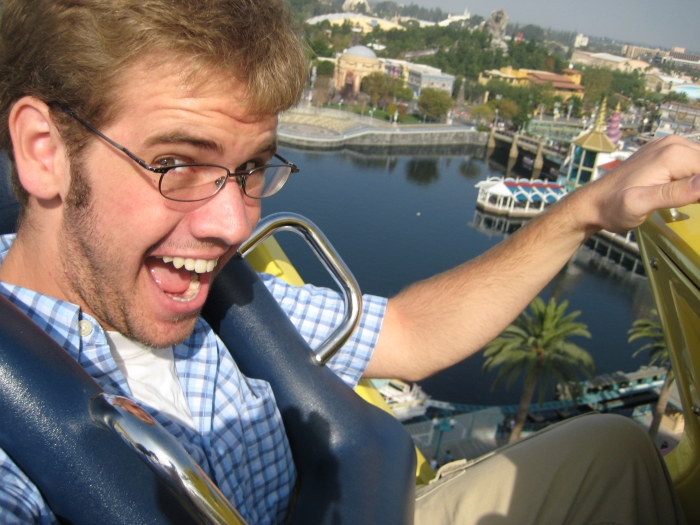 I don't know what it is about this ride, but it's just so FUN. It really just makes me happy.
After California Screamin', it was time to wish Ryan a safe drive home to Fresno (LOL…Fresno) and make it back to the first park.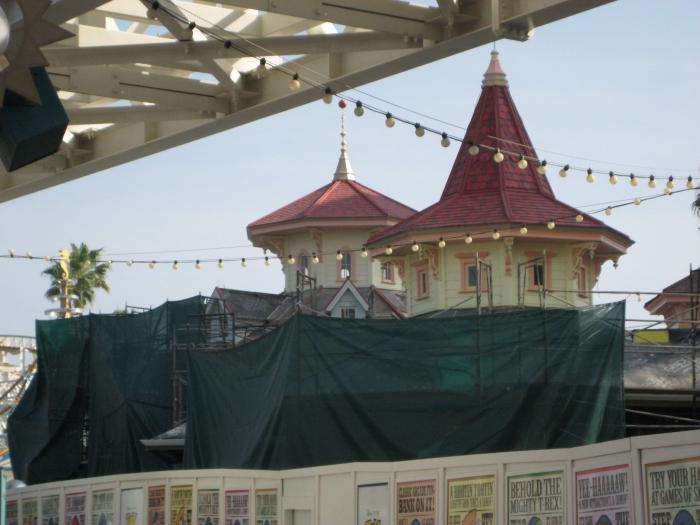 F**kin Mania is coming along VERY nicely….even if it IS pink!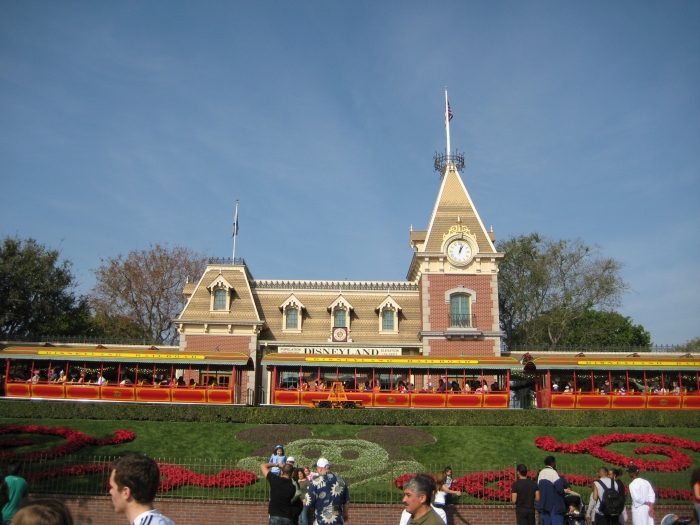 Back at Disneyland. Another photo, cocked to the left. What's up with that?!
So when we reentered Disneyland, Javaneh and I were feeling a bit hungry but not quite up to a meal, so we stopped at the Bengal Barbeque for some skewers of charred flesh!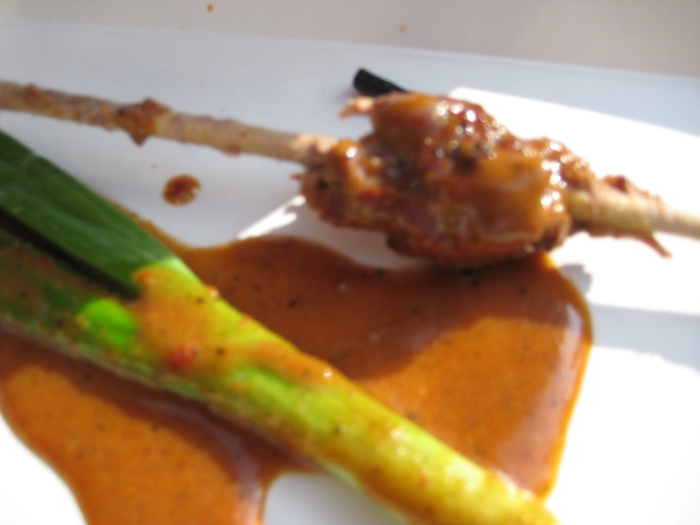 They use a sauce! Colin would approve!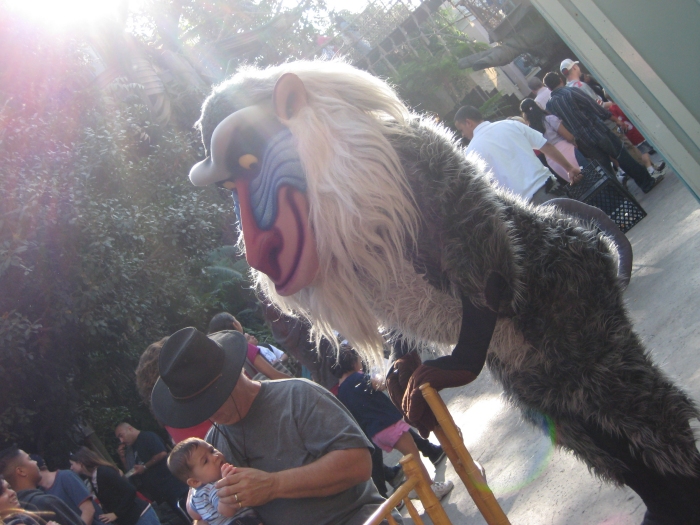 Oooh…we even have a visitor! Trivia: Is he a blue butt or a red butt?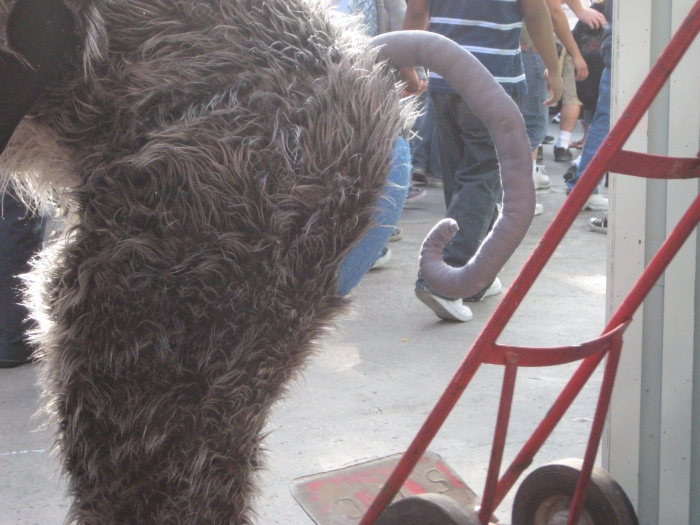 For those of you who answered "blue butt", that is correct!
Anyway, now that we had eaten all up and felt much better, TJ happened to show up! So naturally, nobody could make a decision as to what ride to do next. I ended up making the decision (yes, that's right, ME) to go do Big Thunder Mountain, so we did!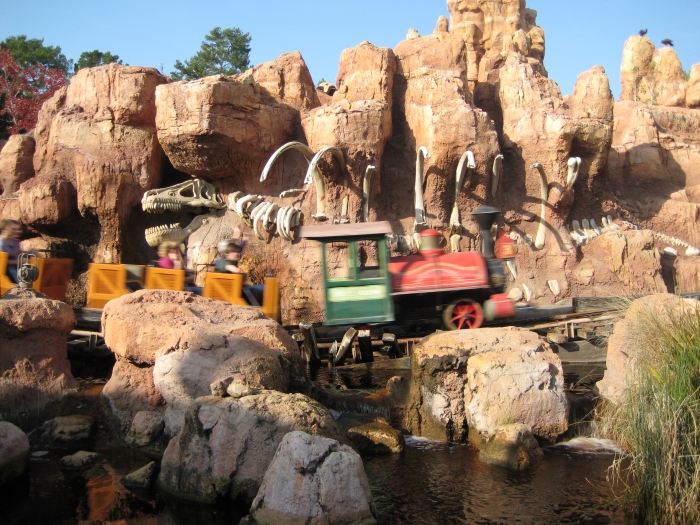 Fake splashdown underneath the dinosaur bones….check.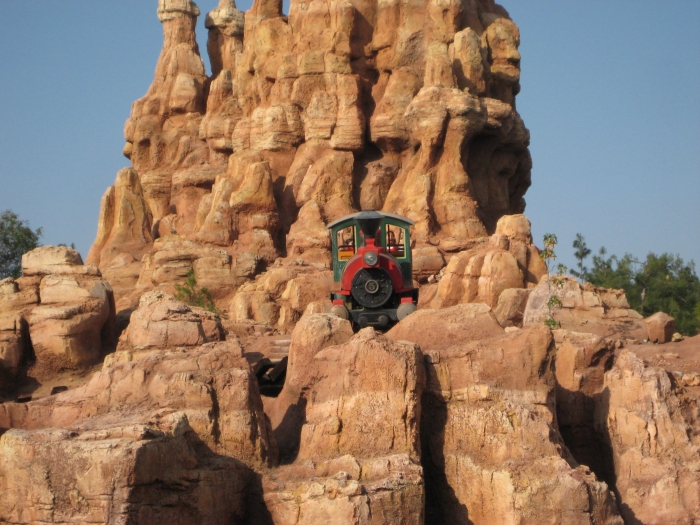 Climax out of the caving-in tunnel….check.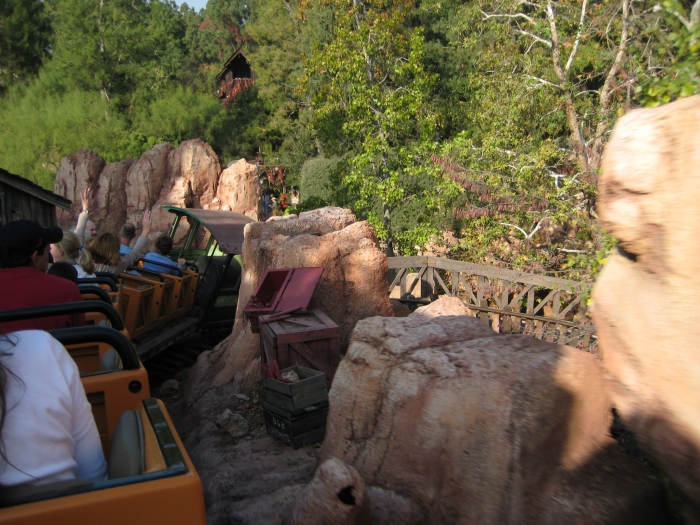 Suicide bombing goat….che—wait a minute! Where's the freakin' goat?!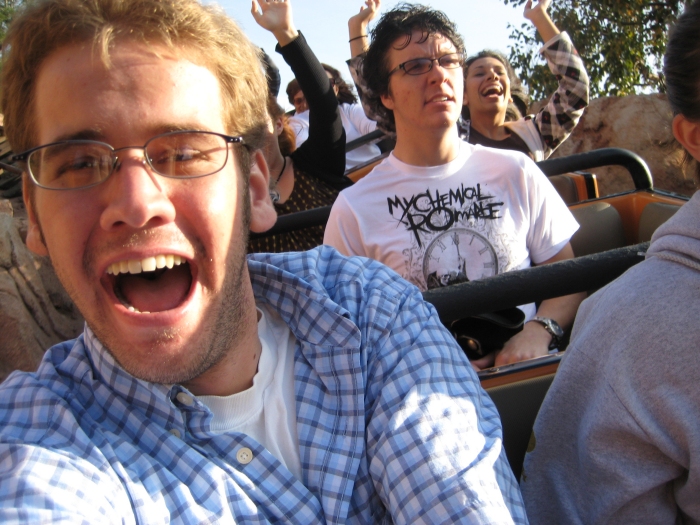 I *think* I look like I'm enjoying the ride. And TJ just looks flat-out perplexed!
After Big Thunder, it was all agreed upon that we would try our luck with Pirates of the Caribbean next.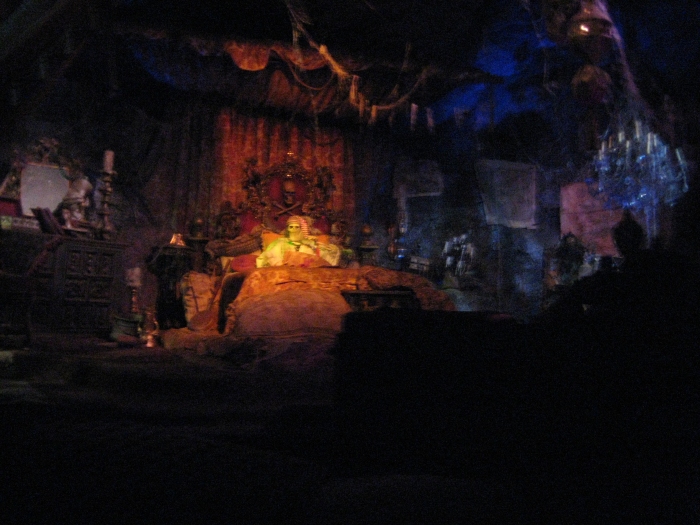 When I die, I want my ashes scattered here.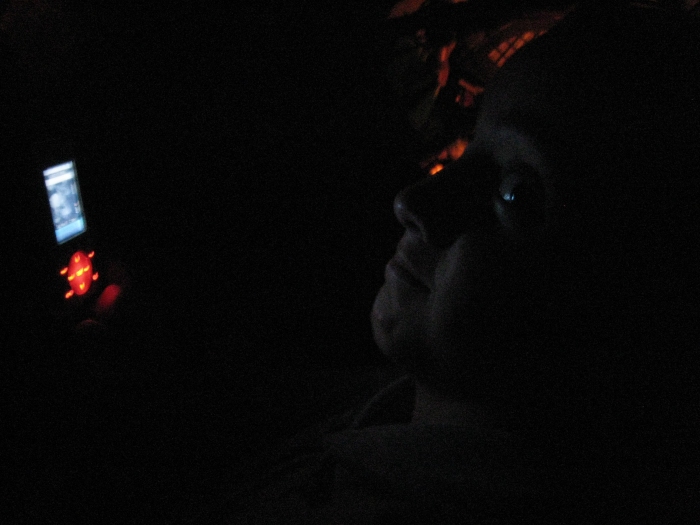 *sigh* My sister's texting on the ride. The youth just don't respect the classics, man.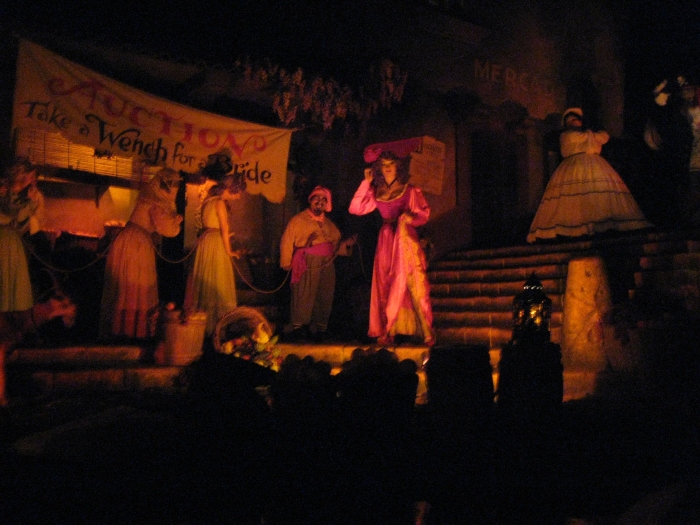 I wants da red 'ead! I wants da red 'ead! I agree with whomever posted in the "Hottest Women" thread, that Kari from Mythbusters is hot red head, so I choose to pretend that's who she is.
Ok, so remember how I ranted about park-hopping earlier? Well, we did it AGAIN. On our way out of Disneyland we found a really awesome Ratatouille display on Main Street…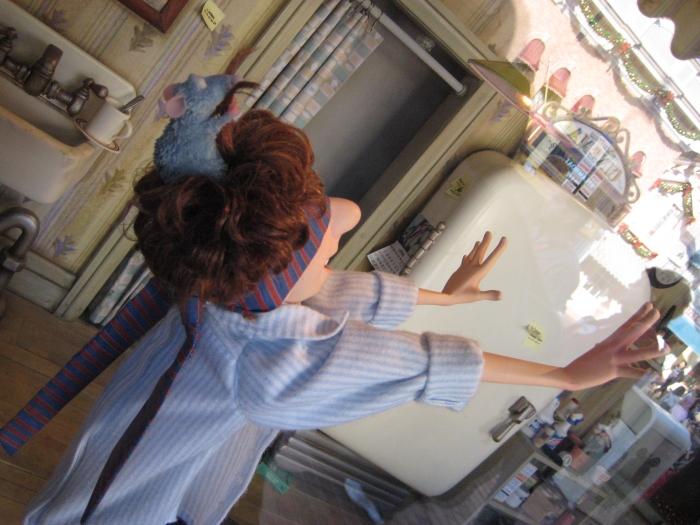 My favorite animated feature ever. Really an allegory for the Disney-Pixar relationship, but cute none the less.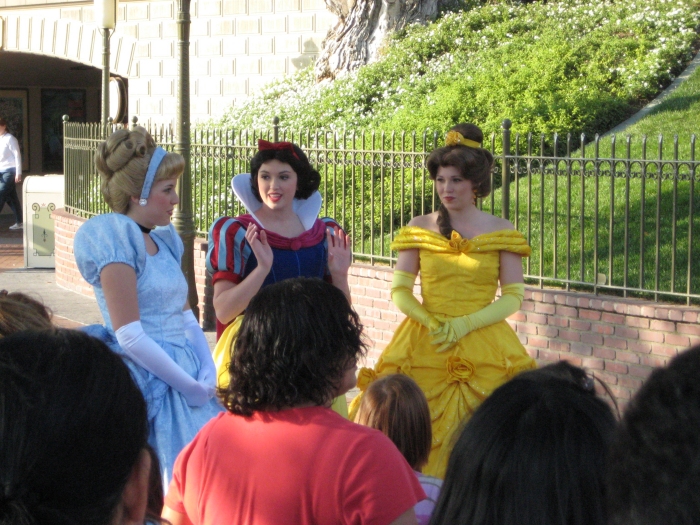 On our way out, I found myself stumbling across a wet dream I had last month.
….moving right along.
So once we were back in DCA, we tried to meet up with our good friend Chris but he was working on using some FastPasses he had on his person, so we decided to kill some time. If my memory serves me correctly, we did Screamin' first, followed by a ride on Grizzly River Run, which was a tremendously bad idea! The ride is partially known for it's "mining sub-plot", but I also managed to find…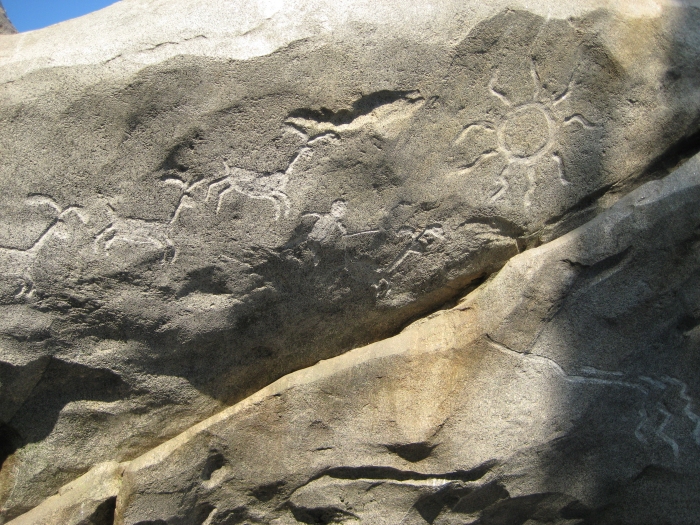 The Native American sub-plot to Grizzly River Run.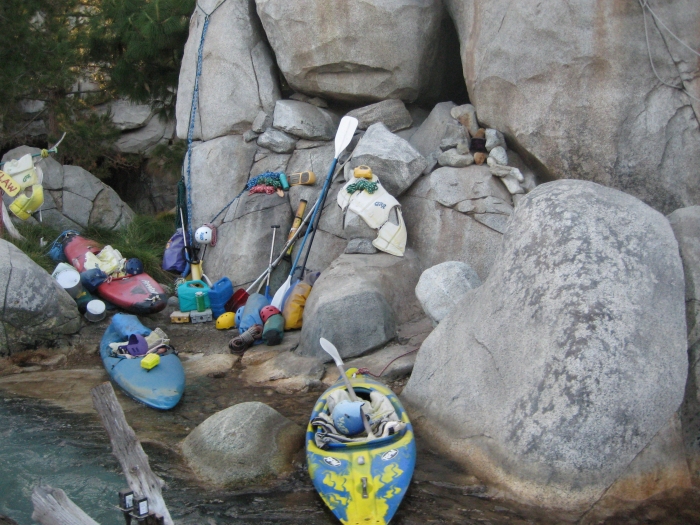 The Extreme Sports sub-plot to Grizzly River Run.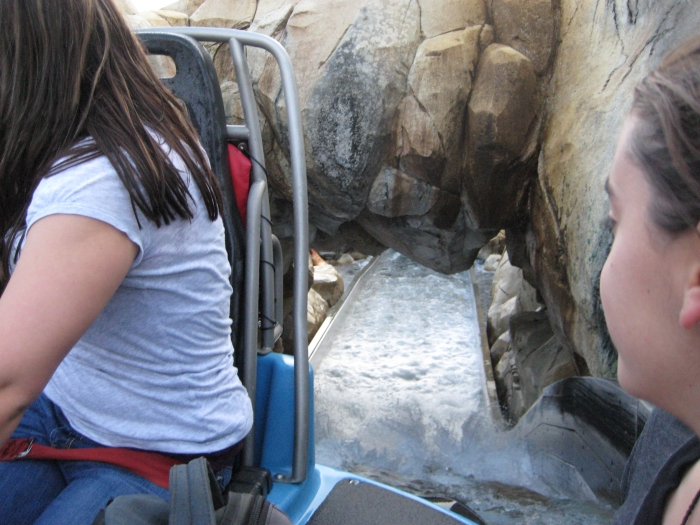 ….and the drop that is why nobody gives a crap about the sub-plots, on Grizzly River Run.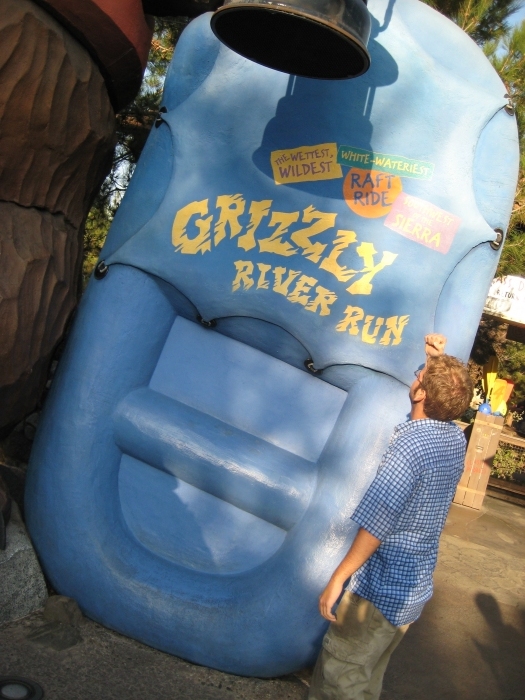 We got REALLY freaking drenched, with about an hour of sunlight left. NOT AMUSED.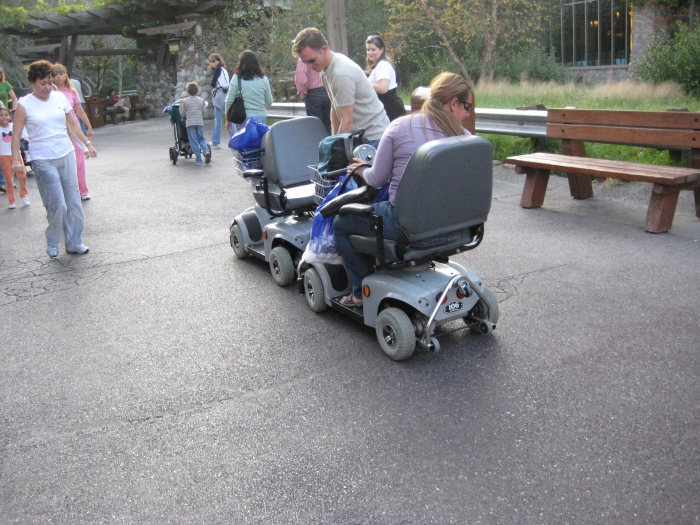 But we DID see two of these crash and get stuck together! That DID leave us VERY AMUSED!
ANYWAY…back to Park 1….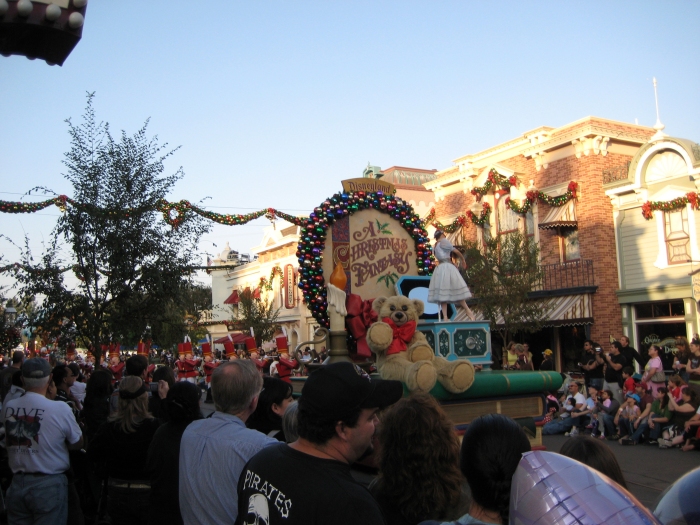 I don't care how much they "change", this parade looks exactly as it does on my VHS copy of it from 1992!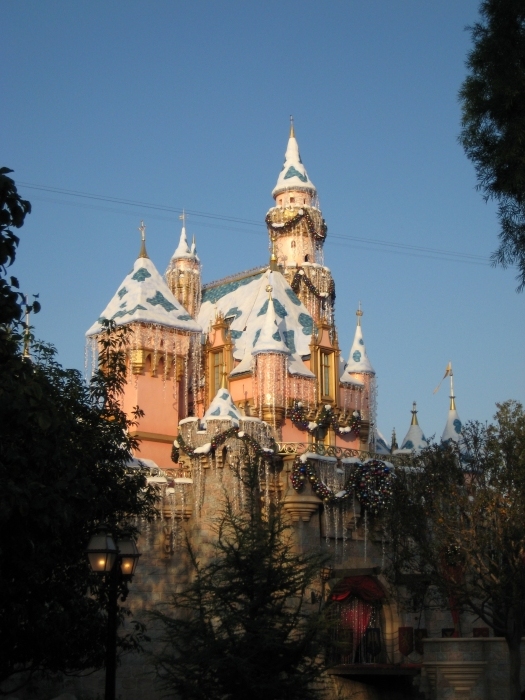 Finally giving up on my hopes of getting a decent front-shot of the Castle, I settled for a nice side shot.
After that, we ventured into Fronteirland and caught the end of the stage show they do outside the front of the Golden Horseshoe. It's a
really
freakin funny show! You don't want to laugh, but you just have to!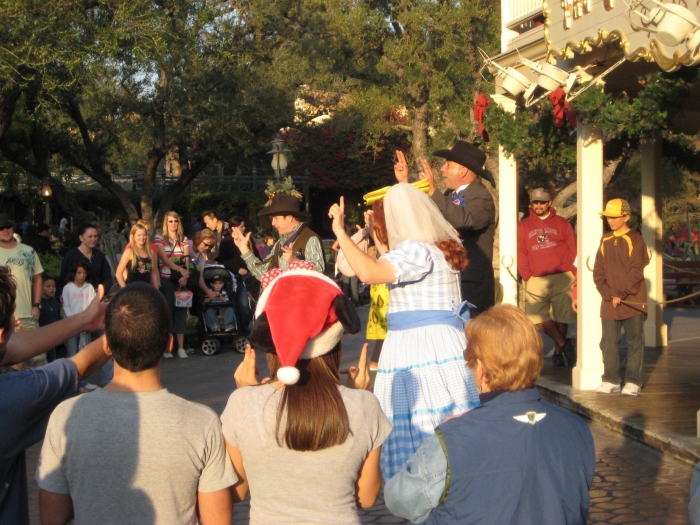 Notice that their "pistols" are two-fingered points. What?! This is what working in theme parks does to you!
Once the show was over, we met up with none-other than our dear friend CHUCK! Once that momentous event happened, it was time to ride the best ride ever…INDY!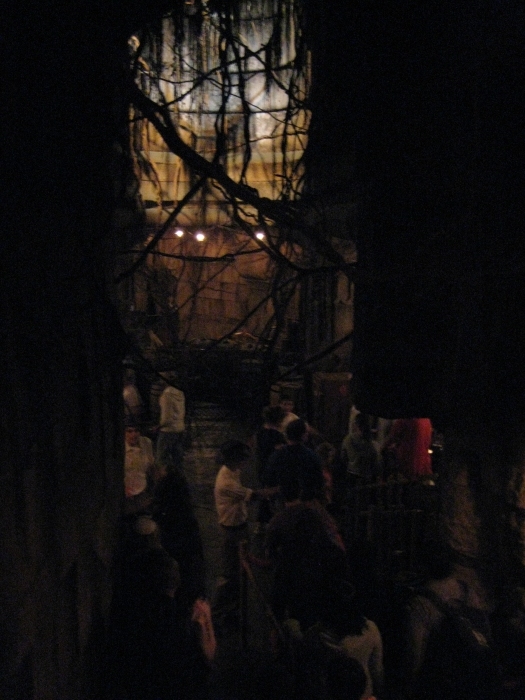 How many times have I used this shot in a Photo TR?!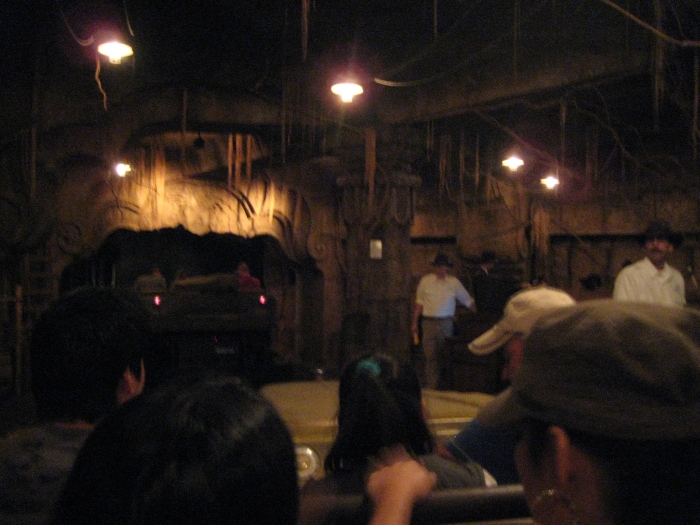 There…this one's a little bit different!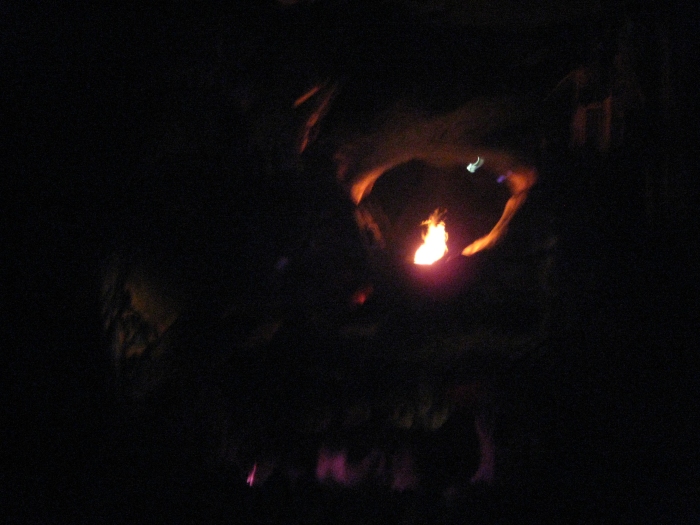 Raaarg!!! Give me some candy!!!
So Indy was exceptionally "meh" today, which saddened me. But a surprise made up for it…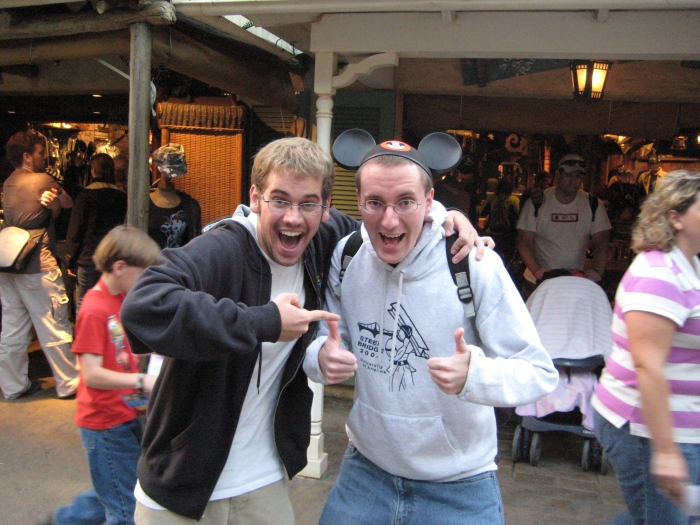 …JimmyBo!!! WTF?! It's a freakin' small world!
Anyway, Jimmy
obviously
didn't want to hang with us because he's cool like that and had reservations at the Napa Rose or something cool like that, so we were left in his wake to revel in our loserness. But sure enough, we had a great idea to make up!...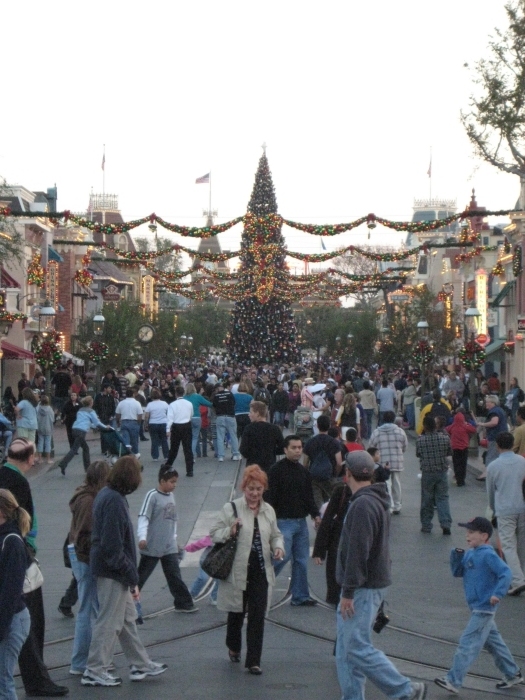 Time to head down Main Street again, but not to DCA this time!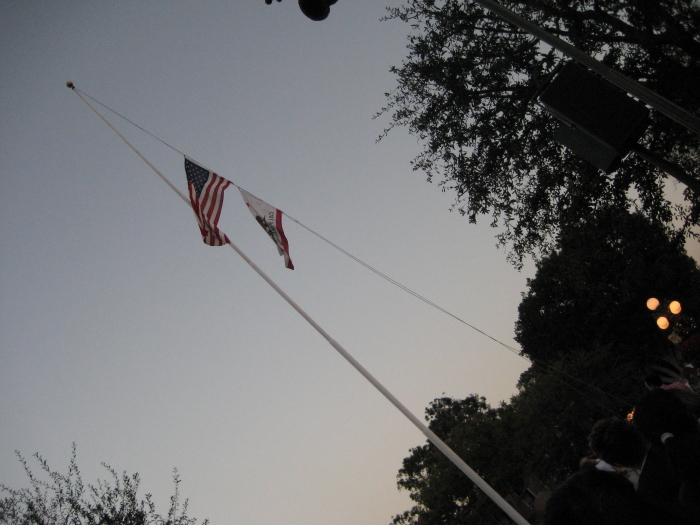 On the way out, we caught the Flag Retreat Ceremony. I'm not one for patriotic stuff, but it was very well done. They really make a production out of it. I suggest catching it one day, if you can.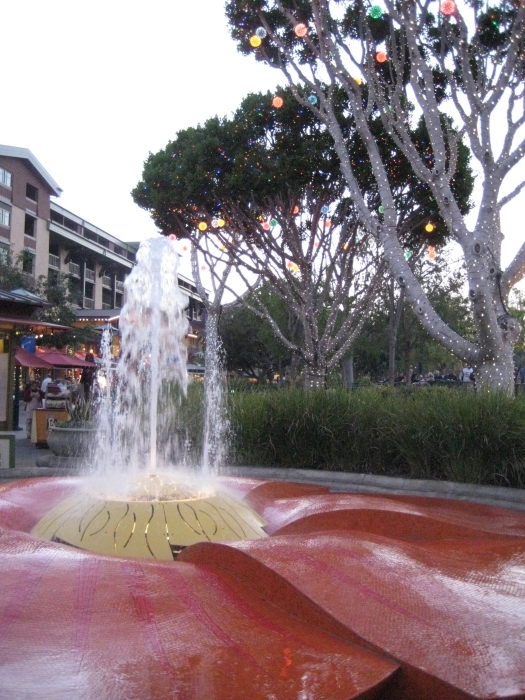 Wait…why are we going into Downtown Disney?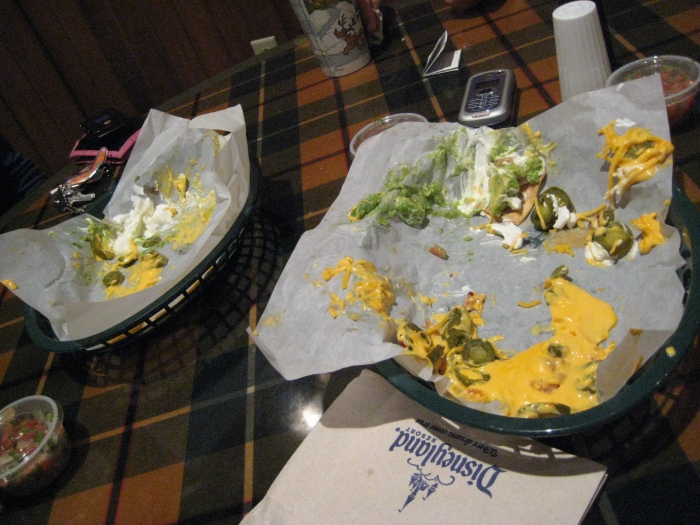 AHHAH! This is why! Or, well, it WAS why. Only two orders of the greatest nachos on the face of the planet from Whitewater Snacks in the Grand CA.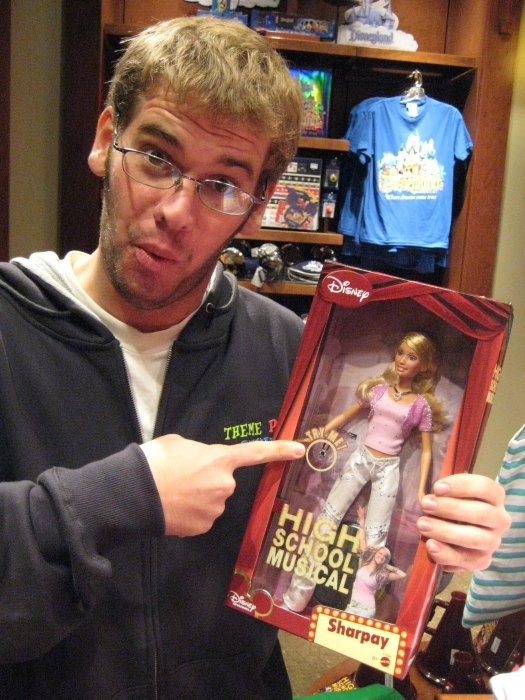 In the Grand CA gift shop, I decide I wouldn't mind "trying" Ashley Tisdale.
So after nachos, it was time to reenter the park. Night had already fallen which means that Disneyland, traditionally a very "Jahan-friendly" place was growing less and less friendly. Why? Because it was COLD. It was like, 58 degrees out! Regardless, night time entertainment is a must and thus, we must dig in and prepare.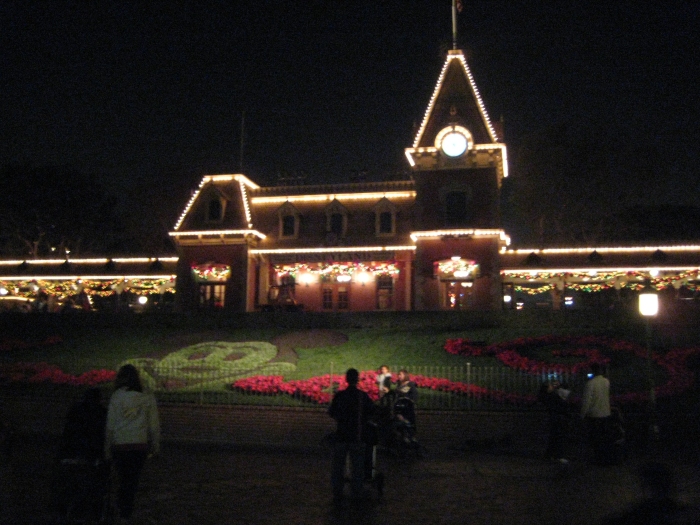 Ok, this is like the third time I've sent you this picture. Enough already!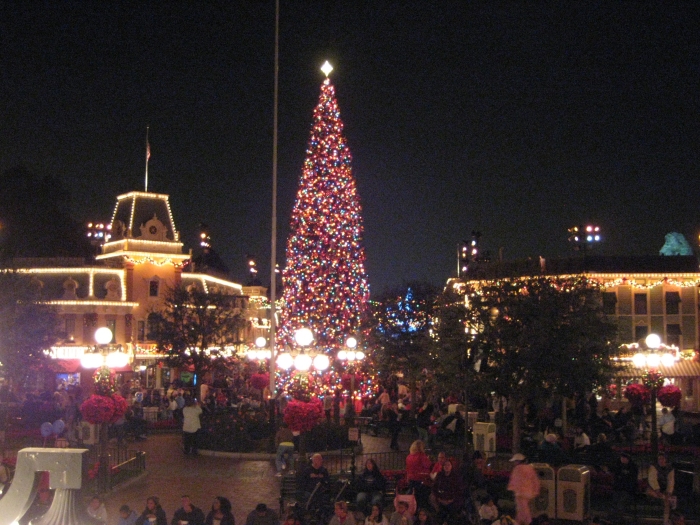 Even with the castle all lit up, you STILL cant see it!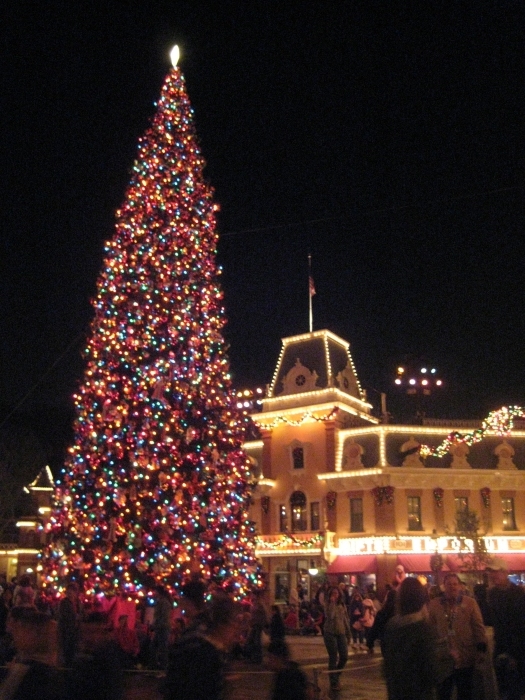 The tree looked really nice though!
So finally, we made our way down Main Street and I FINALLY got to see the castle all lit up…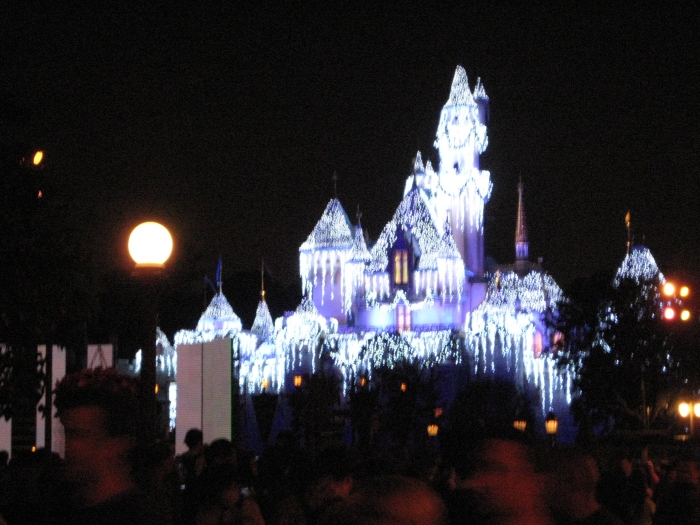 Most people seemed to like it, but for some reason, I just didn't really care for it! I like the fiberglass snow that you can see during the day, the but lights for night time…erm, no. That doesn't look like snow. That looks like a bunch of little LEDs all over the roof. They were obviously trying far to hard to be more than just "Christmas lights" (whereas WDW's castle just did a simple Christmas light netting), but failed at what they were trying to accomplish.
For that reason, I, Jahan Makanvand, hereby proclaim, that during the Christmas time festivities at the American Disney Resorts, that—
Cinderella's Castle
>
Sleeping Beauty Castle
…there you go, Brent.
Anyway, not prepared to wait for the parade again while I still had Space Mountain to ride, Javaneh, myself, TJ, and Kelley split for Space Mountain.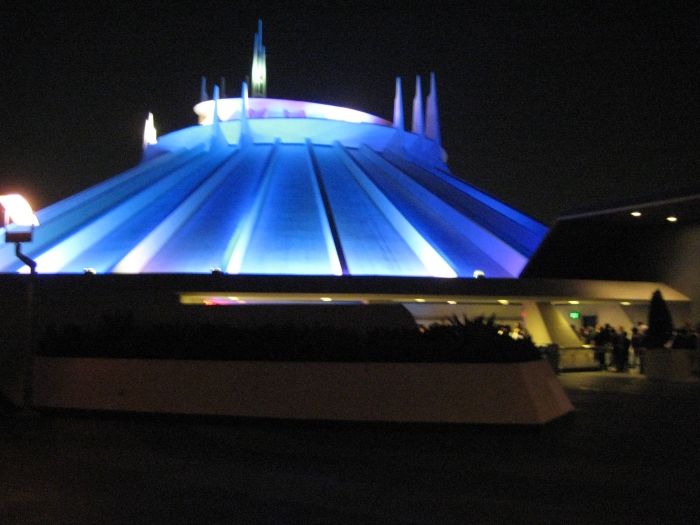 The line was moving with rather nice speed, as always.
Ok, so story….
I'm obviously a Disneyland fanboy. I go to Disneyland all the time. And despite that, I have
never broken down on Space Mountain.
It's a personal dream of mine, something I've always wanted to do. Well today, we were
one rocket away from boarding
, when the cascade beeping wouldn't quiet and, well….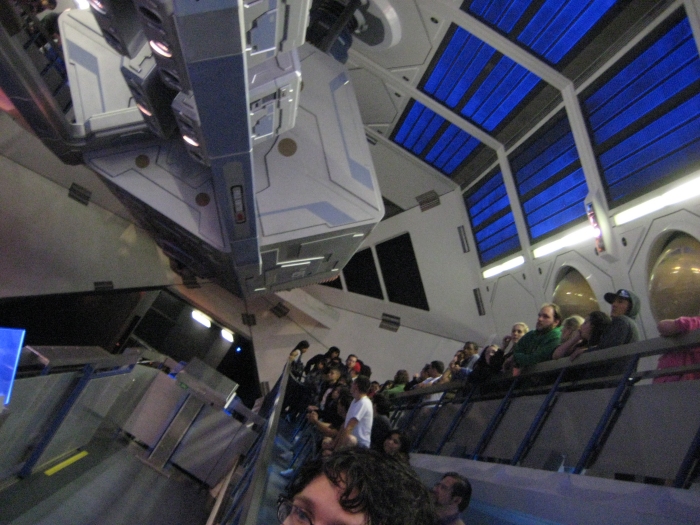 NOT AMUSED!!!!
The whole ride went down, right before we boarded. Work lights came on. CM's walked out into the ride. Everything. It sucked more than I could suck Vault Icee.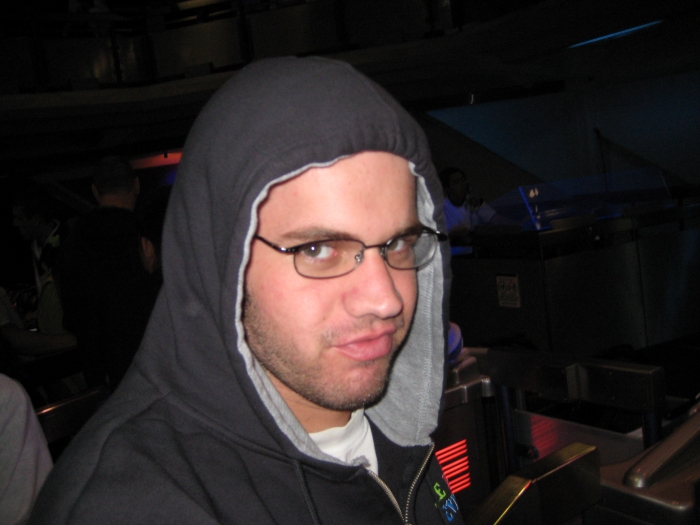 I was one bitter little fart!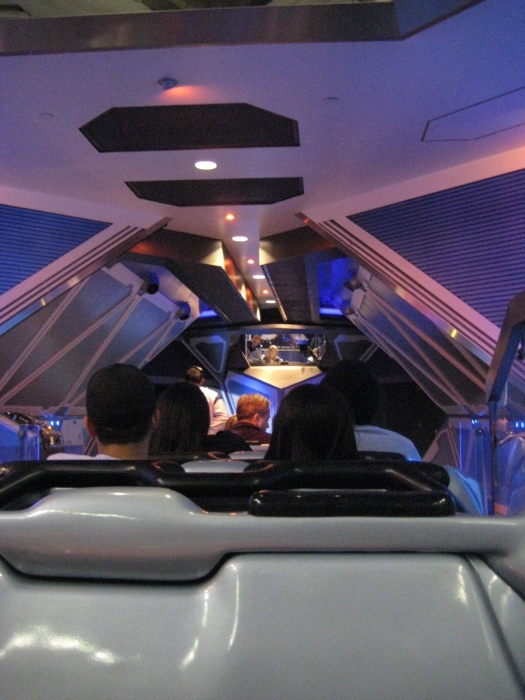 At least as they were resetting, they let us sit in the next available rocket and just chill.
What also bummed me out is that our music didn't start until we launched off of Lift C (I assume because of the breakdown)—part of what makes Space so awesome to me is the musical build up in the lifts, so long story short, it wasn't my best Space ride. Oh well…tears were few, and I got over it.
After Space we all headed back to Main Street to meet up with the gang—Chris, Dane, and Chuck, and waited for the second of three "snow shows". You see, the park doesn't only "snow" after the fireworks, but rather uses the LEDs on the castle to have three separate "snow shows". So they make a little production out of it—a stupid kid comes on and wishes for snow, the mom tells him to believe and there will be snow, and sure enough the music gears up and there's snow. But the castle doesn't "build" in snow, as advertised. The snow literally appears at once! And then it randomly disappears and reappears throughout the show!
STUPID!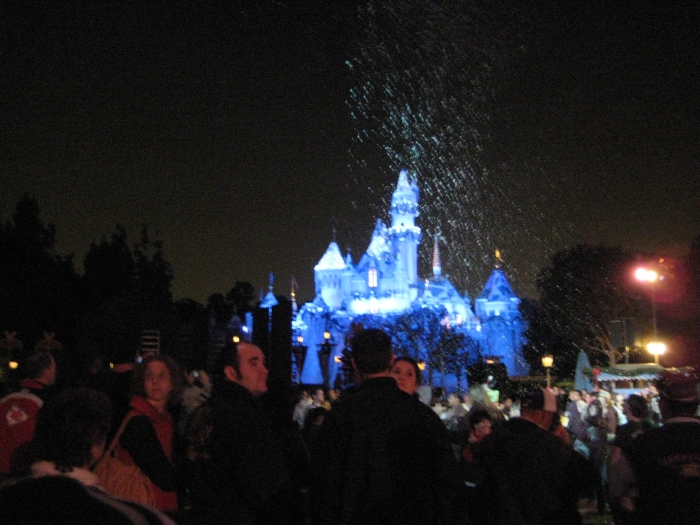 It's not bubbles. It's not fiberglass. It's not LED's. It's snow!!! Say it with me!
Anyway, after I wasted my time in the Hub for the show, it was decided to ride Big Thunder again, for those who hadn't yet.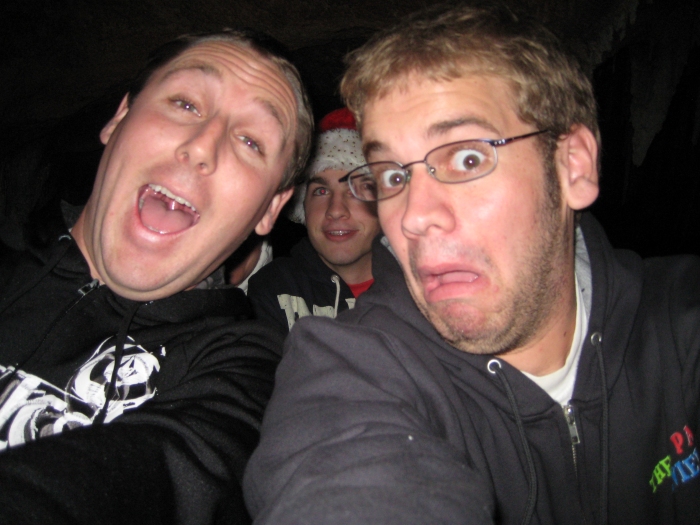 Why are we all scared?!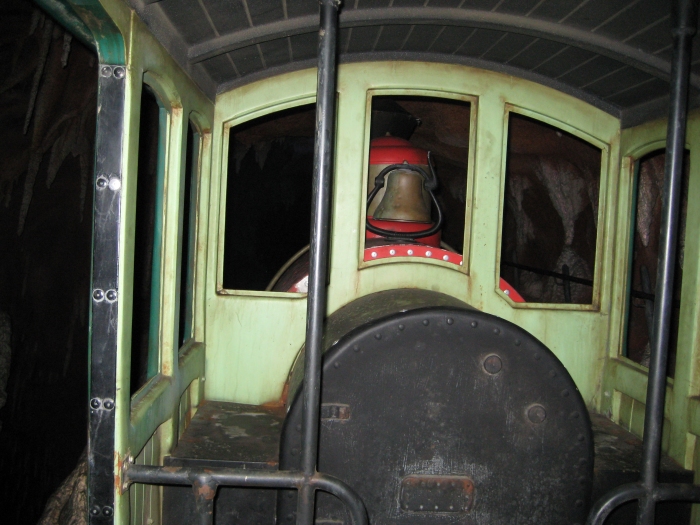 Oh—death seat! That's why!
Anyway, with Big Thunder under (lol…that rhymes) everyone's belts, but us running out of time before the fireworks, we made a mad dash over to It's a Small World Holiday, to see if we could get a ride. Unfortunately the ride was in its extended queue, so nobody was really up to the idea! Still though, we waited for the light show they do on IASW and it was very neat!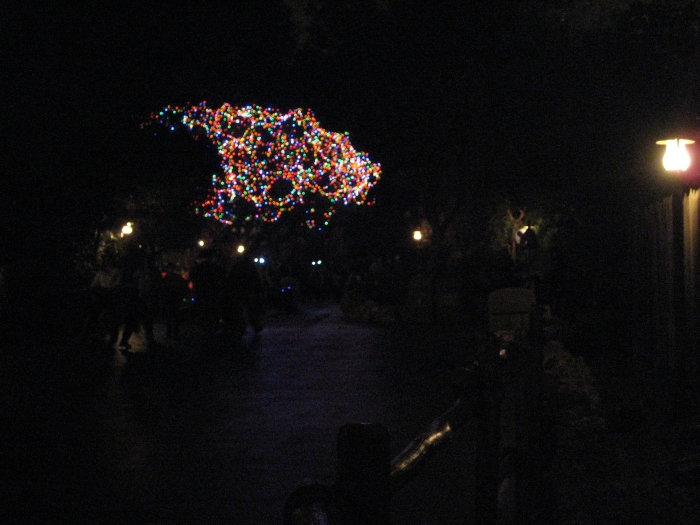 *sigh* Sorry Chuck. Not even spinning under the lit tree.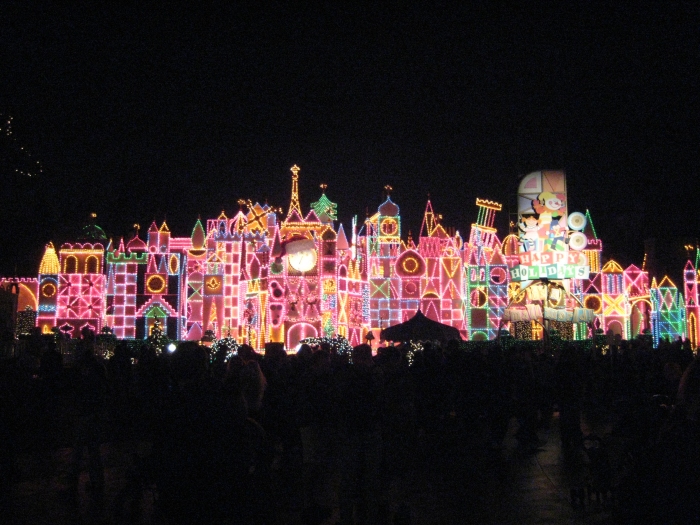 Yay! It really does look so beautiful during the holidays!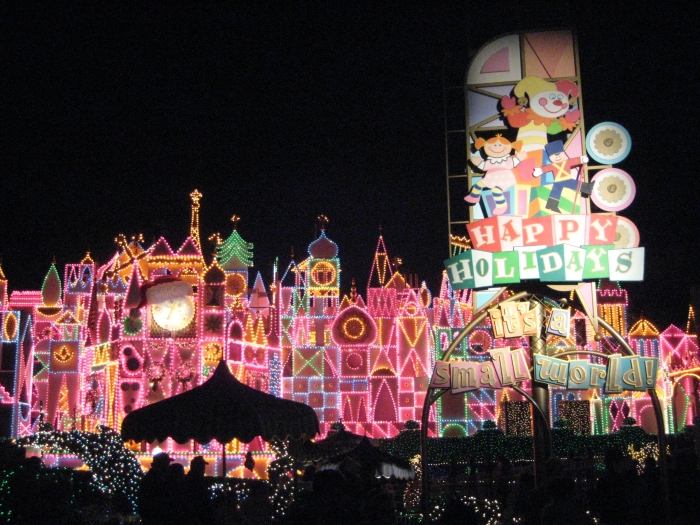 While I'm personally weary of the idea of taking a holiday that a sixth of the world celebrates and plastering it over a ride that is supposed to represent the diversity of the world….the real reason I didn't ride was the 45 minute wait.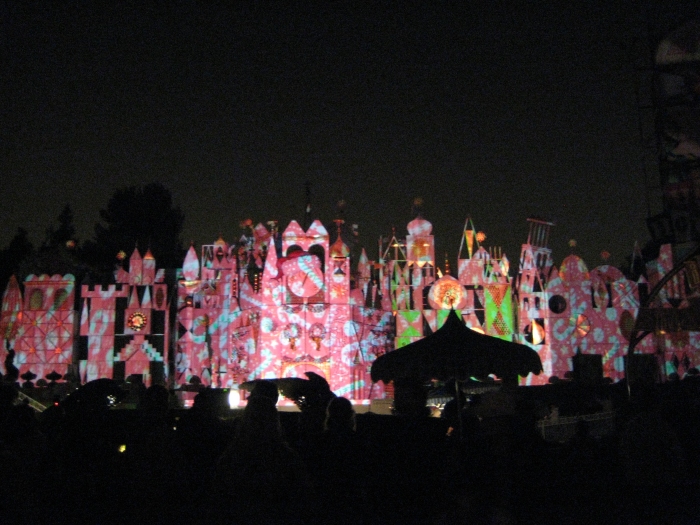 Still though, the light show was pretty damn cool! With mere projection, they could literally transform any geometric figure on the façade into any color or image they wished! Very neat!
At this point we were very much nearing fireworks time, but still not prepared to wait for them, so we decided to do a long-stroll from Fantasyland, through Tomorrowland, and eventually concluding in the Hub.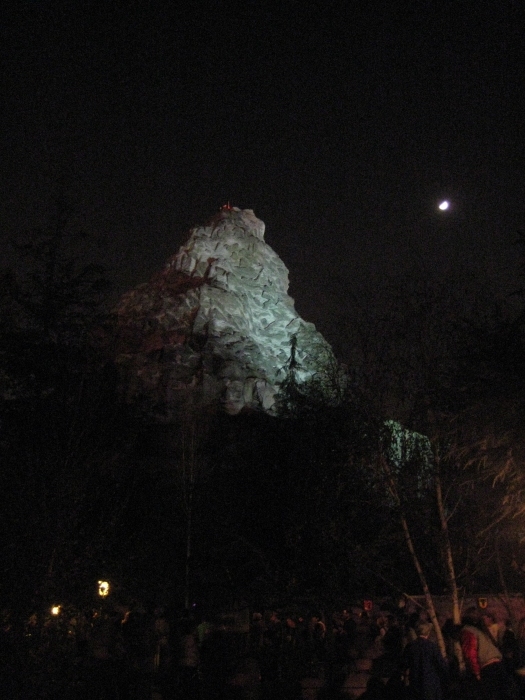 I love the way they light the Matterhorn. Looks almost naturally lit, which is why the moon looks so *right* in this picture.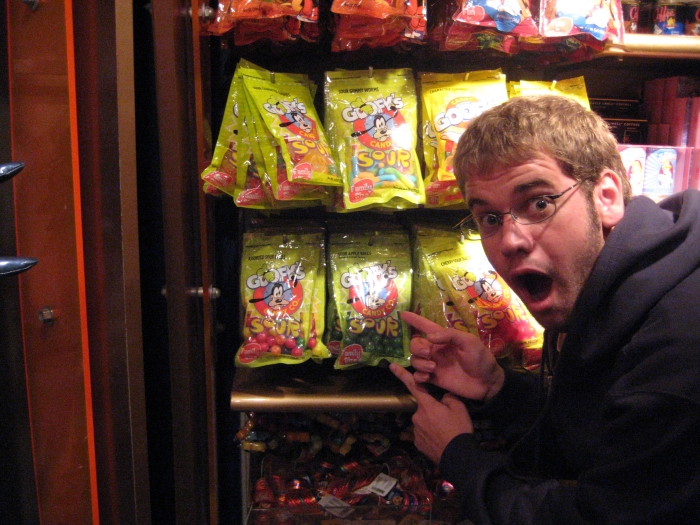 On the way back through Tomorrowland, we found GREEN SOUR APPLE GOOFY BALLS!
OMG I was so excited! They literally havn't offered the green kinds (by themselves…they've offered them assorted with other flavors, but not by themselves) since the 50th anniversary! To see their return made me cream my pants!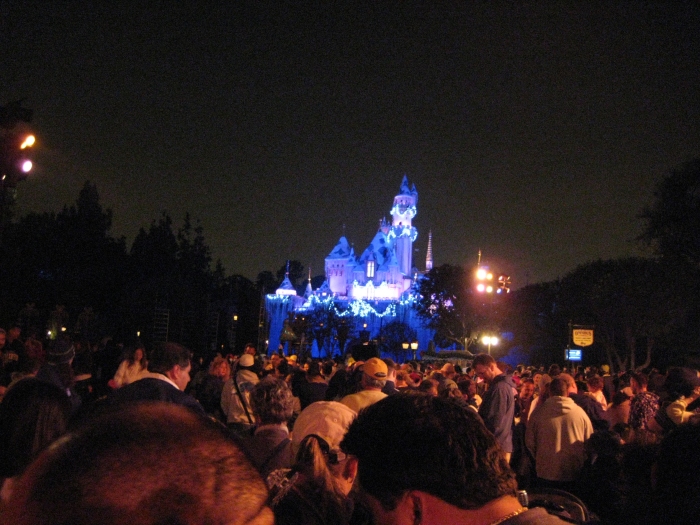 Finally, we were staked out for the fireworks!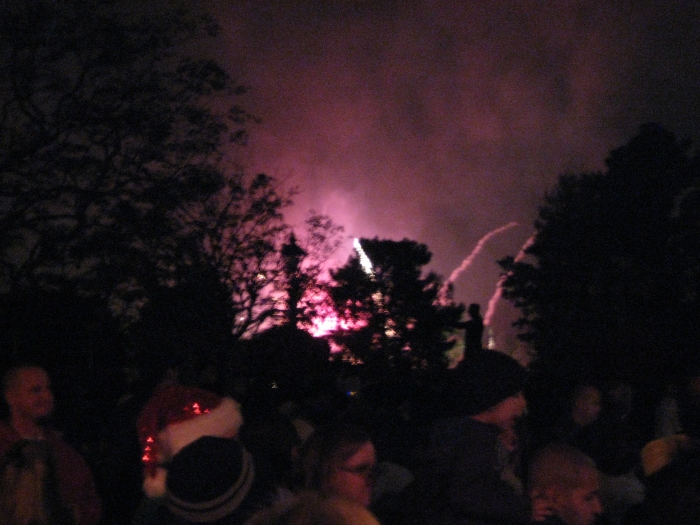 You can always tell how soon it is to the fireworks launching, by looking to your left at how far Fantasmic! is progressing over the trees.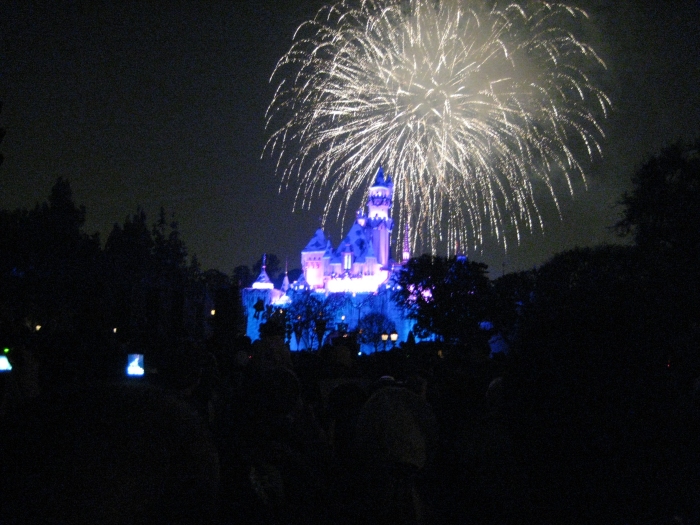 Yay! Believe…In Holiday Magic! It wouldn't be a Disneyland fireworks show without an ellipsis in the title!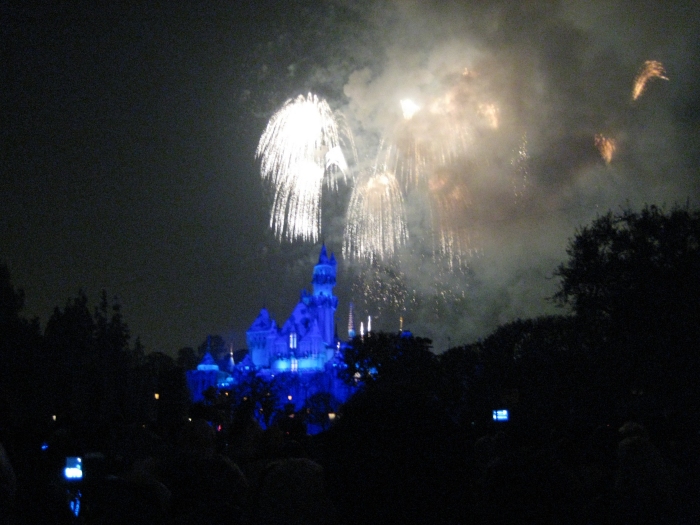 I believe this was the obligatory Hanukah segment, for Joey.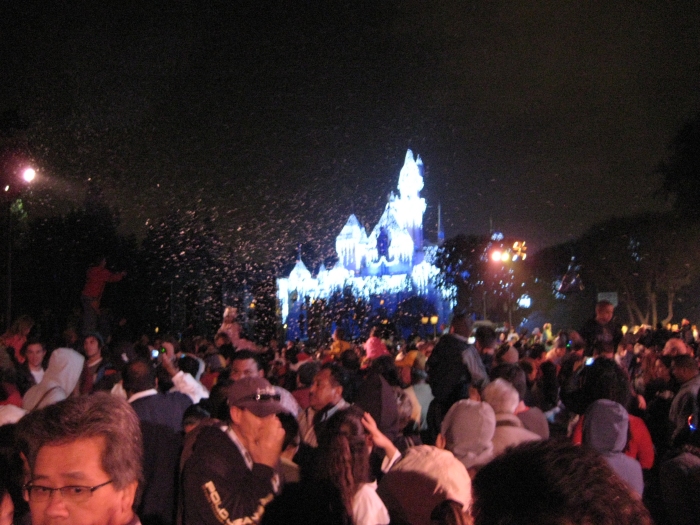 And of course, the fireworks concluded with the third of three "snow shows". Lame.
After fireworks is always a traffic control nightmare at Disneyland. Everybody is going everywhere, each in their own direction. But as many did, we trekked west, to see the 10:30 Fantasmic!. It literally took us about 15 minutes to get from the Hub to the Rivers of America, but it's just sort of something that you do anymore! If you can, it's nice to stop amidst the chaos and appreciate the beauty of the park during the holidays.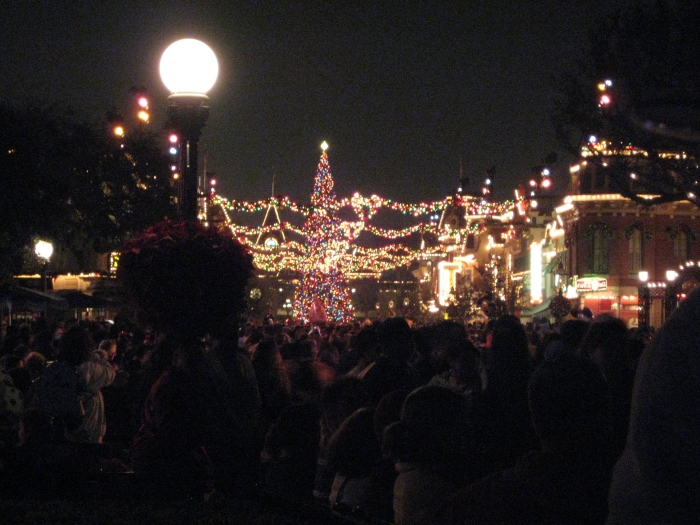 Awww…I love the way the wreaths frame the street.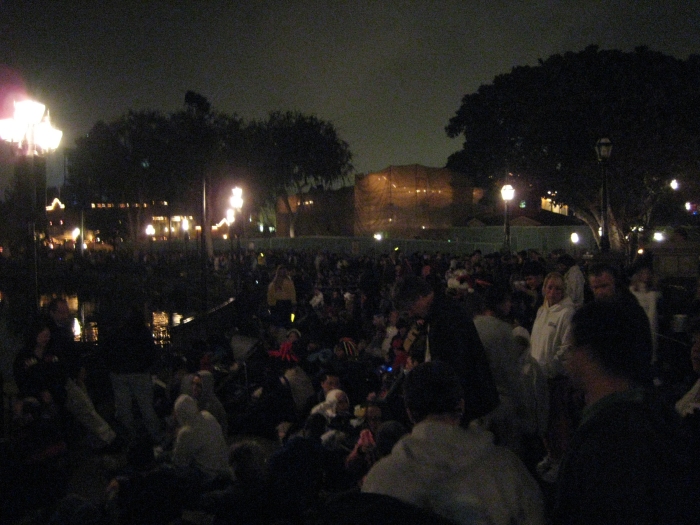 It's still amazing how large of crowds this show is still able to pull!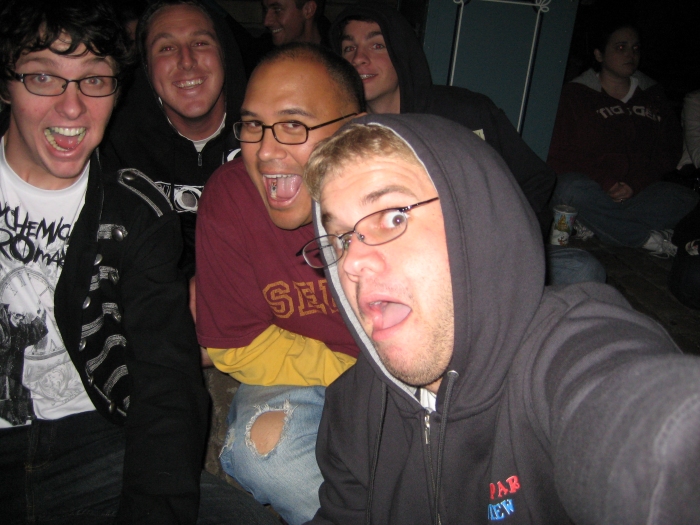 The wackiest of the crowd!
Finally, it was time for Fantasmic! to start. I don't know what it is about this show. It really has a terrible storyline and reeks of "look what we can do!" with the mist screens. But still, for whatever reason, I love it. I simply love it. So even though my butt is numb from sitting on the ground, waiting in the cold, when I see…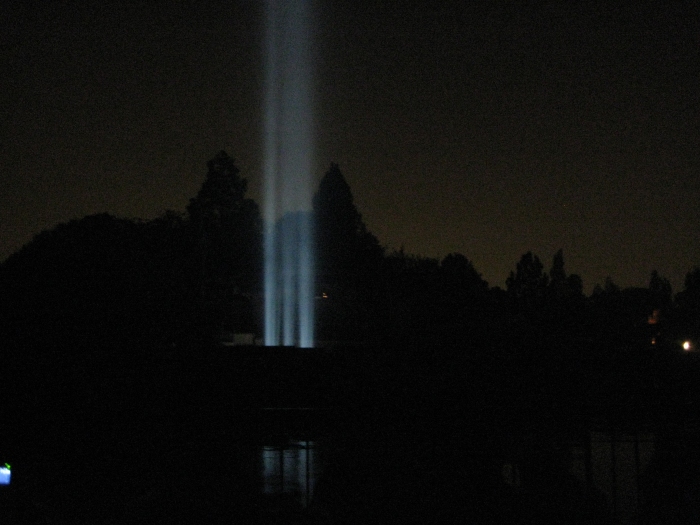 …I instantly fall in love.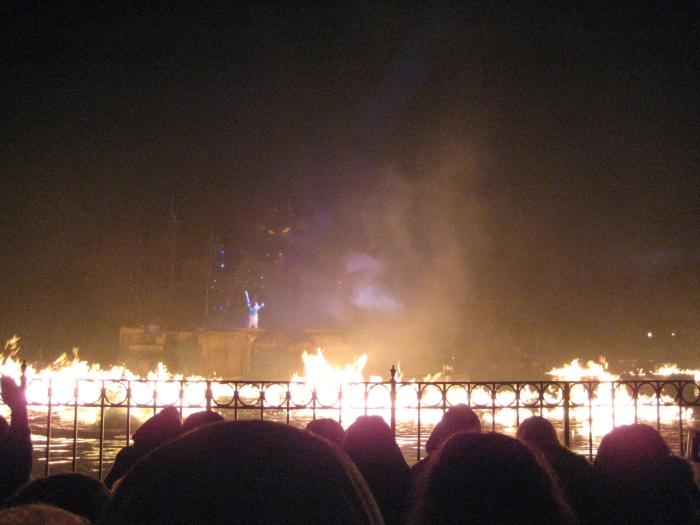 "You may think you're so powerful! Well, uh, this is MY dream!
[/geek]
…actually, the geek-tags never close!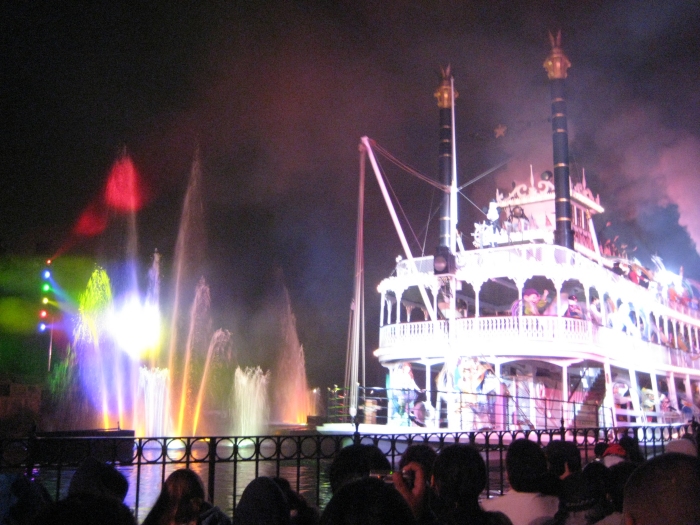 I think I love how they're able to take seemingly nothing and turn it into an eruption of entertainment….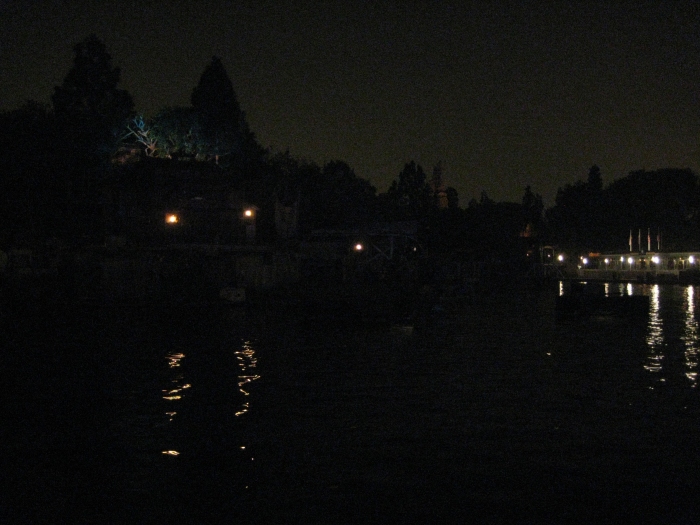 …Only to return it back to nothing in a matter of seconds.
…forgive me, but that is "magic".
One order of hot tea later and it was time for my sister and I to depart. We really had a great time. Christmas is a gorgeous time at the resort! I highly recommend taking a second trip out to see the parks during the holiday season. Even if the castle does look stupid.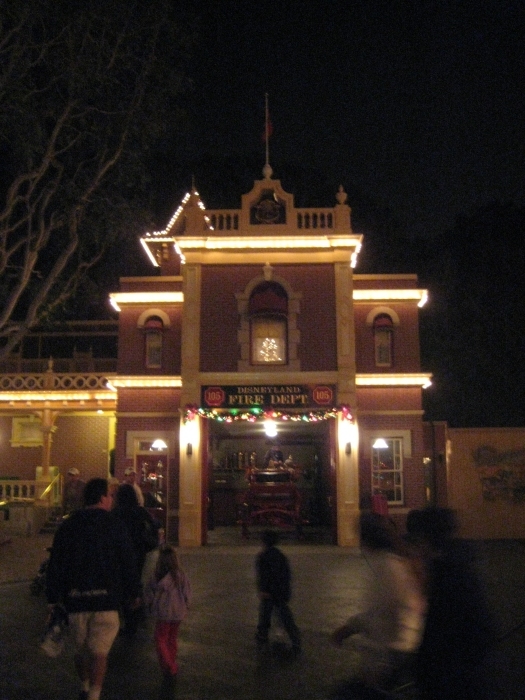 Heading on out!
Thanks to everyone who was able to make it! And thanks, of course, to all of you who read the full report! I know that this one was a long one! Thanks for sticking it out, I appreciate it!
-Jahan