***UPDATE!
Chuck's Super Fantastic "First Time Visit" to WDW: Day 3&4 The final chapter!
Chuck's Super Fantastic "First Time Visit" to WDW: Day 2
Chuck's Super Fantastic "First Time Visit" To WDW: Day 1
OK! So seriously I have no idea where to begin this Photo TR but all I know is that I am about to burst if I don't get it done...soooo... what I am going to do is take a cue from JULIE ANDREWS and say " LET'S START AT THE VERY BEGINNING!" because it's "A VERY GOOD PLACE TO START!"
BUT before we do start I must warn you that there are plenty of silly photos, and bad jokes...so consider yourself warned!
DRAMA DRAMA DRAMA!
YEP that's how it began! This trip was planned in less than a month, and seriously I can't believe that it actually happened!
My friend Danny was celebrating his 26th birthday so we decided to spend a week in Florida at WDW. Danny lives in a little city near Fresno (Hey Ryan!), named Visalia, which is about 4 hours away (with no traffic!) from Anaheim (that's where I live!) We decided to plan on meeting here in Anaheim at about 5:00 pm and fly a 9:30 redeye from Long Beach to Orlando. Danny was supposed to leave Visalia at 12:00, but didn't get into his car until 5:00 pm.
I WAS FREAKING OUT! I was sure we were going to miss our flight! IF we didn't make it on time..I promised him a good PUNCH in the face (Even if we made it, he was getting punched in the face!)
I am a firm believer in positive thinking, but come on...there are times when you gotta face reality...which completely shocked the hell out of me when Danny and I made it to the airport with an HOUR to spare! I don't know how it happened, but thank BUDDHA it did!
We sat down in our seats, secured our carry on's, buckled our seatbelts, and right before we launched into the night sky Danny got a good PUNCH in the face!
1 layover and 10 hours later......
We landed in Orlando, a little bit weary from the nights travel. We proceded to gather our luggage and head off to our FLORIDA ADVENTURE!
We were met by the "Magical Express", which was staffed by extremely helpful CM's! We were soon whisked away to the WDW Resort.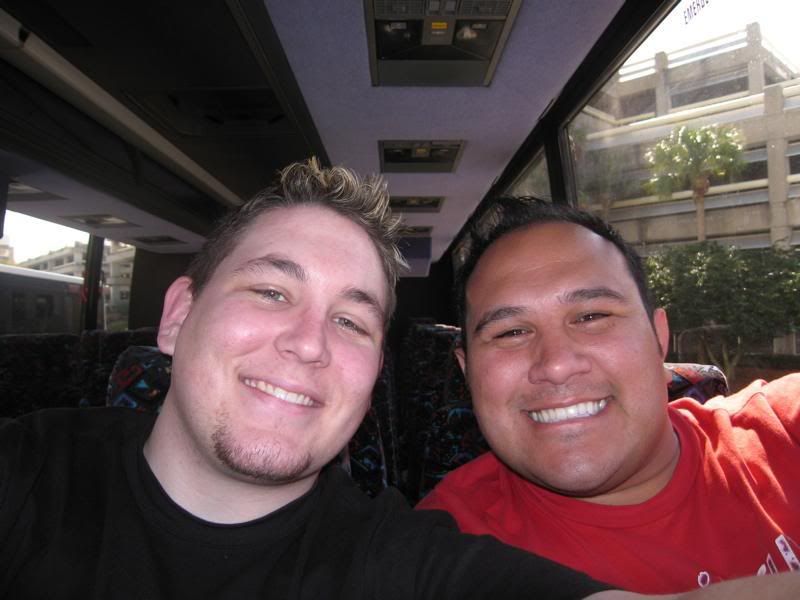 This is what we looked like at that point...Gruesome I know!
As you can tell, I was sooo excited to get to the resort!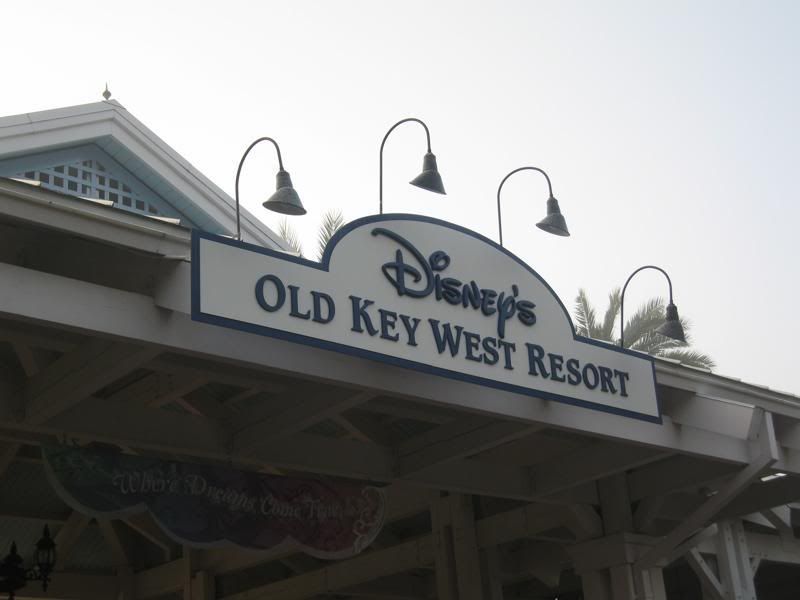 We pulled up to our hotel and checked in to...Disney's Old Key West Resort! The oldest Disney Vacation Club Resort...just turned 15yo.
This sign made me very excited! :o) My dream was coming true!
After check-in we went to see what our room looked like!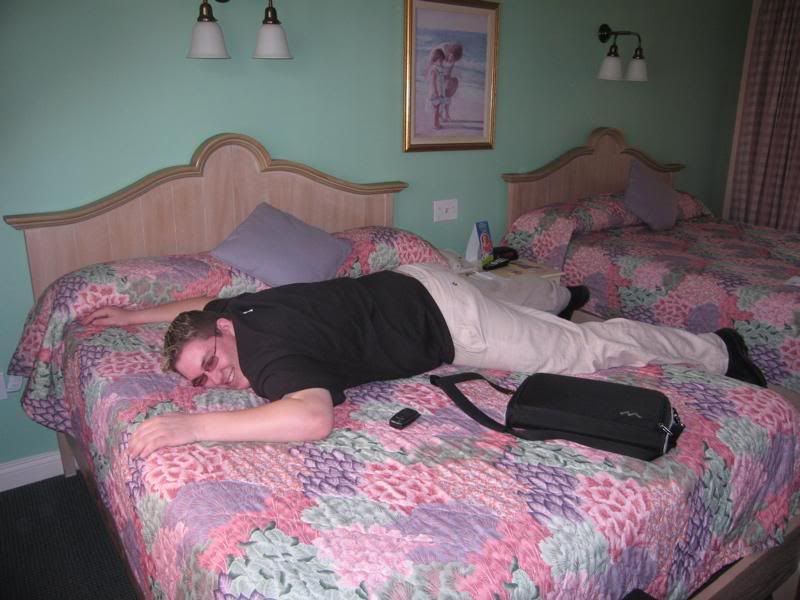 Lots of pastels, like a giant Easter egg, We were definitely in Florida! Danny didnt mind!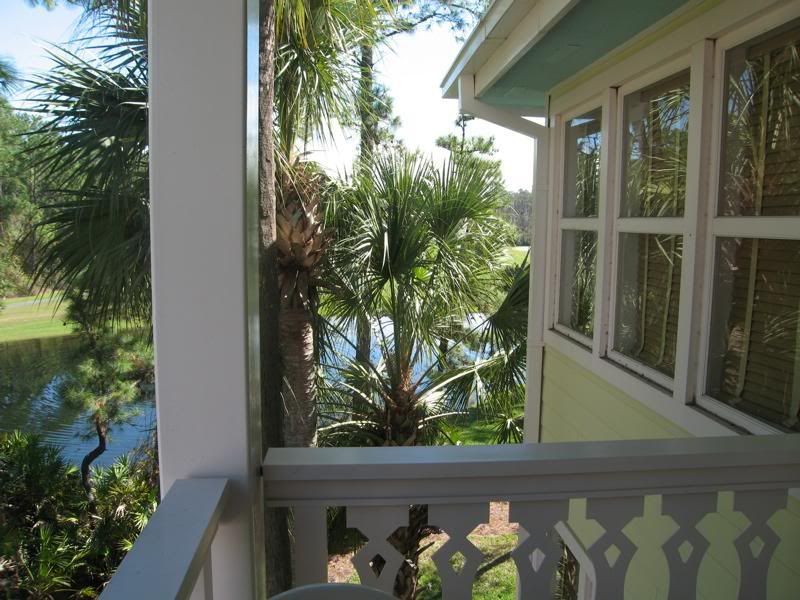 Our View...right on the Golf Course!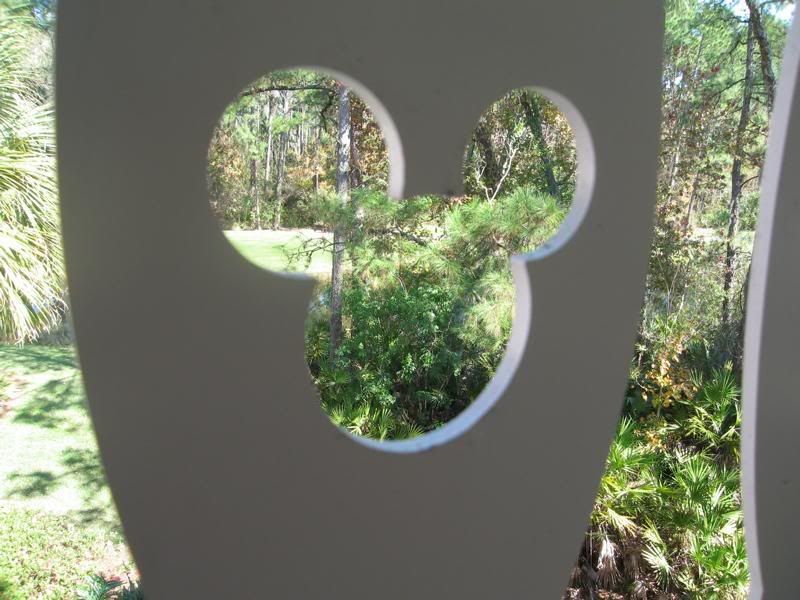 Mickey's view! hee hee!
Too excited for words!
So Danny and I decided to get cleaned up and head out to our first park!
Mind you, this would be my first visit to a park outside of California! (not counting the Las Vegas Coasters) And this would also be my first NEW park since SFMW in 2001...So I was totally STOKED!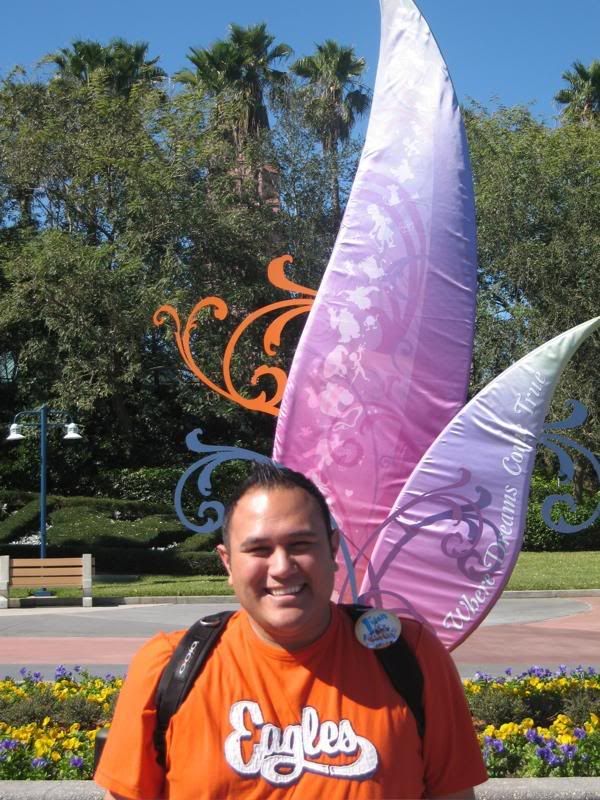 Yay! More Dreams!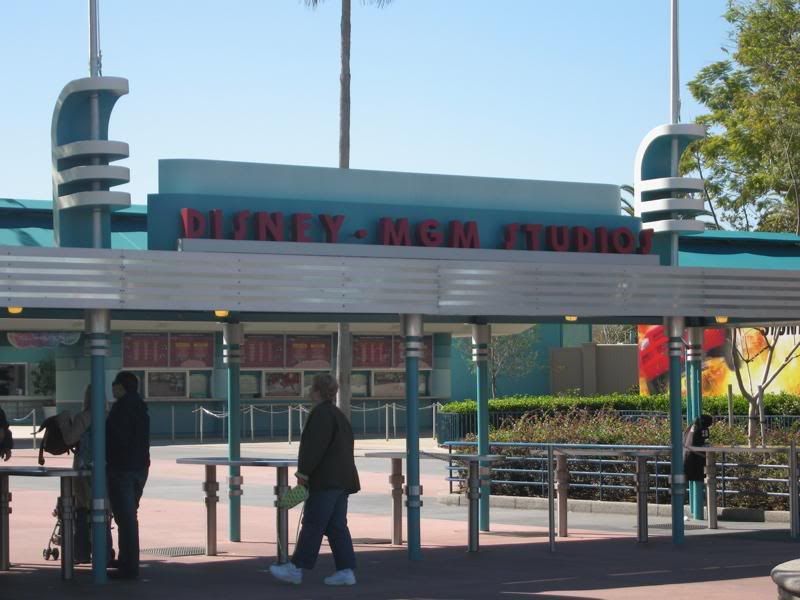 Security...we are at an orange level now...I think weird things happen in Florida...Anna Nicole, Crazy Astronuts...WE ARE almost to the park...I can feel it!
Passed Security! YAY! Seriously about to burst!
And just when I thought it couldn't get any better...
HIGH SCHOOL MUSICAL PEP RALLY...greeted us!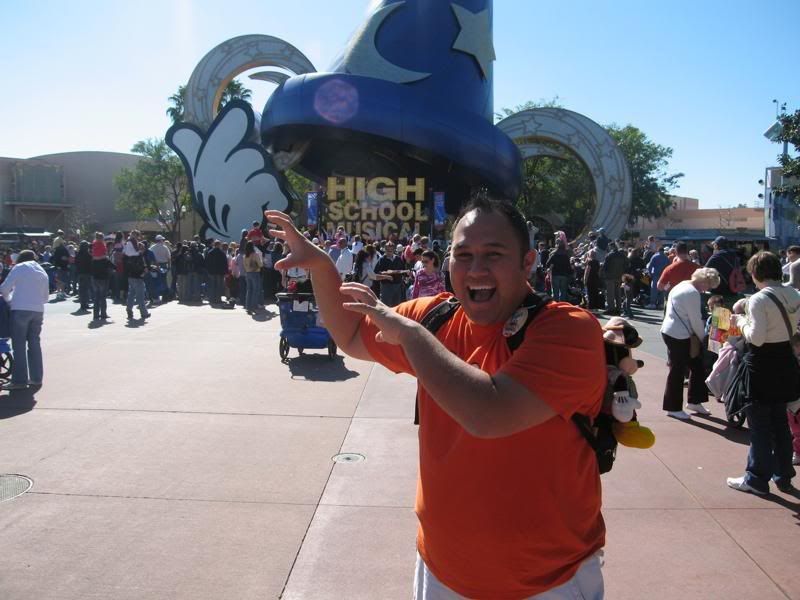 Not gonna lie...I know the moves! Good times!
At this point Danny and I were searching for a map...In our excitement we forgot to grab one...and realized that we had no clue where we were going! ROOKIES! Once we scored a map...we found RnR' Coaster and ToT and head over to get a fastpass.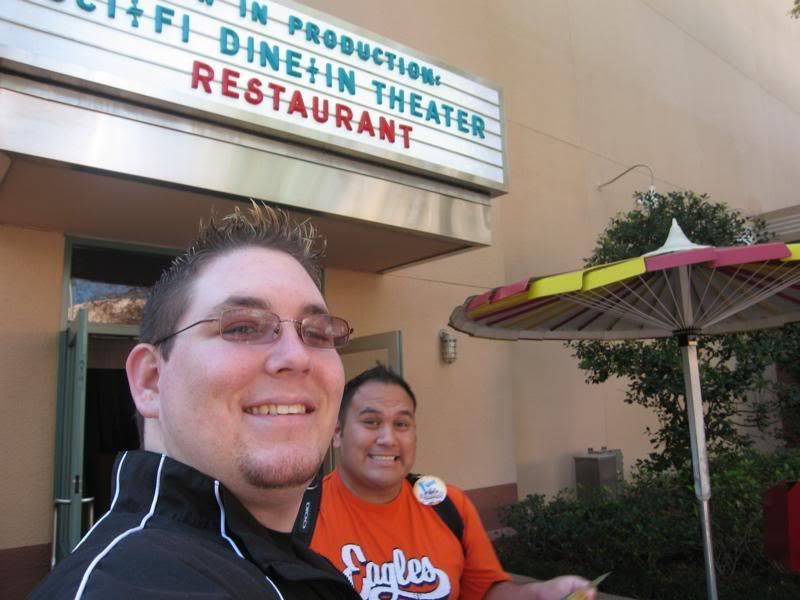 We decided to grab a bite to eat at Sci-Fi Diner...we had no reservation, but we got lucky...others were not so lucky.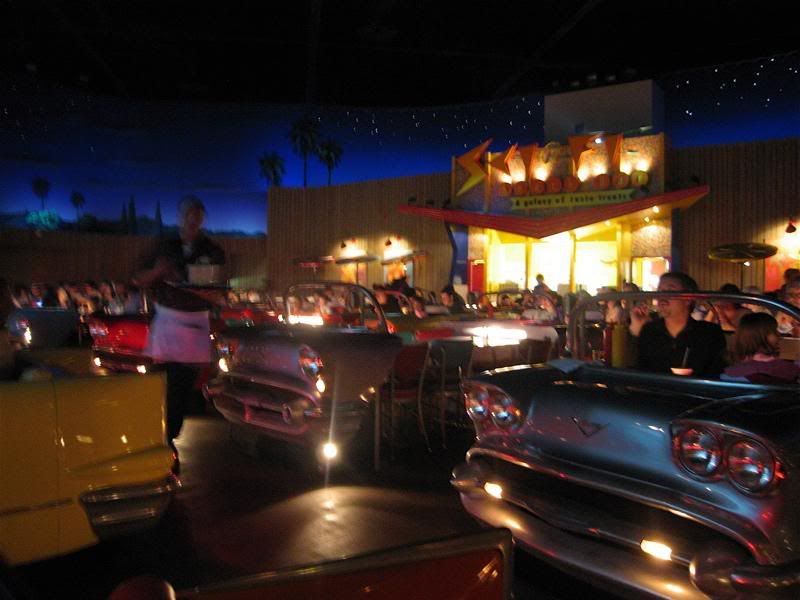 The interior was very cool! it was themed to a 1950's drive in movie. I totally dug it! We sat in the back of a little car and stuffed ourselves with...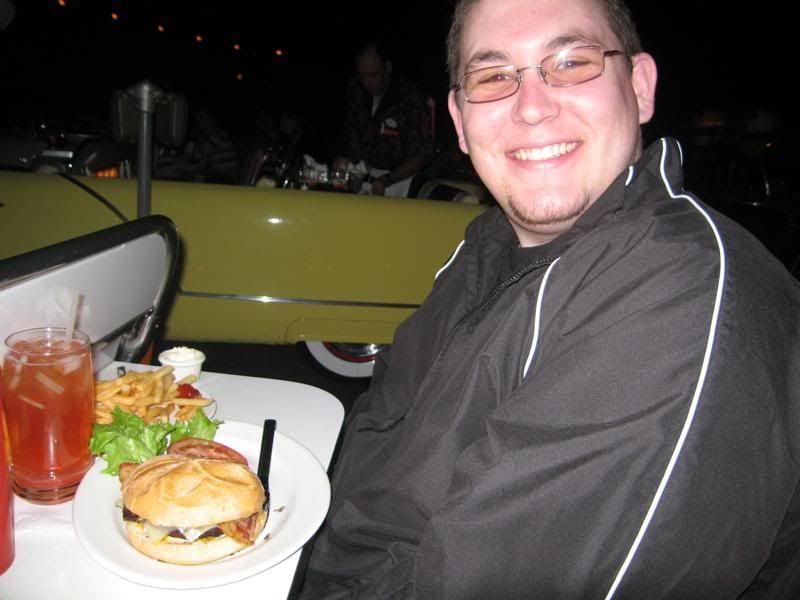 BURGERS and...
Fries...BACK OFF I'M STARVING!
After we were done Stuffing ourselves! we decided to head over to Tower of Terror.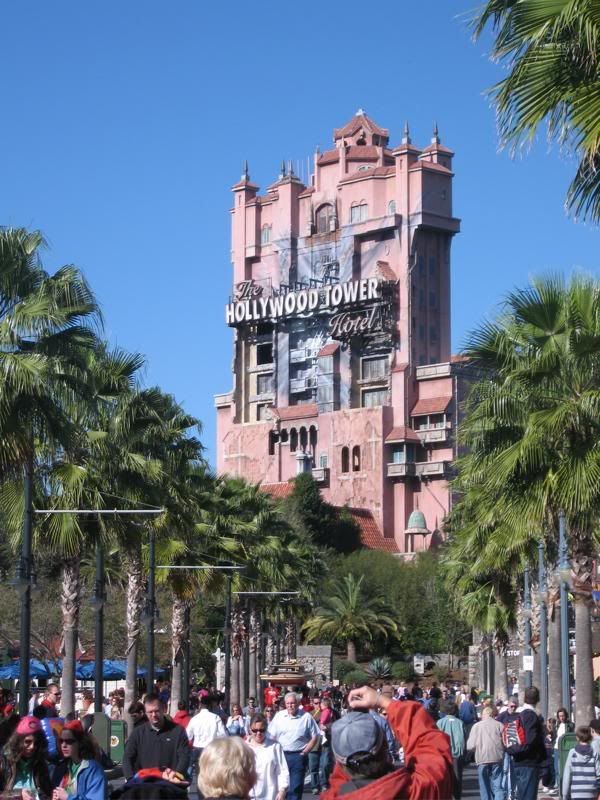 Tower wasn't offering Fastpass today, so we decided to get one for RnR, and wait in Standby for our Tower experience!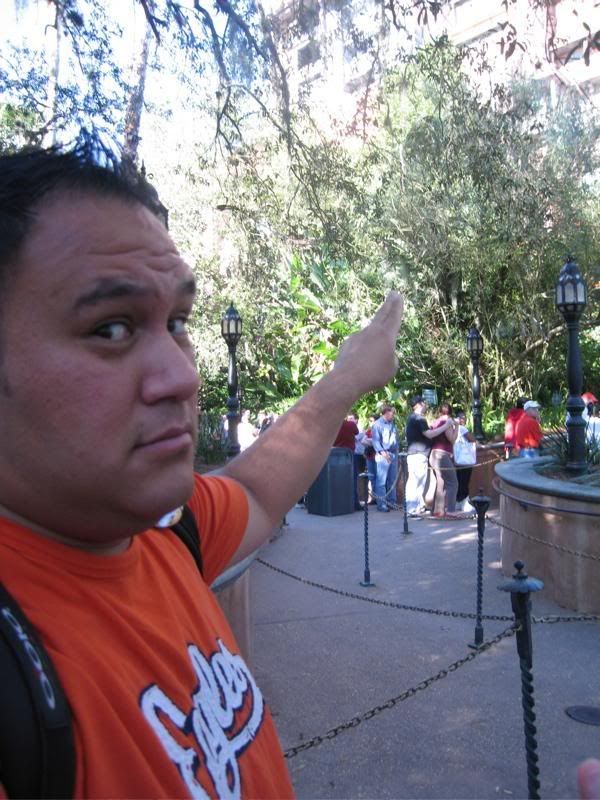 Now I have heard all the rumors...and all the arguments about "good" ToT...I had to see what all the fuss was about...I must admit this queue is creepier!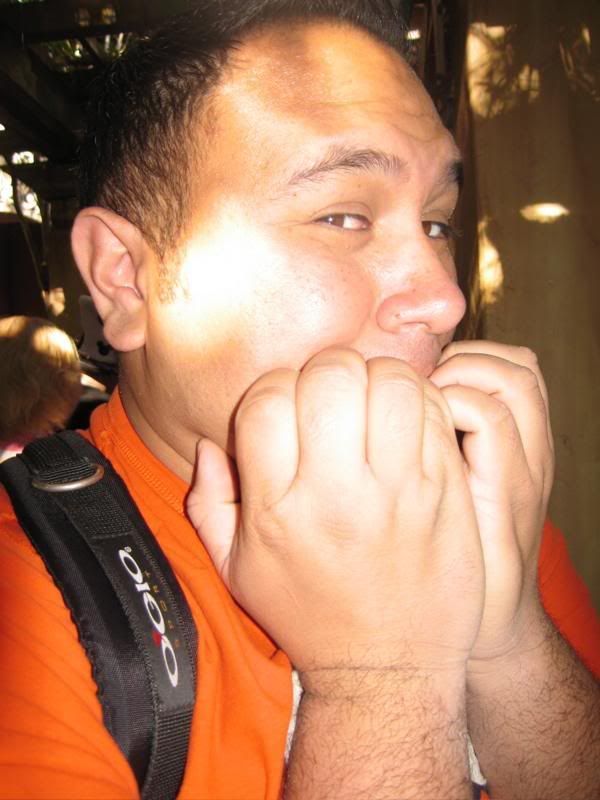 A little afraid that my burger might come back and say hello!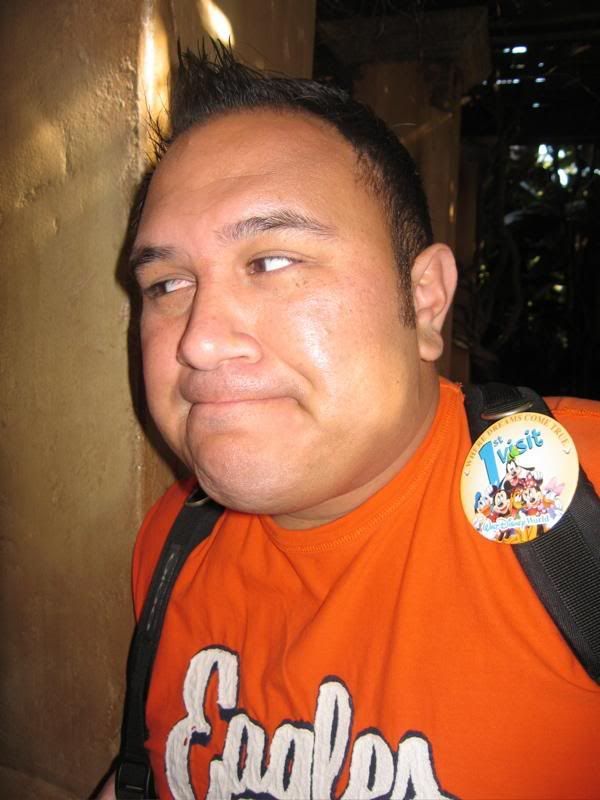 My judging face!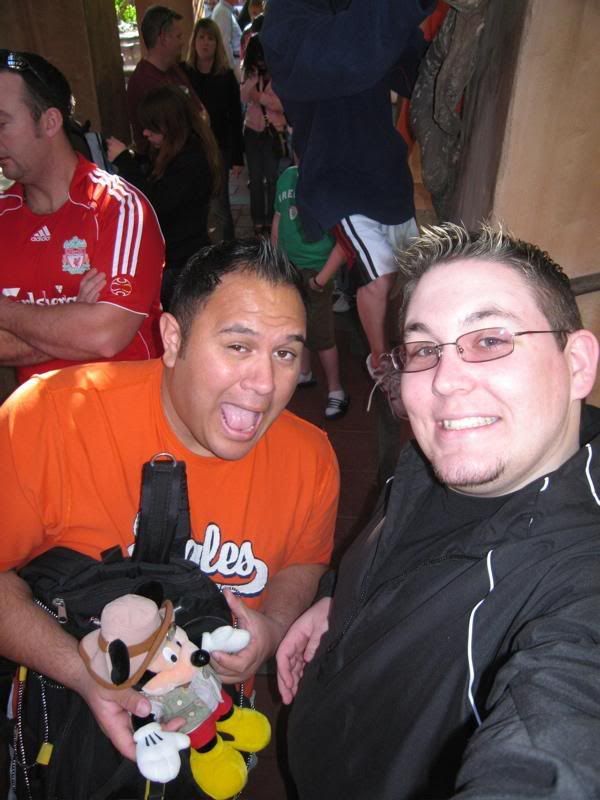 "My Pal Mickey" starts to talk, Some kid climbing the wall behind us...things are crazy here at "Good" Tower!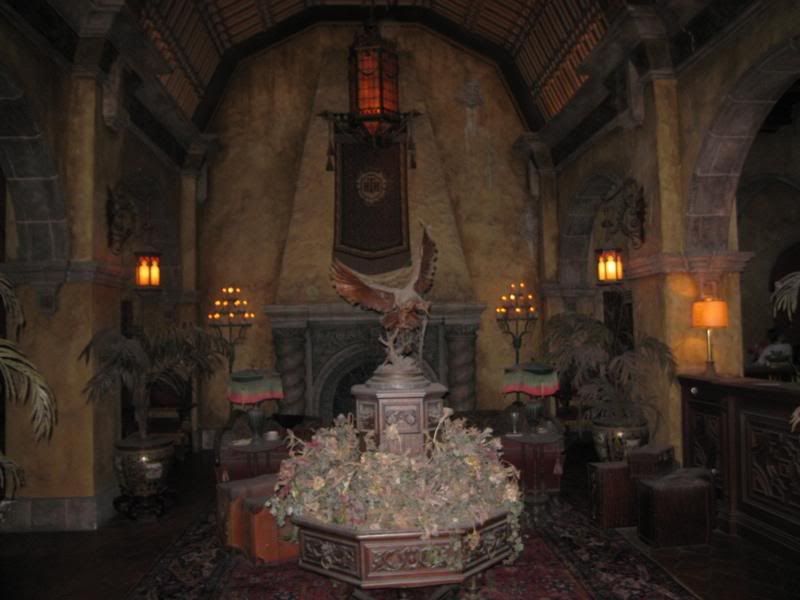 Hey this looks familiar! Still Creepier!
At this point we entered the study, and into the boiler room which was way scarier than the one I am familiar with! I had to stop taking pictures because I was completely blown away! We all have heard the stories, and have seen what happens when the Elevator begins to move, but no matter how much I was prepared...I wasn't REALLY prepared. The second the Elevator openned and moved forward...my jaw dropped! I couldn't believe it!
This astonishment was all before the elevator's signature drop...BUT of course the drop was amazing too! It was a sequence that I was sooo not prepared for! LOTS OF AIRTIME!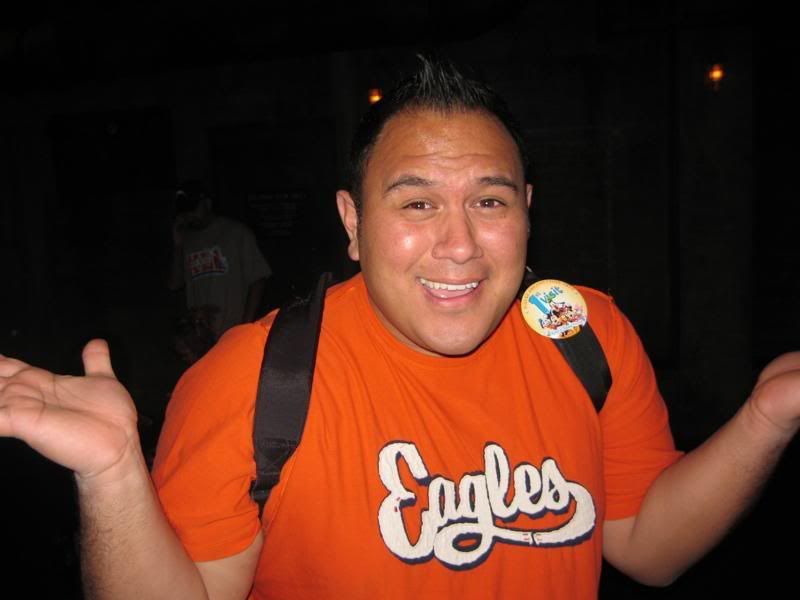 This is my "I can't argue with GOOD tower!" face.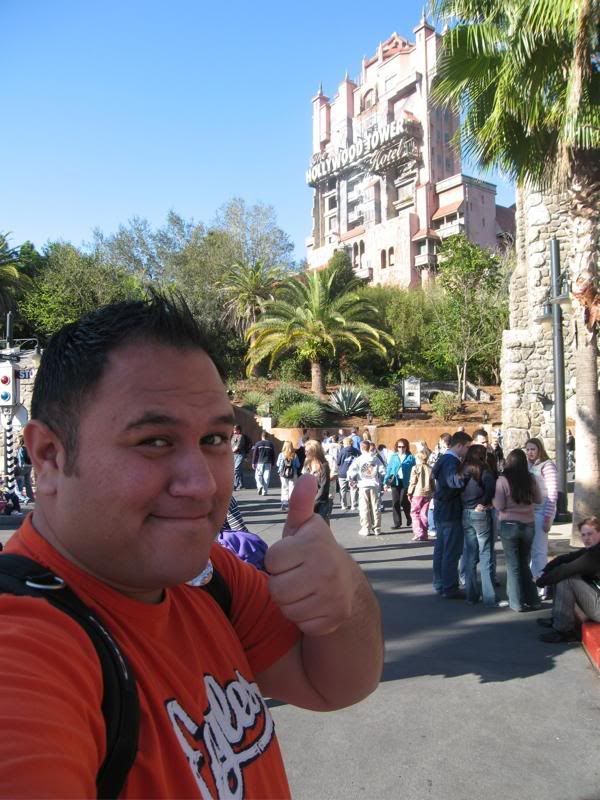 Wishing it was closer to California!
After GOOD Tower, we headed to RnR' Coaster!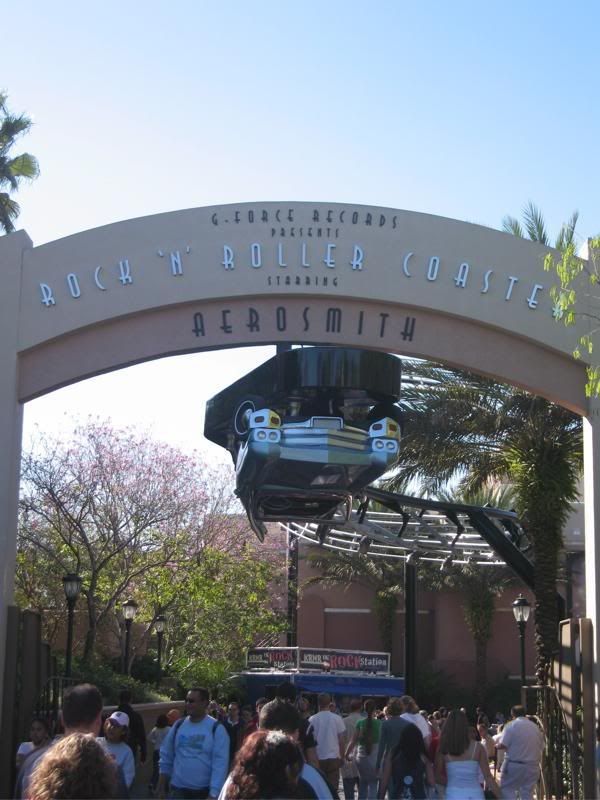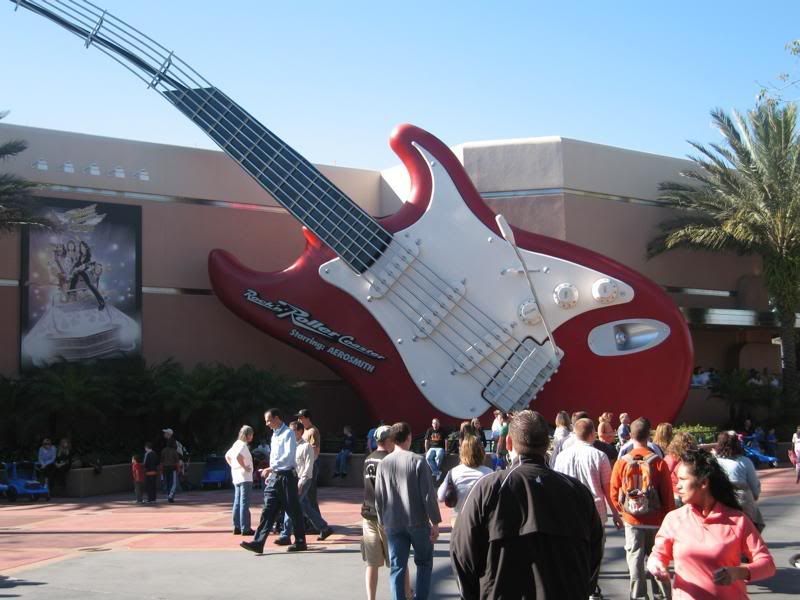 The line was only 5 minutes now! Oh well!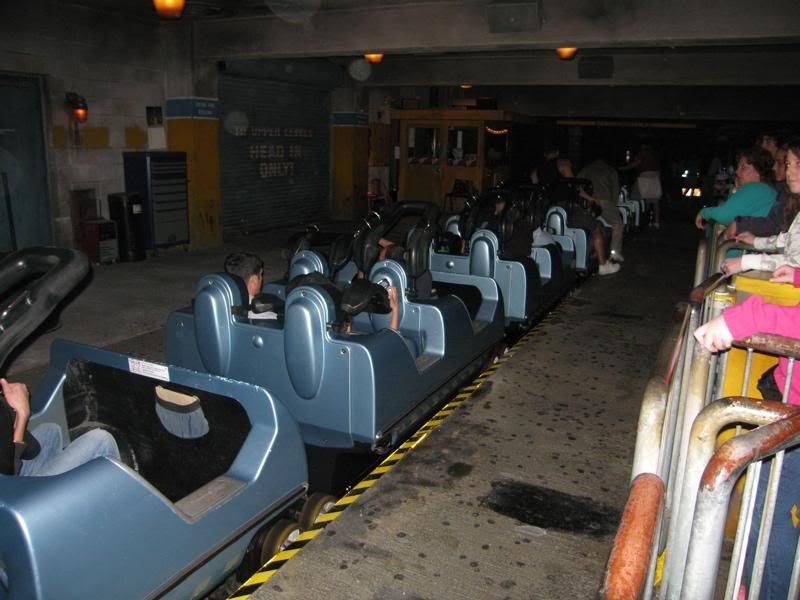 Danny was surprised by the RnR' I neglected to tell him what it was going to be like! I thought it was pretty good...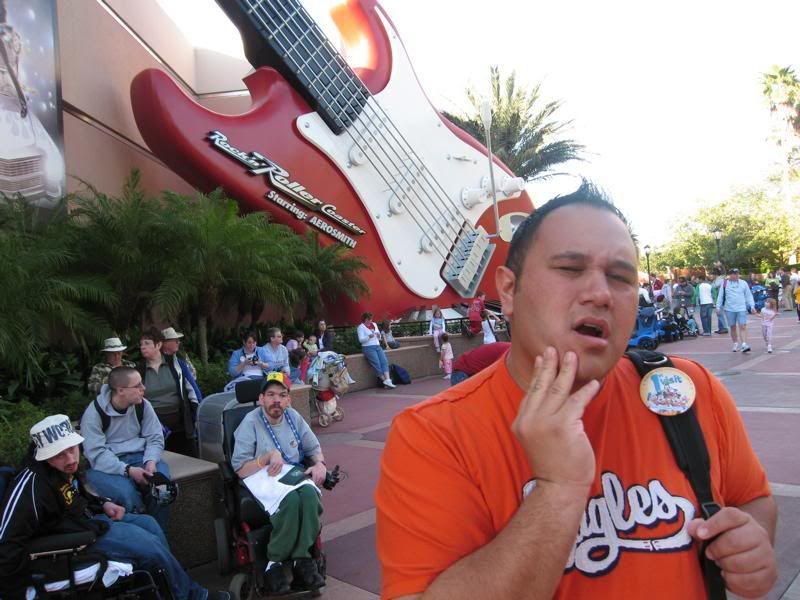 I got jaw checked a couple times (good ole Vekoma), but I am chalking that up to karma, for punching Danny in the face!
We decided to walk around the park and visit as many attractions as we could! The park was kinda busy (well...busier than DCA), we checked out some of the smaller attractions like One Man's Dream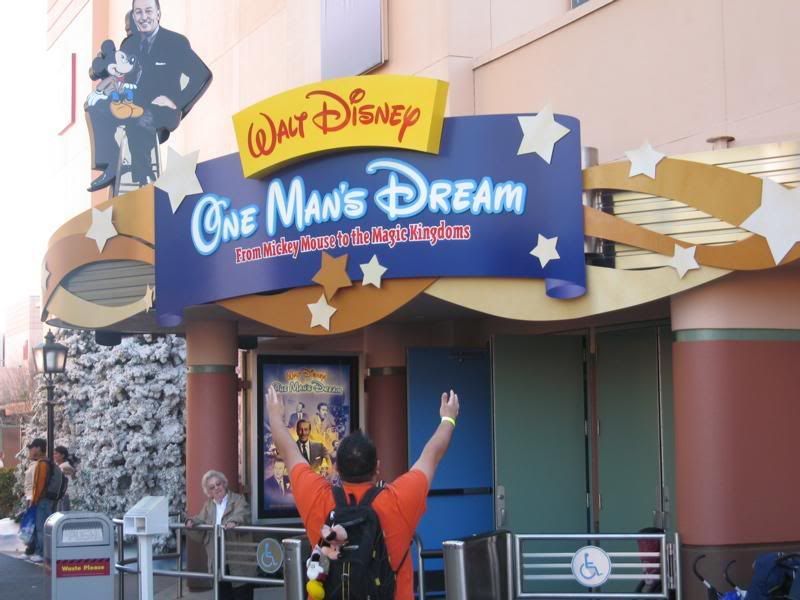 That CM...thought I wanted to hug her...and even though I wanted to hug Walt Disney...I gave her one too!
Next we went to "The Great Movie Ride"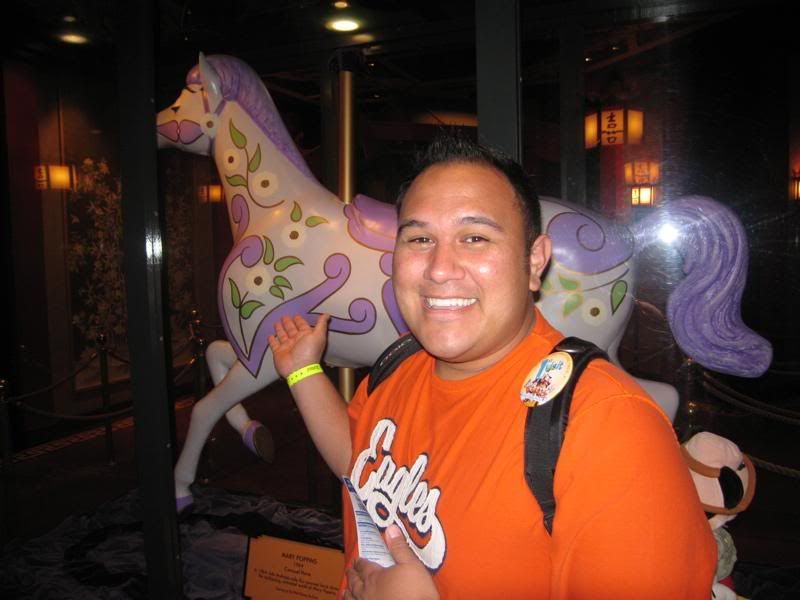 This is Mary Poppin's Horse! This was the only thing that really peaked my interest! Yep....still gay!
We then grabbed a quick snack...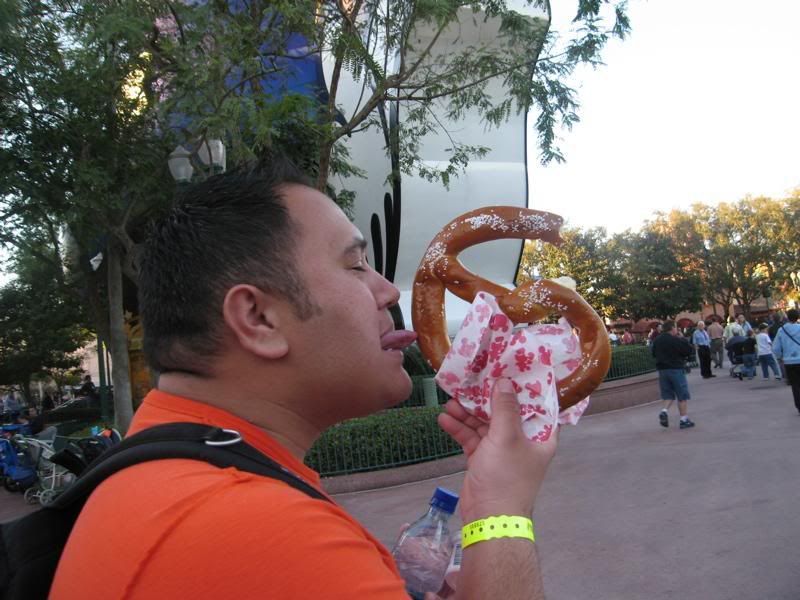 I heart Pretzels the size of my head!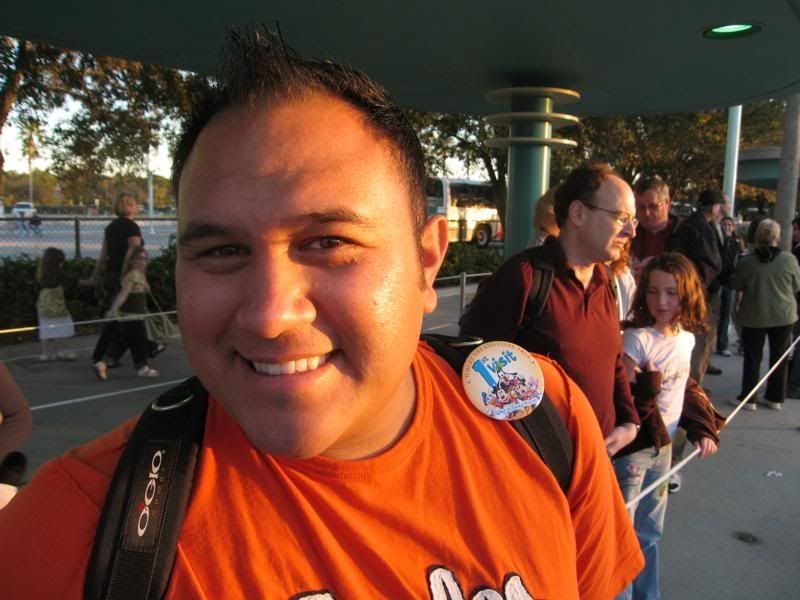 and headed out to the bus stop!
Goodnight MGM! We had a great time!
We loaded the bus, and our next destination was EPCOT!
When I was 4 years old...my uncle bought me a book about EPCOT and World Showcase...how it was built, and what the park had to offer! Since then I have been infatuated with Space Ship Earth! When I saw it in person for the first time, I almost peed my pants...and then I got a bit emotional....I pulled it together though just in time to take this quick shot!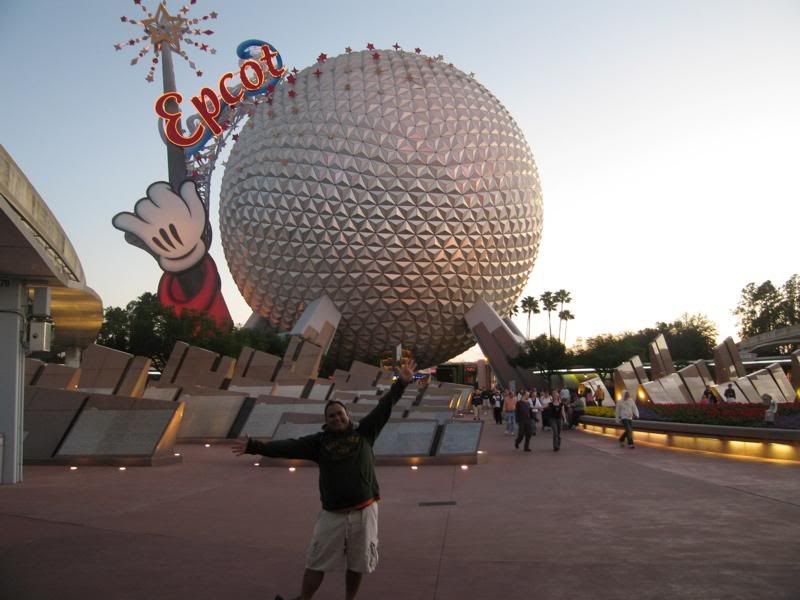 That book was published in 1982, lot's of things have changed...but as I walked around the park, the pages in that book came to life! Quite amazing really.
We decided to do Space Ship Earth First!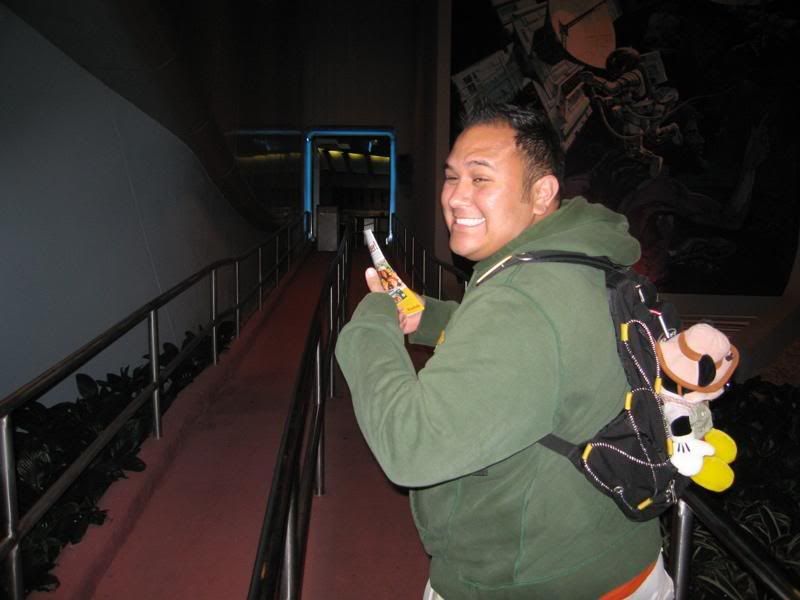 It wasn't at all what I expected, but it was quite cool! Hey this is 1970's technology right?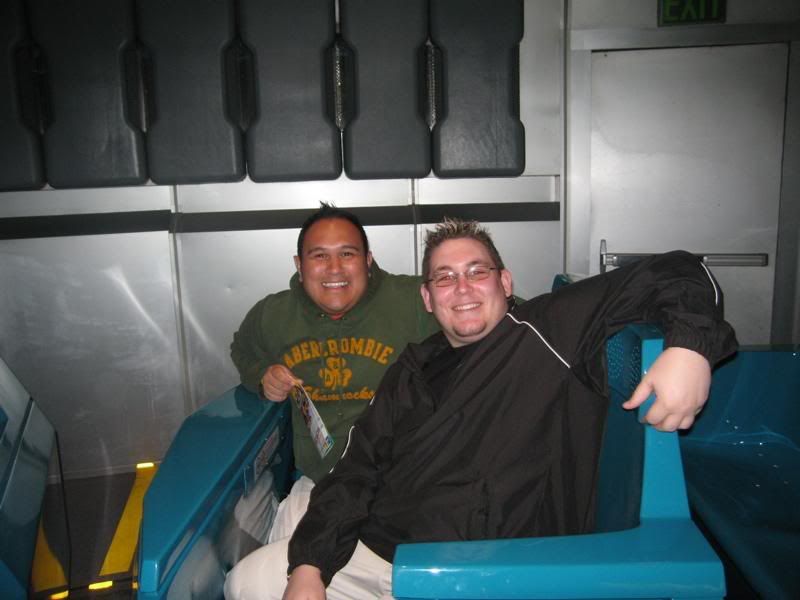 When we left the attraction, night had fallen, and Space Ship Earth really came to life!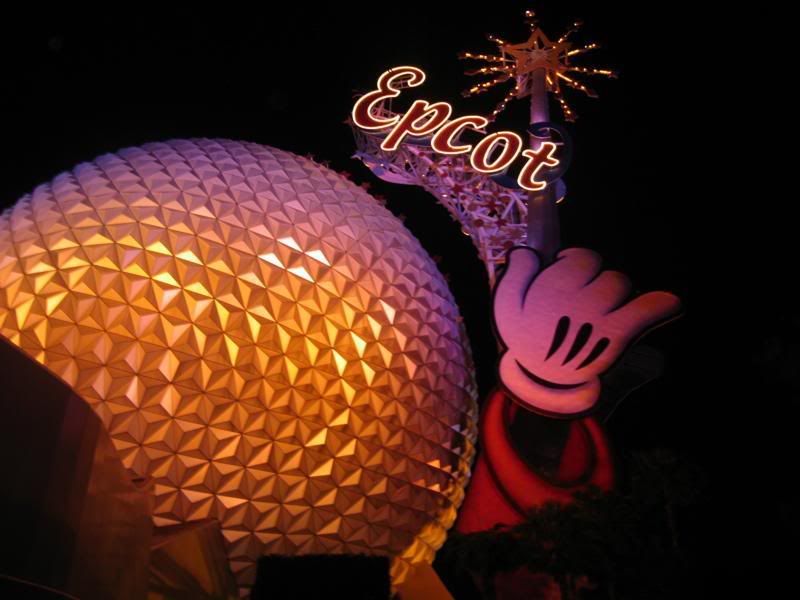 I was pleased as Punch!
Speaking of a beverage! Danny and I decided to check out CLUB COOL! You know what it is right??! Beverages from around the world!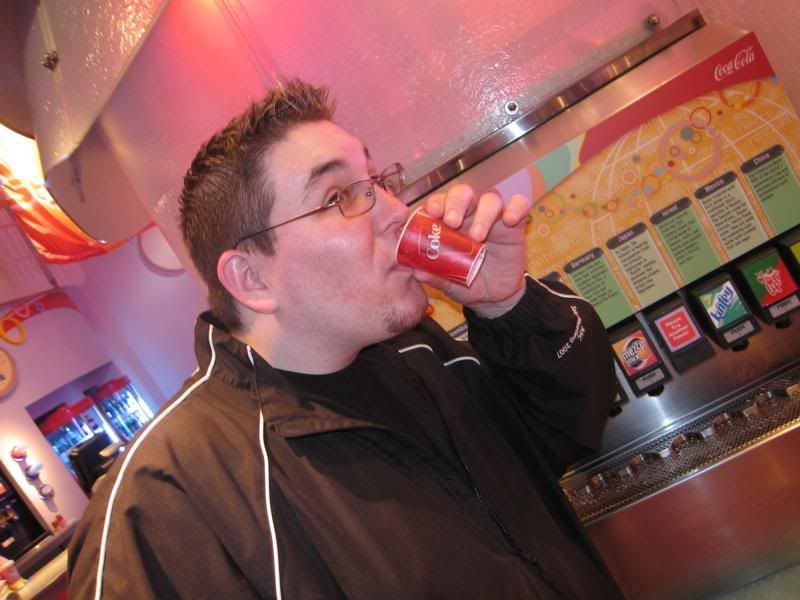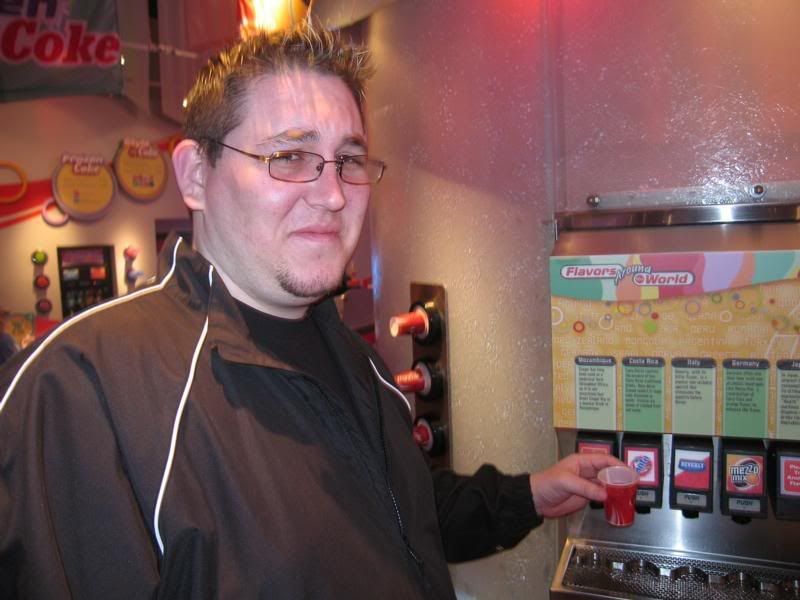 Can't be that bad, can it?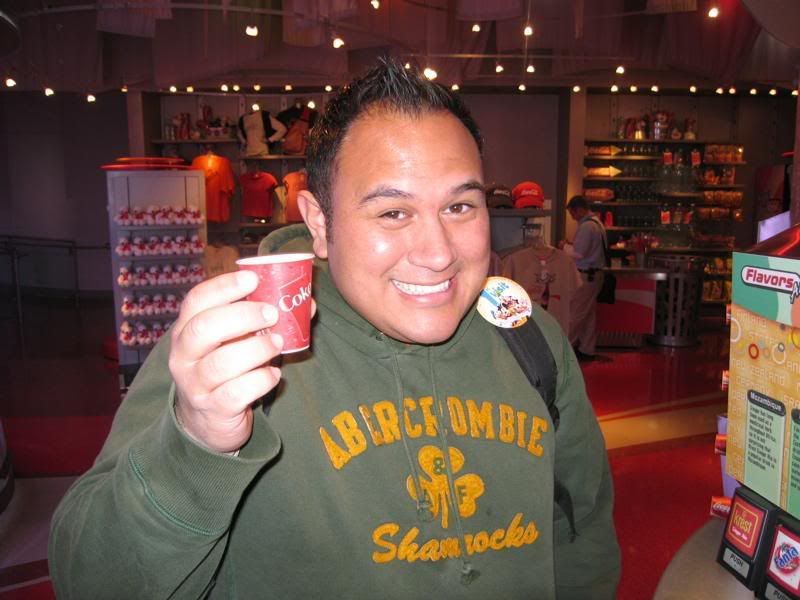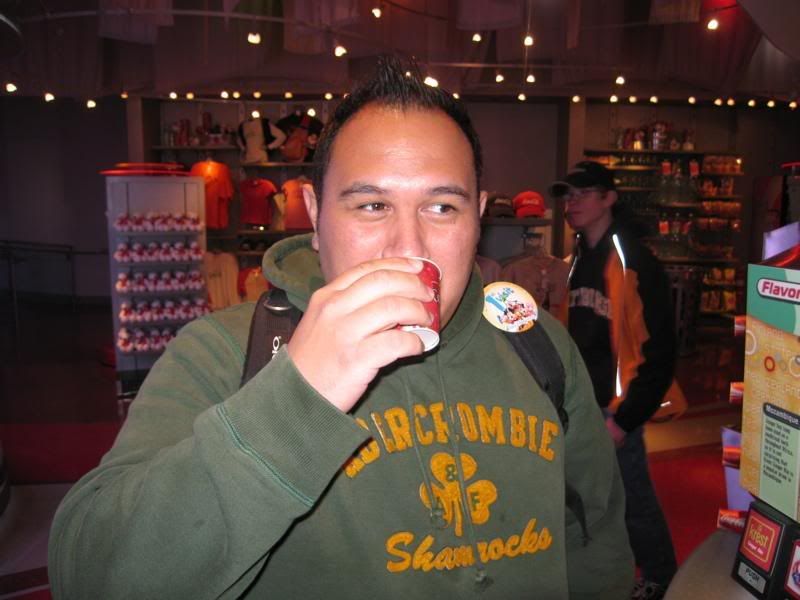 It's not that bad.....wait...a...minute...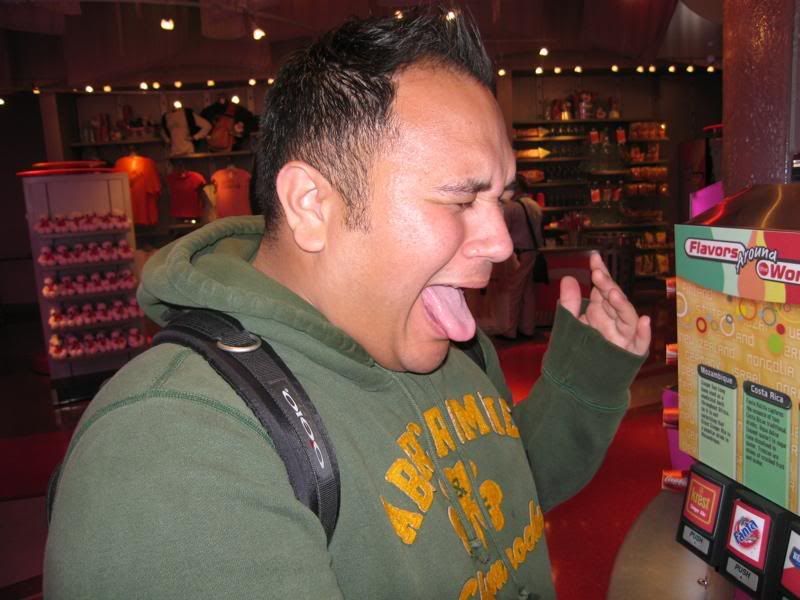 OK, I was wrong! TIME to GO!
Time for a little Joyride!
Interesting stuff!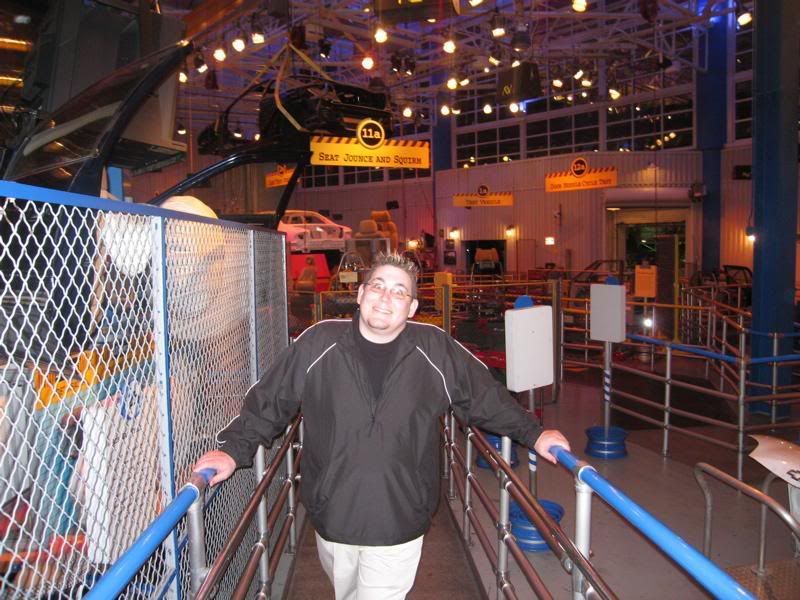 "Jounce and Squirm" I love it!
Here we are ready to go! In short...this attraction is awesome! I can't wait to have one in California!
We traveled to China for some dinner at Twin Dragons, and then headed to watch Illuminations from the reserved viewing area on the water near Italy. It was here that Danny got his first Disney Happy Birthday Button!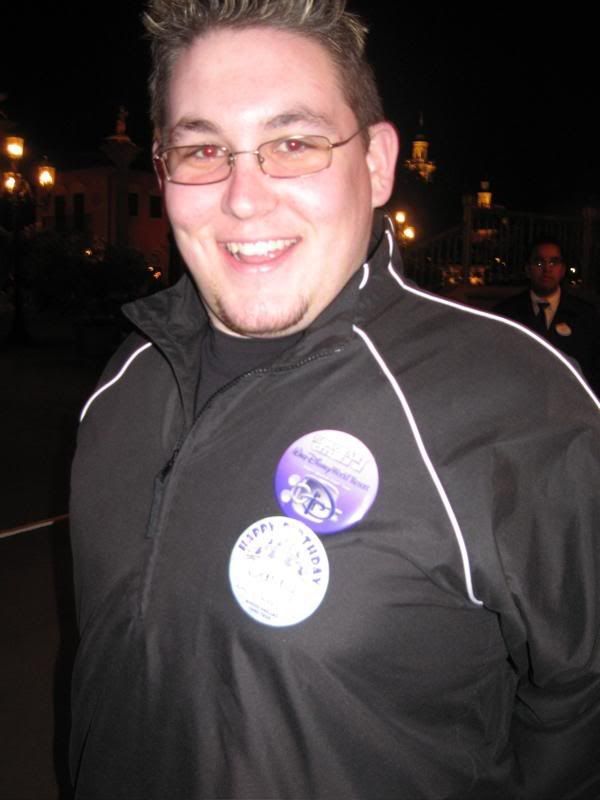 Illuminations was quite fantastic! I was impressed by all the little touches...like when the narrator blows out the torches in the very beginning of the show. The ending is extremely powerful, and I love that you can see this show anywhere along the lagoon. I recommend it to anyone visiting World Showcase! I wish I had pics, but again I was too caught up in the show to catch any! Maybe next time!
And with that...we headed back to our hotel room to call it a night! We had a big day ahead of us at Animal Kingdom! But before we left, we caught one more pic, in front of my favorite golf ball!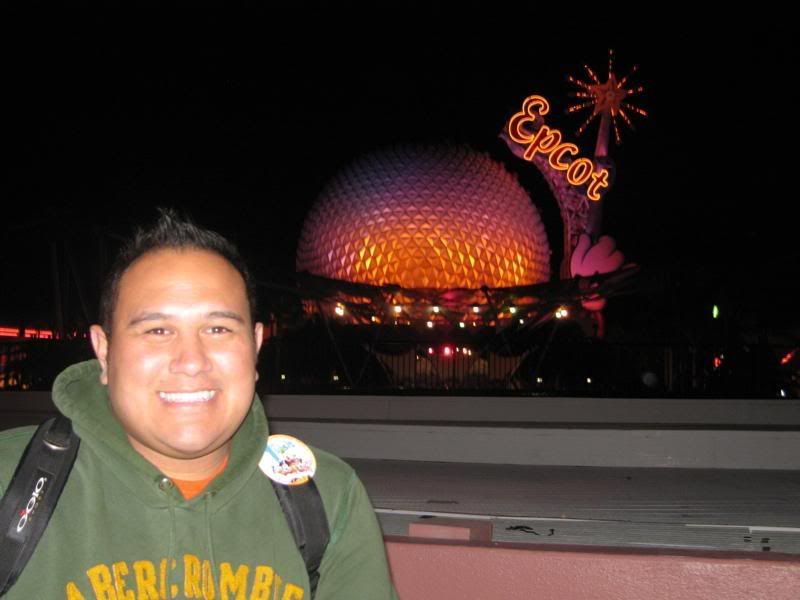 Stay tuned for day two!
Chuck's Super Fantastic "First Time Visit" to WDW: Day 2