Hey folks,
Well for those of you who have been readin, I most recently took a trip to Thailand earlier this month.
Due to its theme-park-relation, I decided to post one day of my TR in the Theme Park thread! So enjoy!
Day 4--Dreamworld
Well, due to my rather boring day spent just lounging around in the hotel, we just
had
to arrange for me to do something! Well, my dad told his representative, Phaisan, that I enjoyed theme parks, and so Phaisan sent out one of his workers to take me to Dreamworld, the local theme park! That was very nice of him, and boy, was I in for a treat!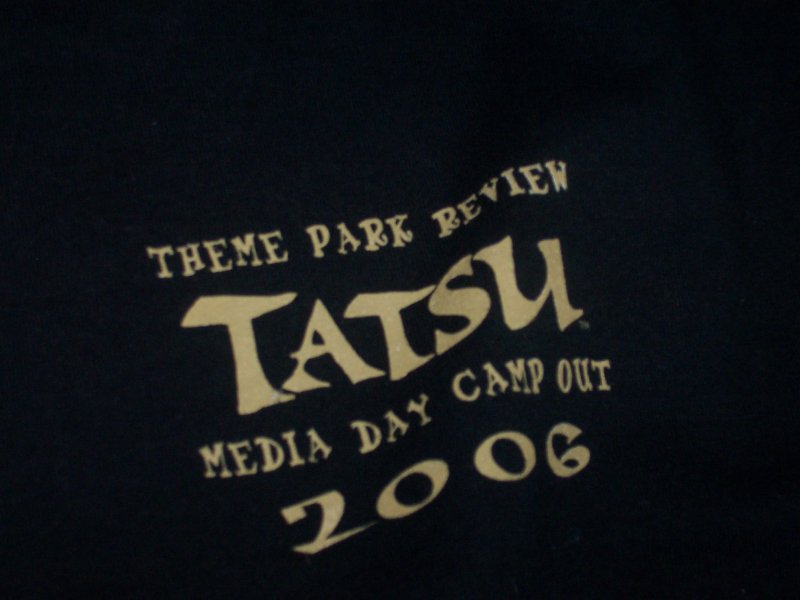 Yup...I took a piece of home with me on todays trip!
My ride finally showed up after an hour and I was on my way to Dreamworld, which from what I understood had 3 credits. Yesss! On the way down there I saw what we called the "Thai Stonehenge". You see, like a decade ago, they were building a skytrain project to run through inner/outer Bangkok. However, due to poor politics, they cancelled the project
half-way through its completion
! This left a ton of pillars just spread throughout the city! And you know how much demolition on this stuff costs. So to this day, the support arches just stand there--buildings, signs, and trees have all been built, erected, and grown in between them. I hear that they will FINALLY be completing the project, but who knows!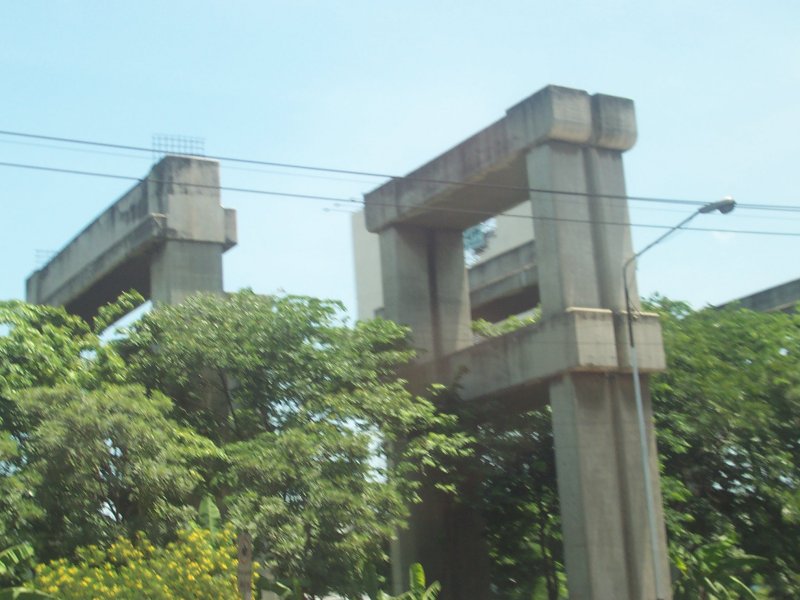 Yay! Thai Stonehenge!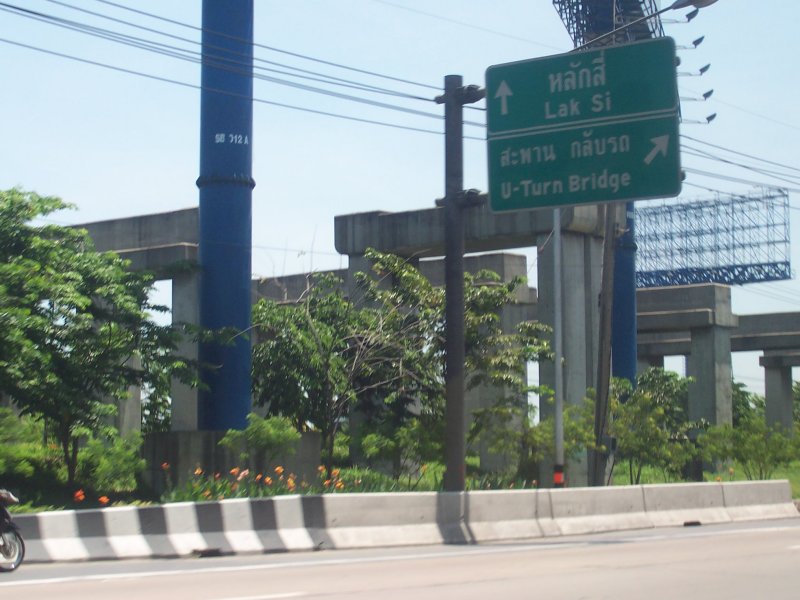 It literally goes on for miles!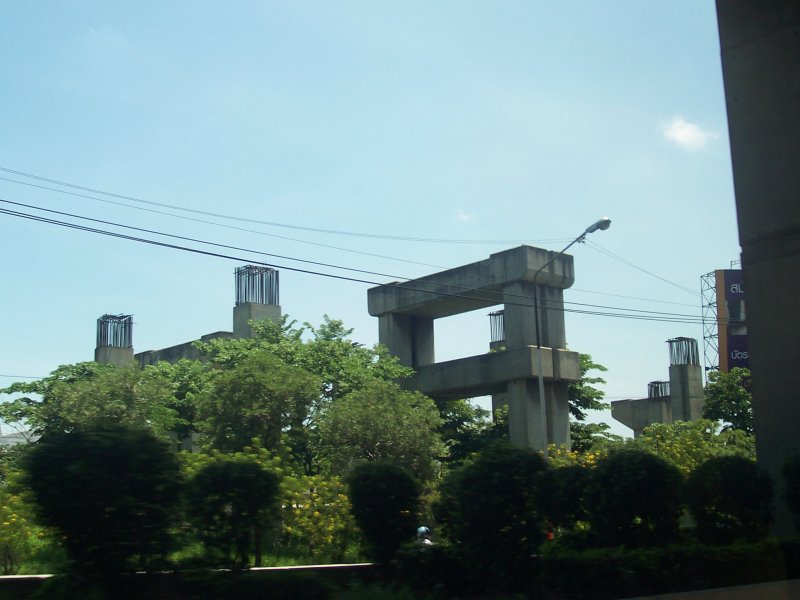 Quite often you will come across pillars that still have the rebar just sticking out the top, as if they workers just gave up one day and left!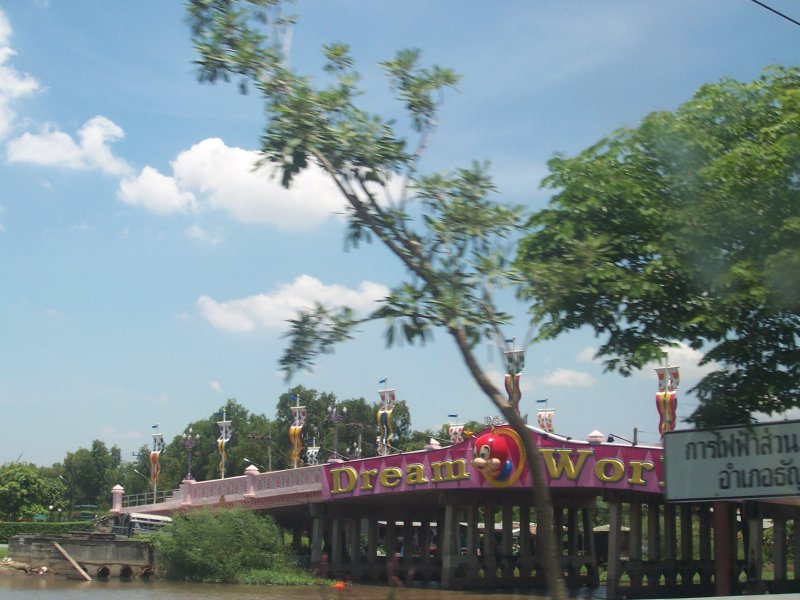 ...this looks like the place!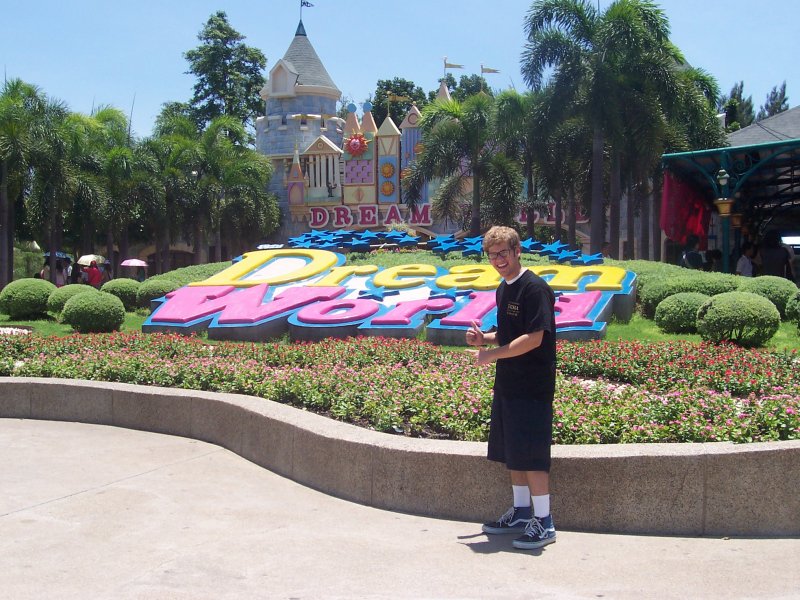 I approve of what I see thus far! Wait...what's that in the background?!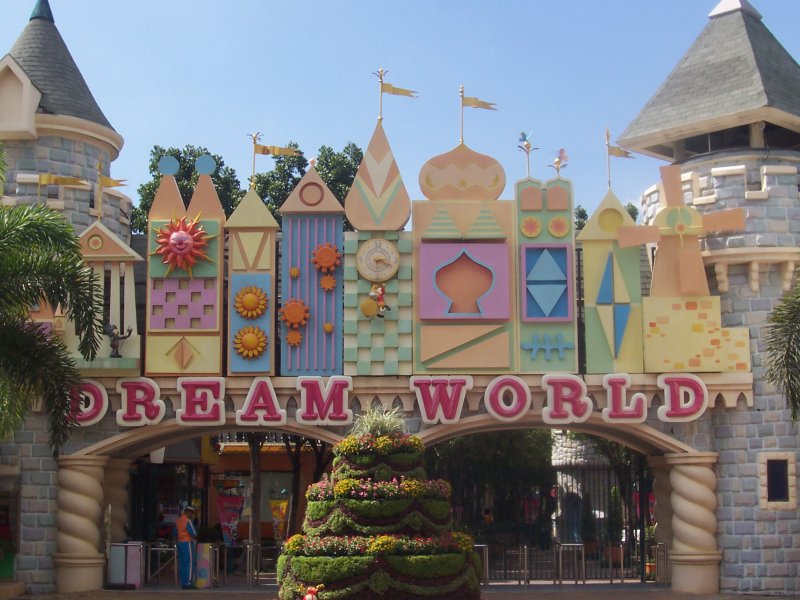 Ahha! Walt Disney was right!...It

IS

a small world after all!
I was very excited to get in and try out my first Disneyland rip-off! As most of you know, Nara Dreamland is the best/most famous Disneyland rip-off, but I think that this park comes in a fair second place!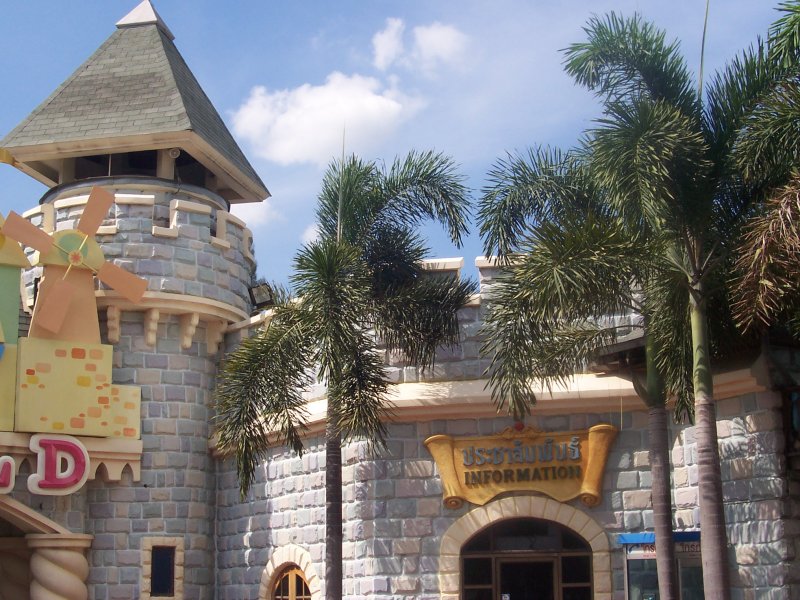 Although I must say, it was very nice castle-work!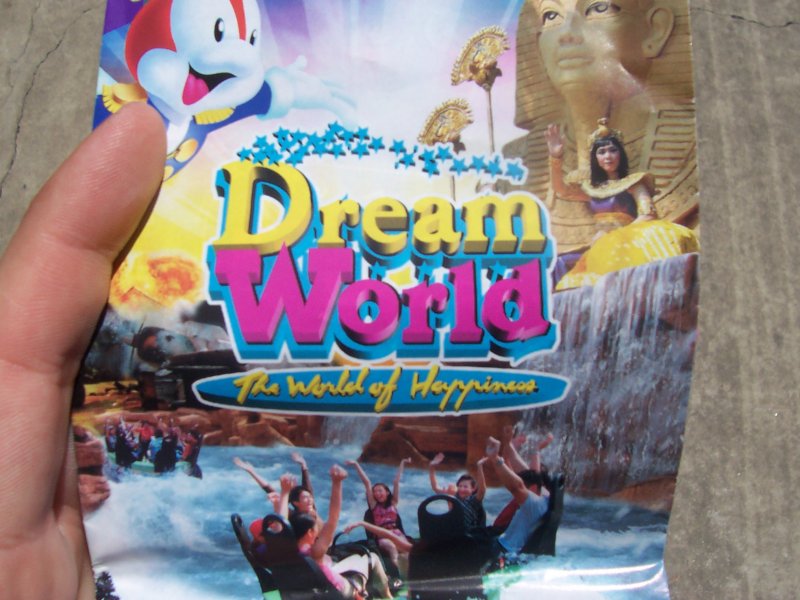 Even "World of Happiness" feels like "Happiest place on Earth".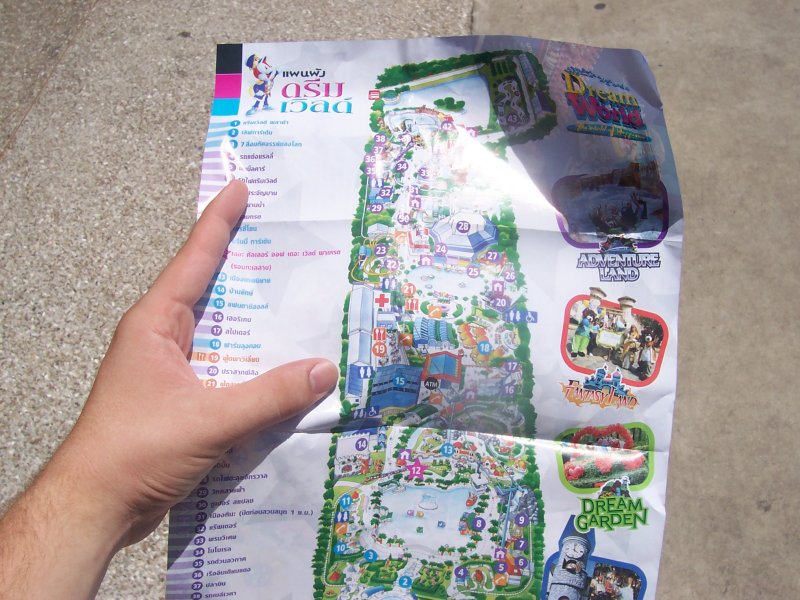 The park is very long and thin, as it fits perfectly on a parcel of farmland.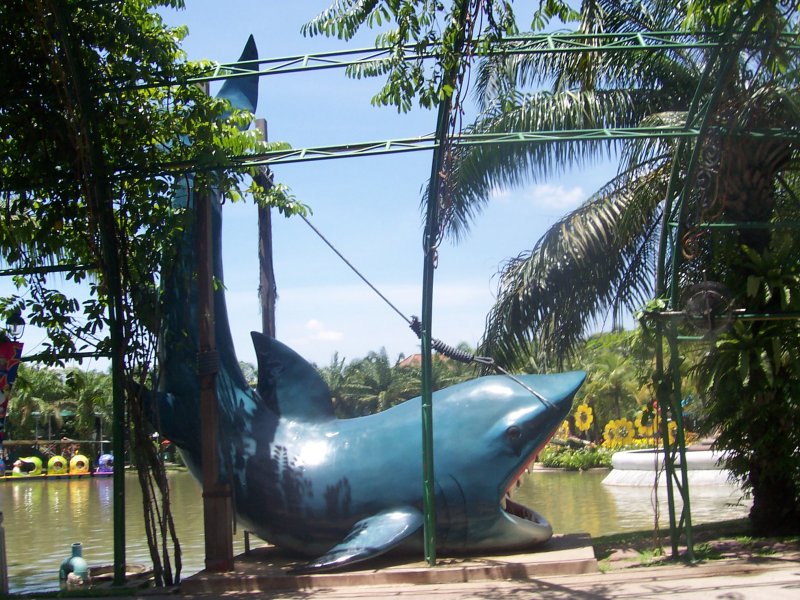 While it definitely felt like a Disneyland rip-off, it also had quite a bit of Universal in it too, such as Jaws here, or the Hollywood-stunt-show.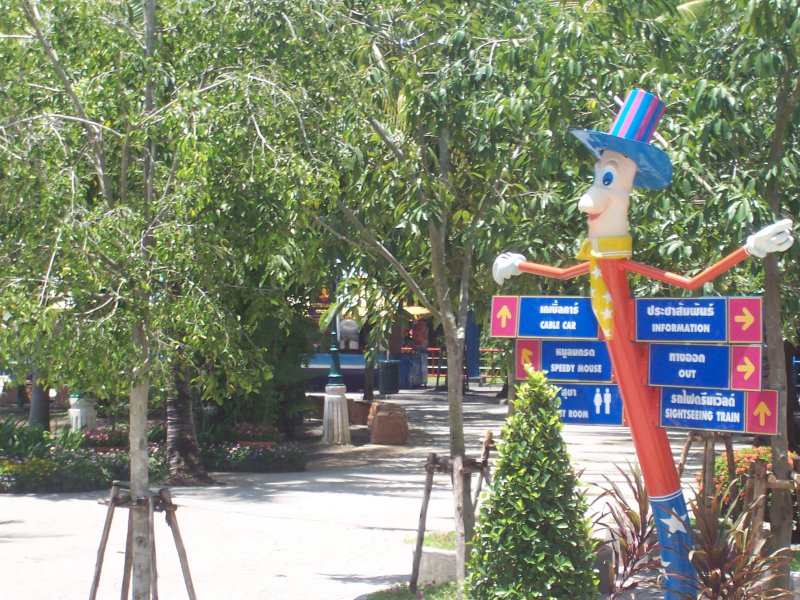 They also had those funky-mascots that we love so very much!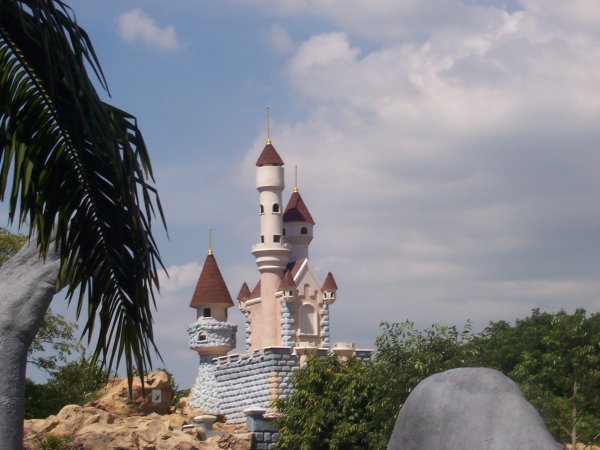 AHHA! I knew I would find a Sleeping Beauty's castle somewhere around here!
Of course their Sleeping Beauty's castle wasn't the centerpiece of the park, like in Disneyland or Nara Dreamland, however was used in their defunt Storybook Canal Boats in the way Disneyland uses Cinderella's castle.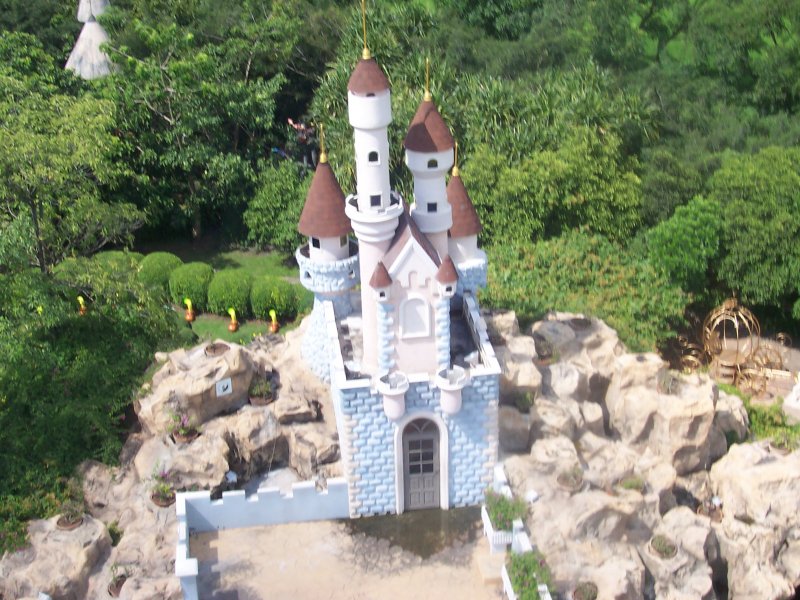 Yay for defunt Storybook Canal Boats!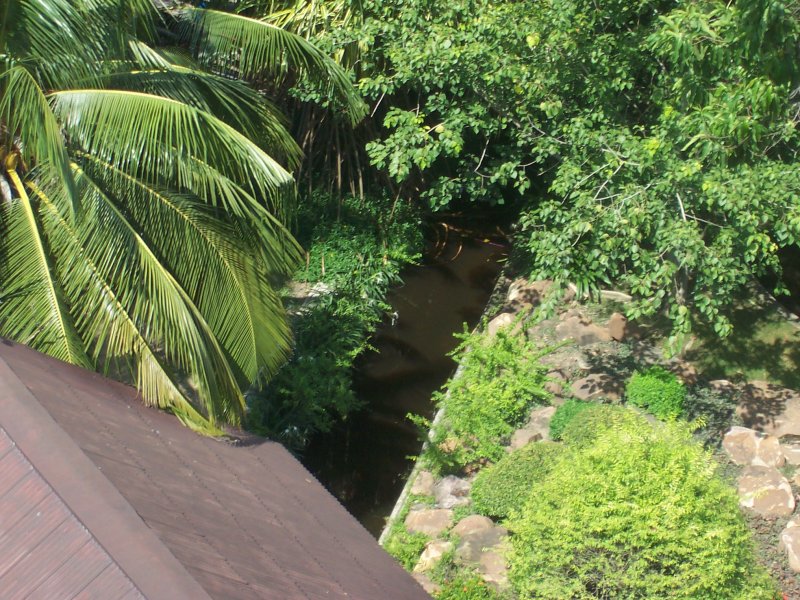 ...I assume that this is the Canal part....similar to Nara Dreamland's malaria-Jungle Cruise.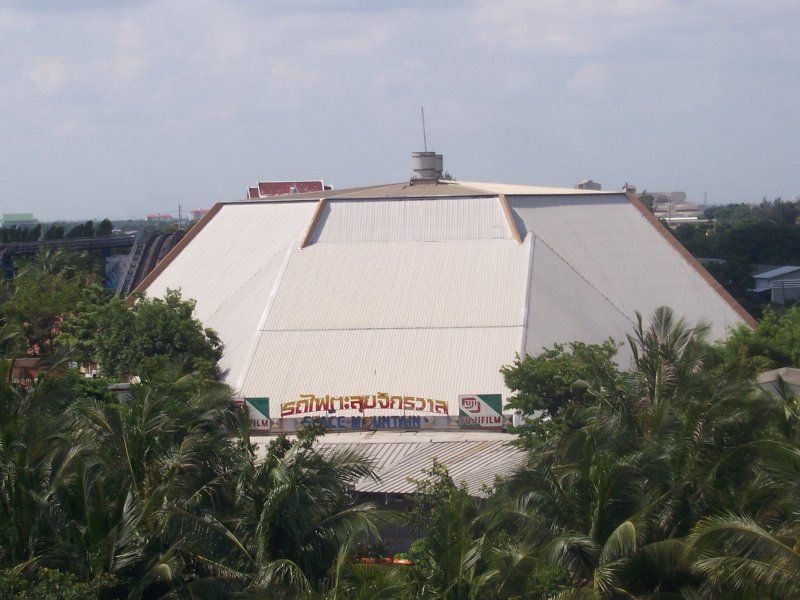 What on Earth could that architectual-wonder be?!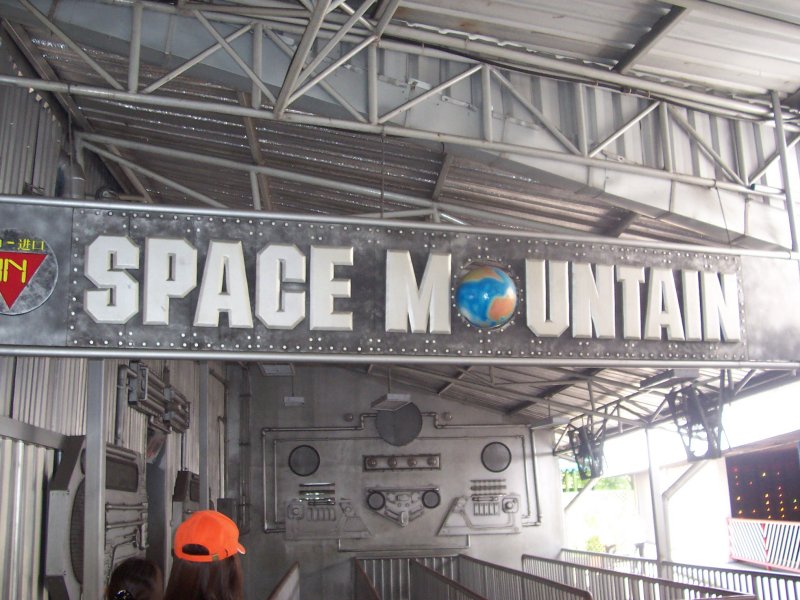 Ahha! Space Mountain! I love enclosed Vekoma rides!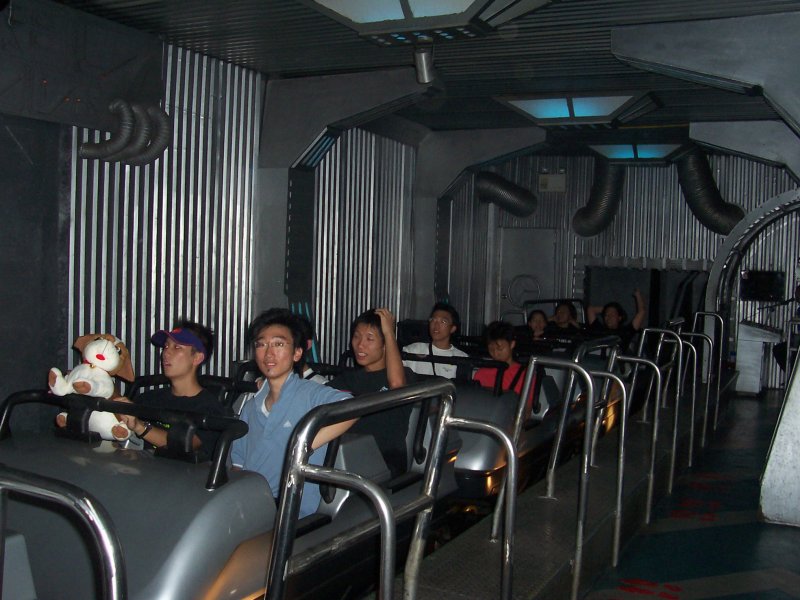 No, this isn't the one with station-clone of Disneyland's Space Mountain...that one's in Taiwan.
You know, for being the cheap, rip-off version of Space Mountain, this one was actually pretty cool! Unlike the new Disneyland version, this one actually had like, show effects other than stars! It had space ships attack you and stuff, pretty cool! And the weird part was, though it had a totally different layout than the Disneyland version, I only counted 2 left turns!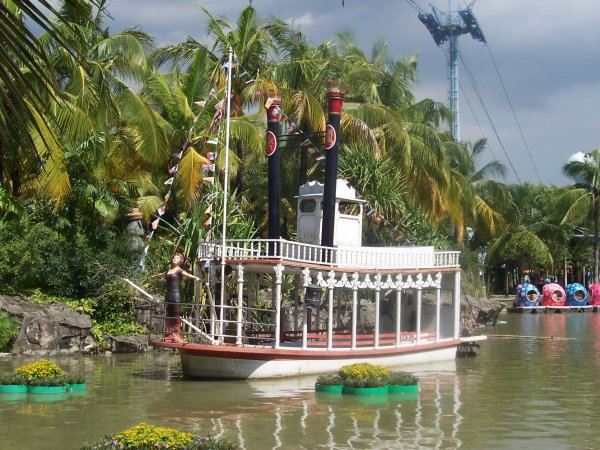 Mark? ...Mark Twain? ....Is that, you?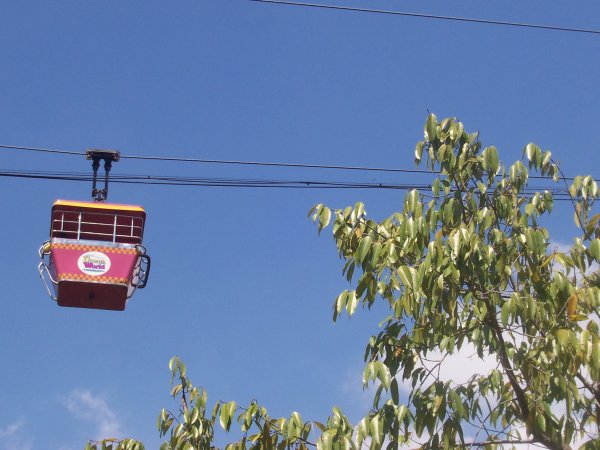 Yay for the Skyway!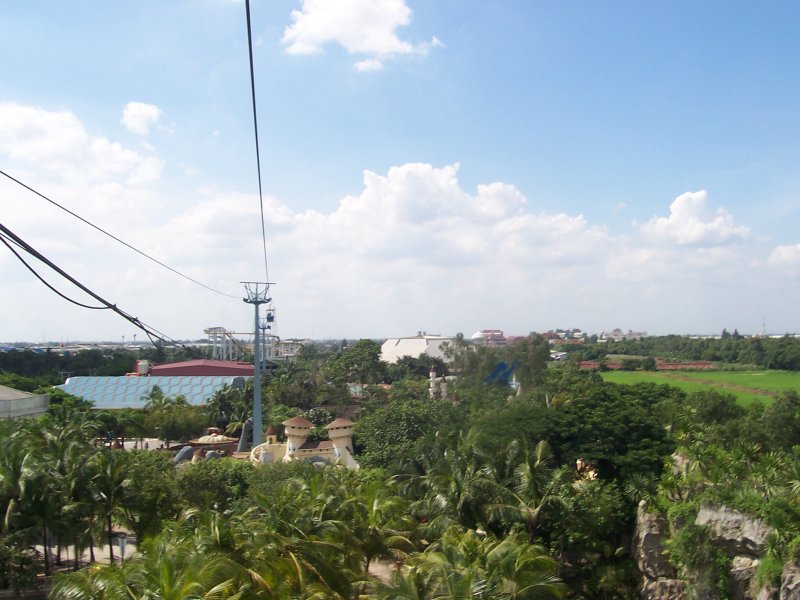 Oh crap! I didn't mean that I wanted to ride it!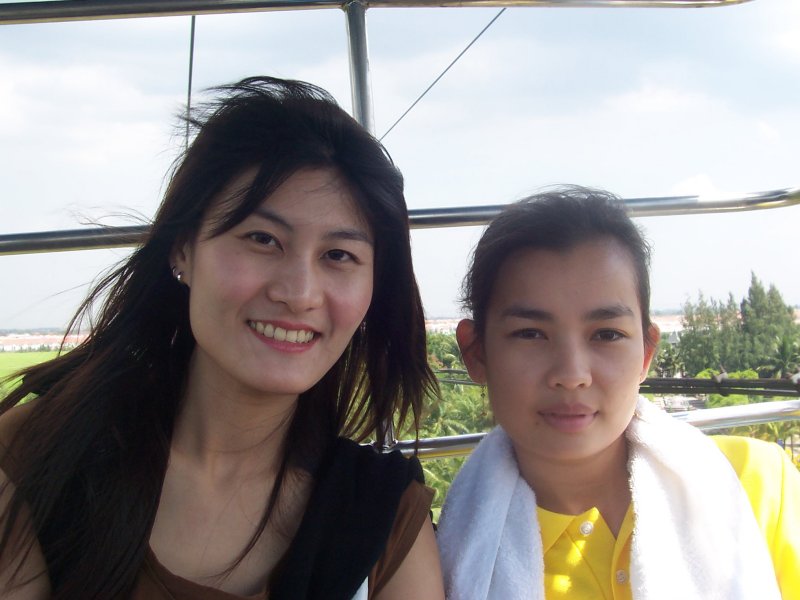 Here is the two lovely ladies who were kind enough to take me to this park! No matter how I tried to explain it, they never understood a "credit".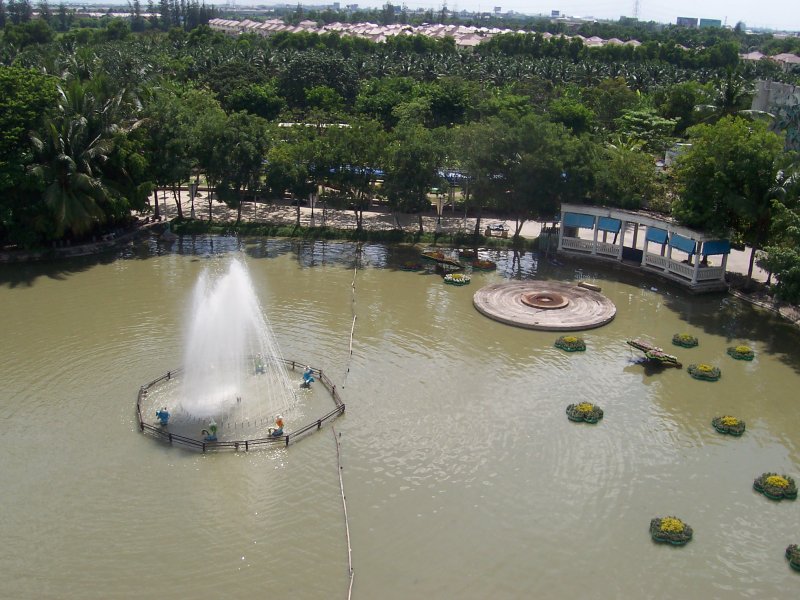 Is this where they show Fantasmic!? Ok, ok! Thats pushing it, I know! But still, it was cool too see all that I did! I even forgot to take a picture of the Haunted Mansion!
Up next was the totally random, out of place, but still fun Vekoma suspended coaster! I guess it was like Aska, just not as good!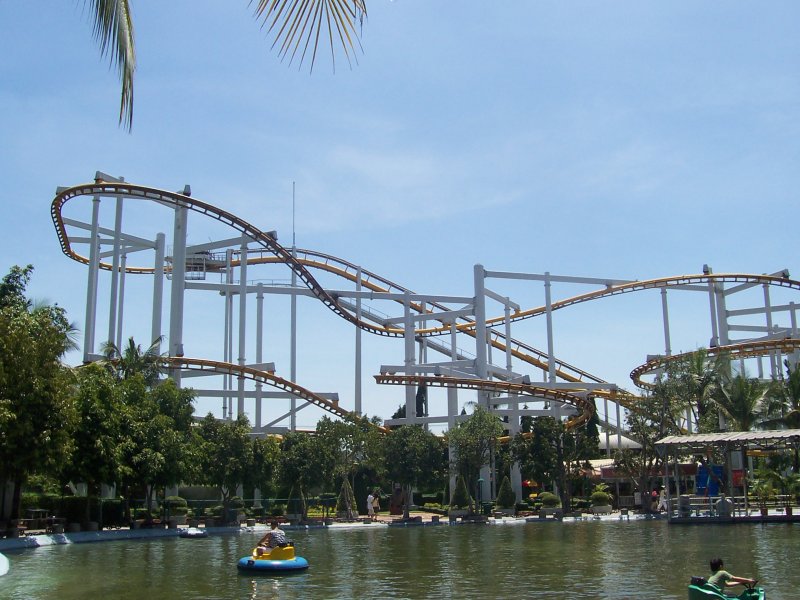 Yay! My first Vekoma suspended!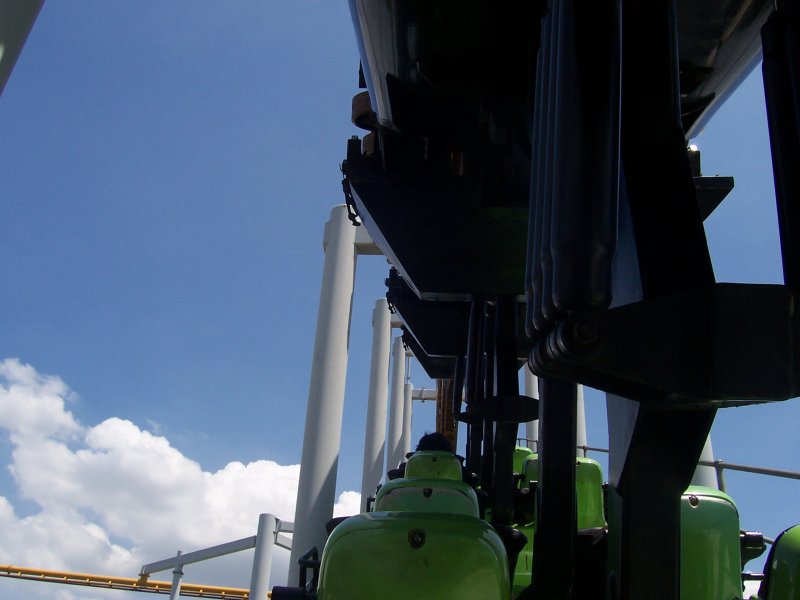 Lift hill shot!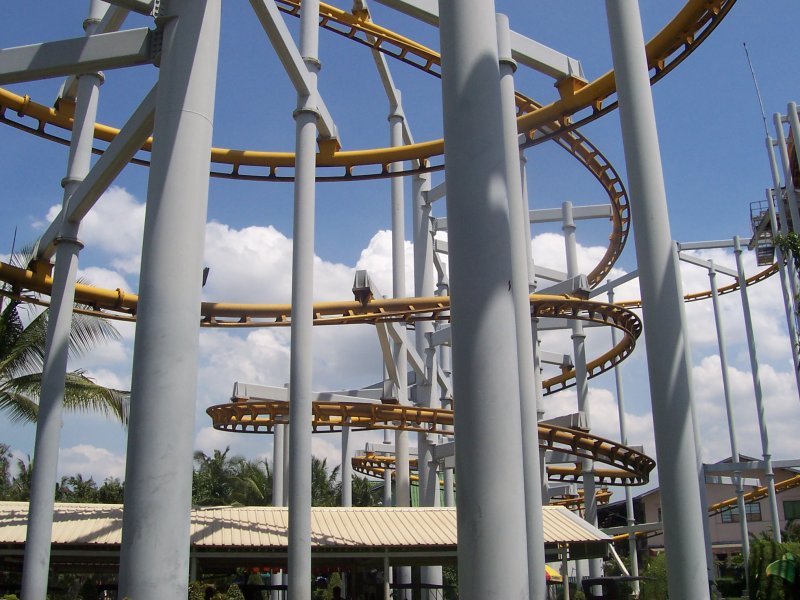 The ride was basically a ton of helixes of deaths, back to back!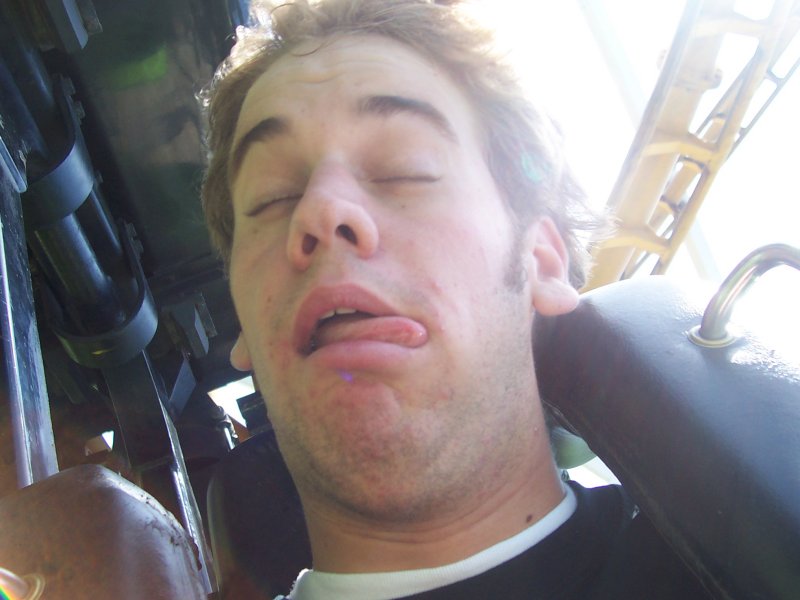 Me, uh....dying in the helix of death!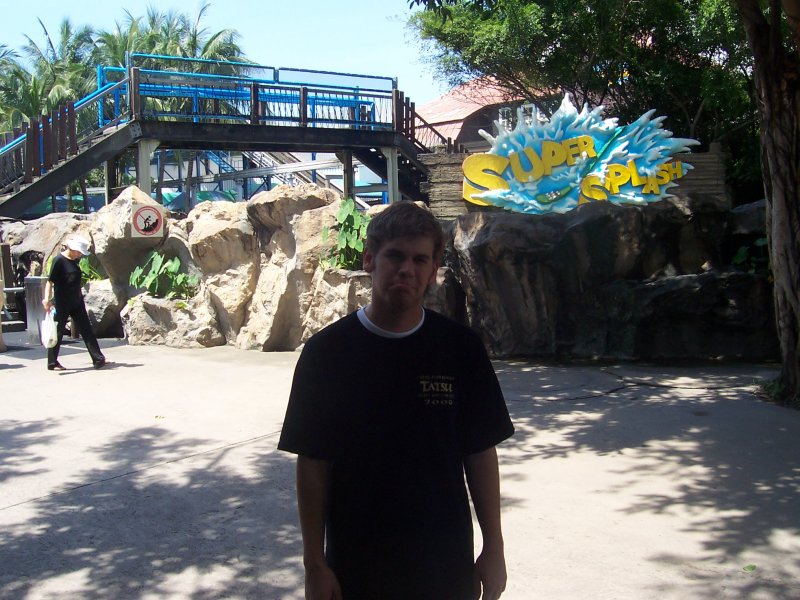 I'm sad because Super Splash actually got me wet!
See...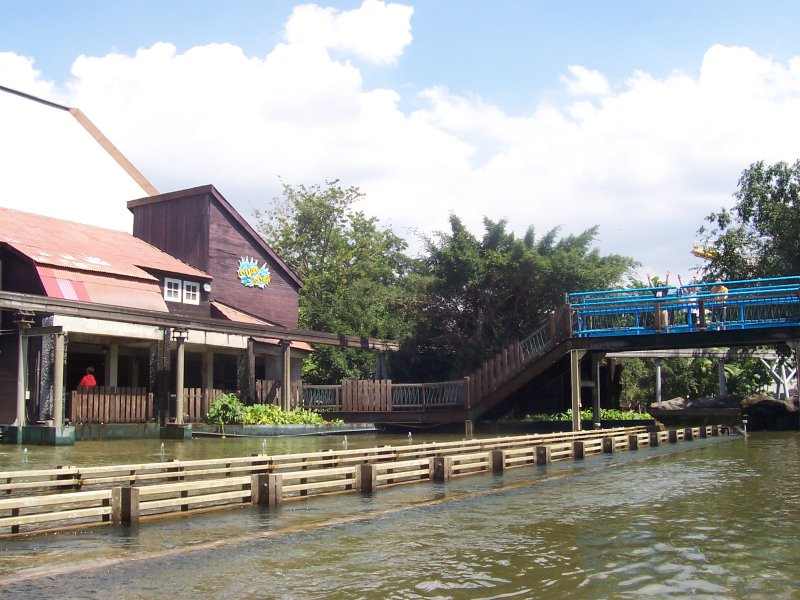 Before.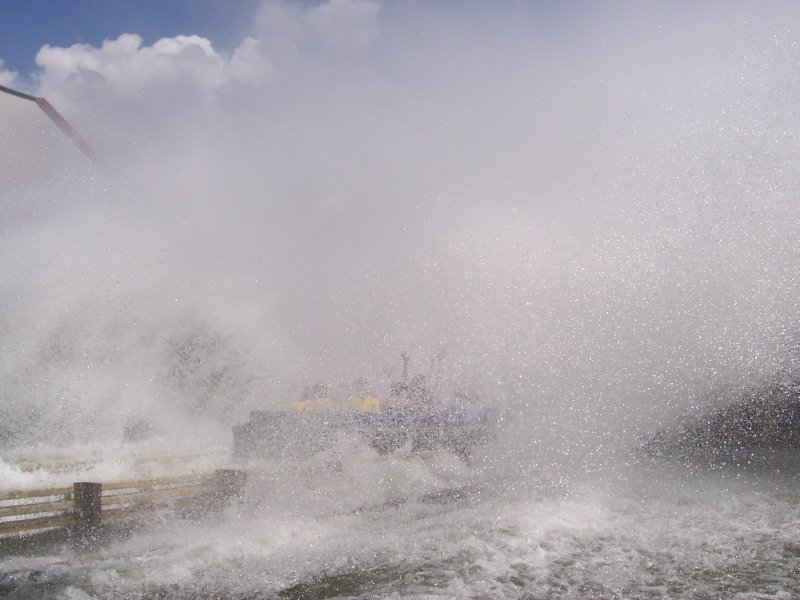 After.
::(
Alright folks....If the Trip Report hasn't scared you thus far, be warned...you will be scared.....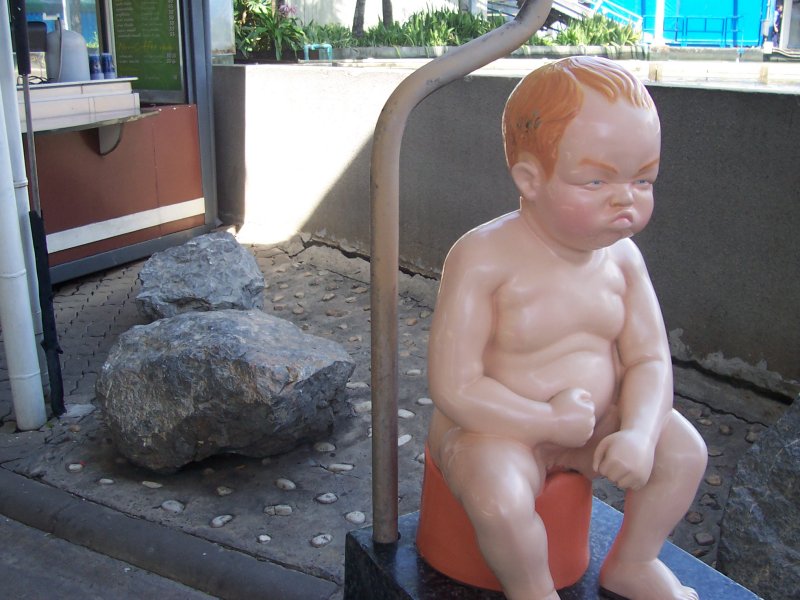 Yes, these naked babies stood near the location of every restroom! They scared the crap out of me! First, what the hell is it doing? And second, if its doing what I think it is, why is it so unsatisfied?!
Anyway...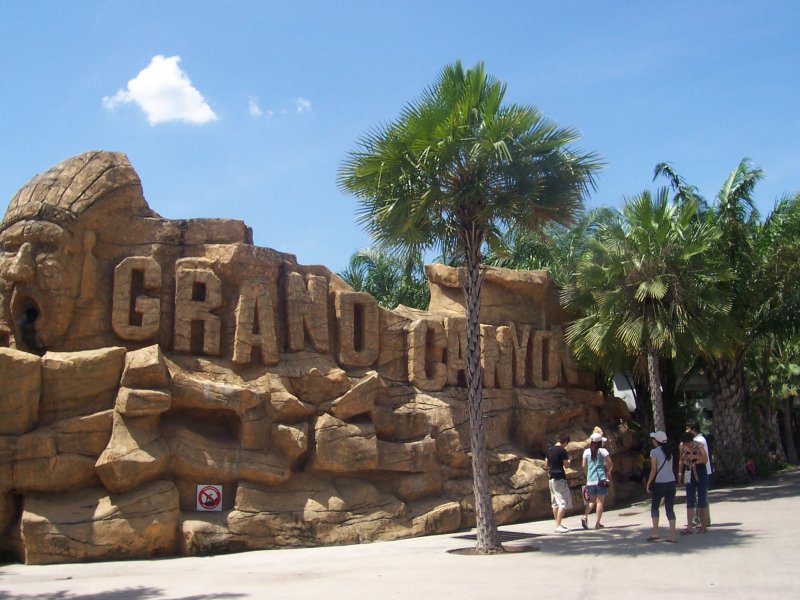 The Grand Canyon was like, the most boring rapids ride I've ever been on.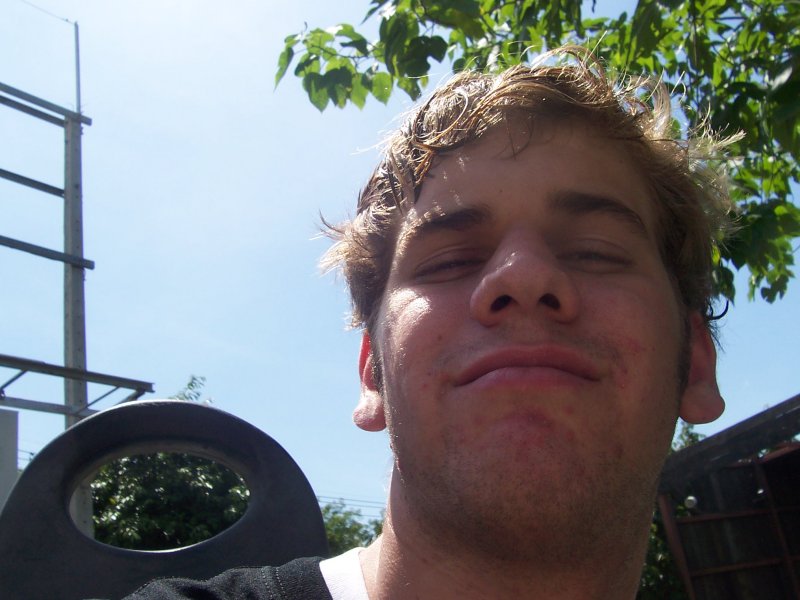 Yea...it was pretty boring.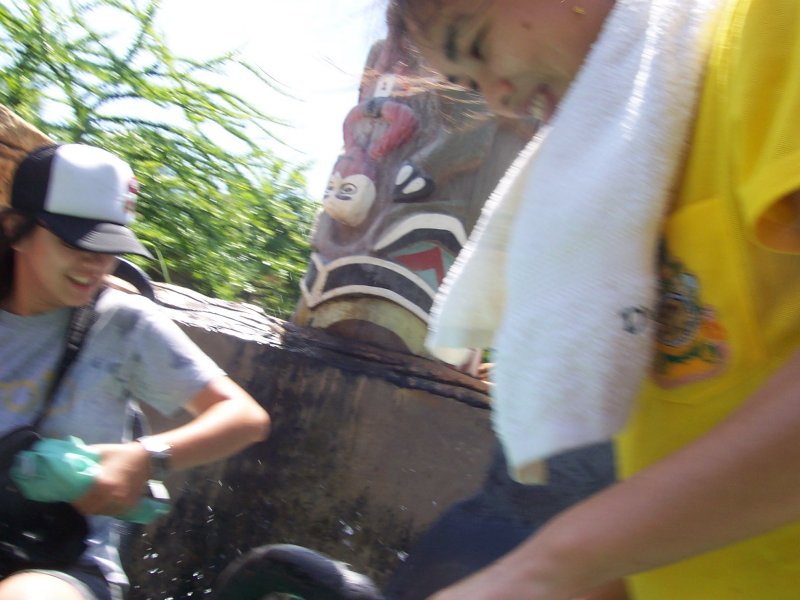 Why get wet when you can just move seats?!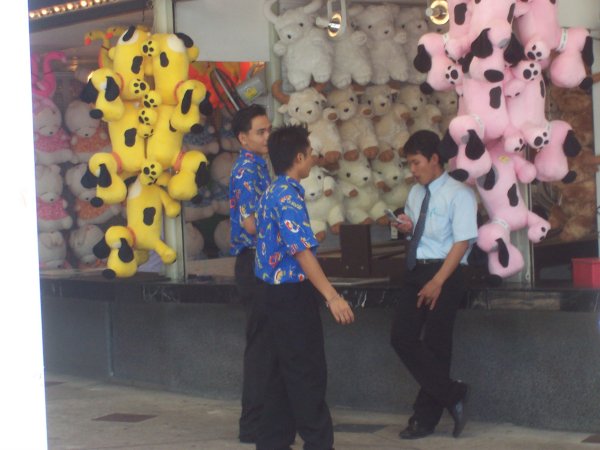 Holy Crap! Its just like a supervisor back at SFMM!
....I choose to leave the caption off right there. Use your own imagination as to what I fully mean by that.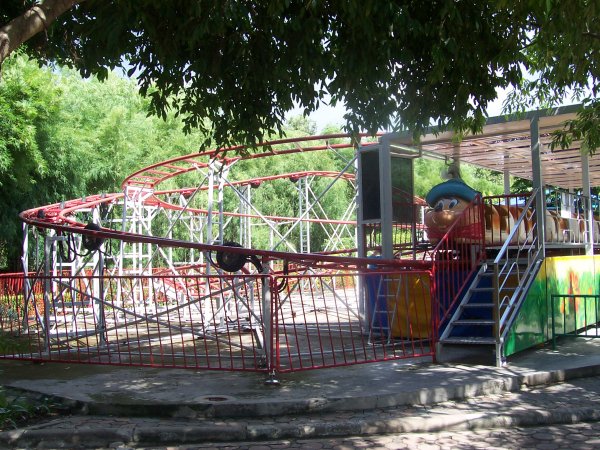 Yes!! A credit!!!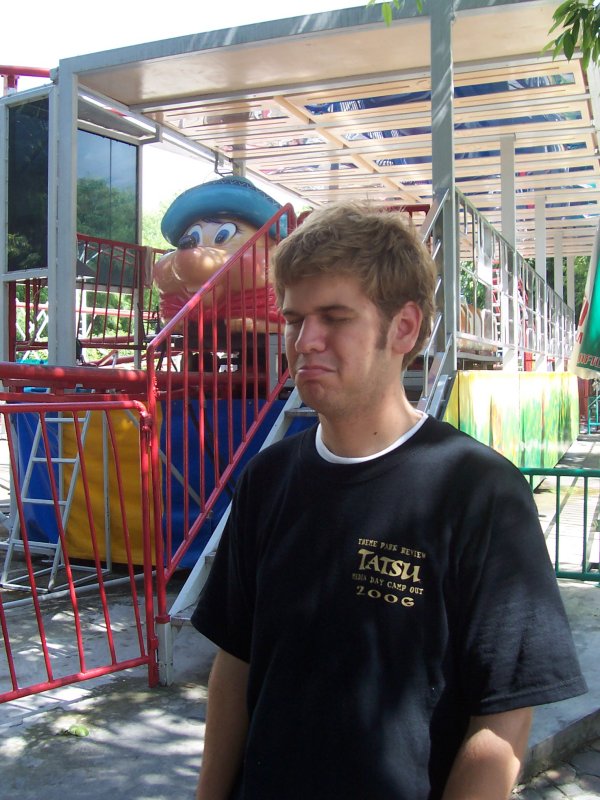 Ah man! Its closed!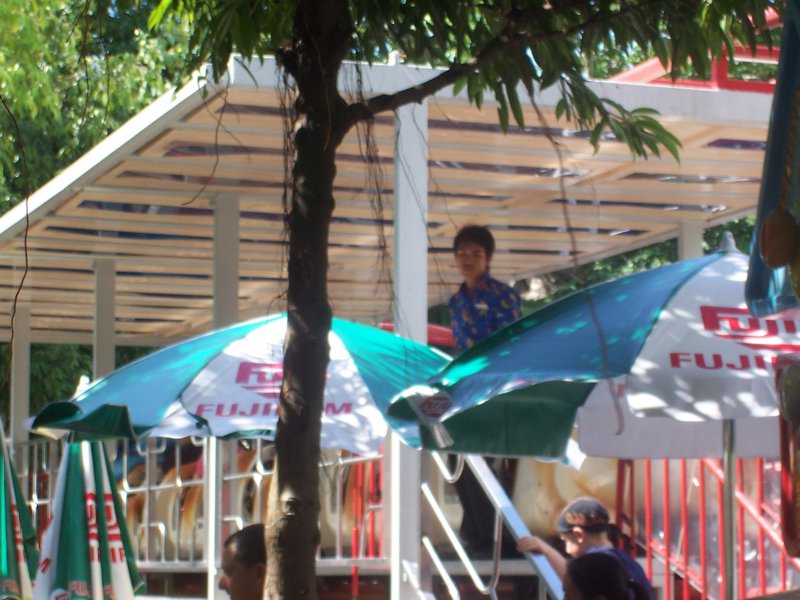 Seeing our curiousity from afar, this ride op, climbed up the tracks, turned the power on, and let me ride! He would have been sooo fired at SFMM, which is pretty hard to do! Oh wait...not hard for everyone!
::)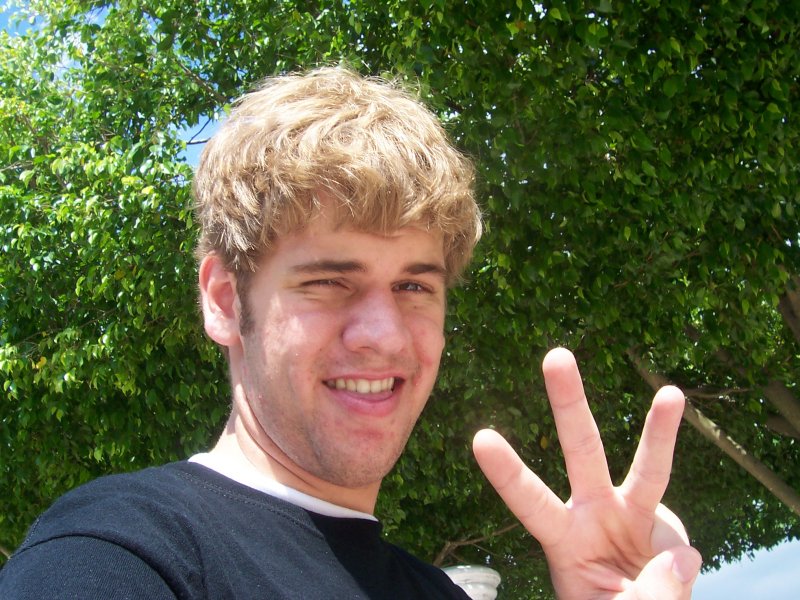 Me happy to have gotten my 3 credits!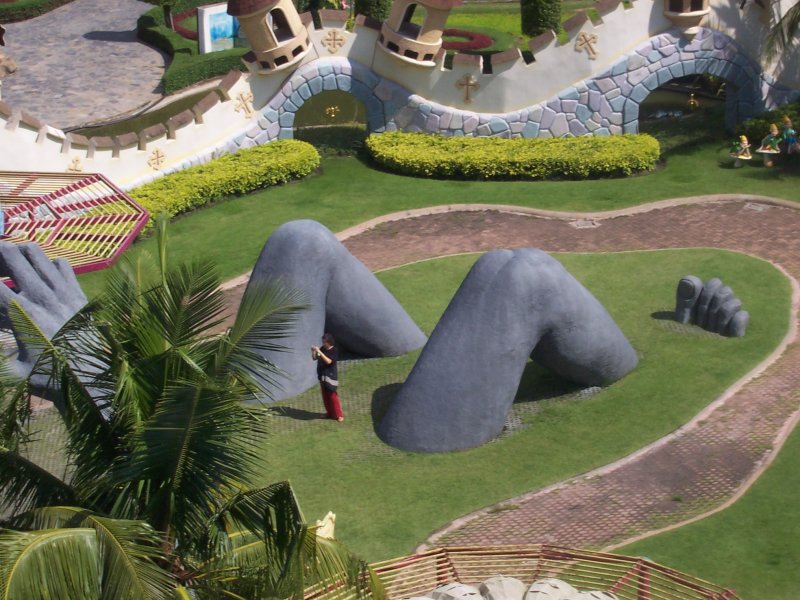 I wonder if she knows where she's standing?
...Yea, I think she knows.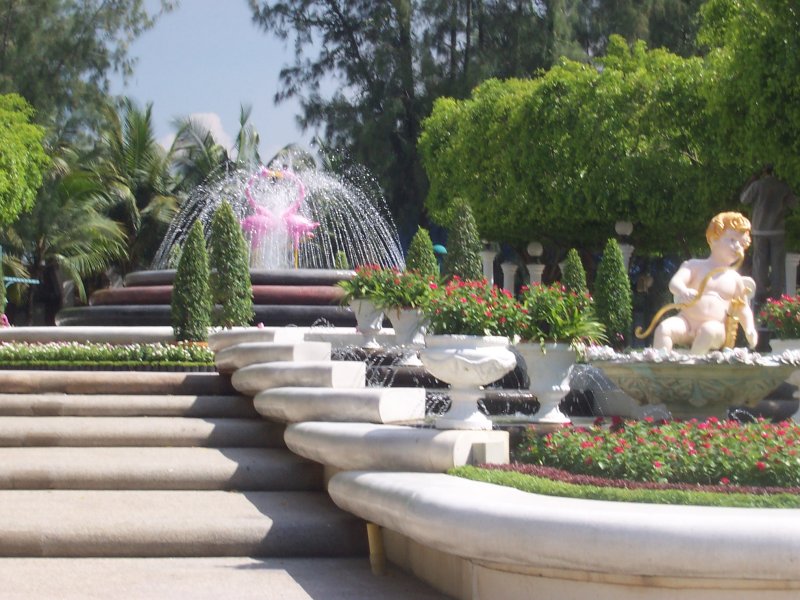 All and all, I admit it was a real nice park, albiet a bit boring.
We finished the park in 2 hours, and that was strolling/taking our time. The thing is, with your park admission, they only let you ride the attractions once! Therefore, we had no need to stay in the park any longer than we did! The trick is, if you want to make more money, to keep the guests in your park as long as possible. By alloting us only one ride, we were pretty much forced to leave!
On the way out, I ran into a good friend!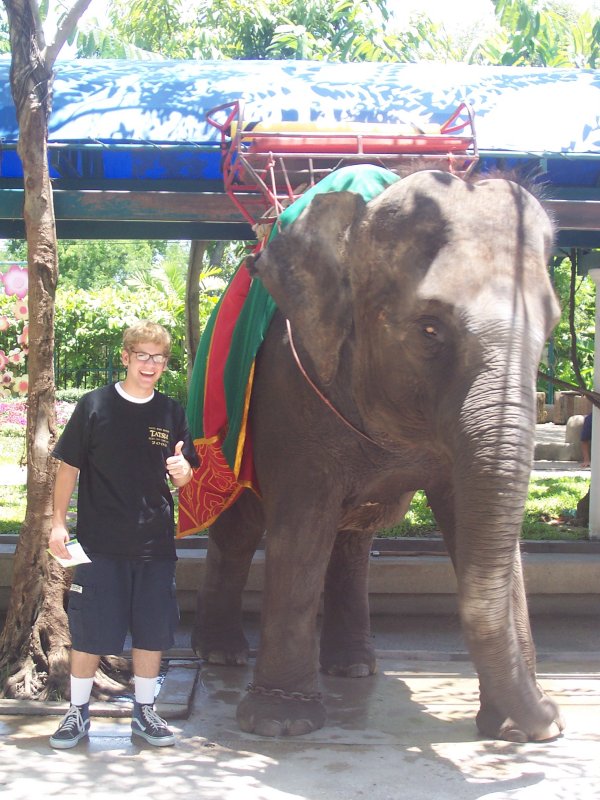 I may have been smiling, but I was really crapping my pants! Those things are huge.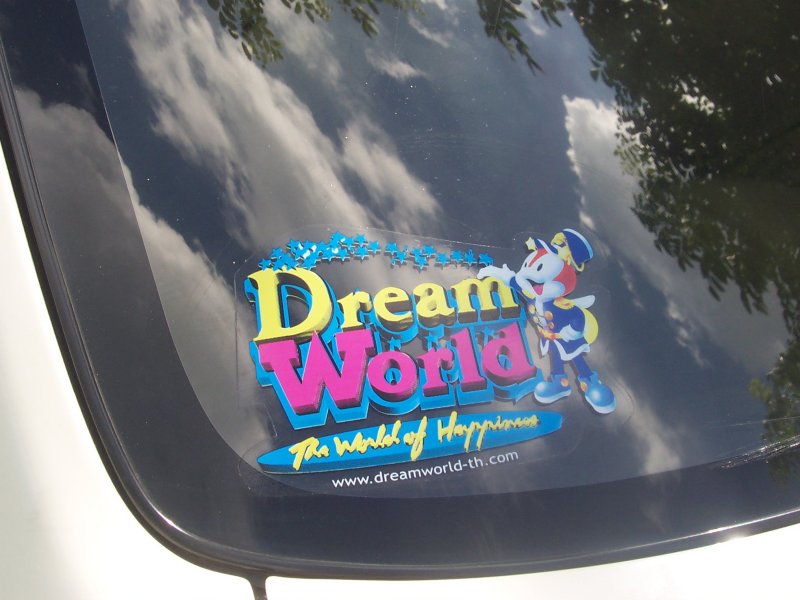 Dreamworld was kind enough to slap an advertisement on the back of our car!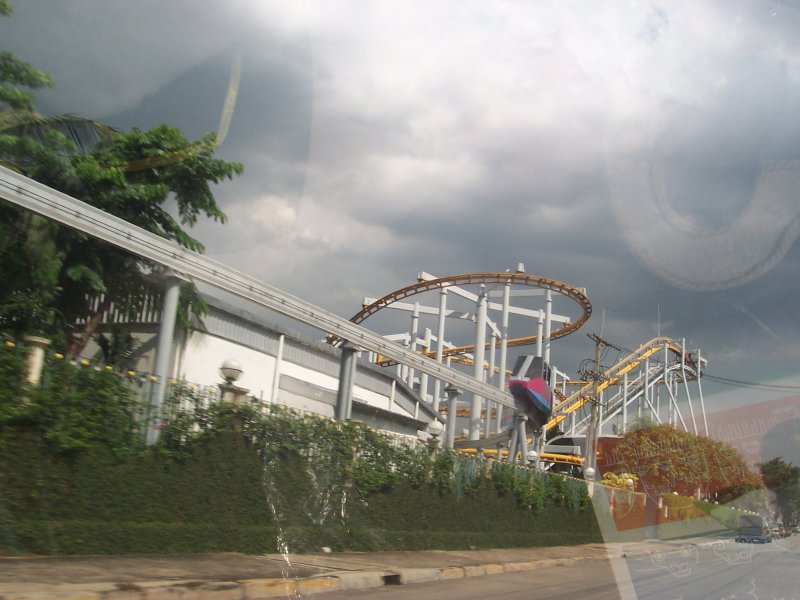 I saw the monorail on the way out.
Finally I left Dreamworld, 3 credits more, and definitely proud of the expirence.
Have you ever seen Pirates of the Caribbean? You know that scene where Kiera Knightly Makanvand says "But it says in the Code!" and Barbossa goes "The Code is more like, mmm, guidelines!". Thats how they treat the traffic lanes in Thailand....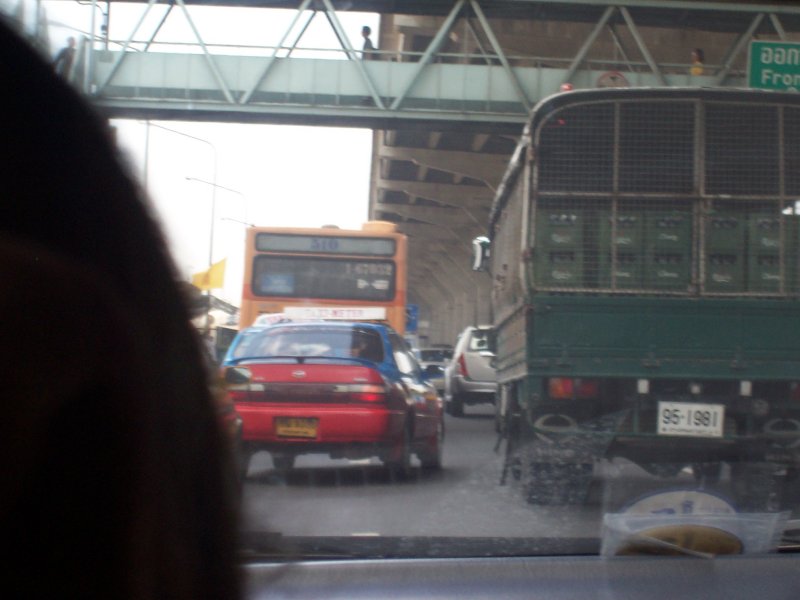 Well, I hope you enjoyed the Trip Report!
Thanks for reading!
-Jahan