Announcing Don Garrison's "Dude! Where's my Passport?!" DVD!
DVD Info:
http://www.themeparkreview.com/videos/dude.htm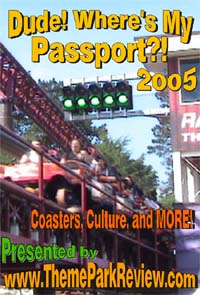 For those of you who followed coaster tools "Don & Monica" through "Tools On The Loose 2005" now they take you on a trip to some of Europe's most popular and some very OBSCURE parks!
Parks included: Alton Towers, Blackpool Pleasure Beach, Parc Asterix, Disneyland Paris, Weiner Prater, Vidampark, Gardaland, Movie Studios Park, Mirabiliandia, and MORE!
Disc Two includes onride footage of more than *50* coasters from both European and USA parks.
To download sample segments from this DVD, click the following links:
http://www.themeparkreview.com/videos/prater.zip
http://www.themeparkreview.com/videos/blackpool.zip
"Dude! Where's my Passport?!" is a brand new 2-disc DVD set under the Theme Park Review "Affiliate Label" program. And with the launch of this new DVD, we are also announcing a DVD *SALE* Yay!!!!
BUY TWO DVDS, GET A THIRD *FREE*
Because everyone LOVES getting free stuff!
That means you can get up to *NINE* theme park DVDs for only $50! That's just a little over $5 per DVD! And if you add a T-Shirt to your DVD order, you can get a TPR shirt for just $10.
To order the DVD, click here:
http://www.themeparkreview.com/order.htm
And for those of you wondering, Theme Park Review's Coaster Expedition Volume 7 "Around The World With Theme Park Review" is currently in the works and we hope to have this new DVD out in March 2006!
Thanks again for all your support!
--Robb "Now go download those two new segments!" Alvey
www.themeparkreview.com
ps. please remember that Theme Park Review does NOT use any pop-ups or ads of any kind and does NOT charge for our premium content. The sale of DVDs helps keep the site going!