Hey everyone!
As part of our transatlantic cruise from Ft. Lauderdale to Barceola, Spain, one of our ports was Tenerife in the Canary Islands. The island is home to lots of interesting historical stuff (and of course still the worlds most deadliest airline crash) but it is also home to "Loro Paqrue."
The park is kind of an odd mix between a zoo and Sea World. In fact all four of their killer whales were born at Sea World in Orlando. And of course the park is also home to a roller coaster, the ONLY coaster in Tenerife!
If you're into animals, you'll love the park as it is really nice, if you're not into animals (and honestly, we're not big nature/animal people) it's fine for a short visit. We stayed about 3 hours (although 40 minutes of that was waiting for the coaster to open, which opened late) and we took in a couple of the shows.
The shows were the perfect length for both someone who likes this kind of stuff and who isn't that much into it. I think the dolphin show was about 15, maybe 20 minutes long. Just enough to watch some giant fish jump through hoops and do other wacky tricks but not too long to where
you'd get bored.
The killer whale show was even shorter (probably right at 15 minutes) which was fine because they didn't let those giant guys do too much.
Anyway, the coaster was interesting for a kiddie coaster in that it literally was buried deep within the surrounding shrubbery! Seriously, if you stuck your hand out, you'd get bush. Hmmm... Maybe that's not so bad after all!
Ok, enough babbling, onto the photos....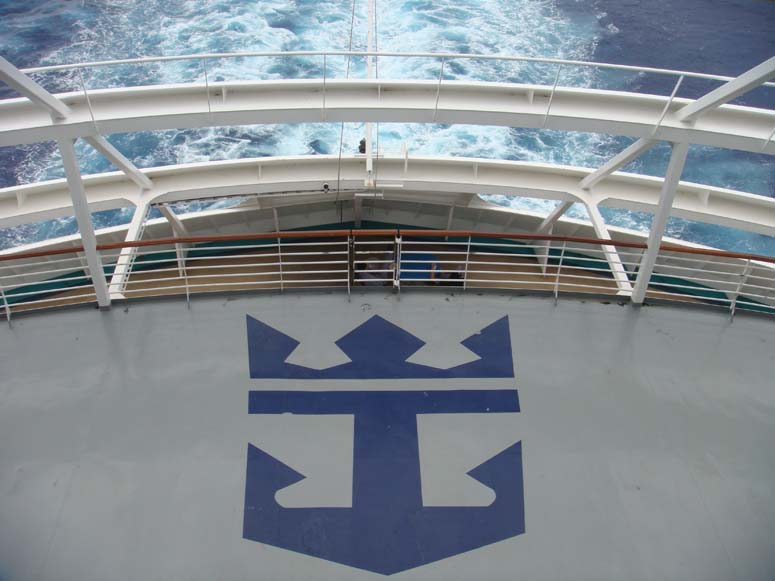 See! We are on a cruise ship!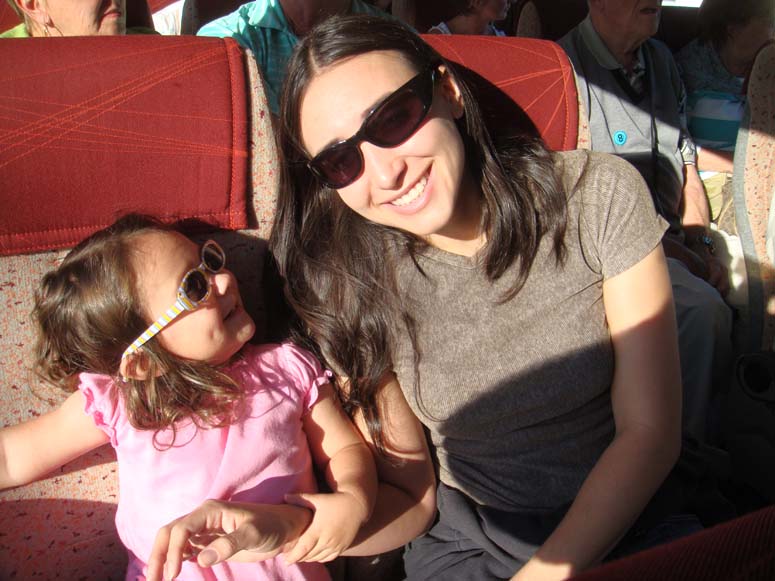 The girls are just too cool for our bus to Loro Parque.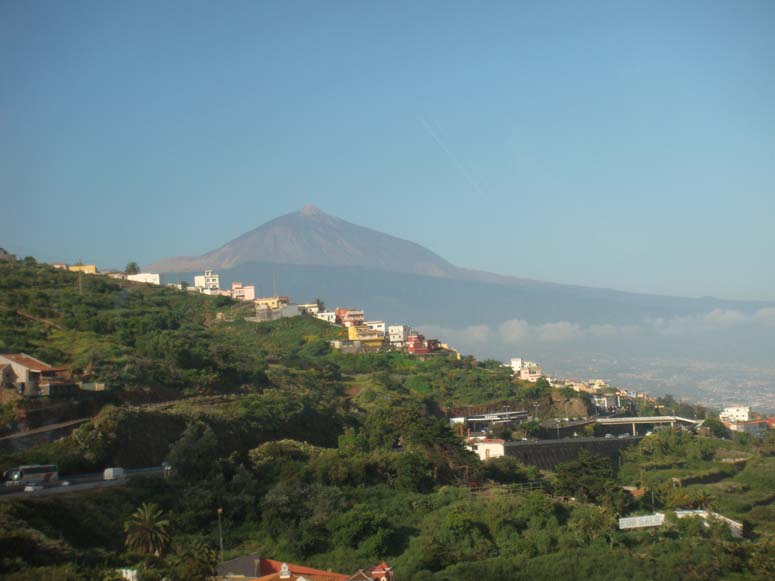 That giant mountain is actually a volcano. Let's hope it stays put for the day!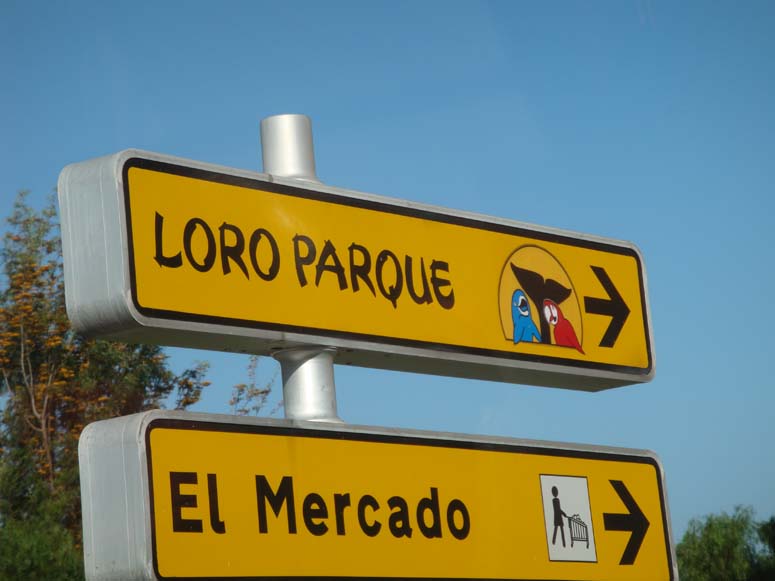 Oh, goody...not too much farther now.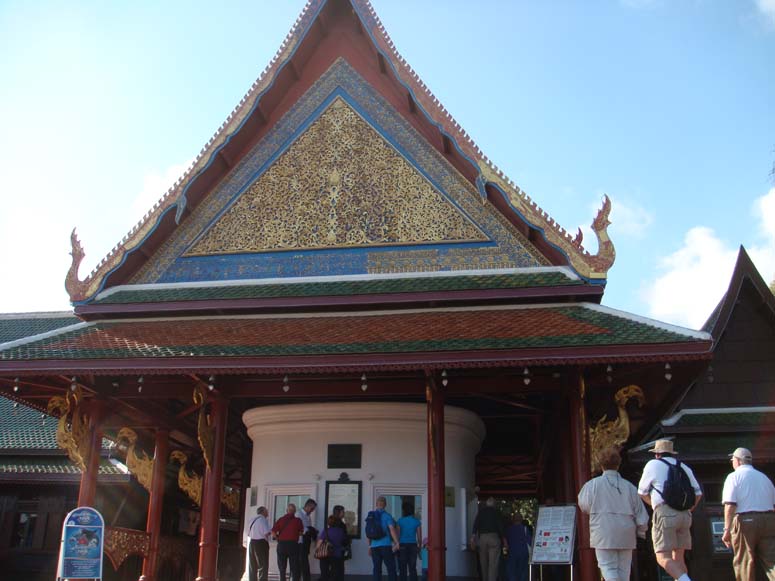 The entrance to the park...yup.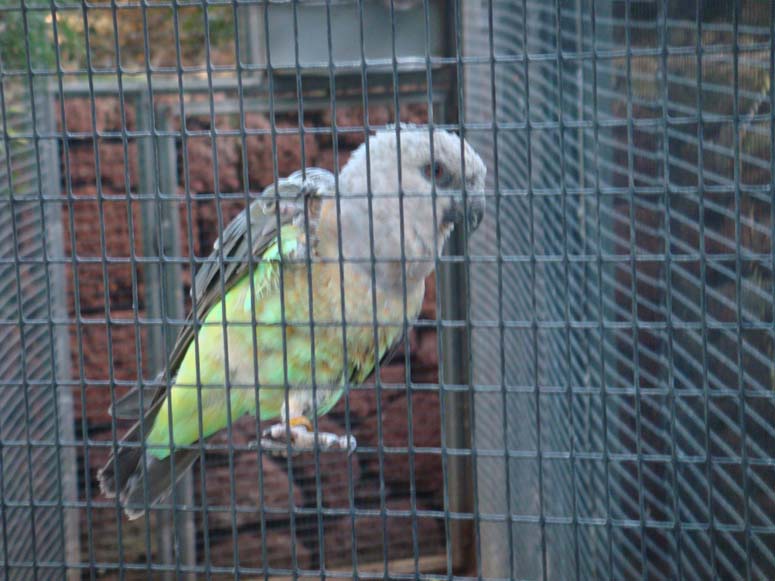 That is one pissed off looking bird!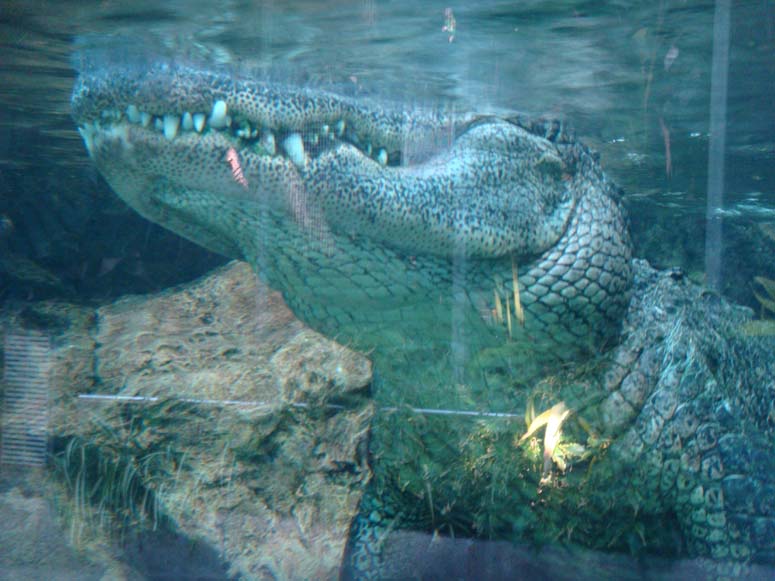 "You have to pay 5 Euros to see the rest of this Alligator."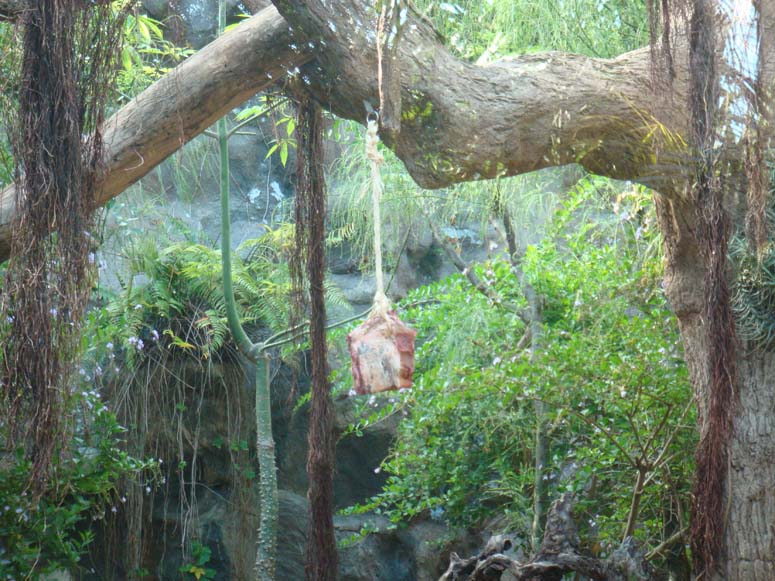 Lunch Time!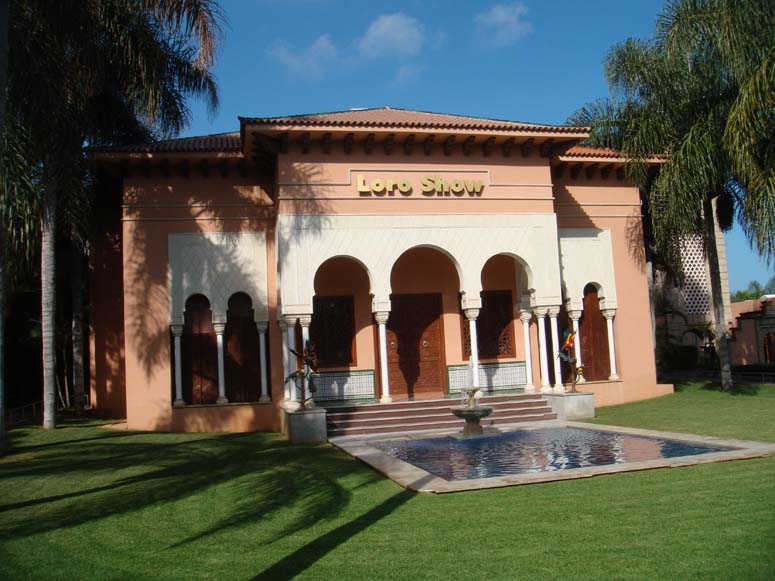 Here was the "Loro Show" aka the Parrot Show.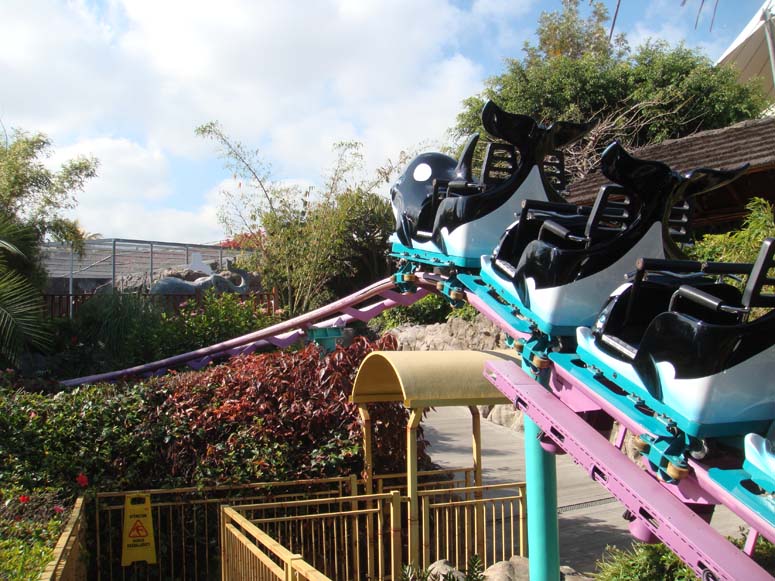 Yes! We found the credit!!!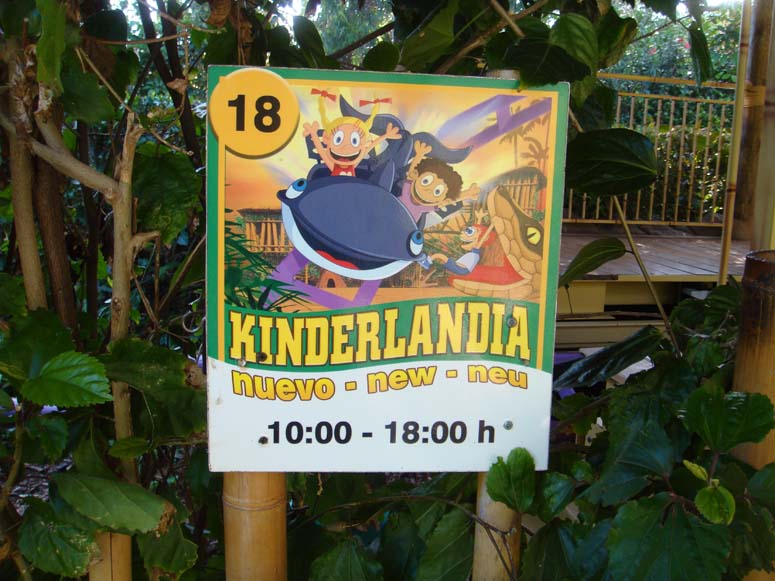 The sign says it opens at 10am, but it actually opened about 10:40.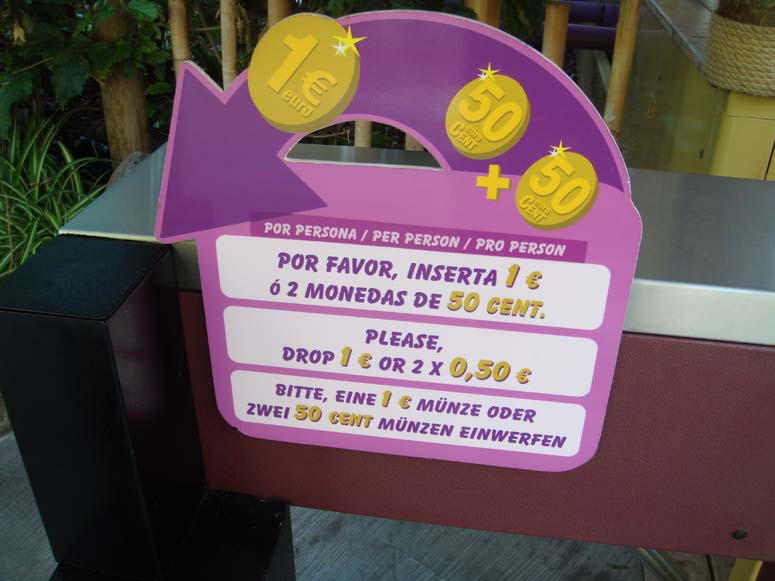 Oh, yeah, and it's an upcharge of 1 Euro.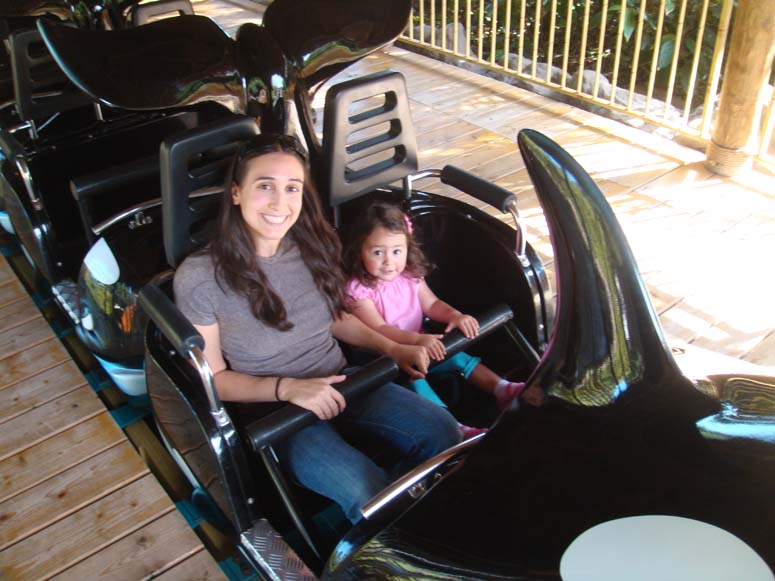 Elissa and KidTums get this random, off-the-beaten-track credit!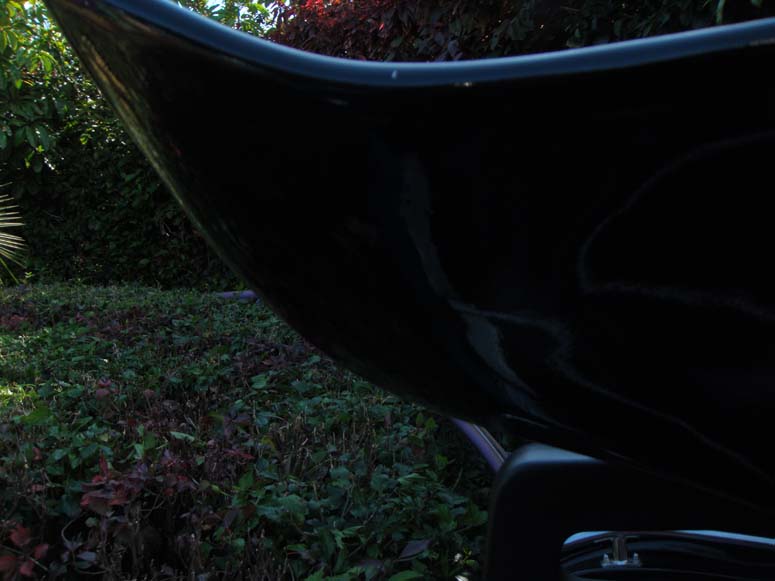 If you sit anywhere but the front seat, all you see is fin!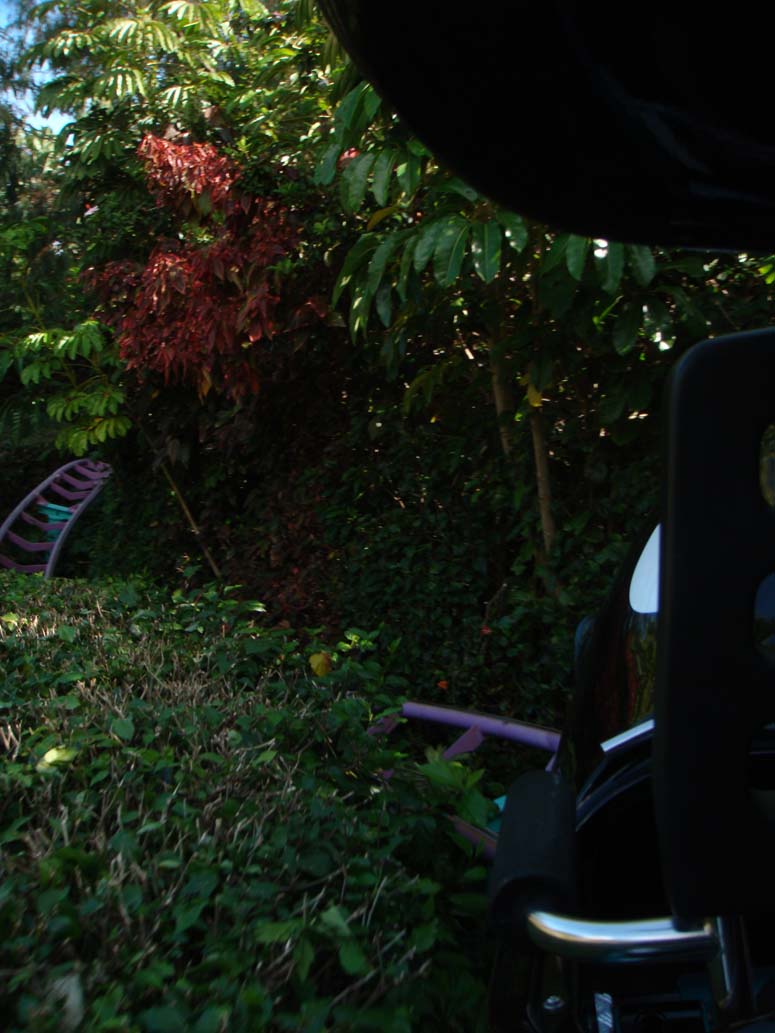 Note how the coaster is completely surrounded by shubbery!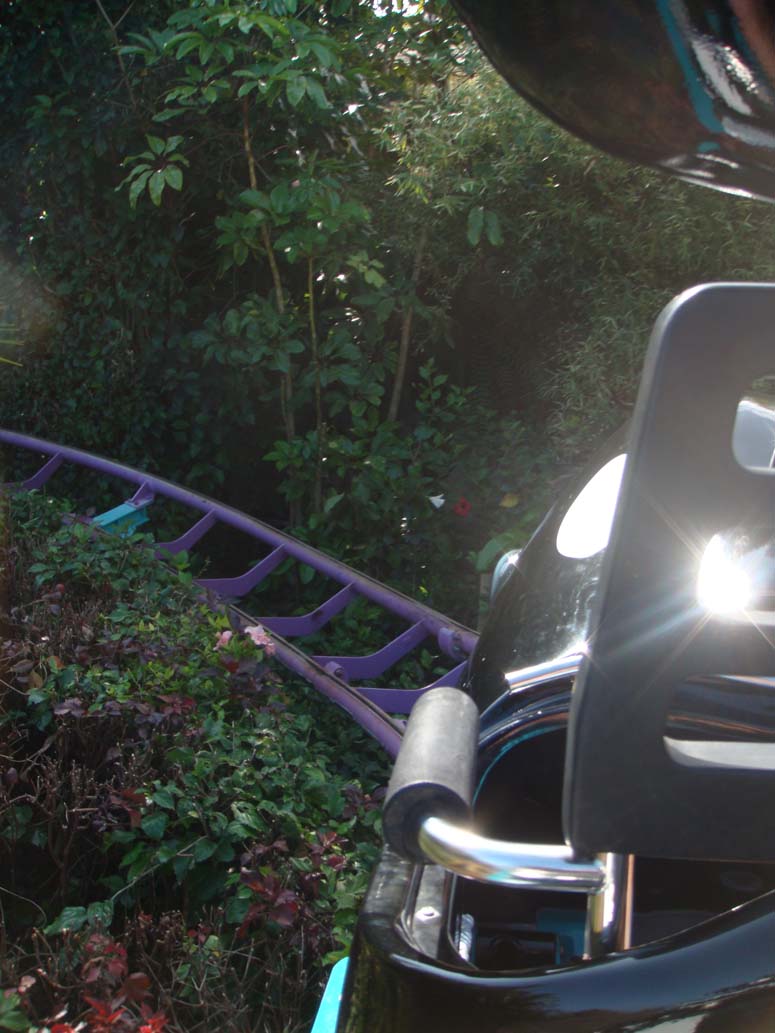 Put your hand out and you get bush! (Ohh, yummy...I love bush...and
I'm not talking about the plant-like substance either. I'm also not
talking about the ex-president. I'm talking about bush. Plain old
"I can smother my face in it for hours" B-U-S-H. Is there any guy
where who wouldn't put his hand out for some bush? Ok, so maybe
there are *some* guys, but even still, it's quite tempting isn't it?)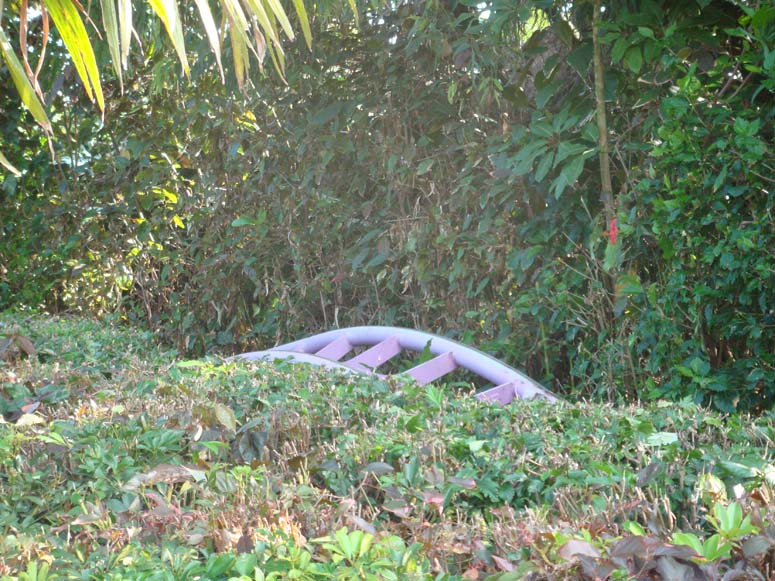 OMG! OMG! OMG! COASTER TRACK! *JIZZ* *JIZZ* *JIZZ*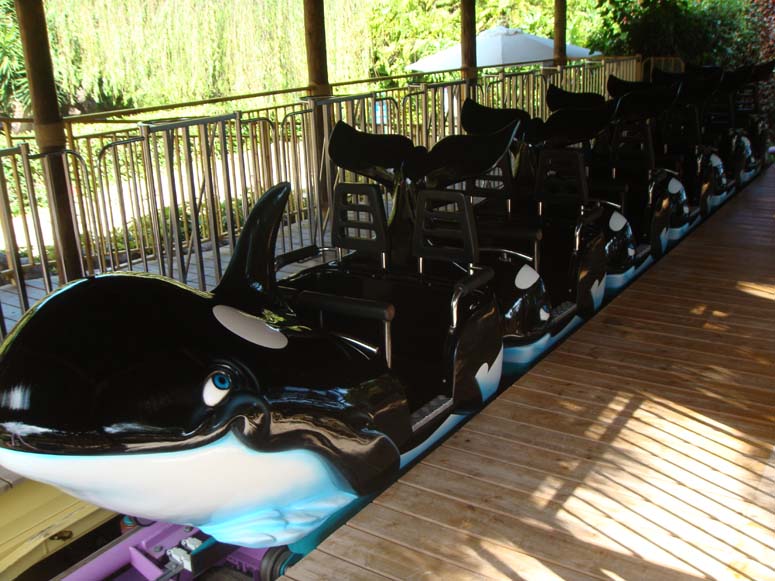 Yup, the coaster was cute. Cha-ching. Credit conquered!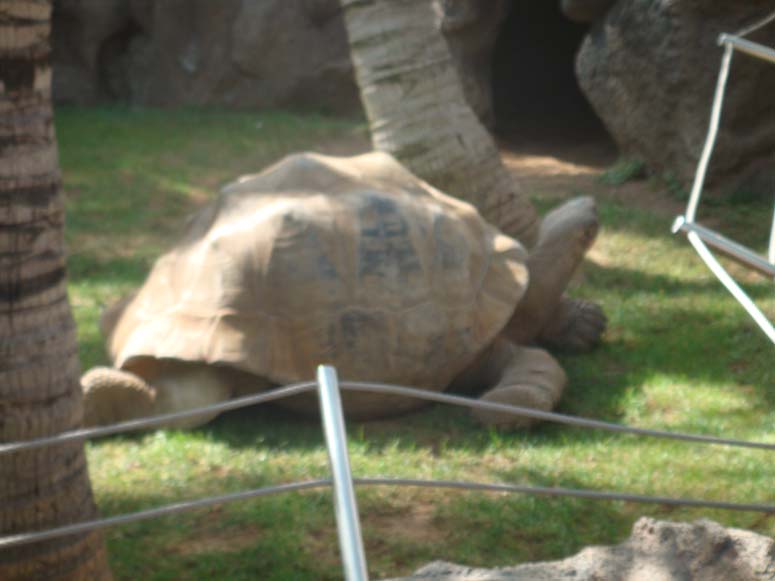 YES! This park gets points for having tortoises!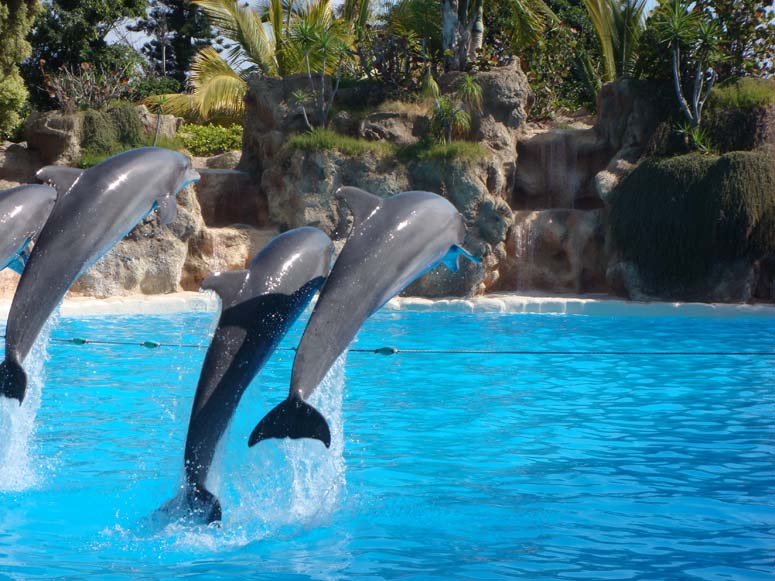 YAY!!! Jumping fish! (Yes, yes, dolphin enthusiasts I know they are mammals, just bear with me here...)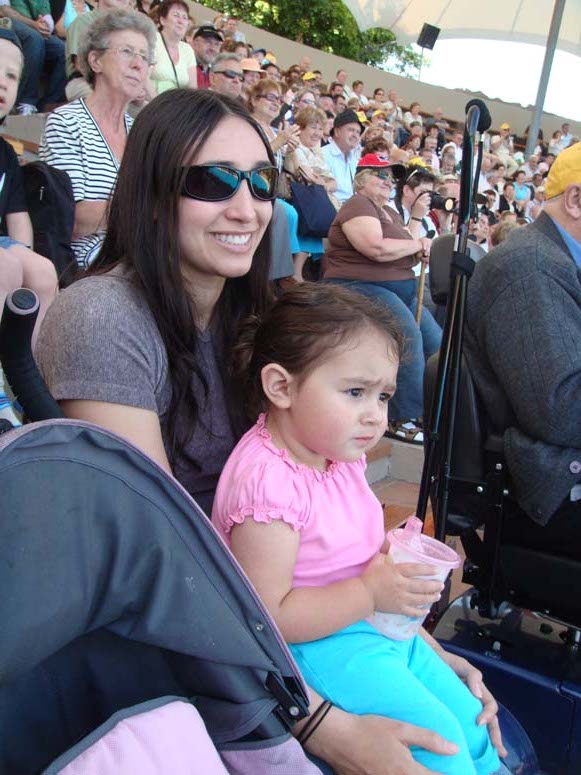 KidTums is mesermized by them! "Mommy, they aren't going to kill us like in the Simpsons, are they?"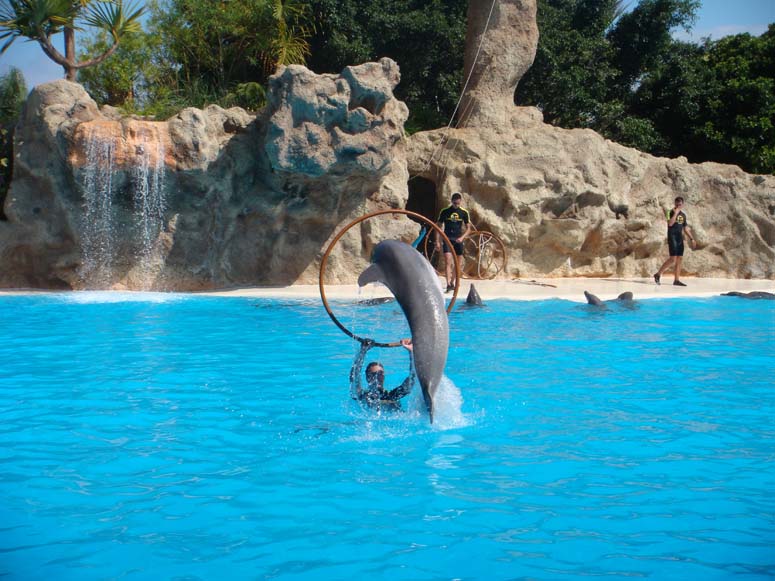 They jump through hoops.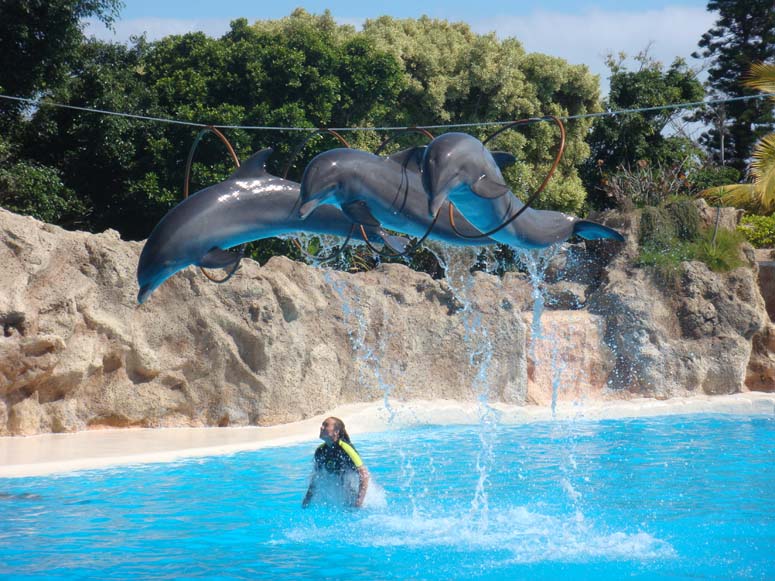 Wow, they jump through a LOT of hoops! It's kind of like being at work!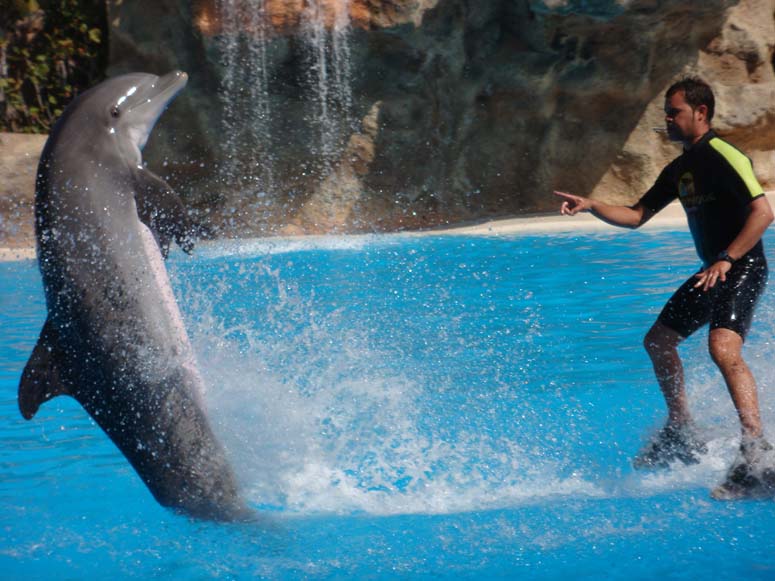 "Look, dude. You're a dolphin...not a human. Now get back in that water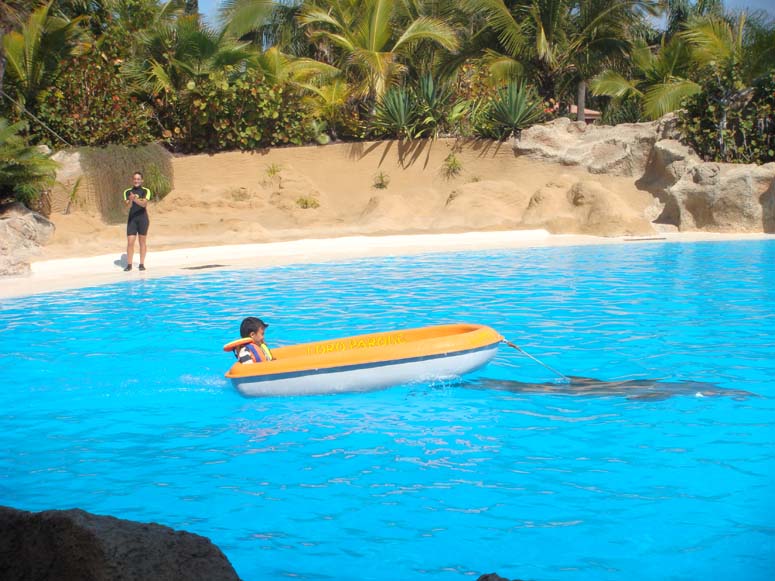 In the "Never in America" department, they took a kid out of the audience,put him in a boat, totally unsupervised and let a dolphin pull him and jump all around him!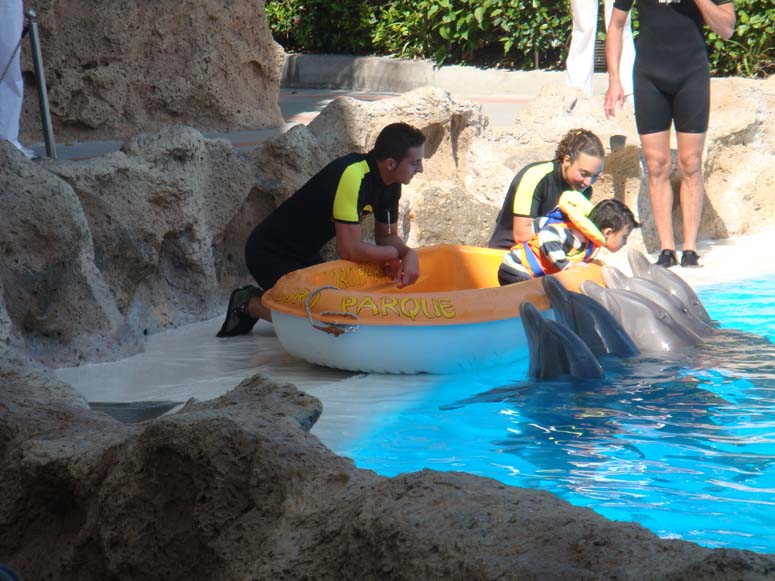 And then the kid was allowed to have all sex with the dolphins! Awesome!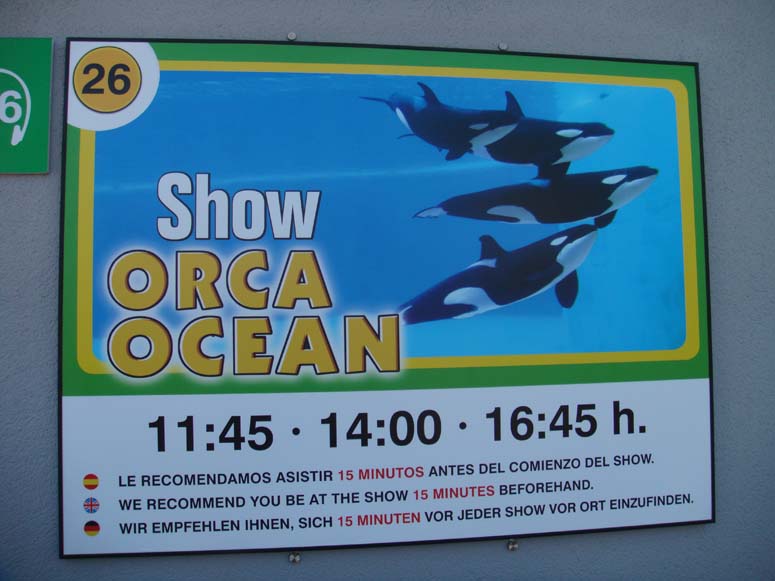 Yay! More giant fish that can eat you!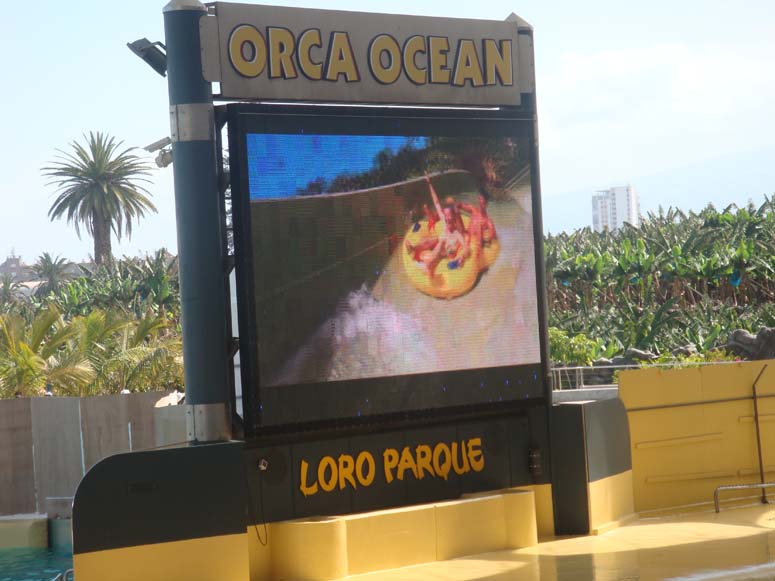 While we waited for the giant fish to jump around they taunted us with videos from the new water park.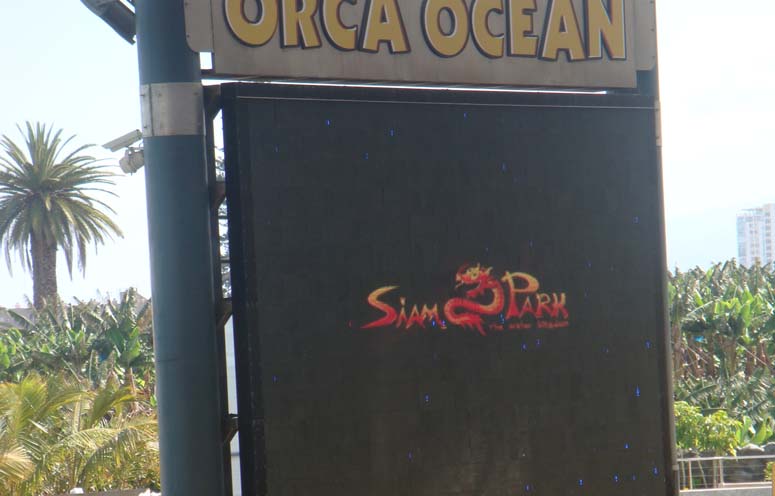 Next time we'll go there...had to get the credit first!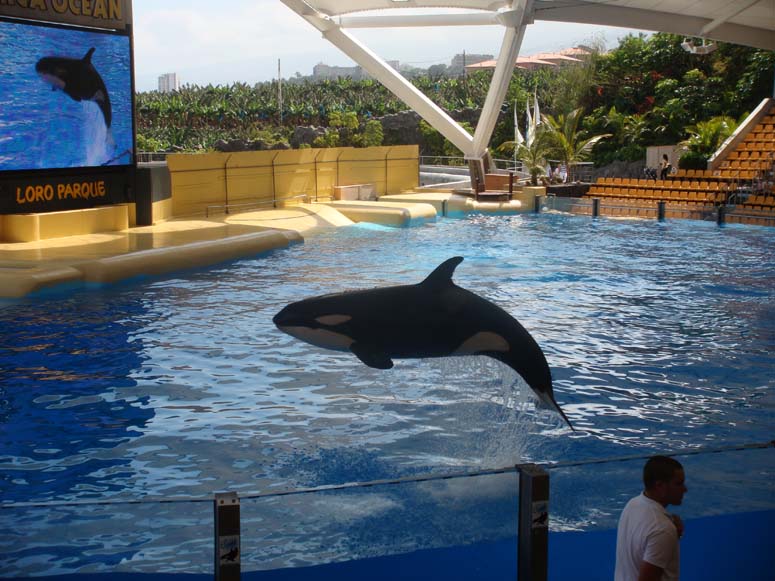 "Hi, I'm Mr. Whale. I was born in Orlando and now I'm here jumping in the water."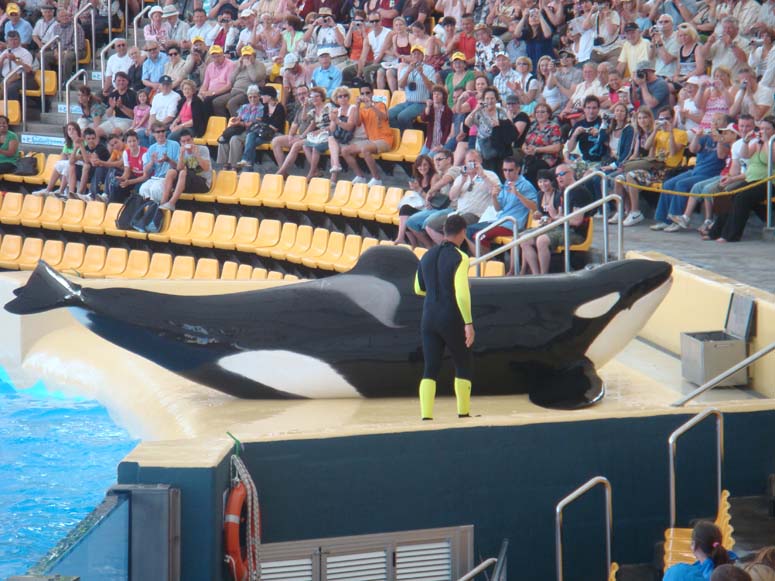 Killer Whale or Cruise Ship enthusiast...you decide!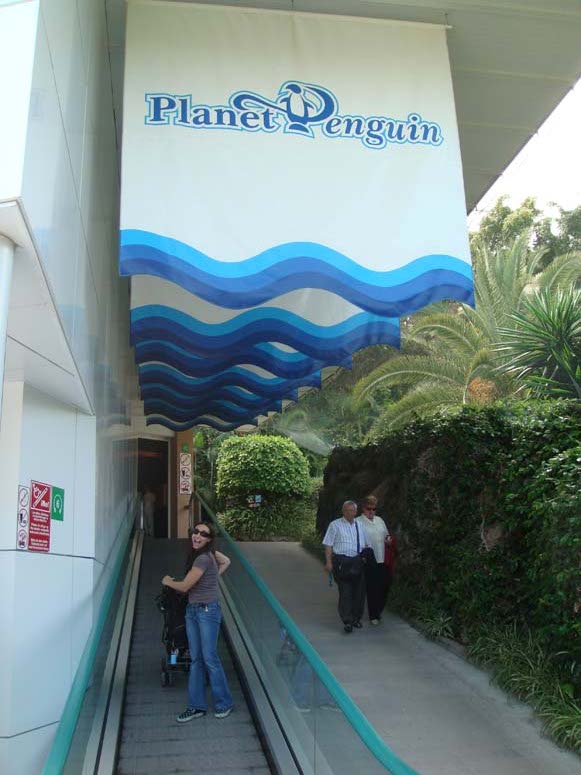 Yay! Planet Penguin!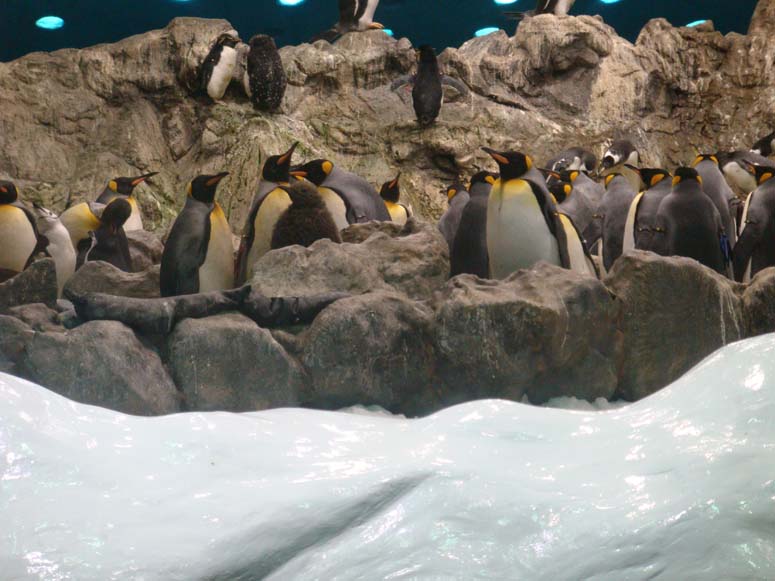 These guys are BAD ASS!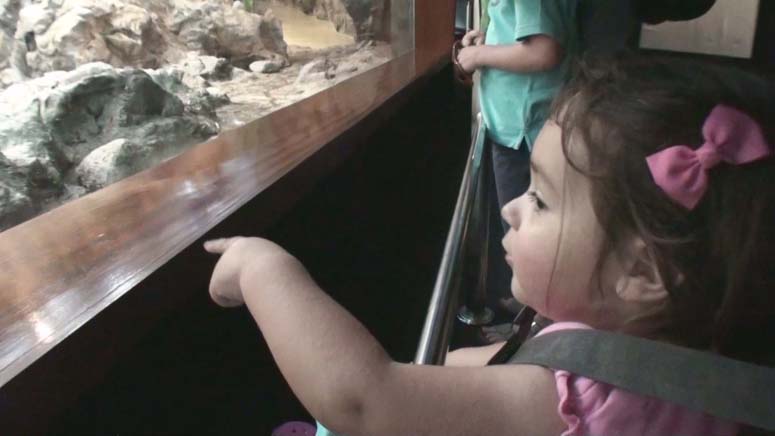 KidTums says "You guys are cool and all...."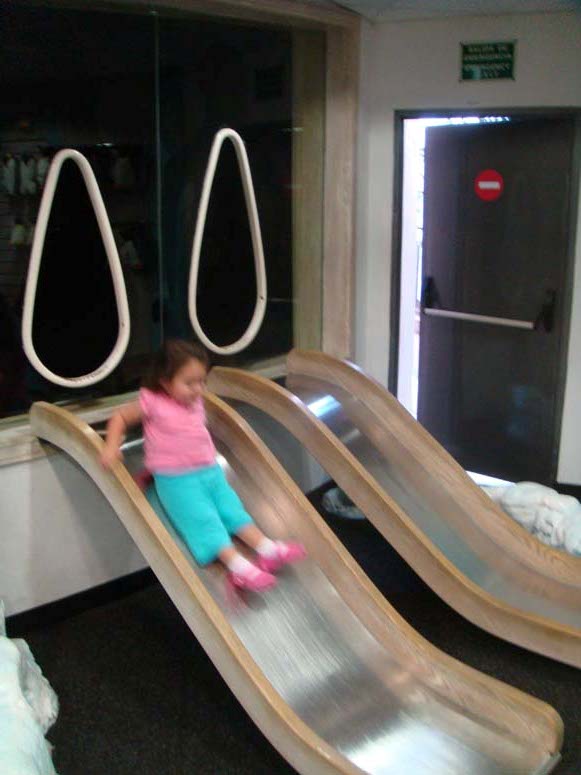 ...."but I'd rather be playing on the penguin slide!"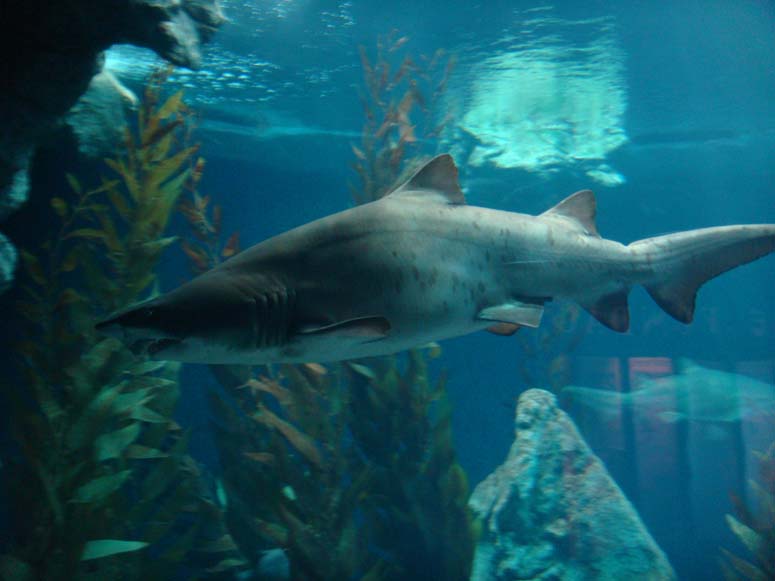 This is the ugliest fish I've ever seen!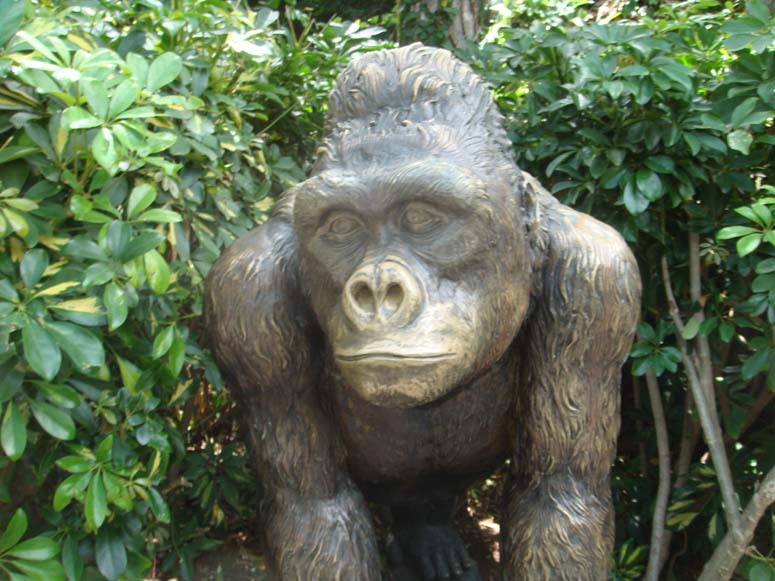 "I'm a sad monkey..."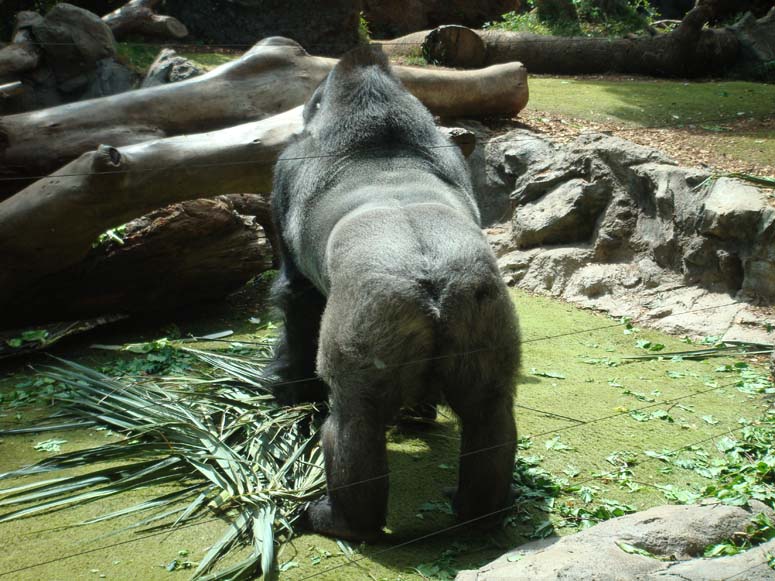 We will close out these park pictures with... "MONKEY BUTT!!!"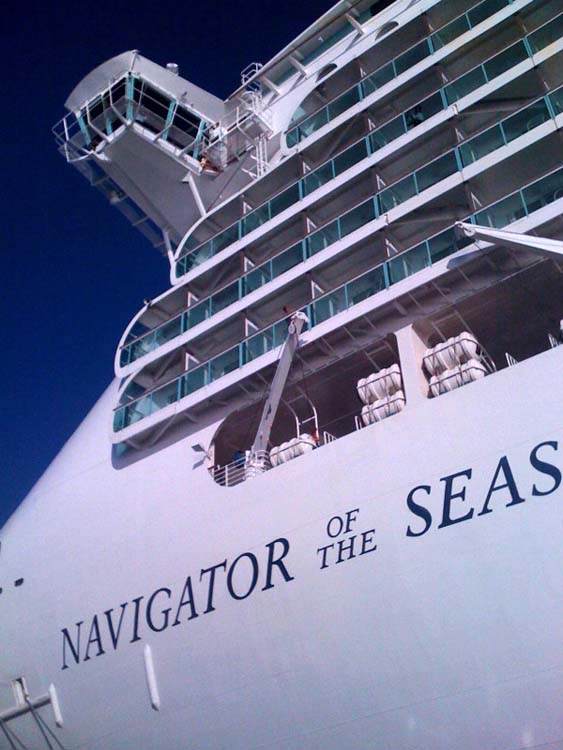 Yup, there is our ship.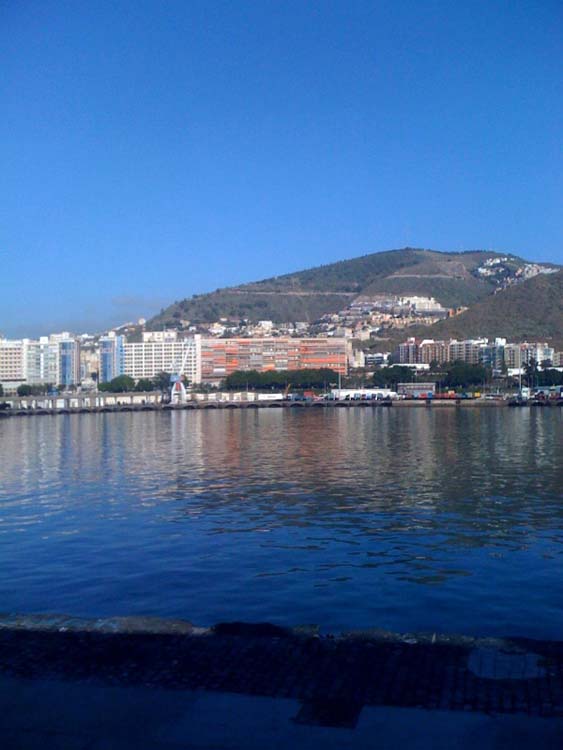 Time to say goodbye to the Canary Islands! Bye Bye Tenerife! Good luck with that active volcano and plane crashes!
Thanks for reading!
--Robb