Hey everybody!
Ok!—so lately I've been doing nothing but work, and with my nieces down, I figured I could use a good excuse to take a break and spend some family time. With a Universal Studios Hollywood Annual Pass about a month away from expiring (despite me only using it once), I decided I was due to finally take a visit and check out the Simpsons Ride. So on Wednesday myself, my sister, and my niece all departed from Santa Clarita to take a quick tour of Universal Studios Hollywood!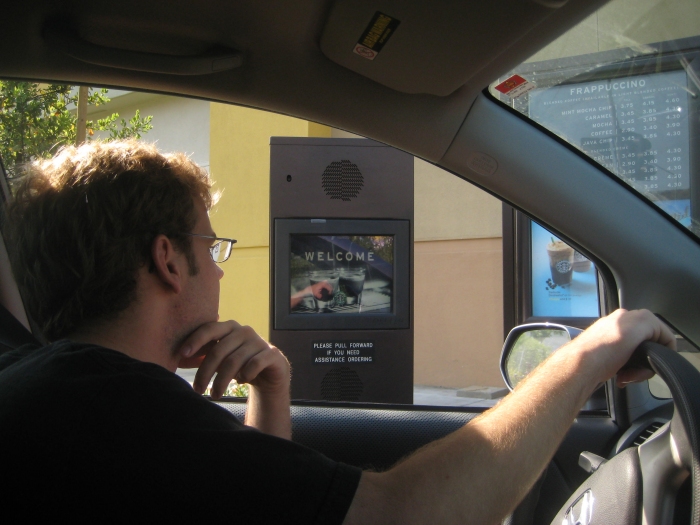 Our story today begins at Starbucks. I used to hate this stuff. I was all "blah, blah, blah, corporate America, blah, blah, blah", but one day Mike just got me hooked on the stuff!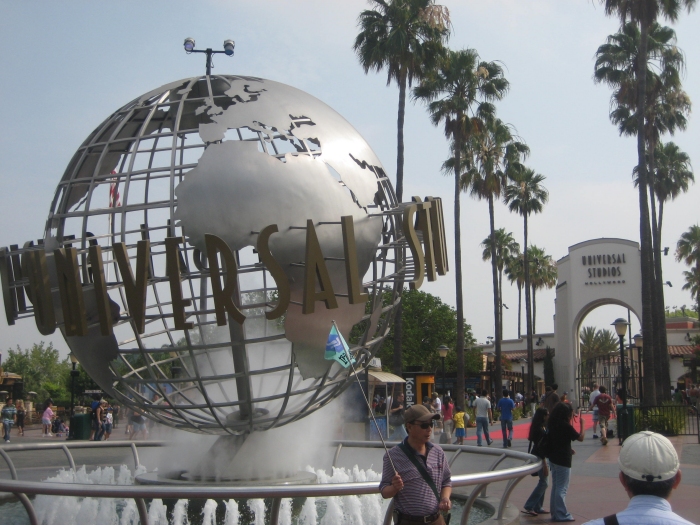 Yay! We're there!!
The drive wasn't bad at all, considering it's LA. Parking was $12 but we at least got a good spot. After a quick tour of City Walk, we purchased one adult ticket (got a free kids ticket with a coupon, because we're just that cool), and made our way into the park. Technically, I just got 3 people into a Universal park for a value of $70. Not bad, even for USH!
In the park only about 40 minutes after opening, we thought it would be wisest to hurry over to the "new" Simpsons ride to get that out of the way before the lines get any longer!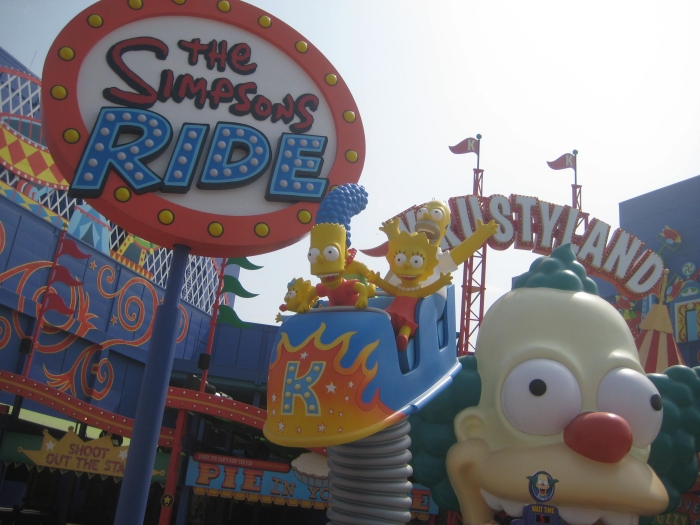 Though the building shape cant change for obvious reasons, they did a good job of changing the appearance from Back to the Future. It honestly brought life to the area.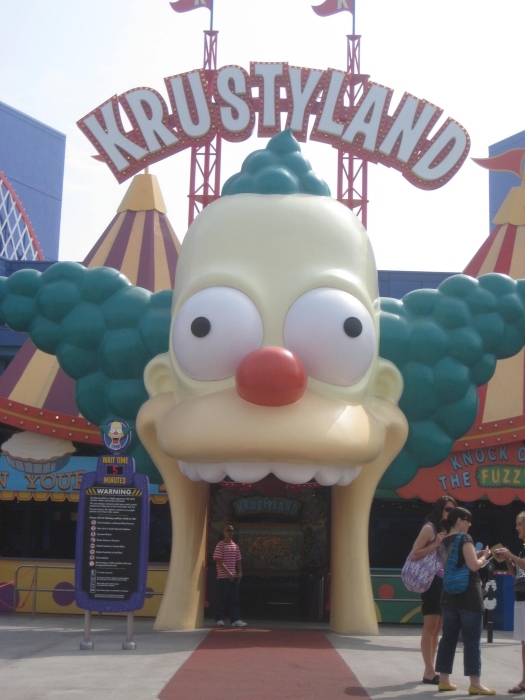 Just as planned, we arrived to an only 5 minute wait, despite the fact that they were only boarding about one-fourth of the ride's capacity.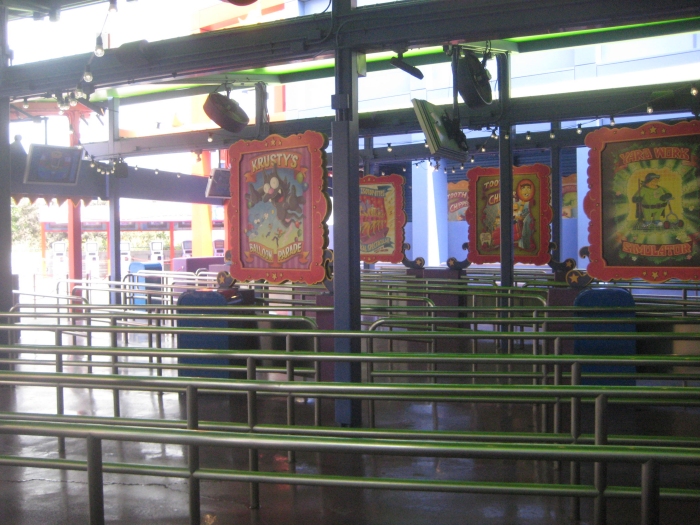 This would all fill up later in the day…why you should make sure to go to parks early!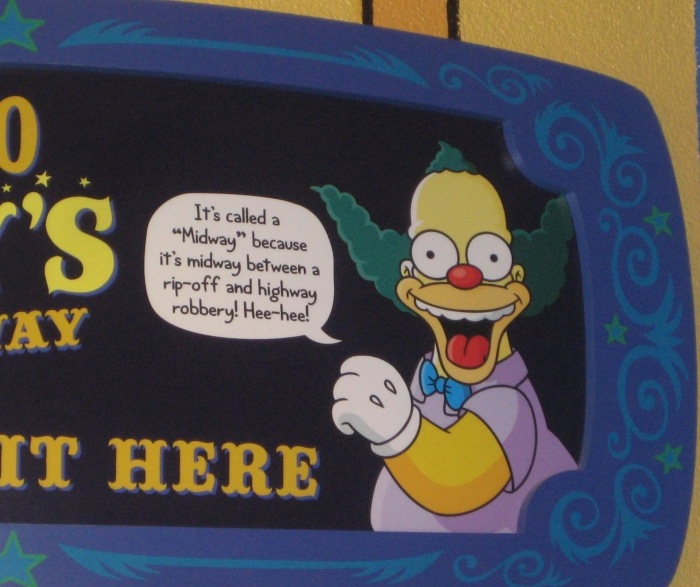 As a theme park guy, it was fun to get the Simpsons' parody of the theme park in "Krustyland".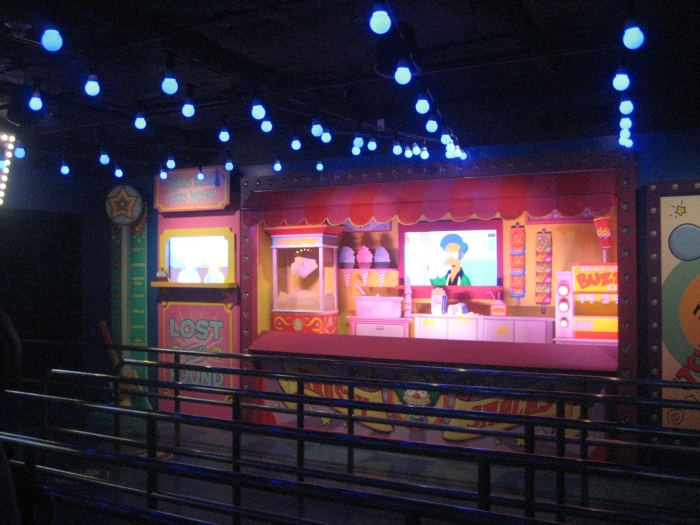 The preshow video was all pretty good. I like this grouping area, as it started to "surround" you with different jokes.
BTW…those blue lights are totally the ones used in the Anglerfish scene in the subs!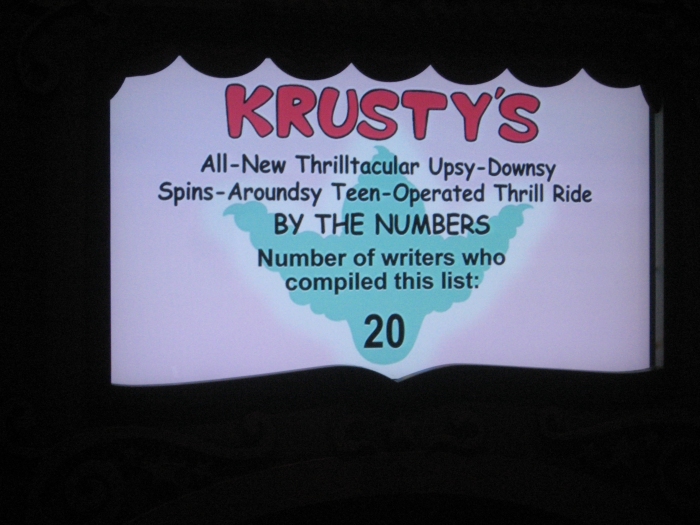 LOL. Totally appreciated reading the stats for this ride, again parodying any park these days.
The ride itself was actually very fun! I would even argue that it is better than Back to the Future! I agree with Robb that the 3D-ish animation was unnecessary and probably hurt the ride, but I did feel immersed in the Simpsons experience. Though we all felt jolts every now and then, it wasn't painful. We even had an elderly couple in our vehicle find the shakes to be just fine. The "sequence of events" within the story weren't always linear or relevant, but at the same time—it's a cartoon!
That being said, it was just a simulator. So I'd give the ride a 30 minute wait, tops. It was fun, there's no arguing that. It just didn't do much for me as a ride.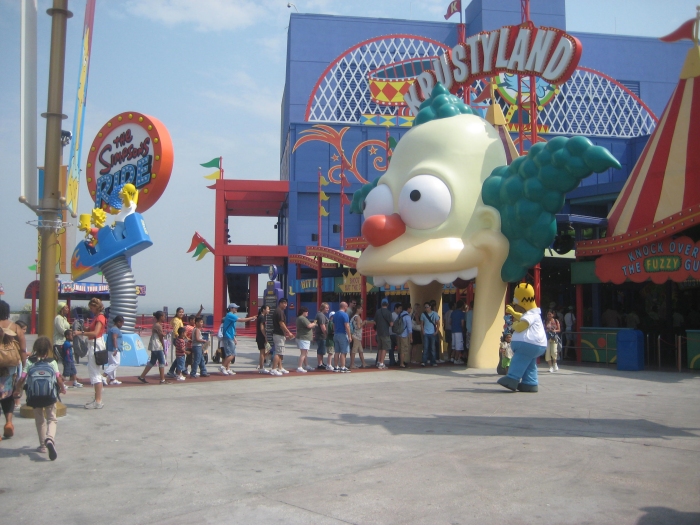 Why you go to the "new attraction" first!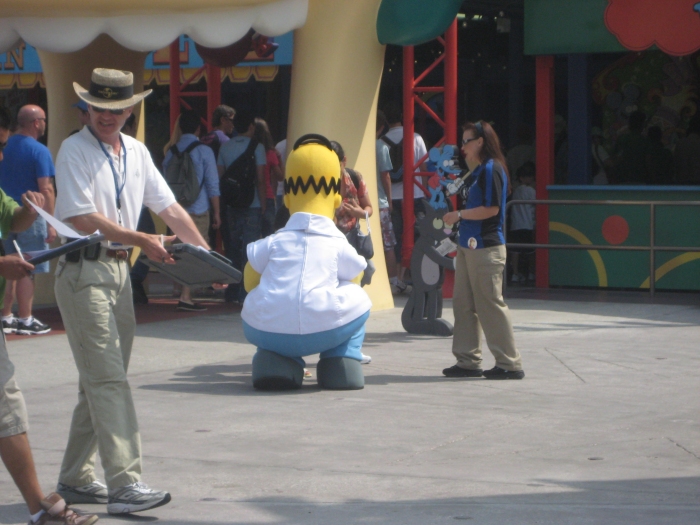 Homer totally ran over a little girl trying to hug him! This is him trying to apologize as his handler contacts the Universal legal team.
After the Simpsons ride, we went into the Kwik-E-Mart hoping to get a Squishee, or Icee, or something, but was shocked to find that the Squishee machine was a fake!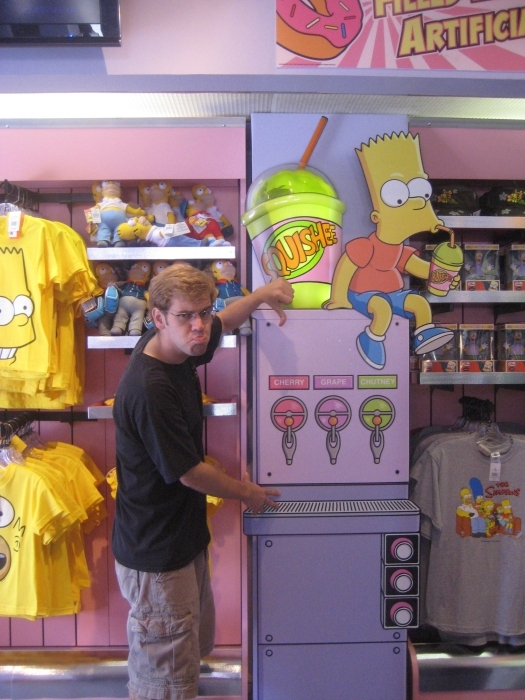 Laaaaaaaaaaaame!
And now, for the most badass photo you have ever seen. We're talking proof that I'm a real G. The backside of the Kwik-E-Mart reminded me of the type of hood that I grew up in. Brought me back to my roots. And thus…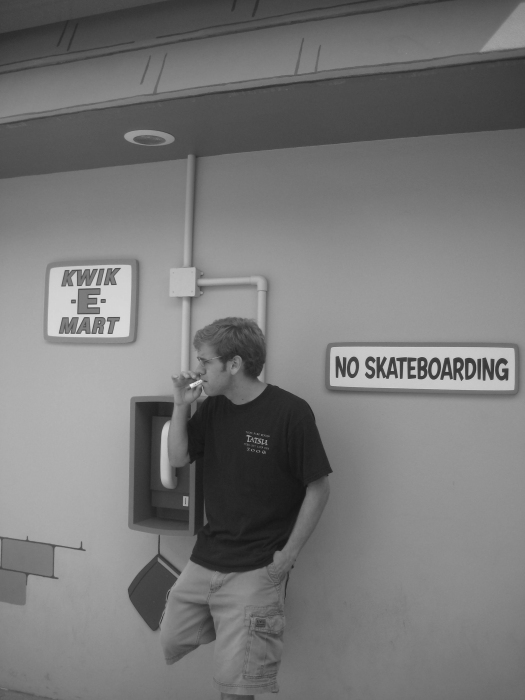 Yes, that is a TPR chapstick in my mouth.
Man I'm cool.
After the Simpsons ride, we had two options—Hit up the Tram Tour, which had no wait, or hurry down to the Lower Lot for the attractions down there, before the lines fill up. I decided to go to the Lower Lot, my logic being I wouldn't mind waiting 10-15 minutes for the tram as it's a 45 minute ride! I'd hate to have to wait more than 10 minutes for anything in the Lower Lot!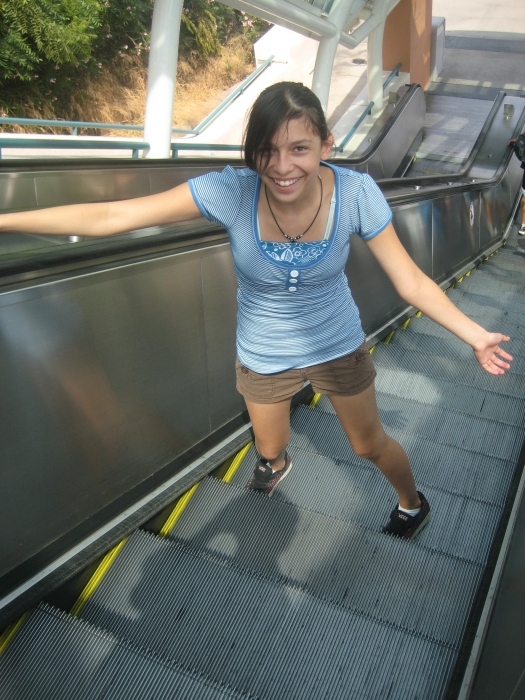 Alexa totally giving me a "God damn, I'm tired of my uncle taking a bunch of stupid photos!" look as we ride down to the Lower Lot!
For those who don't know, Universal Studios Hollywood is built on the side of a mountain (almost a cliff!). It has two halves to the park (one on the top, one at the bottom) with a giant span of escalators combining the two halves. That's what I mean by the "Lower Lot". Noted?
When we arrived at the bottom, we decided to ride Mummy: The Ride first, again my logic being it's the ride I'd least like to wait for!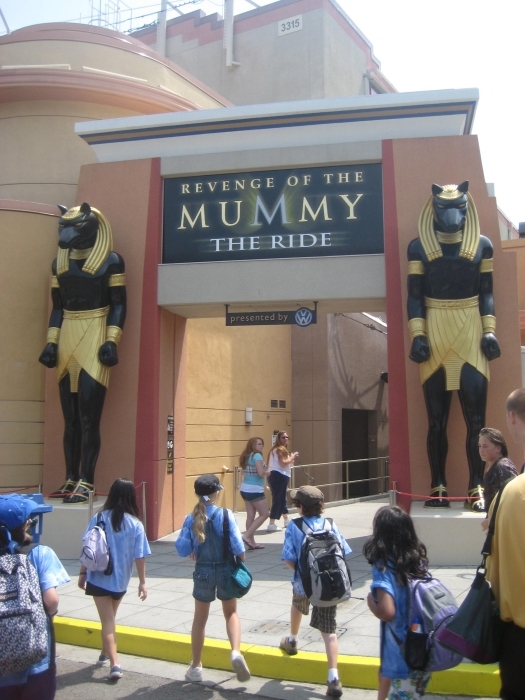 I guess we might as well give it a pity ride!
Revenge of the Mummy: The Ride is a state of the art attraction, featuring dark ride elements, roller coaster elements (both forwards and backwards track sections), a launch, switch tracks, animatronics, projections, fog, seamless lighting effects, and even a water element!
Too bad it sucks.
The ride just does not do much for me. The queue sets up a story, quite well. When you get to the loading dock, you are efficiently loaded into a single-car unit that dispatches into a series of dark-ride show scenes, continuing that story.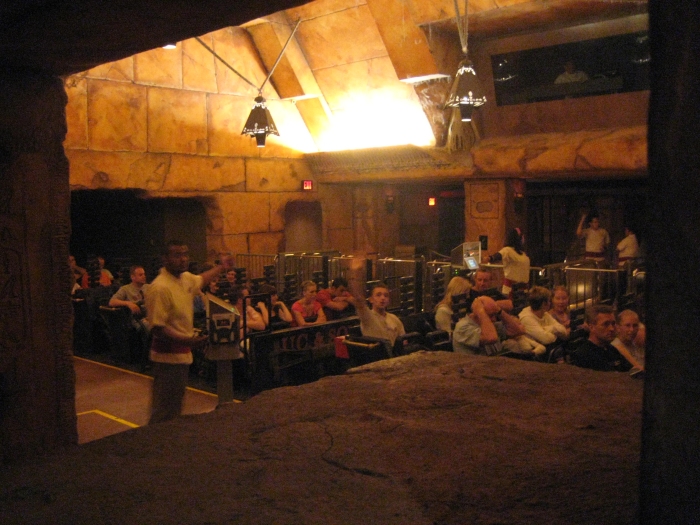 The load area, complete with a couple people wondering why I'm taking their picture!
But once you launch and enter the "ride" portion of the showbuilding, you simply meander around a series of turns, occasionally bobbing your banking, staring at the occasional "cardboard cutout" of a mummy warrior blacklit. You then come to a stop in a scarab beetle room with a pesky water-squirt effect, before taking off
backwards
through a series of even more shallow turns.
Don't get me wrong, it's "cute"! My niece even shrieked on occasion. But for me, it really is just an indoor kiddy coaster with "scary" effects.
Oh, the worst is the new ending! It
still
gets to me—what used to be a logical conclusion and finale to the story the ENTIRE queue and ride has set up, has been reduced to a dark room, with fog being blow in your face, an occasional strobe, and a bright, blinding light.
Even my sister and niece thought it was dumb, without me saying so.
Now for the other major ride in the Lower Lot…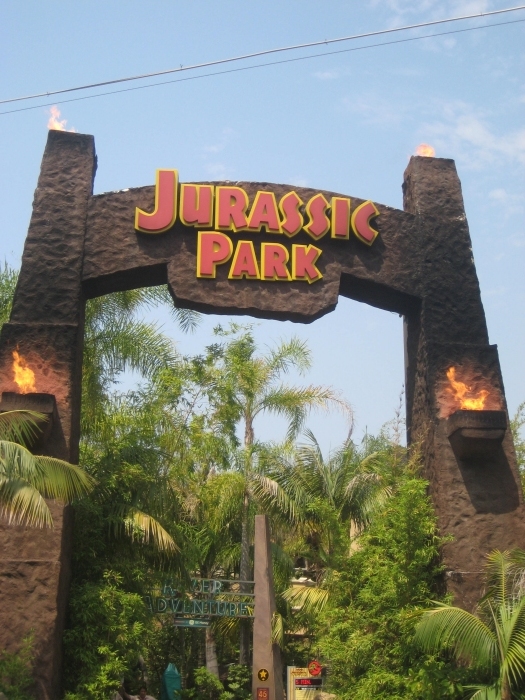 Yay! I like this one!
Jurassic Park: River Adventure was also doing its second summer of it's "Wetter than Ever" campaign, which features several different effects designed to get the passengers soaked. I experienced this last summer when Lou was out, and let's just say it really IS like, the wettest ride experience ever! They have random water jets, water drips, and my favorite, water cannons, added to the ride for no reason other than to wet the riders! Here, let me explain…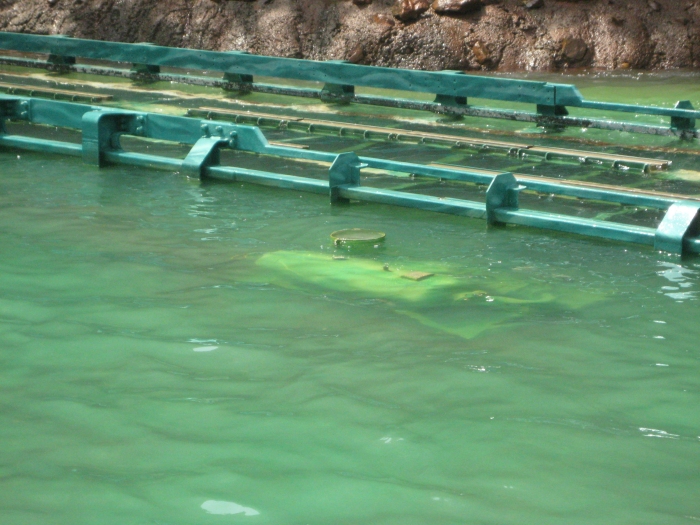 They have about four of these giant water cannons distributed among the drop runout. They actually launch before the raft even splashes down.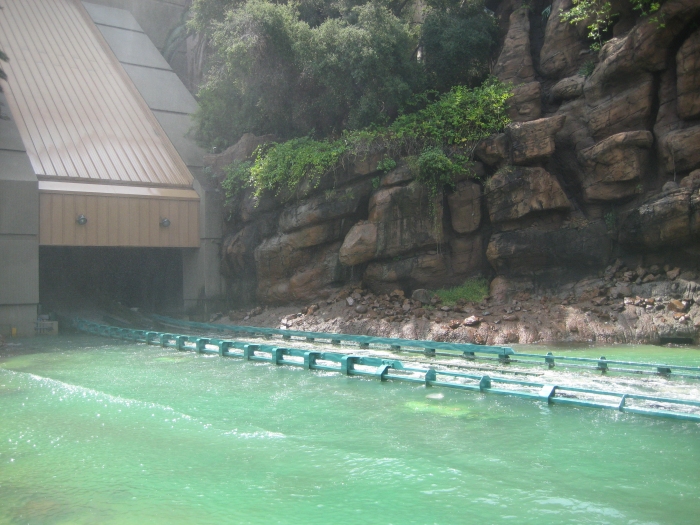 They turn this…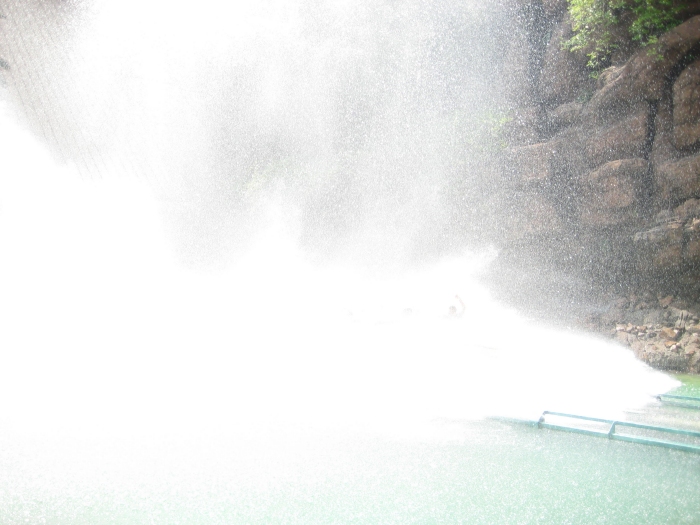 …Into this!
It really is crazy. The purpose of launching the cannons before the raft lands is so that when you do splash down, you get battered with water raining down on you!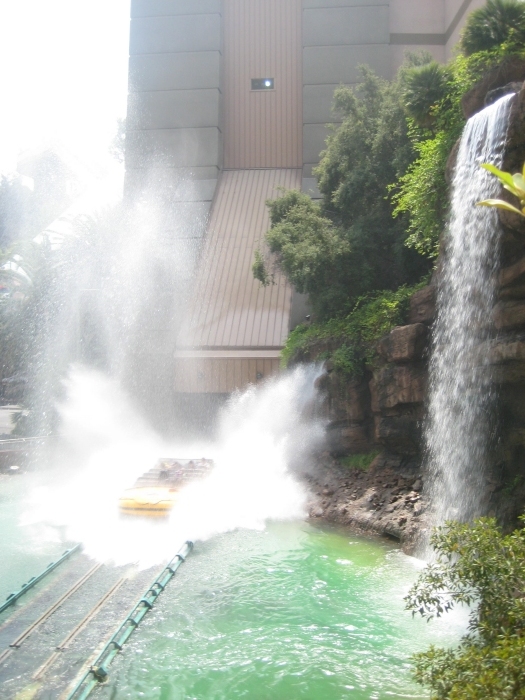 Another shot, where you can see the water raining down onto the boat!
Due to those kinds of levels-of-wetness, it was decided unanimously to get ponchos!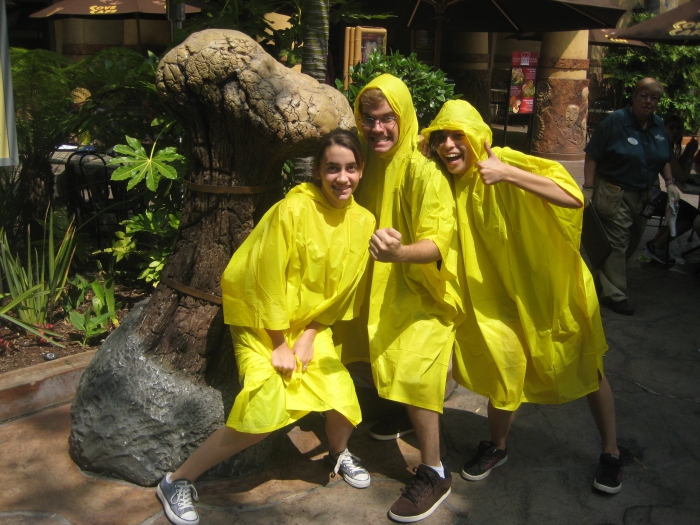 We're the cool team!
Again, the ride was a walk on.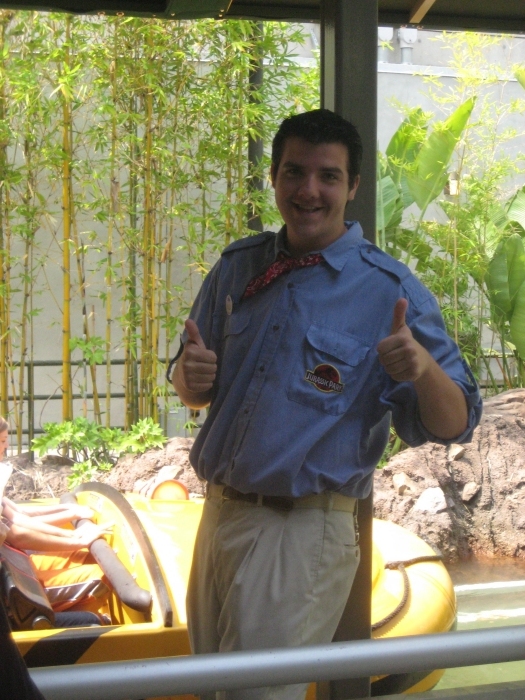 Look who we found!!!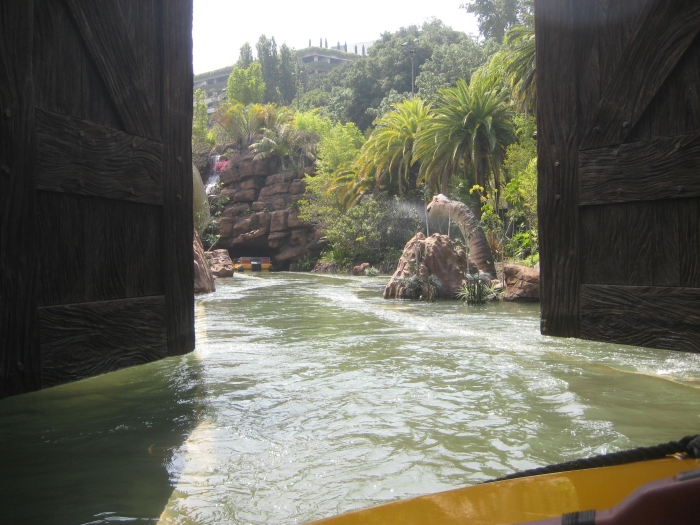 Cue the John Williams!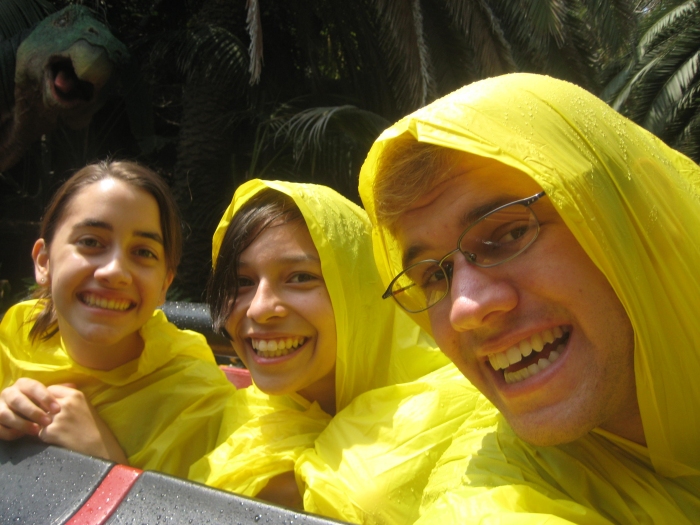 Pointy-lips McGee back there is trying to bite Javaneh's head off!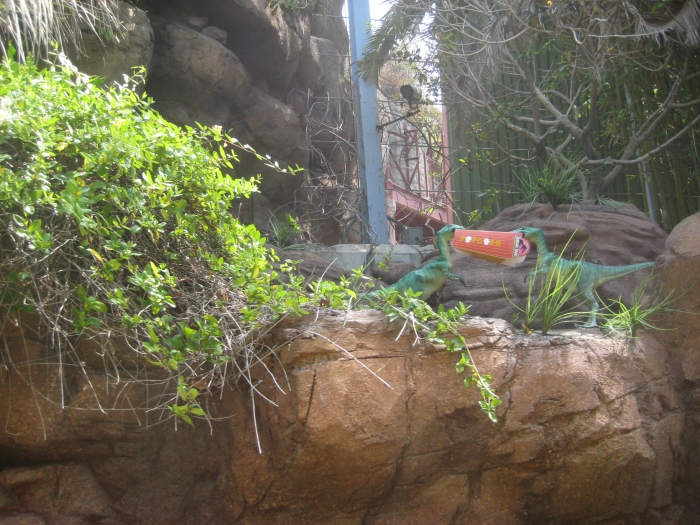 "Will it be two immortals locked in an epic battle until Judgement Day and trumpets sound?"
I'm helpless!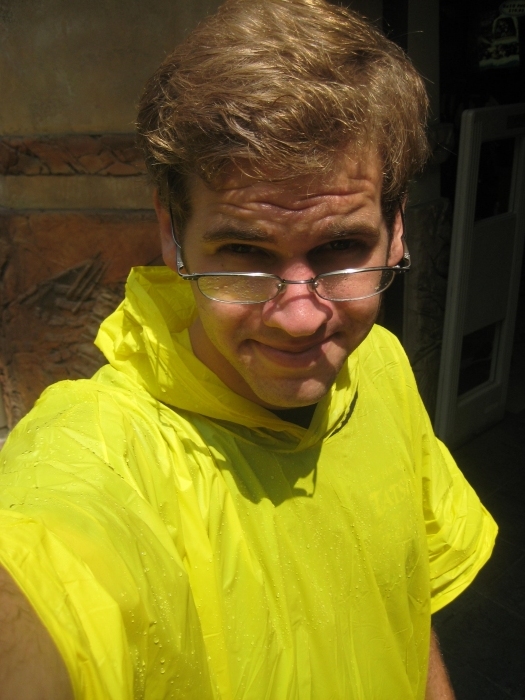 The problem with ponchos, is they make your face disproportionately wet, compared to the rest of your body!
…now I'm just complaining to complain!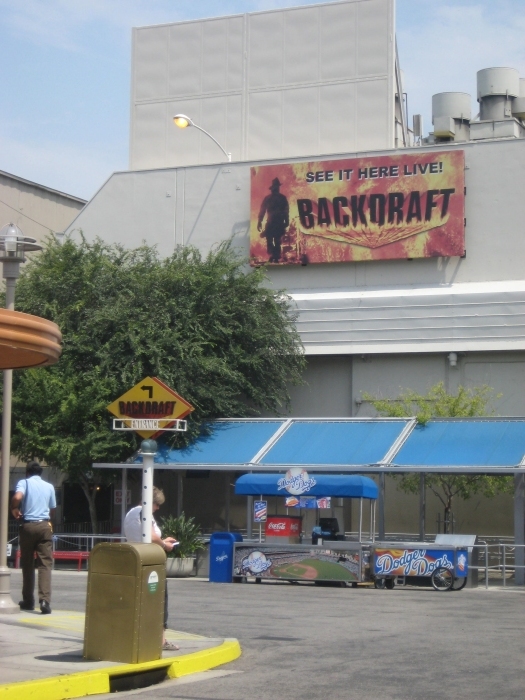 Might as well finish off the Lower Lot before heading back up!
Backdraft is just one of the SFX stages where they blow something up in front of your face and call it a day.
"Hi, I'm Ron Howard…when you see a firetruck, get out of the way. It's not going to the movies!"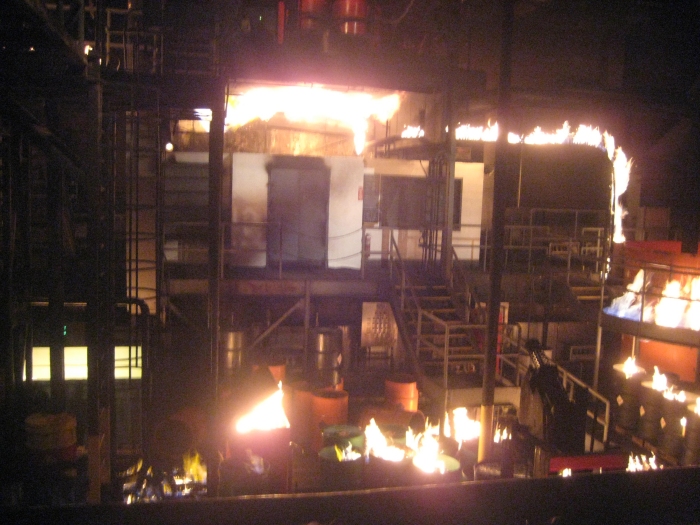 Fire.
With that, we were done with the Lower Lot. It was time to head back up and check out the Tram Tour.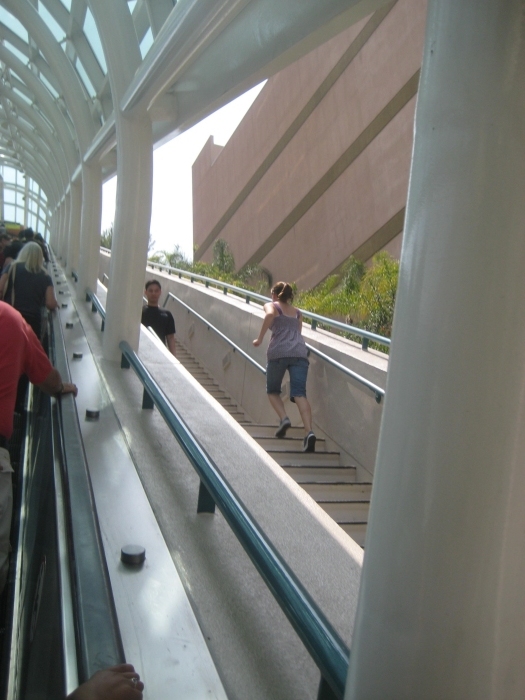 I dared Javaneh to run the stairs.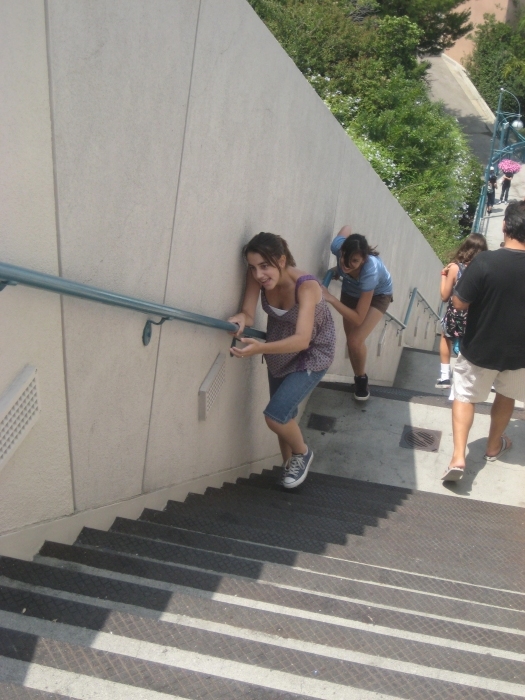 …bad choice!
The Universal Studios Backlot tour is actually the staple of the Hollywood park. In fact, it could be argued it's the staple of the Universal parks chain, as it is what started them all. The Universal Backlot is the largest and one of the most-used film production backlots around, so it's unique to the park to get to tour a production studio that is real and predates the park (rather than simply built as a park attraction!)
That all being said, I'm sure a lot of you heard that the backlot recently suffered a major fire, burning a bit over 2 acres of some of the most famous building facades in the "New York Street" lot areas. The wreckage was clearly visible from the attraction entrance and was acknowledged at the beginning of the ride (no way to hide it, so they might as well!)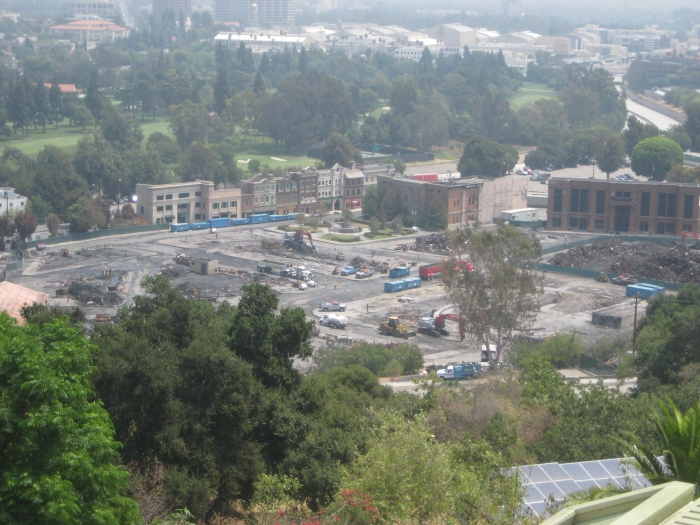 The damage, as seen from the entrance. Note, the concrete "U" shape to the right of the tractor is where Kong used to be.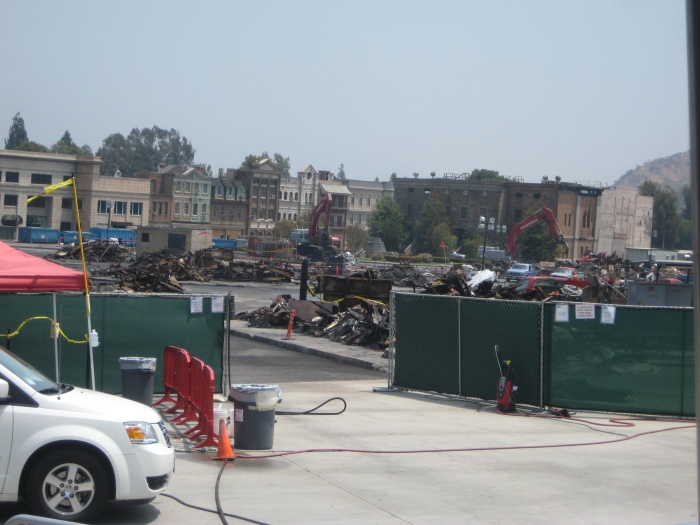 By nature of geography, the wreckage was one of the first stops on the tour. They even stopped, so as we could take photos. Note, also, that the famous "Back To The Future" courthouse was touched a bit, but did not come down.
As everybody was looking left to take photos of the fire damage, I happened to glance right and take a photo of the retired collapsing bridge. I found it interesting that the lake was drained, there were trucks around it, and people working on it. I just figured they were prepping it for a scene or something, as they have used it in the past for film. Little did I know, as I would find out today, that they were actually working on it to re-add it to the tour!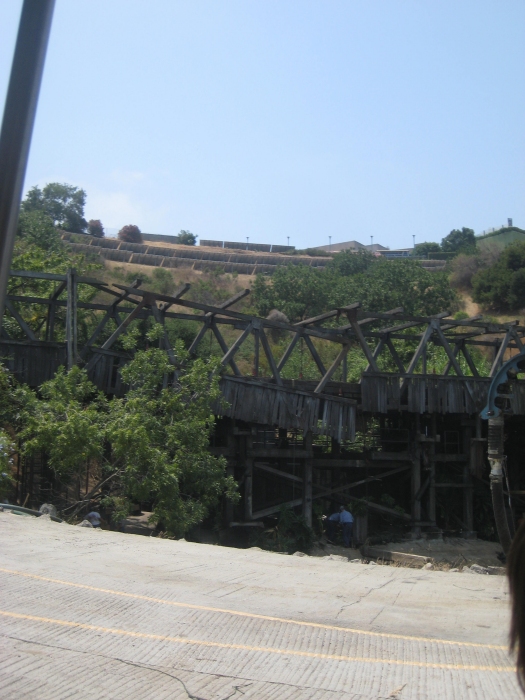 A look at the bridge and the new GE Solar Panels above it. If you look below the bridge, you can see some workers doing work to bring it back.
After that, we entered the "cars" portion of the tour.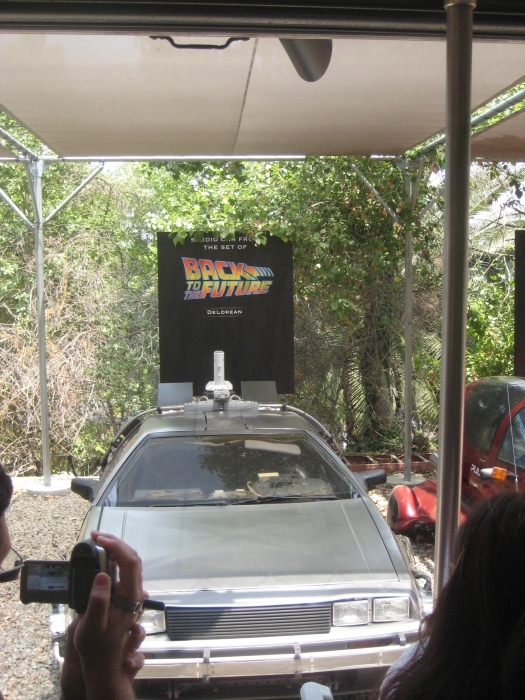 Hi Ryan.
After that was the stupid "Fast and the Furious: Toyko Drift" scene.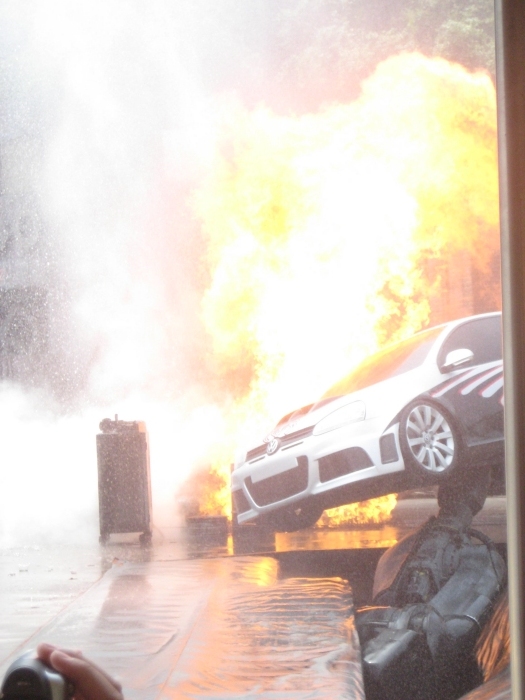 Which begins promising!... (this photo makes it look too cool)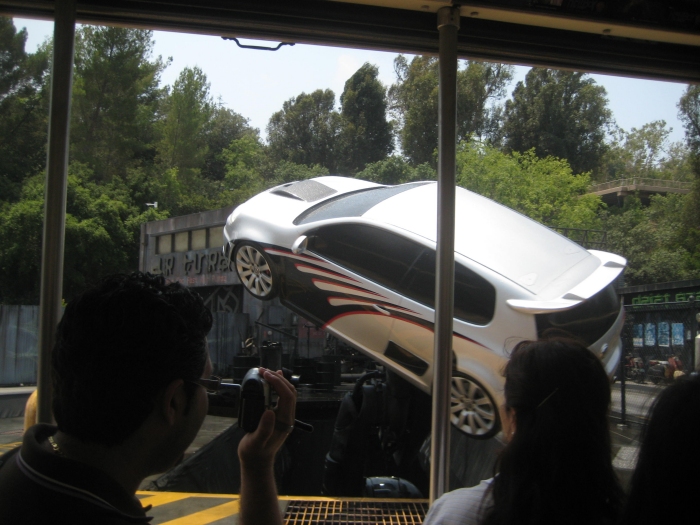 …But immediately gets stupid when "car on a stick" decides to dance.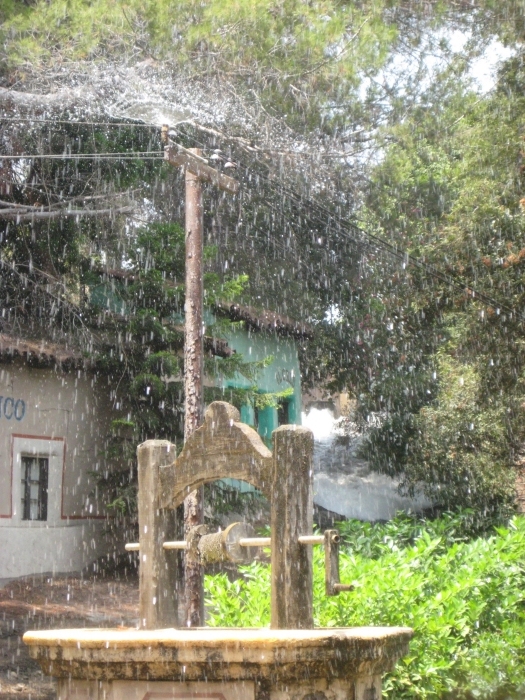 "We then recycle all of the water by pumping it into the park's drinking fountains.

Just kidding…we send it to Disney.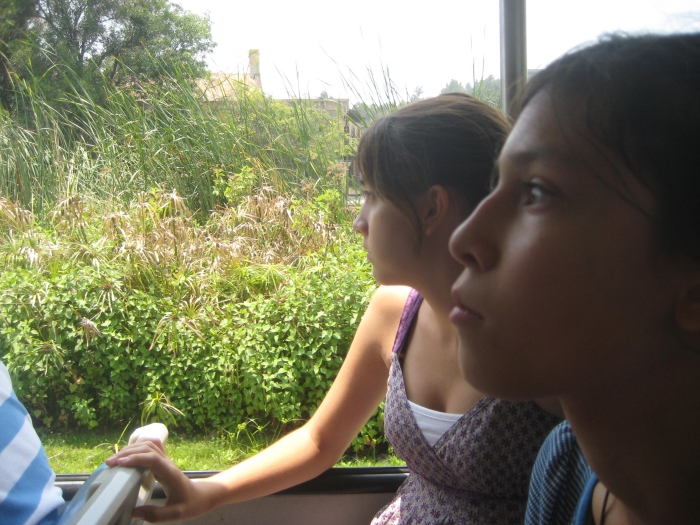 …Yeah, not much going on over here...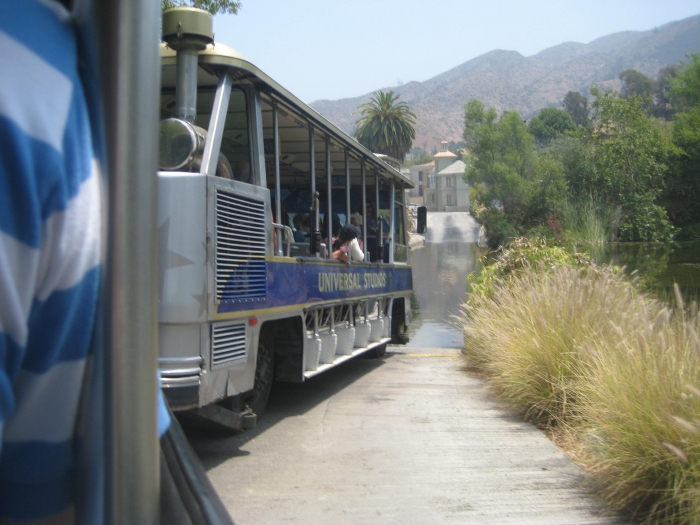 I wonder what is going to happen?
That same effect has been redressed, like, 5 times over the years! It was currently, "Check out how Peter Jackson used miniatures in King Kong".
Yeah, not terribly impressed with the Earthquake experience.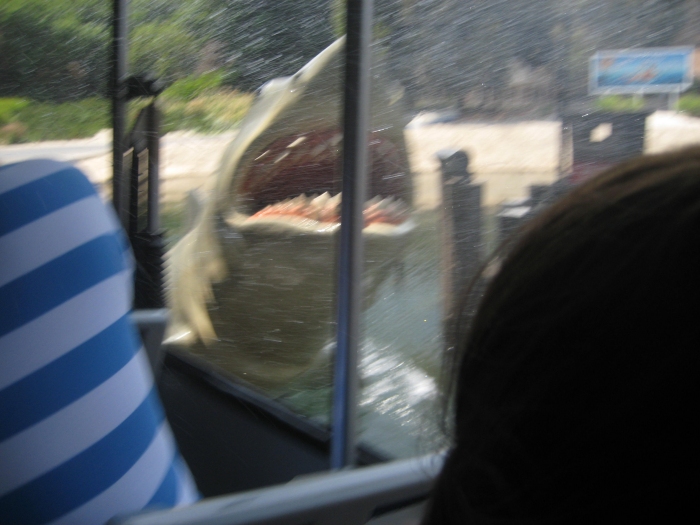 Old and stupid.
Oh yeah! They now also have a Norman Bates character, making a little "scene" out of the Bates Motel and Psycho house, whereas before it was just "Hey look—the Bates Motel and Psycho house." I haven't decided if I like it or not yet!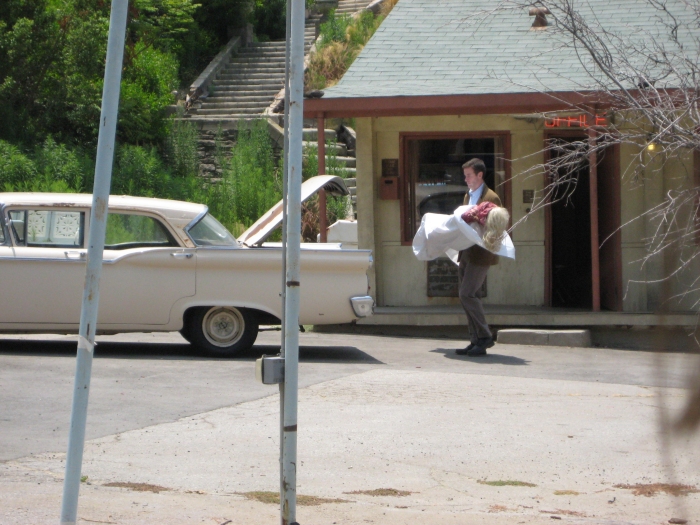 The tram stops and you see Bates go into Room 1, extract a body, and stuff it into the back of the car….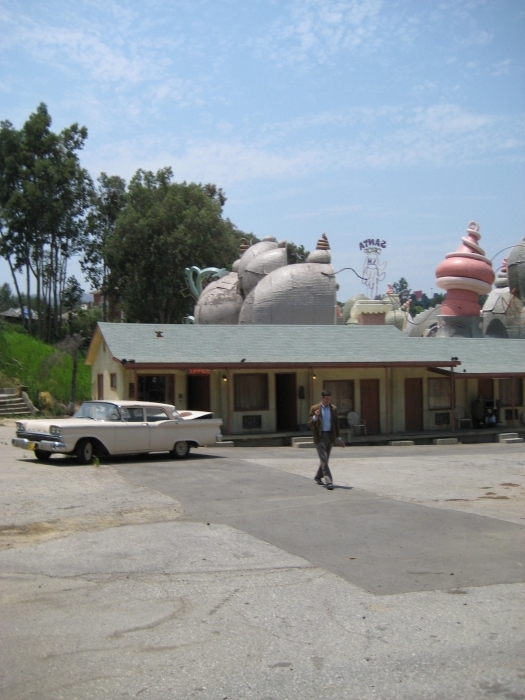 …He then recognizes the tram and slowly begins proceeding towards it with his knife, sporting an evil little grin.
In the end, the Tram Tour is still one of the neater attractions at USH, despite the fact that it's a bit dated. But efforts to update it, like the Bates thing, are neat. Still feel like it has too much Whoopie Goldberg, however.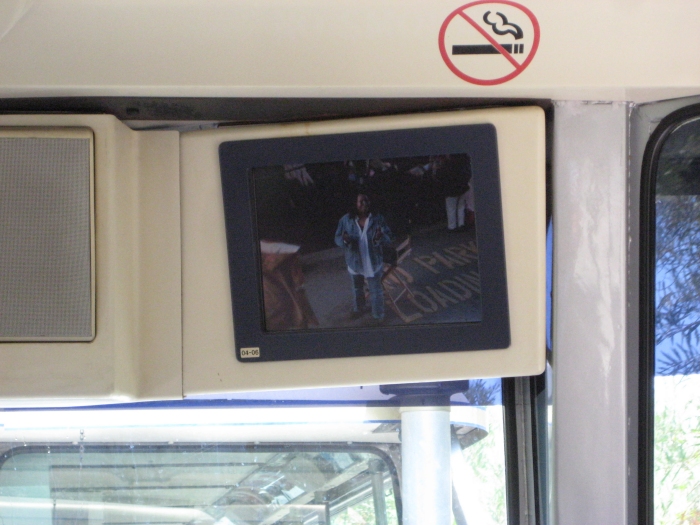 …whoopee.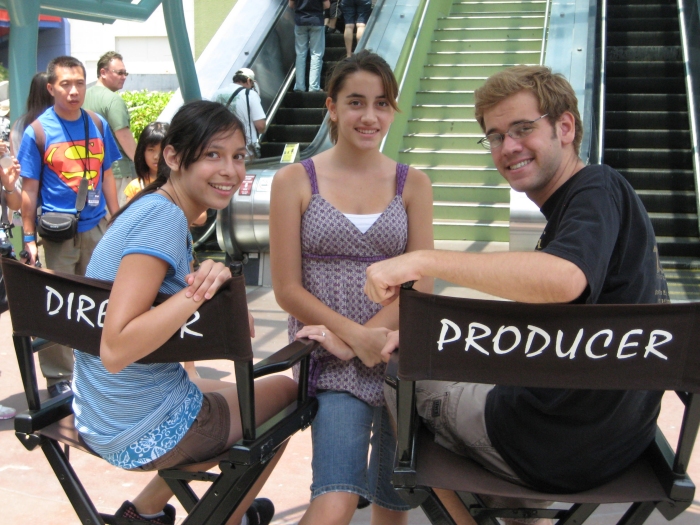 We aren't the most lively bunch, but we're doing better than the Asian zombie, in the background!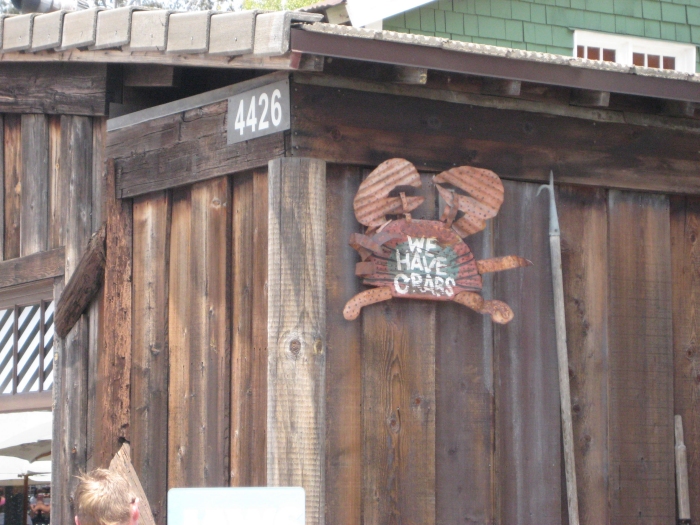 Lol.
At this point in the day, it was about 1:30 and we were all getting pretty hungry. We decided to eat at the El Pollo Loco with the patio that tried to simulate rain.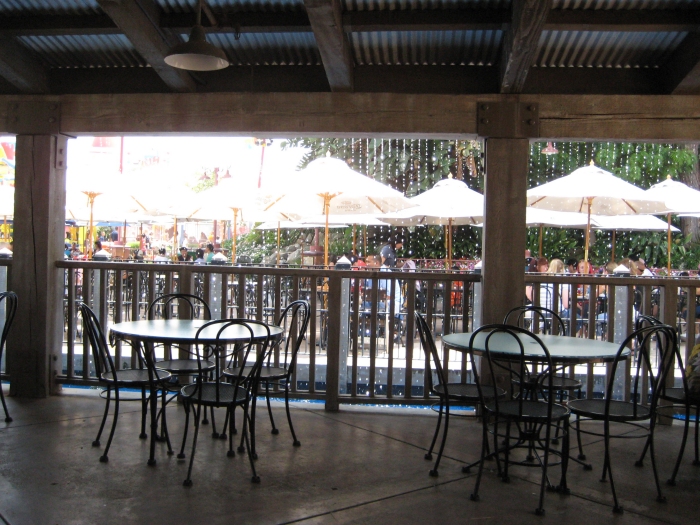 I cant say that the rain effect worked, but the noise made a nice atmosphere.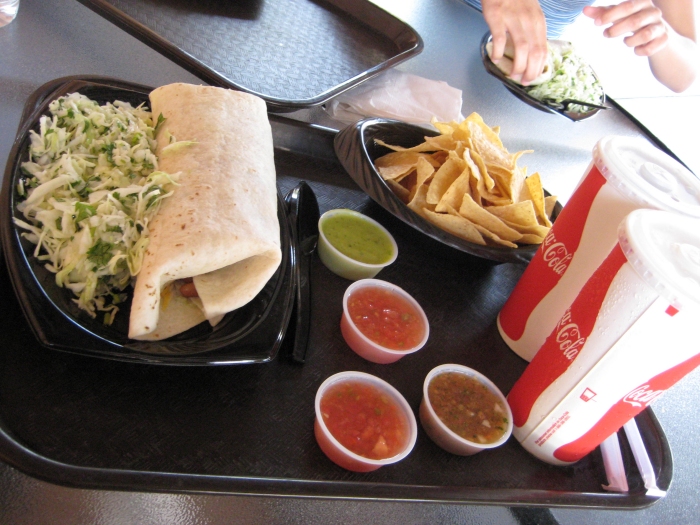 Pretty decent lunch. The green was my favorite of the salsas, BTW. In case you were wondering!
After lunch, we all had only one thing we all cared to do, and that was Shrek-4D. Shrek-4D is actually one of the nicer 4D shows out there, in my personal opinion! Really! I find it to be funny, the effects are cool, the seat movements (the seats move a bit) accentuate the film, and the pre-show is great!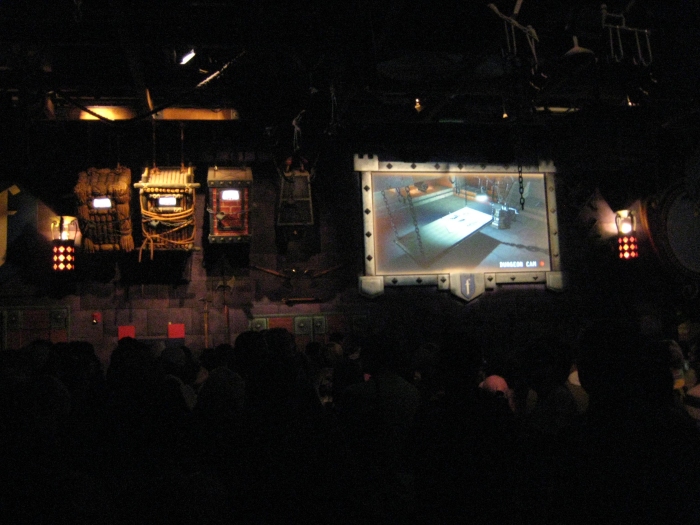 The pre-show is honestly my favorite part! I could watch it, and walk out satisfied.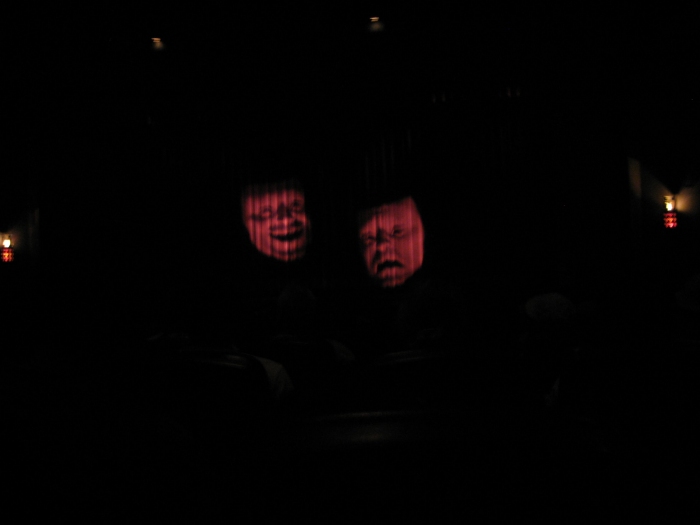 I feel like I needed another Shrek 4D picture, so here it is!
After the show, we walked over to the wait-time board to see if there was anything else we wanted to do…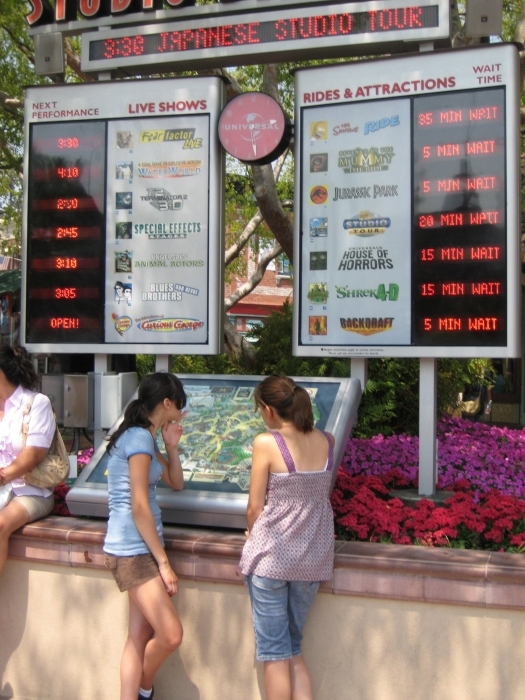 …nope!
That's right, at 2:25 we were done with the park!
Now don't get me wrong, there was actually a whole selection of shows that the park offers, that we didn't watch. Didn't really care to see any of them today, though I have before and do like them. But as far as attractions go, we were done. That's not to say we didn't have fun! We did! In fact leaving early was our way of finishing on a good note, rather than blowing a good day on forcing ourselves to be happy.
That being said, I do believe the park really does need more. I find that Universal knows how to make "major attractions", but the park doesn't add any substance between those. Flats, kiddy rides, perhaps some dark rides—that's what the park is missing.
Anyway, that should do it for today!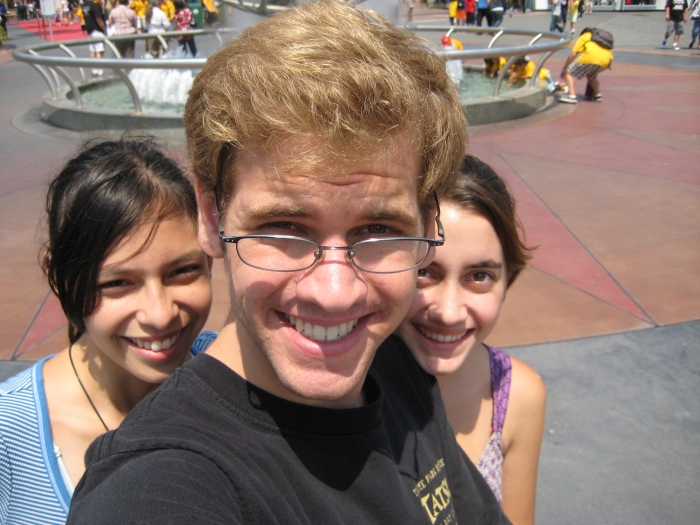 Thank you all for reading!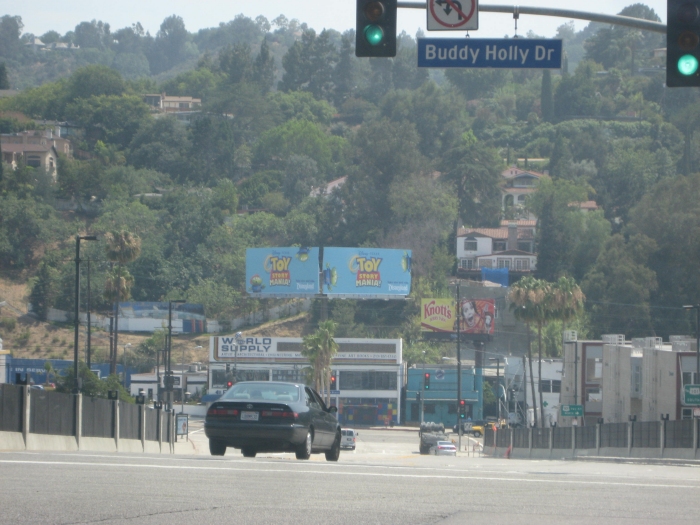 Maybe next week…
Until then, thanks again guys! Hope you enjoyed it!
-Jahan