Update!
Mini-Update from West Coast Bash by Robb
Neal Thurman, Director of Operations - SFMM's Comments
Official TPR *HUGE* Photo Update Posted!
----------------------------------------------------------
Hey everyone!
Here are the official details for West Coast Bash 2008! First off, to get everyone started, download the event flyer here: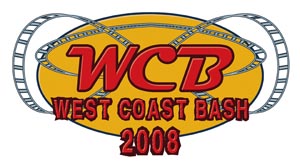 Download West Coast Bash 2008 Event Flyer
The 2008 West Coast Bash has been expanded from previous years! This year, in addition to the traditional FREE morning ERT, we are offering a FULL DAY option for only $20. (not including your park admission) The $20 full day event includes:
- Morning ERT on Tatsu, Viper, Revolution, and possibly more! – 8:30am to 10:00am
- Night ERT on Tatsu, Goliath, Scream, Colossus, and possibly more! – 8:00pm to 10:00pm
- Two meals - Breakfast AND Lunch
- Multiple backstage tours of past, present and FUTURE Magic Mountain attractions
- Q&A Session with Six Flags Magic Mountain management
- Guest Speakers and presentations by Magic Mountain and industry representatives
- Advance screening of TPR's "Coaster Expedition Volume 10" DVD
- Event T-Shirt
- LOTS of surprises and goodies that you don't want to miss out on!
That's a total of
three and a half hours of ERT
on at least seven different coasters!
You may register for the event two ways:
1. Online via the TPR store:
http://www.themeparkreview.com/store/in ... tegoryID=6
2. Download the flyer and send in the registration form.
If you have any questions, please first download the flyer as your question may be answered in our Q&A section, or you may post your question here.
PS. If you want to get an idea of what the event is like, check out our SFMM update from our recent DVD Party event:
http://www.themeparkreview.com/sfmmdvdp ... party1.htm
See you at the event!
--Robb & Chris
TPR & Rideworld/Thrillride.com
** Note - for those of you attending the full day West Coast Bash event, please register by Friday, February 21st to guarantee your shirt will be available.