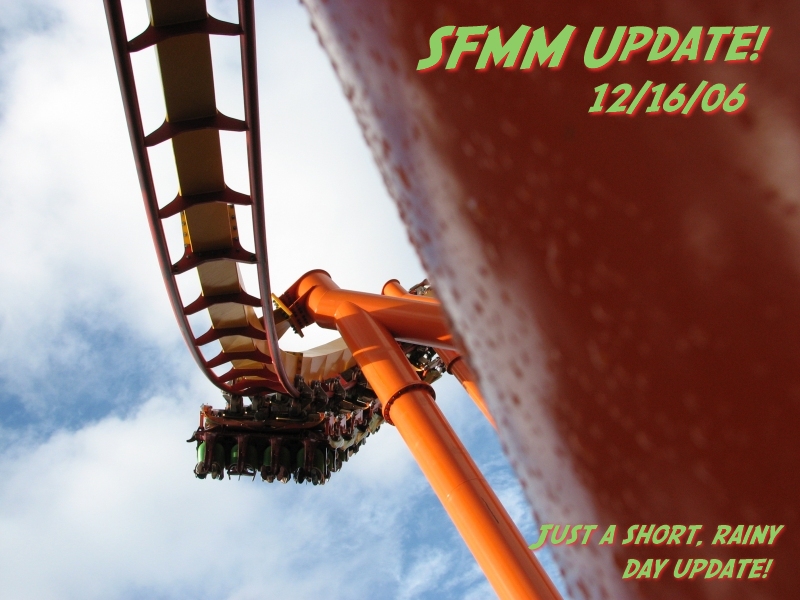 Hey everybody!
Welcome to yet another SFMM Update! Sorry for not having many lately, but between school and play…and the fact that not much is going on in this 'off season', there's very little to report on!
Today was a rainy day here in Valencia and since I had the time, I thought I'd hit up the mountain and see if the rain could manage the knock Tatsu over or something.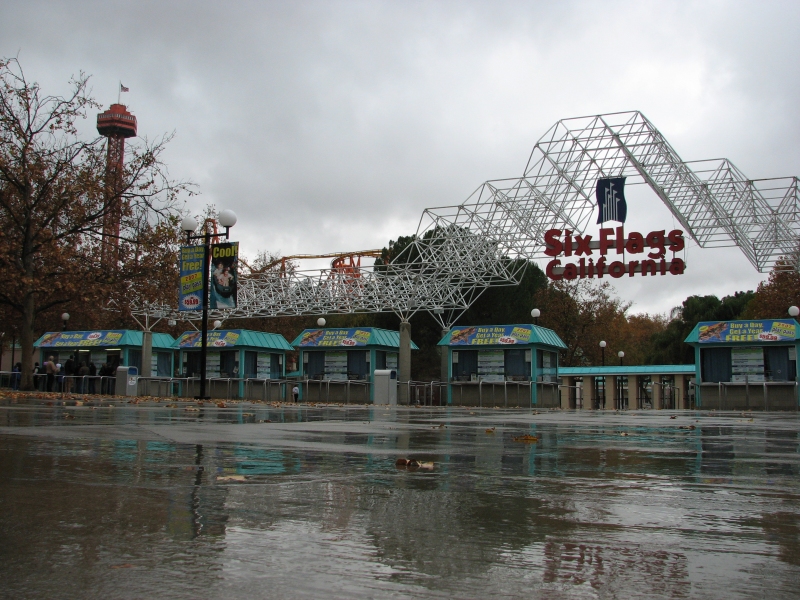 Let us begin!
The Great Wall of Tatsu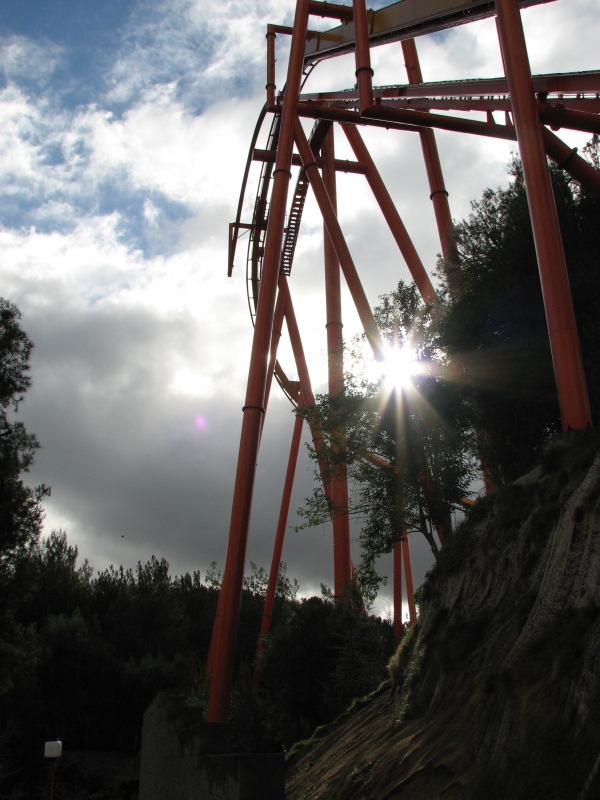 The sun emerged from the clouds, to help me out with a "lens flare" effect. Thanks sun!
Well, in my last update, I mentioned how…well, here…let me just quote myself:
Me, back on page 42! wrote:Well now with Tatsu's massive 170ft tall lift hill grappling onto the side of this hill, exerting great pressure on the land, in combination with the natural erosion cycle of a poorly vegetated hillside, essentially….what's the nice way to say this…

…The hill is showing dangerous signs of erosion. The land around Tatsu's lift-footers is giving out to gravity.

…

I'm hearing people say that if the problem isn't "fixed" or at least "bottled, dammed, stopped, or temporarily held off" in a reasonable time-frame, the ride may have to go down.
This is why I was very curious to see what SFMM was able to conjure up, to fix the problem. Especially since the rain was of no help!
The answer: A retaining wall. A very big one!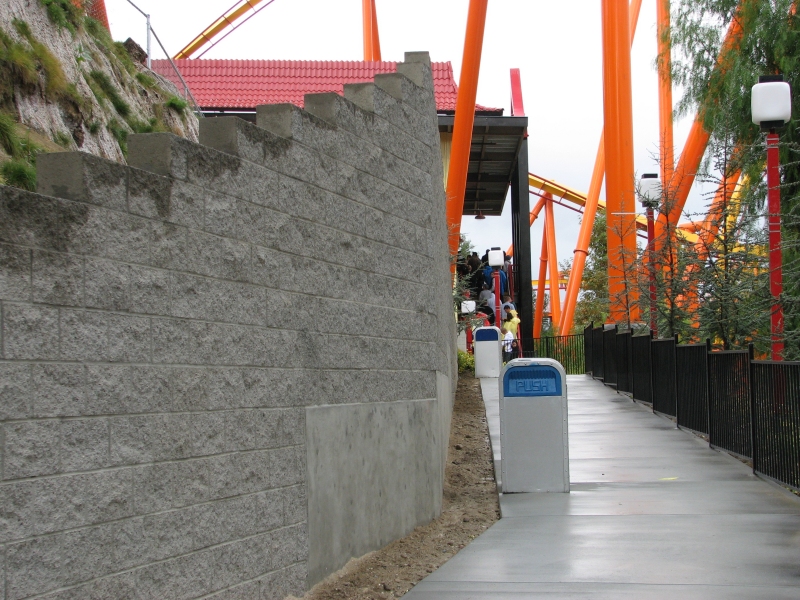 Hello Mr. Wall!
So yes, the pathway between Rapids and Ninja is once again open. Thank God for that!
As for the wall, it's simply a brick wall, anchored to a concrete base. The thing has to be about 12-15 feet tall!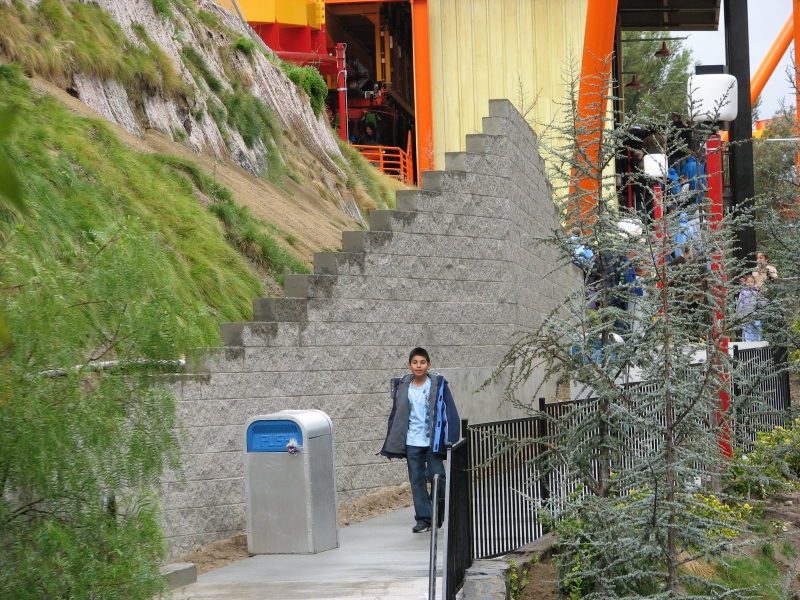 I can only assume that the gap between the mountain and the wall will be filled, or else it seems rather pointless.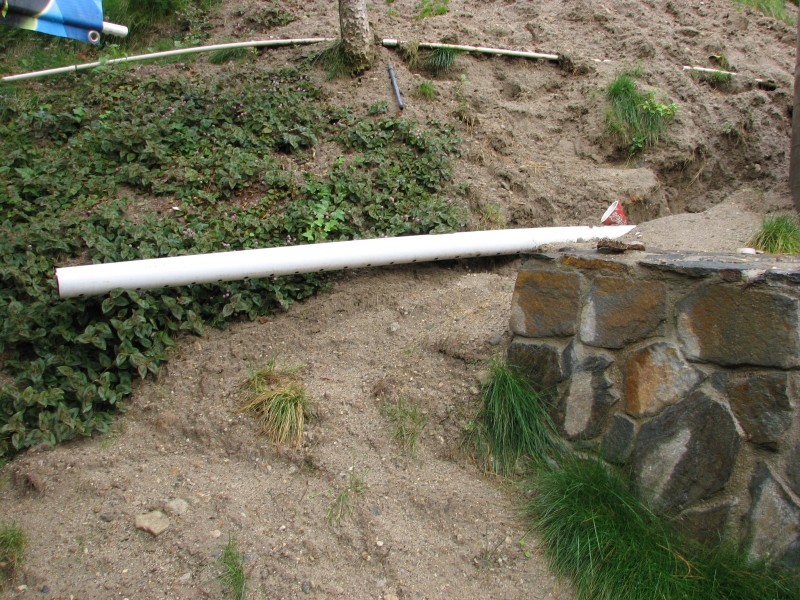 A make-shift drainage system, to help combat the rainfall.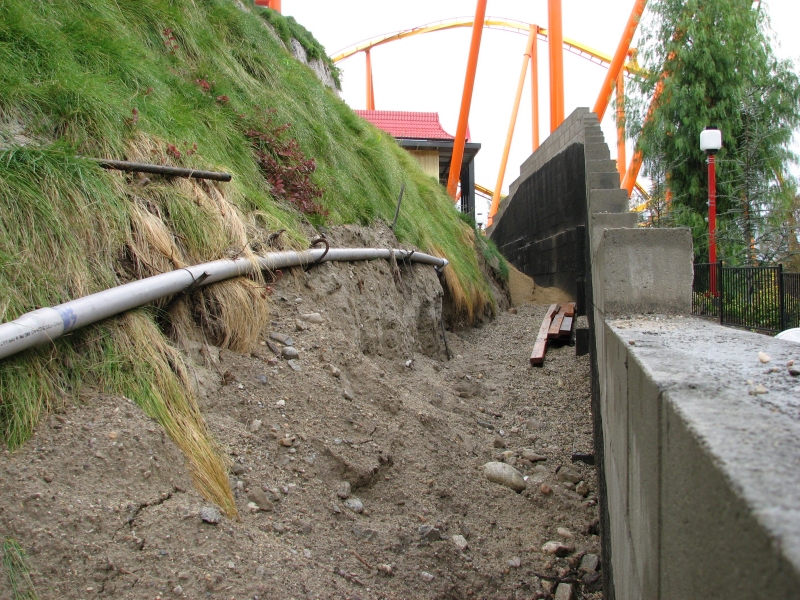 I present to you…the backside of wall!
Took that one from the Jungle Cruise!
The black stuff is a sealant…without it, this whole wall thing would be pointless. …so like it.
…also in the "Tatsu/wall"-news bracket, is the transfer shed/station that SFMM finally built! It is now fully complete…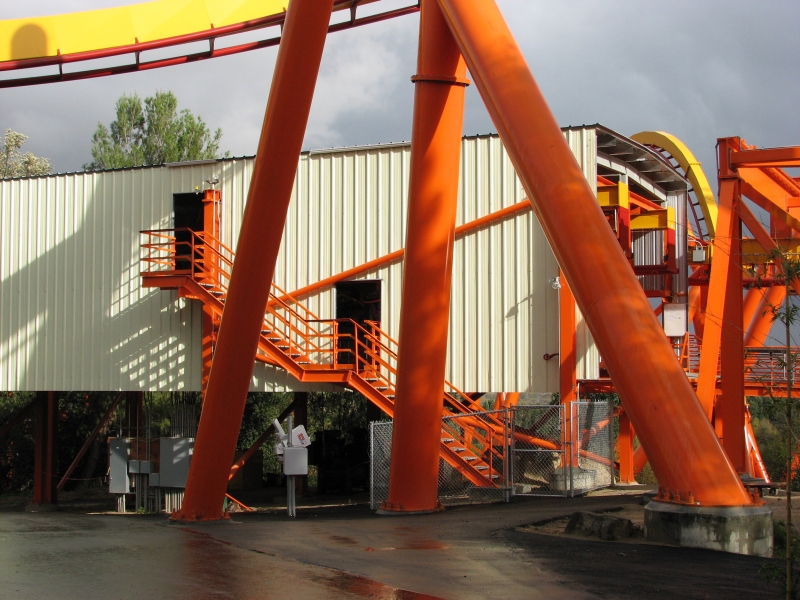 It's a floating wall! How do they do it!?
Also, note the whiteboard on the right-hand, inside of the shed. I was able to zoom in, and grab a shot of this maintenance "to-do" list. A lot of this stuff seems as if it should have been done 7-months ago, but I'm just glad to see it getting done. Like "Paint Exposed Welds"…now I didn't ride, to check for myself, but if they actually painted the welds (as the check-mark suggests), than props to them! And trust me, you don't need to have a keen "attention to detail" to notice if the welds were painted or not!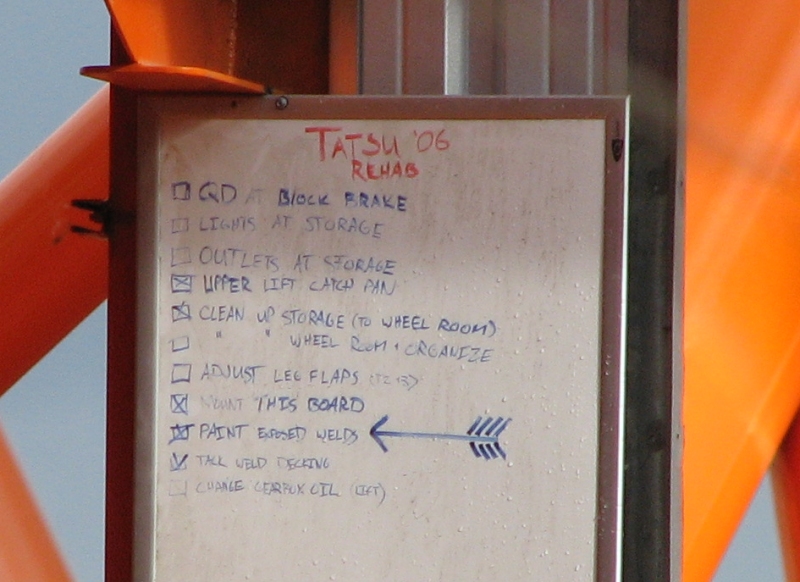 My personal favorite is "Mount this Board"
Ok, sad to say, but that's really all the "specific" things to report on! So now onto the obligatory "miscellaneous" stuff!
Merchandise, Holidays, Breakdowns…and Random Crap!
As you probably saw in the Alvey's update, SFMM is currently trying to get rid of a crap-load of merchandise by running 50% OFF sales! Honestly, it's bringing their prices down low enough for even me!—two shirts were only 15 bucks!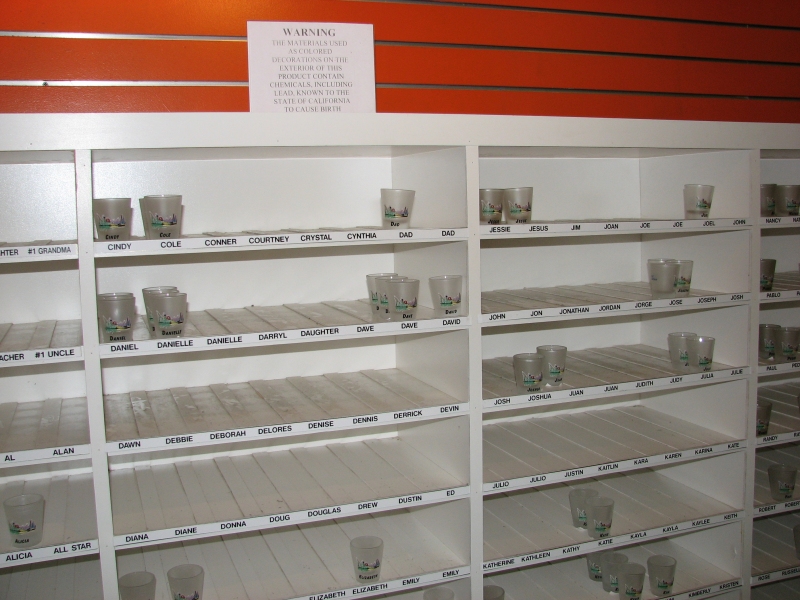 Wow…they restocked a bit since the Alvey's update. I guess Jesus isn't much of a drinker!
Now this is what I don't know—is this just an attempt to clear out this year's merchandise, to make way for next seasons'? Or are they really trying to get rid of all "Six Flags" merchandise, to make a potential ownership-transition less painful? I mean, they were selling crap from 1999/2000!
(according to the copyright labels…that is)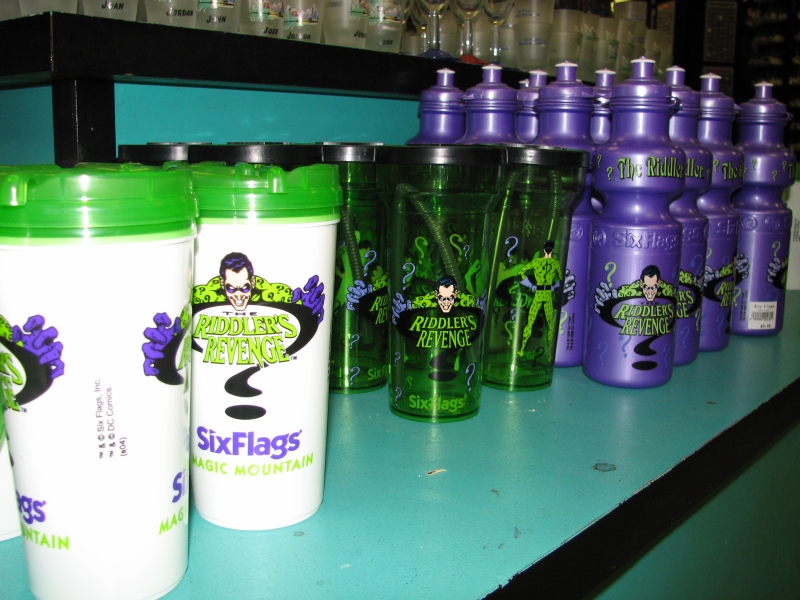 See what I mean…they had loads of unsold Riddler's Revenge merchandise!
…and yes, I did grab my share of Riddler's merch!
Onward!
While SFMM doesn't officially announce a "Holiday Celebration" like Disney or Knotts, they have shown small pinches of holiday-ness, here and there.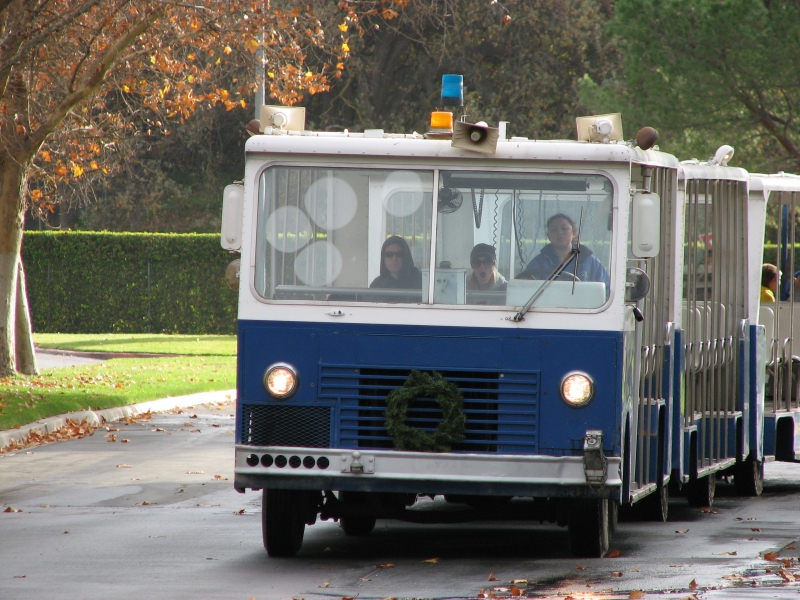 Do you see it? Right there, towards the bottom, in between the head lights. There!
…
Now I'm not trying to take a jab at their wreath! Totally glad it's there, to be honest. I just couldn't help but find it a little humorous, as it just looks a little sad. Poor wreath.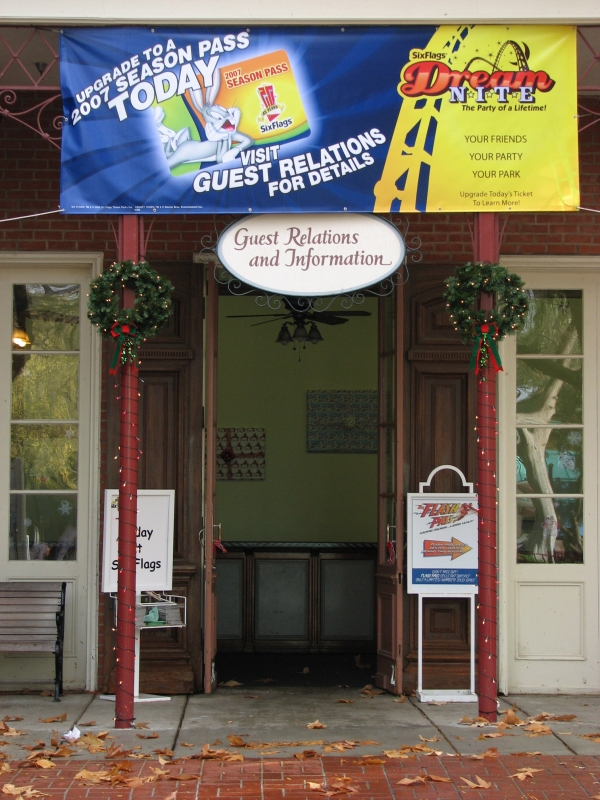 There you go! Guest Relations is a bit more festive! If you look closely, you can even see their pictures, wrapped as presents, on the wall.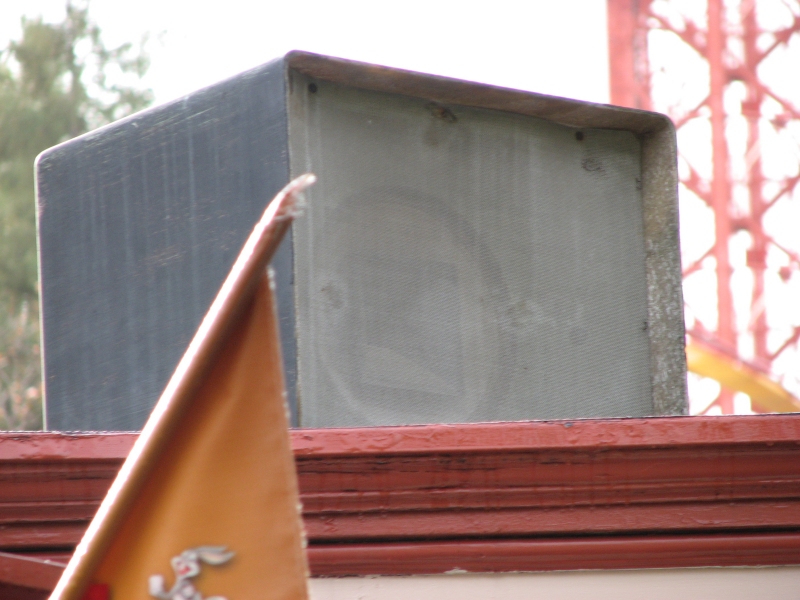 This is my picture of a speaker, to portray the random "holiday music" the park is playing everywhere.
More!....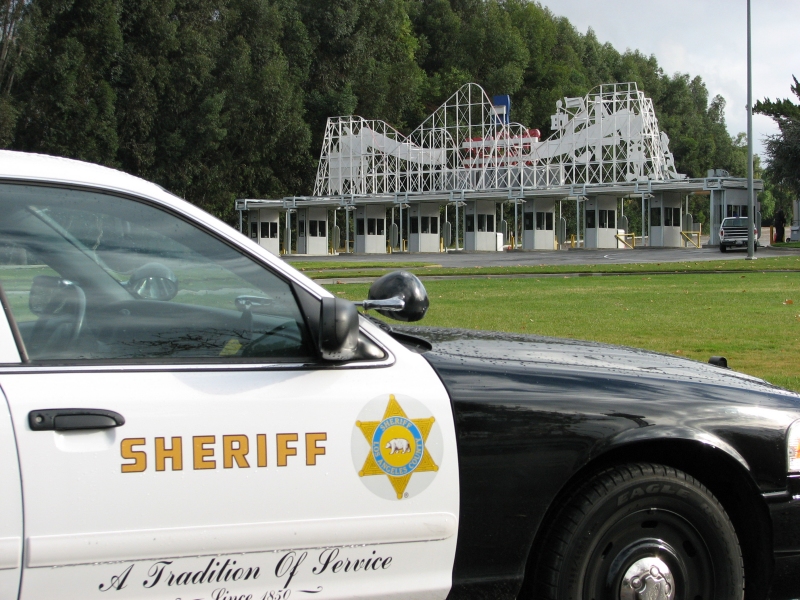 Yes, this is where the 3 sheriff cars were parked when the parking-toll booth was robbed a few weeks ago.
…hey, that wasn't a SFMM jab as much as it was a sheriff jab!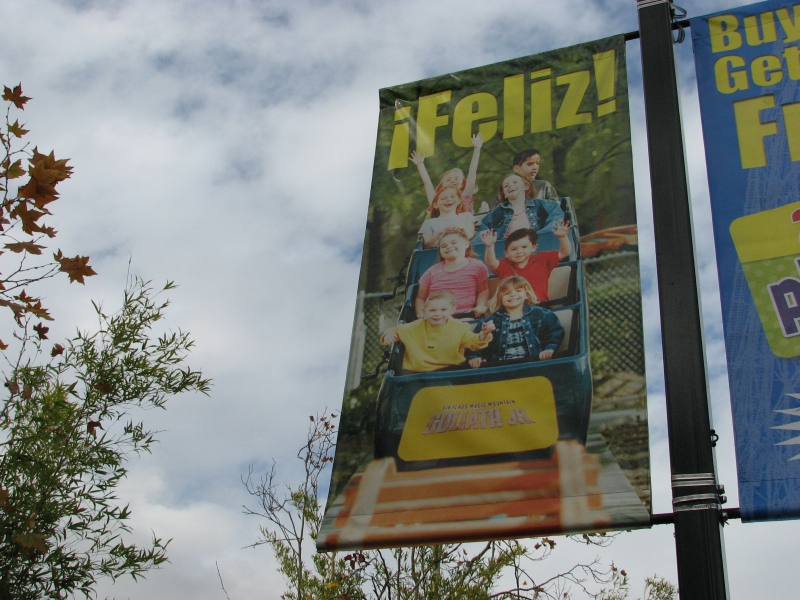 I just wanted to correct an error in Robb's update. One of the banners does in fact say "Six Flags" and "Magic Mountain". This one. Right there, on the front of the Goliath Jr. coach.
…ok, I'm done. I'll go die or something.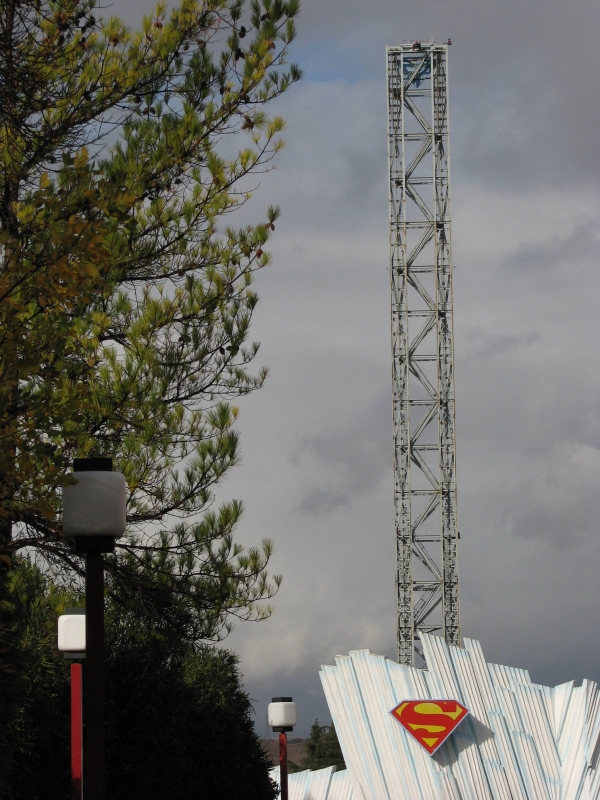 Well, here's Superman, closed due to the rain.
I know that the "Superman for Sale" thing ended up just being a mix up, but that's rather disappointing, if you ask me. SFMM really needs to unload this one.
Speaking of closures…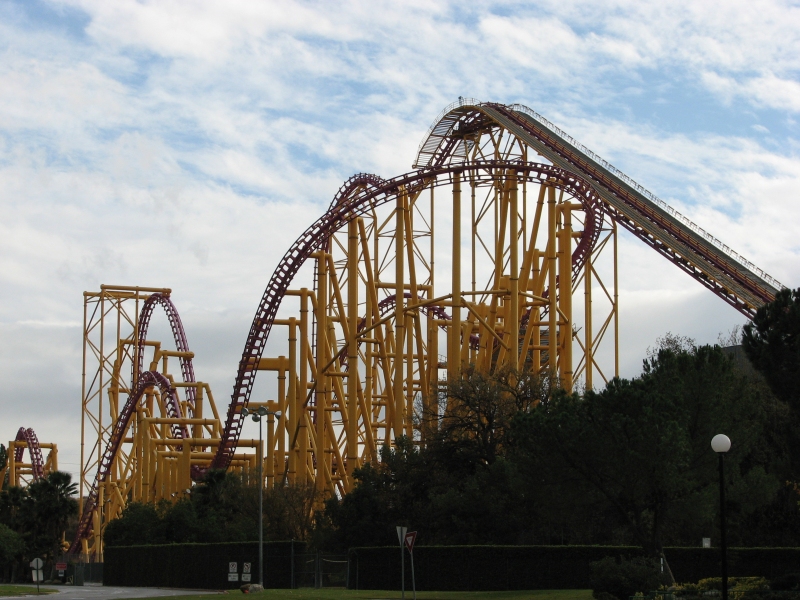 Hey X! California Screamin' removed and replaced its loop in 3 days!...how's that lift coming along? More like 3 months, eh?!
…just kidding…it's been over 4 now.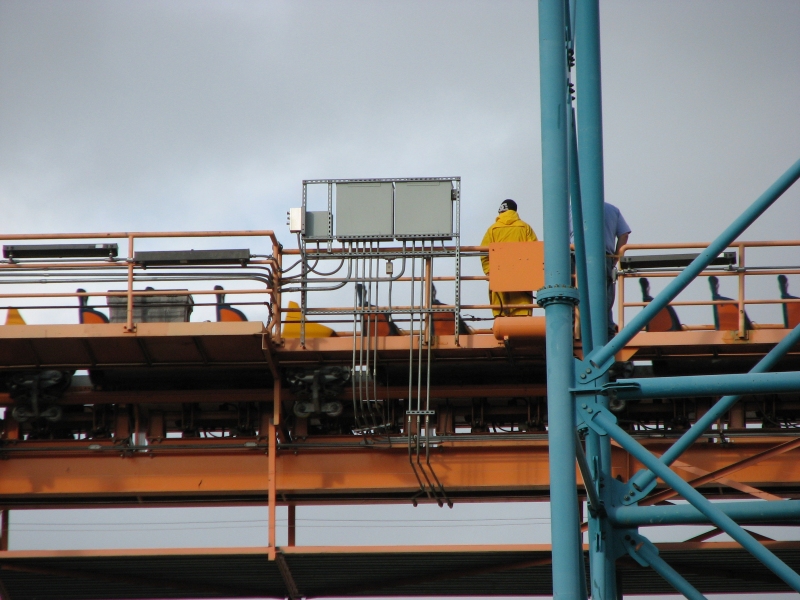 Goliath was also down for a bit today. Not all day though.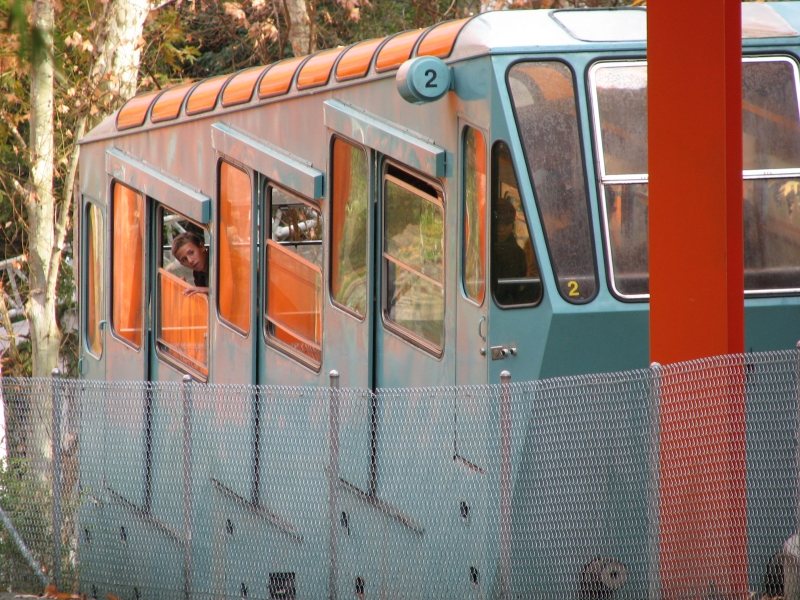 …so was Orient Express. I'm so disappointed in you, Corey!
…Yea, the Orient Express broke down, both funiculars loaded and stuck about 150 feet from either station. After the refurb the cars received one speaker, both of which have already been punched out by punks. I wonder how contacting these stranded passengers went.
But no evacs until the supervisor arrives!
…ok…
that
was a jab! My bad! I didn't mean too! Disregard everything I just said after the Goliath picture up to here.
And yet some more!....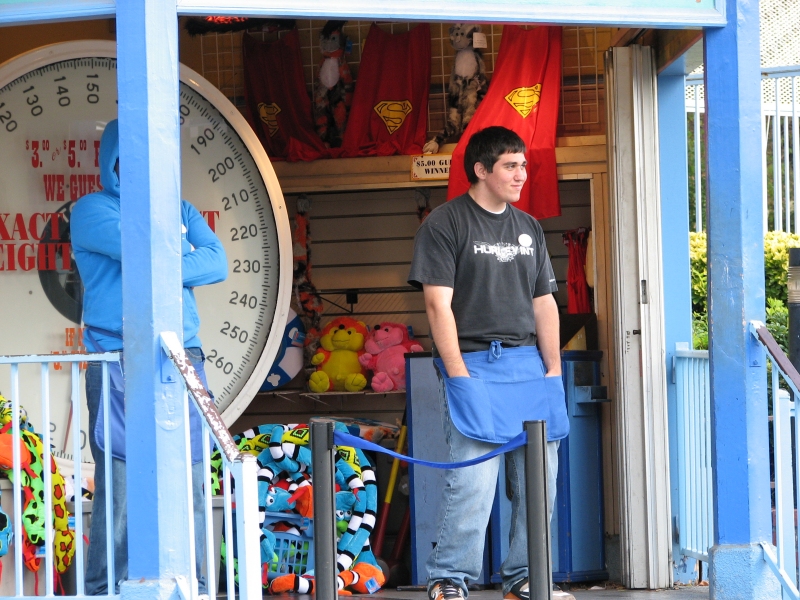 SFMM's 'volunteer' program. Shame they couldn't get them at least a temporary shirt or something.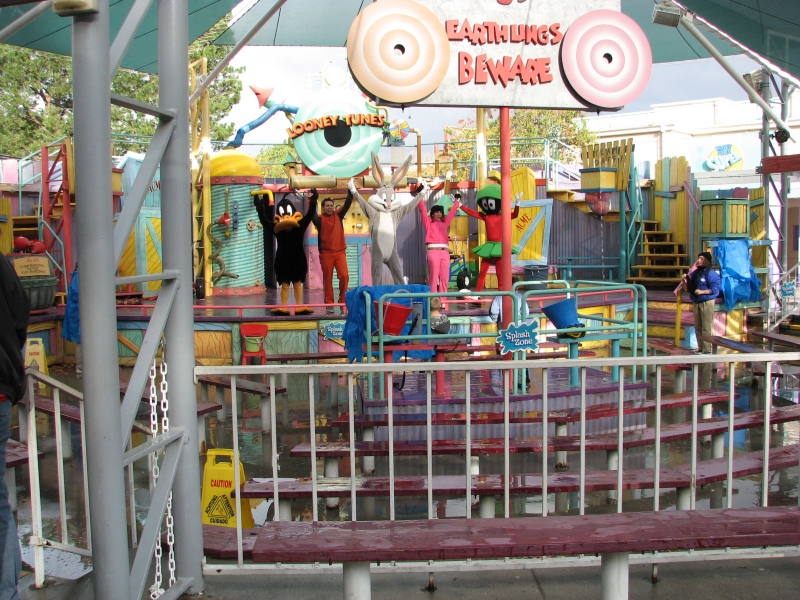 Shapiro's family plans seem to be working well.
*sigh*
Conclusion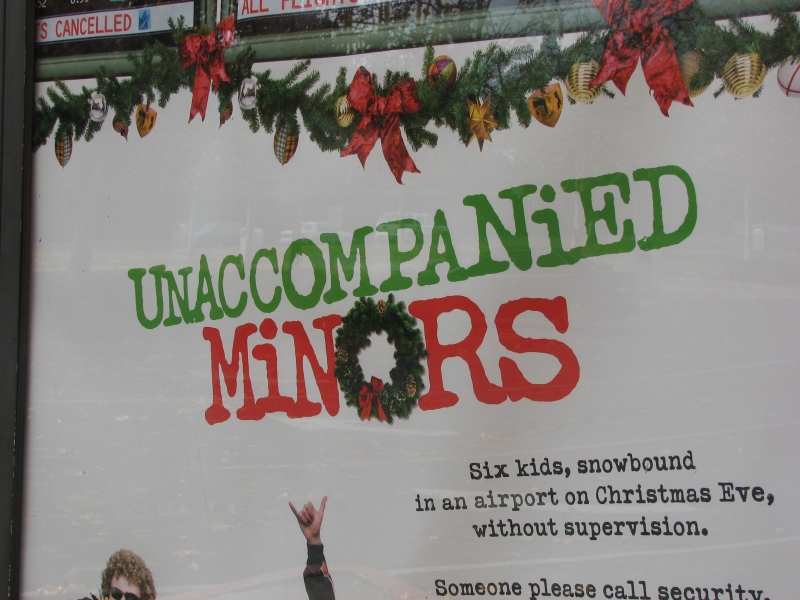 I thought this movie-title is a rather appropriate synopsis of SFMM as a whole!
You know, I can be honest with you—I made a lot of cheap jabs at SFMM in this update. So I need to be fair here for a second. I went to the park the past two weekends, in a row, and I had a really nice time! The park was clean, operations were decent, and most, if not all of the rides were open on time (except for the select few SBNOs, X, and rain-related closures). That's way more than I can say about my recent trips to Knotts!
The truth of the matter is—SFMM simply isn't capable of operating well under the stresses of the peak-season, from June-October. It's during this time that more employees leave than hire in. And when you combine this steady decrease in staffing with the decrease in morale (even among the management), you get a decrease in training and supervision. That's why I have personally seen nothing but a steady decline in "quality" from June-October.
But now that the peak season is over, the park has begun its uphill climb, or so it would seem. Staffing is beginning to even out (especially with the local schools out again), the crowds have recessed, and everything is just calming down…the calm after the storm, if you will. And I'm sure my fellow locals can be fair and attest to that. Now, I don't really want to make this call too prematurely, but I do believe that things will improve over the coming months.
It will just be interesting to see if they can keep it that way, as they honestly haven't been able to in the past years.
So best of luck to them.
That should do it for this update! Thanks for reading! I appreciate it!
-Jahan (
arrowfanman@yahoo.com
)