Ok, now for something a little bit different!
Theme Park Review goes on a CRUISE!!!
That's right! A cruise ship!
Day One - Cruising with Theme Park Review! (Click here or scroll down)
Day Two - Ice Skating, Formal Dinner, and more TPR Antics!
Day Three - Ziplines through Belize & Joey's near death! Photos & VIDEOS!
Day Four - Plastered in Costa Maya & "Joe Versus the Hammock!"
Day Five - Photos, ATV's, and Dirty T-Shirts from Cozumel!
Day Six - Our final days at sea on the ship!
Final Day - Credit Whoring through Miami - Photos & Dania Beach Hurricane POV Video!
We are currently on Royal Caribbean's "Explorer of the Seas" one of their nicer cruise ships complete with mini-golf, ice skating rink, and most importantly, a LOT of food!
In fact, within 15 minutes of being on the ship we found a buffet featuring pork and gravy! I don't understand why more ACERs don't give us being coaster enthusiasts and become cruise enthusiasts! In fact, a cruise is like a week long buffet! It's PERFECT for us!
Anyway, this photo TR will get updated daily (hopefully) as we do have in cabin Internet access (although at dial up speeds) which is the reason for the smaller than normal photos.
Over the course of the next 7 days we'll be out at sea, doing zip line tours, driving ATV's across the jungle, and hopefully not pulling a Steve Irwin as we check out the stingray's. Then the trip will end with a day in Miami featuring the Dania Beach Hurricane, Uncle Bernie's, and a couple of fairs!
Enjoy the updates....and now it's on with the photos!!!!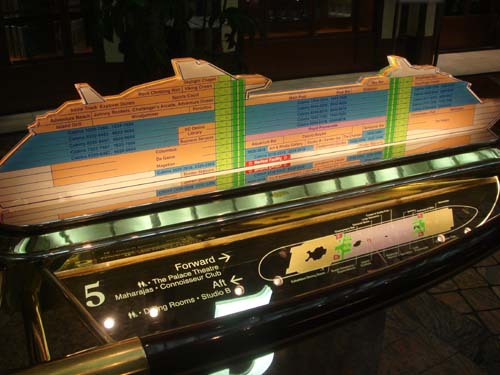 Since I'm an idiot, and I forgot to take a picture of the ship at dock...here's the map of the Explorer!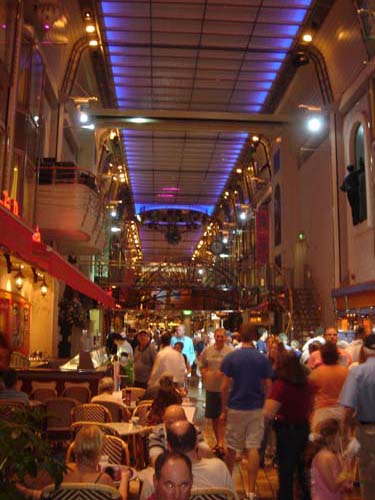 The ship is awesome! Looks more like a resort hotel than a boat.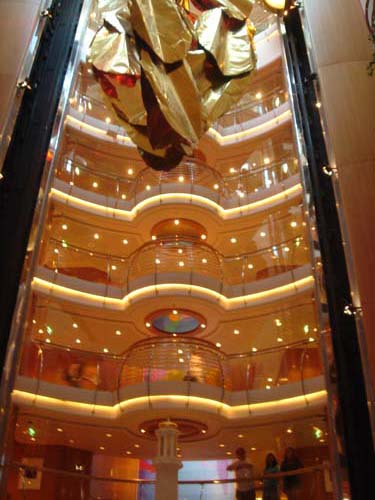 Random shot of boatish stuff.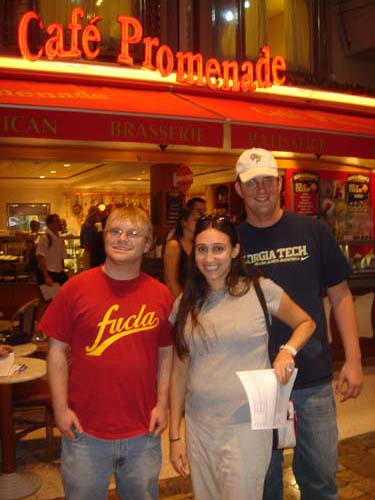 Hey! Check us out! Yup! We're dorks!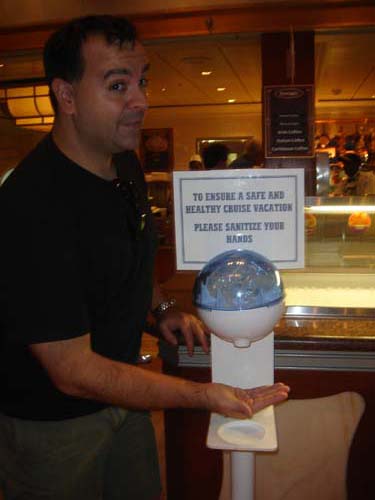 "I like hand cleaning spooge!"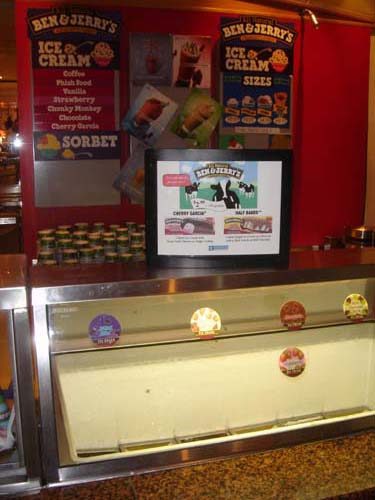 Mmmm.....Ice Cream! Mmmmm....gaining 40 extra pounds!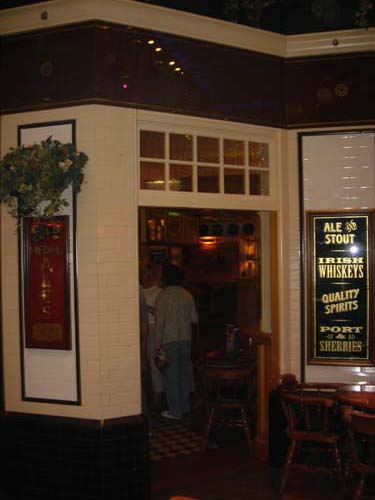 Hey Derek! This ship has something for you too!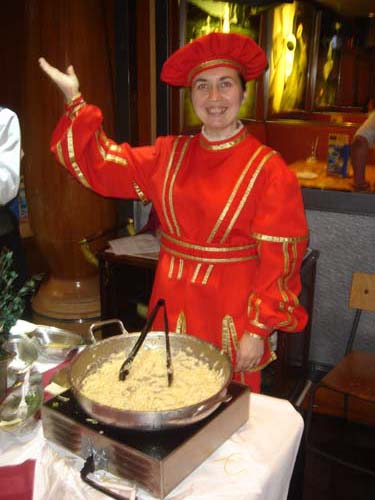 Hello! Welcome to the ship! I'm funny Italian girl with a silly costume, but you'll overlook that as soon as I give you...FOOD!!!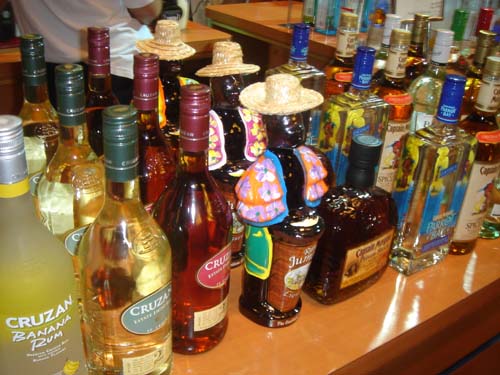 So this is 7 days of eating, drinking, and having lots of sex....well, maybe not for Joe and Joey...and hell, Joe can only do one of the three! Well, he can *DO* more than 1 of the three....but he'll do only one! (and it's not the sex!)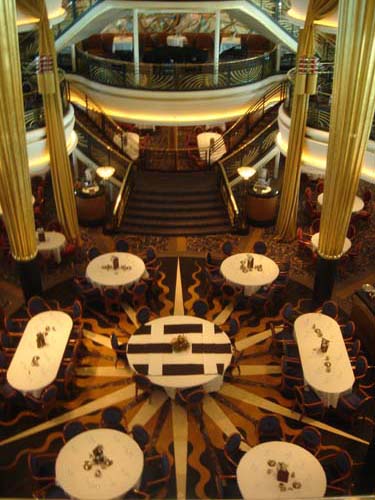 Nice dining room. Can you believe they actually allow us in the room?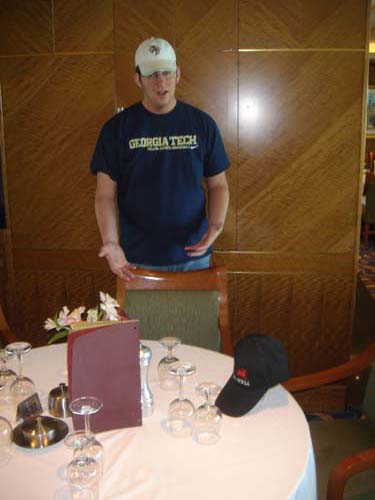 What?!?! Where the hell is the food?!?!?!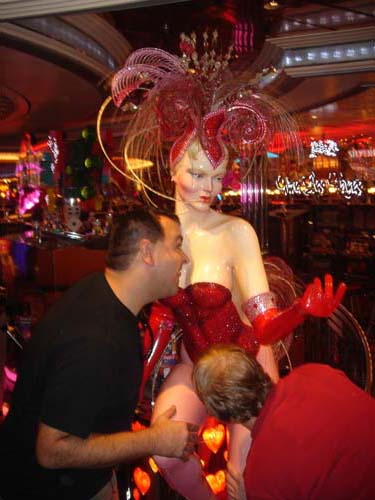 At least we found the sex!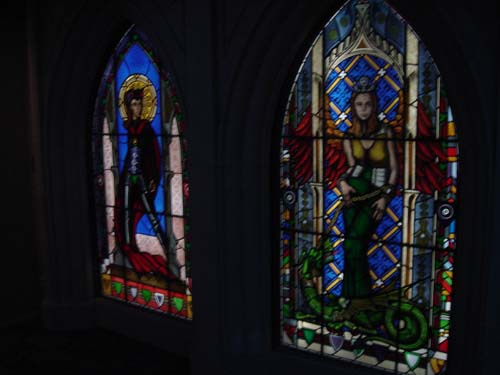 We called this place the "Goth club" where all the 20 and 30 somethings women came to go back to the cabin with anything resembling a human with a pulse that showed interest in them.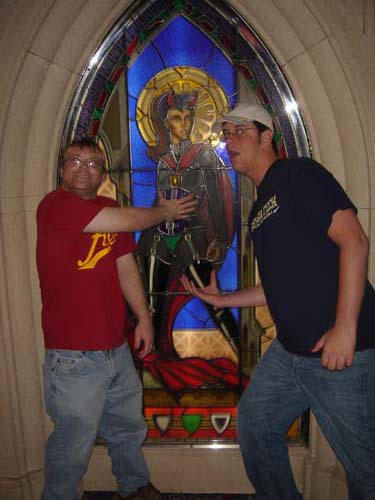 This is the closest these guys got to going home with ANYONE!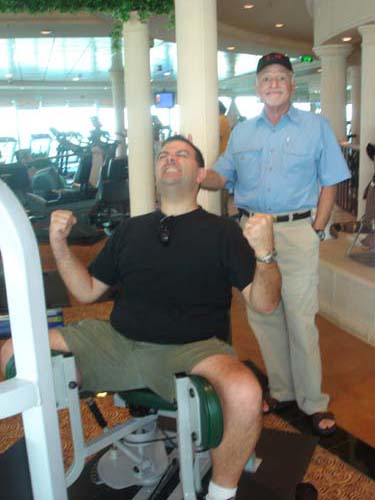 PUSH!!!!! PUSH!!!!! SQUEEZE OUT KIDTUMS!!!!! Oh, wait....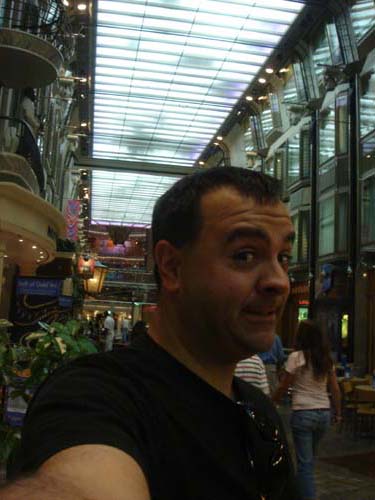 "Hello world! We're on a ship! If we get diarrhea we'll be sure to post a detailed Photo TR!"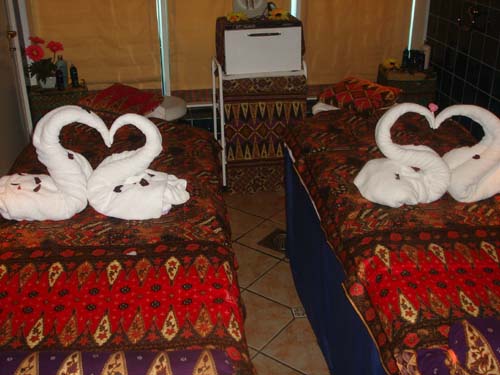 This is the "couples massage" area. Also known as the "Hi, we put you in this room, give you some mud, and a dozen condoms and come back in about an hour or so.....the dude will have been done 55 minutes ago, and the chick and spend the rest of the time filiing her nails....thanks for the $395!!!"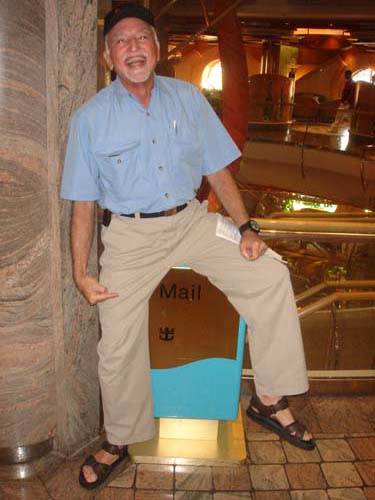 Russell shows off his male....I mean "mail" box.....um....yeah....NEXT!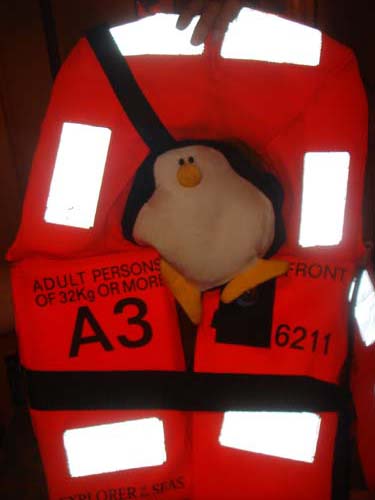 Yay! "Little Penguin" has made the trip with us!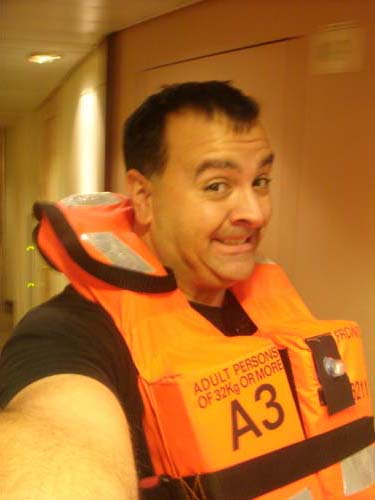 "Here we go to the most enjoyable part of the cruise....the "muster" drill...which I personally was annoyed because I thought it was the "mustard drill" so I was hoping we'd all get hot dogs! *sigh*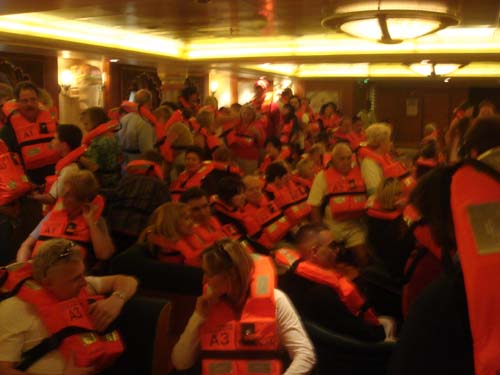 Jahan...you know what to do here!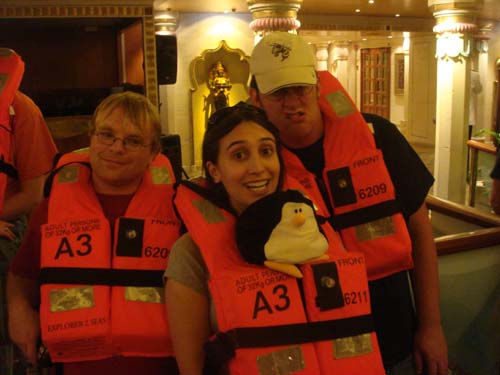 "Hey ladies...the sexy one on the right wants YOU!" (And yes, I'm talking about Little Penguin!)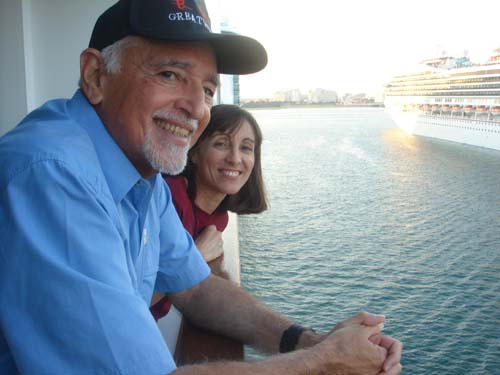 From our balcony...we can see Cuba!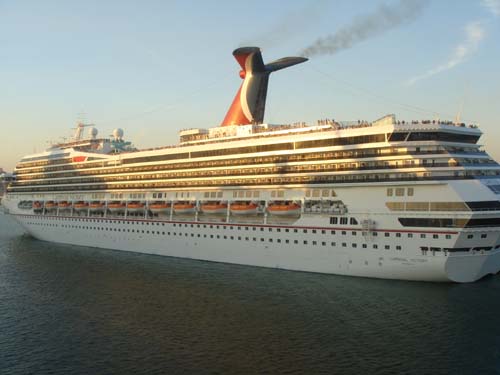 Boo! to the Carnival ship!!!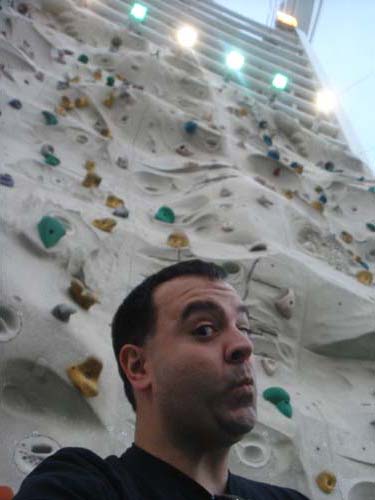 Rock climbing anyone?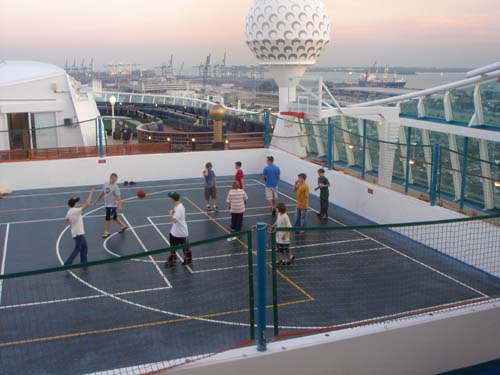 There's even a basketball court, which is not something we would be doing as that requires physical activity and there is no pork!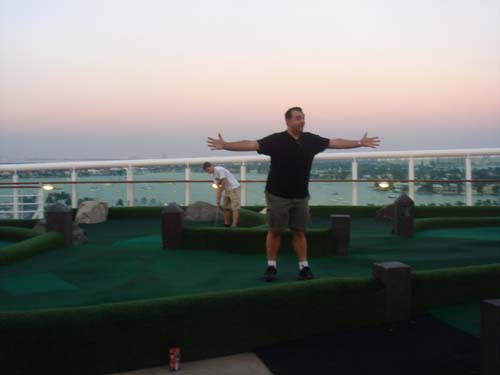 But HELL YEAH to mini-golf....because it requires little physical activity, and immediately afterwards you can eat pork!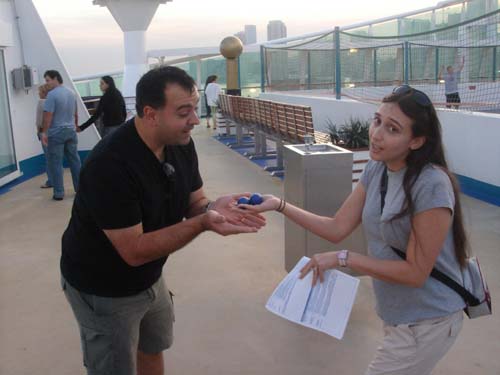 "Elissa gives Robb blue balls." Yeah...cheap shot, I know.....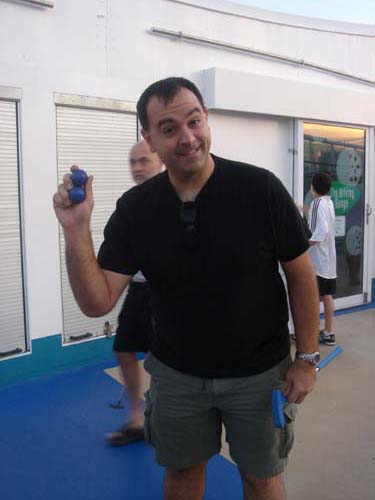 "I like my blue balls with honey maple syrup and a side of ham!"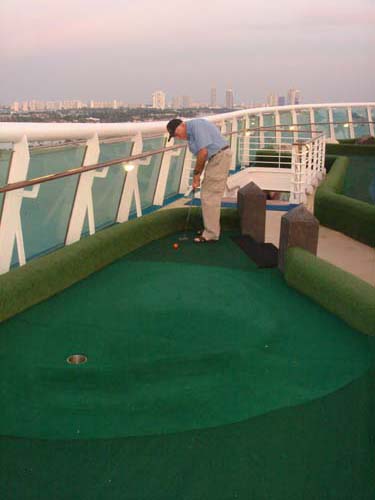 Russell has no problem getting his ball in the hole!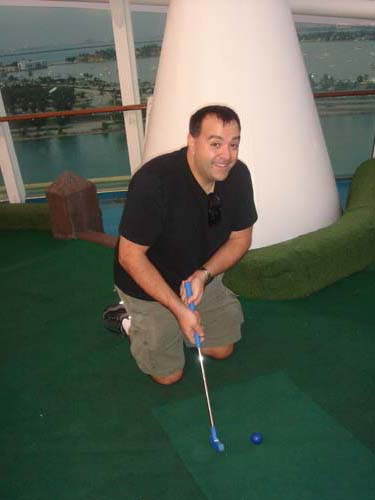 And yes, because I'm an IDIOT....I grabbed the smallest golf club so I have to get down on my knees.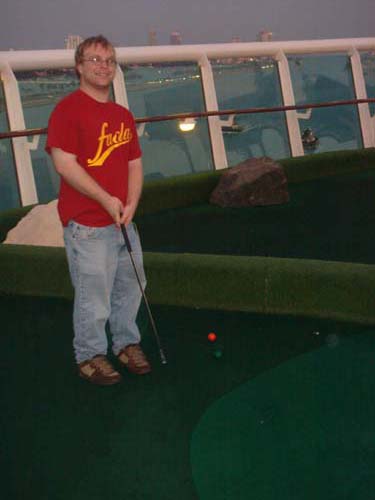 Jewey is having a little more trouble getting his ball into the hole.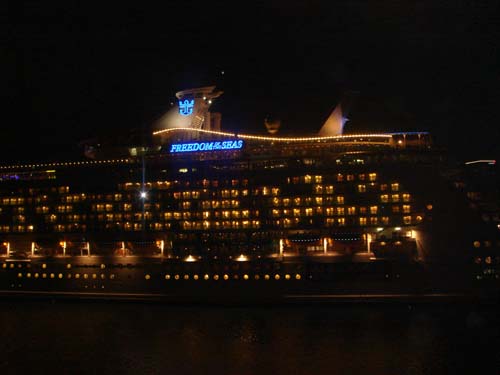 The brand new ship with the flo-rider....next year!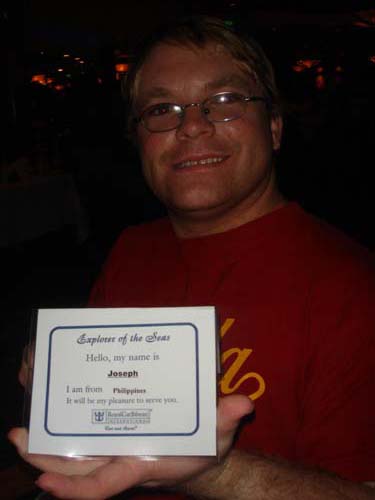 Joey got himself a new job.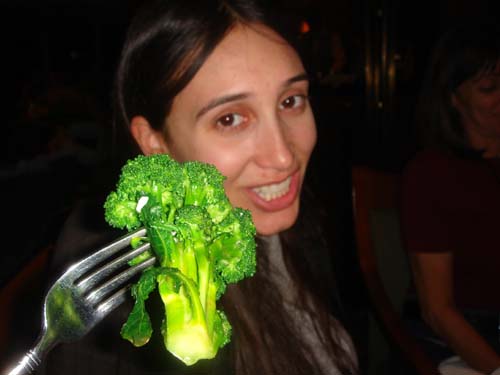 "C'mon Elissa...you KNOW you want the broccoli! It's YUMMY, YUMMY, YUMMY, YUMMY......YUMMY, YUMMY, YUMMY OOOOH FOR YOR TUMMY! (singing) YUMMY, YUMMY, YUMMY, YUMMY.....(in a strange broccoli voice) "please eat me, Elissa...if you don't eat me they will kill my broccoli wife who is trapped in a Mexican prison....PLEASE EAT ME!!!!!"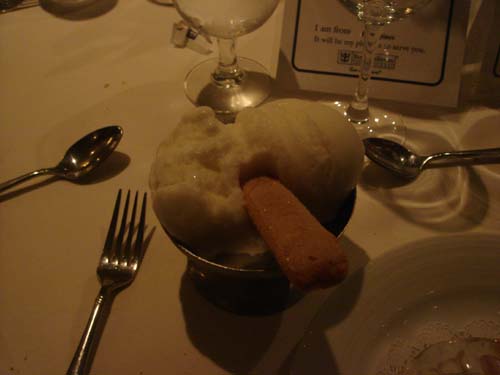 The sherbet is a little phallic.....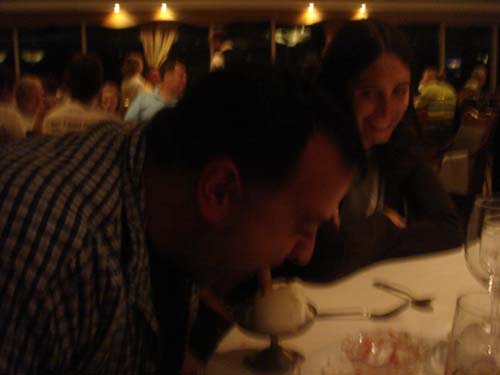 Which apparently Robb doesn't seem to mind!!!!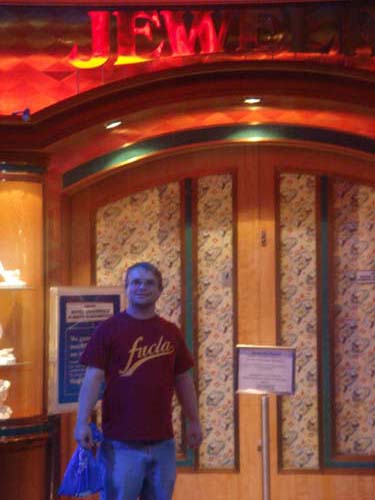 There is something oddly subliminal about the Jewelry store....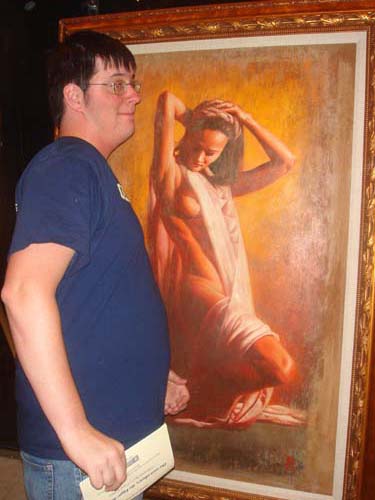 "I have more side boobs than she does!!!"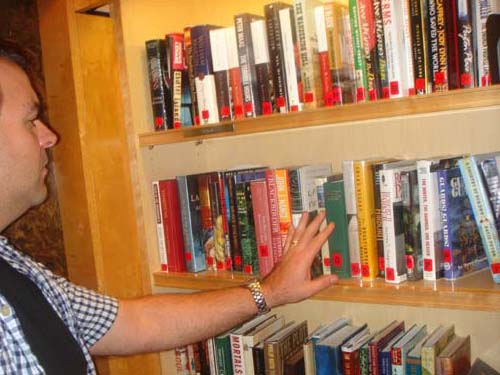 "I am told that these mythical creatures are called......books."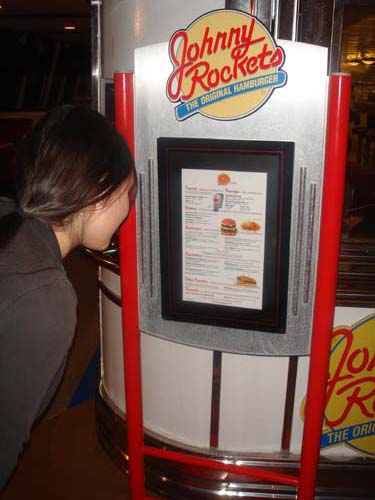 "Nope....no plain pasta on the menu!"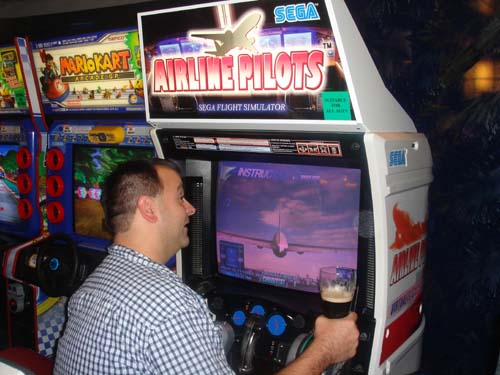 In order get the more "realistic" score in the airline pilots game, you need the glass of beer.....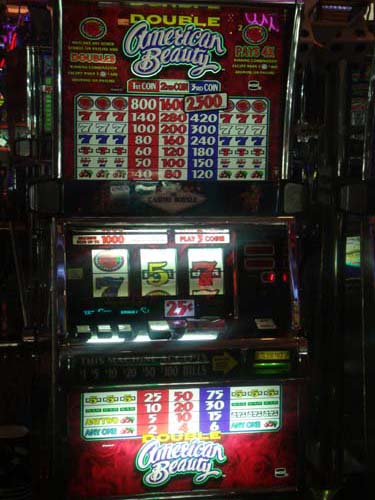 Hey Casey....are you responsible for this one?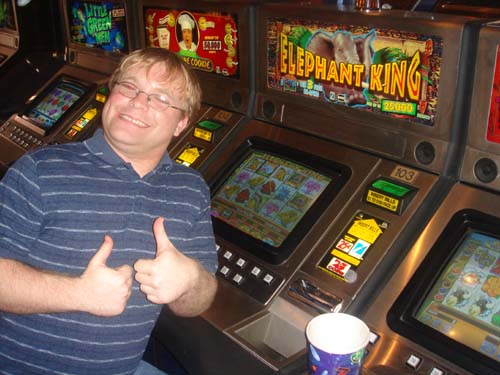 "I'm up fifty bucks! My people would be so proud!"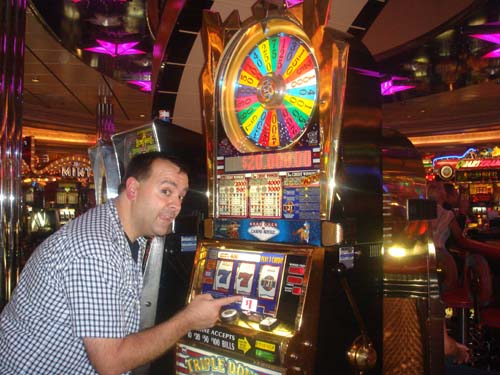 Thanks Casey!!!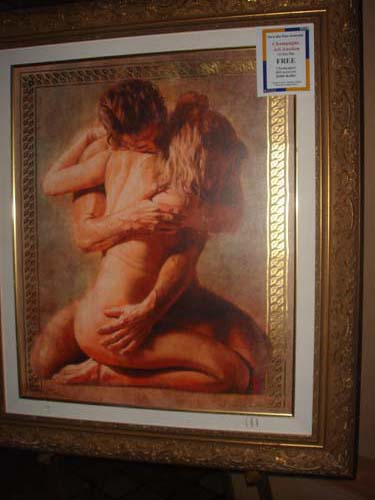 And finally, we leave you with this thought....."this painting is getting more action than Joe and Joey!!!!"
We'll have more photos soon!!! Hope you all like this update!
--Robb