The history of my search began on Sun May 07, 2006 with the following post:
This thread is about one of those diamonds in the rough. It's about a ride that has taken on "legendary" status amongst those who were lucky enough to have experienced it back in the day.
For starters, unfortunately, most of you out there in TPR land may not have ever seen or heard of this thing. Secondly, I recently discovered the pictures that have been buried in a box full of memories since 1986. And finally, I was still in the process of researching to see if it even still exists, and if so, its current whereabouts.
Sadly, after hours of searching just about every source I could, I have come up empty.
In a nutshell, this was a traveling carnival flat ride which regularly made the rounds in South Florida in the 80's, and if memory serves me correctly, possibly into the early 90's. I was young then, and obviously not up on the history of the ride itself. I highly doubt it ever traveled outside the state due to the fact it would have to be licensed.
The ride itself was situated on a small trailer-type thing, hauled by a private motorcoach, and I believe owned by a family of three who proudly took the ride everywhere.
For years I have wondered how this ride was built....possibly as a one-off by a single person? It's actually a very simple creation that just works. Take the concept of your typical wave swinger and then make it interactive.
The result? What I personally consider to be the greatest ride ever created....KICK BOODIE!!!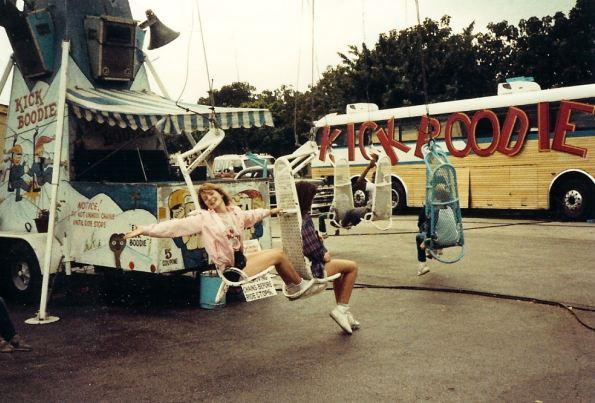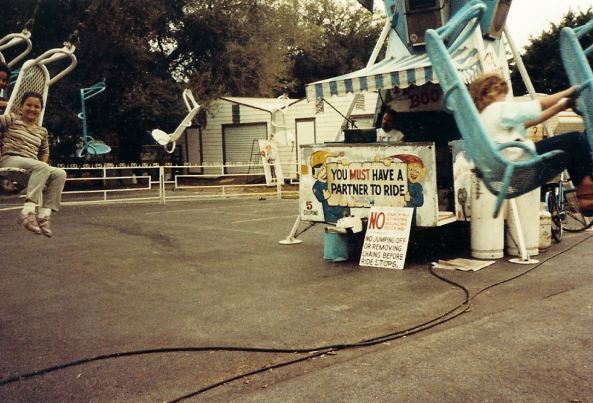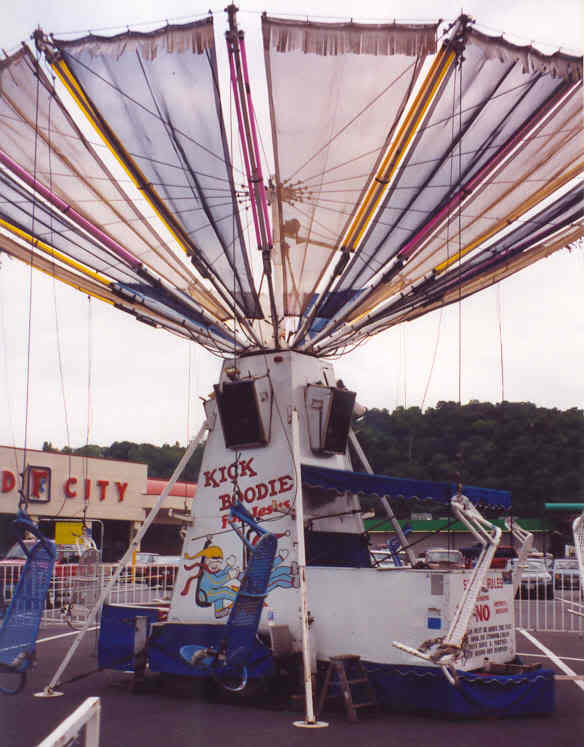 There she is in all her glory. Sadly, my mother was a horrible photographer, and couldn't even get her two sons in the picture.
Anyway, as you can see, it's a very simple looking ride.
Here's how it operated. As you can see in the pics, you rode with a partner..the kicker and kickee, if you will. As the owner/operator started the ride, you would be connected as shown in the pics. There were generally about 3-4 different levels at which it would swing. The first level would obviously be the novice one. At this point the ride operator would get on the pa system and yell....KIIIIIICK BOODIEEEEEEEE!!, at which the kicker would promptly boot the kickee as hard as possible.
Now the interactive part really begins. Naturally, the object would be to reconnect while swinging. This was easy at the first level, and could be done by two blindfolded monkeys.
As you may have figured, each level becomes progressively tougher to reconnect. There were no rules as to how you reconnected either. By the third level, those who were good enough to still be together would be trying desperately to grab onto anything possible! It was amazing. You'd see people reconnecting by a simple shoestring....and that's no exaggeration either.
It was brilliant in design as you could see even by those two pics. Despite not having a full load, the chairs were still spaced out perfectly, as not to cause congestion by the other riders. Also, if you weren't unable to reconnect, you were doomed to swing alone and be laughed at by everyone waiting and watching.
Here's the great and terrifying part at the same time. All of this was happening pretty fast. If you can imagine a wave swinger in action, try to imagine the force it would take to put those chairs almost parallel to the ground. AND, if you look real close, the restraints were as minimal as you can get. Yep, that's just one single chain over the rider's lap, thread through a hole in the seat's grating, and clipped off as shown below (sorry, the only two pics I have).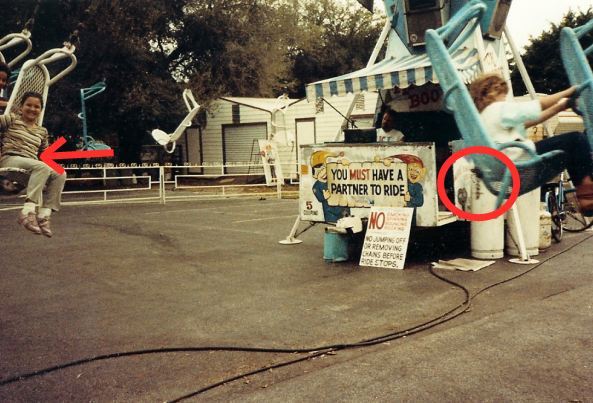 The simple chain restraint meant you had almost complete range of motion in order to reach out and connect by hand, leg, wristwatch, shoelace, whatever. If you're sitting in a chair with no armrests right now, lean over as far as you can in every direction while keeping your waist in one spot. Now imagine doing that while flying almost parallel to the ground,
AND
trying to grab a hold of your kicker. I swear, out of all the rides I've been on to this day, nothing comes close to how fun this thing was.
One thing I've noticed is how Flyers and Kick Boodie are pretty similar in design.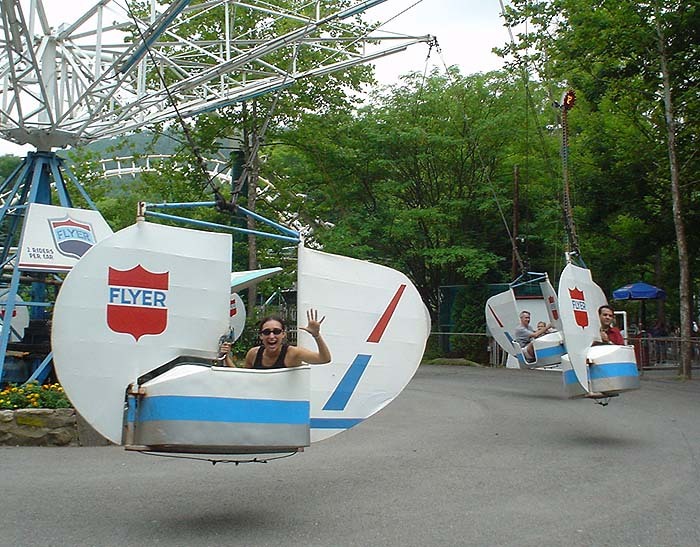 As you could see, they seem to be connected in a very similiar fashion, with the flyers obviously carrying a bit more weight.
With all that said, I'm basically wondering if anyone out there has any knowledge of this incredible ride? I have tried numerous outlets in an attempt to see if it's even still around, with little to no success.
There's no doubt that back in the day, wherever this bad boy went, it was the highlight of the carnival. I know of many instances where places would even trim back trees in an attempt to lure these folks to their carnival. On the same note, I've had many friends who wouldn't even go to their friend's carnival if KICK BOODIE wasn't there!
UPDATES:
-
On Saturday, May 9th, 2009 (Page 3), we started to hear from some folks with some memories of the ride.
-
Then on Thursday, July 30th, 2009, we learned of its apparent demise, as it was reported to have been seen rotting away in a Kentucky field.
-
Finally, on September 12, 2010, TPR member "RedB" posted two links (page 9) which listed the ride "for sale." I immediately contacted the owners, and have been in touch ever since in a determined effort to see Kick Boodie operate again. While it took a little while to uncover and finally receive footage of this great ride, the wait was certainly well worth it.

My deepest appreciation goes out to RedB for that great find, to all the new members who have posted their fond memories in this thread, and finally to the incredible owners of Kick Boodie. They are two of the most gracious and dedicated people I've ever met. Their enthusiasm for the ride is very inspiring, and I'm so happy to have finally reconnected with them after more than two decades!
Here's a description of what you'll see in the following video:
NOTE: For starters, all footage was transferred from old VHS tapes to DVD, edited, and then uploaded to TPR. As you might imagine, unfortunately some quality was compromised along the way. However, to my knowledge, it is currently the only existing footage of the ride on the internet. I hope you enjoy it, and it gives you an idea of the awesomeness!
- The footage starts out showing the first level of interaction. It was always like the "starter," or "novice" level to get new riders accustomed to the ride. You'll notice as the video progresses that the owner/operator would occasionally slow the ride down after the first level to reconnect the "meatballs" that failed miserably. You should also be able to notice how the speed and height of the swings increases at different levels.
- Footage from inside the operator's booth starts at 4:24.
- At 6:51 you can see the owners demonstrate their skills on the ride with no other riders present. They make it look effortless. Something to notice though is perfect spacing of the swings. Even with empty seats, you were never in danger of really slamming into an open swing in front or behind you.
- POV begins at 12:05. Disregard the two kids in front of the camera. They were young and disconnected early. Thus, they had to swing alone the whole ride.
Click to download video to your computer or iPod/iPhone