Chapter 9
By Day and by Night--Grona Lund
Stockholm is a beautiful city built on a series of islands; so, it makes sense for it to have one of the best waterside parks, anywhere--Grona Lund. Space here is precious, and the park uses it very well. Roller coasters wind around and drop and rise in and out of each other, and they waste nothing at this park. For example, one of the park's two (eventually to be three) drop rides was installed on what used to be an observation tower, and it offers two different experiences--one with straight seats and the other with tilted seats (which aren't too kind to the average gent's "package").
I haven't visited Grona Lund since 2009, and there have been a few changes. Twister, the park's Gravity Group woodie, wasn't there back then, and it's a lot of fun. This ride's construction provides another good example of how well this park uses space and wastes nothing. To build Twister, they had to dismantle the park's dark ride, Bla Taget, and tear down its show building. This ride had been with the park in one form or another since the 1930s. So, instead of just discarding Bla Taget, Grona Lund rebuilt it right under Twister, with many of the original gags intact, plus some enhancements (such as on-ride audio, "4D" effects in the cars, and trick track). The ride is even better than it was in 2009. Grona Lund is a park that takes its heritage seriously.
Another new attraction is House of Nightmares, an up-charge haunted walk-through. This was once another haunt called Spokhuset.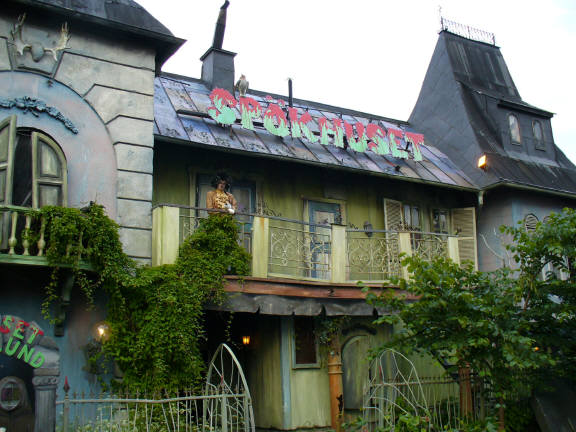 The park worked with Sally Rides to give this attraction an extensive make over and a new story line. If they dare, guests are invited to enter into the mind of Dr. Morpheus, a sideshow "scientist" who specializes in sleep and dreams. As you've probably guessed, the doc's sub-conscious is full of all sorts of horrors, such as evil clowns and zombies. There's plenty of nice effects and scare actors in House of Nightmares, and it's well worth the up-charge.
Grona Lund and Theme Park Review have a long history, and the park treated us very well for the day and the night we were there, starting with a great dinner in their Biergarten. We had filming sessions on Insane (which still lives up to its name), Twister, and Jetline (a classic Schwarzkopf), another great dinner, and access to the VIP area for a rock concert that night. I don't think anyone was disappointed with Grona Lund.