So our school announced a field trip for my school to Al-Shaab Park, located in the area of "Shaab". This is the second time the school has organized a field trip to the park, so it's basically a "Been there, done that" kind of thing for most students so a lot didn't want to go. It was to take place at the end of the week on Thursday, so it was a good way to end the week before Christmas holiday, which means 2 weeks of no school!
FLASH FORWARD TO THURSDAY!
It's field trip day, only a handful of students, including me, show up. My whole class and other classes manage to fit into one bus because we were exactly the amount of seats on the bus!
Friends on the bus. Acting like hooligans.
We play some songs on our phones, we make jokes, some flirt at women outside the bus but they barely notice us. Yeah, usual Kuwaiti teen stuff. Teachers are sittin' at the front, conversing and joking with other students. We then get our first look at the park.
Our first look at Shaab Park, showing the ferris wheel and S&S Space Shot.
We then left the bus, and found OTHER schools at the park, even the 'Kuwait Scouts'. Some areas were mostly empty except for a few people.
Entrance and Ticket Booth of Shaab Park.
Since tickets were already paid for and reserved, we got our tickets and headed off to the 'Family Entrance.' This is where the fun began.
After entering the park, many students ran off with their friends. A whole bunch of students ran to the most popular ride at the park. The TagaDisco.
A lot of guys were dancing in the middle of the Tagada, some were falling over, some were having a good laugh. I was one of them. It was fun. Tagadas are in EVERY amusement park in Kuwait, so you are bound to see one.
Directly in front of it was the Revolution. Or as the park called it, "Evolution." It was like any revolution flat ride. So, it was fun. My friends took photos while we were onboard. The faces we made were HILARIOUS! But unfortunately, the photo is with my friend so,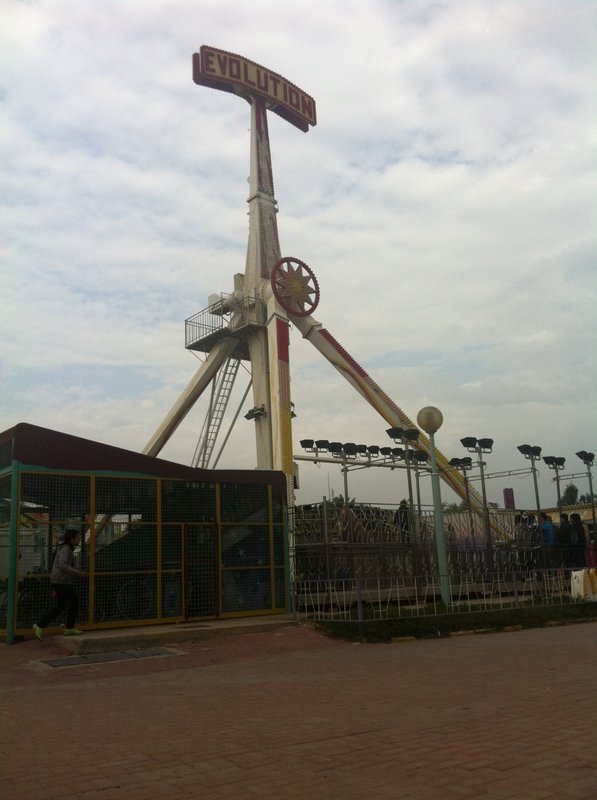 Revolution in full swing! Taken by me after my ride.
I wandered about the park after the "Evolution" ride, and I came across a particular coaster some of you have previously posted about. The first and last Intamin Spiral Coaster! Or as you would like to call it, the Intamin DEATH MACHINE!
It was rusted as hell! Also permanently SNBO. I couldn't get a good picture of it, as it's not really photogenic, but also the area around it is covered up. Check it out.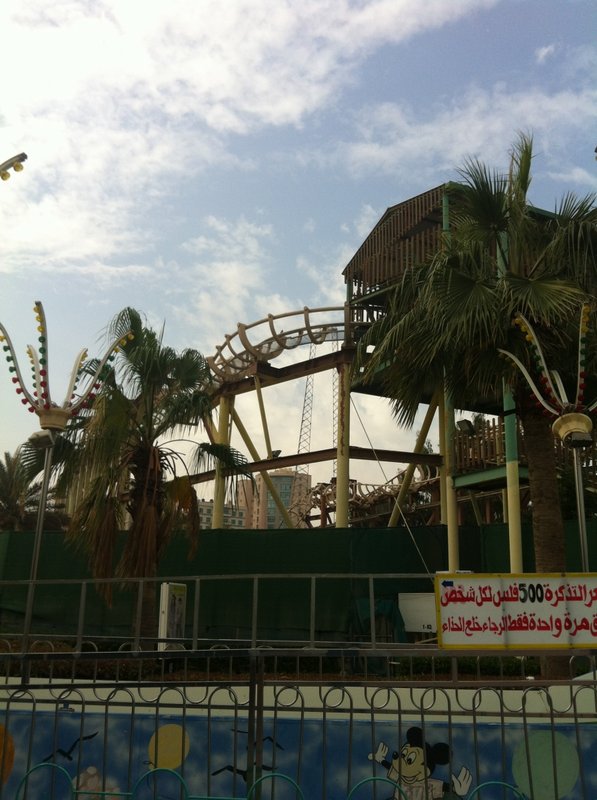 Well Robb, this is one Intamin you wouldn't wanna ride.
Nearby was the "Matherhorn" or "Musik Express" as some might call it. I'm not kidding, that's it's name. Matherhorn. I pronounce it, (Math-erhorn.)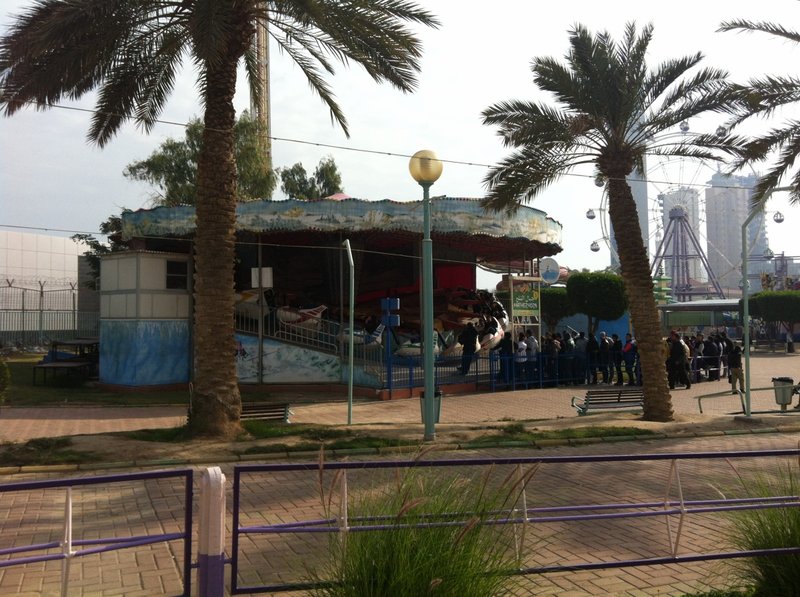 I kept wandering and I came across Arrow's last ever custom looping coaster. It is simply called, "Roller Coaster." Greatest. Name. EVAR!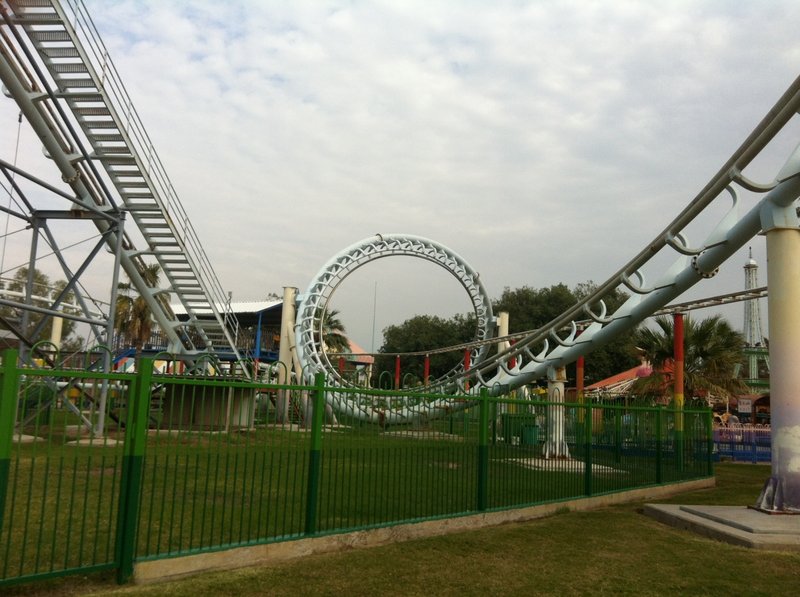 The coaster is seriously photogenic. I took tons of pics of this ride! It has 2 inversions. A loop and a corkscrew, and features a pre-drop, and 2 overbanked curves.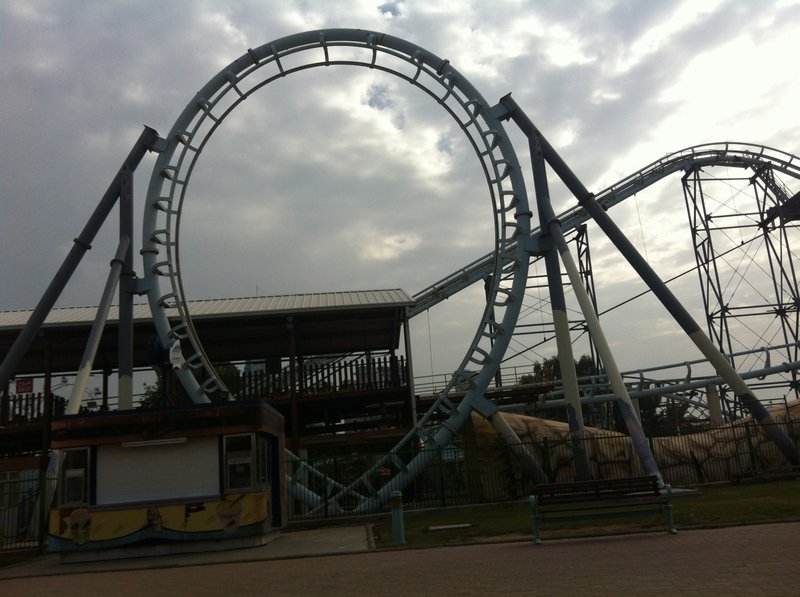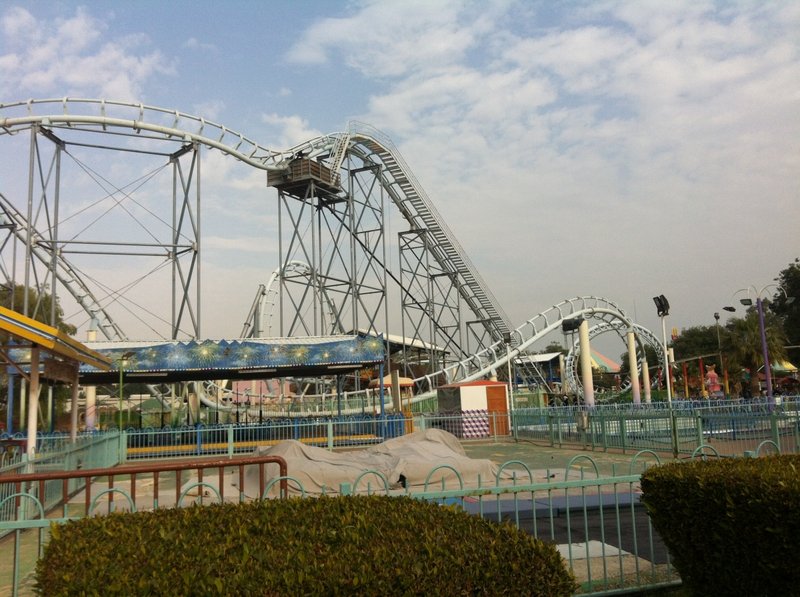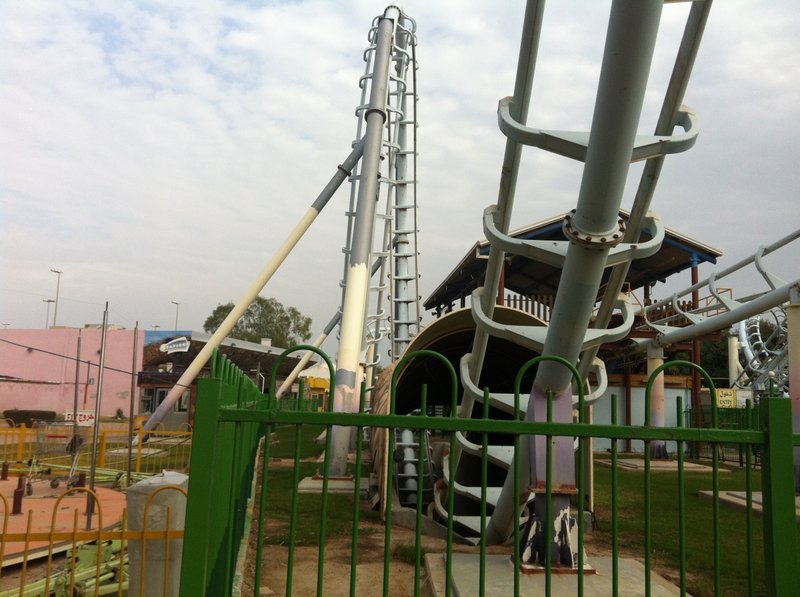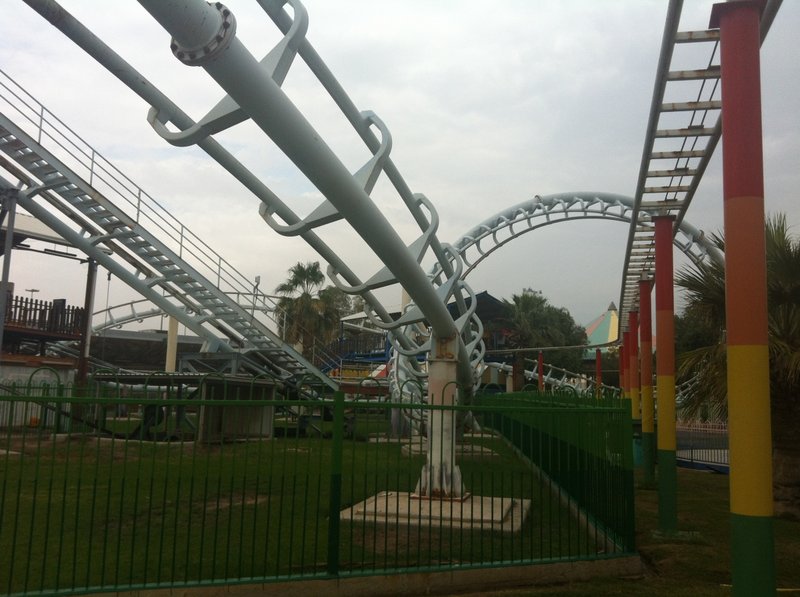 Unfortunately, it was also permanently SNBO. So that leaves NO roller coasters in this park. Only flat rides.
Even though it was SNBO, the station gate was wide open and there was no operator, so a couple of my friends and I climbed up into the station. I snapped a couple of pics. Don't worry about the control panel. It's not functional.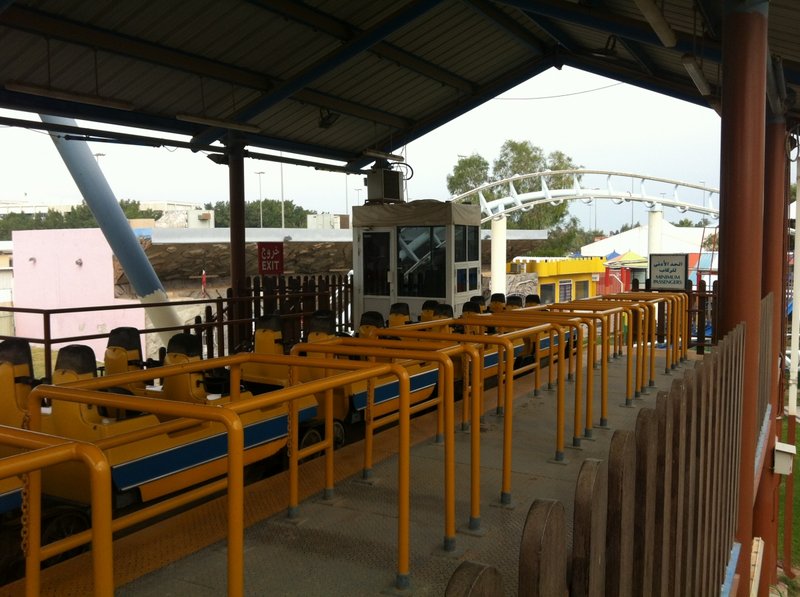 The train.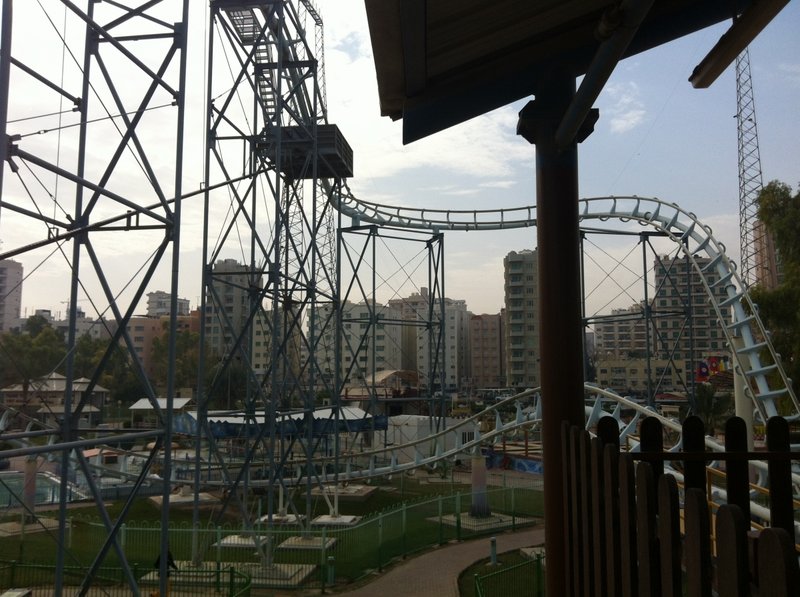 Pre-drop.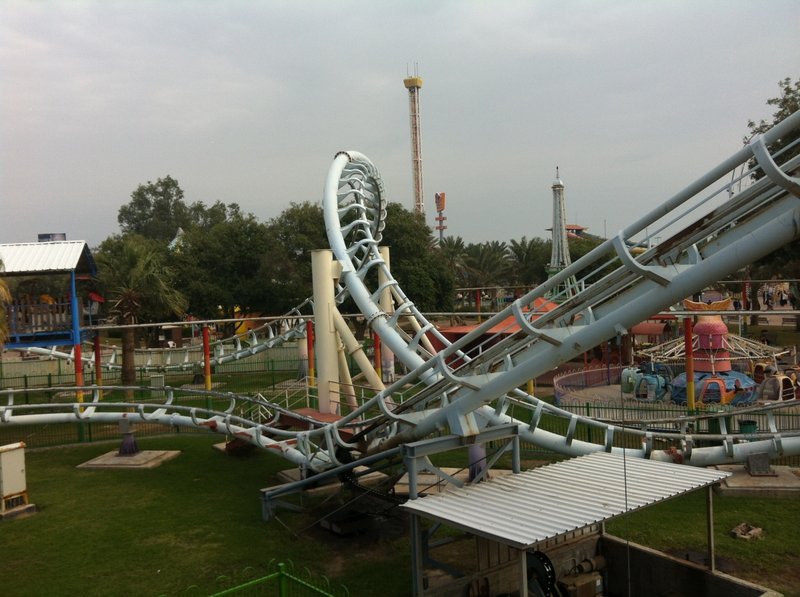 Another view of the corkscrew.
We left the station and walked around. Snapped some pics.
Here is "Win Street." These were supposed to be carnival booths.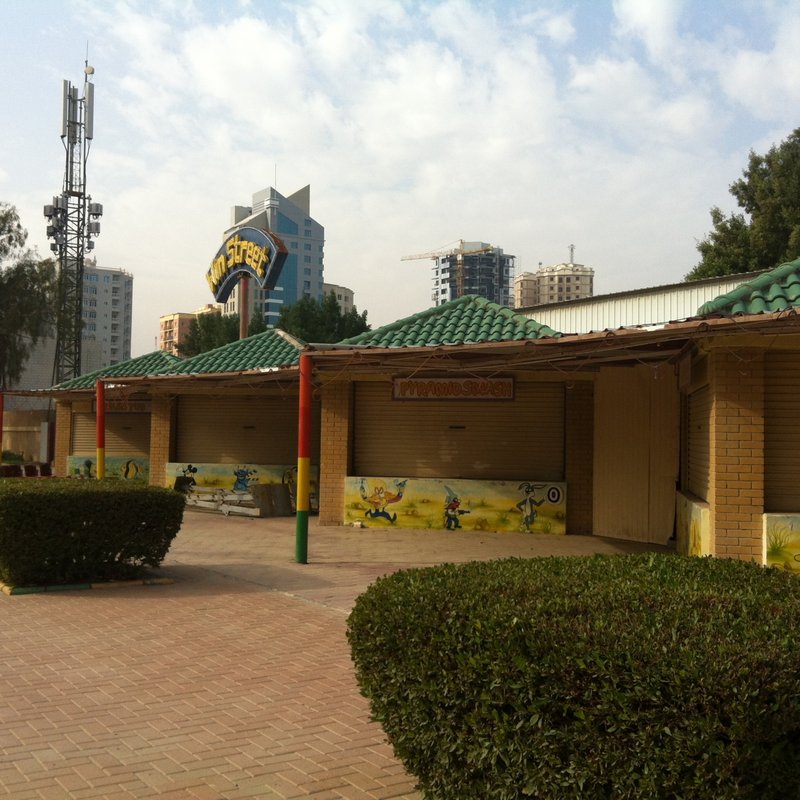 Welcome foolish mortals, to the
UNTED CASTLE!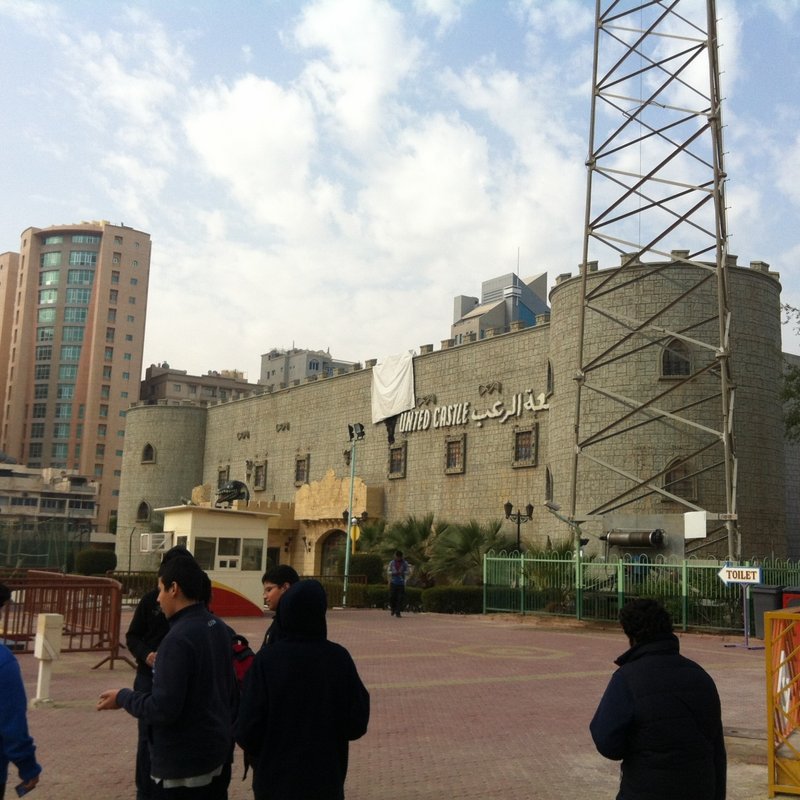 It was also SNBO. WHY ARE A LOT OF RIDES IN THIS PARK SNB-FRICKIN'-O?!
The "Dino Jungle" ride. A poor man's version of Animal Kingdom's "DINOSAUR!" Only recently fitted with new cars. Gold Mine carts! Previous cars were based off of the Jurassic Park cars.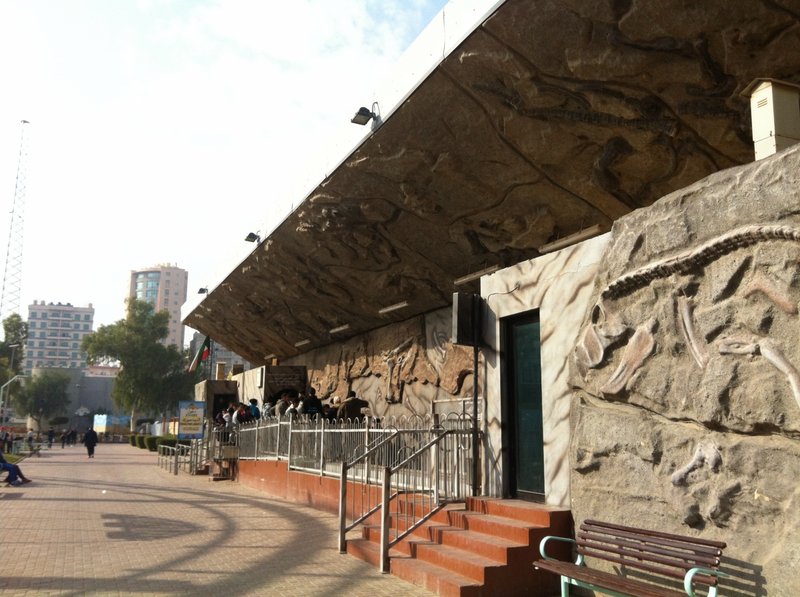 I also took a picture of the S&S Space Shot! And you can probably guess, S. N. B. O.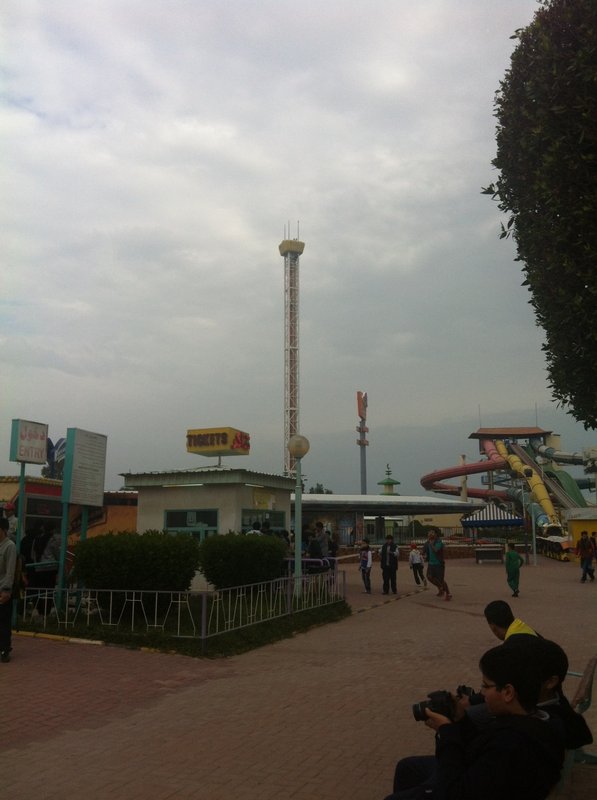 Directly in front of "UNTED CASTLE" is the Sky Coaster! Also SNBO. Damn it, Shaab Park. WHY ARE YOUR RIDES ALWAYS SNBO?!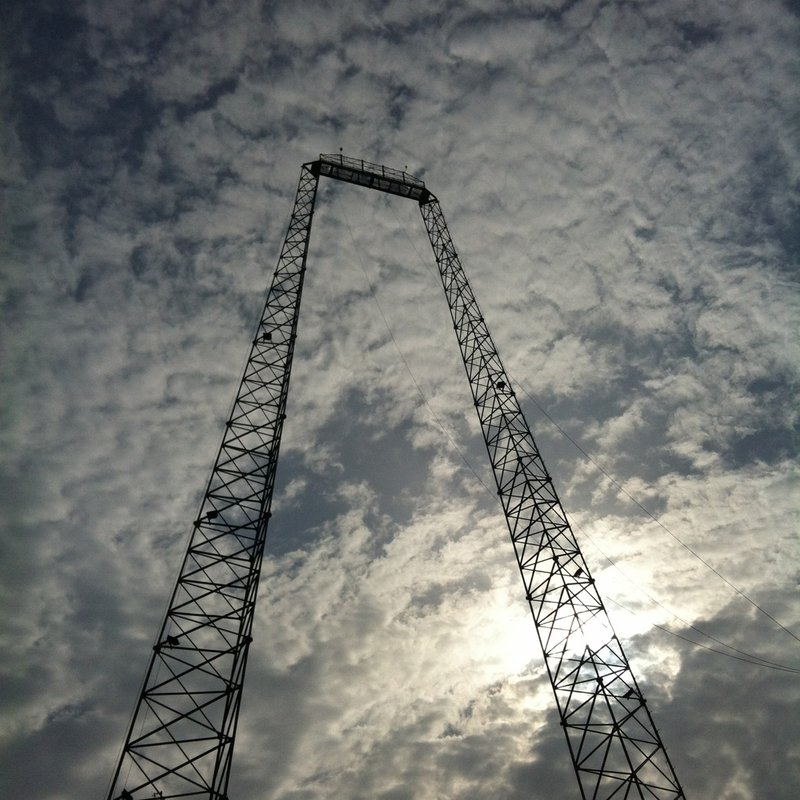 Another shot of the INTAMIN DEATH MACHINE!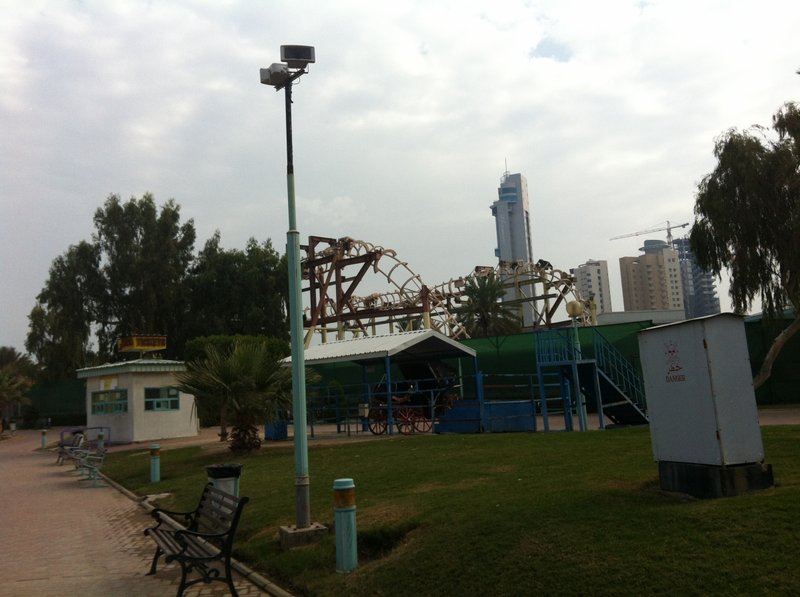 Some awesome views of the park!
We went riding the "Viking" swinging pirate ship!
Onboard. Graffitied as heck with white-out!
Nothing much happened after that. My and my friends got lost in the park after riding the swinging pirate ship. We left that ride, almost every student and staff from our school in the park disappeared. Only people left were the seniors and their grade coordinator. We asked them where they went, no clue. We went circling the park until we found them. They were all at the Tagada/Revolution area. Then my camera died. After that, we left the park and we were split into 3 groups. One group went to eat Taco Bell, the other to McDonald's the last group with me, went to eat Hardee's. (That's 'Carl's Jr.' for you, 'Muricans.) After the lunch, we all went to school where we were picked up by our parents and went home.
And that was my trip to Al-Shaab Leisure Park! Theme Park Review, if you plan on having a Middle Eastern tour, and if you want a park that has almost all it's rides SNBO, visit Al-Shaab Park, which should be named Al-Shaab Flat Ride Park. Seriously. No coasters, almost all rides are SNBO, nothing but FLAT RIDES! AND ONLY FLAT RIDES! Some rides are free, some you gotta cough up some money to get on. Money-stealin' thieves. But still; it was fun, we laughed, we enjoyed some of the rides, and if I had to rate this park, I'd give it a 6/10.
Thanks for reading my post! Hope you liked it!