Hello all, I dusted off my old copy of RCT2 after finding some of my old game data with my saved games and coaster designs. I actually still got a few of SDC's big coasters and an unfinished park terrain layout that I recreated (prior to Outlaw Run). I played with the "sandbox mode" AKA roller coaster designer a bit and immortalized OzCat from Celebration City site in light of its demolition last year. I still got the skills after all these years not playing. lol
Despite some differences (due to game limitations) from their real life counterparts, the game handles their general designs quite well. I was shocked when I consulted the RCDB and the coasters recreated in the game were fairly spot on with the specs.
I have yet to figure out which designs I could use to remake Fire In The Hole or Outlaw Run, particularly the latter as RMC and their coaster designs didn't exist when this game was originally made. The former I would have to load into a scenario to build the enclosure and whatnot.
ThuNderaTion
Download
I would have to load the coaster into an actual scenario to recreate the tunnel and build the connecting structures which enclose parts of the ride along and around the track. Probably the best Arrow mine train coaster in existence.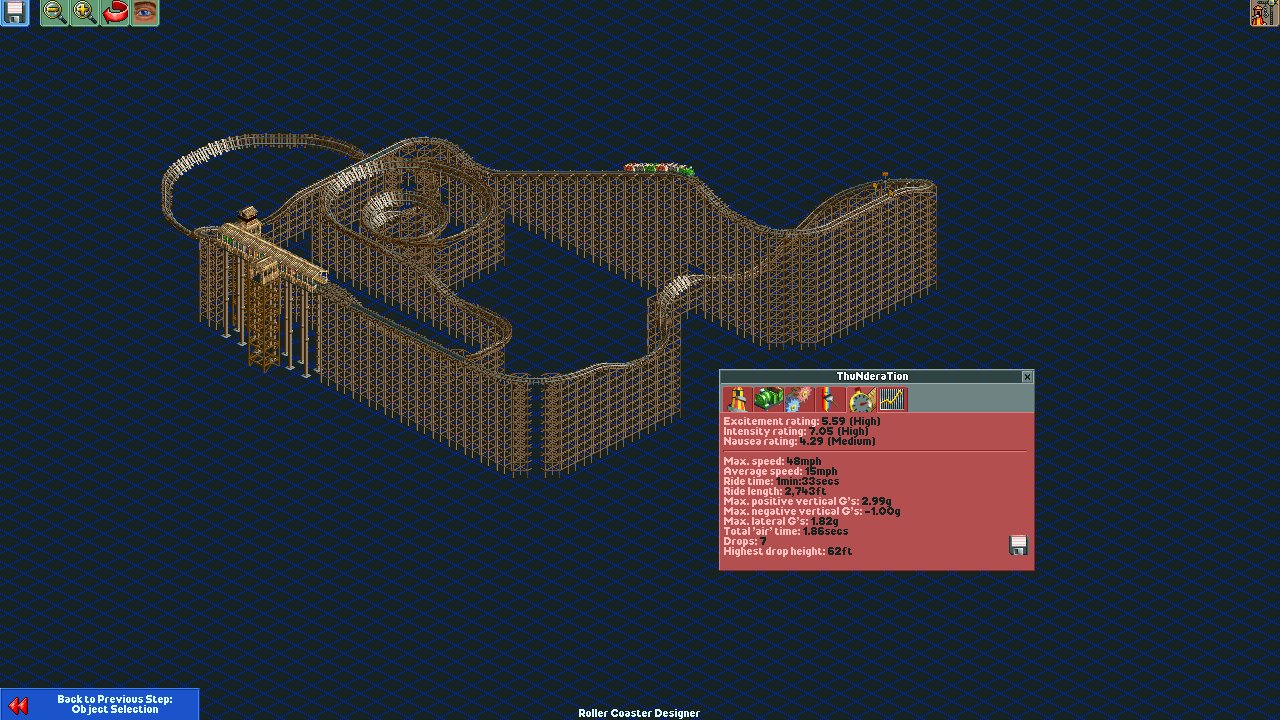 Wildfire
Download
Pretty spot on here, but had to add a couple more trim brakes around the track or it would receive an ultra-extreme rating (bad for guests in the game) for the g-forces.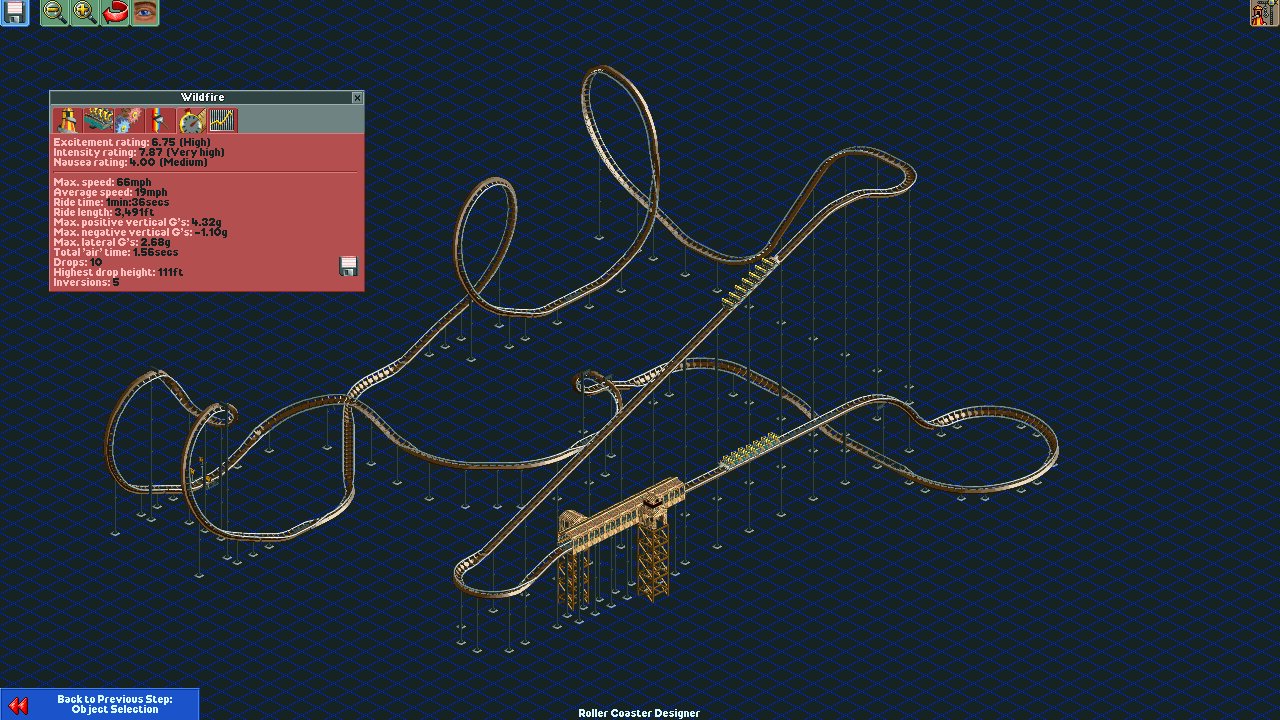 Powder Keg
Download
The least accurate recreation from SDC. The game has no transfer track feature and it does not allow multiple trains or lift hills on a launched coaster so adaptations had to be made.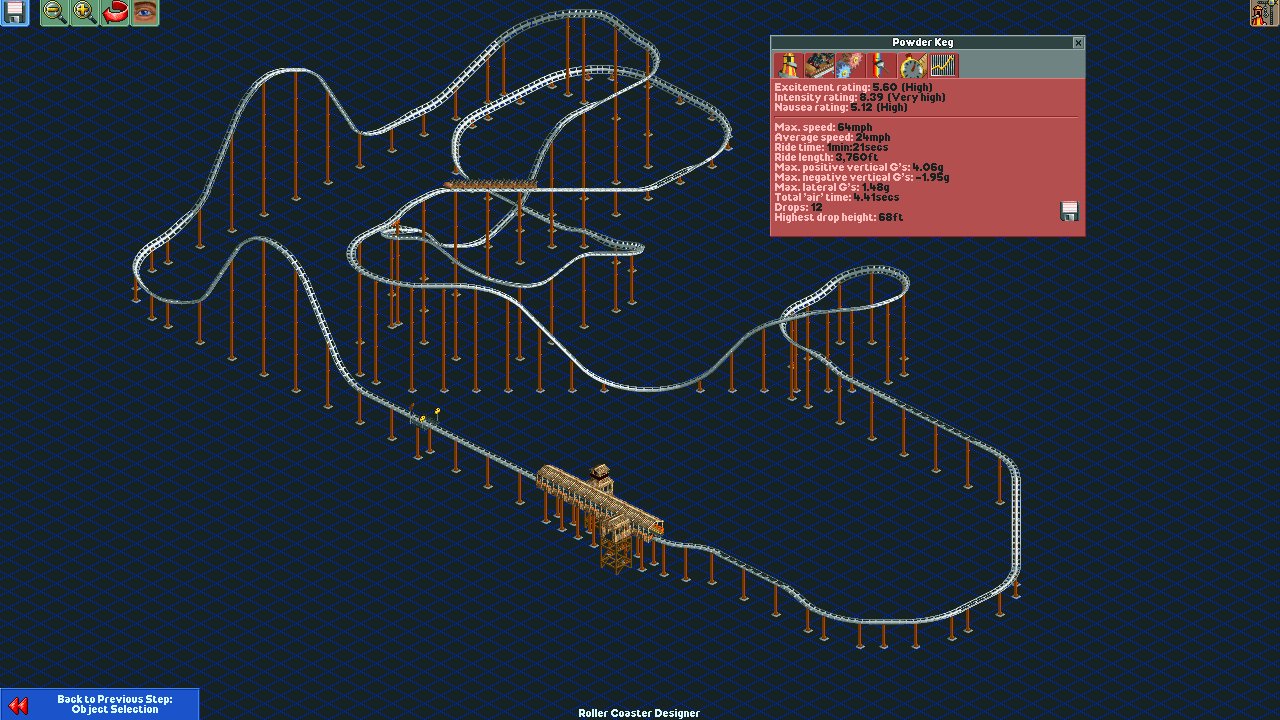 Ozark Wildcat
Download
The centerpiece of the former Celebration City theme park that was right down the road from SDC, may she R.I.P. but remain immortalized and remembered here. This fantastic wooden coaster was probably GCI's top five best coasters. She went before her time.