From the Walls of Troy to the Fields of Avalon: Toverland
Back in 2008, Toverland was like a particularly good, eccentric FEC on steroids themed to elves and magic, with a touch of science fiction and ancient Greek history. The park was a large indoor/outdoor "playground" with some rides, including two big coasters, Troy and Booster Bike. I remember much mayhem as TPR members played on a bunch of "never in the U.S." playground equipment. I think there were some minor injuries, but no deaths.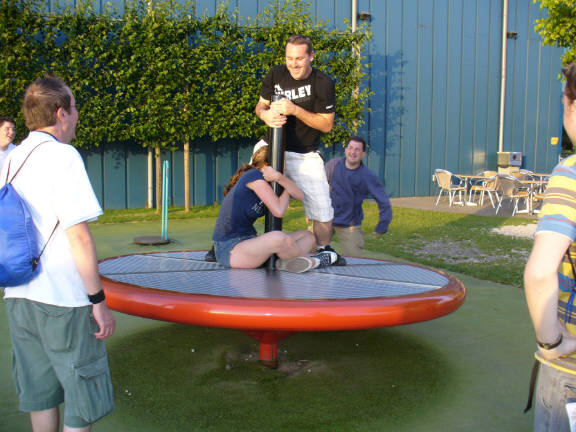 It was good then. It's better now, with the addition of a water-play area named Port Laguna and Avalon, a realm dedicated to the days of King Arthur. Avalon boasts a B&M Wing Coaster named Fenix and Merlin's Quest, a boat ride (along with shopping, dining, and some pretty gardens, of course).
I'm not a big fan of B&M Wing Coasters, but I enjoyed Fenix--from the beautiful theming in the queue and station to the ride itself. My big problem with most Wing Coasters is that they "meander" between their various elements, while the vest restraints squeeze the breath out of you like a python squashing its prey. But Fenix doesn't waste a lot of time "meandering"; it shoots through its various inversions and other tricks quickly and provides some nice air time along the way. This is my favorite of the B&M Wing Coasters I've ridden.
Merlin's Quest is not only a nice boat tour of Avalon, but also a very good dark ride through Merlin's "treasure chamber." He certainly had a lot of books, in addition to a mermaid, stashed in a very colorful cavern. Merlin's underground river winds under the twisted tower of Fenix, which reminded me a bit of the tower the old wizard used in Disney's "The Sword and the Stone."
How about the rest of Toverland? Troy is still a fun, large GCI wooden coaster, and the Vekoma Booster Bike is still good. I liked how they rethemed the old Bobkarts, too. Looking good, Toverland.
Well, better get a move on. Robb has a filming session set up for Fenix, and we might be in for some rain later.