Interlude to the Prelude: Bobbejaanland
I last visited Bobbejaanland with TPR in 2008. Here's what the entrance looked like then, along with my first reaction to the park.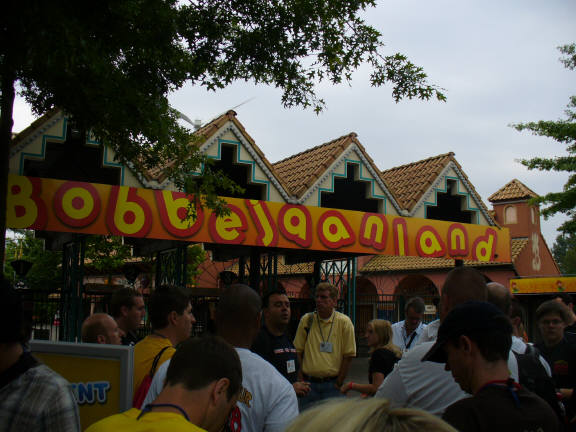 "Through this portal, 'Weird' has sex with 'Wacky,' who gives birth to 'WTF.'"
A lot has changed since 2008, when the park was an eccentric place with a "Wild West" town and other random attractions. Today, it's an eccentric place that's morphing into more of a theme park, with the addition of Adventure Valley (a sort of "Indiana Jones," jungle-themed land) and the Land of Legends, which features both old (Typhoon) and new (Fury) attractions.
Land of Legends revolves around the elements of Earth, Fire, Wind, and Water (and is not to be confused with the soul group Earth, Wind, and Fire). Each attraction here has entrances branching off from a central plaza. It shakes out like this:
Typhoon, the park's old Eurofighter, represents "Wind" (but not "Water," even though typhoons have rain). The ride's queue now sports a Griffon (sorry, BGW) pulling a coaster car behind it. Other than that, it's the same ride that opened in 2004, but with a nicer color scheme--it's still a good, forceful coaster (more on that later).
Fury, with its crazy launches and dragon statue, represents "Fire." This Gerstlauer coaster is also the first to let riders vote on whether they want to be launched backward or forward. After riders vote by pressing a button, a turntable in the launch zone turns the car in the winning direction. This is an excellent, intense, air-time-filled ride. But a word of advice: After taking three consecutive rides on Typhoon, don't be shocked if a backward ride on Fury messes you up for a while (especially if you're me). That being said, I liked this ride quite a bit.
Sledgehammer, one of those pendulum/giant Frisbee type rides, represents "Earth." Well, why not? (It's a re-theme of a ride that was there in 2008.)
A kid's play area, with interactive fountains and a sea serpent, represents "Water." This seemed a bit anti-climatic, but at least all four elements were accounted for in the Land of Legends.
All in all, it was a good day at Bobbejaanland. Let's wander around and see the old and new of this eccentric Belgian park.
Don't worry--Oki Doki, the creepy clown coaster, and El Paso Special are still there.
Attachments
Last edited by
cfc
on Mon Aug 12, 2019 6:09 am.