CoasterAuditor wrote:I agree 100% with the logic of roller coasters should be "just fun." There's no need to compare them all constantly. Maybe if you're bored one day and have a ton of free time it can be kinda interesting to think about but there's no need to be thinking about how much better you think Afterburn is than Alpengeist when you're at Busch Gardens. Just ride Alpengiest and have fun.

I had one person say when I listed off Kings Dominions 5 best coasters next year that "Flight of Fear was a weak fifth coaster." How? Why would you consider a fun indoor launched coaster that's intense and claustrophobic "weak?" I just think it's really fun.
Thanks! And yeah... that's crazy. Not only is it stupid to talk about a coaster collection like a major league baseball lineup, but Flight of Fear is awesome so that guy (because we all know it was a guy) is a dumbass.
thrillseeker4552 wrote:Back on topic, awesome report(s) Bill! So entertaining to read.
Thanks! And yeah, that I305 story is ridiculous.
TBpony414 wrote:Does Outer Limits have the exact same layout as Joker's Jinx? Or is it mostly the same but kinda different? I've always had great rides on Jinx but for some reason my rides on FoF never seem as good. Perhaps it's the darkness wreaking havoc on my stupid brain making me sick? Not sure. Drop Zone is a kick A$$ drop tower and has been down on my last few visits so I'm happy it was working for you guys!
I *think* so, personally I'm the exact opposite though. I think Flight of Fear's setting makes it far more enjoyable (though I like Joker's Jinx too!).
======================================================================
Alright everyone! After a bit of an internal struggle, it's time for another report.
Why the internal struggle? Well... there's a few things at play here and I wasn't exactly sure what park to actually write about. Generally I don't write trip reports for local parks unless there are some special events going on since we go there more often than others and there's less to write about. I was considering making an exception for Dorney though since we only go there once a year at this point since it's... well...
...since it's Dorney.
We actually go to SeaWorld and Busch Gardens Tampa much more often than Dorney and I write reports for those, so I was leaning towards writing a Dorney Haunt report just because we pretty much never go there. That said... it's now December and writing a report about a seasonal event after it's ended seems sort of questionable so I almost skipped it and started our Arizona and Vegas trip report.
In the end though, we actually had a really good time at Dorney's haunt and the event will probably have all the same houses next year anyway, so I figured... what the hell? Let's give Dorney a courtesy report and do our part to remind the world that this place exists.
People talk boatloads of sh*t about Dorney (and I've definitely contributed some sh*tbuckets myself), but I actually love their haunt event. Most haunt events are an absolute sea of humanity. Ride and food lines reach biblical levels, understaffing runs rampant, the parks are flooded with unruly teens who occasionally bring
tasers
and in some cases the major draws to these events are upcharge haunted houses that are understaffed and have ridiculous wait times.
Well...
Let me tell you a tale of a land where crowds, lines and other humans don't exist. A magical land of concrete where all of your troubles melt away. Massive crowds are replaced with nothing but empty pathways, empty coaster trains and the most trash cans per capita of any place on earth.
Our visit was a quick one... a Friday night in mid October where we went straight from work, got there around 8:00 and stayed until the midnight close. At most parks that's no time at all (especially during haunt), but since it's Dorney we managed to get a ton of rides and houses in.
Hopefully by the end of this report, I'll have satisfied your brain's annual quota for acknowledging Dorney's existence and you won't have to think about it until next year when the news from the media day for their new chicken tender restaurant inevitably takes the nation by storm.
We walked up to the front gate and got through in about 30 seconds. I didn't realize at the time since I had so many layers on, but apparently our phones and keys got through the metal detectors just fine. Cedar Fair's metal detectors are a joke. I'm pretty sure you could get a grenade launcher through one of those things and they seem to exist for no other reason than to create an illusion of security. Then again, I guess if someone had bad intentions they would probably go somewhere where there were actual people around so I guess Dorney's probably fine.
The people scanning tickets were all in full costume (which was a nice touch) and they set a fun tone for the evening. After a quick pit stop at the restrooms, we decided to start the night on a high note and make our way over to the best coaster in the park by default... Talon!
We quickly made our way through path and towards the empty station (per usual), hyped up for our ride. We entered the queue, made a right, made our way down the walkway and...
That's it everyone. We've reached the end times. Great Adventure paved the parking lot, North Korea has nukes and Talon has a line. I guess I need to get right with god... and that could f*cking take awhile so I'm pretty sure I'm screwed.
Alright, alright... so it was only about 10-15 minutes. But it still made us question everything we thought we knew about the universe. It was a straight shot to the station obviously (why does that giant queue area even exist? I feel like some poor hopeless dreamer puts up those shade canopies every year dreaming of a day where anyone might actually stand under one of them) but it was still insane. Luckily though, by the time we finally got over the shock it was time to ride.
The ride was awesome as always! It's hard not to love Talon, especially that low to the ground section at the end and pop of air into the brakes. Despite the line, we were still in the front row within 20 minutes so all in all that was a pretty great way to start our night.
After leaving Talon, we walked by the "Chamber of Horrors" wax museum. They've had this maze for years, and it's always set up in the arcade building. Generally it's pretty weak, but we noticed there were only about 10 people in line so we decided to check it out anyway. We didn't expect that after seeing an actual line for Talon, but we figured maybe it was a fluke.
The premise of this house is simple. It's a wax museum that lures you into a false sense of security by having a ton of fake figures with real people occasionally mixed in. They have some cool sets and unrelated things to mix it up a bit and it's a simple but effective house. If I had waited more than a few minutes for it I might have felt differently, but it's Dorney so that's pretty much never going to be an issue. One strange thing is that the exit takes place through an emergency exit for the arcade that has a sign on it saying "Emergency Exit - Alarm will Sound" so when we reached the exit there was a huge backup of people who didn't want to open the door and eventually a scare actor had to come over and tell them to open it. I wasn't about to open it otherwise since last year one of the actors in Trick or Treat went on a smoke break and left a door open so we ended up exiting into a backstage area under the Steel Force lift hill.
Up next was Blood on the Bayou, a returning favorite from the previous year. Pro tip:
Putting the word "Bayou" in the name of your house automatically makes me love it
. True story...
Over the last few years, Dorney has started to build permanent buildings to house some of their haunt mazes. Leaving them up all year allows them to leave the mazes in place full time, limiting the amount they need to spend on setup and tear-down and allowing them to build some cooler sets (though "Trick or Treat" is in one of those buildings and it sucks). Generally though, I love that idea and fully approve. Blood on the Bayou takes place in one such building and they took full advantage of it.
The wait for this one was only about 10 minutes, so in no time we found ourselves in front of the house receiving the spiel / backstory. Luckily they seemed to have fixed some of their staffing issues this year and no longer had to have a dude playing the stereotypical cajun woman in the front of the house so that was a nice bonus.
As for the house, it was awesome. They actually have some legitimate animatronics in there! It's well beyond the scope of what I would expect at Cedar Fair and especially Dorney. This is a great house, if this house were at HHN or Howl O Scream it would fit right in and that's the highest praise I can dish out for a regional park house. Major Kudos to Dorney on this one.
Riding our Blood on the Bayou high, we decided to make our way a little deeper into the park and had the good fortune of walking up to the skeleton crew stage right as a show was beginning. Skeleton Crew can be found at a lot of Cedar Fair parks, but it's always a "must watch" for us. We're not really into theme park dance shows (since dancing sucks), singing shows (since if you could sing, you wouldn't be working at a regional theme park), or any shows where any real acting is required but we're always suckers for animal shows or acrobatic shows. This show is loaded with cool acrobatics., so we approve.
After a few opening acrobatic acts that generally change from year to year, the show ends with the classic trampoline bit. This part of the show never really changes, but it doesn't really have to. It's always fun to watch and incredibly impressive.
As the show came to an end, we quickly made our way over to the Hydra side of the crowd, assuming that everyone would have the same idea we did and dump into the Hydra queue at the end of the show. It turned out we were correct, but we managed to beat the crowd and walk right into the station per usual.
I've said this before... but Hydra is a strange coaster. As everyone knows, people complain all the time about B&M loopers from the early 2000s on being dull and uninspired, forceless, uninteresting and repetitive. People complain that they all come from the same mold, that the B&Ms of the 90's were better and rarely do anything different or interesting.
Then Hydra came along, took that mold and blew it completely to hell. I'm sure this isn't what actually happened because nobody really cares what whiny enthusiasts want, but on paper it SEEMED like B&M took all the criticism to heart with this ride, threw out all the rules and built a crazy, insane, one of a kind coaster that would put all of that criticism to bed.
A barrel roll BEFORE the lift hill, no vertical loop at all, the first element after the drop isn't even an inversion, the ride starts out with THREE barrel rolls (generally the best element on a floorless coaster), no midcourse, no trims, just a super weird and one of a kind floorless coaster. On paper, it was a dream come true. In practice...
well... it's Hydra.
Hydra is the Guinness of coasters. It seems totally unique, it seems awesome, your douchebag friends love it, you hype it up, you finally try it, you're supremely disappointed and downright disgusted by to the point of being slightly nauseous just thinking about it, then eventually over time you acquire a taste for it and in a f*cked up way sort of start to like it... but possibly because you had to force yourself to like it.
That's me with Hydra. The criticism is totally valid, it looks super weird and cool and doesn't live up to the hype that the cool layout and visuals create at all but still... I have a blast every time I ride this thing. Yes, it's the bastard child of B&M floorless coasters just like how Dorney is the bastard child of the Cedar Fair chain but it's still a fun ride. It's unique, it's cool, the jojo roll is great and the stupid thing has character. I approve.
After Hydra we were deprived long enough, so we made our way down the hill to the two best rides in the park. Along the way, we walked through a cool clown area that was so loaded it fog machines that you'd swear park executives robbed a local Spirit Halloween store in the middle of the night and stole their entire inventory just for this path. In general... this park LOVES their fog. Six Flags has an absurd amount of fog machines, but they could only dream of reaching this level of insanity. It looks like Snoop Dogg's house on New Year's Eve.
After navigating the sea of fog, we finally made our way to the lower section of the park. Thunder Creek Mountain seemed to be closed for the season (as predicted), so we continued moving down the hill to the park's other star attraction... Demon Drop.
To this day, I still don't understand how this park ended up with Demon Drop. When they failed to sell the ride I was sure it was headed for the scrap heap. It was old, loud, unreliable and basically ever park in the chain already had a much larger, much more reliable and much more impressive looking drop tower. When I heard the rumors of it coming to Dorney I honestly didn't believe them, but when I saw those parts actually starting to show up I felt like a kid on Christmas morning.
Demon Drop (in my mind) is the best drop ride in America. Sure there are some awesome ones out there (like Falcon's Fury, Zumanjaro, Lex Luthor and those Larson towers) but no drop tower convinces you that you're literally about to die like Demon Drop does. It's so wonderfully sketchy and loud that it's a f*cking masterpiece of a ride. There's nothing like walking up to the ride and hearing the cars crash, slam and bang around the track knowing that a few minutes later, that's going to be you.
Brit has no fear of any other drop tower but she's terrified of Demon Drop. She almost sat it out, but eventually I convinced her to come along because it would be super romantic if we both died together holding hands or some bullsh*t.
Brit was definitely freaking out a bit as we slammed our way into the lift area and watched a car of terrified riders rocket down the drop above us (this ride does nothing gracefully and I love that about it). After ascending the lift and being pushed forward by that shady looking tire we found ourselves way up in the air staring face to face with that sh*tty S&S abortion of a drop ride that should be ashamed to be seen in the same park as Demon Drop. Even I started to question my own sanity (this ride will do that), but I didn't have long to think about it because a few seconds later we were barrelling towards earth in one of the most insane freefall drops of any ride on the planet.
Both of us were laughing uncontrollably once we stopped moving and started reversing, aggressively slamming into sh*t as the car righted itself and backed towards the station. This ride looks like a death trap, is aggressive and unrefined in everything it does, is a noisy, unreliable, aggressive piece of sh*t and all of those things come together to make it one of the most awesome and terrifying rides in America.
I have no idea why this ride exists or why they moved it here, but thank god they did. A lot of times it's sort of a shame that Dorney Park has become a dumping ground for crappy recycled rides, but it might all be worth it since it means they have Demon f*cking Drop now.
After the demonic dropiness, we made our way to our next house. Cornstalkers is located right behind Demon Drop on the old Go Kart tracks. As you may remember from my Busch Gardens report, I'm a sucker for any maze involving maize (I can practically hear you groaning at that one from here).
In true Dorney fashion, Cornstalkers had basically no wait. At that point it really did seem like the Talon thing was a fluke, and we certainly weren't complaining.
The maze starts out in a shed before exiting into the corn maze. Throughout the maze there are other random sheds with indoor sections, cool "redneck" props, tractors, animatronics and other cool surprises... it's really the same plot line that every single "corn" haunt on earth uses but for whatever reason it really never gets old.
Blood on the Bayou is probably this park's star haunt maze, but this one might be my second favorite, though it's really a toss up between that, Tourist Trap (their new house) and whatever the politically correct name of their asylum house is now. Personally I just like the crazy, f*cked up farm gag with corn everywhere so I'm leaning towards that one.
At that point we only had about 2 hours before close, so we decided to focus mostly on coasters and throw in a house whenever possible. The houses we still hadn't managed to do were Tourist Trap (the new house which we were saving for last), the Blackout house (but "Total Darkness" at Six Flags was so stupid that it ruined those for us forever), Trick or Treat (which blows), Grave Walkers (which isn't "really" a house but it has a queue line so it sort of is and the politically correct insane asylum thing.
More importantly, we had some coasters left to ride.
Up next for us was Possessed which was sporting absolutely no line whatsoever. We actually arrived as soon as the gates opened (well... "unlocked", you have to open the gates yourself at Dorney. Yeah... I don't get it either). We considered waiting one extra cycle for the front, but instead decided to hop into the next available row a few rows back.
The ride started out a little strange as it blasted out of the station, then slowed way down for a second and finally blasted forward again, but the rest of the ride was uneventful. Apparently they turned the holding brake off, which is kind of a bummer but it doesn't make a huge difference to me as the ride is still awesome and now it's a much friendlier experience for male riders. That holding brake was cool but... ouch.
When we exited Posessed we found ourselves in a super cool pirate scare zone. There were some seriously impressive sets there, along with a pirate cannon that was ridiculously loud and scared the crap out of everyone whenever it went off. I remember the scare zone from previous years, but I feel like it was much better this time around.
After escaping the pirates, we stumbled upon Stinger. Stinger had valleyed (I think with riders) earlier because it's a piece of sh*t and as we drove in we saw maintenance climbing the back spike with flashlights but it had since reopened. It was a complete walk-on, but we ended up skipping it anyway because it's terrible. We had a date with the world's tallest and fastest mine train.
On the way we passed by Grave Walkers, planning to hit it on the way out and Trick or Treat, which we didn't plan to hit ever
. We made our way up to the ride, walked up the stairs, began the customary elongated walk through the empty queue to the empty station and into the empty train and...
Holy crap... people in Allentown sure love their mine trains. After picking my jaw up off the floor we found ourselves in a shocking, 15 minute queue for Steel Force... easy 14 minutes longer than any Steel Force queue I've seen in my entire life.
Luckily it was a pretty entertaining queue as we could check out the nearby dinosaurs and super old "Halloween" music videos on Fun TV. I really like that they switch the Fun TV programming for Haunt with horror movie clips, "Halloween" music videos and tombstone shuffles. It seems simple enough, but it's neat idea. I sort of wish Six Flags actually gave enough of a sh*t to do that.
A few minutes later we found ourselves in the station and made our way to the front row line since that's really the only seat where the ride feels like you're riding a coaster and not falling asleep in your recliner at home. While I do appreciate the theming on Great Adventure's mine train, I like that Dorney's mine train doesn't have the obstructive locomotive smokestack on the front of the train so you have a mostly unobstructed view in the front row. You do have the nose of the train in front of you that's about the size of the front end of a 70's Dodge Charger and the train does feel like you're riding in a plus size coffin but I guess it goes with the haunt theming.
As we left the station and made our way up the lift I was pleased to see that the cars still rock from side to side and make it feel like you're going to get dumped into the employee parking lot. As the train reaches the top of the hill you get a great view of downtown Allentown right before you begin cresting the hill towards the massive first drop and throw your hands in the air in anticipation.
... and continue cresting the hill
... and keep cresting
... I have my hands up but I feel like I'm being a little dramatic
... this is like that guy that puts his turn signal on 2 miles before the exit. I appreciate your enthusiasm but it's going to be awhile. Chill...
... are we even moving?
... yeah, I think we're moving
... maybe this mine train is themed to the little engine that could?
... I think I can, I think I can, I think I can
... woah, are we moving?
... holy crap, I think we are.
... woohoooooo!!!!!!
The ride itself was probably the best ride I've ever had on Steel Force, probably because the train was actually full for a change. There was no airtime to speak of, but sitting in the front of this thing on a freezing cold night, flying through the giant helix is an awesome experience. I'm a sucker for speed. The ride is forceless and doesn't do jack sh*t but it goes really fast for a really long time and that's good enough for me. I approve!
Thanks to the unexpected line, we were pretty short on time at that point. We decided to skip grave walkers and the PC Asylum and make our way back to the front of the park instead. On the way, we took the path under Thunderhawk and found ourselves in a completely awesome medieval style scare zone complete with HUGE animatronics. Damn, Dorney... I'm impressed.
We didn't really intend to ride it, but as we approached Thunderhawk we came to the realization that we hadn't ridden the ride since it got the new trains. The main reason for that was because we didn't really see how replacing a PTC train with a slightly more orange PTC train would solve anything, but it had no line so we figured... what the hell?
I normally hate when people complain about this type of stuff, but this coaster is downright frustrating.
This was our first ride in years since the ride had gotten really rough before it got those new trains, but they had done a lot of work on it since our last ride so we hopped into the second row of the first car (which used to be the best seat on the train) and were cautiously optimistic for our ride.
Thunderhawk could easily be the best coaster at Dorney park, bar none. When it runs without trims, it sends riders in the front car into the stratosphere at the top of the first turnaround. The second turnaround also provides awesome ejector airtime and the return run provides endless pops of floater air all the way back to the station.
Sadly, when the ride runs without trims it rips itself apart and requires a ton of maintenance. If this ride were at Knoebels it would be beloved by everyone, but Dorney would rather put trim brakes on every potentially exciting moment of the course so it meanders back to the station without really doing anything at any point than do tons of track work.
On the plus side the ride was smooth, but it's also a completely uninteresting coaster and it really doesn't have to be. Oh well, one and done for us.
We were down to our last 30 minutes or so and we wanted to make sure we ended our night on a high note with the new "Tourist Trap" house but on the way I became distracted by a certain drop ride over near Thunderhawk.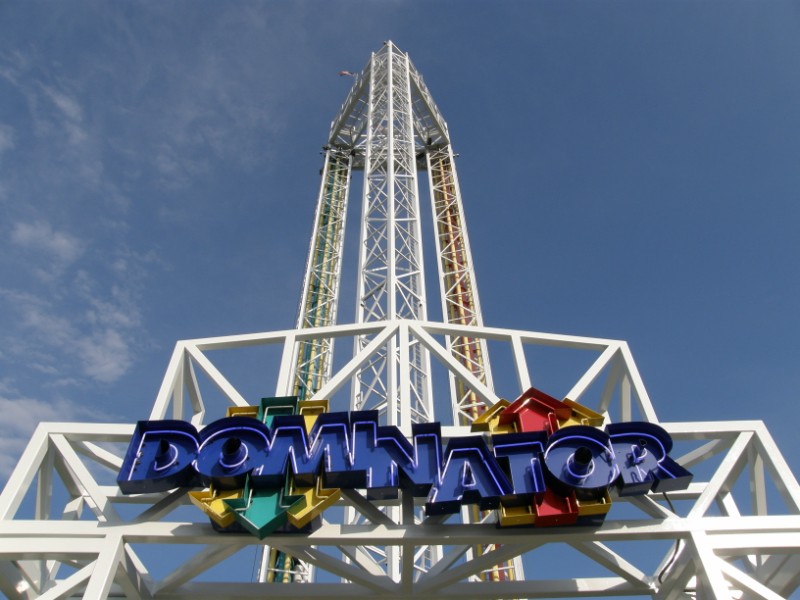 Photo by Philard. I didn't get close enough to the entrance to take a picture of it. lol
No... not you. F*ck off.
Of course, I'm referring to Demon Drop. We snagged our second ride of the night on that beast of a ride and it was just as awesome as the first. We contemplated staying there for the rest of the night, but in the end we decided to pry ourselves away and make our way up to "Tourist Trap".
I was actually pretty surprised when I heard about Tourist Trap as it replaced their iconic Manor House attraction that always seemed to be their Haunt pride and joy. I never thought it was there best house, but it was very long, had some cool sets and was definitely a lot of fun.
On the way, I planned to get some crab fries from the Chickie and Pete's quick service location before getting in line but they were closed by the time we arrived. Luckily, I wouldn't have to endure a crab fry-less line... because there was no line... because Dorney.
When we reached the top of the walkway where a line would have been if we were at any other park, we were greeted by some weird dude skipping around while grouping. It was amusing but I have no idea what it was supposed to be and honestly that theme continued throughout the entire house. This thing was a hot mess.
Honestly, I feel like this was just Manor House with a new name, a weird skippy dude at front and weird music in the queue. It's pretty much an incoherent clusterf*ck of a maze with no real story behind it, whatsoever. That's really not a bad thing, it's a cool house for sure... but every other house seemed to have a general premise and this one was just loaded with random gags. It was cool, but I don't really think there was much of anything "new" about it. It's still a solid maze though. We definitely had a good time.
We had originally expected that to be the end of our night, but when we got out of the house we saw that we still had about 10 more minutes. We didn't expect that at all going in since it was a brand new house, but we weren't about to waste the opportunity. We didn't have time to get down to Grave Walkers or the PC Asylum house, so we made our way up the hill, cut over past the Troika and walked over towards the Blackout house. A house in total darkness that neither of us had ever done!
... and kept on f*cking walking.
Yeah, sorry. Maybe that house was good but Six Flags totally ruined the premise for us. We wanted to ensure that we ended our night on a high note so we made our way up to the best coaster in the park instead. I don't regret that decision.
Luckily, everything was back to normal at Talon and the ride was back to sending trains with 2 riders on them per usual. We hopped in the front row and were treated to an awesome ride per usual, when the train returned we assumed that the ride was done for the night but we saw that there were people waiting for the front and hopped into the back (after being granted permission from the ops which is odd for Dorney) and ended the night with a kick-a** ride on Talon!
While people love to rag on this place, I HIGHLY recommend their haunt event. Not only is it a fun park by itself, but they do a GREAT job for haunt and the lines for rides and mazes are ridiculously short compared to any other park in the region during haunt. Personally I'd much rather go there than somewhere like Great Adventure where the mazes are terrible, have 3 hour lines and are up-charges. If you haven't given Dorney's haunt a chance, you definitely should.