Thanks for the feedback guys!
Arthur_Seaton wrote:The storyline for the Transformers ride appears to be "OMG Robots! OMG Explosions! OMG Car Chases! OMGOMG Robots!" (which I think is probably the extent and depth of the film's plot as well), but it's still a visually-impressive and enjoyable ride.
I feel the same way. I know nothing about it but I like the ride. Speaking of which, you may have noticed that I made no mention of it at all and that's because we COMPLETELY forgot to ride it. We planned to ride it, we walked by it a few times and then as we were leaving the park we realized we never did. Honestly it's not a big loss. We love it but we rode Spiderman already and even though it's undoubtedly better than some of the other rides we rode at the end of the night (ET, Simpsons, Men in Black) I sort of enjoy those rides more for some reason. I'm okay with missing it but your post reminded me about how we completely screwed up and forgot about it.
====================================
Anyway, on to day 2 of our Florida Trip!
As you can probably gather, Brit puts up with a lot of sh*t. She has fun on these coaster trips but I'm totally the one dragging her on them and she pretty much goes along with any stupid itinerary I come up with. She really doesn't ask for much, she just goes with the flow but there's one notable exception to this rule and that's that if we EVER go to Orlando and don't spend a day at SeaWorld she'll divorce me before we even get married.
You may think I'm kidding, but I'm not. Our entire house is full of SeaWorld merchandise... SeaWorld beach towels, SeaWorld ornaments, ceramic SeaWorld orca things, she's even downloaded the entire One Ocean soundtrack to listen to in the car (which has a SeaWorld inspired vanity plate and a SeaWorld sticker on it).
The point is, she loves SeaWorld, and honestly who wouldn't? As we parked the car and walked through the gates, she was totally hyped up and ready for an awesome day with Shamu.
Our day took an unexpected turn (and got an unexpected upgrade) as soon as we walked through the gates and noticed the Dine with Shamu cart up front. We'd heard of Dine with Shamu and hadn't had the opportunity to do it but when we saw the awesome price point our minds were pretty much made up for us. With our passes Dine with Shamu came out to about $22 per person which seemed unbelievably low. We didn't know exactly what it entailed, but we knew Shamu was involved and according to Brit it's impossible to put a price tag on anything involving Shamu anyway so we went ahead and made a reservation for noon (which I think was the only available time). That gave us about 2 hours to kill before we had to be over at Shamu stadium.
When we go to SeaWorld I pretty much just take a back seat and let her drive, but knowing I couldn't contain myself we decided that Mako should be our first stop since the last time we were at the park it was still under construction. On the way to Mako we couldn't help but marvel at the new Shark area. What was formerly a very dated part of the park got a complete facelift with the addition of Mako and it turned one of the uglier parts of the park into one of the nicest. The ride itself looks great too with the finale taking place right over the midway.
As we entered the queue I couldn't help but notice that the queue itself was pretty nice but it also looked like it would be absolutely miserable on a busy day. While they have plenty of fans the first half of the queue is mostly in the sun which seems pretty insane for a park in Florida. Luckily lines are rarely much of an issue for coasters at Sea World but I'd hate to be there on a day where they were. Yikes!
Lucky for us we only had a 10 minute wait and within a few minutes we were strapped into the back row and ready to take our first ride. Given the family friendly nature of the park I expected this to be a totally forceless B&M hyper, probably on par with something like the Carowinds Intimidator and I was perfectly okay with that. Even a forceless B&M hyper is fun and would be a great addition to any park's lineup. As we dropped off the lift I felt like I had reasonable expectations and was ready for my forceless, floaty a** ride along the lake so I put my hands up, and... woah, holy sh*t.
While it's not exactly El Toro or anything, I got way more airtime on the first drop than I expected. We went over the second hill, made a swooping turn and then headed into another hill that delivered some of the best airtime I've ever had on a B&M hyper. Damn, Mako... sorry for talking sh*t.
After that great airtime hill, the ride heads into a hammerhead (hammerhead? I thought it was a Mako, ah whatever SeaWorld, I'm not gonna tell you how to do your job) and then into a hill with the patented B&M unnecessary trim brake on it. While the trim definitely slows the coaster way down, the rest of the ride is still a lot of fun. You get a few more pops of air, absolutely fly through the midcourse and the unconventional swooping turns at the end are a lot more fun than I expected. While most of the ride feels like a pretty typical B&M, the first drop and airtime hill before the hammerhead are pretty bad a** and the ride as a whole (like all B&M hypers) is great. SeaWorld definitely has a winner on their hands here.
After our ride on Mako we were already hot as balls so we decided it was the perfect time to check out the Shark Encounter. I was always a big fan of the Shark Encounter because not only is the shark tunnel totally awesome, but it's a great, air conditioned, go-at-your-own-pace thing to do if you have your eye on the time because of a show you want to see or (in our case) a Shamu we needed to dine with.
As we traveled further into the exhibit we finally came to the cool shark tunnel. While other aquariums / marine parks have these too, they're super cool and really never get old. Basically it's just a giant tube where you walk (or in this case travel on a conveyor) through a shark tank and get to see sharks on either side of you AND above you. Awesome.
Upon exiting the Shark Encounter we still had about 40 minutes before our lunch date with Shamu so we headed over to one of my favorite areas in the park, the Pacific Point Preserve! For those unfamiliar, Pacific Point Preserve is the park's sea lion area where you can watch a great mix of sea lions and seals (but mostly sea lions because they're way cooler... f*ck seals) and for a few bucks you can buy some fish to feed them. If it weren't for the heat, I could honestly stay here all day. Don't tell Brit I said this, but the sea lions are probably my favorite animal at SeaWorld. They're adorable... they're basically sea puppies.
As our reservation time approached we decided to finally pry ourselves away from the sea lions and head over to dine with Shamu. We didn't really know what to expect but when we arrived we were taken into a covered dining area right next to one of the back pools of Shamu Stadium and our waitress came over to inform us that it was an all you can eat buffet that included all you can drink beer.
... this was off to a good start.
It was honestly hard to pry ourselves away from the tank to get our food but eventually we found our way up there. The food was decent... definitely not as good as a lot of the food in the park but it was okay. My favorite thing up there was probably the chicken nuggets from the kids buffet which probably sounds ridiculous, but they were really f*cking good. They had some other good stuff too, I suggest waiting until the end of the buffet to get anything though, don't fall for the chicken and pork at the front. It's a trap. The seafood and prime rib is hiding in the back (and so are the chicken nuggets. Don't judge me.).
After about 30 minutes we had eaten our food and had a few drinks and were already pretty happy with the experience. The whales were just swimming around, occasionally breaching and doing whale stuff (as whales often do). We didn't know if there would be any type of show associated with this and would have been happy either way but a few minutes later a bunch of trainers came out carrying buckets... this was about to get awesome.
What followed was a 20-or-so-minute show where the trainers explained their training techniques, how they use positive reinforcement and how they help whales in the wild. They had a cool device that played underwater sounds that the whales responded to and they did some really cool behaviors for us. Overall it was an awesome experience... especially considering that the entire time they were serving FREE BEER.
Seriously, I can't recommend Dine with Shamu enough. It ended up being about $22 per person (I think it's $29 without a pass) and it included an all you can eat buffet with all you can drink beer for about an hour. That alone would make it an absolute steal but factor in the hour long semi-private orca show and I honestly feel like anyone who goes to Sea World and doesn't do this is severely missing out.
After Dine with Shamu we decided it was time to start planning our day. My one complaint about Sea World is that since the park is so show-heavy you REALLY have to have a schedule and stick to it. We came up with a plan that involved seeing One Ocean at 3:30 (or something like that), and then going to Dolphin Days and Clyde and Seamore later on. In the end that would end up getting blown to hell by the Florida weather, but at that point it was the plan so we had about 2 hours to do whatever we wanted while waiting for One Ocean.
We stopped by Shamu Underwater viewing for a little bit upon leaving the show and then decided to try something a little different and ride the Sky Tower. Somehow in all of our visits we had never ridden it and we figured it would provide some cool views and a little air conditioning... 2 things that sounded pretty awesome at that point. Unfortunately, this ride's line really sort of sneaks up on you. Upon entering the ride area it looks like a complete walk on but you're directed to a queue over to the side where we waited for about 20 minutes, then they let you in to a small cramped hallway where you wait for another 10 minutes before finally boarding. The ride itself was enjoyable, but it definitely ate up more time than we thought it would.
After Sky Tower we checked out the new rescue shop and continued making the rounds. We had hoped to ride Atlantis or Antarctica but both were posting long wait times so we decided to go check out the dolphins instead. We were disappointed to see that you can no longer touch the dolphins, but we're not surprised since as I mentioned in my
last trip report
, people are idiots who can't follow the rules. From what we've personally witnessed and seen reported from other SeaWorld parks, people constantly put their hands over the dolphins blow holes and in their faces and then call the local news when the dolphins lightly nip them because THEY didn't follow the rules or exercise any common sense whatsoever. Still, it's always fun to watch the dolphins but it's a shame that yet another thing has now been ruined by stupid people. Anyway, after watching the dolphins for awhile and thinking about how dumb people are the time was starting to get away from us so we figured we'd head back towards the other side of the park.
We hoped to score a ride on Manta on the way but it was down so we continued on and decided to hit up Mako again on our way to Shamu Stadium. We thought about waiting for the front but we were in a bit of a time crunch so we headed for the back and were treated to another awesome ride.
After another great Mako ride we took a little time to explore the gift shop and enjoy the air conditioning before making our way over. On our walk over to the stadium we checked out the rapids ride construction a bit (I'm not a fan of these rides but I'm sort of intrigued by this one for some reason) and then came across a few trainers and animal ambassadors which is always great to see.
Despite their lazy appearance, sloths are actually very intelligent animals. Tests have shown that their level of cognitive function allows them to do things like complete mazes, perform basic reasoning tasks and their level of laziness has actually been scientifically proven to be slightly lower than the average Six Flags New England ride operator. The more you know...
After checking out the animals we popped into the pretzel place real quick to get something to eat for the show. I absolutely love those prezel dogs and couldn't help but try out their new Mako beer (which was quite good by the way). Pretzels in hand we headed over to the stadium and took our seats. The pre-show started, the One Ocean music came on, Brit had probably already started crying (yeah, lol) and...
They made an announcement that the show was cancelled due to weather in the area. Damn, well that really screws with our day.
At that point we really didn't have too much time to come up with a plan. We figured we'd cut out the other two shows in favor of coming back to One Ocean, but now we needed to do something to pass the time. We figured everybody in Shamu Stadium would head over to Wild Arctic but we were feeling bold and thought of trying to get over to Turtle Trek or Antarctica before the storm.
Unfortunately, once we started on our way the sky opened up and we realized that was never going to happen. We figured we might as well give in and join the hordes of people in line for Wild Arctic. This ride and (basically the entire exhibit) is super dated, but they have belugas so we always make a stop in there. I really wouldn't be shocked if this thing gets an update soon, but as it was it was a nice way to wait out the rain.
When we exited it was still raining, but it had slowed down enough that we figured we could get over to the other side of the park. We walked over the wooden bridge and over to Atlantis (which had re--opened, but Brit was having none of it... damn
). She didn't want to ride, but we went in the aquarium which is always cool. The tank in the ceiling was empty and dark (hopefully that's temporary) but on the plus side I managed to get a great picture of the eels.
With Manta still down for weather and Brit refusing to budge on Atlantis, our next stop was Turtle Trek.
I really like Turtle Trek, the video is cool, the turtles and manatees are fun to watch and I've never seen such a well produced recycling PSA in my life. It's also highly effective, this ride is the sole reason that we sometimes bring a bag to the beach just to pick up sh*t that people are too lazy to throw in the trash themselves (If you take one thing away from this trip report, it should be that people are a**holes). According to Turtle Trek, we, on the other hand are "everyday heroes"... and quite humble about it too.
My only real complaint about this ride is that before you enter the theater you're in a holding area where you can view the turtles and there's a trainer there telling you about them and answering questions. Unfortunately, you can never hear anything in this room because people (remember... they're a**holes) REFUSE to shut the f*ck up and listen. I've never once been in there when people actually shut the f*ck up.
You'll shut the f*ck up when you're in the theater watching a movie about these amazing turtles with fake CGI turtles, how come you won't shut the f*ck up when there are ACTUAL, HONEST TO GOD SEA TURTLES in front of you and a trainer trying to teach you about them. Why are you here? Go back to a**holeville with your a**hole friends where you can all go and be a**holes together ... a**holes.
... okay sorry, I just had to get that out there.
When we left Turtle Trek (or "Journeyed on" from Turtle Trek
... nobody?
You suck...)
we realized it was time for One Ocean (attempt #2). Despite the rain keeping the coasters down, this time the show went on and played to a near capacity crowd. One Ocean was great as always. It definitely gets Brit right in the feels, but I can't fault her too much. It's a great show.
Unfortunately after One Ocean we only had about 30 minutes left in our day. I had been keeping an eye on Mako and Kraken from the stadium and unfortunately neither of them had reopened yet so I figured I was SOL on riding Manta. It was only raining and the storms were long gone, but aside from Atlantis and the kids rides it didn't seem like the rides had ever reopened.
Despite the rain delay, it was a great day. Since the coasters were closed we thought of hitting Antarctica on the way out but we were soaked and the thought of going into a 32 degree building while soaking wet seemed sort of miserable so we decided to skip that and just head out (we only had about 20 minutes before park close anyway). We never have enough time to fit everything in to one day but as we headed up to the front along the boardwalk we were pretty happy with our day and figured we'd pop in to the gift shop and head home. Dine with Shamu was super cool, Mako greatly exceeded expectations and overall we had a blast. As we headed towards the exit carrying (yet another) bag full of Sea World stuff we were in a great mood, totally content with our day. Bye Sea World! Thanks for an awesome da...
"Holy sh*t, what was that?"
"What?"
"It sounds like..."
We seriously couldn't have been 50 feet from the gate when we turned around and saw the first Manta train in hours barreling down the drop. Immediately we turned around and made a b line for the entrance. Did I have a great day without getting to ride Manta? Sure... but was I a little bummed? Absolutely. I love this thing. We knew we wouldn't be able to ride up front since they only had time to send a few more trains before the park closed so we opted for the back, thrilled that we were riding at all and not wanting to be greedy and push our (so far awesome) luck.
We put our stuff (and at that point we had a lot of stuff) in the bin, got locked in and within a few minutes we heard the familiar "woosh" sound effect as we flipped up into position and headed up the lift on (let me say it again) the best coaster in the Orlando area.
Yeah, this ride kicks all sorts of a**. It's so ridiculously awesome and so ridiculously underrated. The ride has an amazing location, it's insanely forceful for a B&M, it has a great layout and is just all around awesome. As soon as we hit the brakes I looked over at Brit who just out of nowhere exclaimed "Superman sucks!" (referencing Superman Ultimate Flight at Great Adventure of course). Yeah... I agree, Superman sucks and this thing is absolute greatness. What a great way to end an awesome visit to Sea World!
Okay, say it with me... hey Superman...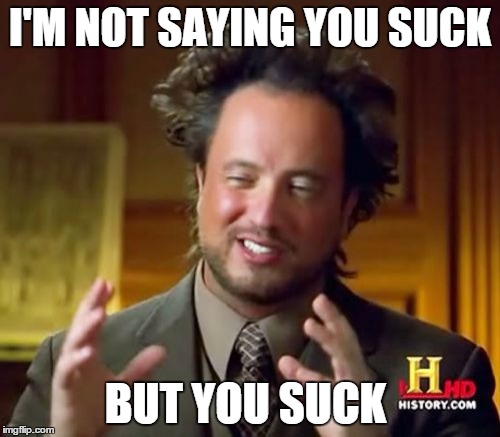 Just kidding, it's not Superman's fault. It gets a solid C+ for effort.
After leaving Sea World we decided to grab something to eat on I Drive and reminisce about our awesome day. I think we ended up at an Applebees or something. We had been walking around a park all day so we were a little wet and not dressed for a nice place, we learned our lesson about overpriced tourist trap restaurants on I Drive like Senor Frogs so we weren't going there and I was in the mood for some half price mozzarella sticks anyway so it fit the bill.
After dinner we were definitely tired and had definitely had a pretty full, overall awesome day but we still had one more pit stop to make and I'm pretty sure everybody knows where that was...
We were a little early for Mine Blower (it opened about 2 weeks after our visit), but Fun Spot was running an awesome promotion for $19 wristbands so I snatched some up and decided to hit the Orlando location for a few rides. Because of the weather we pretty much had our run of the place so we got plenty of rides in.
New for us was Freedom Flyer VR. I didn't really expect much from it but it turned out that it was probably better than any VR I had seen at a Six Flags park and was right up there with Iron Dragon as one of the best VR coasters I've ridden. Fun Spot has a great system where VR riders take up the back 4 seats while everyone else rides normally. This helps split the lines nicely and keep dispatch times manageable. If Fun Spot can figure this out, what gives Six Flags?
After Freedom Flyer we just made the rounds, hitting the awesome flats, grabbing a cheap beer and then ending our night with tons of consecutive rides on White Lightning without getting off.
Overall this was an awesome day! Sea World was a blast (as it always is), we got really lucky and managed to get on Manta at the end of the night, Dine with Shamu was great and then we ended the night riding great flat rides and marathoning White Lightning. You really couldn't ask for a better day!
Up next, Busch Gardens Tampa!
Last edited by
coasterbill
on Wed Sep 13, 2017 7:52 am.