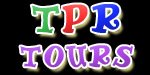 Hey everyone!
It is that time of the year again where we get to ask all of you which potential TPR Tours you're interested in for the upcoming year!
Here is the link to the questionnaire:
http://www.themeparkreview.com/questionnaire/2014_Trip_Questionnaire.php
VERY IMPORTANT!!!
Please only fill this questionnaire out if you are
SERIOUSLY INTERESTED
in a TPR Tour in 2014!
And we need everyone who is interested in a tour to fill this out, as the outcome of this questionnaire will help us determine which tours we do in 2014.
If you have any questions, feel free to ask them in this thread and we will answer the best we can.
Thank you for your help!
--Robb