Sun Apr 18, 2010 3:09 pm
These pictures are great, I also like how you had some of the other nearby rides in sight with the new one. To answer what the vending machine said, they will be ready!
Sun Apr 18, 2010 10:34 pm
Great pictures! I'm almost for sure going there sometime in late July/early August so I'm getting excited! That headchopper does look extremely close, yikes.
Fri Apr 23, 2010 9:09 pm
Joris en de Draak looks like it's coming along quite nicely. Hope all continues on schedule, so it can be ready for our July visit! I'm really looking forward to riding this... Pegasus was a pleasant little ride, but seriously, this looks a thousand times better.

Greats pics Hanno - thanks for sharing!
Sat May 08, 2010 6:49 am
very nice new pics from
www.eftelist.nl/a_jorisbouw.html
from the last days: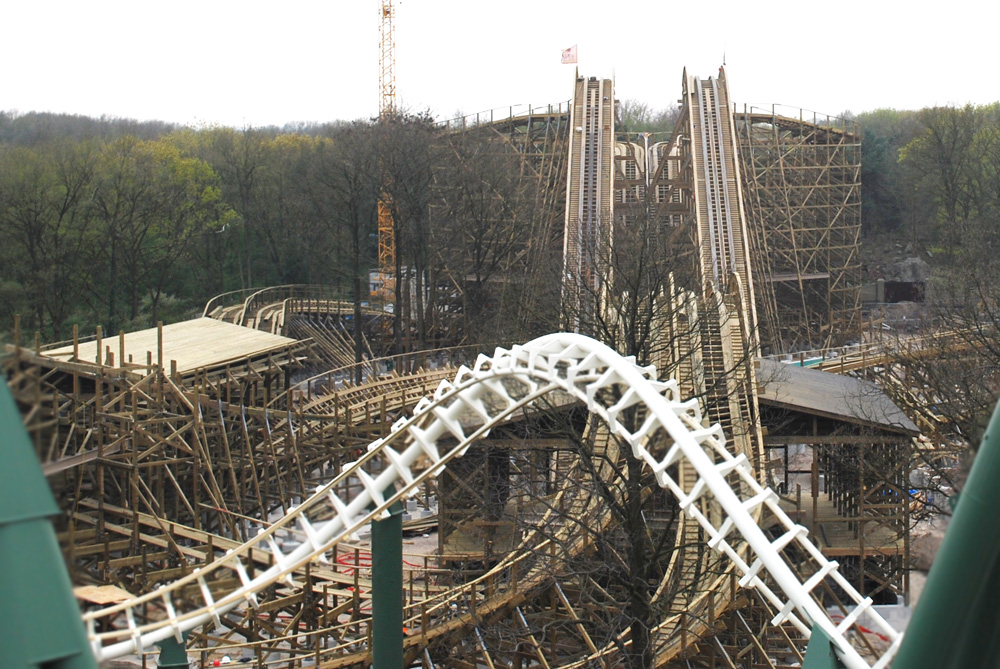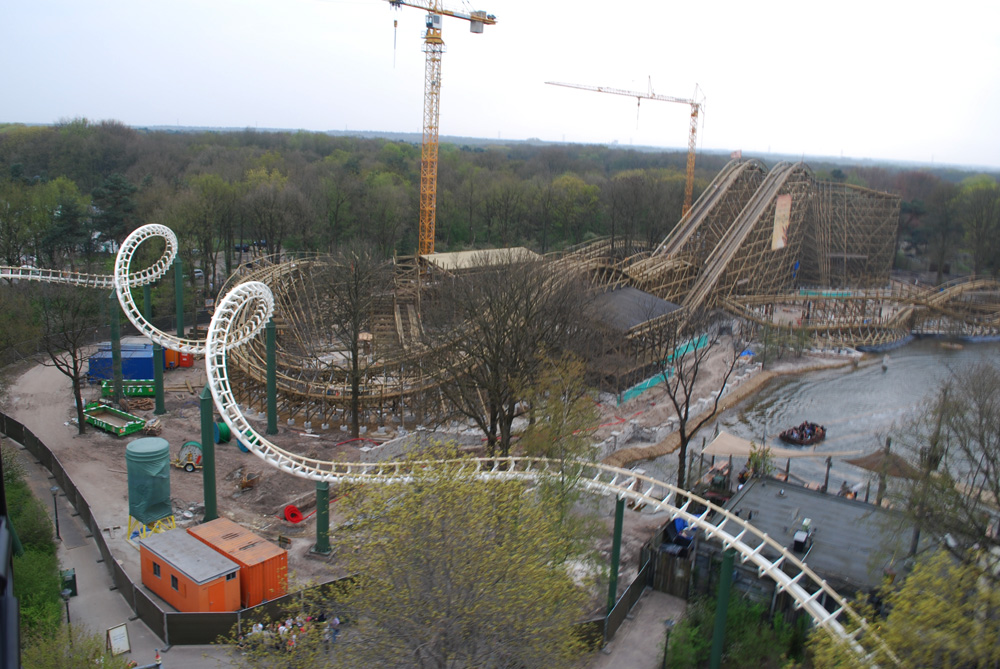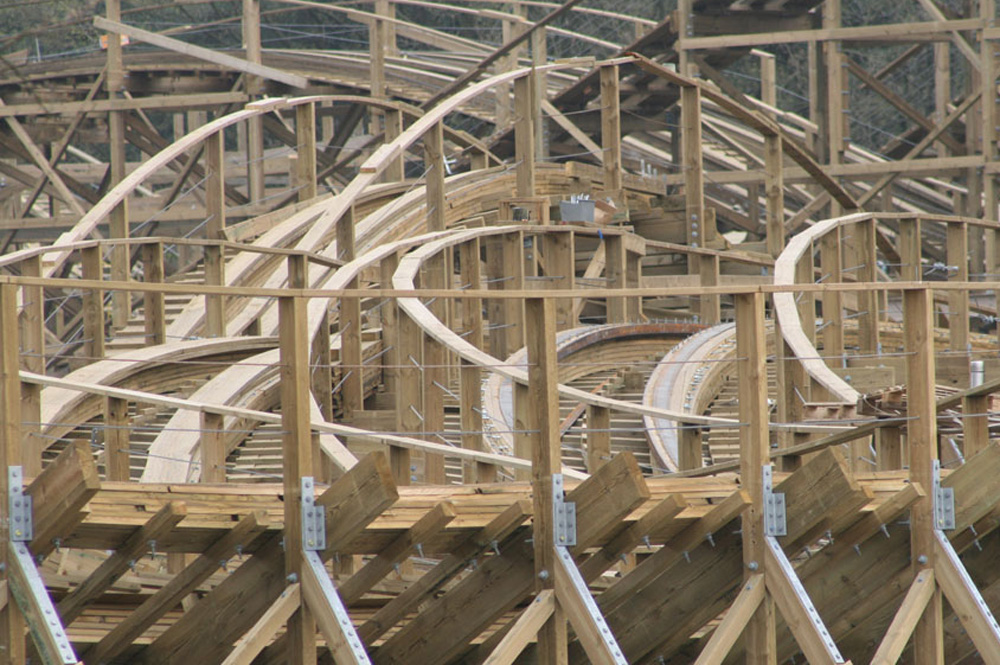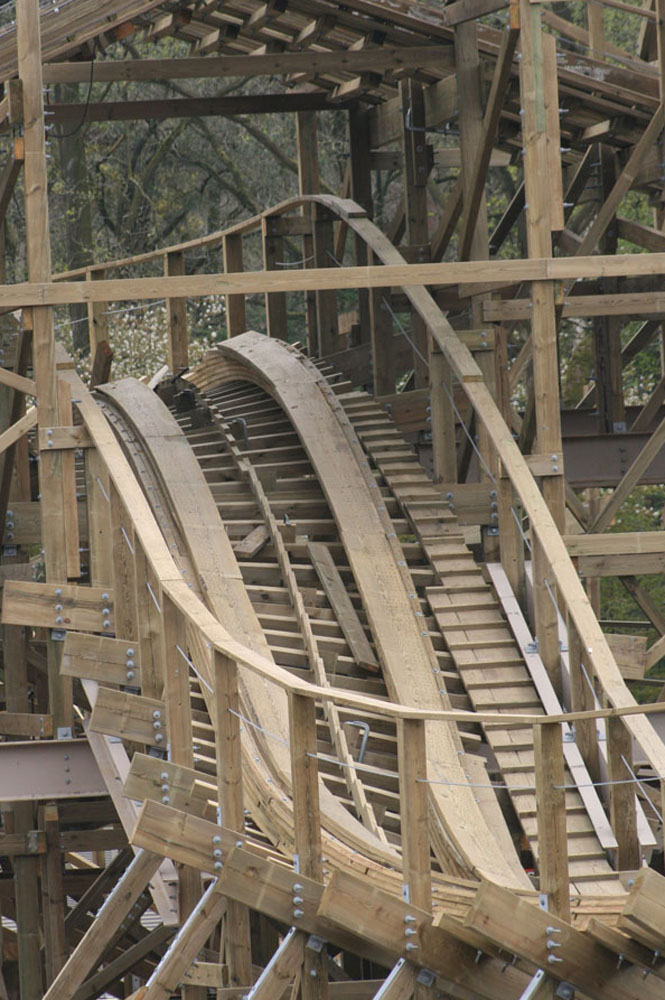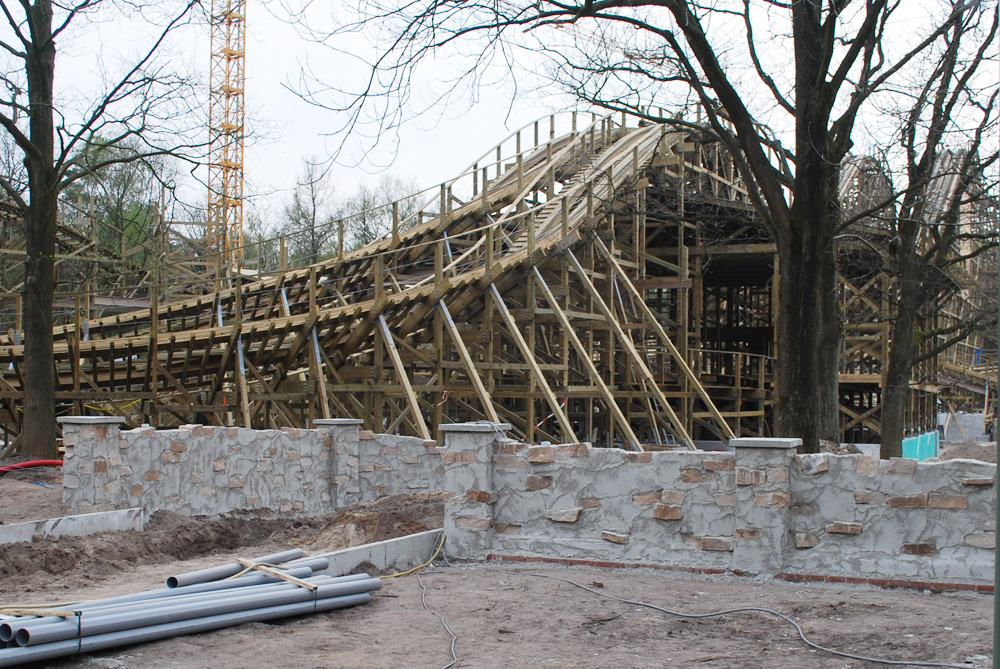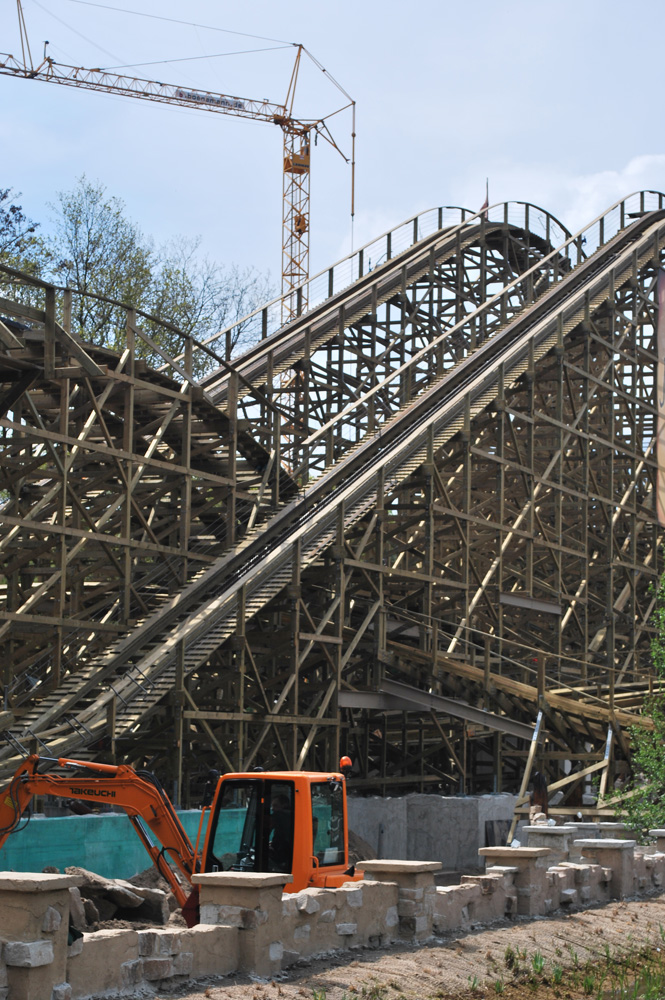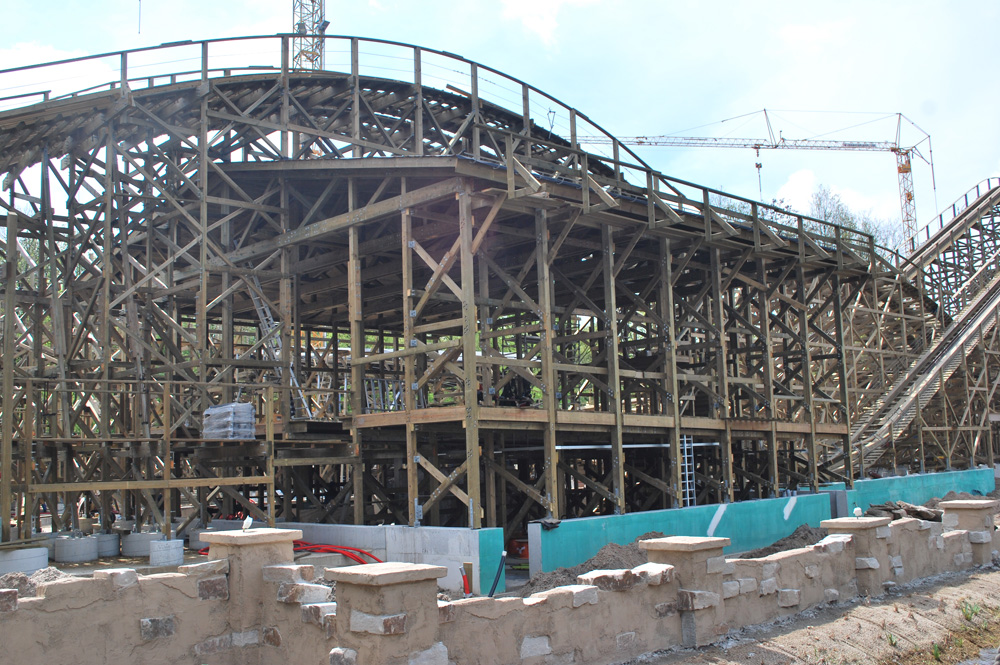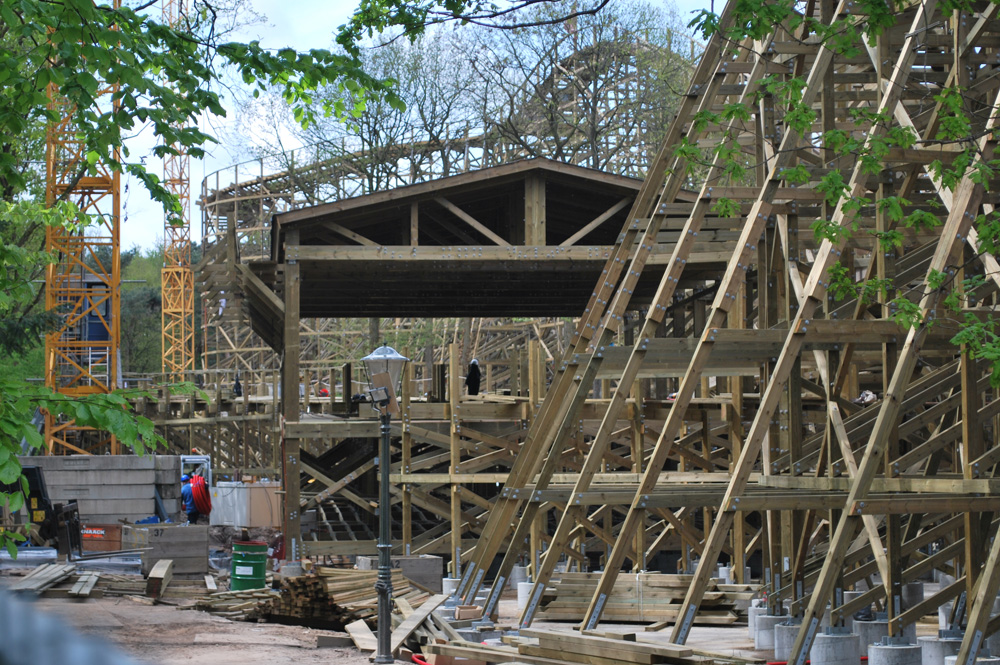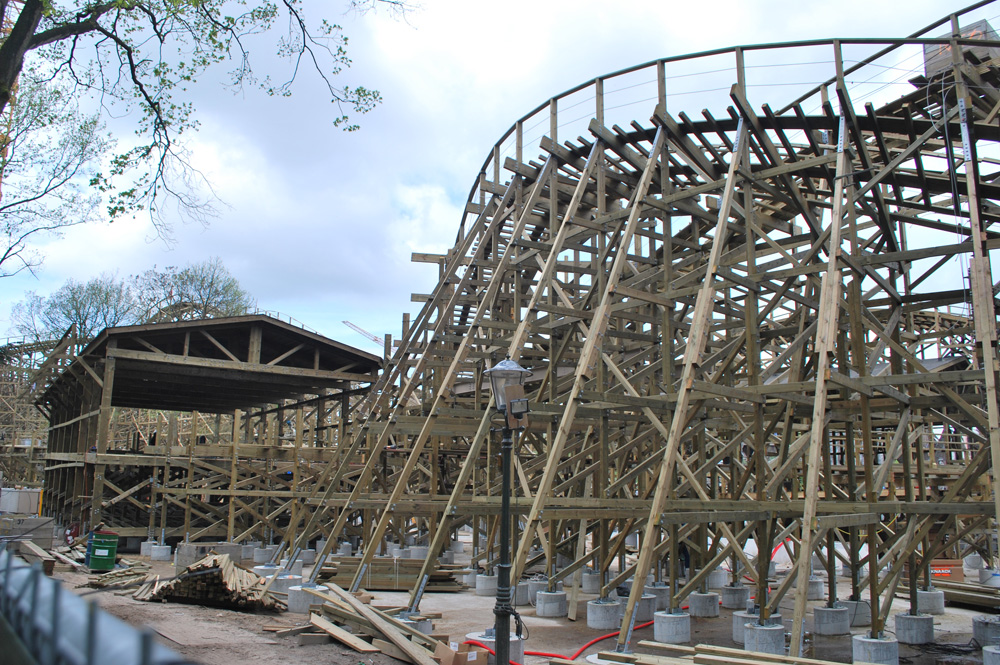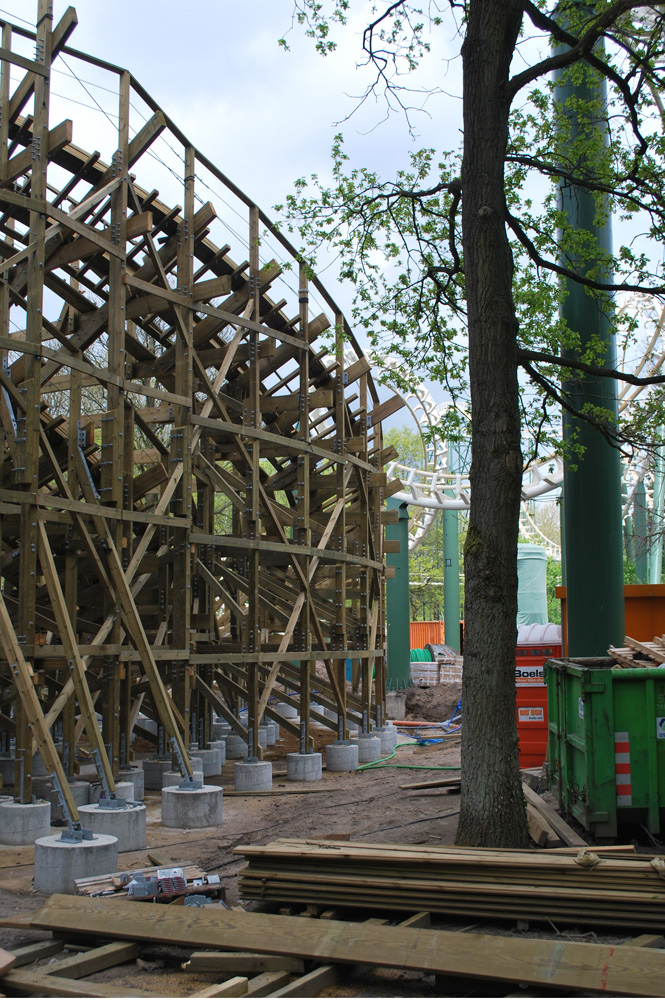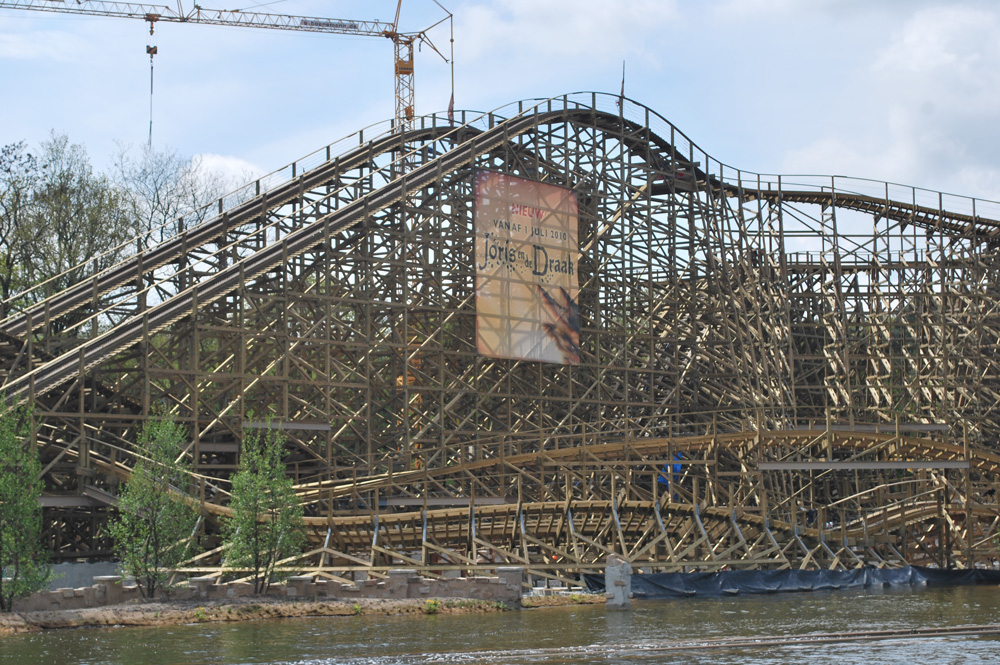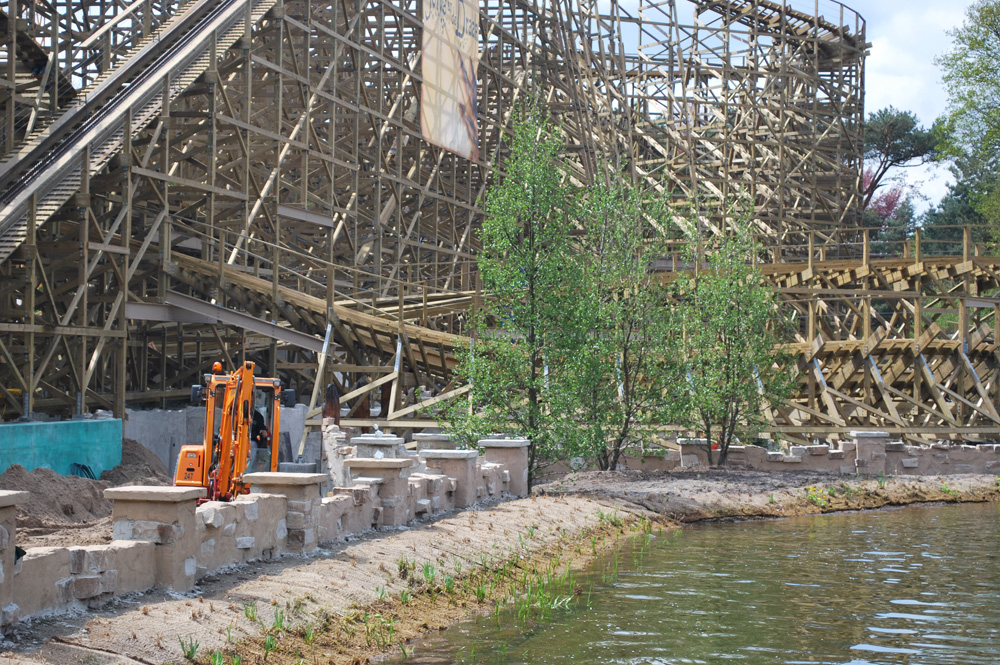 Sat May 08, 2010 8:22 am
Looks a lot better than a simple Pegasus replacement!

Now get the rest of the track on and start testing!
Thu May 20, 2010 11:38 pm
Hey,
I just read something VERY VERY good in the dutch newspaper ('Brabant Daily')
EFTELING Nieuwe attractie is duurste ooit

De Efteling breekt record met Hartenhof


De Efteling viert het 60-jarig jubileum met de bouw van de grootste en duurste attractie ooit in de geschiedenis van het Kaatsheuvelse sprookjespark.

Hartenhof kost 42,5 miljoen euro en komt in het hart van de Efteling te liggen.

door Michel Koster KAATSHEUVEL – Het wordt de groot ste en duurste attractie van de Efte ling tot nu toe: Hartenhof. Mid den in het park verrijst het paleis van Symbolica, het rijk der fanta sie.

De opening van deze attractie van 42,5 miljoen euro is op 31 mei 2012. En dat is niet toevallig: het is dan precies zestig jaar geleden dat het Sprookjesbos van de Efteling de poorten opende.

Het Kaatsheuvelse attractiepark wil nog niet alle geheimen van Hartenhof prijsgeven. Maar het krijgt het niveau van andere dark rides als Droomvlucht en Fata Mor gana, stelt directeur Bart de Boer. Bezoekers gaan in een 'transport middel' deze attractie ervaren. Een belangrijke rol is ook weggelegd voor de bekende bewoner Pardoes de Tovernar. "Deze attractie wordt echt het nieuwe icoon van de Efte ling," aldus De Boer.

Hartenhof komt in het hart van de Efteling te liggen: aan het eind van de Pardoes Promenade bij de Efte ling Brink met de bekende fon tein. De bouw van dit rijk der fan tasie wordt een flinke operatie. Het park is sinds kort 365 dagen per jaar open. Er kan dus niet meer achter gesloten poorten wor den gebouwd. "Maar de bezoekers zullen overdag geen last hebben van het bouwverkeer. De materia len worden 's avonds aangevoerd." De Efteling blijft miljoenen steken in nieuwe attracties. De Sprookjes boom is de laatste aanwinst. In juli dit jaar is de nieuwe houten acht baan Joris en de Draak ( kosten zo'n 12 miljoen euro) klaar.

Verder verrijst nu tussen Villa Vol ta en Droomvlucht de magische stad Raveleijn, met een grote open luchtarena, horeca en kantoor ruimte. Vanaf april volgend jaar worden hier dagelijks grote park shows gegeven. De kosten van dit in het oog springende complex zijn 30 miljoen euro.

Translated
Efteling- Most expensive ride ever

Efteling breaks record with Hartemhof

The Efteling will celebrate it's 60th birthday with the biggest and most expensive ride in the history of the Kaatsheuvel's fairytaleland

The opening of this 42.5 million euro costing ride is planned for 31th may 2012. Not a co-incedense, that day it's exactly 60 years after the Fairytale forest opened it's doors.

The park didn't want to give all the secrets of Hartenhof away. But it'll have the same level of the other darkrides such as Droomvlucht and Fata Morgana. The visitors will experience the ride in a vehicle. An important role is there for the famous Pardoes(park mascote). "This ride will really become the new icon of the Efteling" says De Boer.

Hartenhof will be in the heart of the park, right at the end of the Pardoes Promonade(

middle road from entrance

)
The rest isn't that important, all about the two new rides for this year. Also funny, this new ride will bring the total investment over 3 years up to 85 million euro's. And there is even more to come as far as the dutch fans know!
Last edited by
larrygator
on Thu Nov 04, 2010 1:14 pm.
Fri May 21, 2010 12:47 am
Wow, that's something. I can only imagine what the ride system will be like.

Someday I fervently wish I can make my way back there to experience this park again. Efteling was one of the highlights of the 2008 Europe trip.
Fri May 21, 2010 1:06 am
Efteling really needs such a dark ride again. I hope it will be as good as Fata Morgana/Droomvlucht! It looks great on the picture.
"Pandora's box" as a transport system from Vekoma maybe?
Fri May 21, 2010 2:49 am
Wow, that's an absolute fortune to spend on a dark ride! I'll definitely be making my way over in 2012 if I can make it happen
Fri May 21, 2010 3:34 am
Wow, that is some serious cash for a dark ride....

I may be a little off but with the current exchange rate it would cost 52.7 Million in the US. WOW....