Here we have Echenima Resort, a mass of land several miles west of Sacramento owned by MARF, LTD - a development and entertainment company. I, Micheal Adinso Rebrekal Folf, am the president of MARF and your guide to this vast resort. Let me give you a brief rundown:
Two parks - Echenima Park and the K9-Falliday Studios
Hotels - Six
Transit - Monorail. One that actually covers the resort.
Entertainment Districts - One.
The Core
Main Competitors: Universal and Disney
Now, we're all waiting on the pics are we? So off we go!
Let's start with Echenima Park. The main focus of the park is like a journey, or a trip. A road traverses through every land, signifying 'travel' between said lands.
Overview: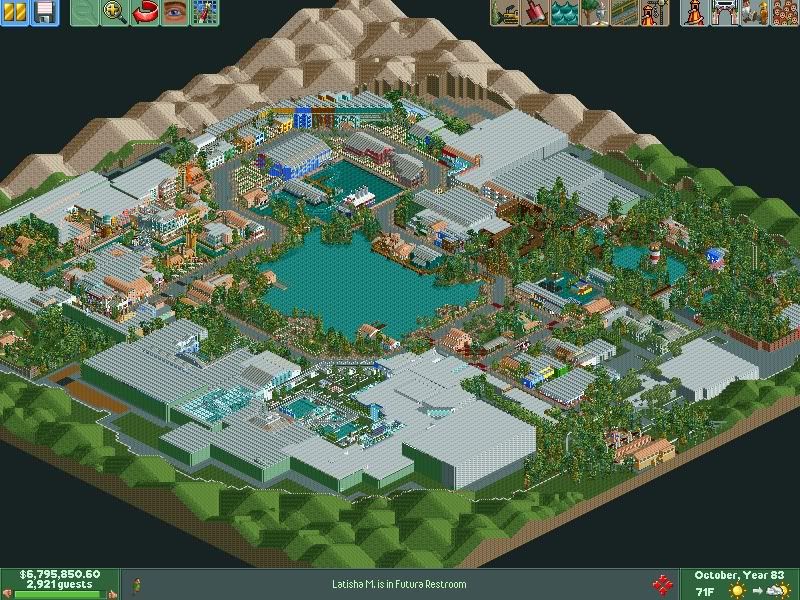 The first thing guests enter after walking through an underpass is
Davisville

,
the "Main Street" of this park. As the name suggests, Davisville is themed after the small college town of Davis, CA minus all the rowdy students
.
In fact, parts of the town were recreated in this land, like E street plaza: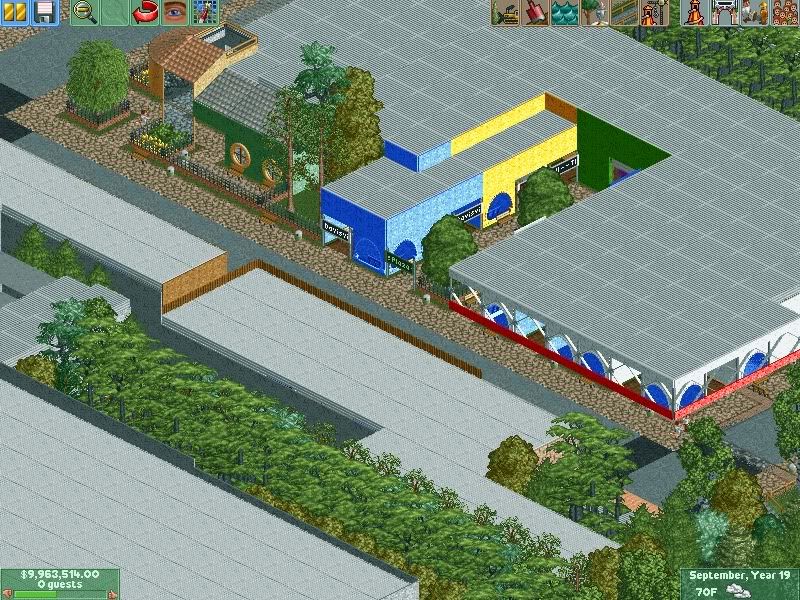 And Central Park: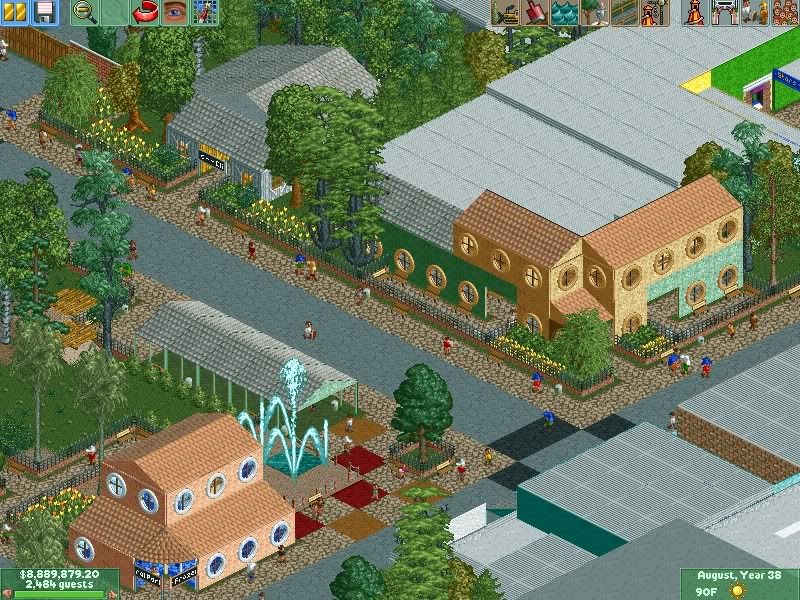 Shops and restaurants aside, this land has two attractions (both of which are also recreations of actual structures):
* Davisville Cinema - This attraction is inspired by the
Varsity theater
. However, as resort management could never really figure out what to actually
show
in there, it has since become a preview center.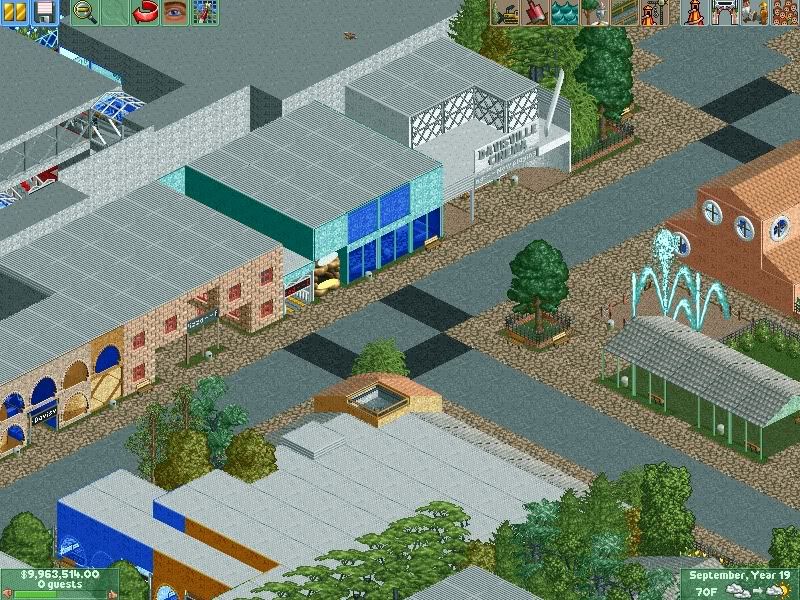 * Central park Carousel - A much larger representation of the Carousel found in the Davis' Central Park.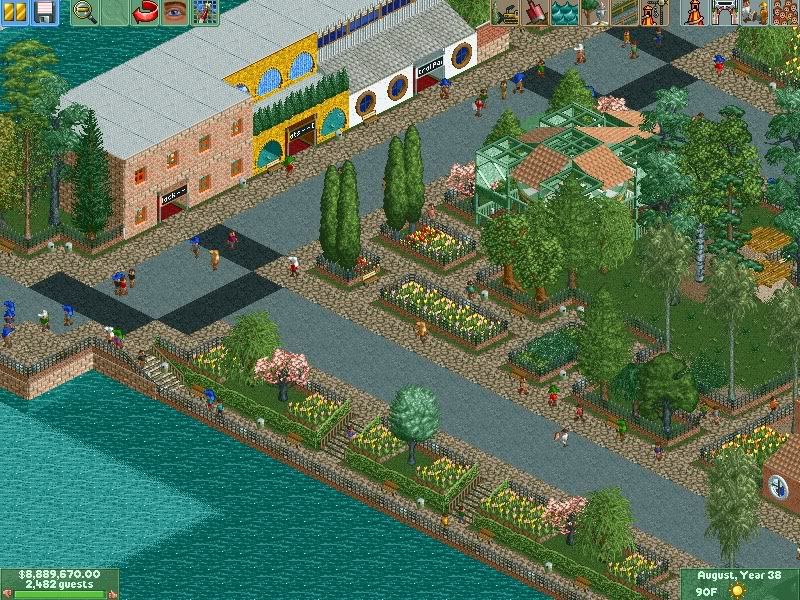 The next land we see is the Pacific Northwest. Inspired the Coastal region between Northern California and Washington.
Within this land you have three attractions:
* Pacific Northwest Railroad - a 'tour' of the forest, similar to Roaring Camp in Santa Cruz. Rides on authentic steam.
* Kayaking the Pacific - Kayakers kayaking kayaks on a bay. Complete with freezing water. Don't worry, we have warnings in multiple languages (including braille and audio) so guests can't sue us for hypothermia.
And yes, it is quite expensive to keep the water cool, but I think it's worth it.
* Legend of Eureka - The highlight of the land. A water coaster with extensive show scenes and a splashdown finale.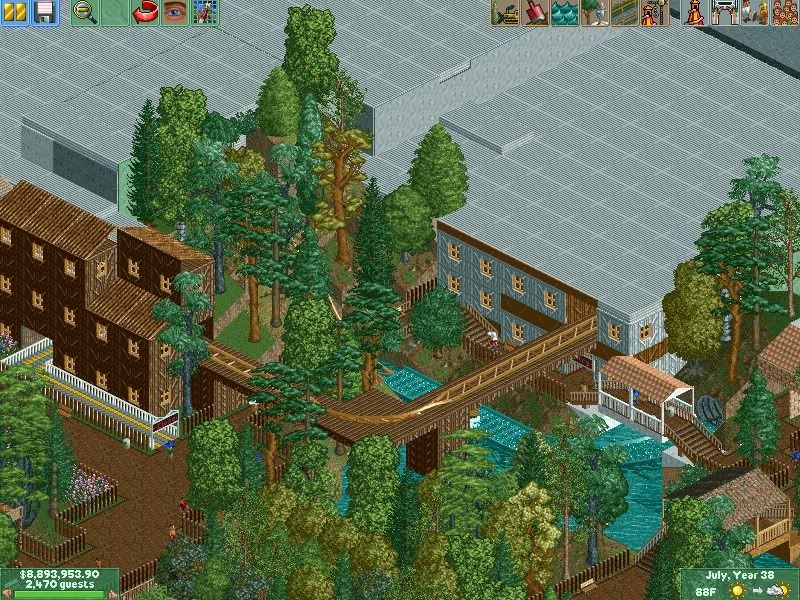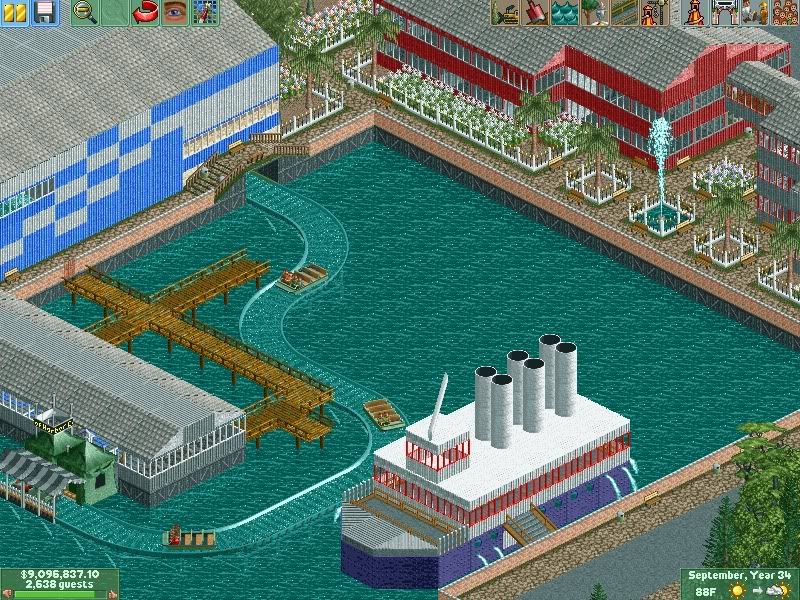 Welcome to Harbor Cove! This land is (loosely) inspired by Monterey, CA.
Attractions:
* Storm Chaser - An EMV with water effects (I seem to like water here). Basic storyline: You board an amphibiant vehicle to gather data for the weather center when a surge causes the road to collapse, sending you into the ocean. You are now face-to-face with this treacherous storm, and have to get back to the center in one piece. Despite the emphasis on water, you don't actually get wet.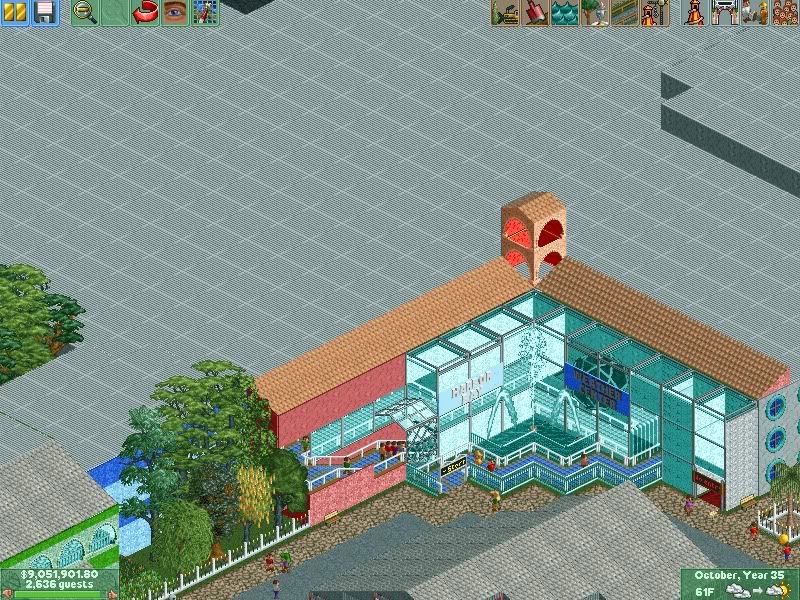 * The Cannery - Essentially a walking tour of a fish cannery, essentially a filler attraction. Exits into a Seafood restaurant.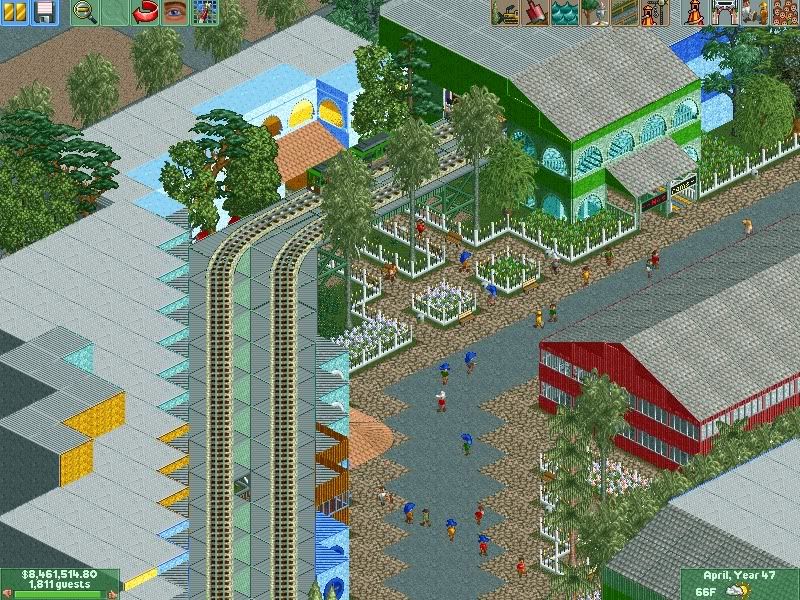 * Harbor Cove Theatre - A live performance theater, a la Broadway.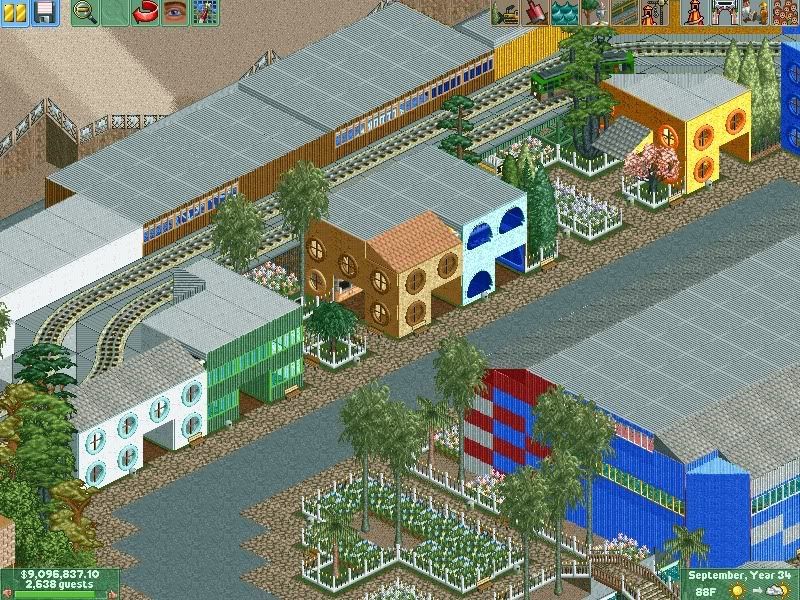 * Adventure of Harbor Cove (Redundancy check!) - A Multi-level boat ride. Takes advantage of a compact show building. Filled with Dioramas and special effects. Like a cross between Pirates and Small World. This is apparently the guests' top favorite ride.
* Trams to Britannia - Form of transport between lands.
Up next is Corte Lupi'. This new Mediterranean land blends together an Italian look and feel with ancient Greco-Roman myths and legends.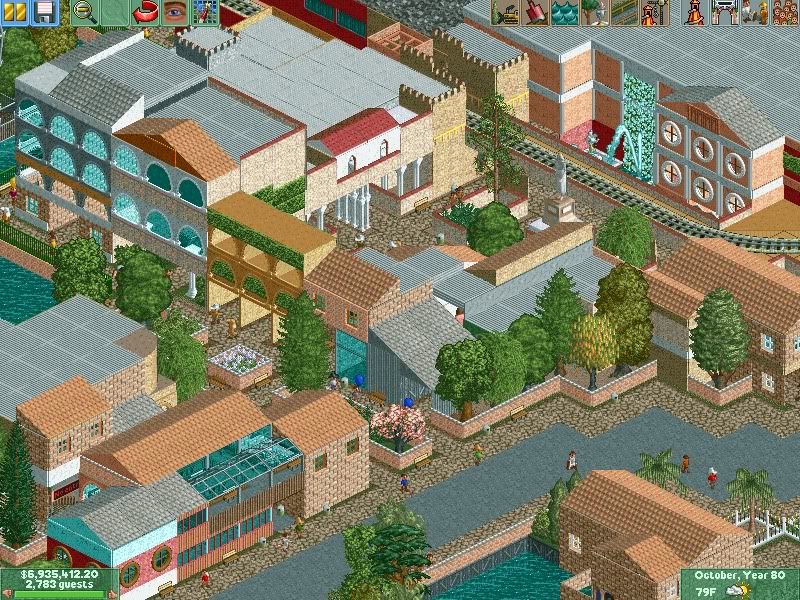 Aside from the various themed shops and restaurants, there is, of course, an attraction. By the grand waterfall lies the entrance to Mythus Apollo - a 'light' dark ride that takes inspiration and elements from ancient mythical tales and forms it into a fun-filled story. (wow, I sound like a PR representative now....I should stop...)
Now, let's go across the pond to...
Britannia! The little slice of Anglo right here in California.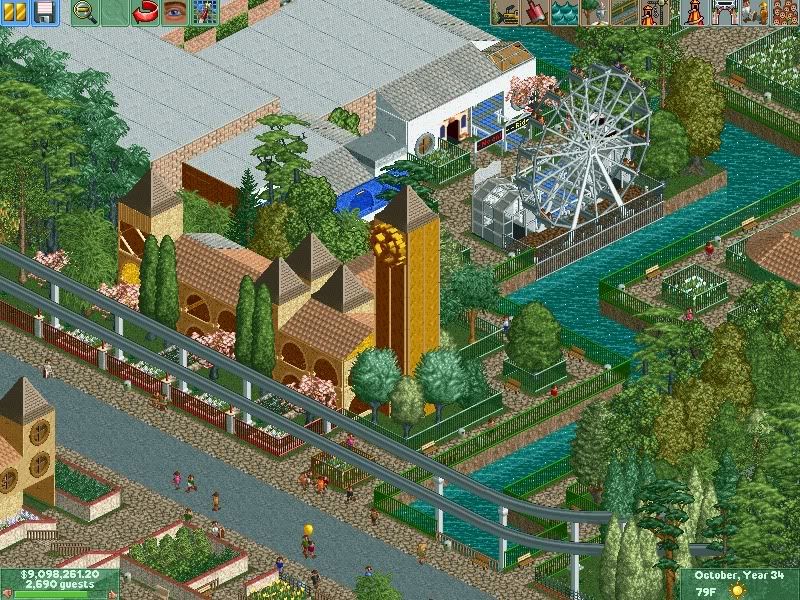 The entrance is marked with a Scale-recreation of Parliament and the Big Ben. However the now-removed Shuttle throws off the scale.
Britannia holds four attractions:
* The Eye - A take on the London Eye.
* Ride of Art - A dark ride through a UK art museum.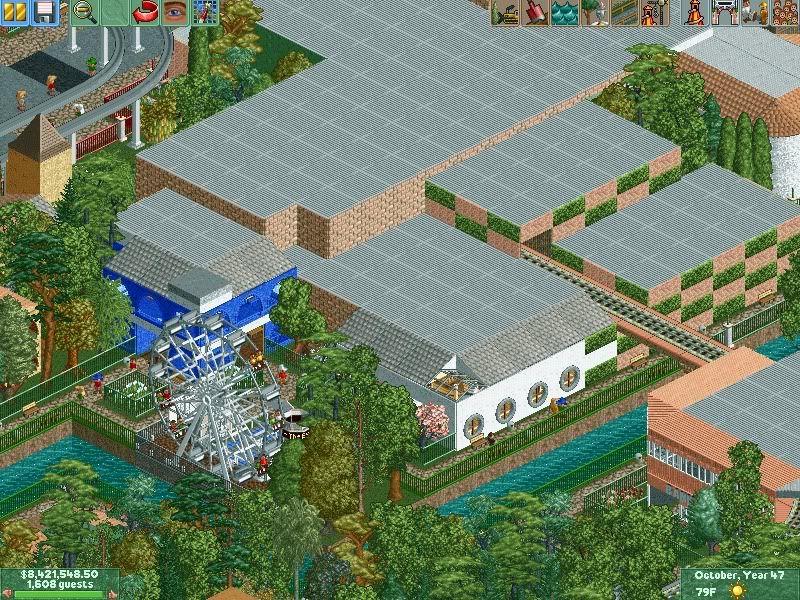 * Britain! - A SurroundSight (As CircleVision is, apparently, trademarked) film about the British Isles.
* Tram to Harbor Cove - Transport.
* Steeplechase - A small coaster filled with slight turns and sudden drops.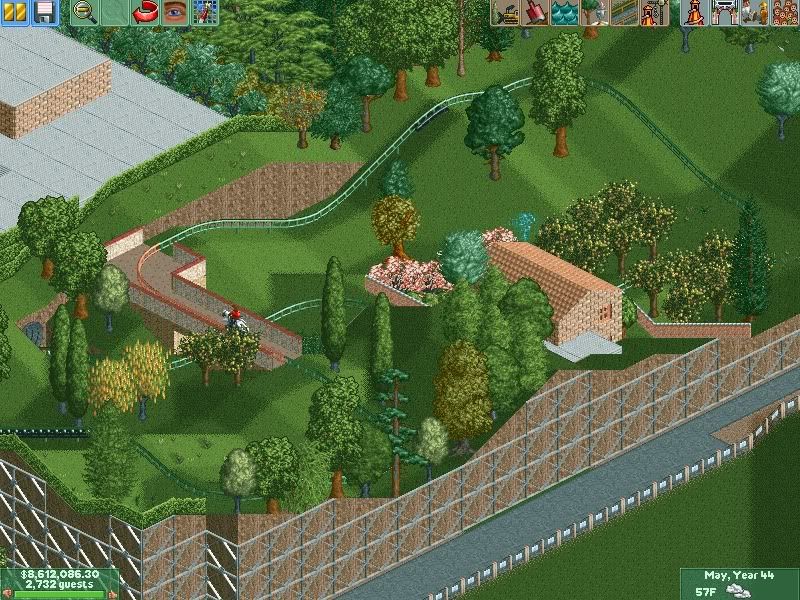 * Britannia Theatre - A high-capacity (1000-seat) stage performance theater. Unlike the one in Harbor Cove, this one is designed so that shows can be changed every other year or so (as well as being larger than Harbor Cove's 200-seat theater).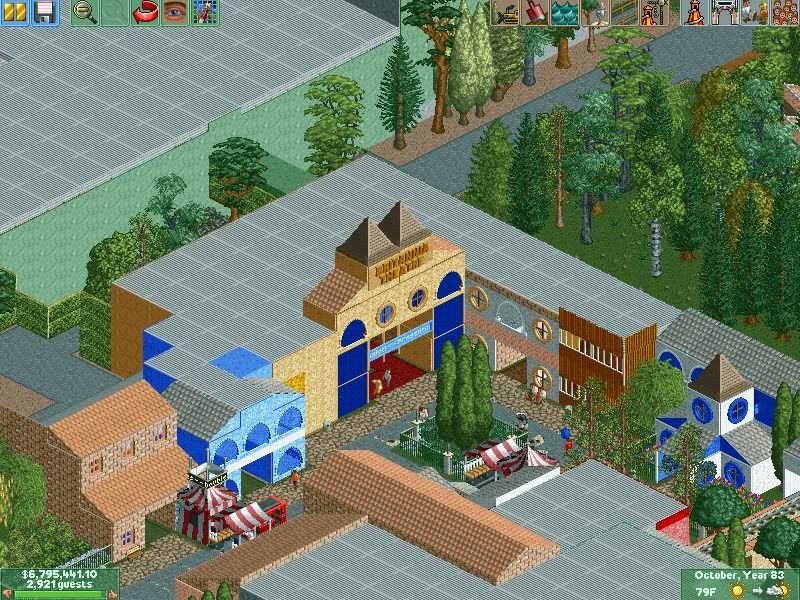 Newly refurbished, it shows an abridged version of Spamalot (cleverly reduced to to a more 'theme park friendly' 40 minutes).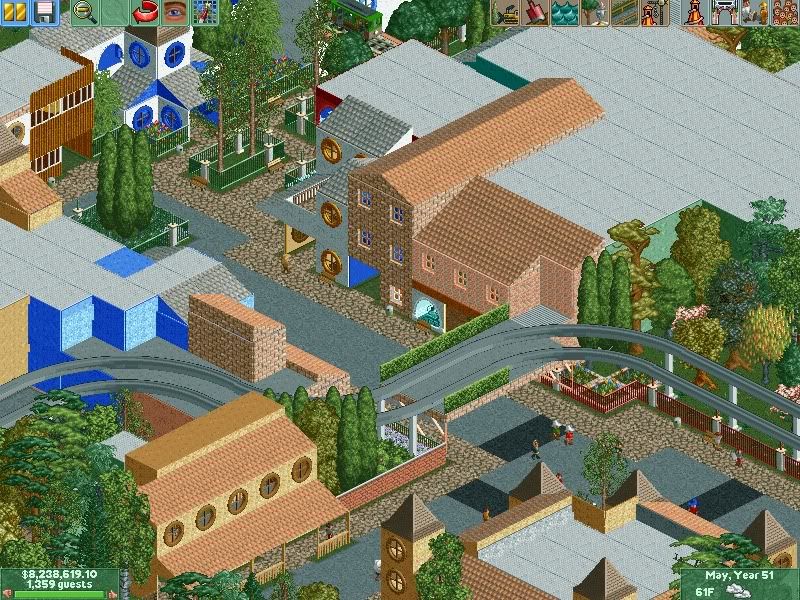 Also, we have a new attraction being built in this land, based on James Bond: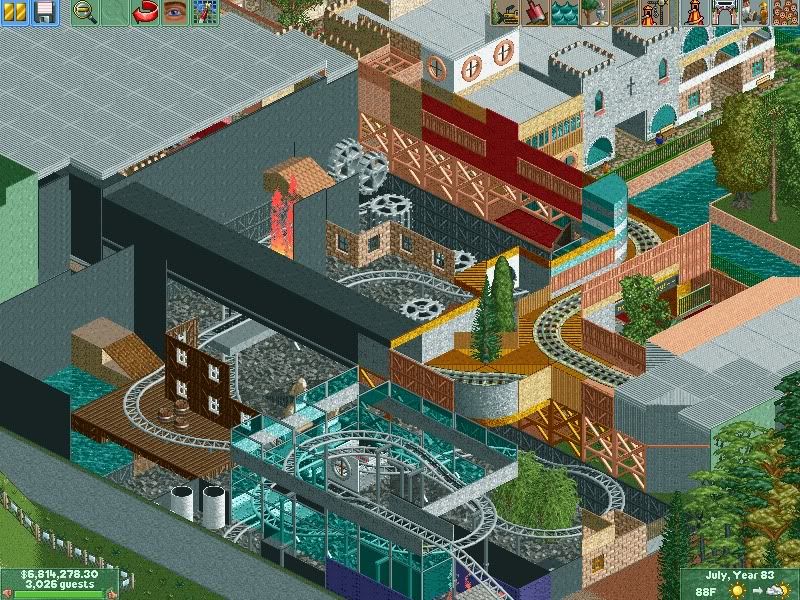 Obviously nearing completion, it should open soon.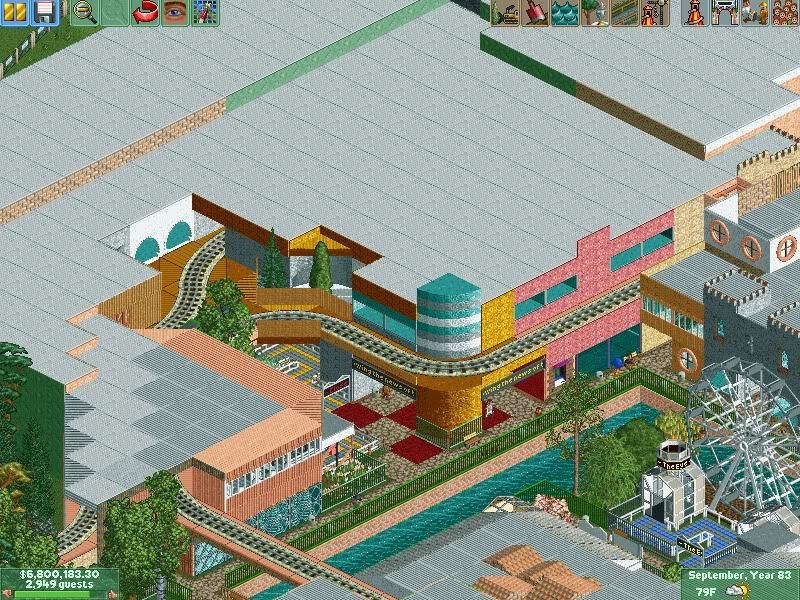 Our next land is quite a small one, and is more of a 'stub'. It is The Echo Skyport.
Echenima ->Echima -> Echa -> Echo + (Sky Harbor -Harbor)+ Airport -air = Echo Skyport.
Overview: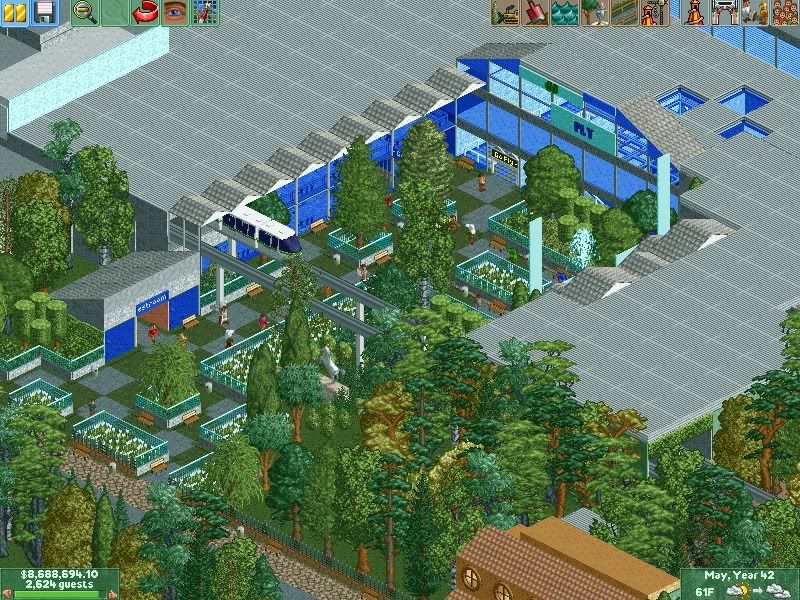 Modeled after the look of a Modern Air Terminal, this small Aviation-themed land holds two attractions:
* Go Fly - Guests board a 'flyer' (Three 4 passenger 3-car generic suspended coaster trains) as they fly over various places around the world. Forced perspective is used heavily with miniaturized sets.
This attraction was an instant hit, such so that I had to extend the queue beyond the building itself when the park initially opened: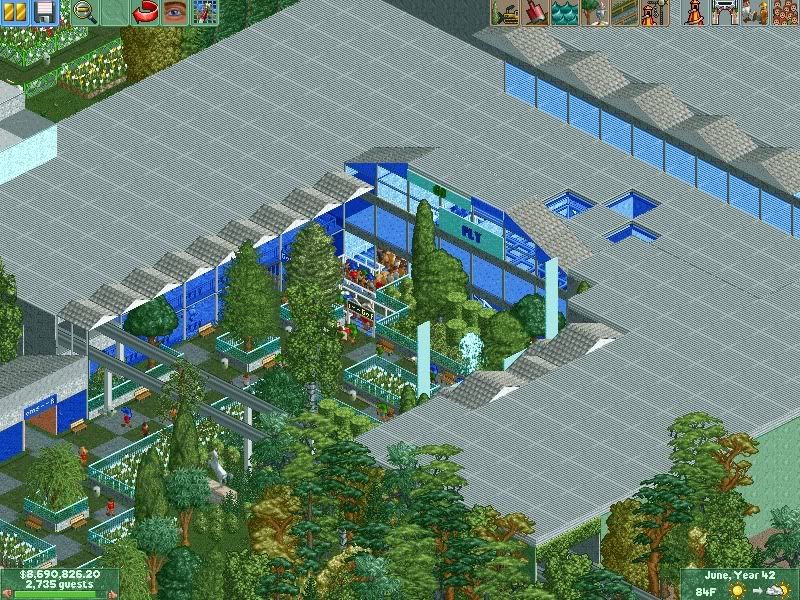 However crowds have since died down to the point where there is at most a 30-minute wait.
The tracks are powered allowing the ride vehicles to maintain a speed of 16 mph.
Scenes are:
- Taking off from an airport
- English Countryside
- Going above a river near a waterfall, descending shortly past the crest
- Paris, New York, and Seattle at night
- Antarctica
- San Francisco Bay in a summer afternoon(eventually, you'll get the joke here)
- Return to Airport
---
* Aviation: Past, Present, and Future (presented by Airbus).
This walk-through museum explores the History of Flight, and it's possible future. Contains dioramas, replica of aircraft, a short film and various other exhibits.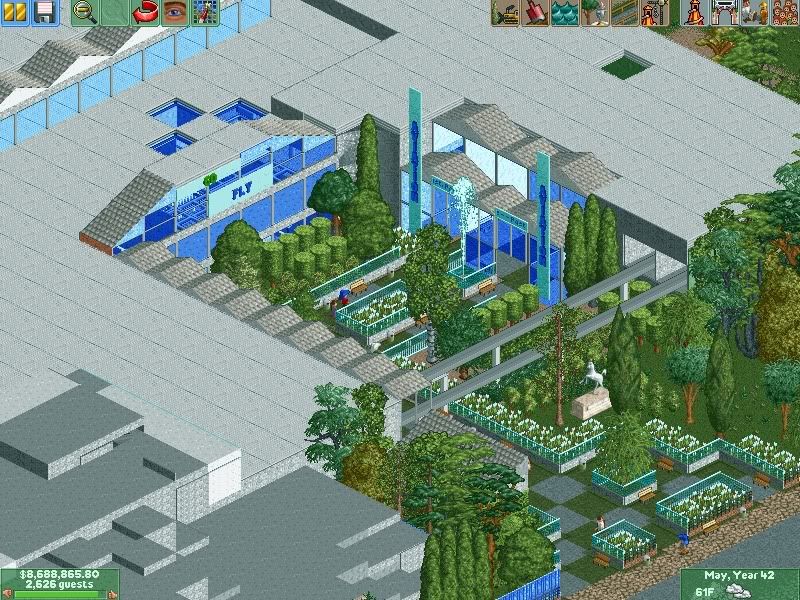 Echo Skyport also contains a shop and one dining location:
* Avionics - Gift shop selling flight memorabilia.
* Jet Cafe - Food court-style counter service.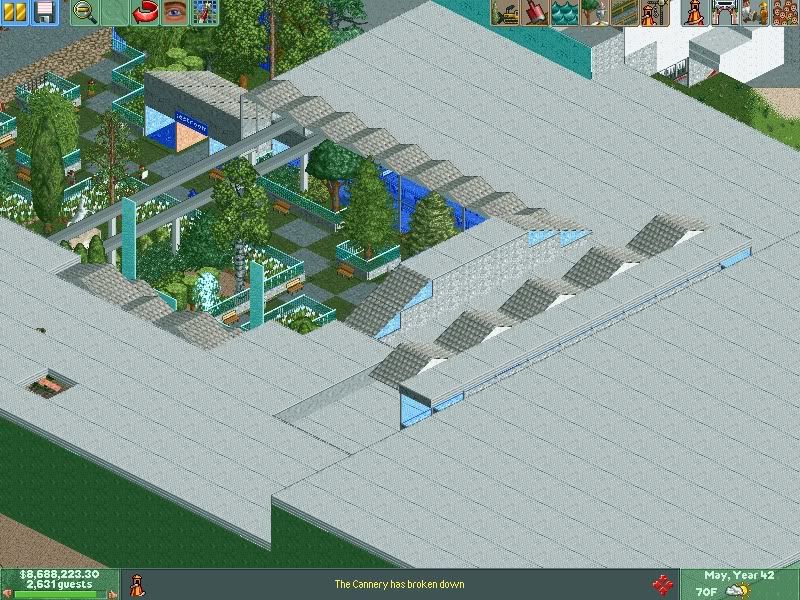 Our final land in this park, heavily based on the Tomorrowlands, is Futura.
Overview: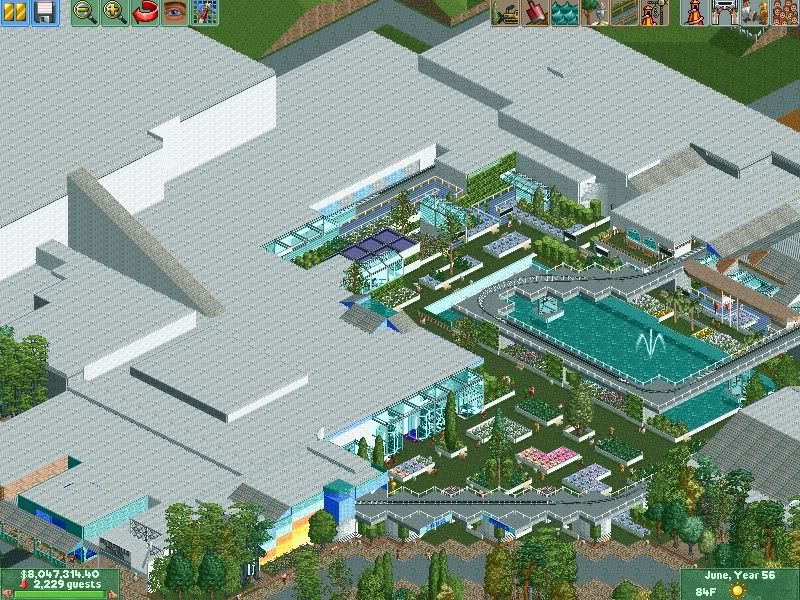 Futura contains five attractions:
* Nova Voyager - Roller coaster similar to Space Mountain. Has a 50 mph launch with inversions.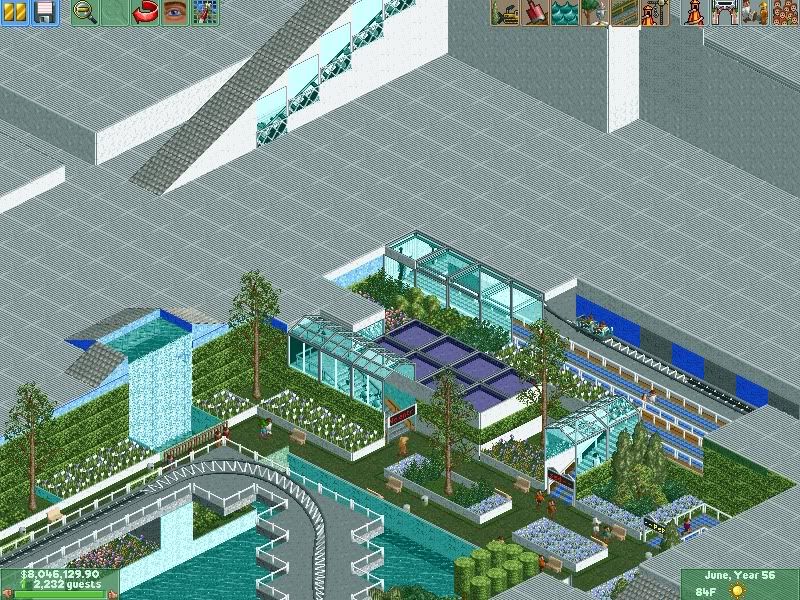 * Futura Center - Collection of sponsored attractions, all indoors. Changes frequently to reflect current events.
* Futura Dome - 4D Theatre with a
Mondavi-inspired
exterior.
* Aerobus - Motion simulator attraction. It is a 'gray-line' tour of a futuristic city. Each tour is randomly picked by the simulator from 30 different 'tours' and can vary from normal to completely wild.
* PeRT - short for
Pe
rsonal
R
apid
T
ransit. High speed ride that maneuvers through Futura. Kinda like Rocket Rods, only this one actually works and doesn't break down every 10 seconds.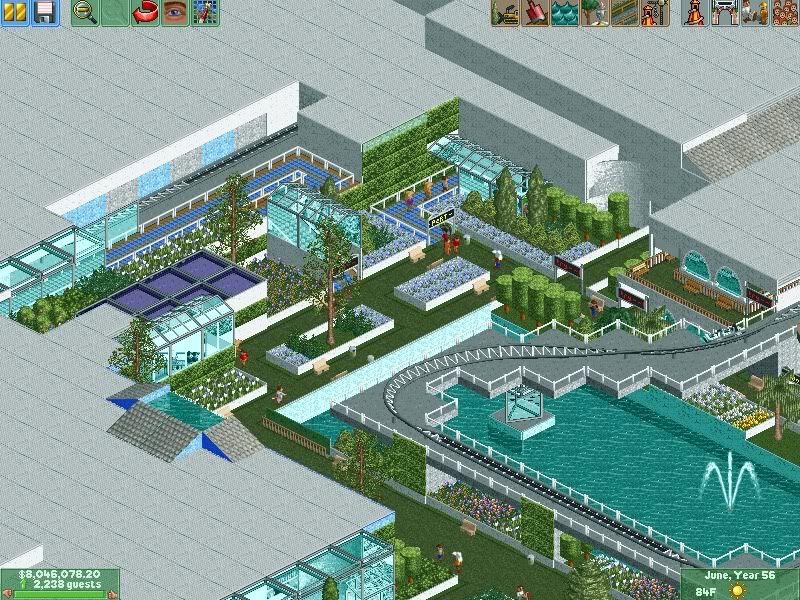 At the end of the day, why not top it off with the park's nighttime show - Pyroquatic Symphony: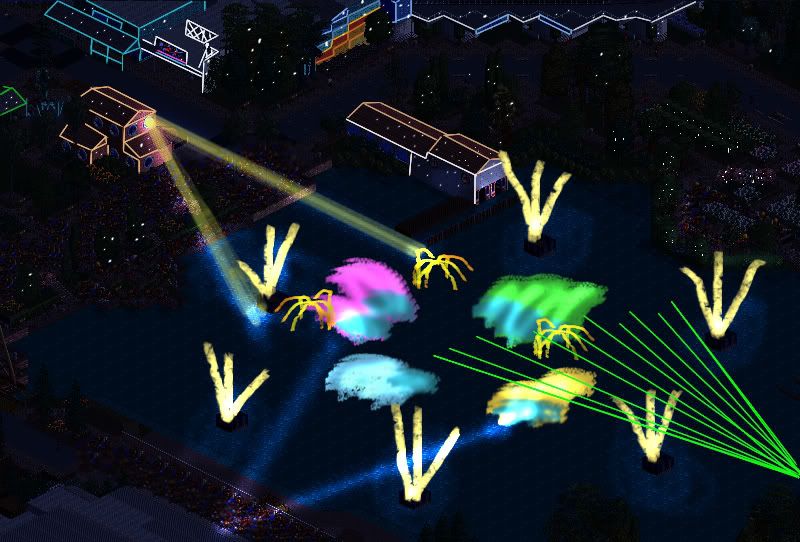 And that should do it for this park. Up next - Core, Hotel(s), and the Studios
Hasta Luego!