DAY 0: Arriving, Lost Luggage, Parque de Attraciones Madrid, and Old Madrid
So I had been planning to go on this trip since before it was announced. I'd always wanted to go to Spain (ran out of time on my European adventure), and wanted to do a TPR trip since I saw how awesome it was last year. I booked the trip as soon as it was announced and sat in anticipation for the next 9 months.
I knew the people would be amazing, as I knew a good number of those going already (from online, only a handful in person), but I didn't really know what to expect from the parks. Most of the parks on the trip didn't look all that exciting from looking at pictures online, but I knew that I'd have a great time no matter what, and boy were my expectations surpassed. The parks were amazing, the people were even better, and in all honesty, I've never had so much fun on a vacation (yet alone a coaster trip).
So on to the trip report, well Day 0 at least (before the official trip began: arrival day).
My trip started with my alarm clock going off at 4:45am on Thursday morning. Ugh, I hate early flights. I grabbed some Burger King on the way to the gate for my 7:30am flight, and then called my Mom to let her know I was on my way. Another kid from the trip, Ben aka BeatleBen, found me shortly before we boarded. We ended up sitting right across the aisle from each other. The first leg of the trip was to Miami, and from there I would be meeting up with Jon, aka moose8556, for the Miami to Madrid section (we had arranged to sit next to each other on the flight already)
Ben and I arrived in Miami at 10 til 4, which gave us just over an hour to get to our next flight. When we pulled up, we had no gate. The gate we were supposed to occupy had a plane with mechanical issues at it. The captain announced that the plane should be backing out in 5 minutes, and they were working on getting another gate in the meantime. 10 minutes go by, still nothing. The captain then tells us that there aren't any gates open, so we'll have to wait. 30 minutes go by, still waiting. By now I'm starting to stress out because the flight to Spain was supposed to be boarding already. We finally got to the gate 45 minutes after landing, meaning I had less than 15 minutes to get to my next flight by the time I got off the plane. There were two other women near us on the same flight, so we all banded together and RAN! First off, we got in at Terminal C, and had to get to Terminal G. Ok, no problem, we'd just run. Then I discovered that we had to leave the secure area to get there. Security lines and just over 10 minutes to go. Well the signs in the airport said Terminal G was about 15 minutes, away, we made it in 5.
CRAP! Security line. I went up to the agent, in amazing race style, and explained that our flight was supposed to be leaving in 5 minutes. She pushed us to the front of the line, and 5 minutes later (including a bag check, since I had a bottle of water from LAX in my carry-on) we were all through and running through Miami International, Ben without shoes, and me holding my pants up because I didn't have time to put on my belt. We got to the gate about 3 minutes after departure time, and the way the gate was situated we couldn't tell if the plane was still there. I went up to the gate entrance, and the Iberia employee just pointed me to the counter. F*@#$, we were too late. So I went up to the counter, and they did some typing, and more typing, and then handed me a boarding pass. Turns out that they can't use the AA boarding pass, thus why I had to go to the counter. So we managed to get on the plane (10 minutes after departure time), and I see a smiling Jon sitting in the seat next to mine just waiting. Turns out they didn't board until 10 minutes before departure time, and we weren't all that far behind everyone else. He had been to the gate since before we arrived, so he wasn't sweating or shaking like I was. Nothing to do now but settle in for the 8.5 hour flight to Madrid.
It was the first I had met Jon in person, only having talked on AIM and the coaster boards. He was fairly close to how I expected, except far less serious. I like when people turn out to be as awesome in person as they are online. We chatted through most of the flight, about coasters, about people we were excited to see/meet on the trip, about the sig others, and general shooting the shit. The food was pretty good (dinner and breakfast), and I didn't really pay much attention to the in-flight entertainment (I did read a bit of Harry Potter though). I didn't sleep, which was no surprise since I never can on airplanes.
We arrived in Madrid 30 minutes late at 8am. The airport is an amazing structure. We were in Terminal 4S, and it wasn't until we headed out on the hotel shuttle that we discovered how huge the place really was.
Terminal 4S, upper level
An exhausted Jon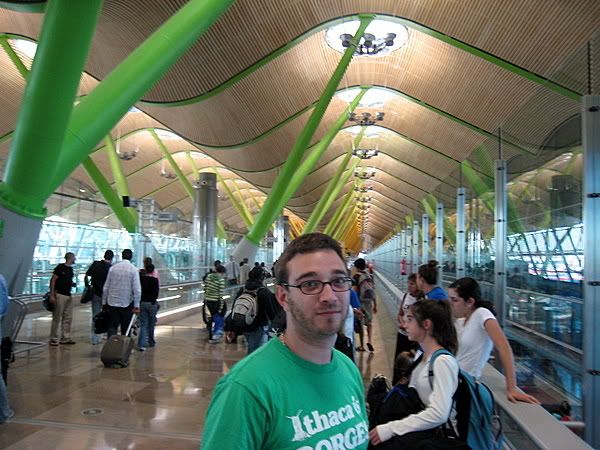 We made a quick pass through customs, took the train to terminal 4, and made the long walk to baggage claim.
I figured that my bag wouldn't be there, since we were so close to making the flight. But Jon was there in plenty of time, so we waited around the baggage carousel. And waited, and waited. It takes an hour to 1.5 hours to get bags at Madrid. Slowly they started turning up. We waited for 1.5 hours, and still no bag for Jon. So we all headed to the luggage counter. They had Ben and I's id number on their list of bags that were still in Miami. They told me that it would be on the next morning's flight, and they'd deliver it to our hotel. Luckily we were at that hotel for two nights. They couldn't find Jon's number on their list, but still told him it was in Miami and he'd have it the next night. He wasn't so sure about that.
So we found the hotel shuttle, and took off for Novotel, Campo de Naciones. It was a very short drive from the airport. Lou was standing outside, waiting on our arrival, and had a bag of Viennese truffles waiting for me. SHE IS THE AWESOME. I LOVE LOU! (she was my roommate for the trip, and was another that was even more awesome in person) I didn't have anything for her, but I guess it was a good repayment for carrying her stuff in my backpack at the parks all week
She had arrived in Spain early, and had already been around the city and the area around the hotel.
We dropped off the carry-ons, and headed out to find some lunch, a phone card, and some deodorant/toothpaste since ours was with our lost luggage (though to be fair, they knew where mine was). I had my first experience with speaking Spanish while asking around the gigantic store (like seriously, bigger than walmart) on where to find a phone card for international calls. We finally found the counter, but the lady there was explaining things much too quickly. Luckily Deka, wandered up and spoke fluent Spanish. With a phone card in hand to call home, and a sandwich from a nearby cafe, we were now ready for the trip to begin. Well, after a visit to the hotel pool.
OMG, the pool was freezing, but we had like an hour to pass before we could check into our rooms, so we took a dip anyways.
At 3pm, all of those that had arrived (many more were supposed to be there already but had flight issues worse than mine) met to head out to Parque de Attraciones Madrid. We were going there again in 2 days, but Robb thought we'd need the extra time there today to get in all the rides. He was right and I was glad I went.
Riding the metro to the park.
Change at Nuevos Ministerios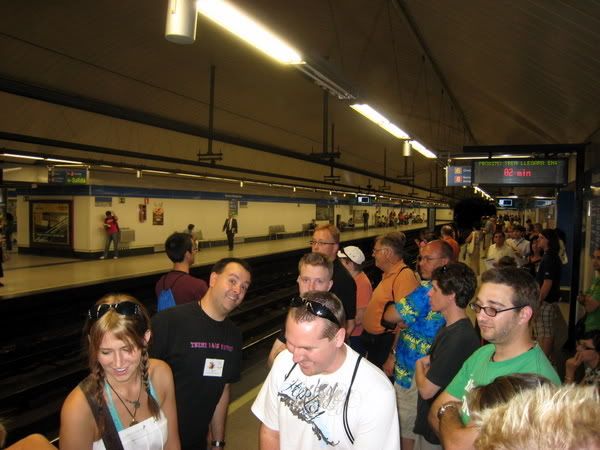 Lou and I waiting for Robb to get return Metro tickets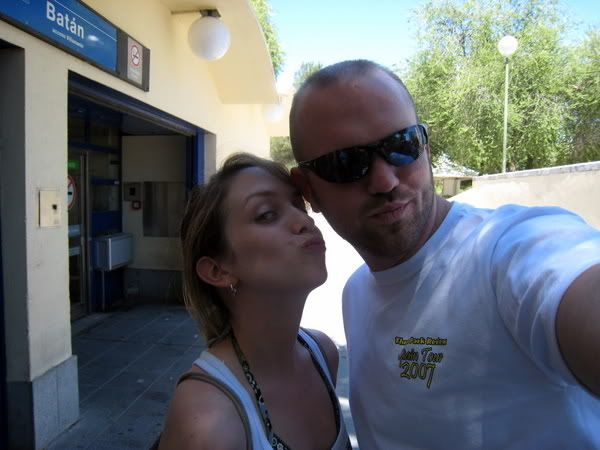 Walking to the park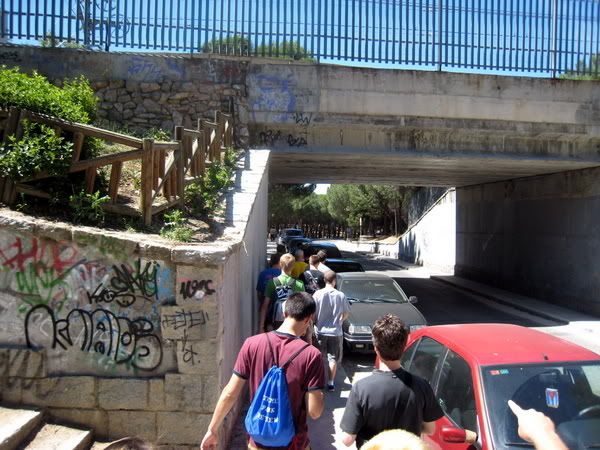 And more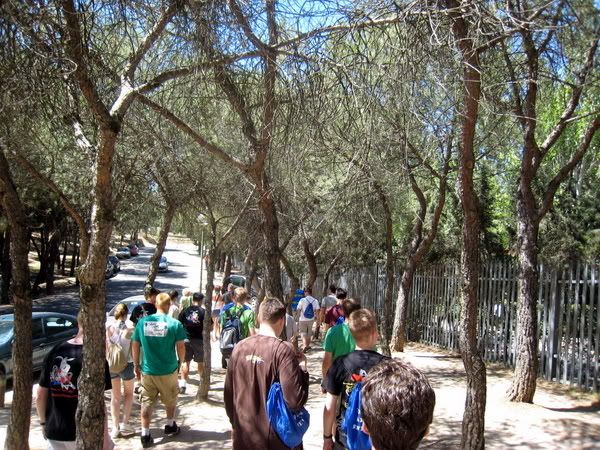 THERE IT IS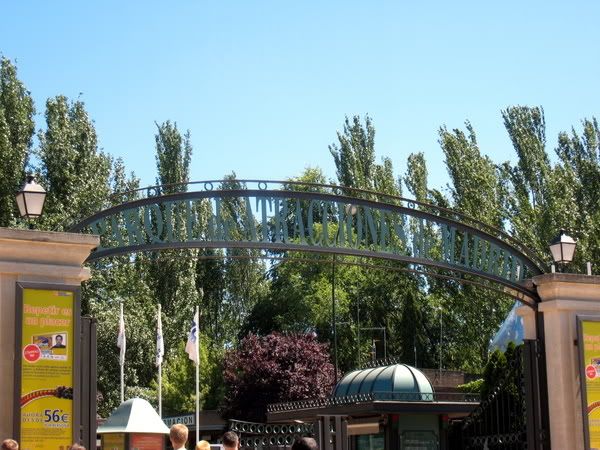 Once inside, on to the first "credit" of the trip. ABISMO!
I was expecting bad things from this ride, hearing how painful G-Force in the UK is, but it was a great ride. I don't like hanging upside down at the start of the ride, but the coaster was intense, and had a great airtime hill. A good surprise. It's a great addition to the park, and a lot of fun. Just brace yourself as you come to a stop on the vertical section, or the lap bar will kill your hip bones.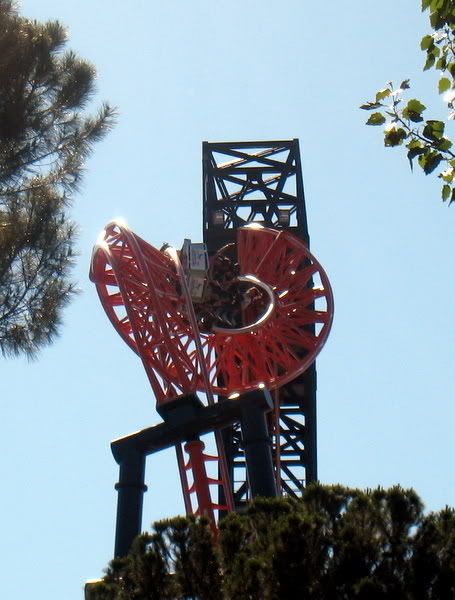 This is Robb's picture, but it's so awesome we all need to see it again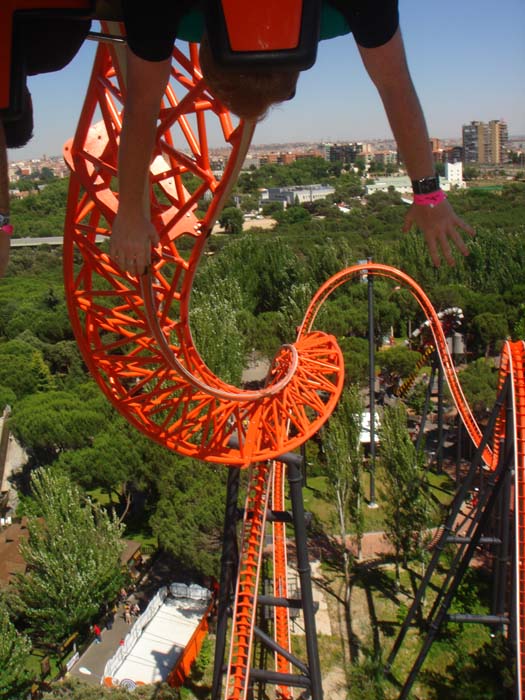 The exit conveniently led to Tarantula, a spinning mouse coaster, that had plenty of spinning, and a couple great surprise elements (like a diving turn into a tunnel). Your level of spinning will vary, but we found it did great with an unbalanced weight load from one side to the other.
LOL, Jon looks awful in this pic, so I think you should all see it
Right next door, they had a unique suspended shooting dark ride. You had to shoot spiders and crystals. It was neat, even if the scoring didn't work so well, I think about 1/5 of the guns didn't register. It also made Lou shriek when one of the spiders jumped out, so bonus points for that.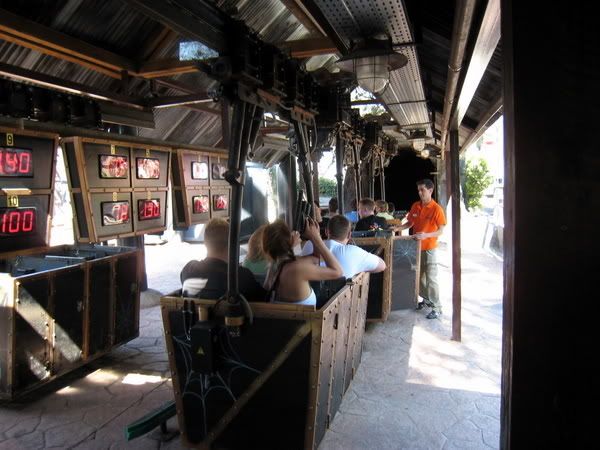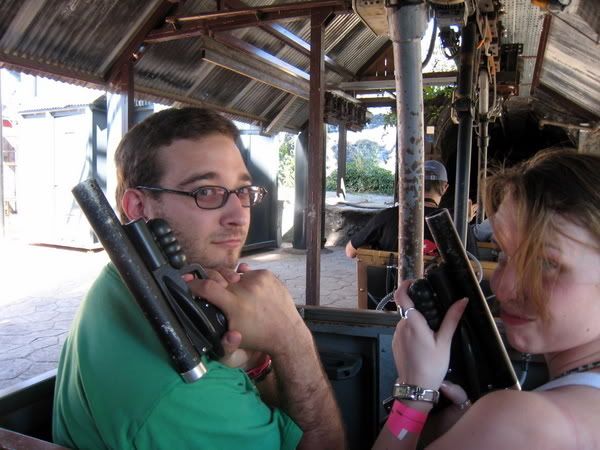 One more adult sized coaster left. Tornado. An Intamin inverted coaster. But wait, what's this in line. And so came the phrase......"I LOVE SPAIN". I have plenty of stalker shots like this from the trip, but I'm not sure I should post them here
The coaster was good, not amazing, but good. It's fun, it has decent elements, just no "WOW" moments. It was more fun to see the over-supported loop.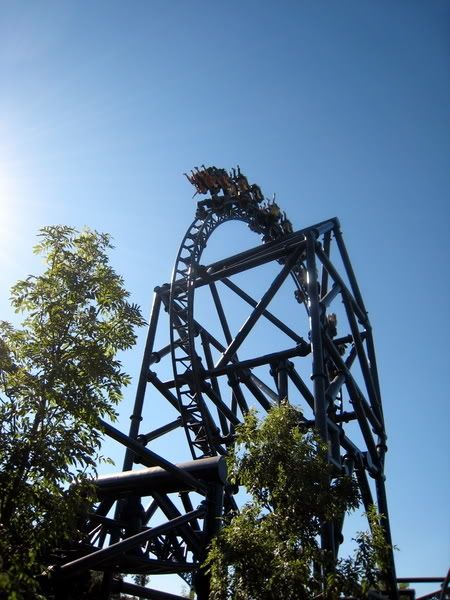 I sat Condor out since they make me feel ill.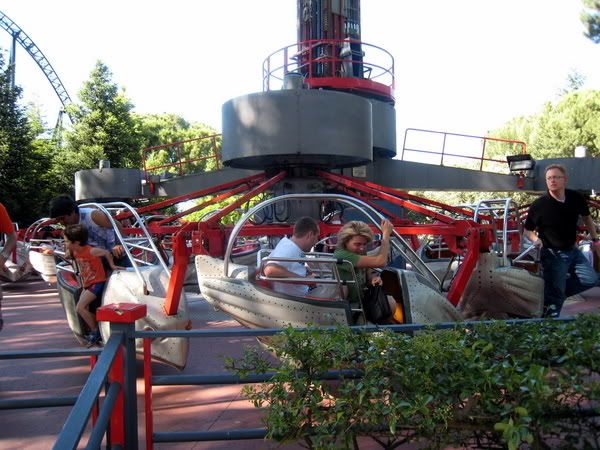 The other highlight of this park was its interesting flat rides. Such as the zeppelin monorail
And their Small World knock off (Jungle Cruise knock off, coming on day 2)
Count the stereotypes
America I guess is symbolized by cheeseburgers and coke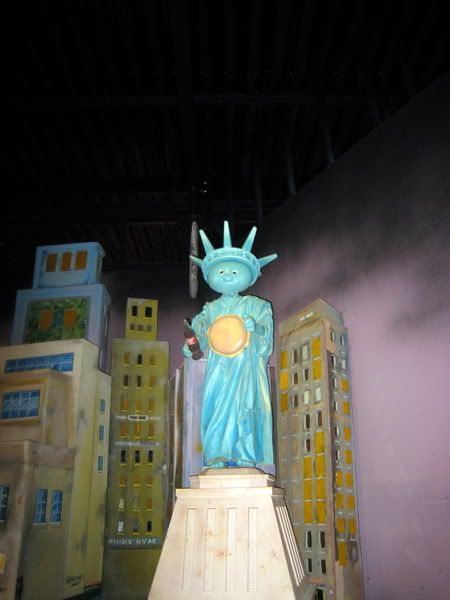 And cheerleaders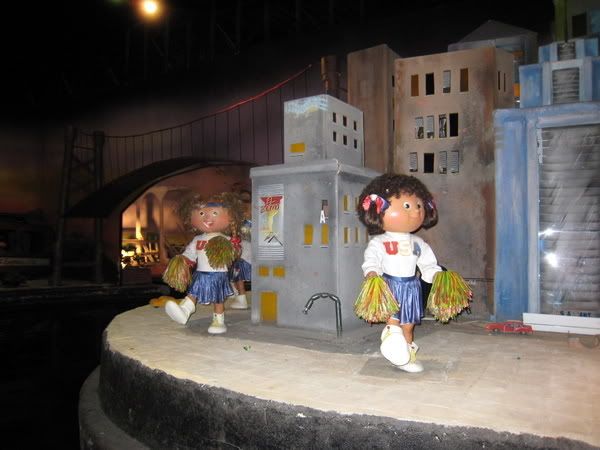 LOL, at least we're not the Netherlands, who are represented by retarded looking farmers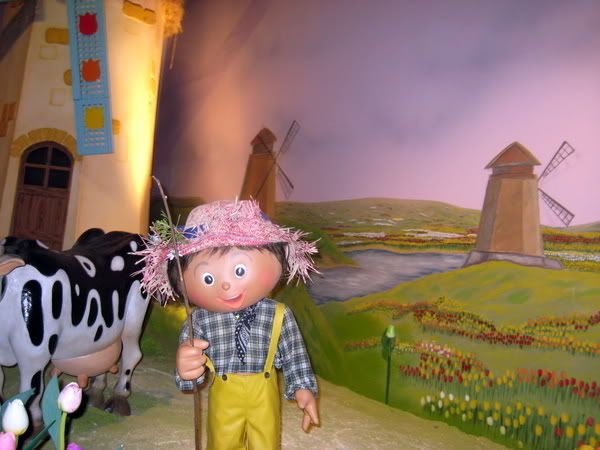 Weeee......fun
It was interesting, the boat wasn't free floating, but instead attached to a cable in the water that pulled the boat along. Most of the boat-style dark rides in Spain used this ride mechanism.
More zeppelins, with the closed Tree of Life type thing in the back
The rest of the group tries to get the kiddie coaster credits
DENIED
Here they are though, a Holidog clone
And a Zamperla suspended kiddie coaster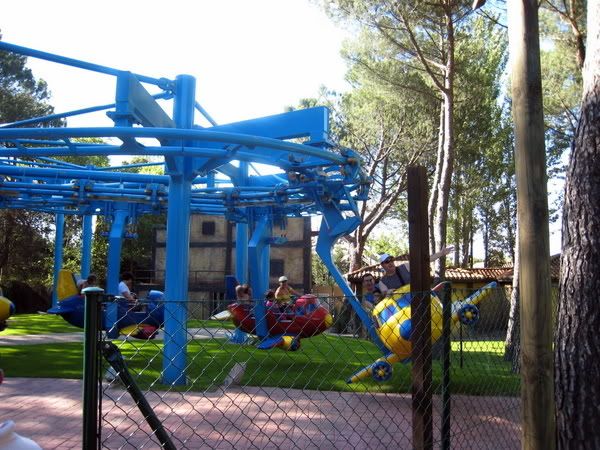 The park was really beautiful throughout, even the kids area
After another ride on Tarantula, Jon and I decided to head out to Madrid since it was the only full free evening we'd have there.
Walking out of the park to the metro station.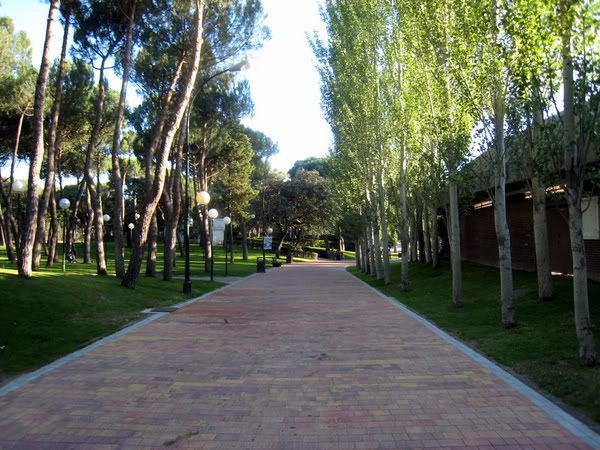 After getting off at Metro stop Opera
We walked from there, past the Palacio Real, Catedral de la Almudena, Plaza de la Villa, and on to Plaza Mayor.
Palacio Real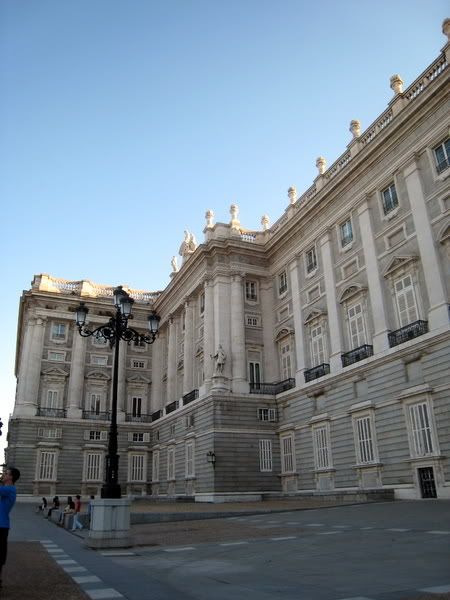 Catedral de la Almudena
Plaza de la Villa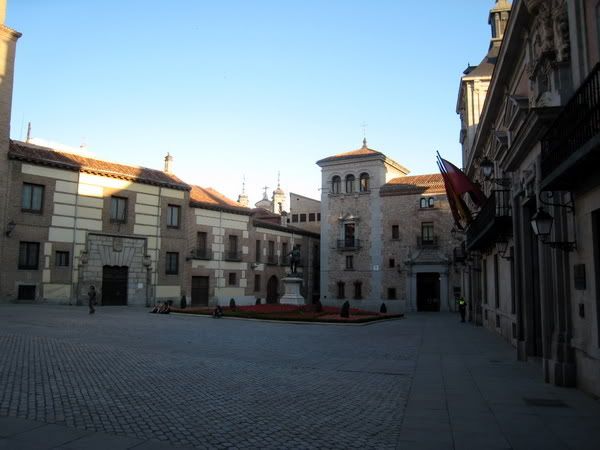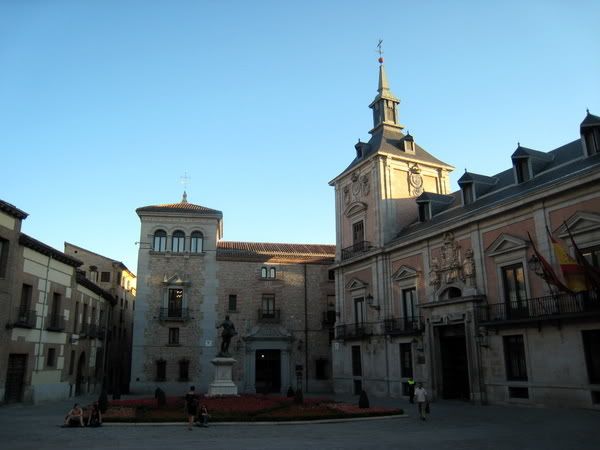 Random street in Madrid
And finally, Plaza Mayor
Jon and I found a table at one of the restaurants in the Plaza, enjoyed a pitcher of Sangria, and some Spanish cuisine (calamari and boiled ham for me, calamari and croquettes for Jon).
After dinner, we wandered around the city (semi-buzzed) for about 40 minutes trying to find a metro stop (we must have passed like 2 without noticing them). We took the 40 min ride back to the hotel, had one drink with those at the bar and then I turned in for the night.
First day of the trip down (one hella long 35 hour day). And an early morning coming up. This is when I discovered the trip was not going to involve much sleep. Oh well, more time to have fun.
That was rather long, but it was the longest day of the trip. The rest will probably be much shorter. I'm hoping I can do 1 day of the trip each day, so that I don't put this off forever.
Next: Day 1, Bullet Train, 105 degree heat, and the rise of the Pink Panthers