coasterlover420 wrote:Also, I doubt a simple block coaster like this would need 'rollback proxys'
All B&Ms have proximity sensors that count anti-roll backs and chain dogs as the train enters the station.
In this image you see 3 green devices in the center of the image.
Source
The 2 outer devices toggle the anti-rollbacks to verify that they retract and come back out. There's a proximity sensor on the other side that counts them. The center device toggles chain dogs and there's a prox sensor on the other side that counts them as well. Only Dive machines have 3 toggling devices as shown here as they are the only B&M coasters that have anti-roll backs side-by-side as shown in the image of a Griffon train undercarriage below.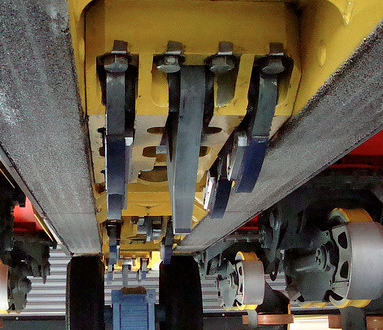 Source
All other non-dive coaster B&Ms only have 2 toggling devices, 1 for anti-rollbacks and 1 for chain dogs.
Intamins don't have these to my knowledge but a lot of their coasters (as well as B&Ms) have prox sensors that count brake fins. Granted you are correct in that this brake fin counting will not be taking place mid-circuit.