Updates so far!!
Arrival in Spain!
Spain Trip - Day Zero and Isla Magica
Spain Trip - Parque de Atracciones Madrid & Zaragoza
Spain Trip - Port Aventura
Spain Trip - Tibidabo (text only, no pictures!!)
Spain Trip - Benidorm (pics), and Terra Mitica (no pics)
Spain Trip - Parque Warner and the Last Night in Spain
My Few Mini-Europe Trip Pics, followed by Guess That Crotch!!
Mega August/September Trip - Arrival in Chicago, and SFGAm!
Mega August/September Trip - A Day in Chicago - 4 Million Tourist Snaps
Mega August/September Trip - Indiana Beach
Mega August/September Trip - First Day in California
Mega August/September Trip - Antelope Valley Fair, and party
Mega August/September Trip - SFMM and Universal Hollywood
Mega August/September Trip - Disneyland Resort and Knott's Berry Farm
Mega August/September Trip - Sightseeing in Hollywood
Japan Trip - Arrival/LaQua/Yomiuriland
Japan Trip - Space World, Uminonakamichi Seaside Park, and Yakatori in Fukuoka!
Japan Trip - Harmonyland, Wonder Rakutenchi, and Kijima!
Japan Trip - Mitsui Greenland!
Japan Trip - Central Park/Tegarayama Yuen (pfft!)/Kurashiki Tivoli!
Japan Trip - Universal Osaka!
Japan Trip - Parque España and a night in Nagoya!
Japan Trip - Nagashima Spaland, Lagunasia, Hamanako Pal Pal, random Nagoya stuff!
Japan Trip - Day One of TDR - DisneySea!!
Japan Trip - Day Two of TDR - Disneyland!!
Japan Trip - Day Three of TDR, plus Joypolis!!
Japan Trip - Final Day at Tokyo Disney Resort!!
Japan Trip - Fuji-Q!!
Japan Trip - Sea Paradise/Cosmoworld, and the last morning!
South Korea - Arrival, and Tongdo Fantasialand
South Korea - Gyeongju World!
South Korea - Woobang Towerland and Kumdori Land!
South Korea - Everland, Lotteworld, Seoul Land, and others!
One last day at DLR...
Arrival in Madrid, pre-Spain Trip!!
So the end of 2007 approaches, and upon reflection, I had a pretty awesome year. There was definitely some bad mixed in with the good, but as far as the travelling went, it was pretty much all awesome. So I decided to attempt a monster trip-report reflecting this.
A few disclaimers: Firstly, I take no geekshots. If you're looking for pictures of trains and wheels and brake-runs... Get out of my thread.
I take all people pictures, and that's what this will be, along with Kyle/Chuck-style reviews. Second disclaimer, my memory is terrible, unless I really really love something, or it's fudged up enough to stand out, you may well read "yeah, I have no clue what I thought about this coaster". Thirdly, my photography inclination is pretty erratic, some days I take a hundred photos, other times my camera may not leave my hotel room for three days.
With all that said... On with the pictures!
I started my year with a few random park visits with Robb, which he very kindly documented so I don't have to.... See below:
Much fun behind the scenes of Infusion at Blackpool Pleasure Beach.... I still haven't ridden this damn thing!
A quick trip over to Camelot
Visiting Southport Pleasureland post-demolition.... So sad it almost made me cry!
Blackpool with Robb and Yeti Ball!
So all of that (along with two Alton visits, from which I have one single picture), was the beginning of my year!
Fast-forwarding a few months, we're now in June, and Ed (Ed) and I head off to East Midlands airport (because you can't fly to Madrid from Manchester) for a day's sightseeing in Spain before the rest of the crew arrive.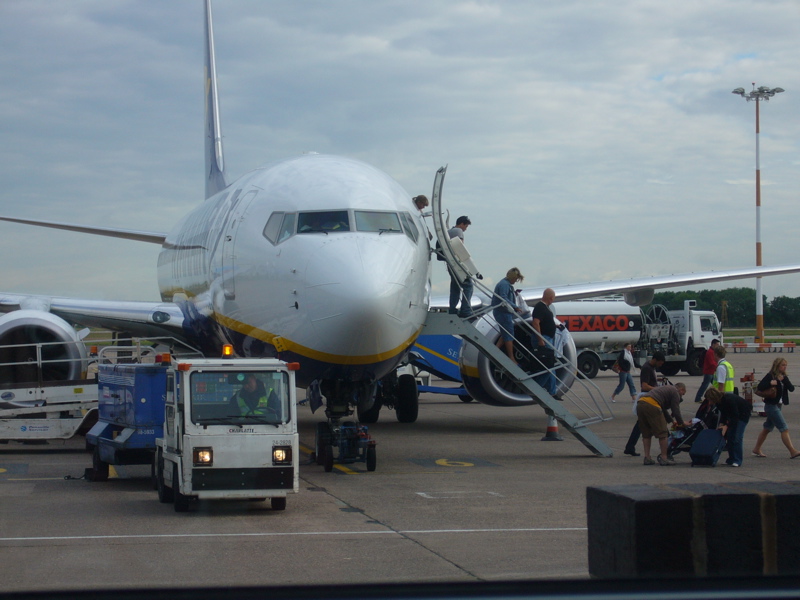 Our plane arrives, and we have to sit and look at it for forty minutes before they'll actually let us get on it.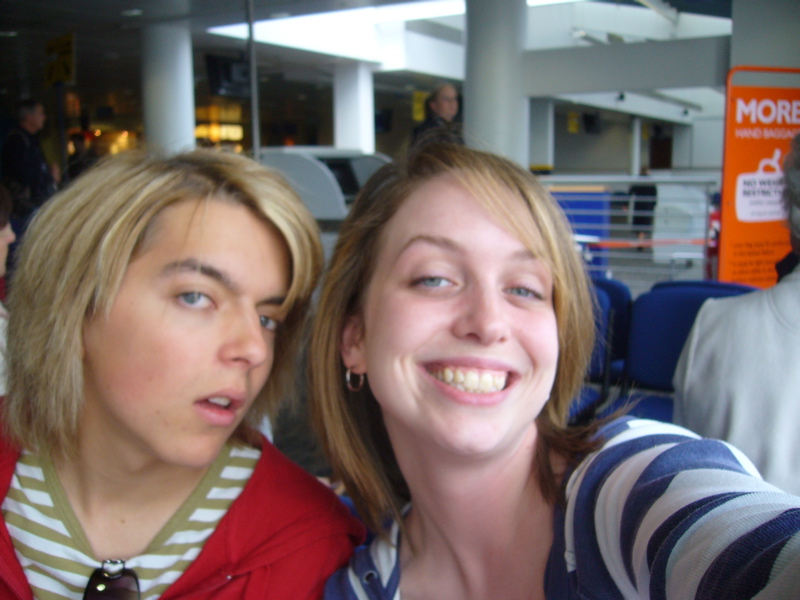 But it's okay, we have a camera, and poseur-tendencies... Even if it is 5am. *yawn*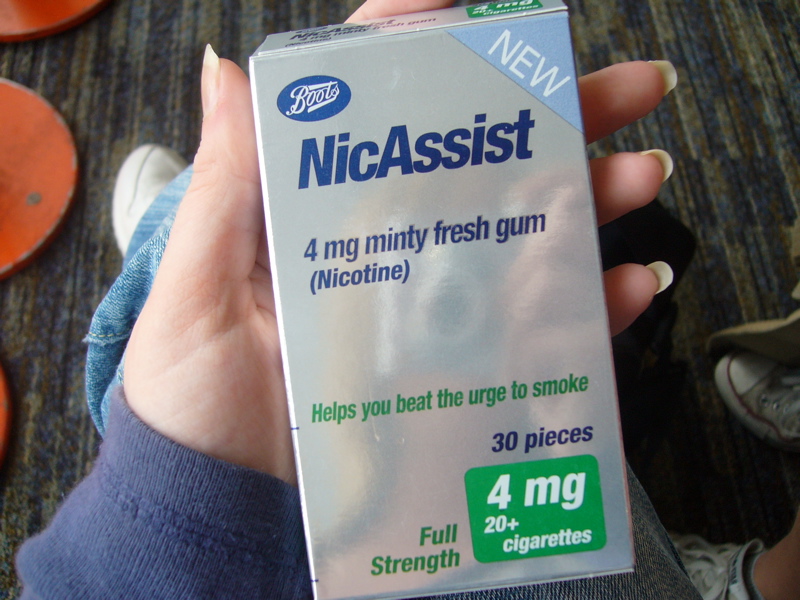 And we have supplies!
After a pretty uneventful flight, and then two hours trying to find our hotel, which was in a dodgy part of town nobody had ever heard of, we eventually made it (late, sorry guys!) to meet up with John (CreativeForce) and his wife Rebecca, who were organised enough to have an architectural walking tour printed out of a book for us to explore with! I have no idea what most of these buildings are, but they're all in the Old section of Madrid, which is a beautiful area, one of my favourite European cities now.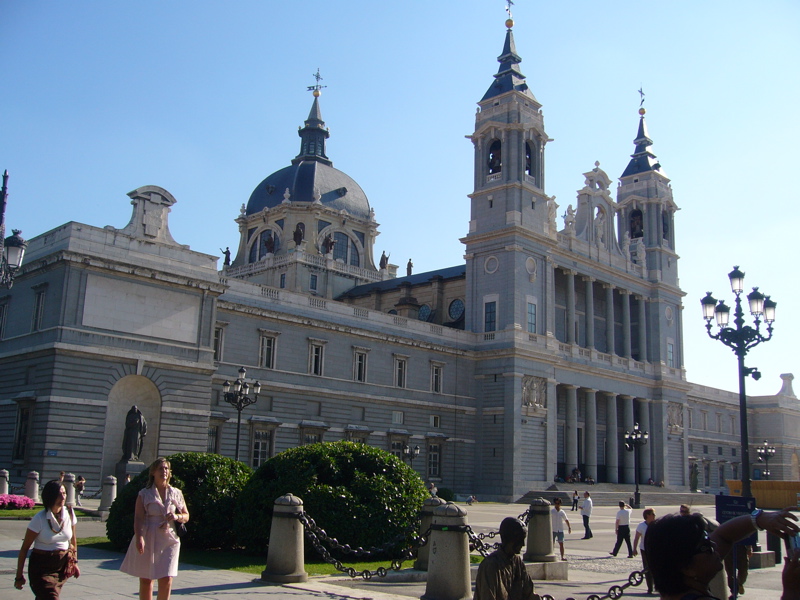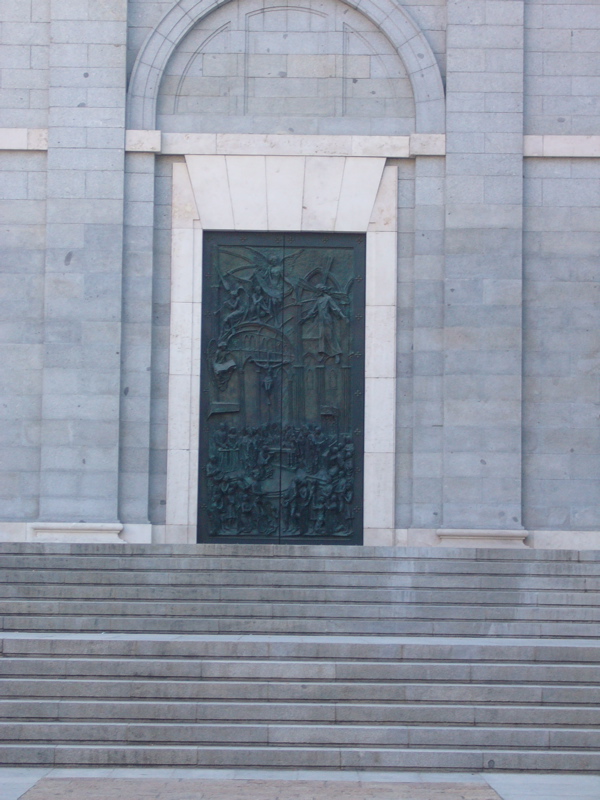 I imagine this is the door to Room uno-cero-uno or something.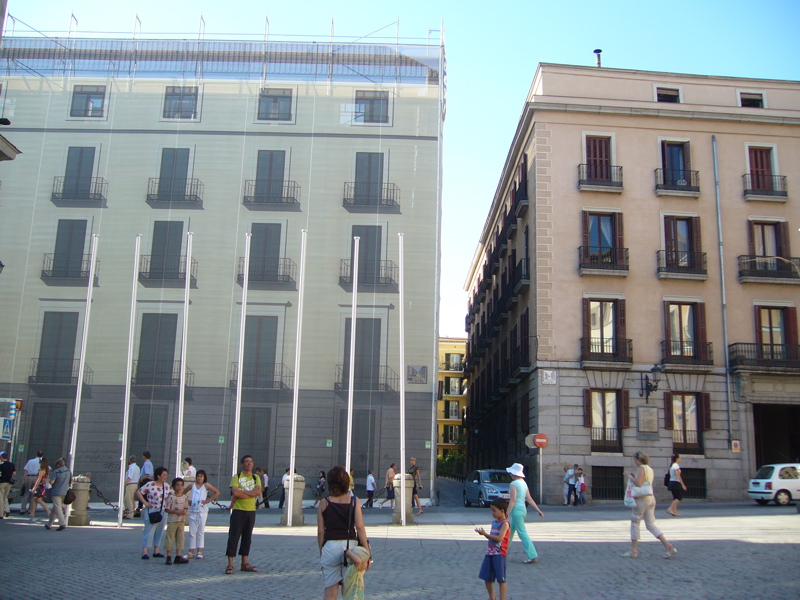 I love it when cities do this, cover up construction with a projection of what the finished building will look like. Silly in a way, but far preferable to taking pictures of scaffolding!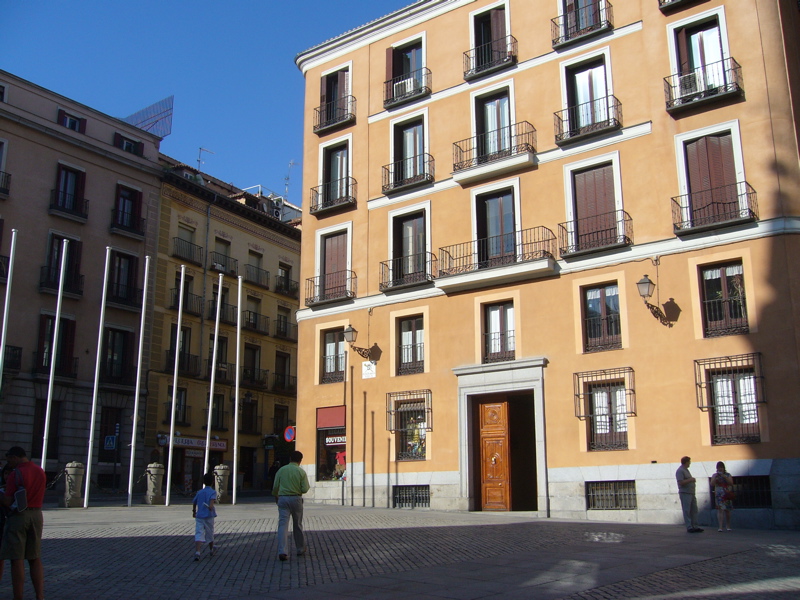 I fell in love with this building and wanted to live there.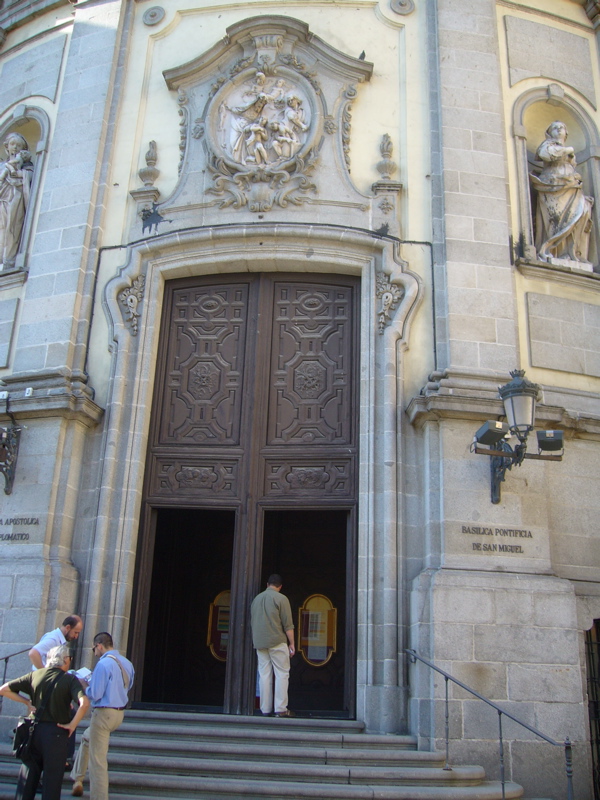 This church was beautiful, hard to photograph though as I couldn't get far away enough to fit what I wanted to in the frame.
After an hour or two of exploring in the heat (it was DAMN hot), the four of us settled in Plaza Mayor for a while with a few bottles of Coke and beer, soaking up the atmosphere. The Plaza is amazing, beautiful in and of itself, and surrounded by cool little shops (AMERICAN VIRGIN COMIC BOOK) and cafes, and there are artists and street musicians everywhere. And crazy dogs.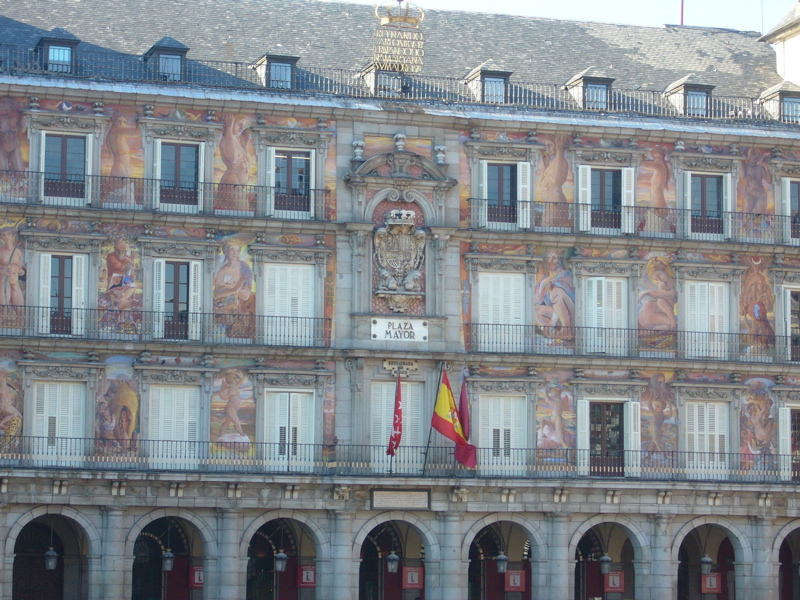 Views of the Plaza...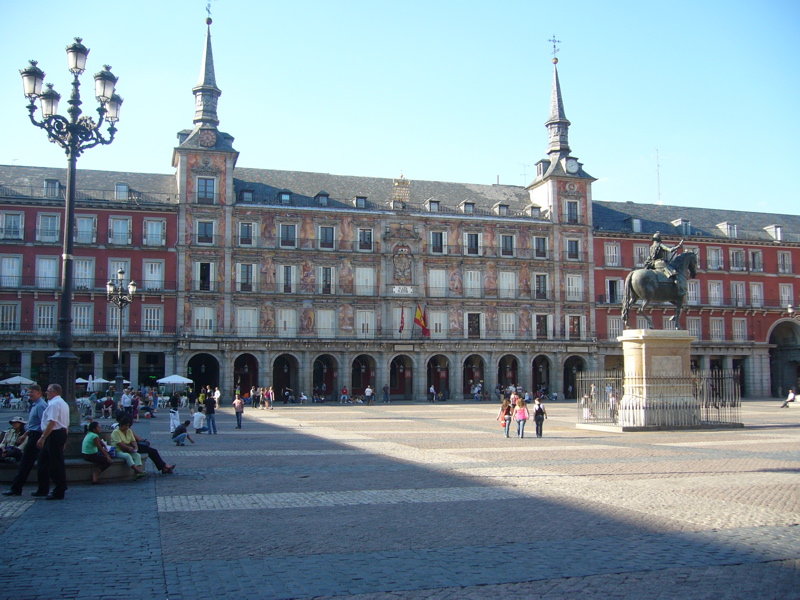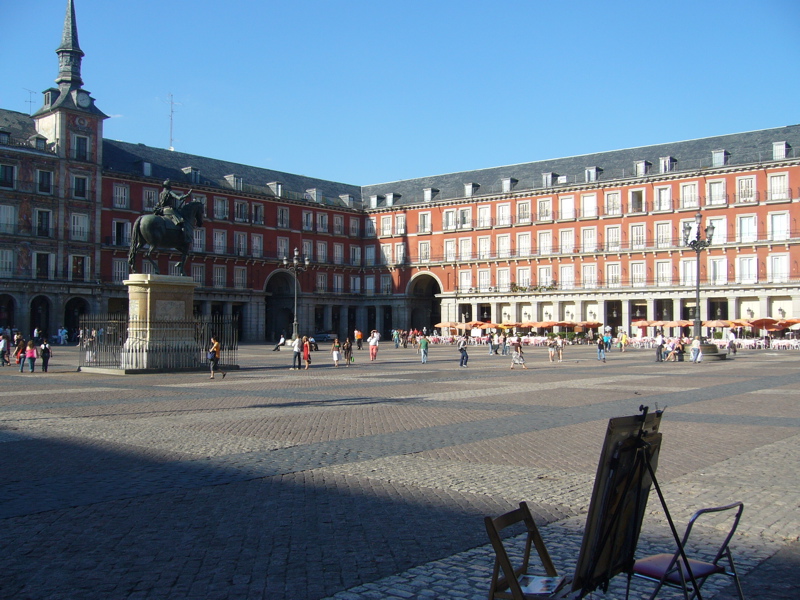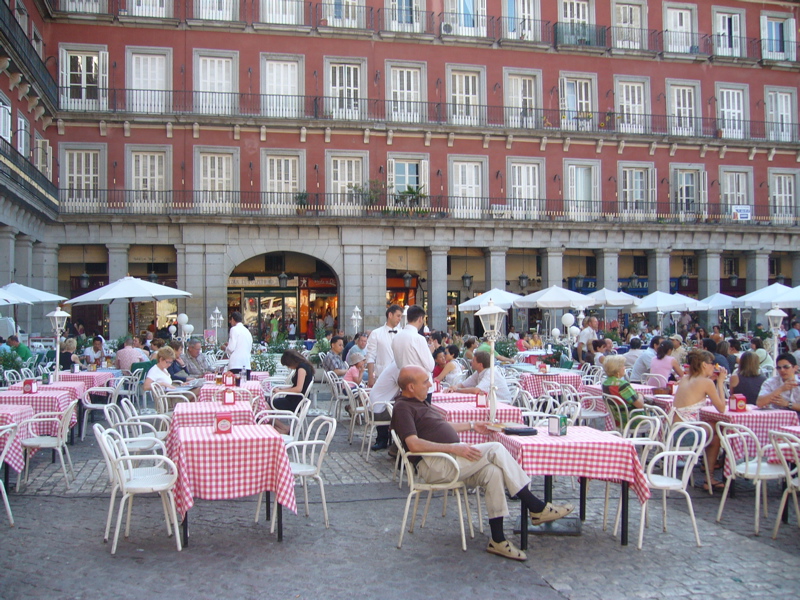 After a few drinks and a bit more wandering, we left John and Rebecca to their dinner (but sadly not show-seeing) plans, and headed back to our hotel, hoping to get off the Metro before dark, as it was quite a walk from the station, all down alleyways!! I'll take this opportunity to praise the Metro system, which is totally awesome. Now I've travelled by Shinkansen and the other Japanese train systems, I have to say the Spanish one pales in comparison, but it's extremely cool and convenient nonetheless, much better than anything we have.
All in all it was a fun and chilled-out arrival (excepting us getting lost..... Ed and I should NOT travel alone together, by the way), which we needed for the insanity that would ensue beginning the following day...
So Robb, Elissa, KidTums, Chris, Rich, Mel, Larry, and probably half a dozen others (it's been too long) were due to arrive at the trip starting point around 1pm the following day. Ed and I slept in, and awoke around 10 (allowing time to make it to that part of Madrid) to a text message from Robb saying they were delayed... We decided to make our way over to the Novotel anyway, dump our luggage and sit in the bar. Another text comes through, they're JUST boarding in New Jersey. Oops. After waiting around the hotel for a while we decided to do some wandering around the area where the hotel was, just see where we ended up. The hotel was right near a roundabout, from which you could walk in four directions, so basically we just walked a while in each direction to see what we came to!
This cool-looking sculpture was in the parking lot of what ended up being a pretty nice park with a great view! Now what was that park called.....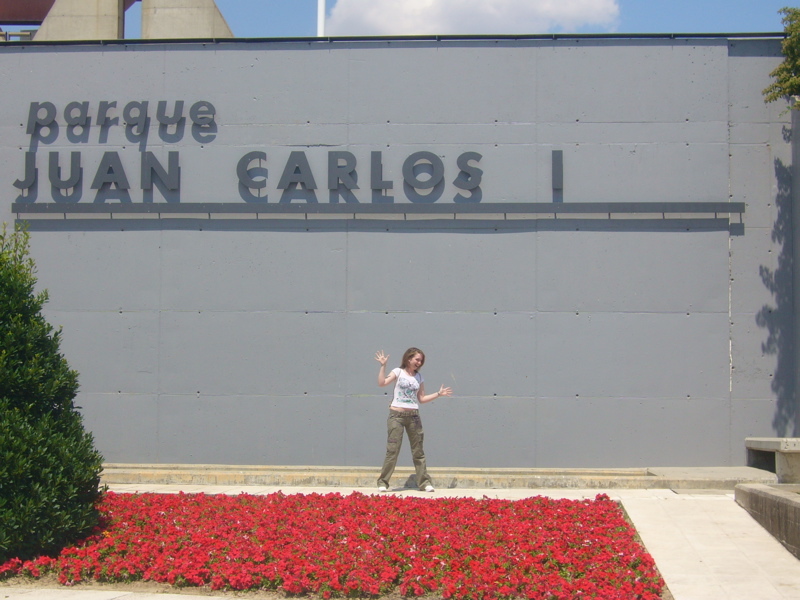 Oh that's right!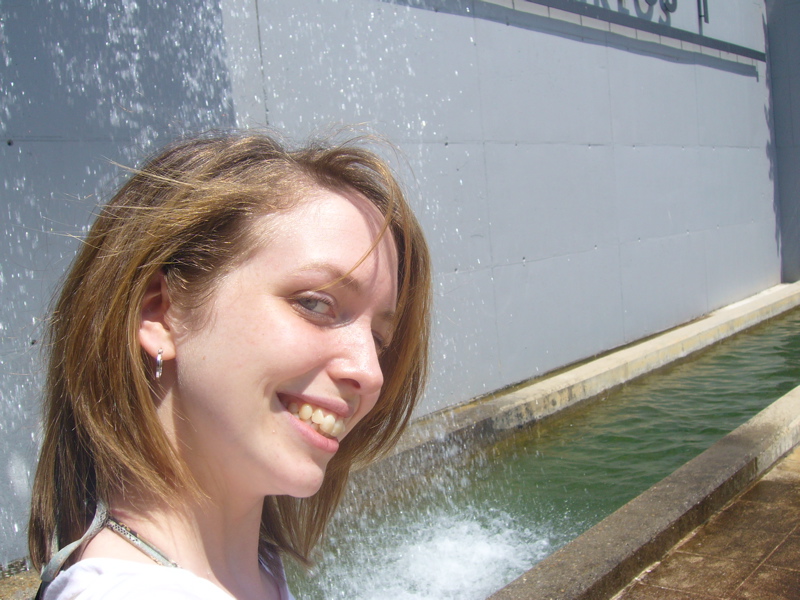 This was about five seconds before the wind changed and that waterfall soaked me.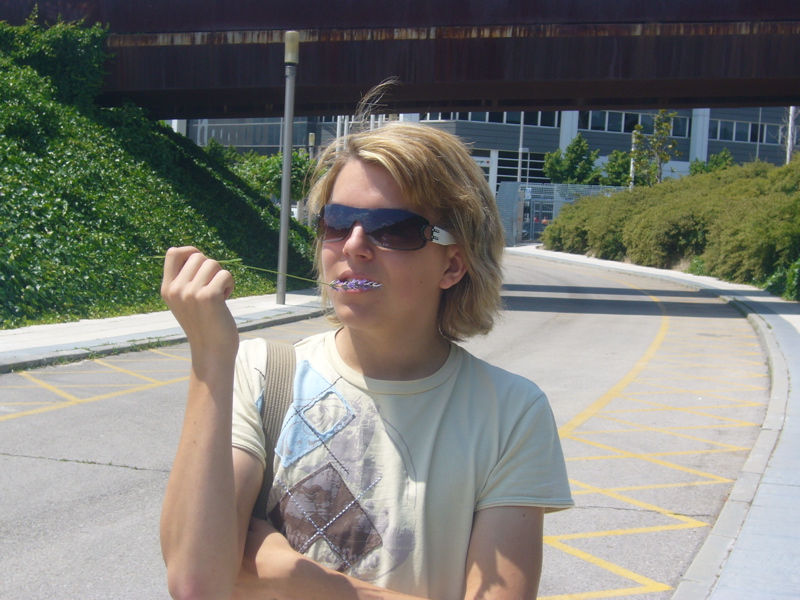 Every time I see this picture I have to wonder if I have ever seen anything more gay. I think it was just about surpassed while I was in California though!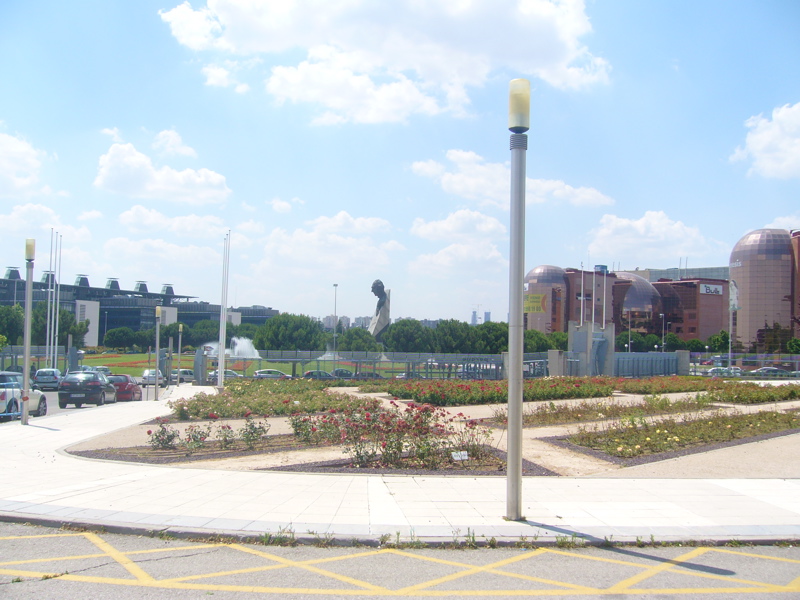 Random view of the area. That copper shiny building on the right has a hedgehog on it, I never did know why but thought that fact was gloriously random.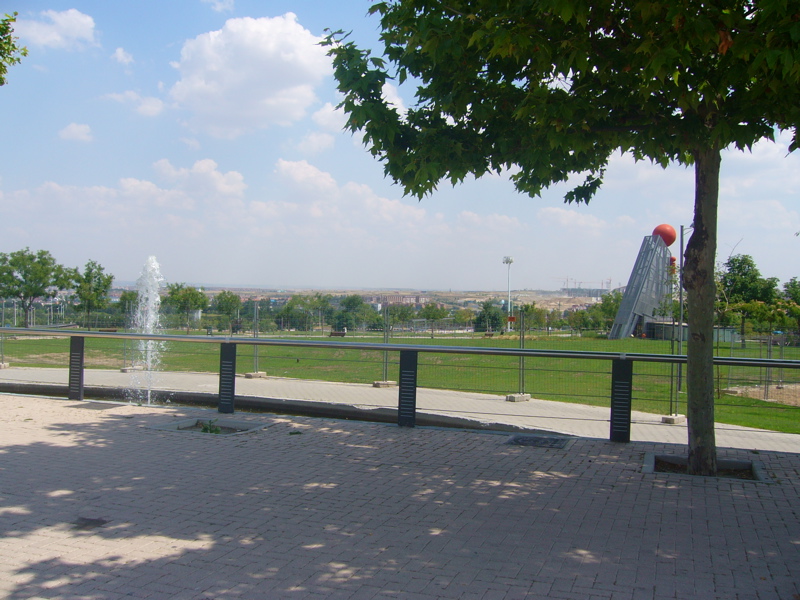 Lots of random sculptures, buildings, bridges, and fountains in this place. All felt sort of unfinished though, a little odd. I LOVED all the people in business-clothes sprawled out sleeping on the grass all over the park, a good siesta place near their offices, I assume.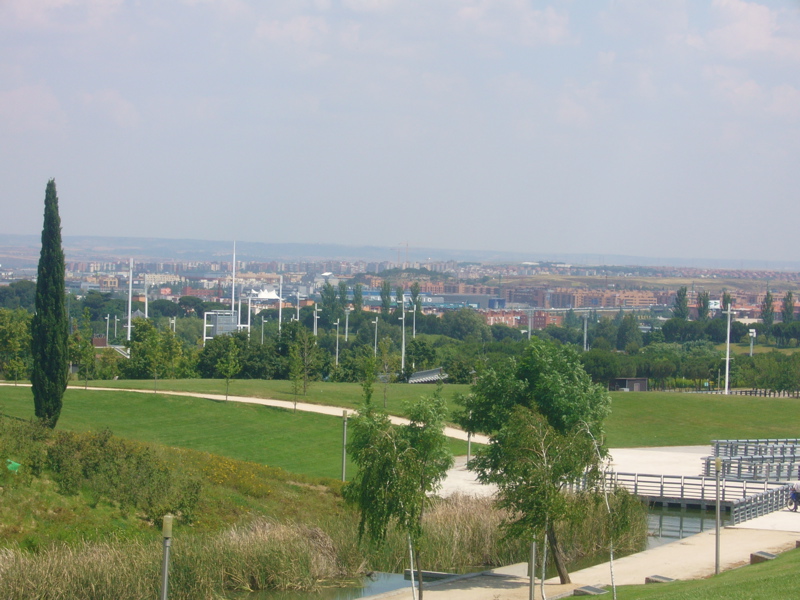 You could see pretty far across the city!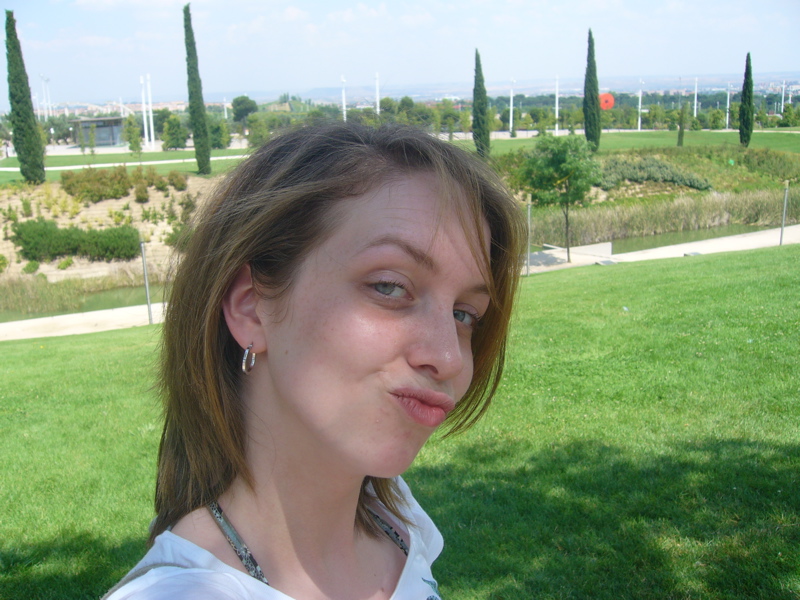 I'm in Madrid. 'Sup.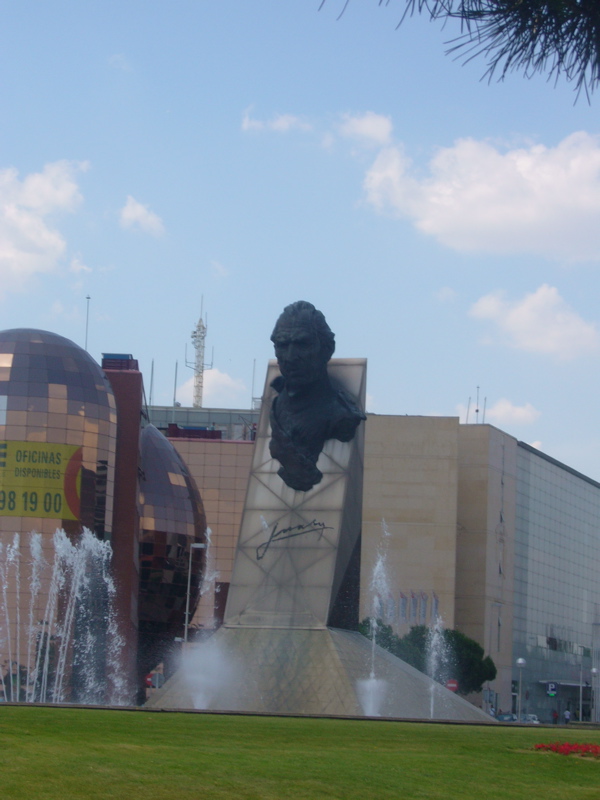 BUST. No idea who he was, but I call him Johnny.
Going in a different direction now (one where there ended up being nothing and we turned around), I took this just to prove it was hot. Compared to the rest of my summer, this actually wasn't hot at all, but at the time, it seemed it. So there.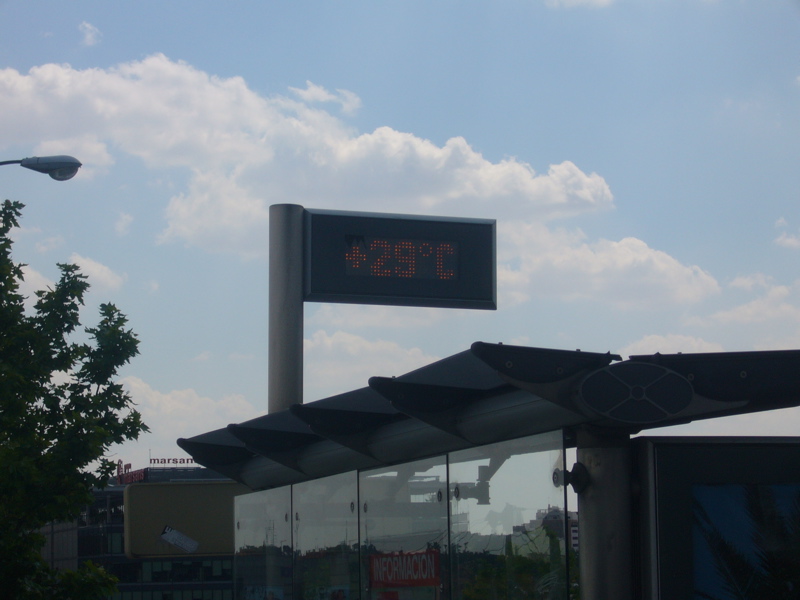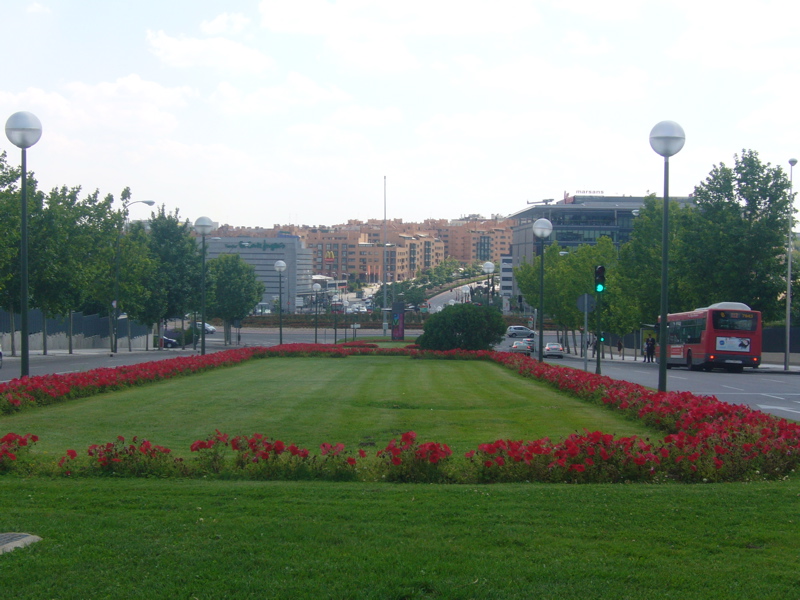 Everything is always so landscaped in Spain! And I see McDonald's in the distance!! That place was handy to have around on nights when we got back to the hotel late and were lazy and hungry.
Walking alongside the railroad tracks, we decided we were literally on the wrong side of them. But hey, the graffiti was even kinda arty looking and neat, so it's all good!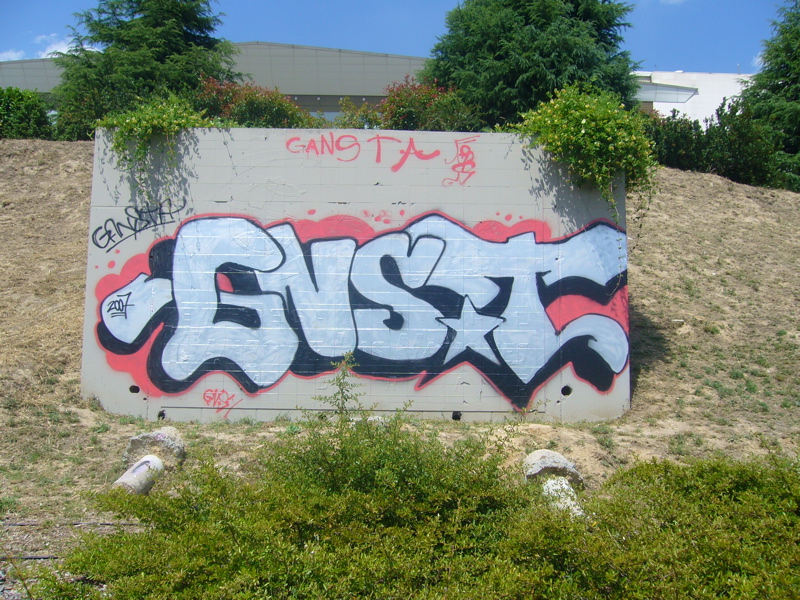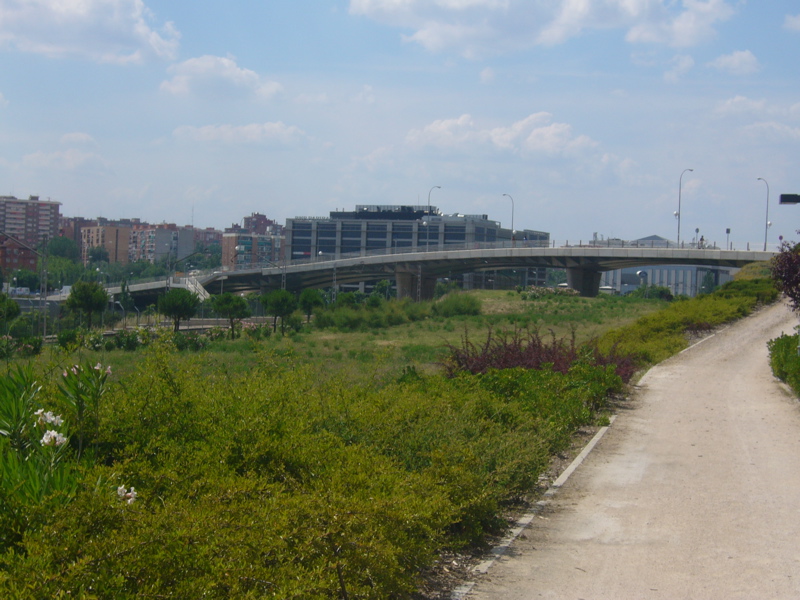 The tracks are down to the left there. Pretty place, and quite peaceful, but I imagine I wouldn't want to be in that area alone after dark.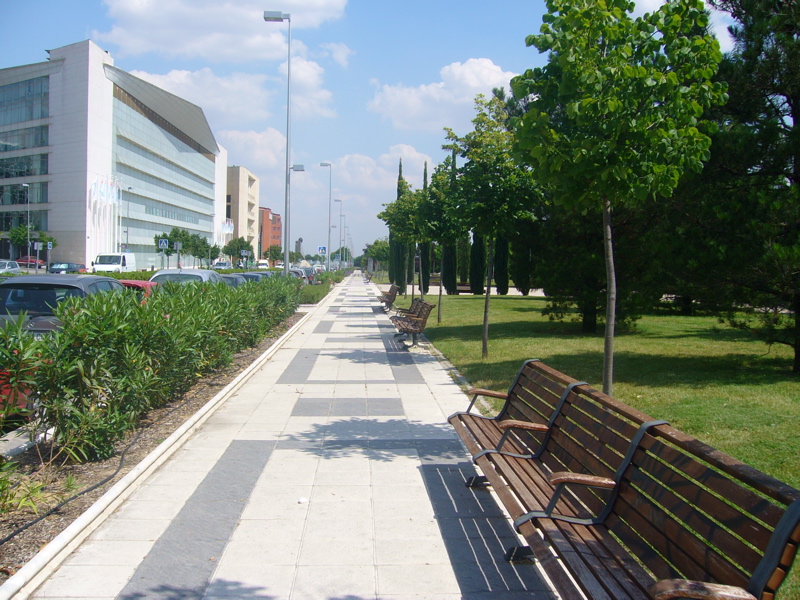 The path shown above eventually leads to this street, again, very pretty, but still covered with graffiti and stuff. Landscaping is typically beautiful though, it being Spain and all.
Funky sculpture. I love the bench next to it so you can just.... sit.... and stare....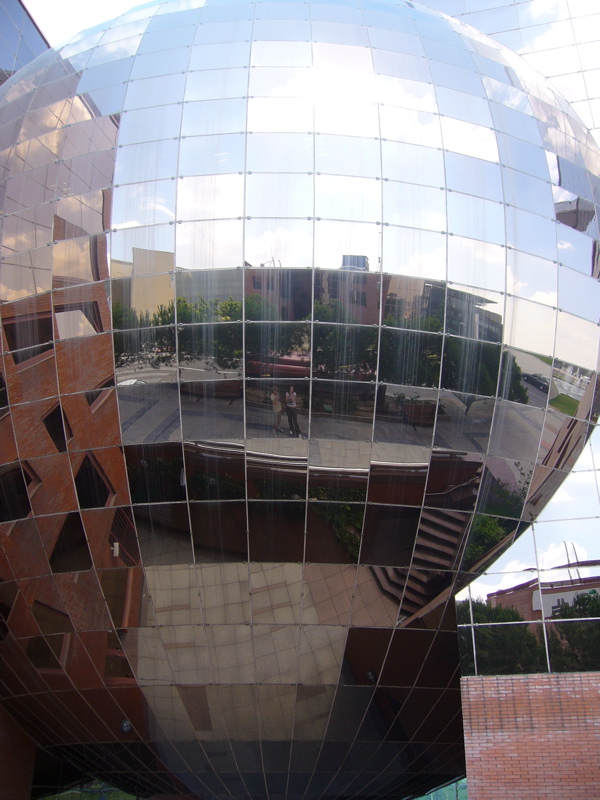 VOGUE. (See us posing?)
So that was our first day and a half in Madrid! Sorry that was such a long walk with all culture and no coasters.
After we got back to the hotel, the poor Alveys and co. eventually made it after a 102 hour hellish journey, we all went for dinner, had a few drinks, then crashed, ready for Day Zero, meeting all the new faces, and Parque de Attracciones the following afternoon!