Want something with a bit of challenge? Want maps with an added story? You're in luck! I, Micheal Folf, present to you..
Folfenarios!
- Downloadable (and playable) scenarios for RCT2 made by yours truly.
So, basically whenever I make a scenario, I'll post it here for you all to enjoy and play. What's more? I encourage you all to post what you have done on here (preferably, as screenshots, though feel free to upload a save if you wish).
So, without further ado.... let's showcase the first two scenarios:
Echenima Park - MARFstitution
"While Mr. Folf is away for a much needed retreat, you have been put on duty to maintain one of his most famous creations. Be sure that all maintenance and rehabs go well, and to abide by the high standards created by MARFleparks"
I never release 'maps', or saved games of my parks. Rather, I release scenarios as a way to 'encourage' people to not just look at the parks, but to play around with them as well. In this case, we have the original
Echenima Park
. Now, this scenario is slightly dated (I prefer to call it a 'living snapshot' of the park). And there are a few notes I'd like to share before you download:
Certain rides may have double queues. This was a failed attempt at making single rider lines. Feel free to remove them.
Select rides (e.g. transport) can't be demolished.
And yes, you can build over the buildings with a colored wooden fence (or anywhere else you see fit)
Last but not least,
download and enjoy!
California Boardwalk
"As part of a local ordinance to boost tourism, you have been assigned to build an amusement park along the coast."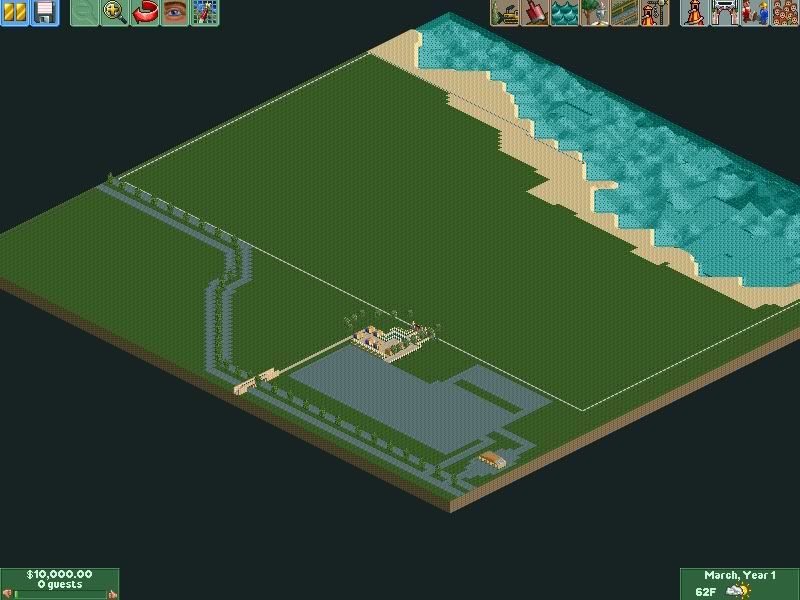 A few notes about this scenario:
Contains little to no custom content
Rather primitive - made back in '08
Land around the highway can be bought, the parking lot is one giant construction rights zone.
And finally,
download and enjoy
!
And remember, feel free to show off what you have done here. I guess you can call this an 'open-ended competition' in that there is no endpoint, limit, nor winner - just post what you did in these scenarios. You don't have to, but you have the opportunity to. Have fun, and there's sure to be more Folfenarios to come!
Enjoy!